This post may contain affiliate links. By clicking and making a purchase through the links, I earn a small commission at no extra cost to you. This allows me to keep the site up to date and expand on resources. Thanks for reading!
The sunset in Puerto Vallarta is something special.
Situated on Mexico's Pacific coast on Banderas Bay, there are many beautiful places where you can watch the sun dip over the Pacific Ccean.
If you're looking to snap some Insta-worthy sunset shots on your vacation, here are the best places to watch the sunset in Puerto Vallarta.
What time does the sun set in Puerto Vallarta?
The sun sets at a slightly different time each day depending on what time of year it is.
For example, if you're visiting during the high season in January, it will set around 8 pm. By June, it will be getting closer to 10 pm.
The easiest way to see the sunset time in Puerto Vallarta during your visit is by using a weather app or a website like this one.
Check the time of sunset on the day off so you can plan to be at one of these places to watch it.
Puerto Vallarta offers amazing sunsets year-round, but during the wet season, it may be more difficult to see due to heavy rainfall. That said, a few clouds can make the sunset even prettier!
This guide has more info about the best time to visit Puerto Vallarta.
Where to see the sunset in Puerto Vallarta
From the comfort of your hotel or villa
If you're looking to stay somewhere in Puerto Vallarta, where you can watch the sun go down every night from the comfort of your temporary home, consider staying at one of these beachfront hotels in Puerto Vallarta.
They are all situated on the coast facing west and are sure to offer amazing views. Alternatively, there are plenty of boutique hotels offering infinity pools with sunset views.
But if you aren't so lucky to have a sunset view from your accommodation, no worries because there are plenty of other places to watch the sunset in Puerto Vallarta.
On the beach
The beaches of Puerto Vallarta are one of the best places to watch the sunset.
You'll be able to see the sunset from any beach, but some of my favorites are Las Glorias beach and Playa Los Muertos in Zona Romantica.
The ladder offers many beachfront restaurants where you can enjoy a cold Cerveza and fresh guacamole with the view.
The beaches outside the city limits only accessible by boat like Quimixto and Yelapa are even nicer.
But if you're headed to a secluded beach, most public water taxis stop running around sunset time. But if you're clever, you can time it to come back during sunset for a fantastic view – or stay overnight in Yelapa.
From the Malecon
Walking along the Malecon, the mile-long stretch of the boardwalk in Centro/Zona Romantica is one of the best free things to do in the city and one of the best places to take in the sunset!
It faces west, so you can stop anywhere and be guaranteed a show or simply take a stroll at sunset. That was one of my favorite things while living in Puerto Vallarta! 
Cerro De La Cruz Mirador
If you're looking for some exercise before sunset, one of the best places to go is the Cerro De La Cruz lookout point. To get there, walk from the Malecon uphill along Calle Abasolo.
You'll reach a series of stairs which you climb up to the top, where there's an observation deck with stunning panoramic views of downtown Vallarta and the surrounding Banderas Bay. It's the perfect sunset spot – if you don't mind a sweaty walk up!
At a restaurant
Is there anything better than enjoying a sunset view with a fantastic meal? Luckily, Puerto Vallarta has no shortage of fantastic restaurants to dine at.
Head to Los Muertos beach, and you'll find plenty of restaurants with outdoor seating on the beach where you can enjoy a sunset with a margarita. I love El Dorado!
Alternatively, you can head up to one of the restaurants higher up that overlook the city and ocean.
Barcelona Tapas is a fantastic Spanish tapas restaurant that offers breathtaking views of the entire bay over the city. I recommend making a reservation here as they often fill up!
Another great restaurant for sunset views and delicious seafood is Ah Caramba.
During yoga at Terra Noble
One of my favorite places to do yoga in Puerto Vallarta is at Terra Noble. Their studio is set high up above the city and offers one of the most beautiful sunset views you can find in the city.
They have yoga classes that happen during sunset, which are incredibly relaxing.
Sunset cruise Puerto Vallarta
Last but not least, take in the Puerto Vallarta sunset right on the ocean! A boat cruise is easily one of the best things to do here, so why not time it to coincide with the sunset for an even better experience?
Here are some of the best sunset cruise options in Puerto Vallarta:
Luxury Sailboat at Sunset
If you've ever wanted to go sailing, uerto Vallarta is the perfect place to try it! Join this luxury sailboat tour, where you'll get to sail along the coast of Banderas Bay with a glass of champagne in hand and snacks provided. Is there anything better?
Cruise & Candlelight Dinner Show
This Cruise & Candlelight Dinner Show starts with a sunset departure from Puerta Vallarta, where you'll watch the sun sink into the shimmering sea as you sail to a secluded beach.
Upon arrival, you'll dine upon a gourmet 3-course meal by candlelight before watching the renowned Rhythms of the Night show – one of the best things to do in Puerto Vallarta at night.
Puerto Vallarta sunset photography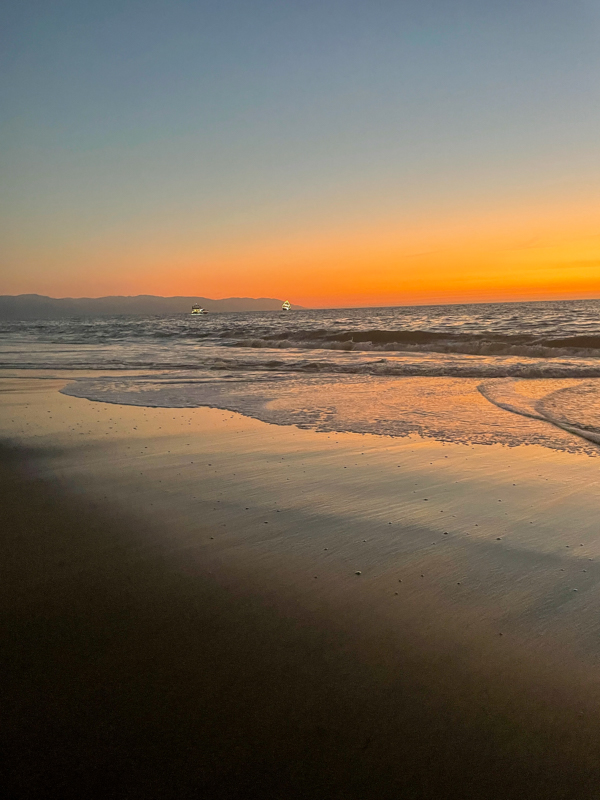 The beautiful sunsets of Puerto Vallarta are the perfect place to practice your travel photography! And if you're interested in improving your skill, you can actually join a sunset photography workshop while you're here.
This unique tour will teach you the fundamentals of shooting sunset photos, such as shooting long silhouettes, learning creative techniques for capturing colorful sunsets, using flash, and more. 
With hands-on assignments, you're sure to leave this class with improved skills and some awesome travel photos.
Alternatively, you can hire a photographer in Puerto Vallarta to take your photos at sunset! On this photo walk, you'll have the opportunity to get some great pictures of you taken throughout the city at the best time of day – golden hour.
Planning a trip to Puerto Vallarta? Don't miss these posts!