This post may contain affiliate links. By clicking and making a purchase through the links, I earn a small commission at no extra cost to you. See my disclaimer for more information. This allows me to keep the site up to date and expand on resources.
Wondering about the 5 de Diciembre Puerto Vallarta neighborhood? You're in the right place! This is where I've spent the most time in my five years in the city, and I'm sharing my favorite places to eat, drink and be merry in this guide to the 5 de Diciembre neighborhood.
Known affectionately to many simply as 5D, it is a vibrant and authentic neighborhood nestled in the heart of Puerto Vallarta.
It offers a blend of traditional Mexican charm and modern conveniences, making it a popular area for expats and digital nomads to live in.
About 5 de Diciembre Puerto Vallarta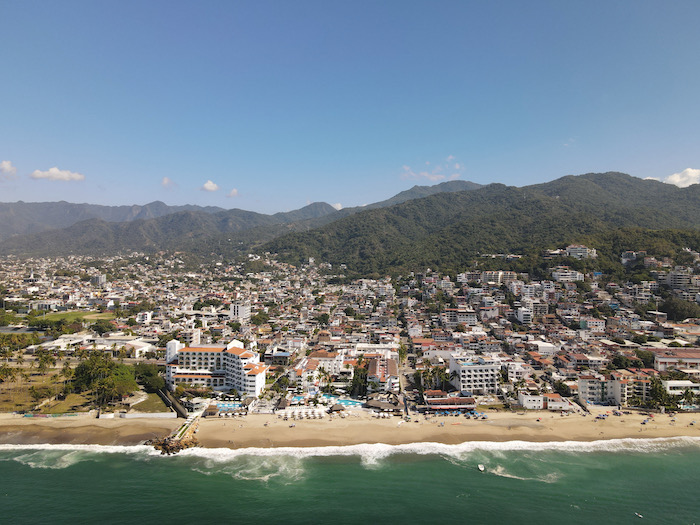 This neighborhood may not be huge, but it packs a punch. There's a lovely beach, a bustling market, and a beautiful church with a large square. You'll also find some of the best taco trucks, restaurants, and bars in town.
It's a very local area. Think tamale vendors blasting their theme song out of a truck as kids play in the street and a guy strolls by on horseback. These are simply everyday scenes here in 5D.
For those looking for "peace and quiet" (if there is such a thing in Mexico), 5 de Diciembre is probably not the neighborhood for you.
Roosters crow, dogs bark, fireworks blast, and the music blares from the seemingly neverending fiestas. Bring earplugs if you decide to stay here…
If you can adapt to the local vibe and handle some noise, though, this neighborhood is hard to beat. Sure, you may have to climb the hill to get home. But the views you get to enjoy make it well worth it.
5 de Diciembre is a great place to stay if you want to experience a more authentic Puerto Vallarta than the Romantic Zone and is a popular home base for digital nomads. Plus, it's just a short 10 peso bus ride there if you want to go out on the town.
The neighborhood starts right after the stadium and stretches to the start of the Malecon. Its other borders are Banderas Bay on one side and the hills on the other.
Depending on where you stay, you might get views of both. Check out a tour of our place where we lived for a few seasons to get a taste of what life is like in 5D:
Things to do in 5 de diciembre
Similar to Versalles, this is primarily a residential neighborhood where there aren't necessarily many things to do.
That said, you won't be bored in 5D if you like going to the beach and eating tacos. And if you don't like those things, chances are Puerto Vallarta isn't the place for you anyways…
Playa Camarones
The main thing to do here is head down to Playa Camarones. Yes, that translates to "Beach of Shrimps." And yes, there are plenty of shrimp to eat here. On a stick, in a tortilla, or even on a plate if you're a classy person.
It's not the best beach for swimming, but it's the perfect spot to sit with a good book. Or you can go the local route and bring your friends, speakers, and a cooler from OXXO full of Tecate and let the good times roll.
There are people renting chairs and umbrellas if you don't have your own. You can also choose from one of the beachside establishments and order something to use the facilities. My favorites are El Solar and Mangos – two of the best beach clubs in town!
Mercado del Mar
This neighborhood is home to a large market. It's called Mercado del Mar, and it's an excellent place to shop if you live here. You'll find some of the freshest and cheapest seafood around here, in addition to local produce.
Plaza Hidalgo
The center of 5 de Diciembre is Plaza Hidalgo. This public square is in front of the Parroquia Nuestra Señora del Refugio, just a block from the Malecon.
There are often cultural events here, especially on weekends in the high season.
Play volleyball at the stadium
Okay, the stadium (Unidad Deportiva) is technically just at the edge of Cinco, but it's one of the best places to play sports in Puerto Vallarta. You can always see people playing games there, including a group of digital nomads who meet every week to play volleyball.
Getting involved in the volleyball community is one of the best ways to meet other expats and digital nomads in Puerto Vallarta. It's not just about the game; it's a fantastic way to connect, make new friends, and enjoy the warm Puerto Vallarta weather together.
Learn Spanish
If you want to improve your Spanish, this is a great place to do it. The great Spanish School Vallarta moved here a few years ago from Versalles, and I can personally recommend them.
Besides that, 5D is primarily a place to eat, drink, and be merry. And there are plenty of options for that!
You'd better come hungry and thirsty to this neighborhood because the options for wining and dining are plentiful. These are just a few of my favorites.
Best cafes in 5 de Diciembre
This delightful cafe offers a haven for digital nomads, with aromatic brews and delectable pastries to accompany your morning or afternoon work session. They have outdoor seating and an indoor space with AC and desks, making this one of the best cafes for coworking in PV.
Start your day right with a visit to Calmate Cafe for excellent coffee and delightful breakfast or lunch options. Its cozy ambiance and free Wi-Fi make it a perfect cafe for enjoying a quiet moment and getting some work done.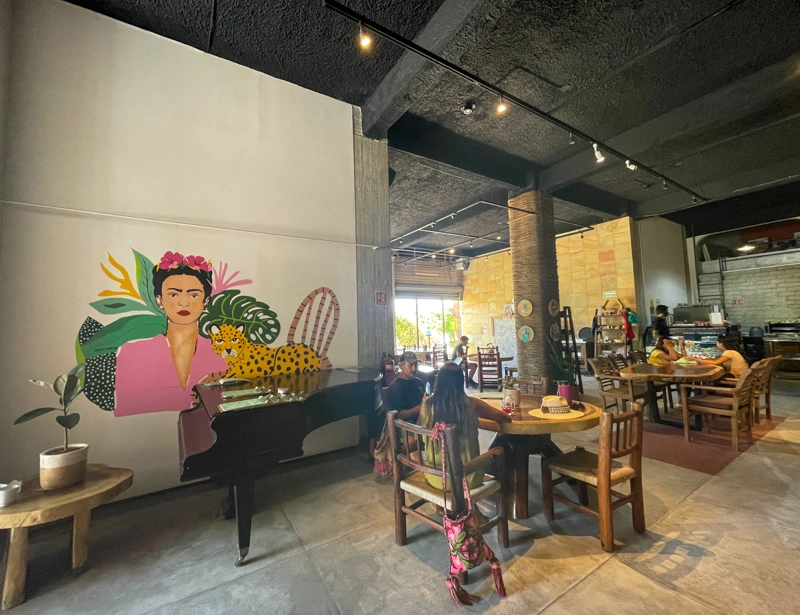 Calling all vegans! The Green Place is your go-to spot for delicious plant-based dishes, with an extensive menu to satisfy every craving. From flavorful entrees to refreshing smoothies, this excellent vegan restaurant will leave you feeling nourished and satisfied.
Best restaurants in 5 de Diciembre
The marlin tacos at Mariscos La Tia are basically the reason we moved to Cinco. It's one of the best spots for seafood and our first and last stop every time we're in town.
For meat enthusiasts, Pepe's is a go-to destination with their incredible tacos al pastor and late-night hours. Savor the delicious flavors and soak in the lively ambiance that keeps this place buzzing until the early hours.
Experience the taste of fantastic fish tacos and ice-cold beers at Mama Caguamas. Whether you're in the mood for traditional Mexican flavors or a gringo-style taco, this restaurant has it all.
If you're craving pizza, do not miss out on Pop Pizza right under The Gusto Lounge. Owned by my friend Brad, this pizzeria makes an incredible deep-dish pizza with various mouthwatering toppings. It's one of the best pizza restaurants in Puerto Vallarta!
Indulge in delicious cuisine while enjoying epic views at Ah Caramba!, a delightful hillside restaurant. The excellent food and stunning vistas make this one of the best Puerto Vallarta restaurants with a view.
Connected to El Solar on the beach, El Barracuda offers excellent seafood dishes in a picturesque seaside setting. Enjoy the ocean breeze as you indulge in delicious flavors.
Late-night cravings? El Carboncito is the place for tacos and perhaps one more beer. This spot is a favorite among locals and visitors looking for a tasty late-night treat.
For a special occasion, head to La Traviata, a rooftop Italian restaurant with a charming ambiance. It's the perfect place to celebrate and enjoy delectable Italian cuisine under the stars.
Best bars in 5 de Diciembre
Vivero is a beautiful wine bar owned by an expat. Vivero means a place for the cultivation of young plants, and this place is true to its name – it's got stunning plants everywhere and feels like a hidden oasis.
It's one of the best places to grab a drink of wine after work with friends and work during the day.
Best dive bar in town, owned by our dear friend Sergio. The only dive bar in the world where you can have a lobster dinner. Tell him we sent you for a free tequila.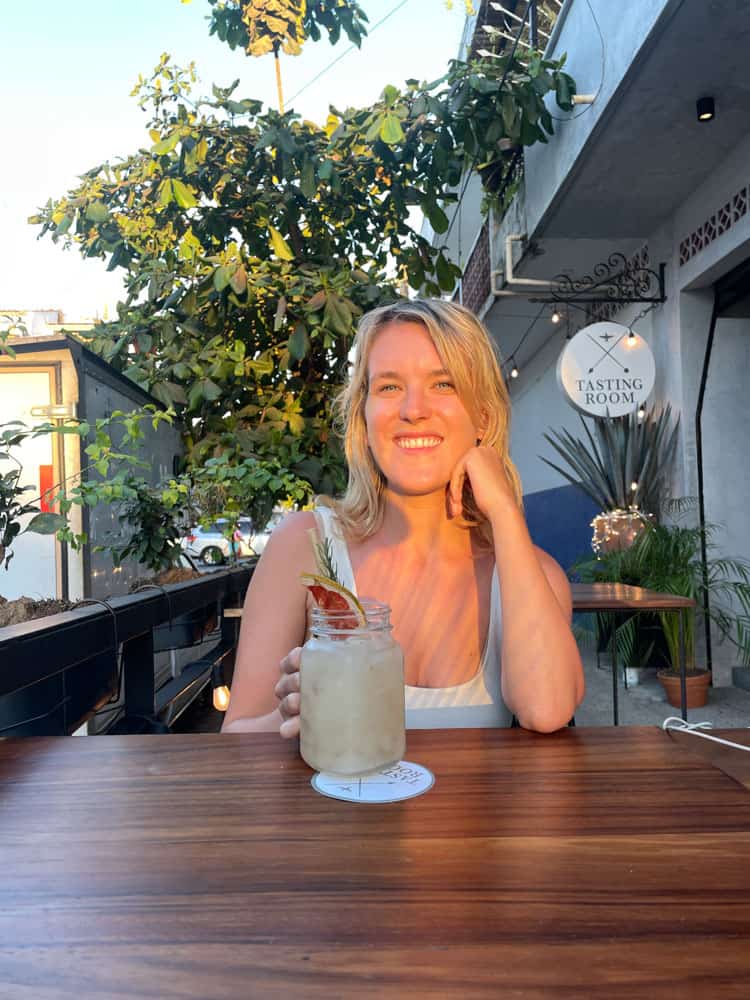 Owned by the same people as El Colibri, this trendy bar is a perfect spot to go for drinks after work with friends. They have an impressive array of handcrafted cocktails and a curated selection of local and international craft beers.
Where to Stay in 5 de diciembre
While this is primarily a residential area, there are plenty of places to stay in 5D. Whether you're looking for a cheap dorm bed, a beachfront hotel room, or a quaint B&B, you can find it here.
Hotel El Pescador is an old-school Vallarta establishment. Considering there's a pool looking out at the ocean, this place is a steal for those on a budget.
The Paramar is a lovely beachfront boutique hotel with breakfast included. You can get an ocean view without breaking the bank here.
Villa Premiere is probably the swankiest address you can have in 5D. Stay here if you want to treat yourself to a luxury hotel in Puerto Vallarta.
Final thoughts: 5 de Diciembre Puerto Vallarta
Maybe it's the mouthwatering tacos de marlin from one of my favorite local restaurants. Or perhaps it's the cool ocean breeze and the incredible view you get atop the hill. Then again, it might be the strong jalapeño mezcalitas and the cheap Pacificos that flow like water..
Whatever it is, 5 de Diciembre Puerto Vallarta holds a special place in my heart (and stomach, and liver). One thing is for sure – whenever we come back, whether for a week or a couple of months, it feels like home.
There's just something special about this neighborhood. I recommend you go there with an empty stomach and an open mind and enjoy this special slice of Puerto Vallarta.
Moving to Puerto Vallarta? Check out the other neighborhoods!
Enjoyed this post? Pin it for later!