This post may contain affiliate links. By clicking and making a purchase through the links, I earn a small commission at no extra cost to you. See my disclaimer for more information. This allows me to keep the site up to date and expand on resources.
Curious about El Centro Puerto Vallarta? Let me help! We've been living in Puerto for over eight years collectively and frequent the shops, cafes, restaurants and bars of El Centro often to find you this neighbourhoods best gems.
As you may have guessed, El Centro is the center and heart of the city. It begins after 5 di Diciembre right when you hit the Malecon.
This oceanfront promenade is one of the most famous places in Puerto Vallarta and strolling along it as a must during your visit, but more on that later.
Hotel Rosita marks the start of the Malecon and the northern end of Centro. To the south is the Romantic Zone, which you reach after crossing the river.
Nestled between the vibrant blue waters of Banderas Bay and the lush Sierra Madre Mountains, this charming neighborhood is one of the most popular areas to stay in Puerto Vallarta. It goes inland and uphill for several blocks, so you'll get a workout if you stay here. Or just pay for more Ubers…
Centro is definitely the heart of the city, as it's home to the city's famous Basilica of Our Lady of Guadalupe.
The main square in front of the church is a hub of activity day and night, especially during the many festivals and holidays celebrated here.
Things to Do in Centro Puerto Vallarta
Stroll the Malecon
The top thing to do in El Centro is definitely strolling the Malecon. In addition to the fantastic ocean views it provides, it's basically an open-air art museum.
The Malecon is home to dozens of unique art sculptures, such as the Boy on the Seahorse and Triton and Siren. It's a fun place to simply wander, stopping here and there to snap photos.
For a detailed look at all of the art on the Malecon, check out this post.
Visit art galleries
The Malecon isn't the only place with art in Centro. In fact, this neighborhood is one of the best places for art lovers' in Puerto Vallarta.
There are several excellent galleries to peruse in Centro. Many of these are visited on the art walk that happens every Wednesday from 6-10 PM between late October and late May.
This is also a great place to find some of the best street art in Puerto Vallarta.
Take a free walking tour
A great way to experience the Centro neighborhood is on one of the free walking tours. These start outside of city hall on Tuesday and Wednesday at 9 AM and noon, as well as Saturday at 9. No reservation is required – you just show up!
Basilica of Our Lady of Guadalupe
As the symbol of Puerto Vallarta, visiting the church is also a popular thing to do here. It's open and free to the public. Just be sure to dress appropriately – don't be that tourist in board shorts and flip-flops who locals roll their eyes at.
Explore Plaza de Armas
In front of the church, you'll find the Plaza de Armas. This square is bustling with activity in the evenings and on holidays.
It's a great place to celebrate Mexico's Independence Day on September 16th or watch the fireworks on New Year's Eve.
Check out some highlights of the Independence Day celebrations in and around El Centro in this video:
While there is a beach here, it's not the nicest one to visit. It's okay if you just want to plop your towel in the sand or take a walk, but you're better off going off one of the many other beautiful beaches in Puerto Vallarta.
Hike cross on the Hill
If you're looking for a hike in Puerto Vallarta, the walk up to the cross on the hill in Centro is a great option.
It's a pretty steep climb uphill, but it doesn't take long. Plus, the views from up here make it worth every drop of sweat.
Try to time your walk so you can get to the cross a little before sunset. Bring your beverage of choice and stick around to watch the light show in the sky before making your descent.
Tequila tasing at Noble Corazon
Speaking of beverages, I highly recommend the tequila tasting at Noble Corazon in Centro. They're friends of mine, and they make some damn good tequila!
Best Centro Puerto Vallarta Restaurants
As the center of town, you'll never go hungry or thirsty here. There are tons of places to choose from here to satisfy all tastes and budgets.
Generally speaking, the places on the Malecon can be a bit touristy (read: Señor Frogs). Underwhelming and overpriced tend to be the two most common words to describe places on the Malecon.
My best advice is to head inland a few blocks and look for the crowds of locals. There are many great places to grab a bite to eat or a drink in Centro once you get off the Malecon.
Where to get coffee and breakfast in Centro
Where to get lunch and quick eats in Centro
Where to get dinner in Centro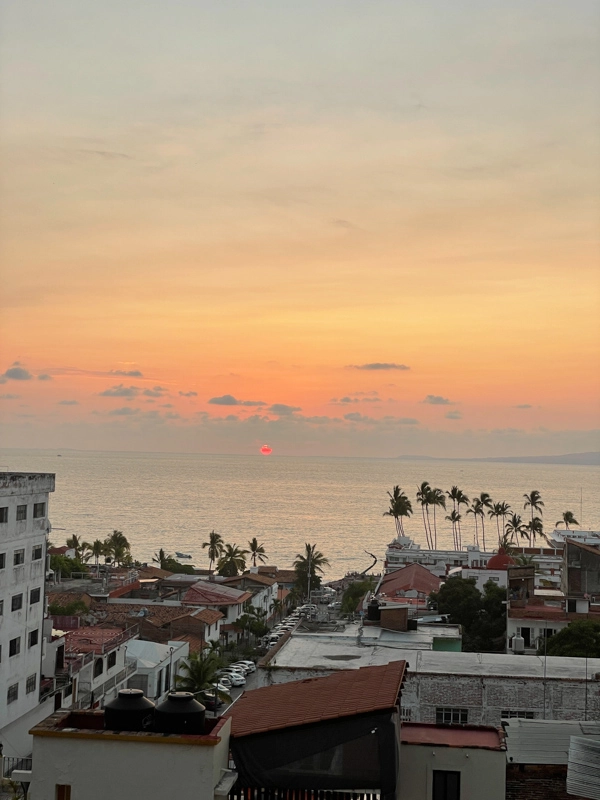 Best Centro Puerto Vallarta bars
El Colibri: trendy cocktail bar with live music on weekends
Yambak: craft beer, pizza, and a lovely terrace with a DJ on the weekends
Terraza: late-night spot for house music and drinks
Where to Stay in Centro
There are obvious perks to staying in Centro, whether you're on a short vacation or living here as a digital nomad. It's a super convenient location, as you're not that far from the airport or Romantic Zone.
Most buses pass through Centro at some point, so you rarely have to wait more than a few minutes to catch one. It's always easy to hail a cab here, as they're usually hanging out waiting for passengers down by the Malecon.
While some may complain about the steep hills, they sure give you some incredible city views! Plus, walking up the hill helps to work off some of those street tacos. Life is all about balance, people.
What I will say is that if you're looking for peace and quiet, this is probably not the place.
You'll hear dogs barking, fireworks going off, music blaring from the nightclubs and fiestas, and maybe even some roosters crowing in the wee hours of the morning.
A great thing about Centro is that there are plenty of options for accommodation here. These range from budget youth hostels, to quaint boutique hotels, to the city's first-ever hotel.
One thing you won't find is Centro is a single all-inclusive resort. If you're looking for that, you'll have to choose another neighborhood like the Hotel Zone.
Here are some recommendations on where to stay in Centro for various budgets:
Chanclas is a centrally-located hostel that's great for those balling on a budget who want a social atmosphere.
Hotel Rosita has the distinction of being the first hotel in PV. It was built in 1948 and is still a very popular option thanks to its location right by the Malecon and its pool.
BellView is a boutique hotel just up the hill from the church. Stay here for elegant decor and epic views.
Casa Kimberly is the former home of Elizabeth Taylor and Richard Burton, the movie stars whose scandalous romance put PV on the map.
Final thoughts: Centro Puerto Vallarta
All in all, Centro is a great place to base yourself in Puerto Vallarta. You can really feel the pulse of the city by staying here, as it's always buzzing with activity.
I've never stayed in Centro, but we have friends who have lived in the area for years and love it. You've got everything you need at your fingertips here, and the rest of the city is just a hop, skip, and a jump away.
Planning a trip to Puerto Vallarta? Check out these other neighbourhoods!