This post may contain affiliate links. By clicking and making a purchase through the links, I earn a small commission at no extra cost to you. See my disclaimer for more information. This allows me to keep the site up to date and expand on resources.
Wondering where to go hiking in Puerto Vallarta? You're in the right place! I live in Puerto Vallarta and LOVE hiking – so I've explored most of the trails in and around the city.
Puerto Vallarta hiking offers everything from urban walks to coastal jungles and secluded waterfalls.
While the city is most famous for its picturesque beaches and water-based activities, it's also a great place to go hiking. After all, the Sierra Madre mountains are right there!
Here's everything you need to know about hiking in Puerto Vallarta, including recommendations for guided hiking tours.
Best Puerto Vallarta Hikes
1. Mirador La Cruz del Cerro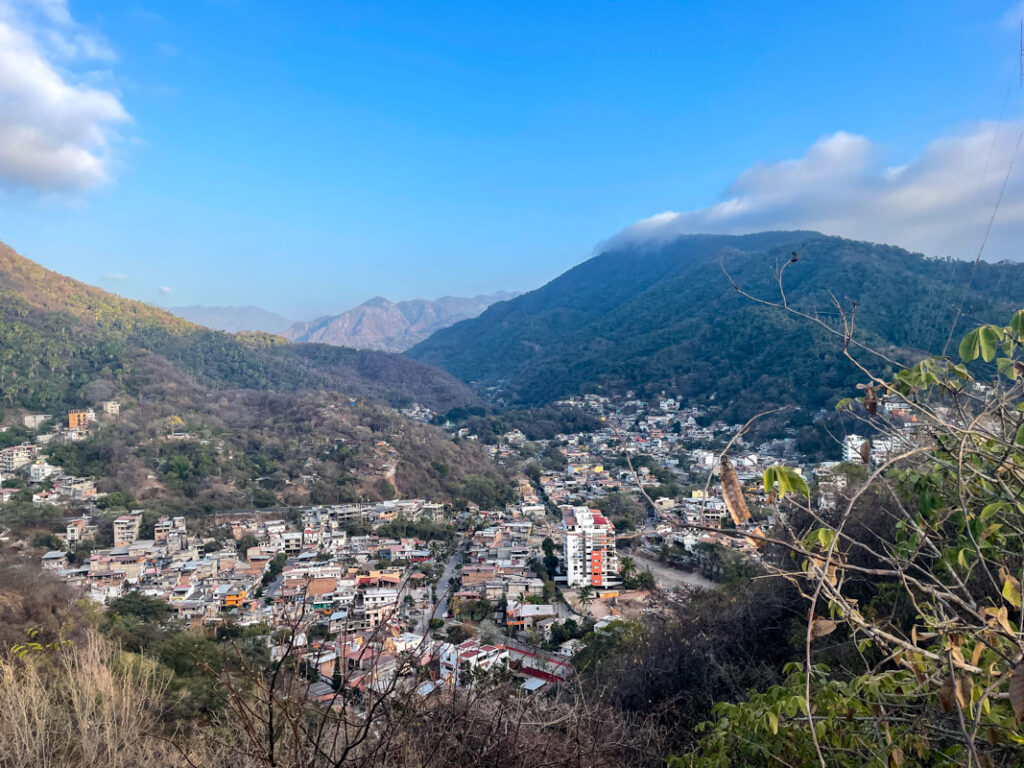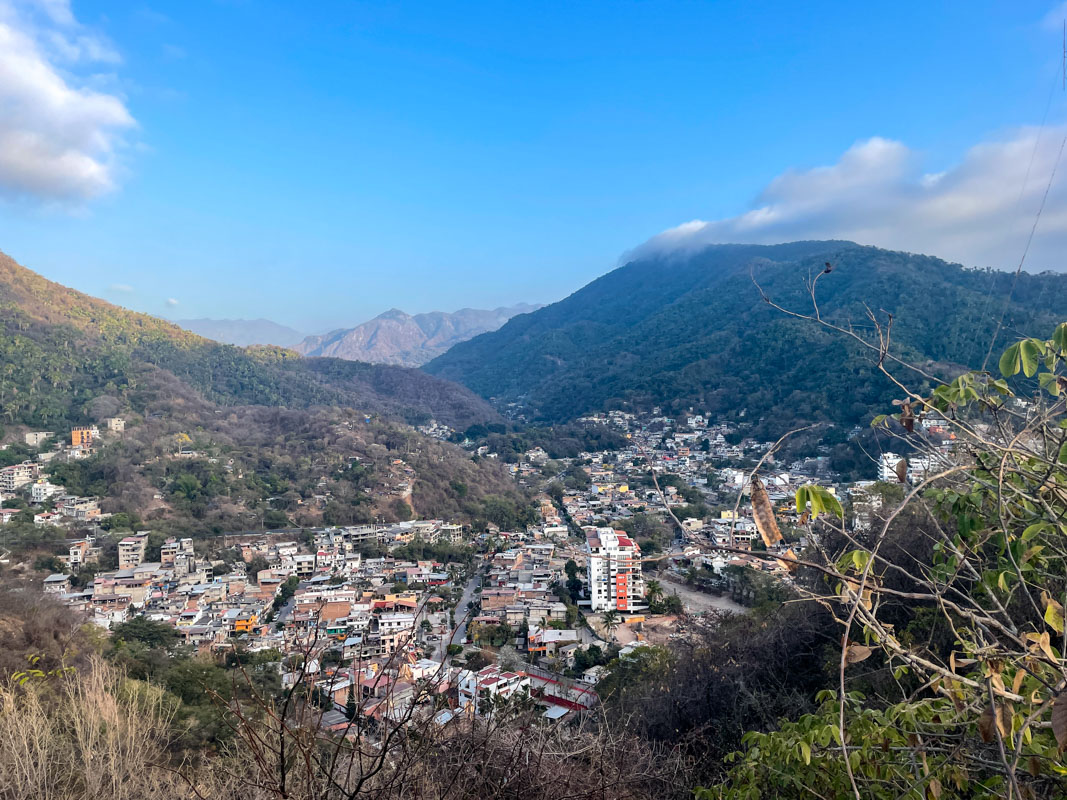 Did you know you can go hiking in downtown Puerto Vallarta?
The Mirador La Cruz del Cerro takes you uphill to one of the best sunset spots in the city.
To get there, walk from the Malecon uphill along Calle Abasolo. After a few minutes, you'll reach a series of stairs which you climb up to the lookout. It takes about half an hour to get there.
I recommend doing this hike early morning or at the end of the day; otherwise, you'll just be a sweaty mess.
At the top, there's an observation deck with gorgeous 360-panoramic views of downtown Vallarta, Banderas Bay, and the majestic Sierra Madre mountains.
These views make it one of the best hikes in Puerto Vallarta, and some digital nomads in Vallarta do this daily for exercise!
It's completely free to visit, and since you can walk here from downtown, this is one of the top things to do if you're visiting Puerto Vallarta on a budget.
2. Palo Maria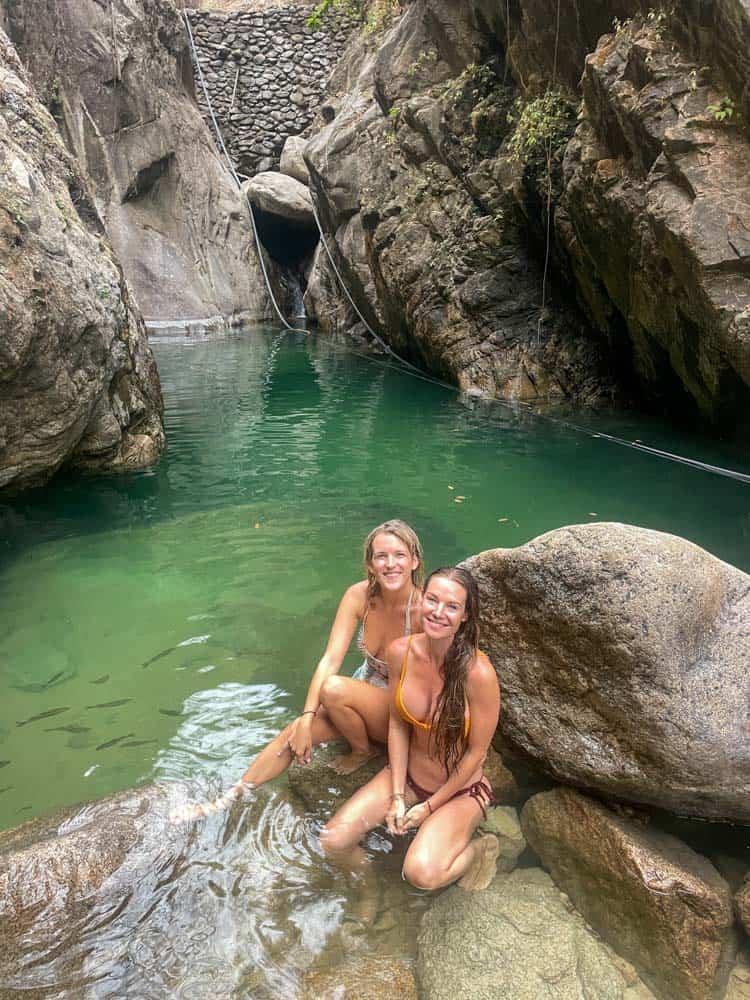 One of the best waterfall hikes in Puerto Vallarta is Palo Maria, which is easily accessible from the city center.
To reach Palo Maria, you can take a bus from Zona Romantica or an Uber for around 5 USD. The entrance to the trail is across the street from Hacienda Palo Maria, so you can put that in as the destination.
The path is easy to follow as you'll be following the river, and there are fences on either side, so you can't get too lost.
It takes less than an hour to reach the first waterfall, which is an awesome swimming hole year-round.
You won't see much water pouring down in the dry season, but it's still a great place to cool off from the heat.
If you are feeling adventurous, you can climb up the first waterfall to several more.
🤩 I love this tour because it includes transportation, bottled water, snacks, and a professional guide to take you to the falls (and take photos)!
3. Vallarta Botanical Gardens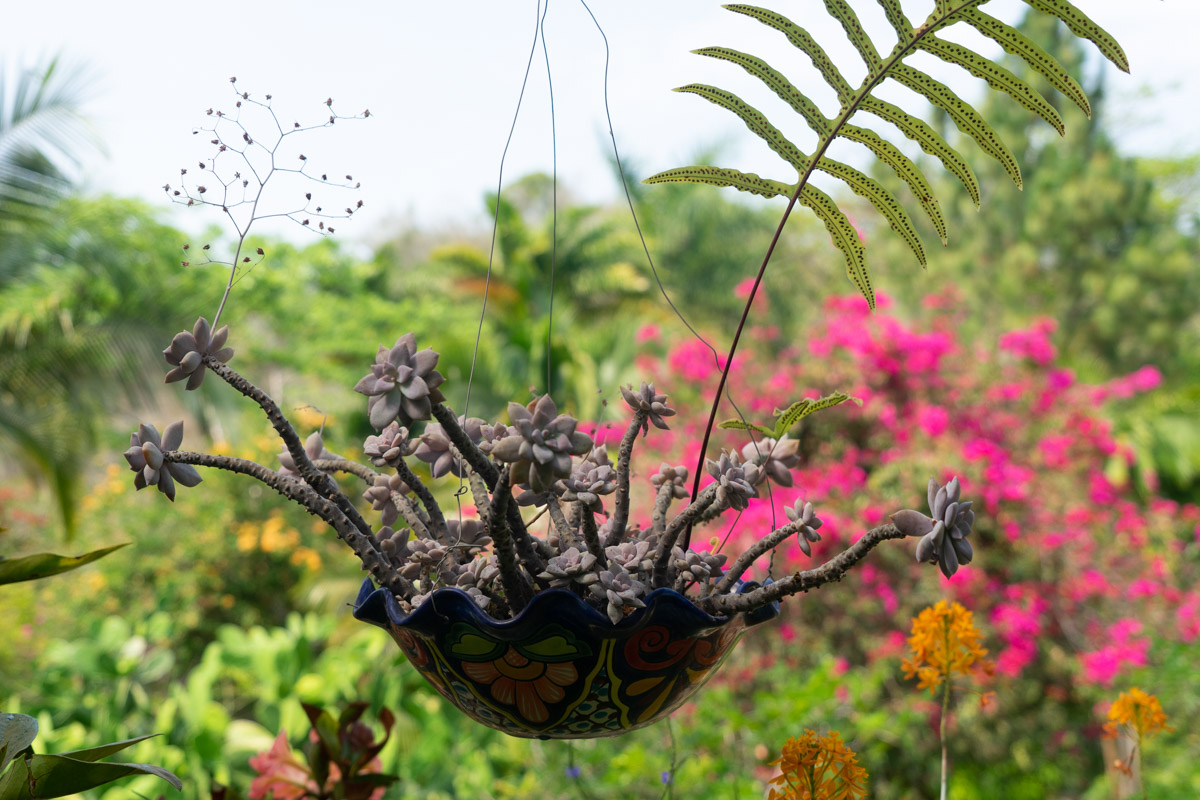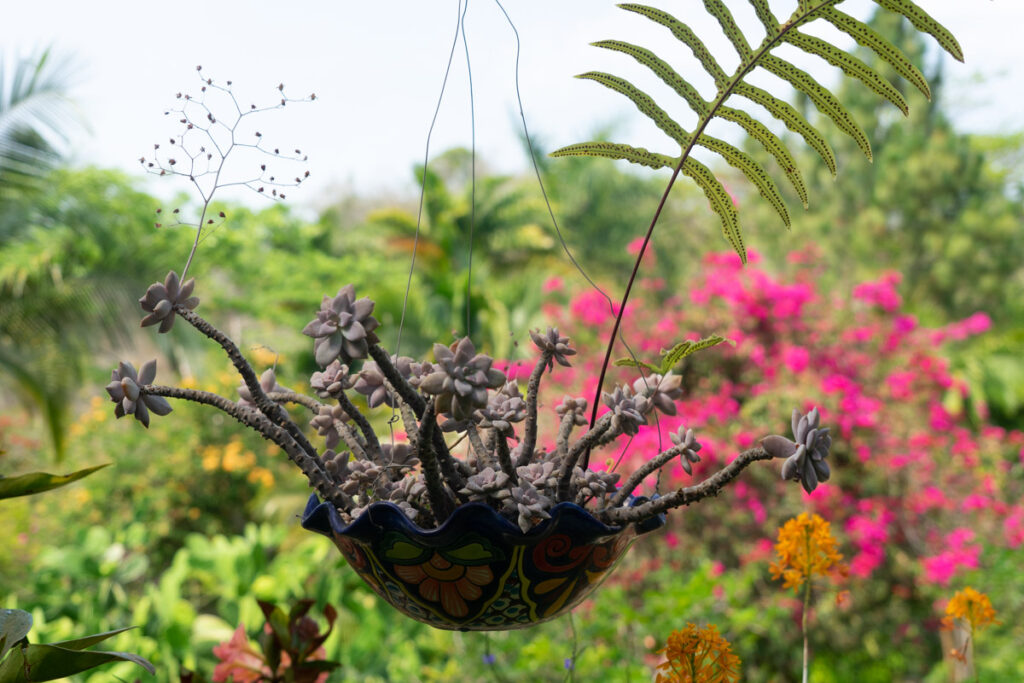 The Vallarta botanical gardens is undoubtedly one of the best places to go hiking near Puerto Vallarta and connect with nature.
Once you arrive at the gardens, you'll be given a map of the area with your entrance fee (200 pesos). I was surprised by how big they are; the gardens sprawl more than 64 acres!
The ticket is good for two consecutive days, so if you want to do a lot of exploring, you can come back the next day at no additional cost.
If you want to go hiking here, plan for a few hours and bring sunscreen and bug spray with you.
The walking trails range in difficulty, including easy ones around the gardens where you can see Mexico's gorgeous flora and fauna.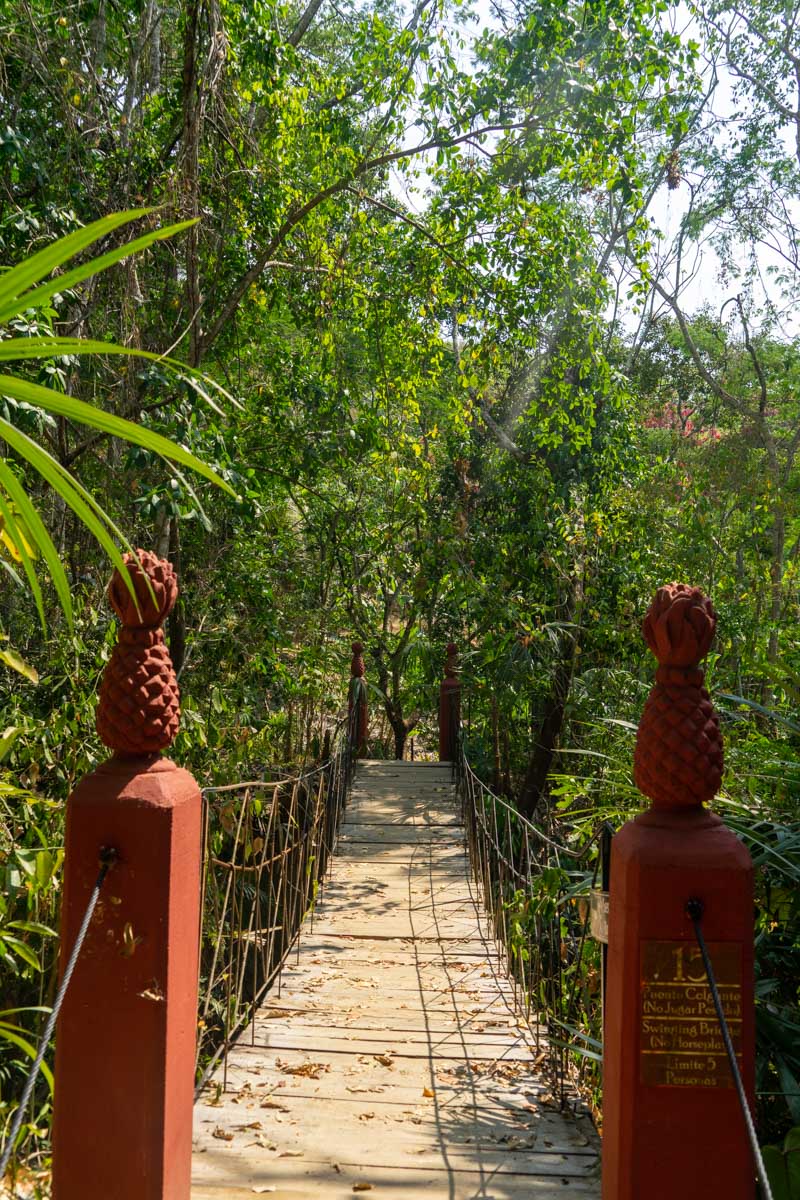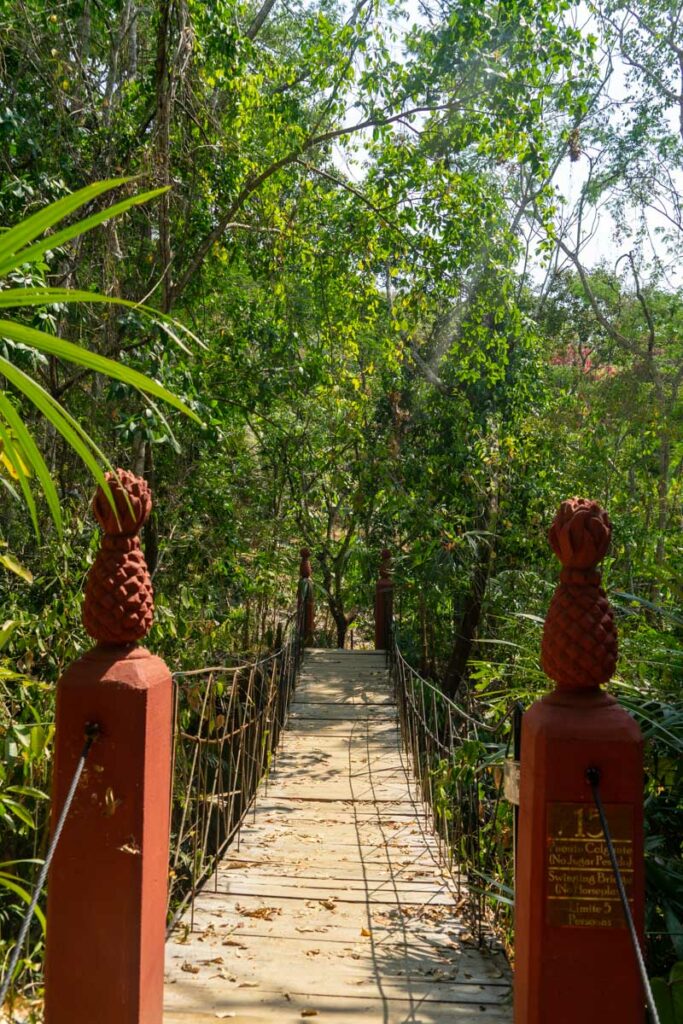 We wandered down to a hanging bridge and then through some trails through the jungle, which were actually quite steep.
I wore my flip-flops, but I wish I had my hiking boots as the terrain is uneven.
Pets are welcome; just make sure you clean up after them.
There's also a river you can swim in; it's a downhill hike from the restaurant. Just be careful, as I was attacked by a leech here! (apparently, this is not common).
There's a restaurant on-site called Hacienda del Oro, which has the most beautiful view overlooking the mountains and jungle. Keep your eye out for hummingbirds here!
If hiking has worked up your appetite, this is a great place to grab a bite before heading back into the city. They offer wood-fired pizzas.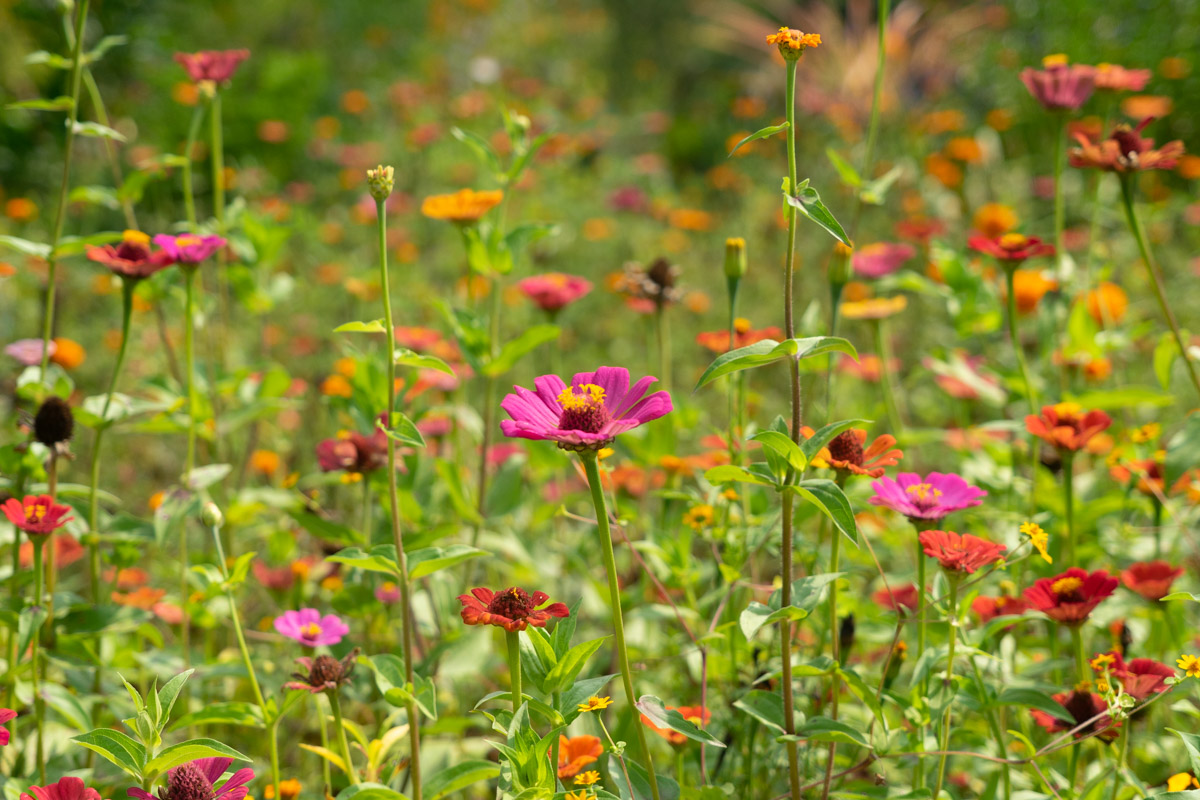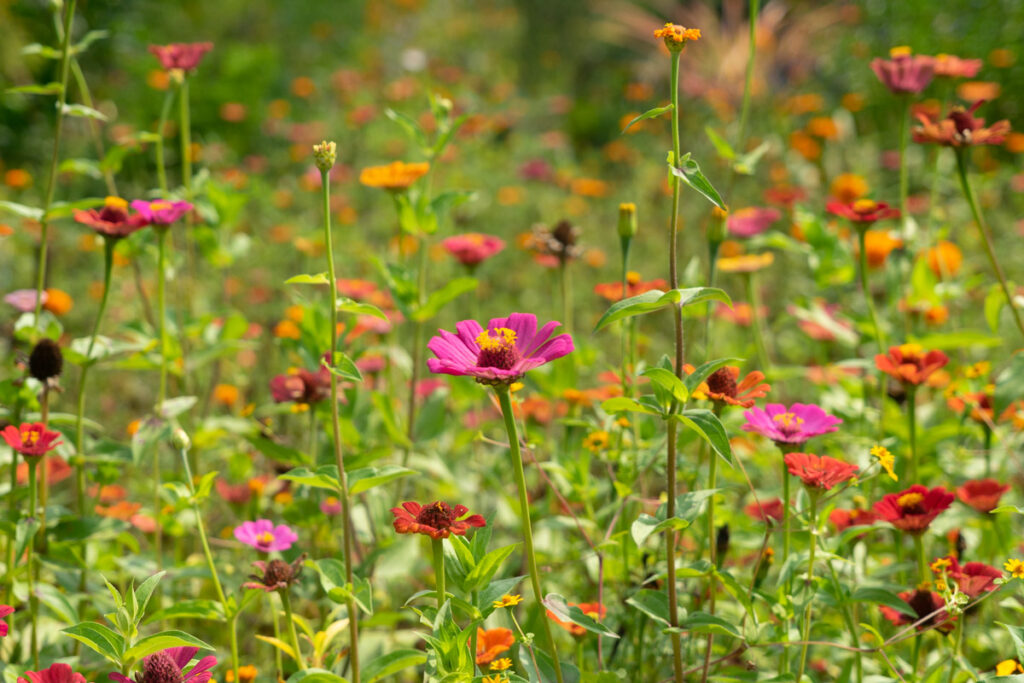 Getting there: To get to the gardens, you can either drive or take a cab/uber (half an hour drive, 350-500 pesos depending on where you are coming from) or take a public bus from Zona Romantica at the corner of Carranza and Aguacate street. The bus fare is 50 pesos, and they leave every half hour.
🤩 I love this tour because you get to hike the botanical gardens with a licensed guide and small group. Entrance included!
4. Boca to Las Animas hike Puerto Vallarta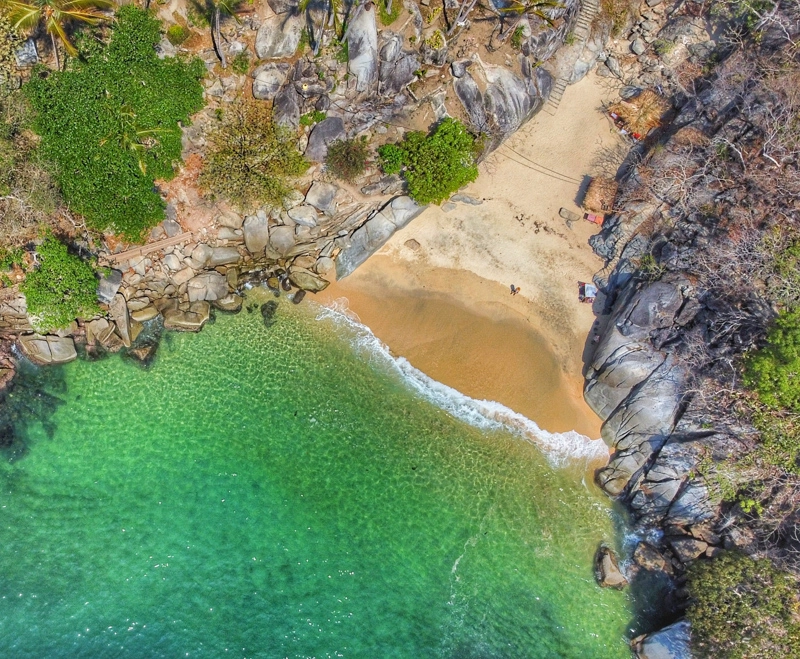 One of my favorite hiking trails in Puerto Vallarta is the coastal trail from Bocas De Tomaltan to Las Animas via Colomitos Beach.
Boca De Tomaltan is a small fishing village about half an hour away from Puerto Vallarta. To get here, you can either take a bus from Zona Romantica (50 pesos), get an Uber/tax (around 300 pesos), or join a guided tour.
From Boca, there's a trailhead that points towards Las Animas. This is the same trail that goes to Playa Colomitos.
The trail follows along the coastline, and about an hour in, you'll get to Colomitos, a gorgeous secluded beach with emerald green shimmering water. The Colomitos beach hike is one of the most popular trails, so this beach is often crowded.
You can continue along the trail to Playa Las Animas, passing by pristine secluded beaches along the way.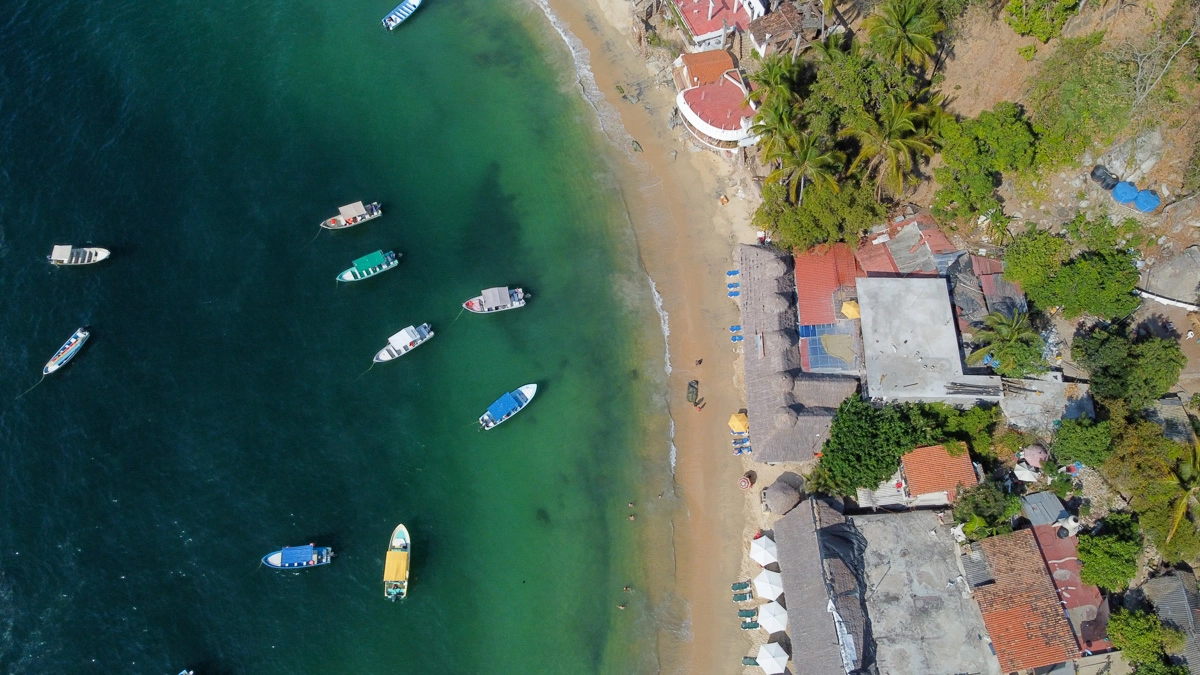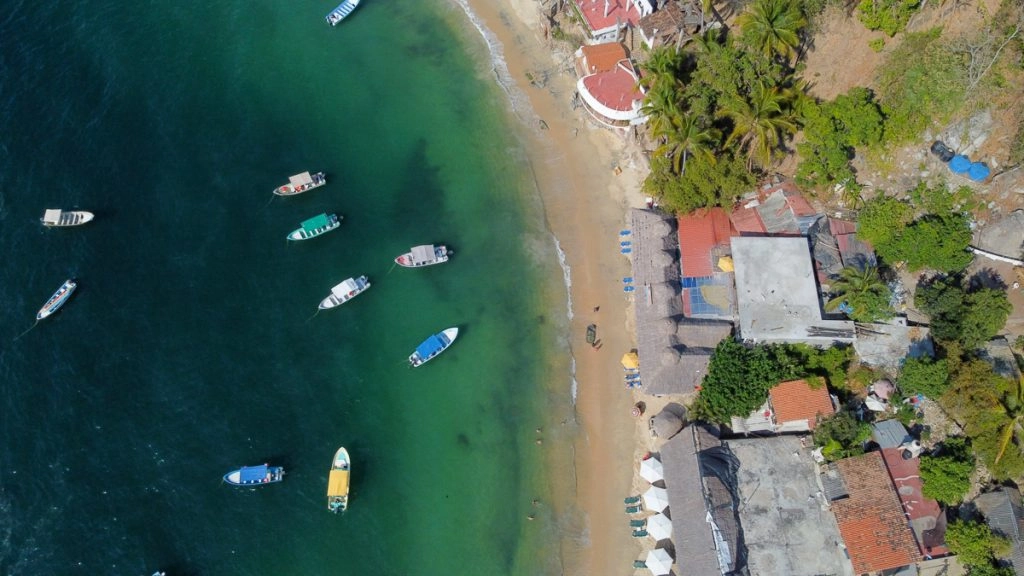 At Las Animas, there are many restaurants. So if you're looking for a place to grab a margarita and guacamole after hiking, this is a great spot!
It takes about two hours to hike to Las Animas from Boca, though I recommend stopping along the way to swim and enjoy the secluded beaches.
From Las Animas, you can easily grab a boat back to Boca or Los Muertos Pier in Puerto Vallarta, so you don't have to worry about hiking back.
5. Quimixto Waterfall Hike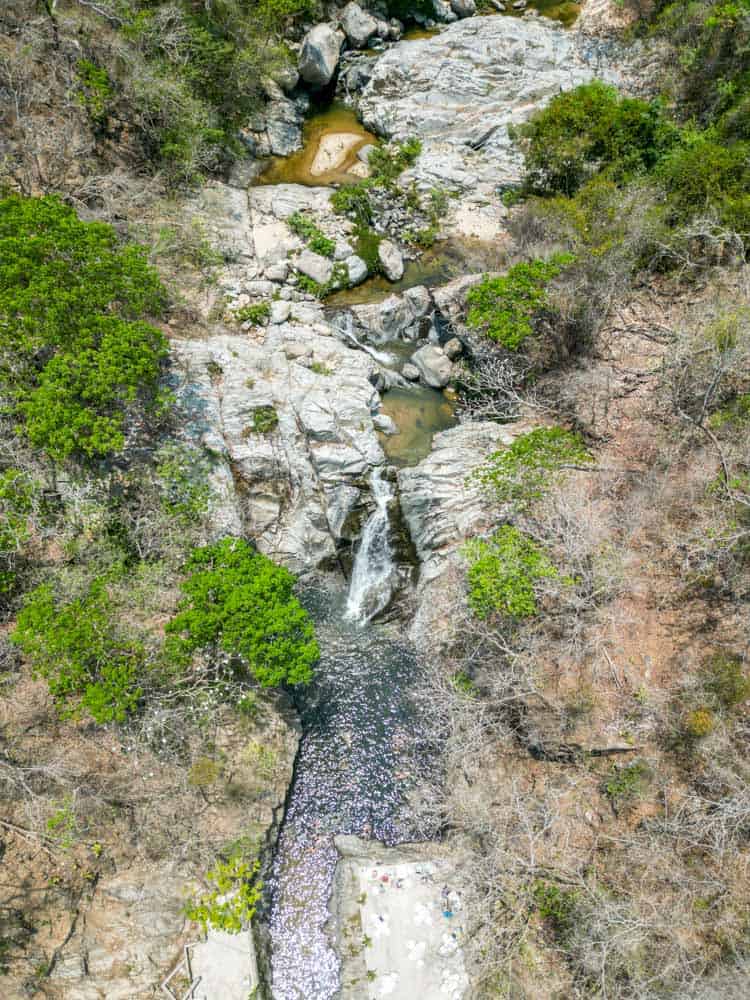 If you're looking to add waterfalls to your hiking adventure, head to Quimixto!
There aren't any roads here, so you'll need to go via water taxi from Boca De Tomaltan, which go regularly and cost around 100 pesos.
Once you arrive in Quimixto, follow the La Puerta River inland for about a mile – you should see signs pointing towards the waterfall trail. Just ask a local if you get lost.
The hike is inland and takes about half an hour to get to the falls, passing through various bridges.
It's a sweaty hike if you're there mid-day, so the falls are the perfect place to cool off afterward. There's a fairly large pool underneath the waterfall, and I saw some people jumping into it.
There's even a restaurant at the waterfall with decent ceviche and beers, making this a fun place to spend an afternoon with friends!
The beaches of Quimixto are also beautiful, so spend time relaxing here after the waterfall. It's one of my favorite day trips in Puerto Vallarta.
Read more: How to plan a day trip to Quimixto
6. Yelapa Waterfall Hikes
Another great place to go hiking near Puerto Vallarta is Yelapa, a cute beach town only accessible by boat. To get here, take a water taxi from Boca de Tomaltan or Los Muertos.
As it's about an hour each way, I recommend turning this into a weekend trip. Yelapa has such a lovely vibe about it; it's easy to spend a few days here.
There are several waterfalls in Yelapa you can visit. One is just 10 minutes from the beach and is easy to follow using the signs.
There isn't much water to see in the dry season, but it still makes for a nice walk through the colorful town.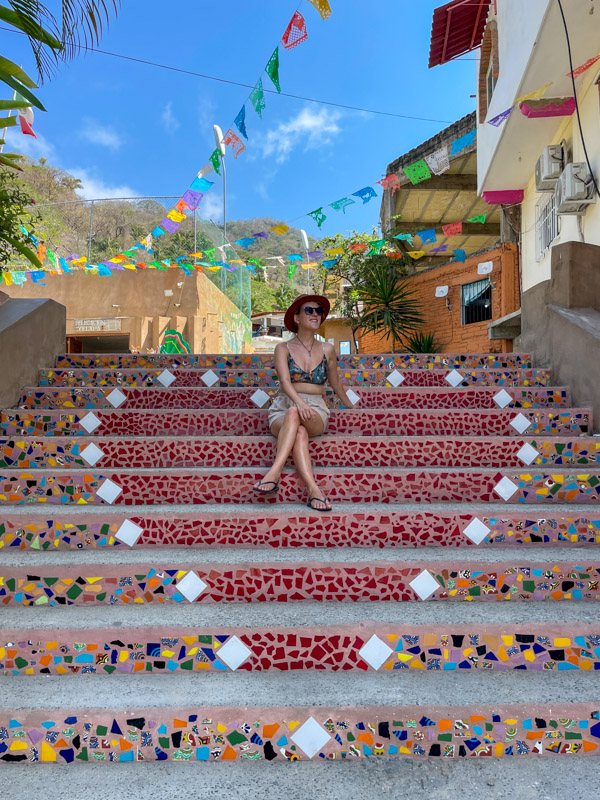 There's another waterfall in Yelapa that's about an hour inland. I hiked this on my most recent trip to Yelapa, and the water was so nice to cool off in afterward.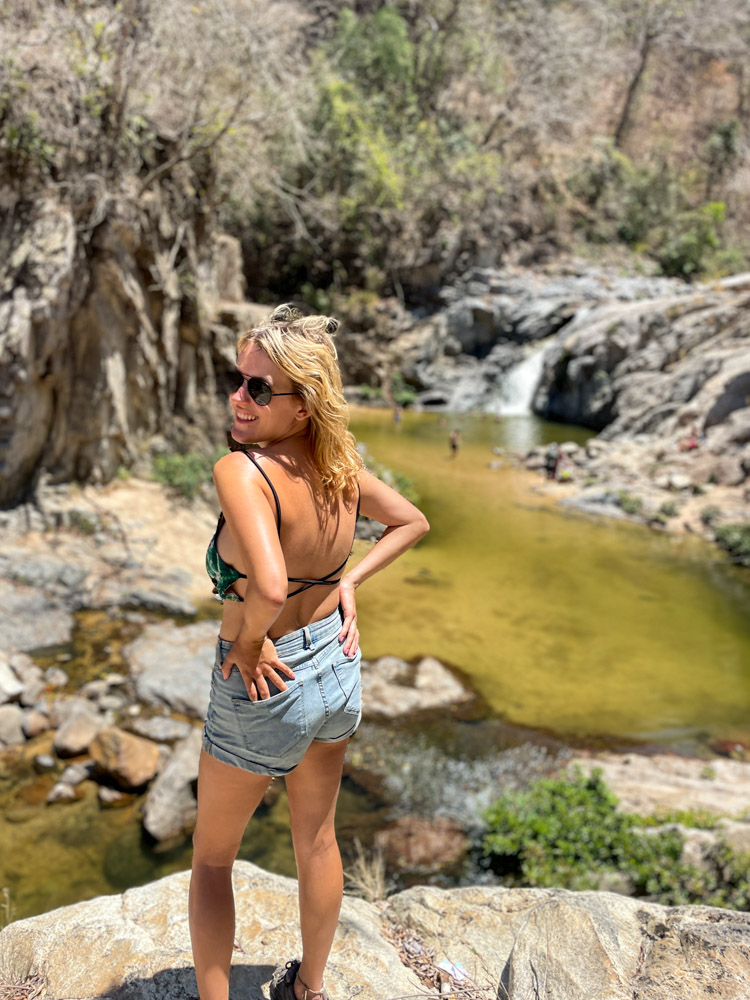 On another trip to Yelapa, we went on a full-day hike to find these waterfalls in the middle of the jungle with natural pools above them.
There was no one else around us but macaws, so it was a pretty magical experience. However, it's not easy to get here. The entire adventure took us 12 hours!
This hike also requires crossing the river nine times, so I definitely recommend getting a guide (the trail is not marked at all). We went with one of the staff from Los Naranjos, an eco-hotel in Yelapa.
🤩 I love this private tour because it includes two snorkeling stops and a guided hike to the Yelapa waterfall
7. Monkey Mountain
Sayulita, a charming surf town situated along the Riviera Nayarit, is renowned for its laid-back atmosphere and beautiful beaches. However, for those seeking a more adventurous side of Sayulita, the Monkey Mountain hike is one of the best hikes near Puerto Vallarta.
Also known as "La Montaña del Mono," Monkey Mountain offers an invigorating 6km hike that rewards you with breathtaking panoramic views of the Pacific Ocean and the lush surrounding landscapes.
As you ascend, the sounds of the jungle surround you, and you may be lucky enough to catch a glimpse of the diverse wildlife that inhabits the area, including various bird species.
At the top, the stunning views stretch out across the coastline and the lush greenery that blankets the region.
8. La Bufa in San Sebastian Del Oeste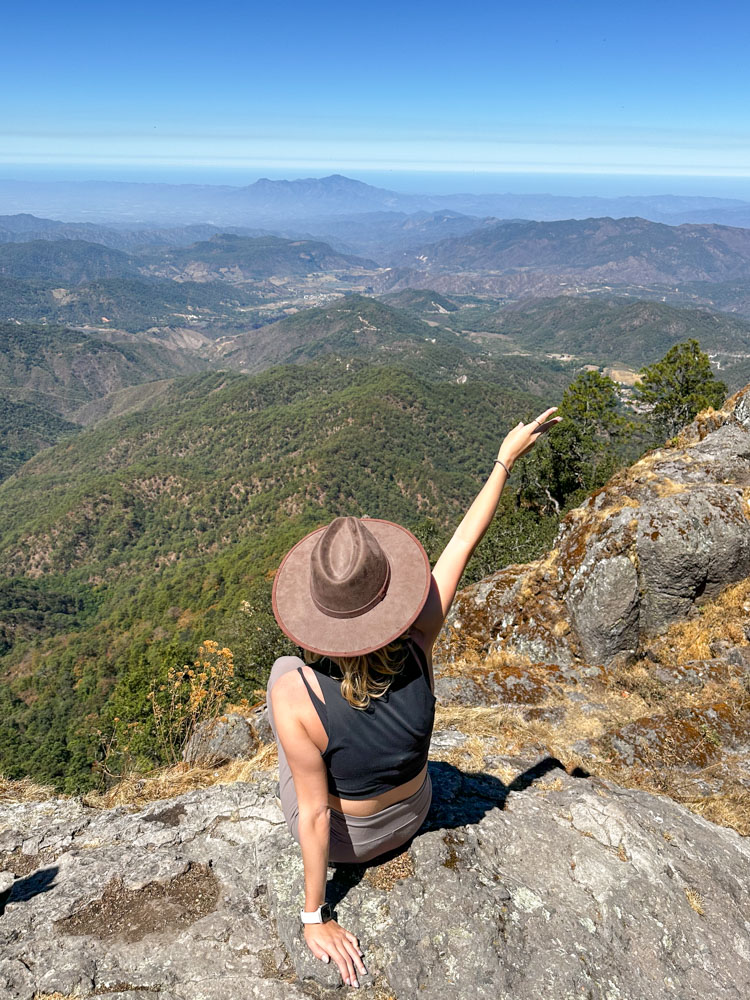 Nestled in the Sierra Madre Mountains, San Sebastian del Oeste is a charming and historic mountain town with cobblestone streets and well-preserved colonial architecture.
Apart from its cultural and historical significance, the town also offers excellent hiking opportunities for nature enthusiasts.
The best area for hiking San Sebastian del Oeste is around La Bufa viewpoint. You need to rent ATVs or take a truck to get to the top, where there's a small hike to an incredible viewpoint.
The trail leads you through a mix of oak and pine forests, showcasing the region's diverse flora. Once at the top, you'll be treated to sweeping vistas of the town below and the surrounding area. On a clear day, you can see as far as Puerto Vallarta!
9. Jorullo Bride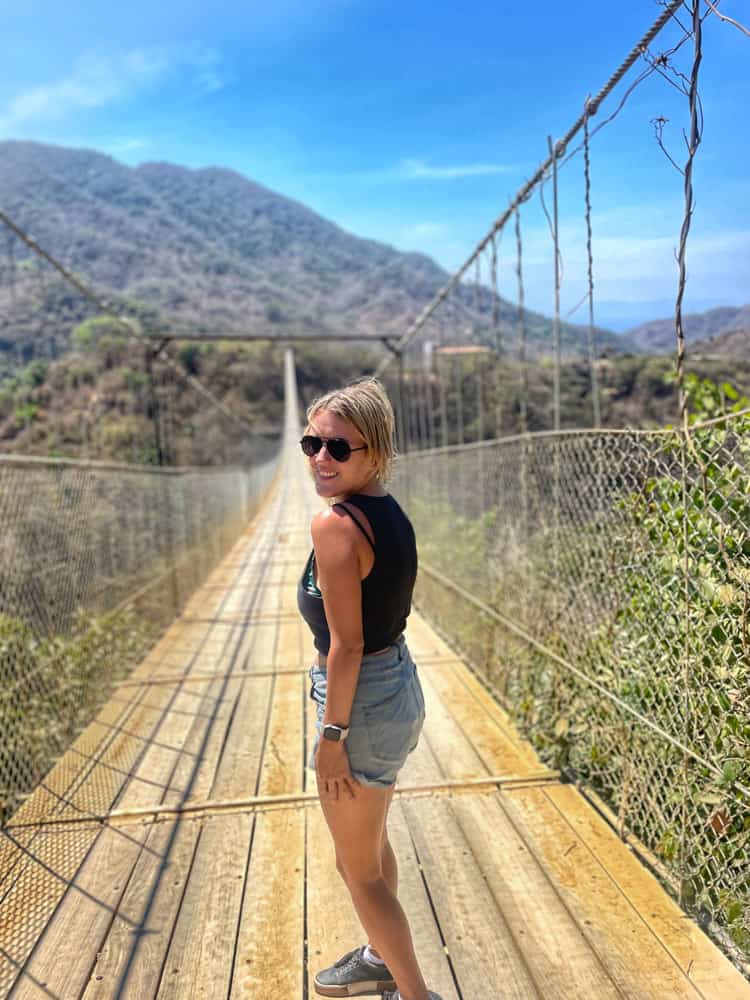 The Jorullo Bridge is a remarkable feat of engineering – it's the longest vehicle suspension bridge in the world that you can cross by ATV tour. However, you can also walk across it!
The bridge is in Canopy River Park, which is about a 20-minute drive from downtown Puerto Vallarta. It's a short walk from the park's restaurant to the start of the bridge.
The Jorullo Bridge stretches 470 meters (approximately 1,540 feet) across the canyon, providing breathtaking views of the river rushing below and the lush vegetation all around. Be sure to stop in the bar at the other end for a refreshing beverage.
While the bridge only takes a few minutes to walk across, it offers some of the best views in Puerto Vallarta. Afterward, cool off at nearby El Salto waterfall.
🤩 I love this hiking tour because it includes a professional photographer guide, transport from your hotel, and a Tequila tasting afterward!
Puerto Vallarta hiking tours
FAQ: Puerto Vallarta hiking
Are there good hikes in Puerto Vallarta?
Absolutely! Puerto Vallarta offers a wide range of scenic hikes, from jungle trails to coastal paths, catering to hikers of all levels.
Does Puerto Vallarta have waterfalls?
Yes, Puerto Vallarta boasts several stunning waterfalls, such as Yelapa, Quimixto, and Palo Maria, offering refreshing spots to cool off during hikes.
What mountains are near Puerto Vallarta?
The Sierra Madre Occidental mountain range surrounds Puerto Vallarta, providing numerous opportunities for mountain hikes and breathtaking vistas.
Is it safe to hike in Puerto Vallarta?
Generally, hiking in Puerto Vallarta is safe, but it's advisable to exercise caution, use established trails, and consider hiring a local guide for unfamiliar areas.
Is Puerto Vallarta walkable?
Yes, Puerto Vallarta's downtown and main tourist areas are walkable, making it easy to explore the city on foot and discover its charm at a leisurely pace. Many of the streets are cobblestone, so it's advisable to wear sturdy shoes.
Final thoughts: Best hiking in Puerto Vallarta
From the trails leading to hidden waterfalls and natural pools to the coastal hikes with mesmerizing ocean vistas, each hike in Puerto Vallarta offers a unique experience.
Whether you're seeking a leisurely stroll through a botanical garden or a challenging trek up a mountain, the region caters to all levels of hikers.
While exploring these trails, always remember to prioritize safety and respect the natural environment. Be prepared with proper gear, carry plenty of water, and consider hiring a local guide for unfamiliar routes.
Embrace the "leave no trace" ethos, ensuring that the beauty and ecological integrity of these incredible places are preserved for generations to come.
Looking for more outdoor activities in Puerto Vallarta? Check out these posts!