This post may contain affiliate links. By clicking and making a purchase through the links, I earn a small commission at no extra cost to you. This allows me to keep the site up to date and expand on resources. Thanks for reading!
Puerto Vallarta isn't just about the beach – look behind to the mountains, and you'll find lush jungles with waterfalls to explore.
Palo Maria waterfall is one of the easiest to access, and this guide has everything you need to know about how to hike Palo Maria from Puerto Vallarta Mexico.
Where is Palo Maria Waterfall?
Cascada Palo Maria is located south of the city, between Conchas Chinas and Mismaloya.
There's no road to the waterfall, so the closest you can drive is off Highway 200 across from Hacienda Palo Maria.
How to get to Palo Maria from Puerto Vallarta
The easiest way to get to the waterfall from the city is via a taxi or Uber. You can put in Hacienda Palo Maria or Cascada Palo Maria and the driver should know where to drop you off.
The entrance to the trail is across the street from Hacienda Palo Maria, on the left side of the highway if you're coming from the city.
I got an Uber from Versalles in June 2022 (about a half-hour drive), and it was 235 pesos (just over 10 USD). Taxis will probably try to charge you more.
You can also get a public bus here from Zona Romanica. They leave in front of this Oxxo and go along the highway towards Boca De Tomatlan.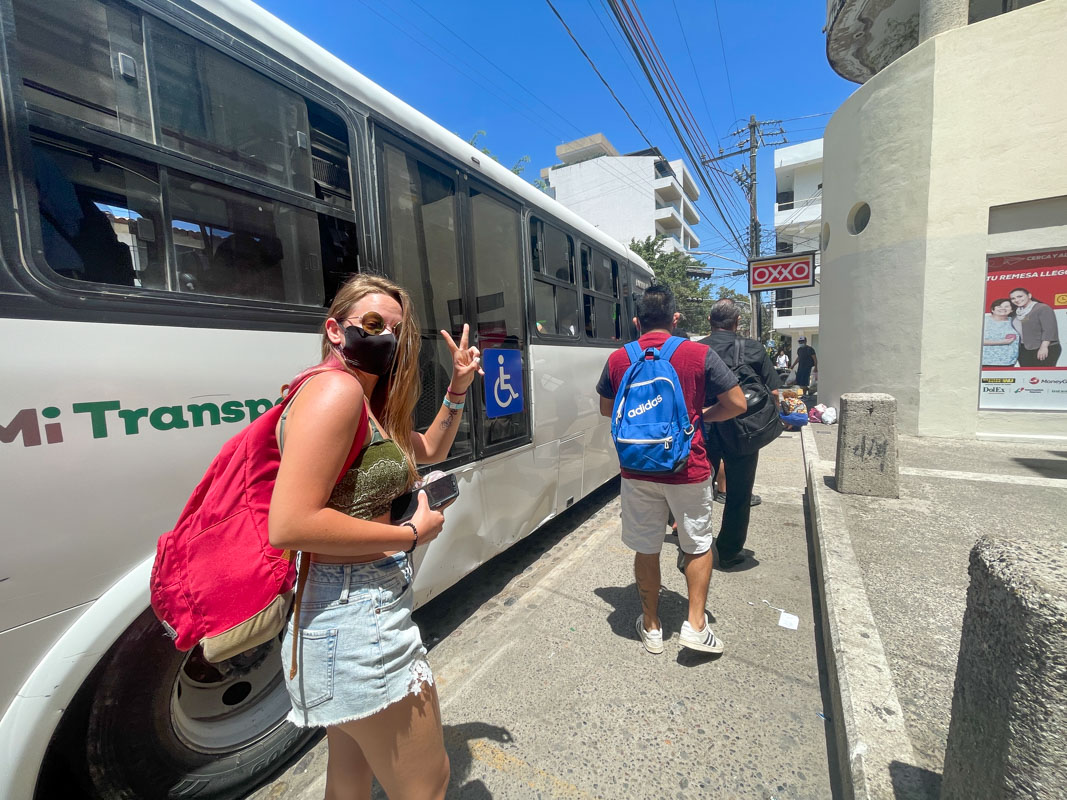 I haven't taken the bus to Palo Maria before so I'm not sure where the closest stop is, but it frequently stops on the highway, so it shouldn't be more than a few minutes walk.
You can always tell the driver that you're going to Palo Maria when you get on, and he will tell you where to get off. It's about a 15-minute bus ride from Zona Romantica.
Palo Maria Waterfall Hike
The hike to the first waterfall at Palo Maria is relatively straightforward and is one of the more accessible waterfalls in Puerto Vallarta Mexico. It's a 2.7km out and back trail and takes less than an hour.
You'll see a small sign pointing Cascada down to the right, where you'll find the trail. You follow the river (Rio Arriba) until you reach the waterfall.
During the dry season, there won't be much water in the river, so you can walk over the rocks easily. But during the wet season, this is more challenging. I've hiked in both, and having a good pair of water shoes helped me greatly.
There are also paths to the left and right of the river you can walk along that are dry. It's a little confusing as some go further into the jungle, but you can't get too lost because there are fences on either side.
The right side is easier to navigate, and if you get confused, you can always walk straight up the river.
You can find directions on AllTrails here. I also found this YouTube video below by Tourist to Loca helpful, which I watched before going for the first time.
There are more waterfalls higher than the first one, but I've never hiked to them. I know many friends who have though, and they all rave about them.
In total, there are 12 waterfalls you can see on this hike but the higher ones require a greater level of fitness as you will be climbing up rocks.
Guided Palo Mario Hike
If you don't feel comfortable going on your own, want to reach the higher waterfalls, or are just looking for some insider knowledge, there are guided hikes you can take to the waterfall.
I recommend this guided hike to Palo Maria! You'll meet your guide at the pier, then walk over to Oxxo to catch the bus for a 15-minute ride to Palo Maria. You'll walk through the hiking path to the waterfall and stay at it for about an hour before heading back on the bus to Old Town.
Water, bus transportation, photos, and a snack for the hike are provided on this guided tour. If you're booking this tour, you can get 10% by using my code EXPLOREWITHLORA10!
What to do at Cascada Palo Maria
Of course, one of the best reasons to visit Palo Maria is to go swimming and cool off from the Puerto Vallarta heat! There are fish there, but they are harmless (just very curious).
During the dry season, it's more of a swimming hole than a waterfall but is a wonderful place to cool off from the city's heat and spend an afternoon with friends.
It's also one of the easier waterfalls hikes in Puerto Vallarta to reach as the others like Quimixto and Yelapa, you need to take a boat.
If you're feeling adventurous, you can jump off the cliffs above into the water. I've seen plenty of locals doing impressive flips into the water, so it's deep enough.
And if you feel like exploring, continue from the first waterfall and hike up to the higher ones.
There isn't anywhere to buy food or drinks at Palo Maria, so if you're planning to come for the day, come prepared with enough water, snacks, and cervezas.
Best time to visit
The first time I visited Palo Maria was in May during peak dry season, and to be honest, it was a little disappointing because there was barely a waterfall to see. Still, it was an awesome place to hang out and go swimming with friends for the afternoon.
When I returned in late June after the rain had started, the waterfall was so much more impressive to see!
It was also much less crowded, and I still felt safe swimming in the pool below. On top of that, the jungle was much more green and lush.
That said, we did get caught in a rainshower on the hike back, which is always a risk during the rainy season. But I loved it! It's such an incredible feeling to be in the middle of the jungle, even if you're soaking wet.
What to bring to Palo Maria
Sun protection including hat, sunscreen, sunglasses
Insect repellant
Full water bottle
Snacks
Comfortable hiking shoes or water shoes
Snorkel gear if you want to snorkel
Swim suit and smallbeach towel to dry off
For a complete list of what to pack for your trip to Puerto Vallarta, check out this guide!
Planning a trip to Puerto Vallarta? Don't miss these posts!