This post may contain affiliate links. By clicking and making a purchase through the links, I earn a small commission at no extra cost to you. This allows me to keep the site up to date and expand on resources. Thanks for reading!
Wondering how to visit the Yelapa waterfalls? I live in Puerto Vallarta, Mexico, and have hiked most of the waterfall trails in Yelapa.
Yelapa, Mexico, is a small town near Puerto Vallarta located on the coast of the Bay of Banderas, just a short boat ride away.
The area is known for its serene natural beauty, and one of the main attractions is the waterfalls that can be found throughout the area.
In this post, we'll explore the different waterfalls hikes in Yelapa.
Best Yelapa waterfalls
Yelapa is home to some of the best hiking trails near Puerto Vallarta, most of which lead you to gorgeous waterfalls to swim in.
Cascada de Yelapa
The easiest waterfall to reach in Yelapa is the 'Cascada de Yelapa,' which is about a 15-20 minute walk from the pier. You can find it marked on Google Maps here.
The hike is relatively easy, with a well-defined trail that takes you through the town into a short section through the jungle before reaching the walls.  If you are coming from the beach you must walk through town first.
If you get confused, just ask any locals in town, "Cascada," which means waterfall, and they will point you in the right direction.
The waterfall is about 15 meters high, and there's a natural pool at the bottom where you can cool off and swim.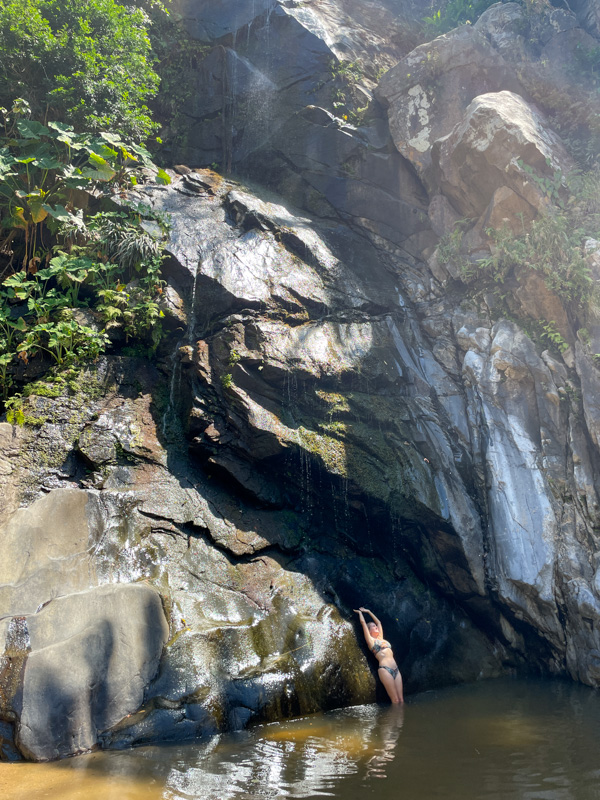 I've only visited during the dry season in May, and it was a bit underwhelming as there was almost no water, but if you go during the rainy season (June to October) or in the first couple of months after it ends, I've heard great things.
If you're visiting past December, I would skip this and head to the waterfall further inland.
Second Yelapa Waterfall hike
If you're looking for a place to go swimming during the dry season or a longer hike, this Yelapa waterfall hike is perfect. You can find directions on AllTrails here. It's also marked on Google maps here. The hike takes a little over an hour.
The trail follows along the river and can be accessed from the main road in town (walk towards Los Naranjos retreat). The waterfall hike is on the southern side on Yelapa's beach, so if you're coming from the beach (on the northern side) you'll need to take the pedestrian bridge first.
This hike is more challenging than the smaller waterfall, but nothing too extreme. It's a mild incline, until you get to the end and have to scramble over some large boulders to reach the waterfall. I did see families doing this hike with kids, so it's manageable.
It starts off with a cobbled path through town that turns into a dirt path. You do have to cross over a few small rivers on this hike, so I recommend wearing hiking water shoes otherwise you will be taking off your footwear all the time which is annoying.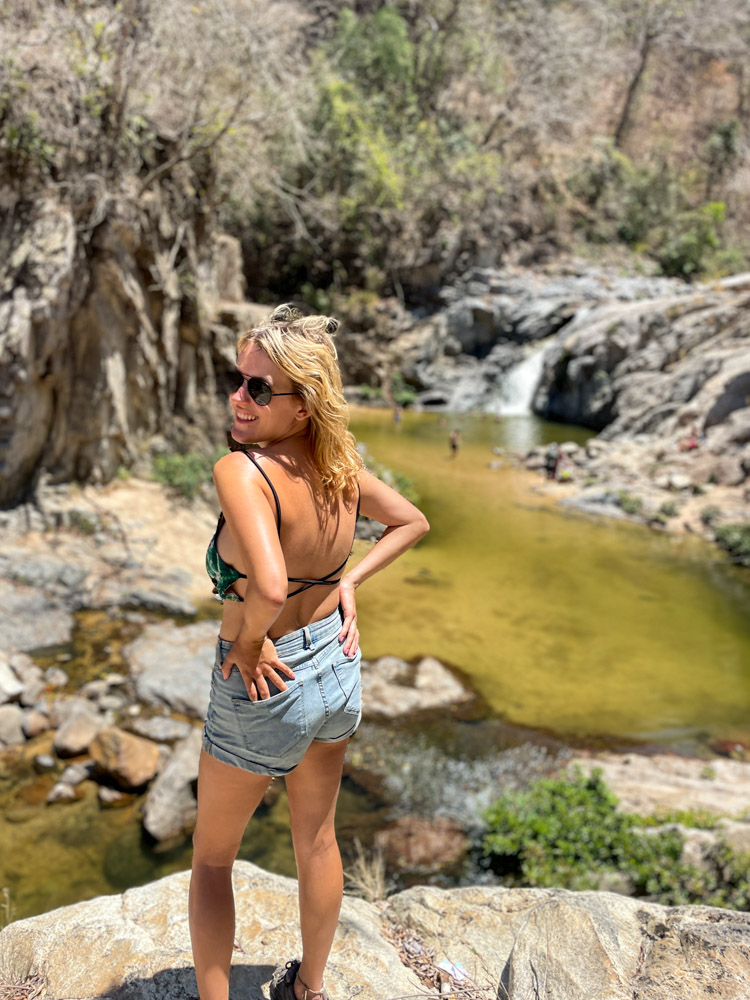 This trail is definitely worth it if you want go swimming in Yelapa as there was still plenty of water flowing when we hiked in April during the dry season.
It's a great place to spend the day, with plenty of shade and rocks to sit on, and there's a large pool at the bottom where you can swim.
Hidden Yelapa falls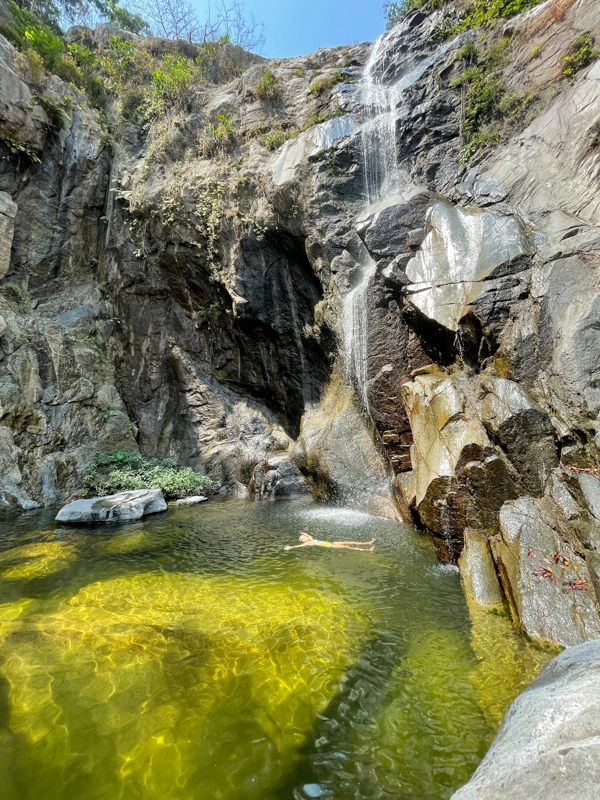 On my first trip to Yelapa in 2021, I went with a large group to these gorgeous remote waterfalls which was an adventure, to say the least.
It took us about 4 hours to get there with over nine river crossings, so I wouldn't do this without a guide (we hired one from Los Naranjos).
But, it's by far my favorite waterfall experience in Yelapa. There were multiple pools at the top, and nobody else was there but our group and the macaws flying above us. Still, it made for a 12-hour day of hiking so this is a hike you really need to be prepared for!
How to get to Yelapa from Puerto Vallarta
One of the reasons Yelapa has retained its charm is that there aren't any paved roads to get there with a regular car. There are a few ways to get to Yelapa from Puerto Vallarta.
To visit Yelapa you can either take a water taxi from Los Muertos Pier or Boca de Tomatlan, a small fishing village about twenty minutes from the Old Town. Los Muertos is in town, but the water taxis are more expensive (450 round-trip as of April 2023).
The easiest way to visit is on one of these Yelapa tours from Puerto Vallarta, which will take you there via boat and provide leisure time to hike to the waterfall in town.
BEST YELAPA WATERFALL TOURS
If you're a waterfall chaser, taking a trip to Yelapa and hiking to one of these waterfalls is a must! It's one of the best day trips from Puerto Vallarta.
Planning a trip to Puerto Vallarta? Don't miss these posts!