This post may contain affiliate links. By clicking and making a purchase through the links, I earn a small commission at no extra cost to you. See my disclaimer for more information. This allows me to keep the site up to date and expand on resources.
Wondering about the Romantic Zone Puerto Vallarta? Let me help you! I've been living in this neighbourhood for over a year, so you can trust me to guide you through the must-see spots and hidden gems of this area.
Nestled between the Rio Cuale and the stunning Banderas Bay, the Romantic Zone, or "Old Vallarta," is a charming blend of tradition, culture, and modernity
La Zona Romantic is also the center of the LGBTQ scene. Puerto Vallarta is the gay beach capital of the country, and it's often referred to as the "San Francisco of Mexico."
It's a place where vibrant streets come alive with energy, where diverse culture meets the allure of tradition, and where every corner is filled with surprises.
Whether you stay here or come to explore for a day, visiting this area is a must on your trip to Puerto Vallarta.
In this post, we'll guide you through the best things to do in the Romantic Zone, and tips on where to eat, play, and sleep.
Leaving El Centro, you arrive in Old Town by crossing the river. A few bridges cross between the two, including one on the Malecon that crosses over the little island.
The area, also called Old Town, is the heart of tourism in Puerto Vallarta.
There are plenty of hotels, shops, restaurants, cafes, spas, and bars catering to the constant flow of tourists. Over the past few years, the neighborhood has also seen an influx of high-rise apartments.
Many bemoan the gentrification of the Romantic Zone (myself included), as it has lost a lot of its traditional charm in the process. There's constant construction now, with builders trying to one-up each other by going higher and higher.
That being said, this is still a super fun place to stay, especially if you're just visiting.
Things to do in Zona Romantica Puerto Vallarta
For the most part, the Romantic Zone is all about three things – the beach, the food, and the party.
Playa Los Muertos
This neighborhood is home to Los Muertos Beach, the most famous and busiest beach in town. Here, you'll find the iconic pier shaped like a sailboat. Walk to the end for a great view of the town and the beach.
There are many restaurants on the beach where you can find a sun lounger and umbrella as long as you're ordering something. Our go-to spot is Swell Beach Bar, as they have great service and reasonable prices. It's one of the best beach clubs in Zona Romantica!
That's also where you'll find water taxis that you can catch to take you down south to places like Las Animas or Yelapa.
You can also go out on a banana boat, take a thrilling jet ski ride, or even go parasailing here.
LGBTQ+ Community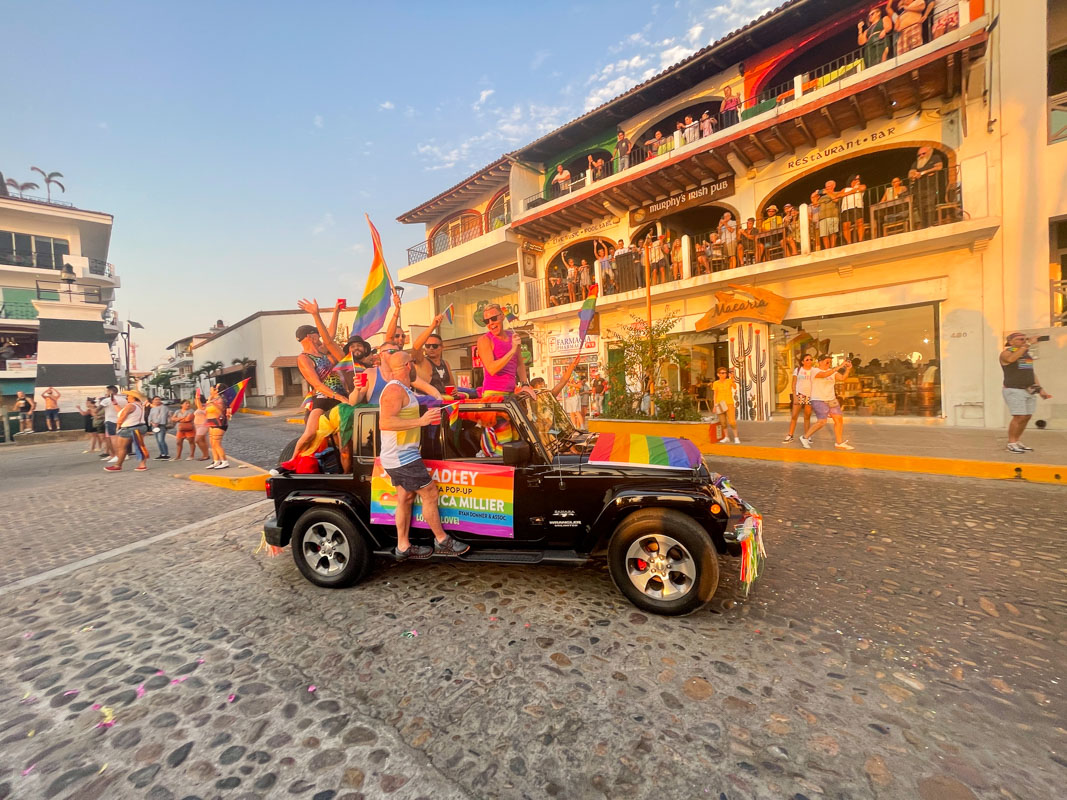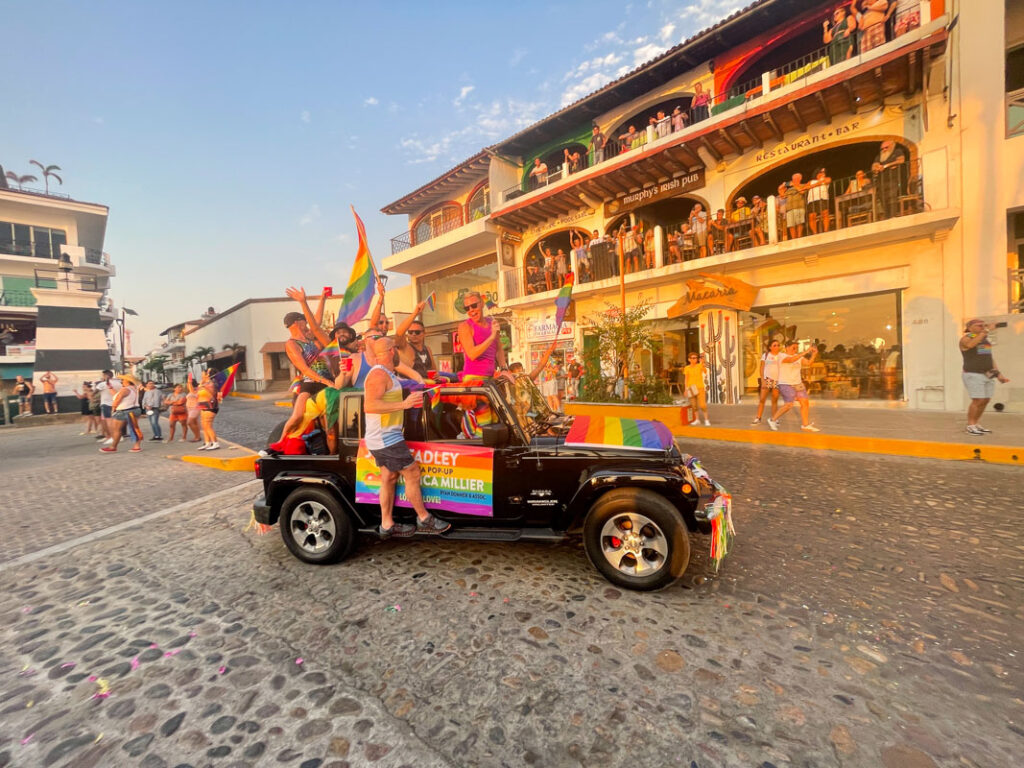 The Romantic Zone is renowned for its accepting and lively LGBTQ+ community. The area boasts a plethora of gay bars and clubs where everyone is welcome, ensuring a night filled with fun and friendship.
While this area is always busy, it's especially lively during the city's annual pride festival.
This happens in May and it's one of Puerto Vallarta's best events with lots going on, so be sure to check the calendar. Check the Vallarta pride website for the latest info.
Lazara Cardenas Park
Just a block off the beach, you'll find Lazaro Cardenas Park.
These days it's known as the tile park thanks to the ongoing project to cover the entire thing with colorful mosaic tiles.
This park is also home to the weekly farmers' market during the high season. It takes place on Saturdays from 9 AM-2 PM and features dozens of local vendors.
Isla Cuale
Exploring the Isla Cuale is another fun thing to do in the Romantic Zone. This little island in the river is full of trees, making it a great place to hide from the midday sun.
There's a big flea market on the island where you can do some souvenir shopping, and there's also a nice little park with a cultural center.
If you're up for it, climb the long staircase up to the area known as Gringo Gulch. Here you can visit the former home of Elizbeth Taylor and Richard Burton.
Yoga class on the beach
A great way to start your day or end your day is with a rejuvenating yoga session by the sea, a truly unique way to connect with nature.
I love my evening yoga classes with Yoga Vallarta by the pier.
Explore Art Galleries
Discover the local art scene by visiting galleries showcasing works from both renowned and emerging artists.
While most of Puerto Vallarta's best galleries are in Centro, there are a few galleries to explore in the the Romantic Zone including Tierra Huichol, Galleria Dante, and Qulture, which also doubles as a restaurant.
Attend a Live Performance
Catch live music, theater, or cultural performances that regularly take place in various venues throughout the Romantic Zone. Act 22 is one of the most popular, which you can see posters for all around the Old Town.
Many theaters even host performances in English, making them accessible to international visitors.
Watch the sunset from a Rooftop Bar
End your day with a stunning sunset from one of the many restaurants with a view in Zona Romantica. Accompanied by refreshing beverages and good company, there's no better way to end a day in PV!
My favorite is sunset happy hour at the rooftop in Pinaccle Resorts.
Best Restaurants in the Romantic Zone
Other than that, the Romantic Zone is all about going out to eat and party. There are so many restaurants and bars here that it can be a bit overwhelming.
You can seriously find it all here, from street tacos to fancy candlelit dinners, dive bars to high-end cocktail joints.
It's possible to hit a different restaurant and bar every night with no repeats, even if you stay for a month or more. There are just that many options here.
I've done plenty of research over the years to bring you some recommendations. Here are some of the best spots to eat in Zona Romantica from morning into night.
Breakfast in Zona Romantica
Freddy's Tucan is one of the best breakfast spots in town, although there's almost always a line so come here with patience.
Mi Cafe is Lora's favorite, by the Emiliano Zapata market. While it's a little tucked away, it's worth the short walk to eat here. Their plates so filling! If you need to pick up groceries for home, the market is a great place to go afterward.
Lunch in Zona Romantica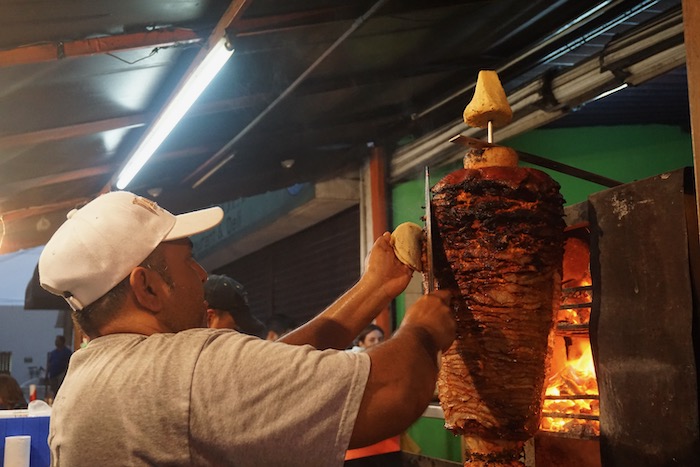 Salud Super Food is great place for quick salads, bowls, and other healthy stuff.
Pancho's Tacos is an iconic place for tacos al pastor and more.
Marisma Fish Taco is an awesome taco truck back by the tunnel in Emiliano Zapata. They've been battering and frying fish and wrapping it in warm corn tortillas for over 20 years now. It's a great place to grab a quick and delicious bite to eat.
Nosh Turkish Bites is perfect for light Turkish/Mediterranean fare. You can also buy hummus to go here which is hard to find in PV!
Dinner in Zona Romantica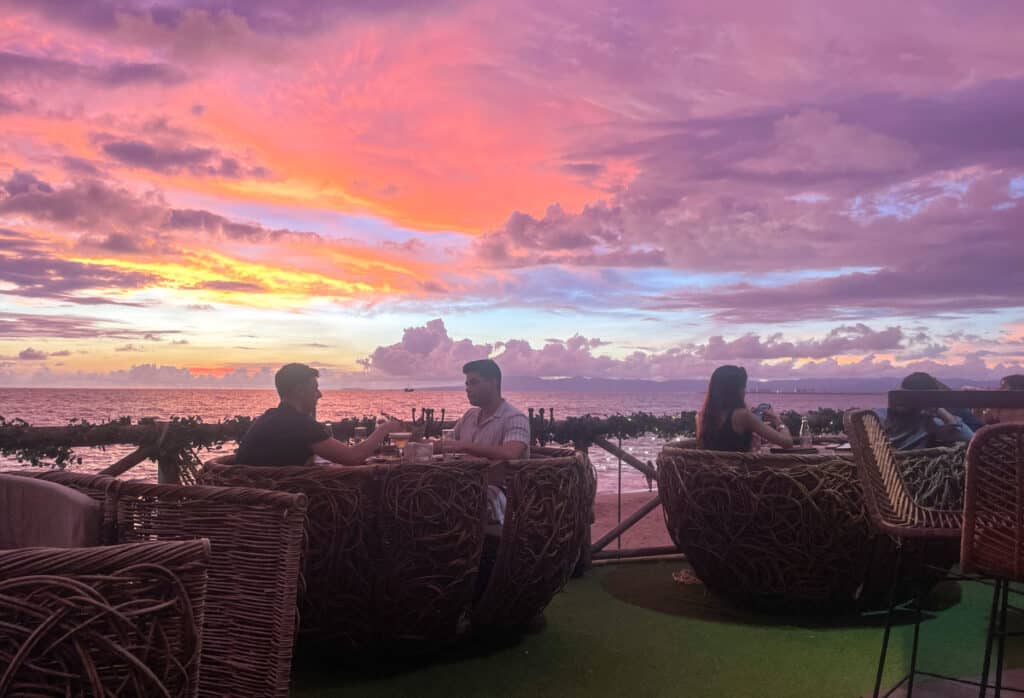 Mezcal y Sal is one of my favorite Mexico restaurants in Puerto Vallarta. They offer unique small plates of tacos, with many vegetarian options and amazing cocktails. Each plate and drink is like a work of art!
La Palapa is a fancy beachfront restaurant good for any meal, with one of the best views for watching the sunset on the beach.
Hot Mamma's Whiskey Kitchen offers Nashville hot chicken and more soul food – a good option if you're getting tired of Mexican!
Ik Mixology Bar and Cuisine is right next to Los Muertos Pier, with an Instagrammable bamboo swing that offers a perfect view of the sun set over the ocean.
Best bars and nightclubs in Zona Romantica
Monzon: excellent craft brewery with a creative kitchen
Twisted Palms: rooftop bar known for their martinis
El Soñador: my favorite dive bar
Mr. Flamingo: gay bar with a bumping dance floor that welcomes all
Blue bar: great place to for late-night karaoke
Roxy's: Next to El Sonador, this is a great place for live music
Puerto Vallarta Romantic Zone Hotels
A vast majority of visitors to PV choose to stay in the Romantic Zone. This is the tourist center of the city, and you've got everything you need at your fingertips here.
When looking for a place here, one thing to think about is how close you want to be to the party. Music blares until the wee hours of the morning most nights, so keep that in mind.
If you're hoping to get a good night's sleep, you'll need to find a place a few blocks away from the main bar area. Or perhaps just stay somewhere like Versalles or the Marina and just come to Old Town for dinner and drinks.
As is the case with restaurants and bars, you're also spoiled for choices when it comes to accommodation here.
There are tons of places to stay in Old Town, from budget hostels to beachfront resorts and everything in between. Of course, it's home to some of the best gay hotels in Puerto Vallarta.
Here are a few recommendations for where to stay in the Romantic Zone:
Los Muertos Hostal is a solid choice for those looking to save some pesos and make friends. It's one of the most highly rated hostels in PV, right by the beach, and super affordable.
Casa Nicole is a lovely boutique hotel just a few blocks from the beach with a pool and gym. They're known to make fantastic breakfasts here.
Rivera Del Rio makes a perfect choice for those looking for something away from the noisy bars. They have a rooftop pool with great views and some very stylish rooms.
Almar is a luxury LGBT beachfront resort home to the famous Mantamar beach club. This is the place to see and be seen in PV's "Gayborhood" and is consistently named one of Puerto Vallarta's best luxury hotels.
FAQ: Romantic Zone Puerto Vallarta
Should I stay in the Romantic Zone in Puerto Vallarta?
Yes, staying in the Romantic Zone is an excellent choice for those seeking a lively atmosphere, close proximity to beaches, dining, nightlife, and an LGBTQ+ friendly atmosphere.
What is Zona Romantica known for?
Zona Romantica is renowned for its cobblestone streets, vibrant LGBTQ+ scene, delectable dining, spirited nightlife, Los Muertos Beach, and a mix of traditional and modern Mexican culture.
Why is it called Zona Romantica?
It's called Zona Romantica (Romantic Zone) because of its charming, picturesque streets and ambiance, which has made it a favorite spot for couples and those seeking a warm and inviting atmosphere.
What zone is Zona Romantica?
Zona Romantica is located in the south part of Puerto Vallarta's downtown area, bordered by the Rio Cuale to the north and the beautiful Banderas Bay to the west.
How safe is Zona Romantica?
Zona Romantica is considered safe for both locals and tourists, but as with any popular tourist destination, it's always wise to exercise regular caution and be mindful of your surroundings.
Which part of Puerto Vallarta is the best?
The "best" part of Puerto Vallarta depends on individual preferences, but many travelers love the Romantic Zone for its lively character, Marina Vallarta for luxury, and the North Hotel Zone for family-friendly resorts.
What is the old part of Puerto Vallarta?
The old part of Puerto Vallarta refers to the area known as "Old Town" or "El Centro," which includes the Romantic Zone. It's celebrated for its traditional architecture, historical charm, and authentic Mexican culture.
How much is an Uber from Puerto Vallarta airport to Zona Romantica?
An Uber from Puerto Vallarta airport to Zona Romantica may cost around $10 to $20 USD, but prices can vary based on demand and traffic.
Final thoughts: Romantic Zone Puerto Vallarta
One thing is for sure about the Romantic Zone – this is a fun place to be. Days can be spent lounging on the beach or enjoying some watersports, while evenings are for trying new restaurants and bar hopping.
If you're in PV for a short vacation, this is the place for you. Many digital nomads also choose to base themselves here to be in the center of all the action.
Would I live in the Romantic Zone? Probably not. I don't trust myself to be that close to the party, and I'd get sick of the neverending crowds of tourists. But many people love living here!
Other Puerto Vallarta Neighbourhoods
We've been exploring the best Puerto Vallarta neighborhoods one by one. For more guides, check these posts.