This post may contain affiliate links. By clicking and making a purchase through the links, I earn a small commission at no extra cost to you. See my disclaimer for more information. This allows me to keep the site up to date and expand on resources.
Wondering where to stay in Puerto Vallarta? With so many beautiful and diverse neighborhoods to choose from, it can be difficult to know which one to pick!
There's a neighborhood for every type of traveler, whether you want some peace and quiet on the beach or prefer to be in the heart of the action downtown.
Researching the best areas to stay in Puerto Vallarta can save time and money because you'll be in the best neighborhood for what you want to do during your trip.
This post will go over the best neighborhoods in Puerto Vallarta from north to south so you can decide exactly where to stay for your next vacation. There are also recommendations on the best Puerto Vallarta hotels to stay in for each area!
Best Areas In Puerto Vallarta
Marina Vallarta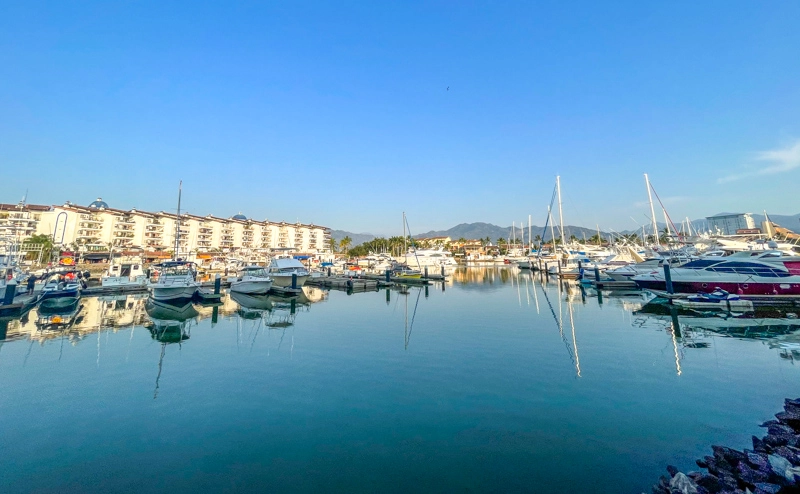 This neighborhood or "colonia" in Spanish is one of the prettiest and most exclusive areas to stay in Puerto Vallarta. It's full of quaint cafes, gourmet restaurants, and fancy shops where you can get everything from souvenirs to antique furniture.
Everything is set up right in front of the Marina, where you'll get amazing views of the water and a lineup of luxury yachts and boats.
Another great feature of Marina Vallarta is its architecture, which covers everything from colonial style to modern. And of course, there's the gorgeous 18-hole Marina Vallarta Golf Club!
The marina is also conveniently located, just a five-minute drive from the airport and twenty minutes to Centro. Taxis aren't as prominent as in Centro, but Ubers are easy to get, and there's also a bus that goes straight from the marina to Centro and Zone Romantica.
Things to do in Marina Vallarta:
Take a whale watching or snorkeling trip
Walk around the pier
Enjoy the restaurants
Find more things to do in this Marina Vallarta guide.
Where to stay in Marina Vallarta
Looking for a hotel in Marina Vallarta? Complete the experience by staying at the San Trópico. It's a little Puerto Vallarta hotel in the heart of the Marina, just 10 minutes walking distance from the beach. They offer modern, chic suites and studios that combine a mix of contemporary and tropical decor.
North Hotel Zone
Located south of Marina Vallarta and running along the beaches north of downtown, the north hotel zone is an area exactly like it sounds – full of hotels and resorts by the beach.
If it's your first time in Puerto Vallarta and you're looking for a nice place to stay by the beach with plenty of amenities, this may be the area for you!
Top things to do in the hotel zone:
Find more things to do in this north hotel zone guide.
There are ample hotels and Puerto Vallarta all-inclusive resorts, all located along the gorgeous beach.
The Hotel Zone is just a fifteen-minute drive from the airport, and Transportation is plentiful in this area, including taxes, Ubers, and public busses that can take you around town.
For a truly luxury experience, book a stay at Fiesta Americana Puerto Vallarta All-Inclusive Resort & Spa.
This luxury resort offers contemporary Mexican architecture surrounded by the Sierra Madre Occidental mountains on one of the most beautiful beaches in Puerto Vallarta. It features a spa, fitness center, and several on-site restaurants and bars.
Versalles / Las Glorias
Versalles is quickly becoming one of the most popular neighborhoods in Puerto Vallarta thanks to its growing restaurant scene, convenient location, and quieter atmosphere.
It's a popular spot for digital nomads to live as it's got fast wifi, coworking spaces, and lots of cute cafes. And when you're ready for some fun, it's just a short Uber or bus ride away from Zona Romantica. The beach is only 5 minutes from here as well!
Versalles is most well-known for its fantastic restaurant selection. You can every type of cuisine here from Greek to Italian, and of course plenty of Mexican restaurants too. It seems that there is a new restaurant popping up every month in Versalles, and the area is only expected to keep growing in popularity.
Where to stay in Versalles Puerto Vallarta
While many of the buildings here are residential, there are still some Airbnb and VRBO apartment buildings you can rent here. And there are also a lot of hotels in nearby Las Glorias, which is just across the road from Versalles.
Check out Secrets Vallarta Bay & Resorts. This adults-only resort is located on the golden sand beaches of the Pacific coast within walking distance to the El Malecón boardwalk, and of course, nearby to some of the top restaurants in Puerto Vallarta. It's a AAA Four-Diamond resort with 24/7 access to fantastic nightlife, non-stop entertainment, and unlimited-Luxury.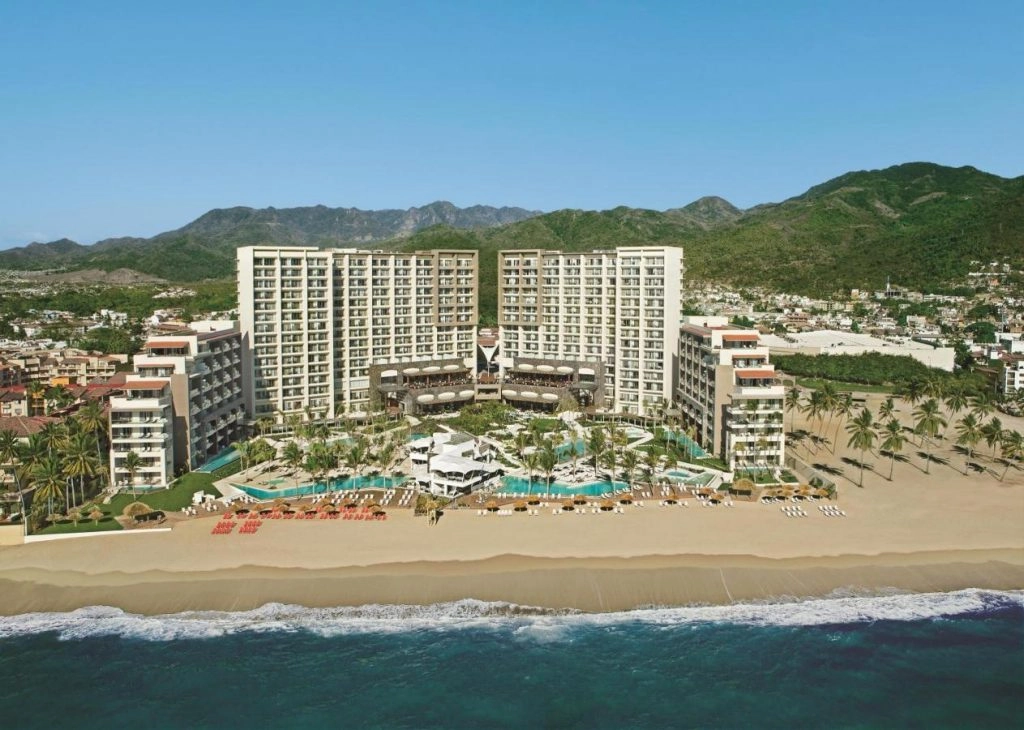 5 de diciembre
Continuing further south is when you start to get into the heart of the action as you enter downtown Puerto Vallarta.
The city is known for having one of the most picturesque and romantic downtowns in the country. It is one of the very few beach towns that have a colonial-style Centro!
5 de Diciembre is an area that is becoming more popular by the day and is now a must-go spot for tourists.
Centrally located, it's on the top of the list for ex-pats looking to buy or rent a place. Cool shops, bars, and condos are popping up all the time.
The beaches here are not as crowded as further south, and the surrounding area is full of places to go out at night. Plus, you're within walking distance to Centro and Zona Romantica! If you want to be in the center of everything, this is one of the best areas in Puerto Vallarta to stay in.
Top things to do in 5 de Diciembre:
Chill out on Playa Camarones
Explore Plaza Hidalgo, the public square
Go shopping for local food at Mercado del Mar
Bars and restautants
Find more things to do in this guide.
Where to stay in 5 de Diciembre Puerto Vallarta
The Paramar Boutique Hotel is an ideal base to explore 5 de diciembre. Right on Playa Camarones, it's surrounded by local cuisine and fun places to get a drink. Plus, it's internationally certified with the Blue Flag distinctive, so you know you'll be in good hands.
Old Town / El Centro
Old Town is divided into two sections: El Centro to the north of the Cuale River and Zone Romantica to the south. El Centro is just north after 5 de Diciembre and boats some of the best attractions in Puerto Vallarta, including Guadalupe Church and the Malecon – a beachfront boardwalk full of life and art.
This area is as romantic as it gets, especially by night with the soft, warm lights and narrow, cobble-stoned streets.
Top things to do:
Where to stay in Centro
How about staying at the former house of Old Hollywood's legend Elizabeth Taylor? Casa Kimberly Boutique Hotel is the restored house where the actress lived in Vallarta, a city so close to her heart and where her love story with Richard Burton became eternal. This gorgeous mansion will treat you like you're a king or queen!
Zona Romántica
Zona Romantica is the hottest, most popular destination in Puerto Vallarta among tourists and locals. It's growing so quickly that it could be hard to recognize for someone who was here five years ago for the last time.
This is a neighborhood where you'll find some of the best restaurants in town, including many vegan options.
The bars in Zona Romantica are just as cool, especially the gay clubs because it's the gay neighborhood.
Hotels, nightclubs, beach clubs, and entertainment centers offer the best they have to satisfy the high demand of the LGBT community from all over the world that visit Vallarta every year. If you want to have a night out while in Puerto Vallarta, Zone Romantica is the place to go.
Another great thing about staying in the Romantic Zone is how walkable everything is from it. The beautiful Los Muerto Beach and the Malecon are all just steps away.
Top things to do in Zona Romantica:
Los Muertos Beach
Take a boat trip from Los Muertos Pier
Party at night
Where to stay in Zona Romantica
The best way to spend your nights in Zona Romántica is to maintain the old charm style of its streets and stay in an equally charming hotel. Hotel Posada de Roger is a great choice, featuring colorful decor, an outdoor swimming pool, Mexican-style architecture, and a rooftop terrace surrounded by gardens with mountain views.
Amapas & Conchas Chinas
If you love mountains and greenery, try out the Amapas neighborhood of Puerto Vallarta.
This place has stunning views of the whole bay, with unforgettable sunsets coloring the sky in orange and pink shades.
Don't expect to find streets packed with restaurants and bars; this is the place to disconnect yourself from noise and people and enjoy nature.
Where to stay in Amapas
A great place to stay in Amapas is Hotel Amaca, one of Puerto Vallarta's most emblematic buildings and a great example of the beloved Vallarta Style.
It's adults-only but pet-friendly, and it has everything you can ask for, including a rooftop terrace with a perfect pool for viewing the Bay of Banderas.
Next to Amapas is Conchas Chinas, another area where you'll find peace and nature! Conchas Chinas is an affluent neighborhood that locals refer to as "the hills," with reference to Beverly Hills in California.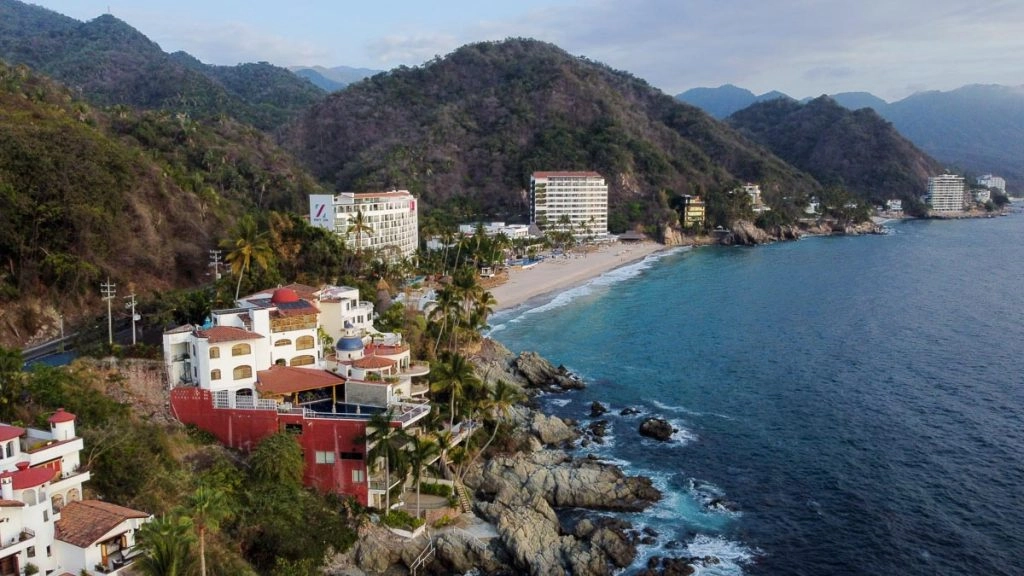 It goes all the way from the stunning, green mountains of the Sierra Madre to meet the pristine, turquoise waters of the Pacific Ocean. You won't find water like this at other beaches in the city!
It's also close to other less touristy areas of the bay like the tiny but magical Colomitos beach – and if you go a little further, you'll go through the jungle and more smaller and peaceful beaches. Palo María waterfalls are also close to Conchas Chinas and ideal for swimming.
Where to stay in Conchas China
While it's mainly a residential area, there are several luxury resorts and villas here. Villa Divina Luxury is a great choice.
It features a beautiful pool, a gym, free parking, and a kitchen ready for use. But the best part is the fantastic penthouse with a private pool and jacuzzi. It can even be completely rented out, so you'll have the entire seven suites to yourself along with a private chef. Talk about a fantastic vacation!
Where to stay in Puerto Vallarta: South Hotel Zone
The South Hotel Zone area is just south of Conchas Chinas, but it feels even more remote with lush, mountainous terrain and emptier beaches.
It's also nearby some Puerto Vallarta attractions, including the Botanical Gardens and hiking trails.
Here you'll find luxurious all-inclusive resorts and hotels perched on the hillside with gorgeous views of the Bay of Banderas.
While there aren't many restaurants and bars in this area, this may be the best spot for you if you're looking for a quieter spot on your Puerto Vallarta vacation.
If you're looking for a hotel, check out the Garza Blanca Preserve Resort & Spa. This 5-star resort offers an infinity pool overlooking Banderas Bay and the Los Arcos landmark.
The rooms are gorgeous, and extra amenities include a private beach, a gourmet restaurant, a full-service spa, and 24-hour concierge service. The reviews are fantastic!
There you have it, the best areas to stay in Puerto Vallarta! What neighborhood would you love to stay in?