This post may contain affiliate links. By clicking and making a purchase through the links, I earn a small commission at no extra cost to you. See my disclaimer for more information. This allows me to keep the site up to date and expand on resources.
Wondering abour Versalles Puerto Vallarta? We're here to help! I lived in Versalles in 2022 and go back often as more restaurants, bars, and shops continue to open up. In this guide, we're sharing the latest info on one of PV's most rapidly changing areas.
Versalles is one of Puerto Vallarta's most up-and-coming neighborhoods.
Located between the Marina and downtown, Versalles isn't known so much for all-inclusive resorts and beach access but instead for its fantastic dining options and liveable atmosphere.
This guide will share everything you need to know about exploring and living in Versalles Puerto Vallarta!
⭐️⭐️⭐️⭐️⭐️
Versalles After Dark Food Tour
✅ Get to know Versalles' best restaurants
✅ Try old-style authentic dishes like pozole and al pastor
✅ Local guide and small group size
Where is Versalles Puerto Vallarta?
Versalles is one of those Puerto Vallarta neighborhoods that you could drive right by and not even notice.
It's just a few square blocks located on the other side of the highway at the southern end of the Hotel Zone.
Until the last two years, there wasn't a whole lot going on here. When we first moved to PV back in the winter of 2017, we lived in nearby Aralias and walked to Versalles for Spanish lessons three times a week.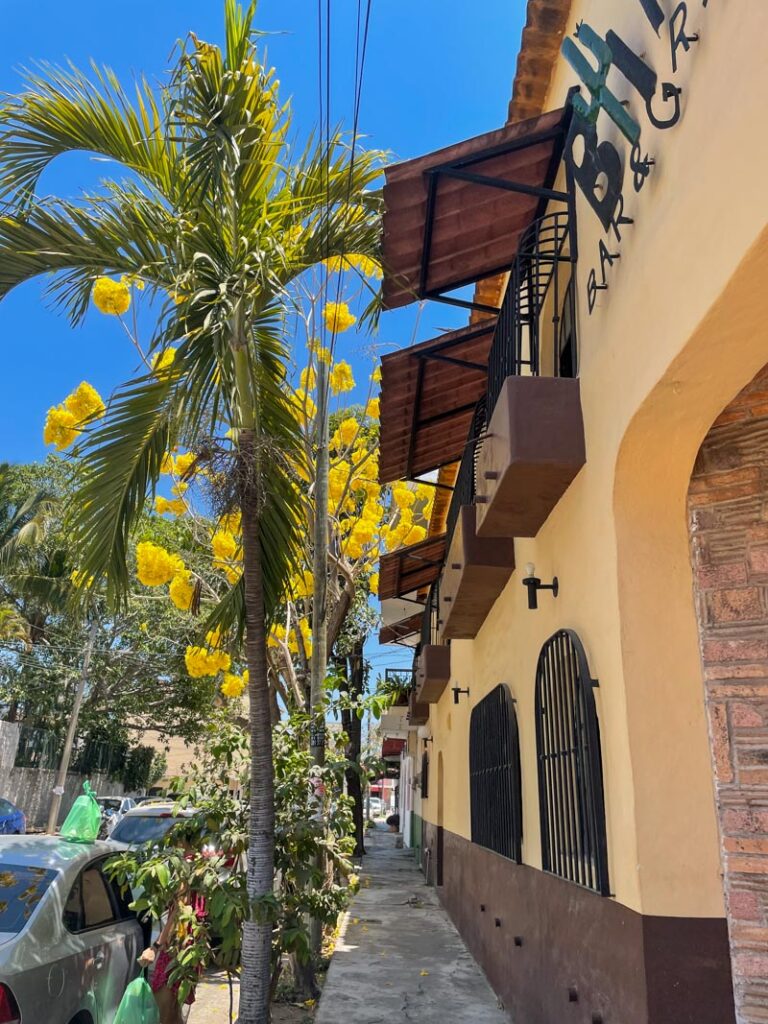 At that time, it was mostly a local residential area with a few simple restaurants and taco trucks. Fast forward five years, and Versalles is one of the fastest-growing neighborhoods in the city.
If it seems like there's a construction site on every corner, it's because there is. That's something to think about if you're considering moving here.
On the one hand, there are plenty of pre-construction condos in Versalles for prices much lower than in the Old Town. Of course, that also means construction noise on a near-daily basis – but honestly, there aren't many places in Puerto Vallarta where you can escape that these days. At least they take Sundays off!
While some bemoan the expansion of high rises and the gentrification of Versalles, there's one positive to all this growth – the burgeoning culinary scene.
There's an incredible array of restaurants in Versalles for such a small area. More on that in the "where to eat" section…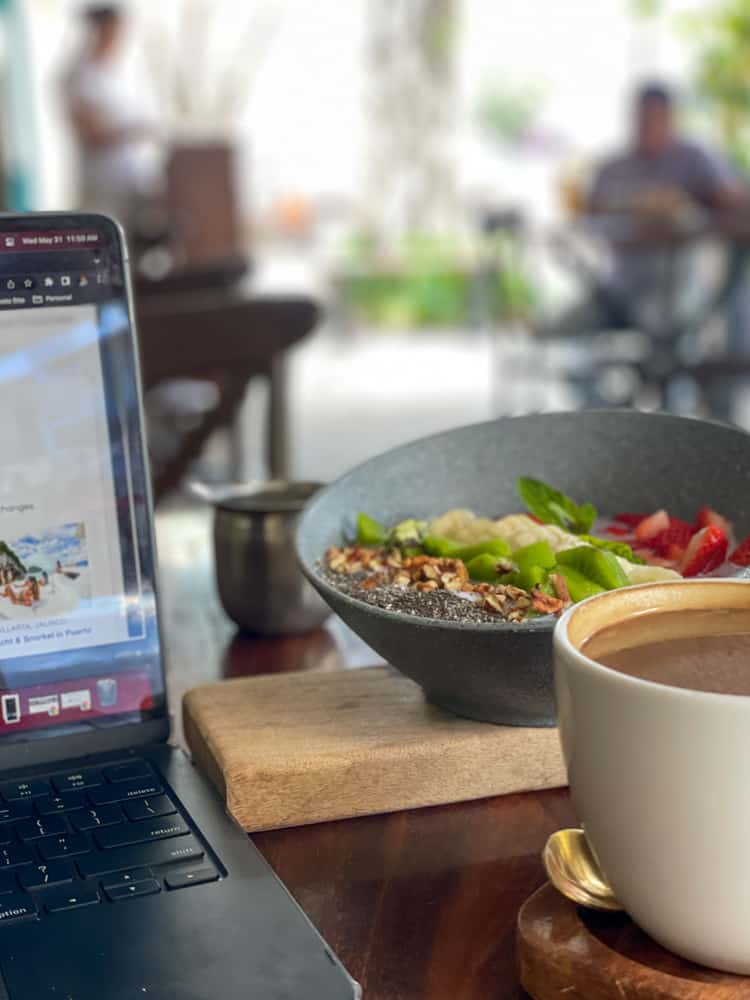 For those just visiting, Versalles isn't the most popular area to stay in. It's a bit far from the action of Old Town, and it's not on the beach. Plus, there aren't that many hotels over here.
If you're coming as a digital nomad or are considering a permanent move to Puerto Vallarta, this is definitely a solid option.
There's a co-working space and lots of cafes to work from, as well as major shopping centers and a Costco nearby.
Versalles Puerto Vallarta Real Estate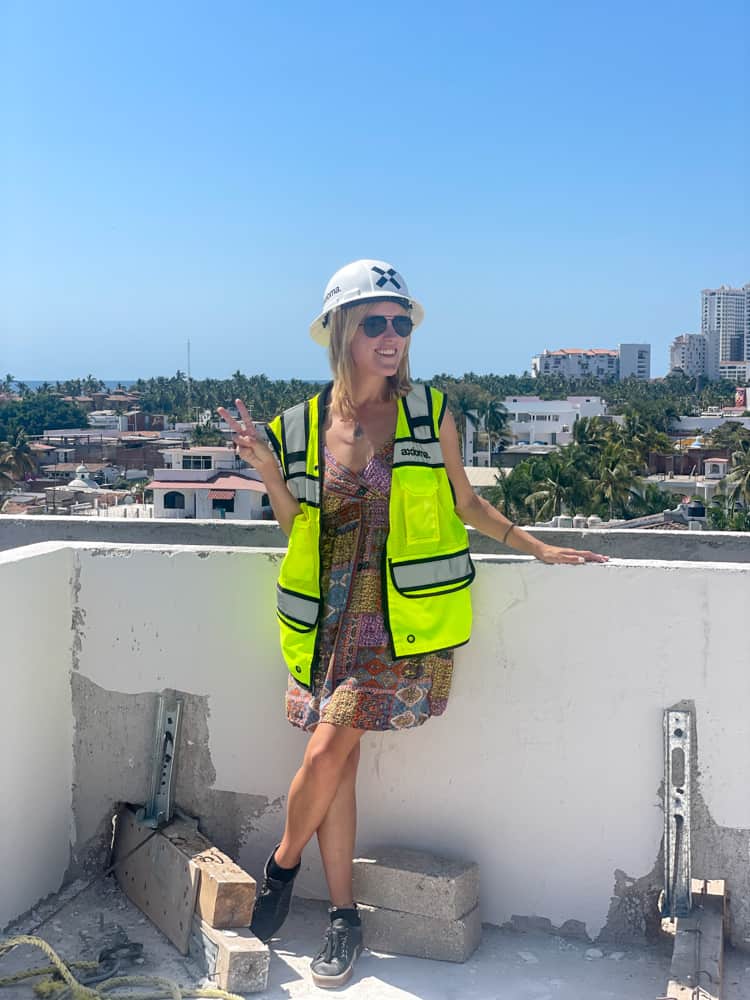 Written by Lora
Versalles is considered to be one of Puerto Vallarta's most desirable areas to buy real estate in right now. It's where I decided to buy my first property, which is almost completed!
It's hard to find an existing unit available for sale in Versalles, but there are a handful of pre-construction projects happening where you can get steep discounts for investing.
Investing in real estate in Versalles presents the potential for long-term appreciation. As the neighborhood continues to attract attention and undergo development, property values are projected to increase.
Puerto Vallarta's overall real estate market has shown steady growth in recent years, driven by its popularity as a tourist destination and a desirable place to live.
If you're wanting to invest in Versalles real estate, contact me at [email protected], and I'll connect you with my local real estate agent. He knows the Versalles market very well and helped me find my dream property!
Where to Stay in Versalles
This is more of a local neighborhood, so there aren't many options when it comes to accommodation for tourists – your best bet is finding an apartment on VRBO.
Here are a few recommendations for places to stay in Versalles to suit all budgets:
El Sunset Hostel is a great place for travelers on a budget looking to be social; it's one of the best hotels in Puerto Vallarta. They have dorm beds for 10 USD a night with separate rooms for guys and gals.
This brand new 2-bedroom condo is in the heart of Versalles, just one floor below the rooftop amenities. Enjoy modern amenities and a stunning shared rooftop space with an infinity pool and gym in this boutique apartment.
Vallartasol Hotel is a pretty nice 3-star hotel with a pool. They also have studios that have small kitchenettes.
Dreams Vallarta Bay is an all-inclusive, 5-star resort. This is the place to stay around here if you're looking to live it up.
If you're planning on staying in PV for more than a month, you can find some pretty good discounts on places in Versalles.
Tours in Versalles
The best way to experience Versalles awesome restaurant scene is on one of these Puerto Vallarta food tours that will take you through the best places to eat in the neighborhood.
Eating in Versalles is a global experience now. There's Caribbean, Greek, Taiwanese, Cajun, and of course, tons of amazing Mexican food. You can also find many healthy options here, with a solid choice of vegan and organic places.
Local companies are even running food tours here now, such as this one with Vallarta Food Tours.
On this tour, you'll get a chance to explore decades-old establishments and trendy eateries. Try old-style authentic dishes like pozole and al pastor, enjoy seafood, delectable tacos, and quesadillas, and finish it off with a frozen pie.
Taking a tequila tour in Puerto Vallarta is a must while visiting the city, and you can do that right in the heart of Versalles!
On this 1.5-hour tour, you'll sample premium tequilas made from 100 percent blue agave, and choose from three different tasting experiences depending on your preference.
Versalles Puerto Vallarta Restaurants
In the past couple of years, Versalles has blown up as a foodie destination. There seems to be a new place everyone is talking about on a weekly basis here these days.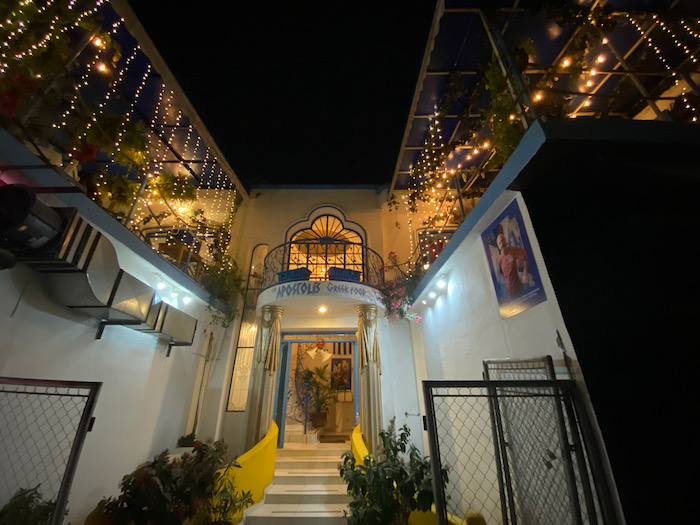 I've eaten in dozens of places in Versalles now and have yet to have a bad experience. Here are some of my favorites, as well as recommendations from friends of places I haven't tried yet.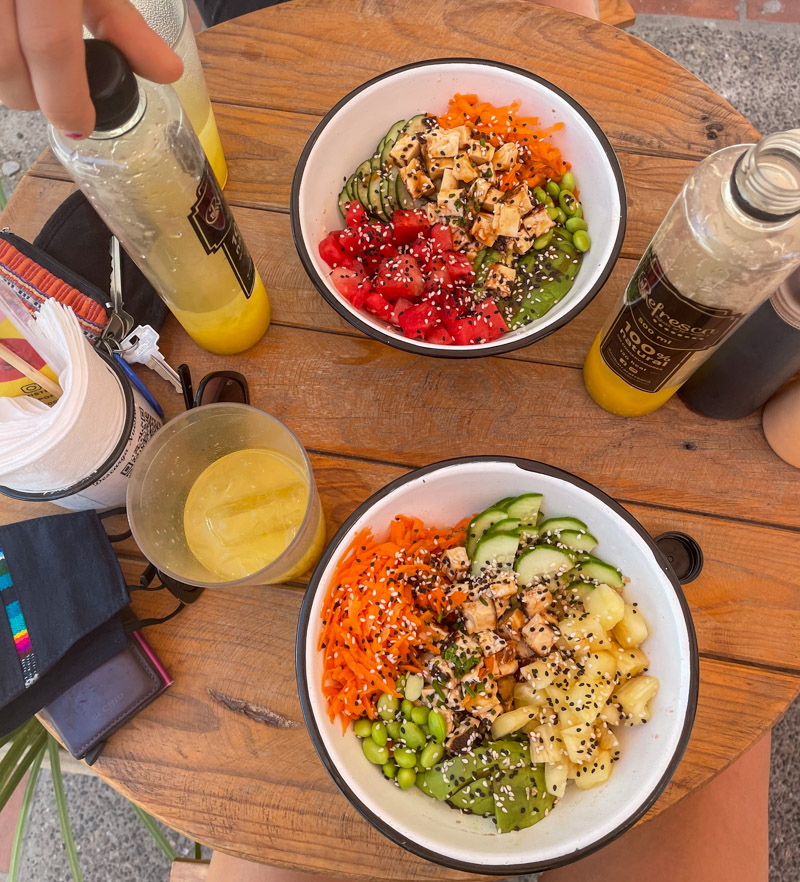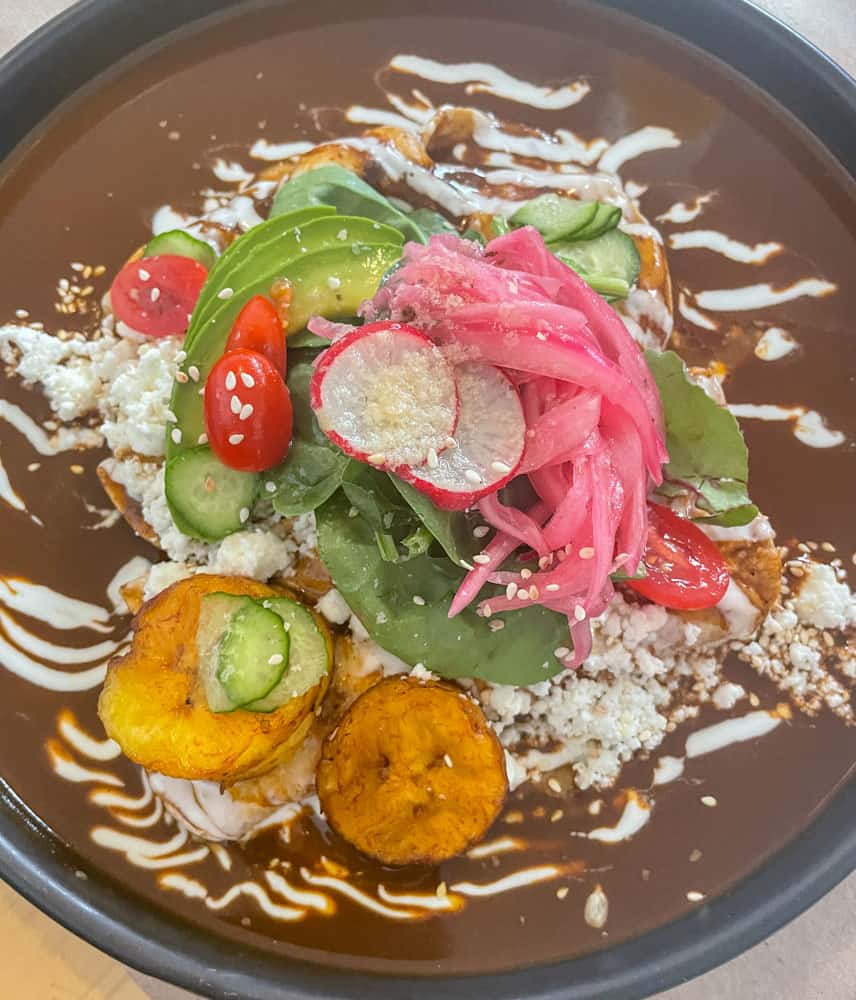 Fluffy's Pancakes – another popular place for breakfast
Mykonos: A beautiful restaurant with authentic Greek food.
LAMARA: Absolutely amazing ceviche and aguachile.
Mariscos 8T: Another excellent spot for fresh local seafood dishes.
Oregano: Caribbean cuisines such as oxtail and shrimp curry. And they have a cute pig that walks around!
Algo Bueno: Highly-rated chicken sandwiches.
Huicho's: Taco stand churning out al pastor and other classics.
Versalles Puerto Vallarta bars
While Versalles is not known for the same crazy nightlife you'll find in Centro or Zona Romantica, more bars are starting to open up as it gains popularity.
El Jardin de la Versalles – this new venue has events often, and many digital nomads and expats organize meetups here. It's got a large garden area with plenty of seating and great craft cocktails and bars. They also sell pizza.
The BeatNik – a jazz bar that my friend Sergio just opened up. Same owner as Gusto's in 5 di Diciembre!
Los Cuentos: Small taproom of a local brewery with some small plates.
Coco Machete – a small but well-stocked bar with craft cocktails
Brewhaus Cerveceria – Technically in Fluvial (the neighborhood next door), but you can easily walk here from Versalles. They have great beer!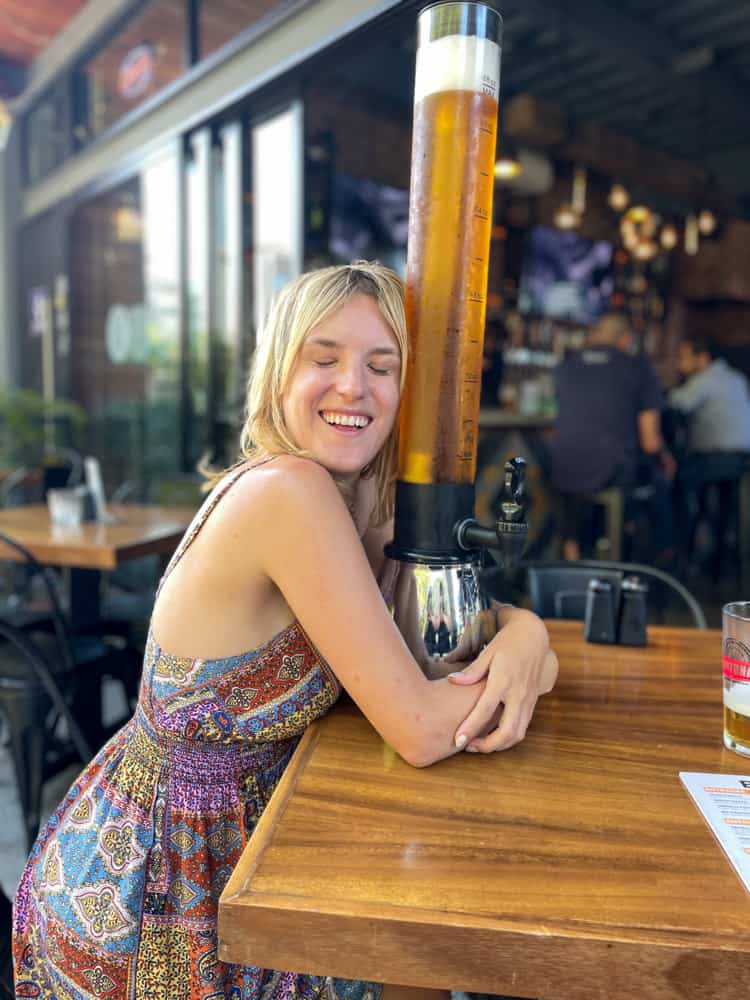 Other things to do in Versalles
There really isn't a whole lot else to do in Versalles. You can walk around the entire neighborhood in about 20 minutes, so it's all about exploring the many restaurants and bars here!
There is a public beach in the Hotel Zone that's just a quick 10-minute walk away. Playa Las Glorias is a nice little stretch of beach with a great view of the town.
There's not much over here, but there are a few places on la playa where you can grab a bit to eat and a drink.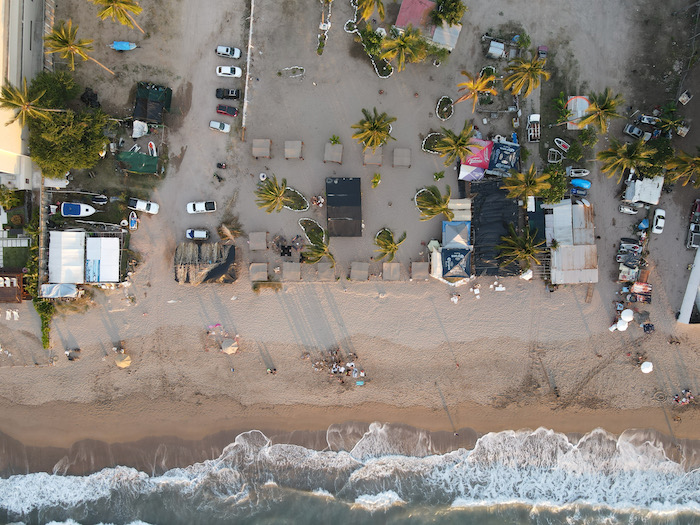 It's not even technically in Versalles, but Plaza Caracol is a big shopping center home to a movie theater and bowling alley. If you live in Versalles, it's a fun thing to do occasionally and just a short walk.
The restaurant scene is the main reason to visit Versalles if you're not living there.
—
Versalles enjoys a strategic location between the bustling Hotel Zone and the charming downtown. Its central position allows for easy access to all the attractions and amenities Puerto Vallarta offers.
Residents of Versalles are just a short distance from pristine beaches, vibrant nightlife, renowned restaurants, and shopping.
Additionally, the neighborhood benefits from excellent connectivity to major highways, the international airport, and public transportation networks, making it convenient for residents and tourists.
🇲🇽 Puerto Vallarta Quick Guide 🇲🇽

✈️ Airport – The Licenciado Gustavo Díaz Ordaz International Airport (PVR) airport is a 20-minute ride to the city center. You can book an airport transfer here.

🏩 Hotels – The best websites for booking hotels and resorts are Booking.com and Expedia, which search all properties to find you the best deals. For inspiration on where to stay, head to my ultimate guide to Puerto Vallarta hotels.

🚗 Getting around – Puerto Vallarta is easy to get around by walking and Uber, but renting a car is the best way to explore the surrounding areas. Discover Cars is the best website for finding deals, which searches International and local Mexican companies.

🌊 Things to do – Puerto Vallarta is a paradise for outdoor adventure! Some of the top things to do are whale watching, yacht trips, and ATV tours.

✔️ Don't forget travel insurance! I use and love SafetyWing, which is insurance for remote workers. For shorter trips, I recommend HeyMondo – you can get 5% off by using that link.
Planning a trip to Puerto Vallarta? Don't miss these posts!