This post may contain affiliate links. By clicking and making a purchase through the links, I earn a small commission at no extra cost to you. See my disclaimer for more information. This allows me to keep the site up to date and expand on resources.
Wondering where to find the best breakfast in Puerto Vallarta, Mexico? Let us help you! We are foodies living in Puerto Vallarta and have got you covered with this detailed guide on the best breakfast and brunch spots in the most popular neighborhoods.
Don't worry if you're not an early bird – who is when they're on vacation at the beach in Mexico anyways? Many of these Puerto Vallarta breakfast restaurants serve late into the day!
Get your day started and cure that hangover by checking out these excellent restaurants for breakfast in Puerto Vallarta.
Best Breakfast Puerto Vallarta Romantic Zone
Let's start in the Romantic Zone, where a good breakfast and a strong cup of coffee are essential after a big night on the town.
I've done plenty of research over the years, both with and without a crudo, to bring you this list.
I'm not much of a brunch guy, but if I'm going out to eat before two, chances are it's here. It's easily one of the top breakfast restaurants in Puerto Vallarta.
This place has an extensive menu with just about anything you could ever want. They have great omelets and chilaquiles, or "breakfast nachos," as I like to call them. Best of all, there's a full bar in case you feel like a mimosa or Bloody Mary.
One of the originals in the PV breakfast scene, this place has been around for 36 years. You'll probably have to wait in line for a bit to get a table – especially on the weekend – but it's worth it.
Don't let the name fool you; this is no generic IHOP-style place. They are known for pancakes and waffles, with dozens of options for each. There's a lot more going on here, too, with Mexican specialties and some light & fruity choices as well.
While it's a little tucked away from the action by the Emiliano Zapata market, it's worth the short walk to grab breakfast here. Their Mi Cafe Breakfast will help fuel you through a day of hanging out on Los Muertos Beach.
In addition to their classic American options, they've also got some traditional Mexican cuisine here with items like enfrijoladas (tortillas drenched in pureed black beans) and machaca (dried beef) with eggs.
If you'd rather go ahead and have breakfast in Puerto Vallarta on the beach, this is your best bet in Old Town. It's not cheap but worth every peso to dine with your toes in the sand. This is one of the best restaurants with a view of the beach in Puerto Vallarta!
One of the stars of the menu here is the local blue crab eggs benedict with chipotle and hash browns. There are also lighter options like a berry bowl or egg white omelet.
Looking for a strong cup of coffee, a fluffy pastry, and a good book? Look no further! That's exactly what you'll find at this homey cafe/restaurant near the beach.
The menu has much more, including fresh juices, smoothies, and all-day breakfast options. This is one of those places where you go in for breakfast and end up lingering for a few hours. It's also an excellent cafe for coworking!
One of my favorite places for breakfast in Puerto Vallarta is this cozy restaurant. It feels like hanging out in a friend's living room, complete with a cute little dog.
In addition to the friendly vibe, I love the fact that they have bagels and Vietnamese coffee at El Sofa. I wish I was writing this post there so I could order them right now!
Another fantastic breakfast and brunch spot in Puerto Vallarta is Macareno, a charming restaurant where you can get a great Mexican breakfast.
At Macareno, you'll find a diverse menu with options for vegetarians. Their breakfast options are traditional Mexican dishes, such as chilaquiles and huevos rancheros. They also offer a variety of coffee beverages and fresh juices, ensuring a delightful start to your day.
Whether you're looking for a relaxed breakfast or a leisurely brunch with friends or family, Macareno offers a welcoming atmosphere and a menu that will satisfy your cravings for a cheap breakfast in Puerto Vallarta.
Where to get breakfast in 5 di Diciembre
If you're not staying in the Romantic Zone, never fear – there are several other great restaurants for breakfast in Puerto Vallarta. Here are some options in 5 de diciembre.
It can be tough to be a vegan when going out for breakfast, but not in PV! This spot has you covered with vegan and gluten-free options, even for things like French toast and breakfast tacos.
Previously, the restaurant only did breakfast for guests of the hotel it's attached to. It's now open to the public, so grab a table and enjoy! This is another cafe that's great for coworking, so you'll find many digital nomads here.
This Cinco de Diciembre cafe opened up towards the end of our time living up the street, and I only wish it had been there sooner. It's a fantastic addition to the neighborhood, known for its healthy options and super-friendly staff.
Calmate is a solid choice if you're not quite sure whether you want breakfast or lunch. You can even do both in one sitting! I highly recommend their blended coffee drink with bananas and chocolate. It's to die for.
Right across the street, you can get breakfast on a rooftop terrace with a (now partial) ocean view. The giant condo across the street blocks most of it now, but the food and service still make this a worthy stop.
They have some delicious cafe de olla and big portions for all breakfast items. Either come hungry or plan to share something. Even then, you might end up with leftovers.
Where to get breakfast in Versalles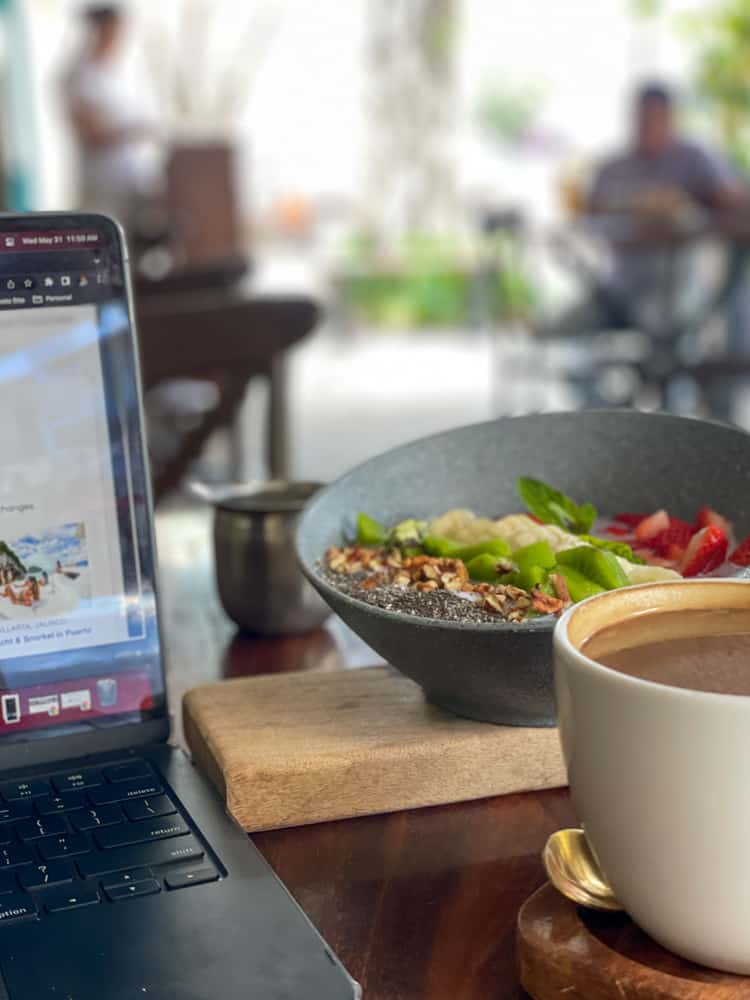 For those in the Versalles neighborhood, it's hard to top this place. Coffee and tea lovers in particular, will enjoy Natureza, as they have many options for both.
I love ordering one of their fancy coffees (or just a whole Chemex) and one of the many versions of chilaquiles they're cooking up here. It's a great place to meet with friends and linger. They also have a coworking space upstairs and will bring coffee straight to you!
I (Lora) have been trying to eat at this Puerto Vallarta brunch place for ages, but there's always a line out the door! I finally decided to wait 20 minutes or so, and it was absolutely worth it.
Their dishes are beautifully plated, and the food tastes as good as it looks. It's a good option for vegetarians, too, with many options. Cha is easily one of the best brunch options in Puerto Vallarta – just don't come too hangry, as you may have to wait for a table.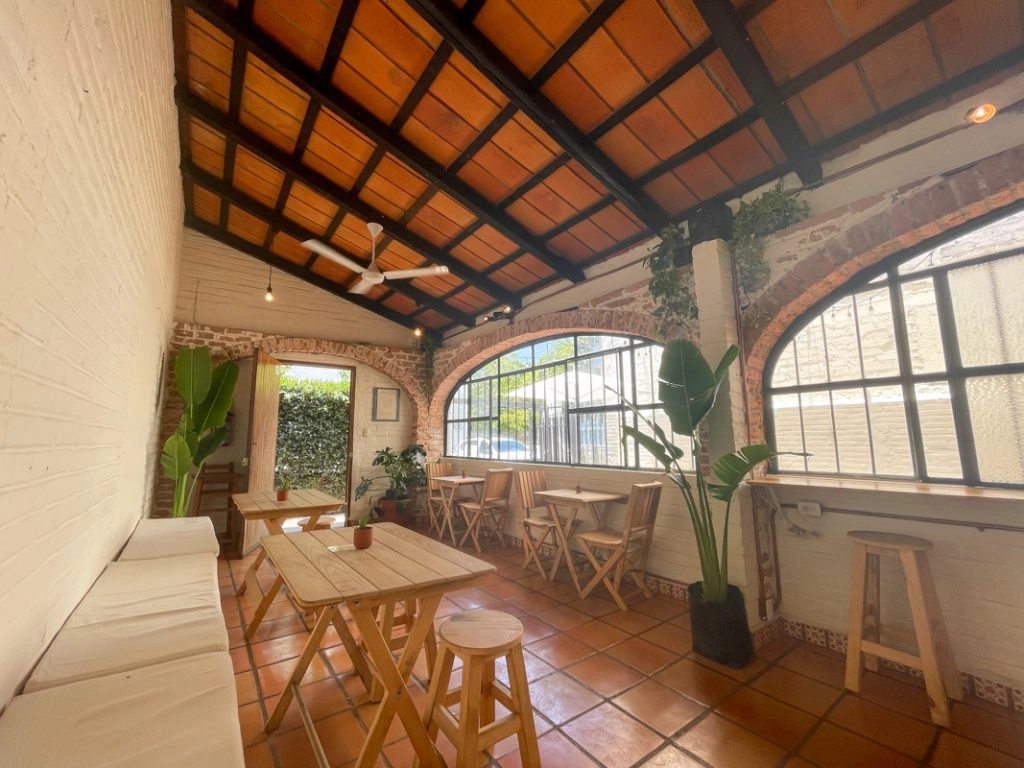 Miscelanae is another one of my favorite breakfast places to cowork in Versalles.
They have a veggie-friendly menu, as well as healthy smoothies and a variety of cafes. Their detox ginger shot has saved me many times after a big weekend!
They are open until 3 pm, so it's a great place to get brunch in Puerto Vallarta.
If you're a pancake lover in search of fluffy and mouthwatering stacks, Fluffy's in the Versalles neighborhood of Puerto Vallarta is the place to be.
This cozy and charming pancake house is a go-to spot for breakfast and brunch enthusiasts seeking delectable pancakes with various toppings and flavors.
From classic buttermilk pancakes to creative combinations like Nutella, banana, or dulce leche, their menu offers an extensive range of options to satisfy every palate.
Apart from their delectable pancake creations, Fluffy's Pancakes also offers other Mexican and American breakfast favorites.
Keep in mind that Fluffy's Pancakes can get busy, especially during peak hours or weekends, so it's advisable to arrive early or make a reservation to secure a table.
Best breakfast Puerto Vallarta Marina
Further up in the Marina, you'll find Mr. Cream Pancakes & Waffles, which is widely known as one of the best breakfast places in Puerto Vallarta. You may want to study the menu in advance, as it's pretty huge.
As you might expect, pancakes and waffles are the things to order here. If you're like me and not really into either, you still have many options. Plus, this is just a scenic place to grab breakfast or brunch and enjoy the views.
Best Bottomless Brunch in Puerto Vallarta
I can't have an article about the best brunch places in Puerto Vallarta without mentioning the Sunday brunch at the Sheraton Buganvilias.
While the Sheraton is an all-inclusive resort and not normally open to the public, you can go for the best breakfast buffet in Puerto Vallarta on Sundays.
Going for brunch here is quite the affair and best done with friends. The price is 540 pesos for nonresidents (26 USD) and includes a gigantic breakfast buffet with almost everything you could imagine, including a taco truck, sushi bar, a smoothie and juice bar, ribs, BBQ, and much more.
But the bottomless mimosas are the best part about Sunday brunch at the Sheraton in Puerto Vallarta.
The servers top off your cup every two minutes, so you'll feel tipsy quickly. There's also a 12+ piece Mariachi band for entertainment!
If you're looking for the best Sunday brunch in Puerto Vallarta, Casa Cupula is the place to be. Located up the hills in Amapas, this charming gay boutique hotel and restaurant offers a fabulous brunch spread with an even better drag show.
Settle in on the outdoor seating area by the poolside and enjoy the live entertainment as you indulge in an array of culinary delights. Their brunch menu features local and international favorites, including made-to-order omelets, freshly baked pastries, a variety of meats, gourmet cheeses, and fresh fruit.
To complement your brunch experience, Casa Cupula offers a selection of refreshing beverages, including bottomless mimosas (the bottomless package is 899 pesos). The service here is fantastic – they even gave us a bottle of champagne left at the table when we asked!
La Capella offers one of the best Sunday brunches in Puerto Vallarta with a view. Nestled in the heart of El Centro, this gorgeous restaurant has a view overlooking the Church of Our Lady of Guadalupe.
La Capella's Sunday Brunch is a true feast for the senses. As you enter the enchanting courtyard, you'll be greeted by live music and the aroma of delicious food wafting through the air.
The brunch spread features an impressive selection of Italian and Mexican dishes alongside bottomless mimosas!
They don't offer bottomless brunch during low season, but you can still go and try their impressive breakfast menu.
Note: It's advisable to make a reservation for La Capella's Sunday Brunch, as it is a popular dining experience.
Final thoughts: Best breakfast spots in Puerto Vallarta
From beachfront restaurants with stunning ocean views to cozy neighborhood eateries, this Mexican paradise offers a diverse range of options to satisfy your morning cravings and cure your hangover.
Whether you're seeking traditional Mexican flavors, international delicacies, or indulgent pancakes, the best breakfast and brunch spots in Puerto Vallarta have something for everyone.