This post may contain affiliate links. By clicking and making a purchase through the links, I earn a small commission at no extra cost to you. See my disclaimer for more information. This allows me to keep the site up to date and expand on resources.
Want to visit Los Muertos Beach? Let me help! I live in Puerto Vallarta, a 15-minute walk from Playa Los Muertos, and take my dog there almost every day… so I know it pretty well! In this guide, I'm sharing everything you need to make the most of your time visiting Playa Los Muertos.
One of the most famous places in Puerto Vallarta is Los Muertos Beach. It's right in the city's bustling Zona Romantica, the center of tourism.
While it's not the prettiest beach on the Bay, it is considered one of the best beaches in Puerto Vallarta due to its central location, abundant activities, and restaurant selection.
Featuring the iconic sail-shaped pier, some of the best restaurants in town, and several happening bars, Playa Los Muertos is one place you definitely want to put on your Puerto Vallarta itinerary.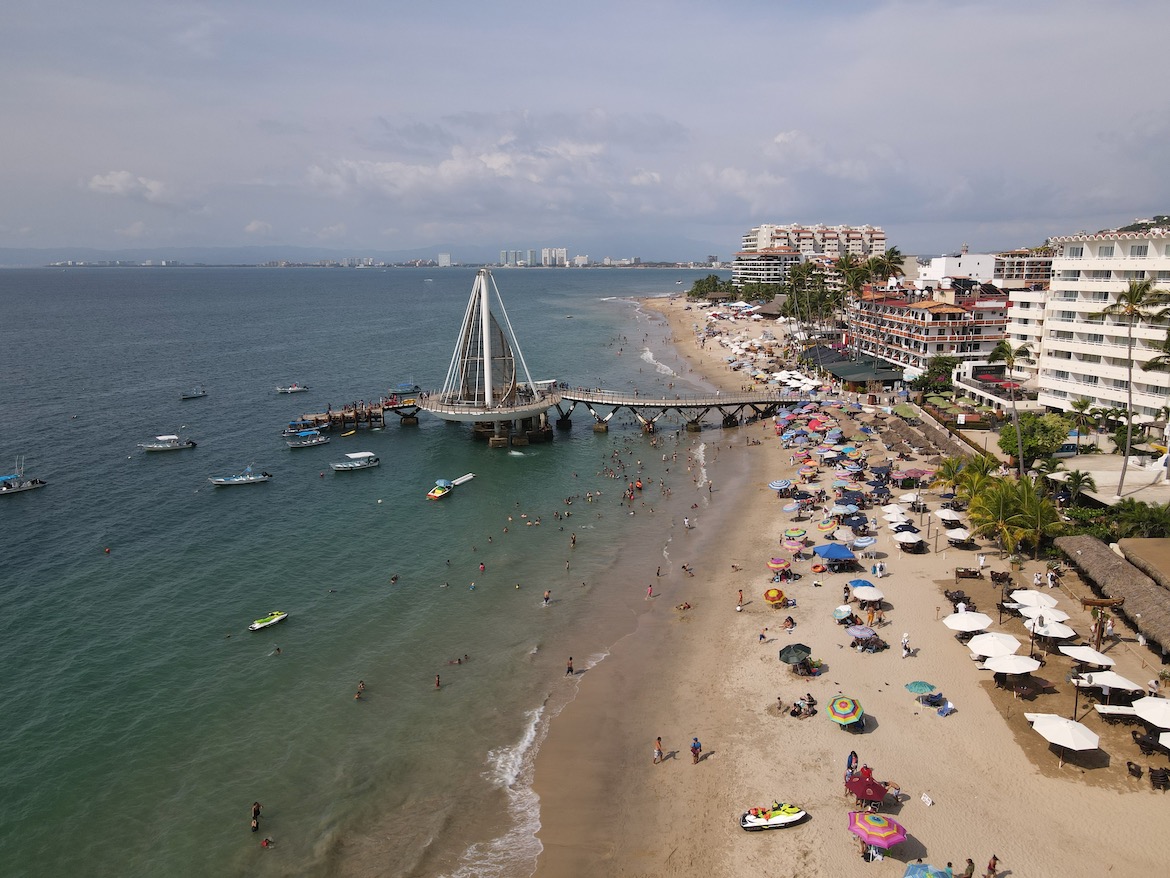 Where is Los Muertos beach Puerto Vallarta located?
Los Muertos Beach is located in the Romantic Zone of Puerto Vallarta, Mexico. It's within walking distance from downtown Puerto Vallarta, making it easily accessible for tourists.
I love walking along the Malecon from El Centro to Los Muertos, which is right after you cross a bridge over the Rio Cuale.
If you're walking the Malecon, the first beach you arrive at is technically Playa Olas Altas (Beach of High Waves).
Keep heading south until you arrive at Los Muertos Pier, which you can't miss. That stretch of sand from here down to the rocky outcrop is Playa Los Muertos.
You can also access the beach from many streets in Zona Romantica if you're walking through town. Every single cab driver knows this place, and many bus lines end just a few blocks away, so it's easy to come and go.
Things to do on Playa Los Muertos Puerto Vallarta
Its central location means you're never far from restaurants, shops, and other attractions, allowing you to make the most of your time.
A lot is going on at Puerto Vallarta's most famous beach. The beach is packed with locals and tourists alike, especially on weekends and holidays.
1. Soak up the sun
As such, the first order of business is typically finding a spot. There are several restaurants and bars on the beach with chairs and umbrellas. As long as you're ordering, you're good to stay.
The good news is that the food and drink options are actually pretty solid and reasonably priced—more on that in the restaurants and beach clubs section below.
Otherwise, it's a DIY operation. Some go-getters bring their own chairs, umbrellas, coolers, and all that jazz. That's far too much work for us. I'm happy to take a seat and order a margarita and fish tacos.
Find the perfect spot on the golden sands and soak up the warm Mexican sun.
However, one thing to know is that there are a lot of vendors on the beach, and you will be asked about every five minutes if you want to buy something.
You can simply say no gracias, and they will leave, but it does become annoying after a while. If you don't want this, head to one of these more secluded Puerto Vallarta beaches.
2. Water activities
If you'd like a bit more excitement than just sitting in a beach chair, you're in luck! Los Muertos is a hub for water sports in Puerto Vallarta.
At the end of the pier, people always jump into the water. I don't love swimming in the water because there are so many boats, and there are far nicer places to swim in Puerto Vallarta. But it is safe to do so.
You can also rent a jet ski, get pulled along in a banana boat, or even go paragliding. It's also easy to get on a boat tour from Los Muertos Pier to go snorkeling nearby.
3. Los Muertos beach pier
The Los Muertos Pier, an iconic landmark at the beach, is more than just a place to catch a boat; it's a work of art and a gathering spot that adds a special charm to the beach.
Designed by renowned architect José de Jesús Torres Vega, the pier's unique and modern spiral structure has become a symbol of Puerto Vallarta.
Be sure to take some time to walk along it and soak in the views of the city from behind. As night falls, the pier is illuminated, creating a magical ambiance that complements the lively surroundings of the beach. It's a must-visit spot that encapsulates the vibrance of Puerto Vallarta.
4. Visit nearby secluded beach towns
From the pier, water taxis are always available for trips south to other towns around Banderas Bay, like Mismaloya, Boca de Tomatlan, Las Animas, Quimixto, and Yelapa.
But if you're on a tight budget, it's cheaper to take the bus to Boca de Tomatlan and grab a water taxi from there. The time spent on the boat is also much shorter, in case you're prone to seasickness.
5. Beach yoga
If you want to unwind and connect with nature, the yoga classes at the beach next to the pier are one of my favorite places to do yoga in Puerto Vallarta. They offer them in the morning and during sunset.
Hosted by Yoga Vallarta, these small-sized group sessions create an intimate and personal atmosphere, allowing for individual attention from their talented and caring instructors. As the sun gently sets, you'll find yourself immersed and calm in the beautiful nature around you.
Don't worry if you didn't bring a mat; they provide them. Whether you're a yoga enthusiast or trying it for the first time, this is a perfect way to start or end your day in Puerto Vallarta.
6. Watch the sunset
There's something magical about watching the sunset on Los Muertos Beach, a moment when time seems to stand still. As the sun slowly dips into the horizon, it paints the sky with orange, pink, and gold hues, casting a warm glow over the water and beachgoers.
It's a scene that captures the essence of Puerto Vallarta's natural beauty and romantic charm.
Whether you choose to experience it from the comfort of a beachside restaurant or simply with your feet in the sand, this daily spectacle is a must-see during your visit.
7. Enjoy fresh oysters
Speaking of oysters, you'll find them here. In particular, you'll find one local legend walking up and down the beach selling oysters with a shirt that reads "Mexican Viagra."
There are several other guys hawking oysters on the beach as well. They keep them iced down and always have lime and hot sauce available.
I know it seems a bit weird at first, but they're damn good. Plus, even if you have a table somewhere, they don't care if you grab some oysters or fish/shrimp kebabs from the roaming vendors. It's always a team effort in Mexico.
Best restaurants and beach clubs on Los Muertos Beach
If you're not ready for the street food, beach edition, never fear. There are several restaurants to choose from.
However, many serve over-priced low-quality food and get their business because of their prime location. So choose one from our list below or look up reviews on Google beforehand.
La Palapa
One of the best restaurants with a beach view is on Los Muertos.
Situated right on the beach, La Palapa is worth all the hype and always delivers, whether it's a hangover-cure brunch or a romantic candlelit dinner. They combine traditional Mexican cuisine with fresh seafood and tropical influences. Dine with your toes in the sand as you enjoy breakfast, lunch, or dinner.
Mar y Vino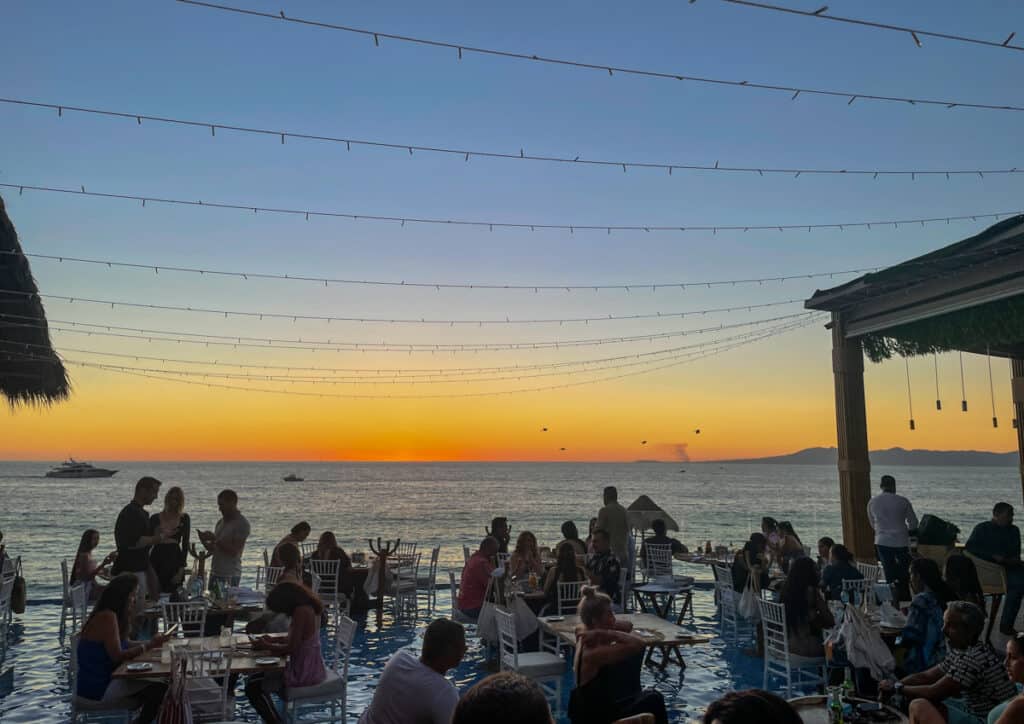 Mar y Vino stands out as one of the most unique dining experiences in Puerto Vallarta. What sets it apart? They have tables in the water, allowing you to enjoy your meal with your feet gently caressed by water free from the sand.
The cuisine is a perfect blend of seafood and wine, served in a sophisticated ambiance. And if that's not enough, the live saxophonist that often comes to play adds an extra touch of elegance to the atmosphere.
iK Mixology Bar & Cuisine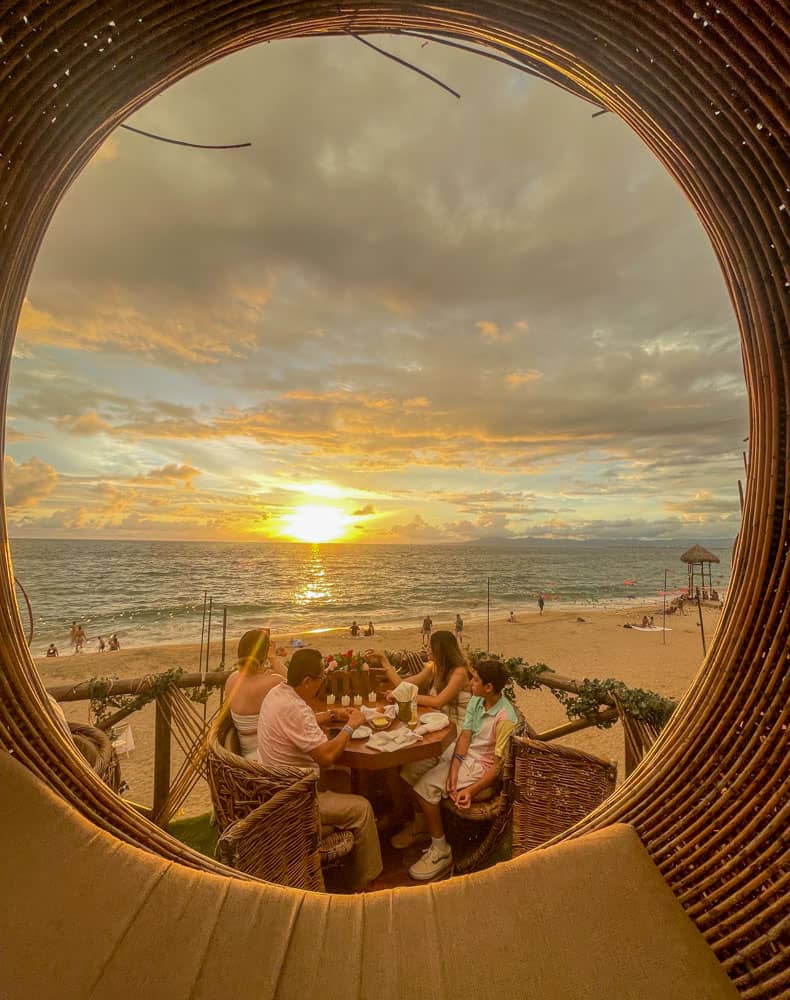 iK Mixology Bar & Cuisine is more than just a place to eat and drink; it's an Instagrammer's dream. With bamboo-style chairs, including a swing that offers a perfect view of the sunset, this bar provides the ideal backdrop for unforgettable vacation photos
The trendy and inventive menu of craft cocktails and gourmet cuisine is paired with the chic, modern décor and location next to the pier, make it one of the most photographable restaurants in Puerto Vallarta.
Si Senor
Another popular beachfront place is Si Señor. It's a little pricey and isn't a place I frequent, but they get good reviews.
Si Señor Beach Restaurant offers traditional dishes made from fresh local ingredients. Enjoy favorites like guacamole, tacos, and margaritas while enjoying the stunning beach views. Live music often adds to the lively, festive atmosphere.
Swell Beach Club
Our business usually goes to Swell, which is definitely a swell place for beach days. Bad jokes aside, the staff here rocks and always takes great care of us.
Drinks are reasonably priced, and they also make some great food here. It's one of our go-to beach clubs in Zona Romantica and is the perfect place to relax with friends and enjoy the lively beach atmosphere.
El Dorado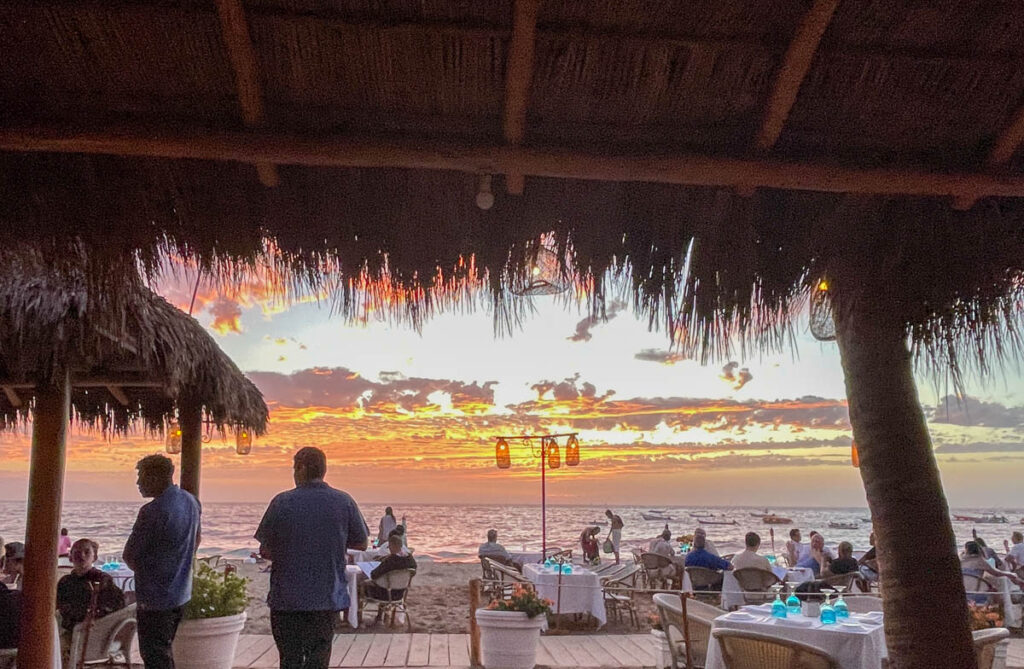 With a trendy, upscale ambiance, El Dorado is perfect for those looking to indulge in gourmet dining. The restaurant serves beautifully crafted dishes as the sun sets, and their handcrafted cocktails are equally impressive.
Mantamar
At the southern end of the beach, you'll find Mantamar. The latter is famous for its massive pool parties and is one of the most popular LGBTQ+ hangouts in the city. But everyone always has a good time there.
Los Muertos beach hotels
You have a few options if you want to stay on the beach. Here are some of the best places to stay in Playa Los Muertos:
Emperador Vallarta has a location that's hard to beat. It's next to the pier, so you're steps away from the beach and stumbling distance from the best bars and clubs in town.
Almar Resort is a luxury resort and a top choice among LGBTQ travelers. Their rooftop bar with hot tubs is one of the coolest spots in PV to party, and they always have fun events.
Tropicana provides excellent value for a hotel that's right on the beach. Guests can enjoy a private stretch of the beach with palapa umbrellas for shade.
Vallarta Shores is at the south end of the beach and features a fabulous infinity pool. A room with an ocean view and balcony is the way to go here.
That's about it for options for accommodation on the beach. There are plenty of excellent choices for boutique hotels just a few blocks away in Zona Romantica. The Conchas Chinas area just south of town also makes for a great base.
FAQ: Los Muertos Beach Puerto Vallarta
Why is it called Los Muertos Beach?
Los Muertos Beach translates to 'Beach of the Dead.' Its origin is linked to several local legends, one of which includes a pirate battle that took place on the beach long ago.
Is Los Muertos Beach swimmable?
Yes, the beach is swimmable, and there are lifeguards. However, there are much better places to swim with clearer water further down the coast.
What is Playa Los Muertos known for?
Playa Los Muertos is known for its lively atmosphere, beautiful pier, water activities, and being a central hub for dining and entertainment in Puerto Vallarta.
Where is the clearest water in Puerto Vallarta?
For the clearest water in Puerto Vallarta, head to the Marietas Islands or the more secluded beaches further south, like Playa Las Gemelas, known for their crystal-clear waters and snorkeling opportunities.
Which part of Puerto Vallarta is the best?
The "best" part of Puerto Vallarta can depend on individual preferences, but the Romantic Zone is highly regarded for its charming streets, vibrant nightlife, and proximity to Los Muertos Beach.
Final thoughts: Los Muertos Beach
I hope you've enjoyed this guide to Los Muertos Beach. It's one of the first places we ever hung out in Puerto Vallarta and has become a weekly staple when we're in town.
There's nothing quite like meeting up with friends for some ceviche, oysters, and margaritas on a beautiful sunny afternoon.
It's a place where the day melts away and turns into night, usually with a blissful sunset over the ocean. This is the life, mis amigos.
Planning a trip to Puerto Vallarta? Check out these other attractions!