This post may contain affiliate links. By clicking and making a purchase through the links, I earn a small commission at no extra cost to you. See my disclaimer for more information. This allows me to keep the site up to date and expand on resources.
Wondering how to visit the Puerto Vallarta butterfly sanctuary? Let me help! I live in Puerto Vallarta and love nature. I was so excited when I discovered this sanctuary, and I am stoked to share it with you.
You've probably searched for "things to do in Puerto Vallarta" and found the usual suspects: beaches, bars, and boat tours. But what about an experience that's a bit more unique, like visiting a butterfly sanctuary?
Just want to know how to get there? This tour is the best option, with round-trip transport, lunch, and a butterfly release ceremony!
The challenge? This sanctuary isn't just around the corner. It's off the beaten path, and figuring out how to get there can be confusing. Plus, you want to make sure it's worth the trip.
As a Puerto Vallarta local travel blogger, I've been to the sanctuary and can vouch for its magic. This guide has everything you need to know about getting there, from choosing your mode of transportation to what to expect upon arrival.
A trip to the butterfly sanctuary in Puerto Vallarta is perfect for those who love soft adventure activities and are looking for something different to do off the beaten path.
#1 PUERTO VALLARTA BUTTERFLY SANCTUARY TOUR
How to Visit the Butterfly Sanctuary Puerto Vallarta
Figuring out how to get to Puerto Vallarta's butterfly sanctuary can be a bit daunting, but I've got you covered. Here are your best options: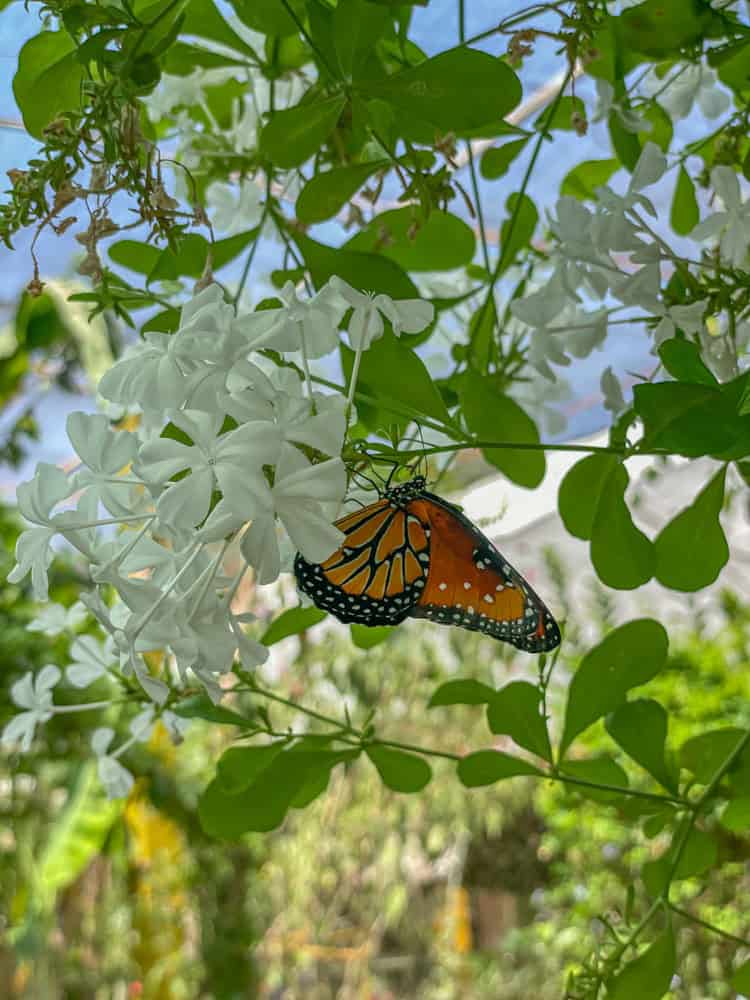 This tour is your one-stop shop for a hassle-free visit. It includes everything: transportation, entrance fees, and even a traditional Mexican lunch.
The butterfly presentation was so informative. Fabian was so good at educating us as well as personalizing the experience! We held butterflies, caterpillars, chrysalis and really examined them.

– TripAdvisor Review (read more reviews here).
At the sanctuary, you'll be led by a passionate guide through a subtropical sanctuary filled with free-flying butterflies. You'll learn about their life cycles and even get to release some, granting them their first flight.
The tour also includes a journey to a cocoa garden, where you'll learn about the origins of cocoa, its cultural significance, and the art of ancient chocolate-making.
Driving
The Butterfly Sanctuary Mariposario Jardin Magico is located here, about a 40-minute drive from downtown Puerto Vallarta.
While the drive offers some scenic views, it's not the most convenient option unless you already have a car or are renting one. Otherwise, getting a car to go here is not worth the hassle!
If you go on your own, you can book a guided tour at the sanctuary in advance here.
Taking an Uber/Taxi
Uber is available, but remember you'll need to arrange a return trip. This could be challenging, given the sanctuary's remote location. If you don't have your own transportation, this guided tour is the easiest option.
What to expect at the Puerto Vallarta Butterfly Sanctuary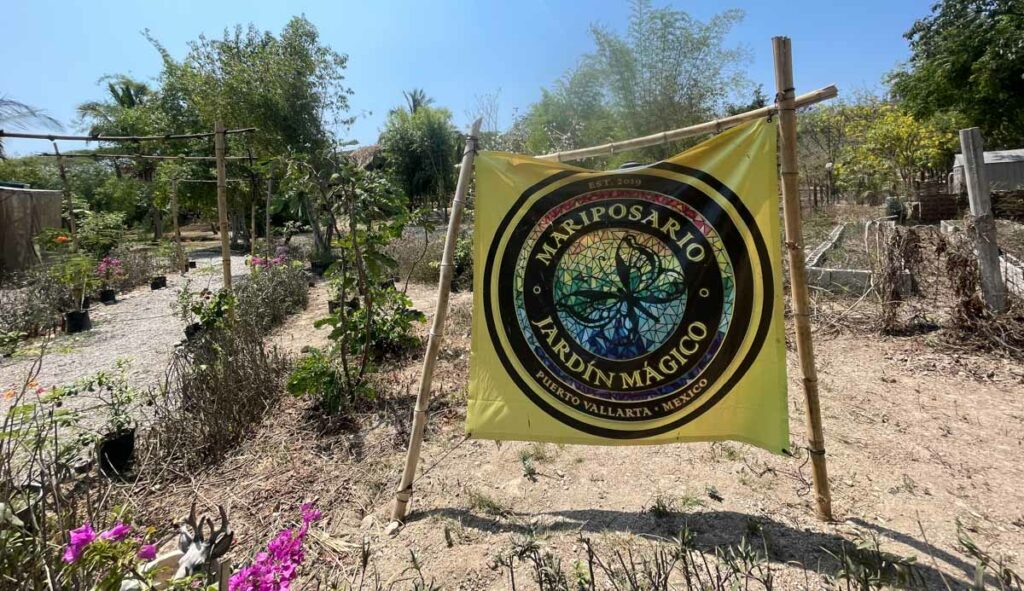 When I visited the butterfly sanctuary, I went with friends who had a car. We didn't make an appointment before and just showed up. However, it was in the middle of the low season in July.
I recommend booking a tour online in advance if you're going during the high season to avoid any disappointment.
It was a hot day, and the sanctuary isn't fully shaded, so bring water to stay hydrated.
After waiting a few minutes, we started our sanctuary tour with some other visitors. The sanctuary limits its tours to 10 guests, ensuring a personalized experience.
This focus allows the passionate tour guides to give detailed explanations about the butterfly life cycle, which you'll see in various stages—from larvae to cocoons before they transform into the beautiful creatures we all adore.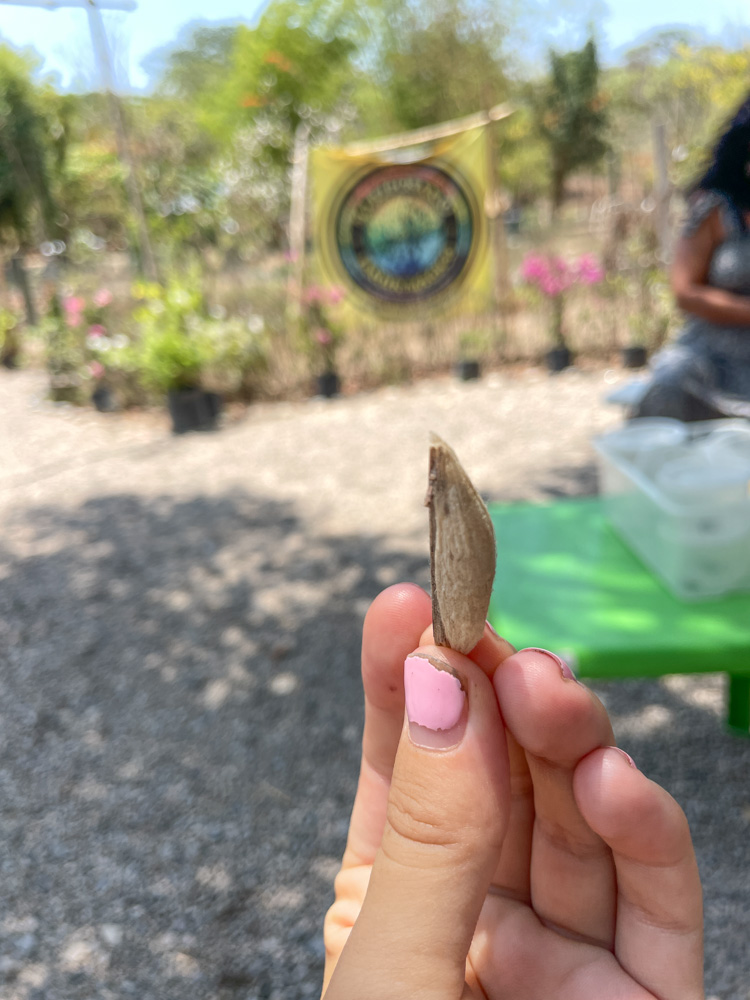 During the tour, the guide even brought out examples of each stage of the butterfly life cycle that we got to see and touch. This hands-on approach made the experience incredibly informative and engaging.
The highlight of the tour is the butterfly release ceremony. It feels magical to release a newborn butterfly and see it take its first flight—even if my last one was a bit stubborn about leaving the container! You can see what it looks like in the video below.
After the release, you can explore the butterfly garden. While the gardens were smaller than I expected, they were rich in plant life and filled with the scent of blooming flowers. It's an excellent place for observation and photography, offering plenty of opportunities to see a variety of butterfly species, including monarch butterflies.
Visiting the sanctuary is more than just a day out; it's a way to make a positive impact. Your visit supports local biodiversity, community projects, and environmental education.
The sanctuary uses its proceeds for various initiatives, including student visits and sustainability projects. And don't forget to check out the small gift shop before you leave; it's another way to support their amazing work.
The History of Mariposario Jardin Magico
Mariposario Jardín Mágico was established in 2019 with a mission that goes beyond just showcasing butterflies.
Created with love and passion, the sanctuary aims to educate people about these delicate creatures and their ecological significance. It's not just about increasing the numbers of widespread species; it's also about recovering threatened pollinators and inspiring a culture of conservation.
The sanctuary addresses a range of social and environmental issues affecting local biodiversity, including climate change, pesticide use, deforestation, and pollution. They're committed to fostering a sustainable future and believe that education is key to achieving this.
By visiting, you're not just gaining a unique experience but also contributing to a project that has broader implications for community and environmental well-being.
FAQ: Butterfly Sanctuary Puerto Vallarta
Are dogs allowed in the Puerto Vallarta butterfly sanctuary?
Yes, me and my friends brought our dogs to the sanctuary.
How do butterflies migrate to Mexico?
Monarch butterflies use a combination of air currents and thermals to travel thousands of miles to their wintering grounds in Mexico.
What is the best butterfly sanctuary in Mexico?
Mariposario Jardin Magico in Puerto Vallarta is highly recommended for its educational focus and conservation efforts.
What is the best time to see the monarch butterflies in Mexico?
The best time is from late October to March when the monarchs are wintering in Mexico.
How to see the monarch migration in Mexico?
Where is the best place to see monarch butterflies in Mexico?
The Monarch Butterfly Biosphere Reserve in Michoacán is considered the best place.
Final thoughts: Visiting the Butterfly Sanctuary Puerto Vallarta
A visit to the butterfly sanctuary in Puerto Vallarta is more than just another item to tick off your list of things to do. It's an enriching educational experience that also supports vital conservation efforts.
From the hands-on learning about the butterfly life cycle to the unforgettable release ceremony, this adventure offers a deeper connection to nature. So, if you're looking for a meaningful way to spend your day in Puerto Vallarta that most tourists miss, this sanctuary is well worth your time.
If you found this guide useful, consider booking your tour through my affiliate link. Your support helps me continue to share insider tips for making your Puerto Vallarta vacation unforgettable.
Interested in wildlife and nature in Puerto Vallarta? Check out these posts!
Enjoyed this post? Pin it for later!