This post may contain affiliate links. By clicking and making a purchase through the links, I earn a small commission at no extra cost to you. This allows me to keep the site up to date and expand on resources. Thanks for reading!
Puerto Vallarta may be a city, but it's also a place where you can experience the rich nature and biodiversity that Mexico has to offer. If you want to see wildlife in Puerto Vallarta, check out these six incredible encounters.
Puerto Vallarta is uniquely positioned where rivers, tropical jungles, oceans, and mountains meet. These rich ecosystems provide a habitat for many incredible wild animals in Puerto Vallarta. The Bay of Banderas alone is home to more than 600 species!
Whether you're searching for humpback whales off the coast or bird-watching in the tropical jungle, these six wildlife experiences will make your trip unforgettable.
Swim with dolphins in the wild
In the city, you will see many tour operators offering swimming experiences with captive dolphins, but you should avoid this as the dolphins are taken from the wild and often kept in stressful, poor conditions.
The best way to encounter dolphins in Puerto Vallarta is to see them in the wild, either from the beach or on a boat tour with an ethical operator that respects the animal's space.
This tour with wildlife connections takes you to see dolphins and whales while participating in a research project that helps their conservation.
Types of dolphins you can see include bottlenose dolphins, spotted dolphins, spinner dolphins, rough-toothed dolphins, and orcas, if you're lucky.
If you're interested in getting closer, wildlife connections run another tour where you can swim with free WILD dolphins.
Of course, it all depends on the animals, and the researchers will make the final call if it's safe to go swimming with them, but they also offer a money-back guarantee if you don't find them.
Look for Humpback whales
If you are visiting from December to March, don't miss the chance to see humpback whales! Every winter, the whales migrate from the north to breed and nurture their offspring. The sheltered waters in the Bay of Banderas offer the perfect conditions for the whales.
Usually, the Puerto Vallarta whale watching season begins in December and ends in late March, which coincides with the high season in Puerto Vallarta, making it one of the best times to visit.
It's not uncommon to see whales from shore, but for a closer look, you can join a whale-watching boat tour to see them up close. This is one of the best wildlife tours in Puerto Vallarta!
Humpback whales are the most common type, but sometimes you can also see brides' and minke whales.
Go bird-watching in the botanical gardens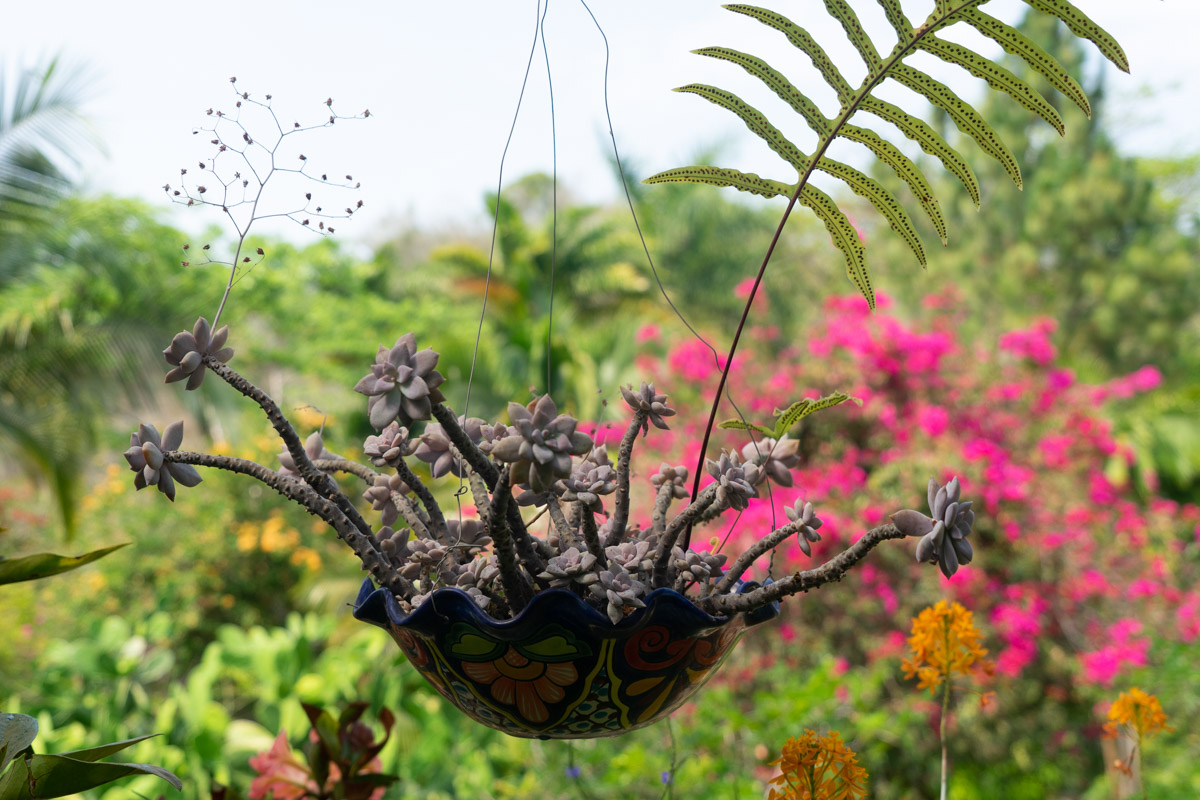 If you want to go bird watching in Puerto Vallarta, you'll definitely want to add the Puerto Vallarta botanical gardens to your list of things to do.
It's just a 30-minute drive from downtown, and there are public buses from Zona Romantica, making it one of the best places for a nature hike near the city.
The Puerto Vallarta botanical gardens are dedicated to the reforestation, conservation, and study of exotic plants from Mexico and the world, with over 46 acres of gardens to explore. They are also an excellent place to go bird-watching.
The gardens provide a habitat for San Blas jays, yellow-winged caciques, woodpeckers, various species of hummingbirds, and many other species of tropical birds.
Get skip-the-line tickets to the Botanical Gardens here.
Swim with marine animals in Los Arcos Marine Park
Los Arcos Marine Park is a protected area in Puerto Vallarta that provides a habitat for marine birds and animals. Although it can be seen from the highway, the best way to experience it is to join a snorkeling or diving tour and get in the water.
As you approach the unique rock formation, you'll see hundreds of birds flying overhead the turquoise water. This area is a habitat for many marine birds, including blue-footed boobies, parrots, and pelicans.
Underneath the water; you can see various marine animals, including manta rays, sea turtles, clownfish, pufferfish, stingrays, octopuses, and more.
Take part in a baby sea turtle release
Mexico is home to some of the most important sea turtle nesting sights in the world, and one of the most remarkable wildlife experiences in Puerto Vallarta is taking part in a baby sea turtle release.
Every year, Olive Ridley sea turtles return to the shores of the Bay of Banderas to deposit their eggs. The turtle hatching season is typically July to October, although they can happen at other times of the year.
There are several turtle release camps around Puerto Vallarta, where nests are looked after until the eggs hatch to protect them from predators.
The turtle release camps sometimes organize events for the public, where you can join the volunteers to witness how the baby turtles find their way into the ocean for the first time. It's an amazing sight to see!
The closest camp to Puerto Vallarta is Boca de Tomates, behind the airport. Follow their Facebook page, where they announce upcoming turtle release events.
Look for crocodiles in El Esada Sanctuary (or in the city)
It's hard to believe this nature preserve is in the heart of the city! Right in the heart of the city's hotel zone is El Salado Estuary, the only urban estuary in Mexico. It comprises over 169 hectares of wetlands and mangroves with over 100 species of birds and 29 species of amphibians and reptiles..
Tours are given through the channels on a small boat alongside a biologist. You may spot crocodiles, iguanas, crabs, colorful birds, and more.
You don't have to go to a nature preserve to see crocodiles in Puerto Vallarta. There's one that hangs out in the pier in Marina Vallarta. Just walk along the pier and look for him, you can usually find tourists taking photos.
I've also seen crocodiles in the water on paths leading down to the beach in Las Glorias, as shown in the image above.
There you have it, six amazing ways to see wildlife in Puerto Vallarta. Which one would you love to try?
Planning a trip to Puerto Vallarta? Don't miss these posts!