This post may contain affiliate links. By clicking and making a purchase through the links, I earn a small commission at no extra cost to you. See my disclaimer for more information. This allows me to keep the site up to date and expand on resources.
Wondering how to reach Colomitos Beach? I live in Puerto Vallarta, and it is one of my favorite places to go!
Colomitos Beach Puerto Vallarta is a stunning, tucked-away cove with a silky seafront and crystal-clear waters. It's easy to get to but just far enough away that it makes for a perfect half-day getaway for anyone staying in the Bay of Banderas.
Playa Colomitos is sometimes called "PV's smallest paradise," and it's easy to see why. In this guide, we'll go over the best Colomitos and how to get there on your own.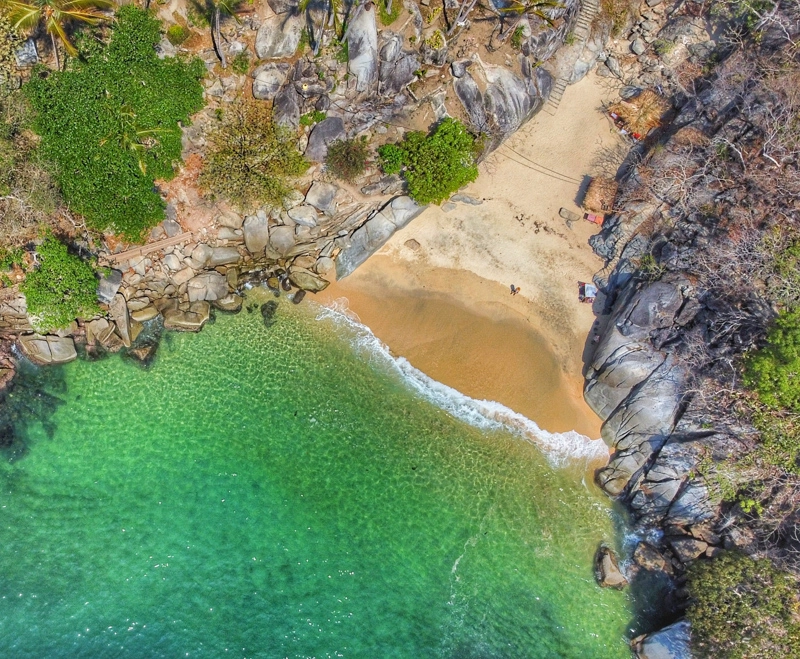 BEST WAY TO REACH COLOMITOS
Short on time? This 4-hour private tour is the most highly-rated Colomitos tour.
It will take you and your family or group on a guided snorkeling adventure in Los Arcos, followed by a relaxing stop at Colomitos Beach. The perfect day in PV!
Where is Colomitos Beach Mexico?
Colomitos Beach is a short distance to the west of Boca de Tomatlan. It's a small, tucked-away beach perfect for swimming and snorkeling. No roads access Colomitos; the only access is by boat or hiking trail.
If you're unfamiliar with the area, a guided tour is the easiest way to get there.
Best Colomitos tours
Here are some of the most popular Colomitos tours.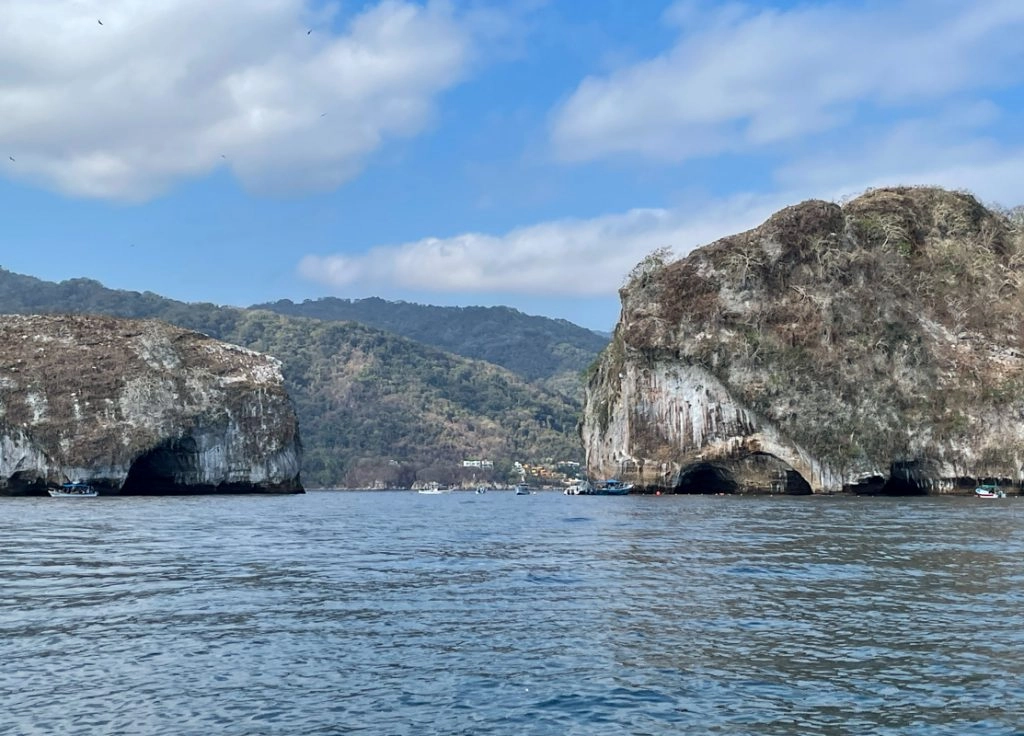 ⭐️ 5/5 (10+ reviews) | 🕕 4 hours | Check availability here
Not far from Colomitos is Los Arcos, which is perhaps the most ideal snorkeling spot in all the Bay of Banderas.
This 4-hour private tour from Ecotours will take you and your family or group (up to 10 people) on a guided snorkeling adventure in Los Arcos, followed by a relaxing stop at Colomitos Beach.
The biggest advantage of booking a private tour is that you'll have the boat all to yourself, and not have to deal with annoying strangers kicking your face while snorkeling. Plus, the guides know how to find the best water for snorkeling, as well as less crowded areas where you'll have more room to spread out.
Ecotours is also a good option because they provide pickup from most of the major resorts. Plus, water, sodas, and granola bars are all included.
Michael was our snorkeling instructor, and he was polite and informational. He was very helpful guiding us through the swim, and he took us to a more secluded beach with more fish to see. Overall it was a great time.

– Tobin (read more reviews here).
⭐️ 5/5 (40+ reviews) | 🕕 5.5 hours | Check availability here
This tour picks you up in Puerto Vallarta and includes bus transportation to Boca de Tomatlan. From there, you'll hike to Colomitos with an expert guide, learning about the many local plant and animal species along the way.
Operated by Luna Tours, this guided excursion includes a tropical fruit snack, as well as a choice of guacamole or ceviche when you reach Colomitos. The whole tour takes about 1.5 hours, and anyone who doesn't feel like hiking back can hop on the water taxi for a small fee.
The best time to see lots of vegetation is between June and October. But this is also the rainy season, so be sure to pack a poncho and some mosquito repellant.
This was such a wonderful experience. Our guide, Alejandro, was incredibly kind, gracious and knowledgeable and helped make this such a great experience for my family and I. The ceviche, chips and fruit that he provided for lunch were delicious, and the water taxi was a nice end to the trip. If you book this, you will love it!!

– Katie (read more reviews here)
⭐️ 4/5 | 🕕 2-3 hours | Check availability here
Playa Colomitos has incredible water and a smooth beach, so it's the perfect place to snorkel. This half-day snorkeling tour with an expert guide and equipment rental is surprisingly affordable, and it's a great way to spend the morning.
The tour picks up in Puerto Vallarta at Los Muertos pier. At Boca de Tomatlan, you'll switch to a boat, which will take you to Colomitos. Then you'll have two hours of guided snorkeling, with your guide helping to choose the right spot.
Getting to Colomitos on your own
Whether you're traveling by boat or by foot, your trip to Colomitos will begin in Boca de Tomatlan.
This is a small fishing village a short way south from the Malecon in Puerto Vallarta. It's frequently referred to simply as "Boca."
Boca de Tomatlan can be reached by boarding a local bus from Zona Romantica here.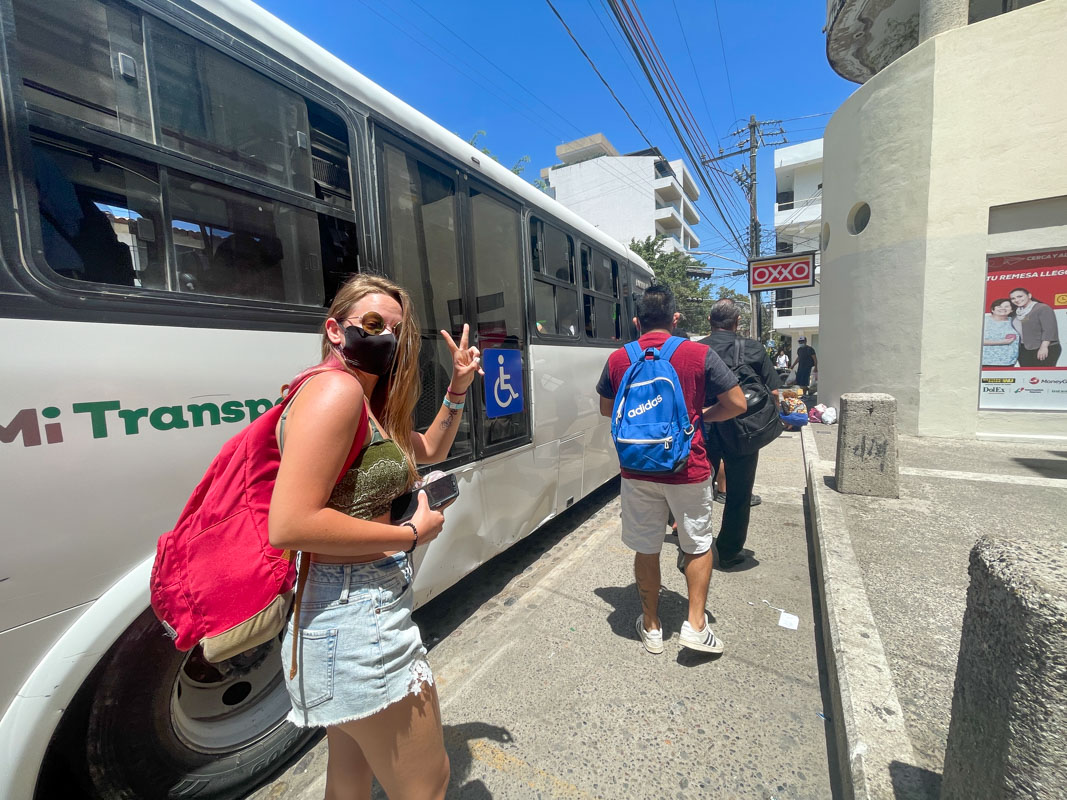 Sometimes the bus is labeled "Boca de Tomatlan", but more frequently, it's the bus labeled "Mismaloya." (Mismaloya is a few stops before Boca de Tomatlan if you're heading south). It's about a 40-minute bus ride and is by far the cheapest way to get there (~10 pesos).
Alternatively, you can easily catch a taxi, or Uber ride to Boca.
Pro Tip: Boca de Tomatlan is a cool town worth spending an hour or two exploring.
The restaurants in this area seem to change frequently, but there is always fresh seafood on hand. It's also a good place to stock up on hiking supplies like bottled water and sunscreen.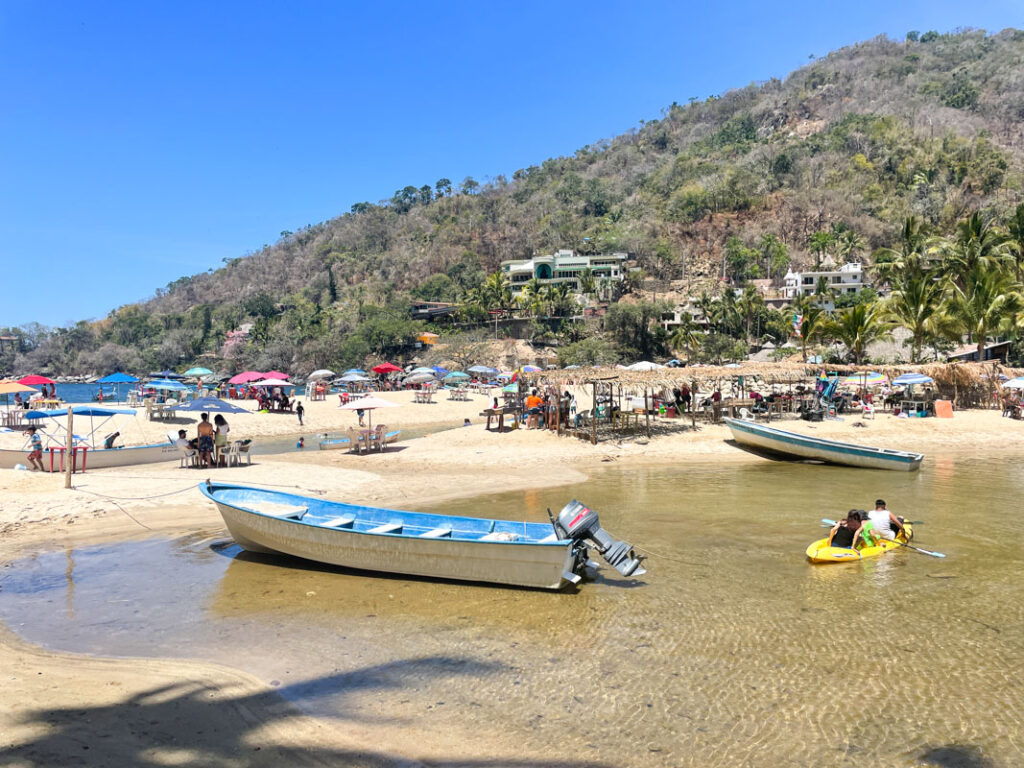 Playa Colomitos by boat
The easiest way to get to Colomitos is by water taxi. The taxi picks up in Boca de Tomatlan, and there is plenty of clear signage to direct you to the boat.
You can purchase a ticket from the boat staff directly or purchase them in advance at the water taxi's office in Puerto Vallarta at Los Muertos pier.
Colomitos beach hike
You can get to Colomitos by hiking the Boca to Las Animas trail.
After arriving in Boca de Tomatlan, start by following the Horocones river upwards. You'll see a footbridge that crosses over the river.
After crossing the bridge, follow the left side of the river back towards the sea. The trail to Colomitos beach goes up the hillside. After about a mile, you'll pass the Ocean Grill Restaurant, and Colomitos is just past it. You can see what it's like to hike to Colomitos in the video below!
Plan on the hike taking between 35 and 45 minutes, depending on both your fitness level and your desired speed.
Continuing to Las Animas Beach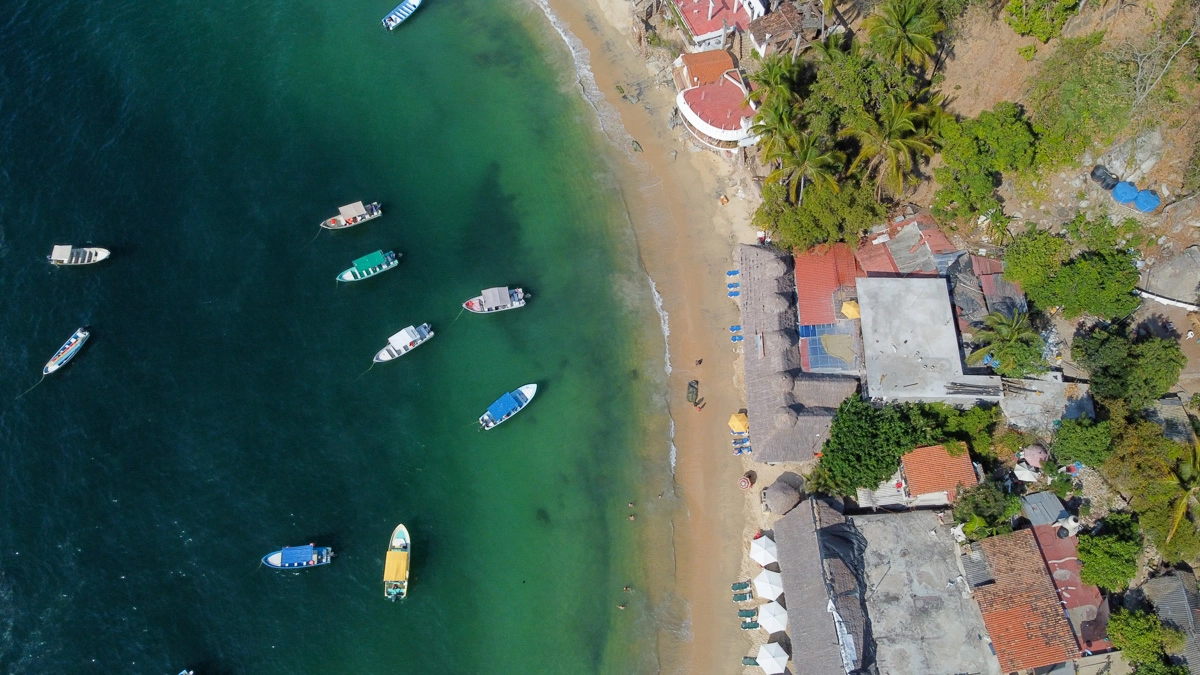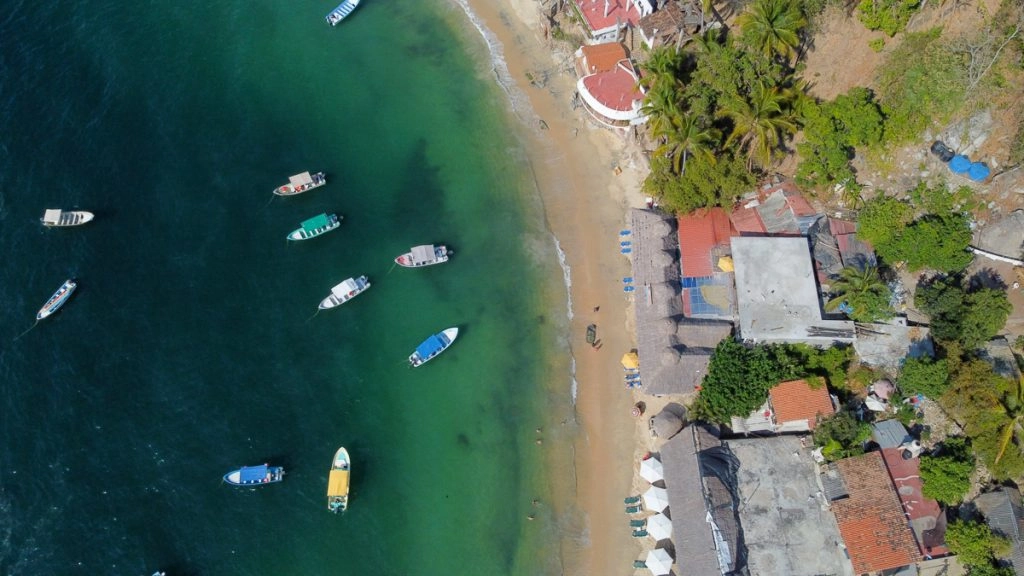 If Colomitos is too crowded, or if you just feel like a longer walk, you can follow the trail past Colomitos and end up at Las Animas beach.
Depending on your fitness level, it could take an additional hour or an hour and a half.
Las Animas is a very small village with a stunning beachfront. There are multiple restaurants and shops, as well as vendors and musicians.
If you aren't interested in hiking more, you can take a water taxi back from Las Animas to Boca.
Things to do at Colomitos Beach Jalisco
Aside from just chilling on the beach and enjoying the sparkling green emerald water, here are some other things to do in Colomitos.
Ocean Grill
There is an awesome restaurant near the beach called the Ocean Grill.
Because it can only be visited by boat or walking trail, it's become a legendary place to have lunch or dinner while in PV. It's also been ranked as one of the top 100 restaurants in Mexico. Be sure to make a reservation, as seating is limited!
Ocean Grill is right on the water, which means that inclement sea conditions can force it to close some days. Check the Facebook page if you plan to go, as they update it immediately if there is going to be a weather-based closure.
Pro Tip: The "Catch of the Day" is a must-order for seafood fans, but there's a lot of buzz about the beef short ribs as well.
Hike to the waterfall
If you've made it as far as Colomitos, there's no reason not to hike a few minutes further to see a stunning natural waterfall.
The trail to the waterfall splits off from the main trail and leads upwards. It can be difficult to spot when there is a lot of foliage, but it's well worth finding.
If you go in the middle of the dry season (December – March), there is a chance that the waterfall won't be running. Like other waterfalls in the area, the best time for gushing waters is June – September.
Colomitos Beach, Puerto Vallarta – Frequently Asked Questions [FAQ]
How do you get to Colomitos Beach?
Colomitos Beach can be reached by water taxi or by walking trail. The water taxi arrives in Boca de Tomatlan, and the fare includes round-trip transportation. The walking trail is a moderate 30 or 45 minutes, depending on your fitness level, and also begins in Boca do Tomatlan.
Can you take a boat to Colomitos Beach?
Yes, there is a water taxi that can take you to Colomitos. By boat, Colomitos is only about 10 minutes away. All tickets include round-trip transportation so you can get back to Boca de Tomatlan.
Can you walk to Colomitos Beach?
Yes, there is an easy to moderate difficulty hiking trail to Colomitos from Boca de Tomatlan. The same trail continues past Colomitos to Playa Las Animas.
How long is the hike to Playa Las Animas?
1.5 – 2.5 hours, if starting from Boca de Tomatlan. The duration of the hike will depend greatly on fitness level, speed, and whether you decide to stop at Colomitos along the way.
Is there a restaurant at Colomitos Beach?
Yes. There is a restaurant. Ocean Grill Vallarta is only accessible by boat or by walking trail. Reservations are required for most meals, as it's a small place with limited seating.
Do you need to pay to visit Colomitos Beach?
There is no entry fee. However, if you choose to ride the water taxi to Colomitos, you will have to pay for the ticket. Tickets can be purchased right on the boat or ahead of time at the water taxi office at Los Muertos pier.
Playa Colomitos Puerto Vallarta is one of the most beautiful beaches here. If you're visiting, be sure to save a half-day in your PV itinerary to visit this secluded paradise.
Planning a trip to Puerto Vallarta? Don't miss these posts!