This post may contain affiliate links. By clicking and making a purchase through the links, I earn a small commission at no extra cost to you. See my disclaimer for more information. This allows me to keep the site up to date and expand on resources.
Looking for the best restaurants in Puerto Vallarta? We've got you covered.
Mexico is world famous for its cuisine, and Puerto Vallarta is no exception. Sitting on the shores of Banderas Bay, you'll find some of the freshest seafood in the country here.
From classic Mexican dishes to French and Spanish-infused restaurants, Puerto Vallarta is quickly making its mark as a foodie destination in Mexico.
Plan your itinerary with this Puerto Vallarta restaurant guide.
Mexican Restaurants in Puerto Vallarta
Of course, you're in Mexico, so you'll want to eat Mexican food!
Let's start this list of the best restaurants in Puerto Vallarta with those serving up traditional Mexican cuisine.
#1. Mezcal & Sal
Mezcal y Sal not only serves up incredible Mexican cuisine but also has some of the most beautiful cocktails in Puerto Vallarta – each one is like a work of art.
Most of the cocktails are mezcal based, but there's a wide selection, and every one I tried was delightful. You can also order the "incognito," a secret drink of the day.
And the food is just as good as the cocktails. It's all Mexican-inspired, with many veggie-friendly options, including an incredible vegan ceviche.
The restaurant is cozy, so make a reservation if you're coming as a large group – especially during high season!
#2. Cafe des Artistes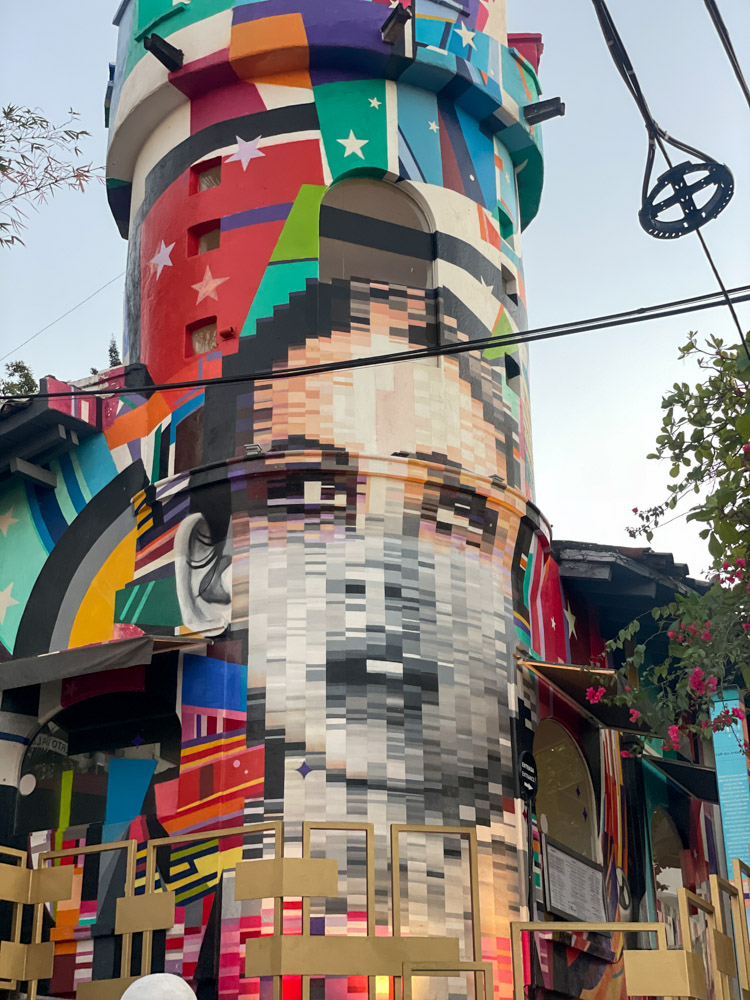 If you're looking for fine dining in Puerto Vallarta, look no further than Cafe Des Artists in El Centro.
This four Diamond restaurant has made its mark on the Puerto Vallarta restaurant scene for over 30 years, with an exquisite many by Chef Thierry Blouet that perfectly fuses French and Mexican cuisine.
It's the perfect place for a romantic night out, with a multi-level patio where twinkling lights surround you as you indulge in Mexican fused with European cooking techniques.
You can see the full menu here. If you can't decide what to get, they offer a 5-course tasting menu (including a vegetarian one) that you can pair with local Mexican wines from the Valle de Guadalupe and Valle de Parras.
Cafe des Artistes is in the art gallery district of PV, so a perfect time to visit is on Wednesday evenings when you can combine it with the Puerto Vallarta art walk.
#3. El Dorado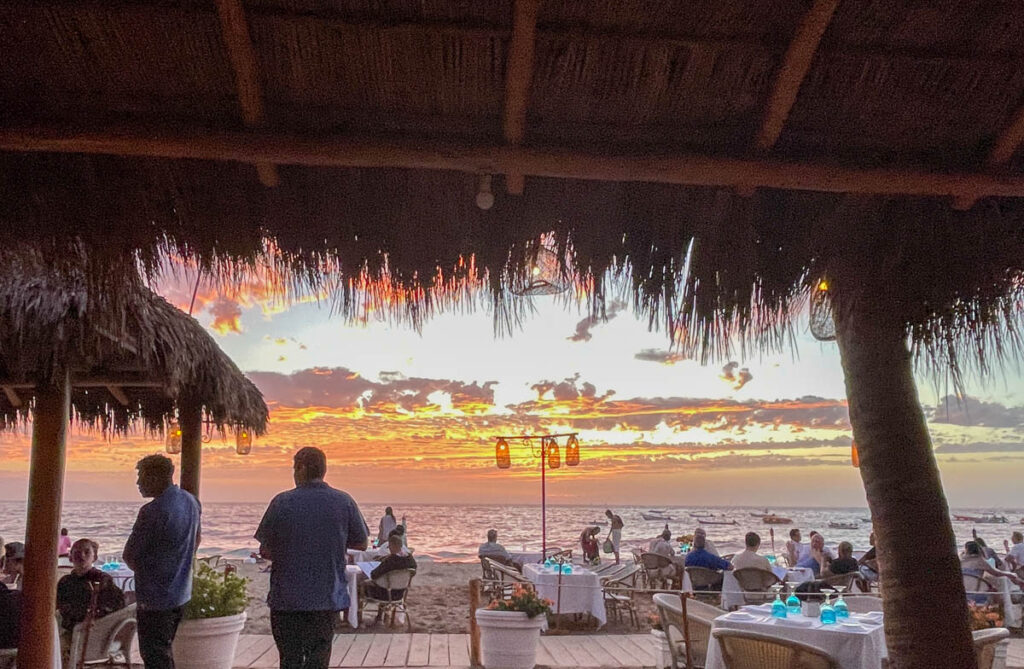 If you're looking for Mexican food with a beachfront view, you can't beat El Dorado.
Right at Los Muertos beach, you'll be in the front row for spectacular sunsets with the sounds of relaxing waves of the Pacific Ocean.
If you come here in the evening, it will be charming with the amber lights, live music, and delicious food and cocktails.
How about starting with an appetizer of lobster and bone marrow tacos, followed by some stone crab enchiladas, and wrapping up with a creamy cheesecake? You can see the full menu here.
#4. La Palapa
Another restaurant set on Los Muertos beach, La Palapa gets it's influence by fresh and delicious local ingredients found in Mexico. Combined with Asian and French flavors, this is a great place to go for a memorable meal. They serve food all-day from breakfast to desserts – check out the full menu here.
#5. Le Kliff
Just a 25-minute car ride from downtown, you'll find one of the most popular restaurants on the bay.
At Le Kliff, you can find refined and elegant food emphasizing fresh seafood. The location makes this place so unique, situated on the edge of a cliff overlooking Playa Colomitos, one of the most beautiful beaches in Puerto Vallarta.
The dress code is casual elegant, so unfortunately, you can't walk up here straight from the beach (and you'll want to make a reservation).
The hours are from 1 pm to 9 pm, so no late dinners, but you'll be there for the most magical time of the day in PV – sunset.
#6. Mama Caguama´s Takos & Beer
Just as the name implies, Mama Caguama's Takos and Beer is the perfect place to go for fish tacos and a cerveza.
It's got a colorful interior with friendly and welcoming staff. Grab a seat inside or outdoors and take your pick of delicious tacos al pastor on fresh corn tortillas combined with craft beer.
#7. Tintoque
Tintoque offers creative local cuisine based on regional recipes and ingredients by renowned chef Joel Ornelas.
While some seafood dishes are always available, they also offer a "creative menu" that changes daily based on the availability of unique and local ingredients. You can see the full menu here.
Culinaria Mexicana awarded Tintoque as one of the 120 best restaurants in Mexico, one of the only places to eat in Puerto Vallarta with such a distinctive award!
It's an excellent place for a date night out, set in the Romantic Zone overlooking the Cuale River.
#8. 8 Tostadas Estadio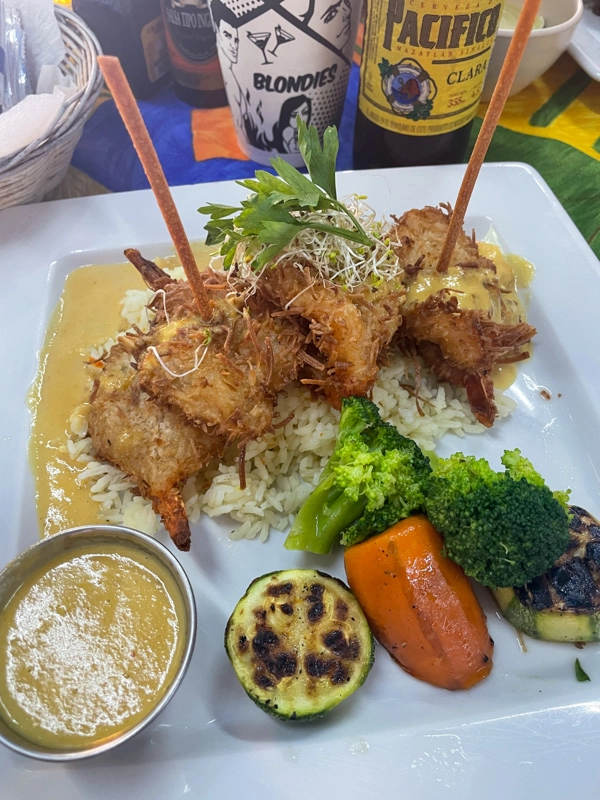 8 Tostadas Estadio is one of the most traditional and popular places in Puerto Vallarta, anchored to the local's history. It's a local favorite.
Now, you can find Las 8 tostadas in every neighborhood, whether you're in Marina Vallarta, Versalles, the Hotel Zone, or even Nuevo Vallarta. It will always be close to you, so there is no excuse for trying out one of the best seafood restaurants in PV.
The prices are affordable, and the variety is impressive. Try out the smoked marlin burrito; it's so huge you won't need to order anything else! The Acapulco ceviche, the aguachile and the shrimp tostadas are a must too. Just keep in mind that they don't take cards, so make sure to bring cash with you.
#9. Merida Grill
Le Merida takes its inspiration from Oaxaca (aka the best place for food in Mexico), with traditional Mexican dishes that date back to the original people of the Yucatan.
The staff here are always friendly and attentive, ready to recommend the best options for your group. However, it's pretty meat and seafood-heavy, so it's not ideal for vegetarians.
You'll get a complimentary salsa for the table made right in front of you – and you decide the heat level. So if you're looking for quality Mexican food in the heart of Zona Romantica, this is a great place.
Just come with an empty stomach because the food is filling – most of us couldn't finish our plates!
#10. Barrio Bistro
Versalles neighborhood is rapidly becoming one of the best foodie areas in Puerto Vallarta, thanks to incredible local restaurants like the Barrio Bistro. This fabulous restaurant is a concept created by Vallarta's native chef Memo Wulff.
It's a casual place to get a memorable dinner like the red duck. All meals are served with fresh regional ingredients in a room full of art and flowers.
They change the menu every two weeks, so they'll keep surprising with something new every visit. This is a popular spot, so make your reservations here.
The top restaurants in Puerto Vallarta don't have to be the most expensive or elegant. Some of the tastiest food is from the streets, so be sure to try the local taco stands too.
#11. Iguana Restaurant
Iguana restaurant is inside Casa Kimberly, one of the top boutique hotels in Puerto Vallarta.
As the former home of Elizabeth Taylor and Richard Burton, this is the place to go for a romantic date. The menu blends traditional Mexican dishes with modern culinary influences served in an elegant yet informal ambiance.
Be sure to check out the Tequila bar too, which serves a wide choice of top flight tequilas and mezcals, as well as local Mexican wines.
International Restaurants in Puerto Vallarta
While the Mexican food here is undoubtedly amazing, sometimes you need to switch up your flavor palette.
Luckily, there's no shortage of incredible restaurants in Puerto Vallarta serving exquisite cuisine from all over the world.
#12. La Capella Restaurant
If you're looking for a restaurant with a view in Puerto Vallarta, it does not get better than La Capella.
This fine-dining restaurant serves a menu of Italian classics in an open-air dining space with spectacular views of downtown Puerto Vallarta, including a perfect view of the famous church in El Centro. It's a romantic setting perfect for celebrating special occasions.
Reservations are required – you can browse the menu here.
#13. La Cigale French Bistro
Maybe you were not expecting French cuisine in a Mexican beach city but think again because La Cigale has been one of the best places to eat in Puerto Vallarta since 2009.
Some of the best items on the menu are the baked mini cocotte, the carbonara pasta, the boeuf bourguignon, and their decadent chocolate fondant.
Everything here screams Paris, so you will feel like you're having dinner at a bistro on Champs-Élysées, just with nicer weather and the sight of the beautiful Guadalupe church right by your side.
#14. La Vaca Argentina Steak House
Argentina is world-famous for its steak, and La Vaca holds its reputation. This Argentinian steakhouse is the perfect place to go for quality meat and seafood grilled to perfection.
La Vaca offers a large indoor and outdoor seating area with services that match the quality of its food. It's located in the north hotel zone across from La Isla, one of the best places to go shopping in Puerto Vallarta.
#15. La Leche
La Leche became an instant classic the second it opened. This Spanish-inflected cuisine offers an incredible menu that changes daily.
The acclaimed chef Nacho Cadena opened La Leche in 2008 alongside his son Alfonso, and together, they have created one of the most original gastronomic concepts of the bay.
The restaurant's interior design is like a journey into your wildest dreams. Everything is white and will make you feel like you've entered another world. You'll be sure to snap some Insta-worthy pictures here!
La Leche is a popular place for celebrating occasions; the wait staff will even ask you what you're celebrating when you come in. It gets pretty loud on the weekends with a live DJ, but this is a place to be if you're looking for a fun night out with friends.
The portions here are pretty generous; we ordered way more than we could even eat.
#16. 116 Púlpito
The best things come in small packages, and 116 Púlpito is proof of it. They have a delectable mix of Mediterranean and Spanish cuisine that will leave you feeling satisfied all night.
This restaurant is a casual place to see and be seen on Púlpito Street in the trendy Romantic Zone.
Their menu changes daily based on local ingredients' availability, but some of their specials are the corn empanadas stuffed with duck or the grilled octopus with mesquite milk. See what's on here.
#17. Barcelona Tapas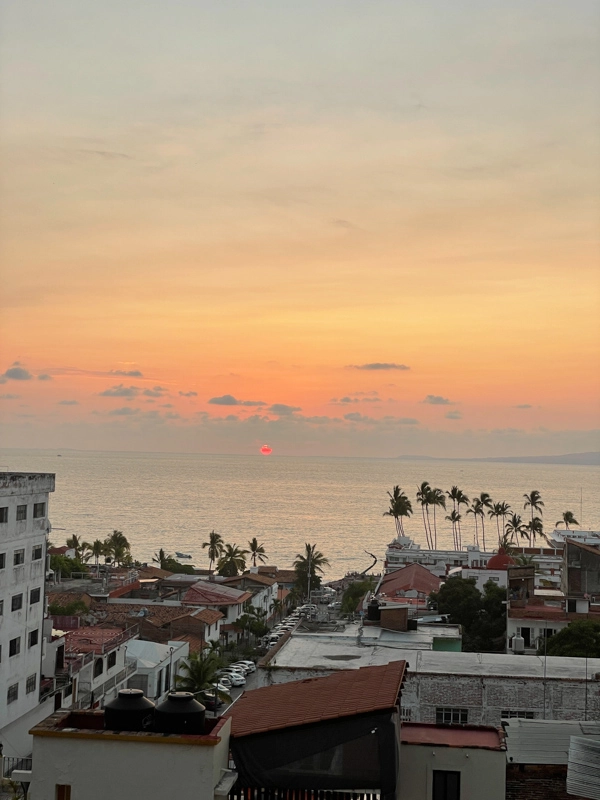 If you're looking for dinner with a view, head up the hill four blocks from the Malecon to Barcelona Tapas.
It's worth the walk, as the restaurant offers roof-top open-air dining with the best views overlooking the city and Banderas Bay. Treat yourself to a refreshing Sangria when you get there!
The range of tapas and wine is fantastic. There are so many options, so it's best to get 2 or 3 tapas-sized plates each and share them with a group. The Paella is heavenly!
They also have live jazz music, which adds to the ambiance. This restaurant is an ideal place for a date or a night out with friends – it's one of my favorite restaurants.
#18. Bonito Kitchen and Bar
Bonito Kitchen is the place to go if you're looking for quality Asian food in Puerto Vallarta. They have two locations – one in Emilano Zapato and a newly opened restaurant in Tules just above Versalles.
They have an extensive choice of ramen to choose from, including veggie ones. They also serve up a variety of smaller plates, including bao, dumplings, potstickers, and summer rolls which are perfect for sharing with friends.
If you're not feeling ramen, choose one of the enticing curry rice bowls, pork belly, or Korean BBQ ribs. You can see the full menu here.
#19. Oregano Caribbean Cuisine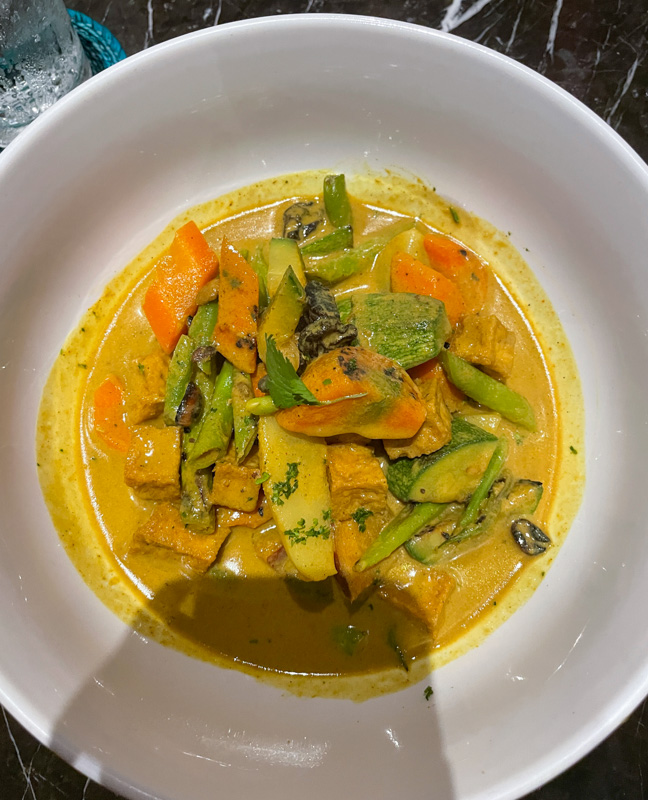 Yes, you can even get Caribbean flavors in PV! Another Versalles restaurant gem, Oregano is a yummy place to go for a delicious coconut-infused curry in a laid-back atmosphere.
My favorite part about this place is that they have an adorable piglet roaming around the restaurant (he may be an adult pig by the time of writing). It's hard not to be entertained by him!
The staff here are friendly, and I've never had a problem walking in here without a reservation.
Vegetarian and Vegan Restaurants in Puerto Vallarta
#20. Salud Super Food
Salud Super Food is an excellent choice if you want to eat healthy with tons of vegan and vegetarian great options. Every item is designed to make you feel good and leave you energized.
For example, they don't use sugar in their smoothies but instead use 100% organic raw agave honey and soy milk. In addition, many Asian inspirations will be found in their bowls and salads, like the Bangkok zoodles, Thai bowls, or homemade vegan lentil soup.
#21. Vegan Ramen Mei
Just as the name implies, Vegan Ramen Mei is the best place in town for vegan ramen.
It was opened by a lovely Japanese woman, offering a warm and inviting ambiance with friendly staff and calming decor.
In addition to the ramen, they offer tasty appetizers like orange "chicken" and gyoza.
#22. The Green Place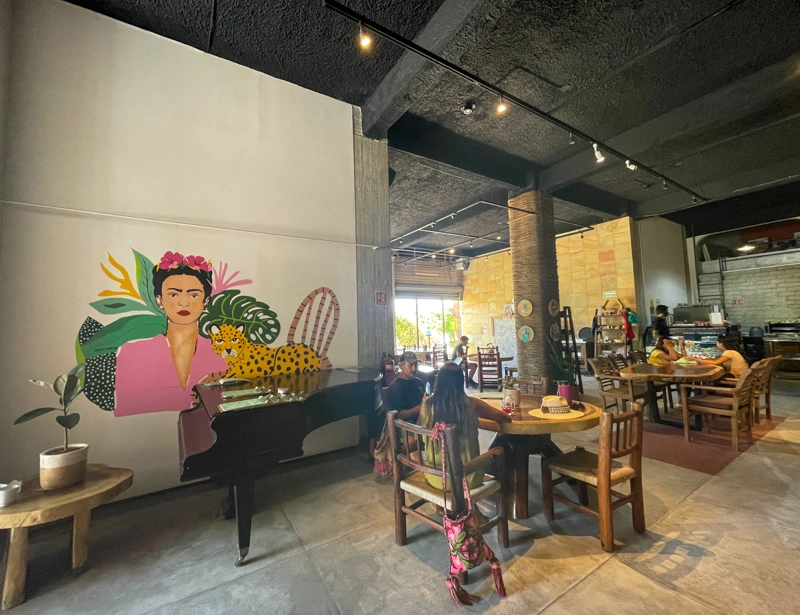 The Green Place is not only one of the best co-working spots in Puerto Vallarta but one of the best Puerto Vallarta restaurants to visit if you're vegan.
Their entire menu is vegan, offering healthy smoothies, juices, and bowls, as well as burritos and burgers when you need a little something more. The Chicago burger is one of my favorite things on the menu.
It's a great place to go for breakfast in Puerto Vallarta, and around 4 pm, the menu changes to dinner options.
#23. Barra Light
If you're looking for a casual breakfast or lunch where you won't leave feeling stuffed and heavy, Barra Light is a perfect choice.
Their whole menu comes from a bar where you can pick the things on your plate, ingredient by ingredient, so there is no problem making your meal veggie-friendly.
There's no better way to start a working day than with a fresh ambiance, a 100% natural smoothie, and a tasty panini. Find this terrific gem at Rodolfo Gomez Street in the Romantic Zone.
Puerto Vallarta Restaurant Week
If you're a true food lover and want to experience Puerto Vallarta's incredible gastronomy scene at a reduced price, come during Puerto Vallarta restaurant week.
During the event, many of the best restaurants in Puerto Vallarta offer innovative three-course menus, with three options for each course at a reduced price. It's one of the best events in Puerto Vallarta for food lovers.
The 2023 event runs from May 15th to June 10th.
Puerto Vallarta Food Tours
Short on time and want to experience the best food in Puerto Vallarta? Then, check out these Puerto Vallarta food tours that will take you to the city's top restaurants with a local guide.
There you have it, the best restaurants in Puerto Vallarta! Did we miss any amazing restaurants? Let us know in the comments below!
Planning a trip to PV? Don't miss these posts!