This post may contain affiliate links. By clicking and making a purchase through the links, I earn a small commission at no extra cost to you. See my disclaimer for more information. This allows me to keep the site up to date and expand on resources.
Wondering about how to find long term rentals in Puerto Vallarta, Mexico? Sasha has been living on and off in Puerto Vallarta for the last five years and Lora for the last three.
We're here to share our first hand-experience on finding apartments in Puerto Vallarta at a decent price (yes, it is still possible)!
Puerto Vallarta is an amazing destination for remote workers. It offers a fantastic lifestyle with a relatively low cost of living compared to Canada and the U.S.
Luxury amenities that may not be affordable at home, like pools and house cleaners, come included with many Puerto Vallarta apartment rentals.
If you've decided to make the move (great decision), keep reading for tips on getting your first apartment rental in Puerto Vallarta.
Puerto Vallarta long term rentals
If you're just doing a trial run of a week to a month, there are lots of great Puerto Vallarta vacation rentals on Airbnb and VRBO.
Many nomads start out on one of those platforms and then look for a more long-term place once they're on the ground.
The first time we did a nomad stint in PV, I actually found a place on Craigslist. We booked through the host's Airbnb link just to be safe and paid around $300 for that month.
Once we fell in love with the city and decided to stay, we extended our stay for another three months at the rate of just 4,000 pesos (about $200) a month. However, this was a few years ago, and Puerto Vallarta property prices have risen since.
We ended up splurging a bit on a nice Airbnb for our last two weeks that year and befriended the hosts. They gave us their contact info, and we ended up coming back for six months the following year.
It was during the low season (May-October), so we got a good deal. We had an ocean view in a well-furnished one-bedroom apartment, along with a shared rooftop pool, BBQ, and bar.
Our rent was 15,000 pesos monthly ($700) and included a thorough weekly cleaning. We were definitely spoiled there!
These days, there are tons of Facebook groups dedicated to rentals in PV. Making a post with your desired area, price range, and requirements is sure to get several responses.
I recommend not sending anyone money beforehand unless it's through a secure platform like Airbnb or PayPal goods & services. While there aren't a lot of scams in Vallarta, they can happen.
Here are some of the best Facebook groups to use when looking for accommodation in Puerto Vallarta:
Due to the pandemic, we decided to stay put in a comfortable place and actually spend a high season in PV.
I hit the Facebook groups and looked at a bunch of places from Centro up to the Hotel Zone. Most were in the range of 12-20,000 pesos a month with everything included but electricity.
We settled on a shiny new one-bedroom condo in the Hotel Zone just a block off the beach. With two rooftop pools, a jacuzzi, and a gym, this was a great place to live during the era of social distancing.
We definitely got the "pandemic special" here, as our rent was only 20,000 a month. Places there are already going for 30-35,000 this year.
Finally, there's the tried and true strategy of just hitting the pavement.
Keep an eye out for signs that say "Se Renta" and take down the phone number. Of course, you might need a little bit of Spanish to pull this off. Many owners speak some English, but some don't at all.
If you're signing a 6-month agreement, which is quite common, you can find a nice place for 15-20,000 pesos a month.
It's possible to find a decent studio for as little as 6-8,000 if you don't mind being in a more local area and a bit far from the beach.
Lora's experience finding long-term rentals in Puerto Vallarta
The first time I lived in Puerto Vallarta in 2020, I shared a 3-bedroom apartment in Las Glorias with two other digital nomads.
We paid 800 USD/month + utilities and signed a 3-month lease.
The apartment was outdated but came with a pool and twice-weekly cleaner. We were five minutes from the beach and next to a bus station.
We got the apartment by calling around to places that said 'se renta,' so this is a great strategy if you speak a bit of Spanish.
However, it was during the pandemic, and prices have definitely risen.
In 2021, I submitted my friend's apartment in Versalles for 600/month, which was a modern one-bedroom apartment with a pool. Because she had signed a lease for it, the price was much lower than what I would pay if it were a monthly rental.
Afterward, I moved into my friend's two-bedroom apartment in Zona Romantica, which they paid around 800 USD/month for. But again, this is with a 3-year lease.
Signing a lease will definitely lower your living expenses in Puerto Vallarta, so make sure to negotiate with the landlord when looking for long-term rentals in Puerto Vallarta.
In 2023, I finally came to terms with my love for Puerto Vallarta and came back to find a long-term apartment.
I came during the month of February, so it was tough to find a place. I ended up splitting a dingy 3-bedroom apartment in Zona Romantica with a friend for 21,000 pesos a month.
I wasn't happy living there, so I kept my eye on the Facebook groups and saw my now apartment come up for 900 USD!
It's a gorgeous two-bedroom apartment in Zona Romantica floored with natural light – I couldn't believe my luck.
Unfortunately, construction started next door after about a month of moving in, but my landlord gratefully gave me a discount – so I can't complain too much. I have a rooftop terrace with the best views of Zona Romantica and a second bedroom for guests.
Buying real estate in Puerto Vallarta
For those seeking a more permanent solution in Puerto Vallarta, buying real estate presents an attractive alternative to long-term rentals.
Puerto Vallarta has seen consistent growth in its real estate market, making it a promising long-term investment. The city's popularity as a tourist destination continues to increase, attracting visitors from around the world.
This sustained demand contributes to the potential for property value appreciation over time, allowing investors to build equity and enjoy capital gains.
Plus, investing in real estate in Puerto Vallarta can offer the advantage of generating rental income. The city's thriving tourism industry, combined with its popularity among vacationers, provides ample opportunities to rent out properties on a short-term basis as passive income.
If you want to invest in Puerto Vallarta real estate, contact me at [email protected], and I'll connect you with my local real estate agent. He knows the market very well and helped me find my dream property!
Why live in Puerto Vallarta?
Puerto Vallarta is an up-and-coming digital nomad destination on the Pacific Coast of Mexico.
While it's been a hot spot for retirees, snowbirds, cruise ships, and the LGBTQ community for some time now, digital nomads are also falling in love with PV.
And who could blame them? There are so many reasons to love living in Puerto Vallarta!
Located in Banderas Bay, Puerto Vallarta has the ocean to its west and the Sierra Madre mountains to its east. It seriously feels like living in a postcard here.
Although it's not a very big city, it has all the amenities of one.
You've got easy access to an international airport, big box stores like Costco and Walmart, malls, movie theaters, and many cafes, bars, and restaurants with incredible views.
Importantly for remote workers, Puerto Vallarta also has fiber-optic internet in many neighborhoods. There are several excellent co-working spaces and cafes if you prefer not to work at home.
My wife and I have been teaching English online, having coaching calls, blogging, and uploading videos from PV for years, and we have had very few issues.
Mant long-term apartment rentals in Puerto Vallarta come fully furnished and include all utilities except electricity.
You're also on the hook for drinking water (don't drink it out of the tap!) and can easily get 20-gallon jugs delivered for a few bucks each.
Your electric bill largely depends on how much you use the A/C, and it can get quite expensive in the hot and humid months of June-October.
Overall, the cost of living in Puerto Vallarta can be very affordable, making it an attractive place for digital nomads.
Best neighborhoods in Puerto Vallarta
The best areas for digital nomads to live in Puerto Vallarta are Old Town (also known as the Romantic Zone), Centro, 5 de Diciembre, and Versalles.
All of these areas will have everything you need as a nomad. It's also easy to get around on the bus (10 pesos per trip). Cabs are readily available, as well as Uber and InDriver (a local ride-sharing app).
If you want to be close to the action, Old Town or El Centro is where you want to be.
The 5 de Diciembre neighborhood is a bit more local and just a quick ride to downtown Puerto Vallarta, while Versalles is a more residential area. However, it's quickly becoming a foodie mecca with many new restaurants, and more digital nomads are moving there.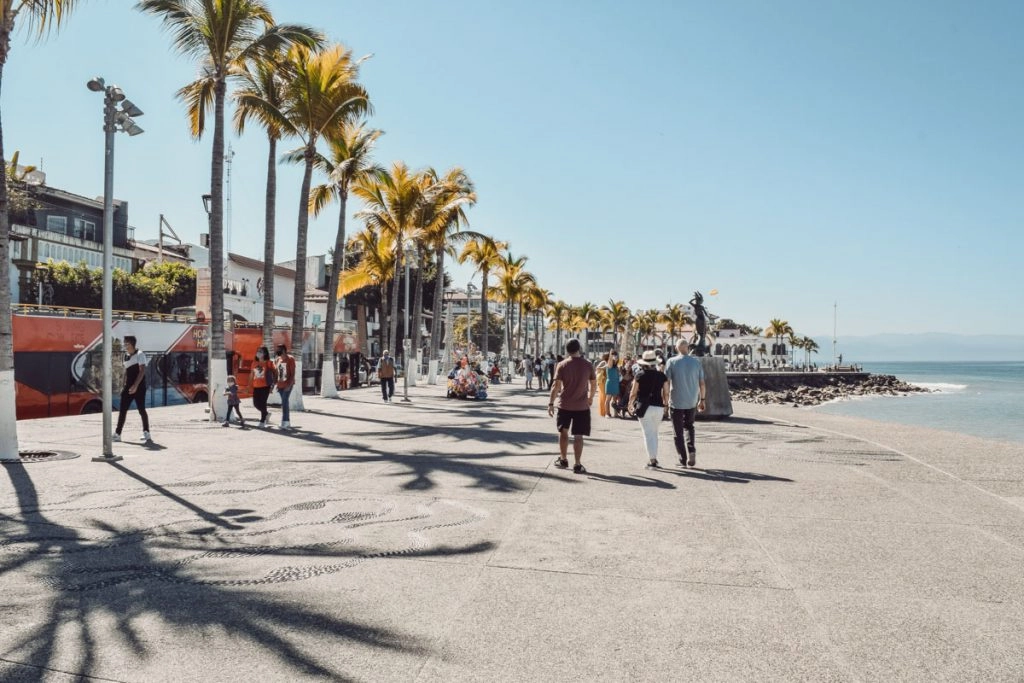 Tips for finding Puerto Vallarta rentals
Look during the low season
If you come to look for an apartment in November, you're going to have a bad time. There's barely any vacancy in the city, and prices skyrocket (especially around the Christmas season).
But if you come at the end of April, you can find some incredible deals. Many apartments get rented out for over half off during the low season, but if you commit to a longer lease, you can sometimes secure that price year-round.
If you want to be here during the high season (November to April), starting your search well in advance is essential to get a good deal.
By beginning your search early, you'll have more time to explore different options, negotiate terms, and ultimately find the best deal.
Commit to a longer lease
When searching for cheap monthly rentals in Puerto Vallarta, consider negotiating a longer lease term.
Landlords often offer discounted rates for tenants willing to commit to a lease of six months or longer. By demonstrating your commitment to stay for an extended period, you may be able to secure more favorable monthly rentals.
Move away from the center
The location of an apartment can significantly impact its price. While beachfront properties sound great, they come with a higher price tag. Areas like Marina Vallarta and Conchas Chinas also tend to be pricier.
Ask the locals
While online platforms can be helpful for starting your search, the best way to find a good deal is to know people.
Engaging with locals and fellow expats can provide valuable insights into hidden gems and off-market opportunities that might not be advertised online.
If you're new to PV, rent a place short-term and go to meetups to ask around.
Consider Sharing with Roommates
Sharing an apartment with roommates is a great way to split the cost of rent and utilities. Explore digital nomad or expat groups in Puerto Vallarta to connect with like-minded individuals who may be seeking roommates.
Sharing an apartment reduces your financial burden and provides an opportunity to build a network and enjoy a more social living environment. My roommates in 2021 were my best friends!
Housesitting
Another way to find affordable accommodations in Puerto Vallarta is by becoming a housesitter. Housesitting involves taking care of someone else's home and pets while they are away, and in exchange, you get to stay there for free (and sometimes they pay you)!
The platform I use to find house sits in Mexico is TrustedHousesitters, which connects homeowners with potential house sitters. There is a fee to join, but you will make up the cost if you get one sit.
FAQ: Long-term rentals Puerto Vallarta Mexico
What is the average rent in Puerto Vallarta?
The average rent in Puerto Vallarta can vary depending on the apartment's location, size, and condition. People I know here pay anywhere from $300 to $2000 USD per month. And it can go much higher if you get a villa!
How much is a one-bedroom apartment in Puerto Vallarta?
The cost of a one-bedroom apartment in Puerto Vallarta can vary based on its location, amenities, and proximity to the beach. Generally, you can expect monthly prices ranging from $500 to $1,200 USD.
Is Puerto Vallarta a good place to live?
Puerto Vallarta is a fantastic place to live, offering a vibrant lifestyle, beautiful beaches, a welcoming community, and various activities and amenities for residents. I decided to make it my home after visiting 70 countries!
Where do most expats live in Puerto Vallarta?
Most expats in Puerto Vallarta prefer neighborhoods like Zona Romantica, 5 de Diciembre, and Versalles, which offer a mix of nightlife, amenities, and proximity to the beach.
How far in advance should I start searching for an affordable apartment in Puerto Vallarta?
It is recommended to start your search at least a couple of months in advance if you are coming during high season to have ample time for exploring options and negotiating. However, after April, during the low season, you can find apartments much easier.
Are utilities included in the rental price of apartments in Puerto Vallarta?
It depends on the specific rental agreement. It is common for internet and water to be included, but electricity is often charged separately.
Is it common to share apartments with roommates in Puerto Vallarta?
Yes, sharing apartments with roommates is quite common among digital nomads and expats in Puerto Vallarta as it helps to reduce living costs and provides a social living environment.
Final thoughts: Long term rentals Puerto Vallarta
Whatever you decide to do, I'm sure you'll enjoy your time in Puerto Vallarta so much that you return back. It happened to both of us, and it happens to a lot of people!
It's the kind of place that just sucks you in. Be sure to check out our video about living in Puerto Vallarta for more information to help you out before your stay.
Once you've got your place to stay, head down to la playa and enjoy some tacos and margaritas!
Thinking about moving to Puerto Vallarta? Don't miss these guides!