This post may contain affiliate links. By clicking and making a purchase through the links, I earn a small commission at no extra cost to you. This allows me to keep the site up to date and expand on resources. Thanks for reading!
One of the main attractions in Puerto Vallarta are the beautiful beaches that surround the Bay of Banderas. Whether you're looking for a secluded beach to relax with a book or want to party all day at a beach club, this post has you covered with the 10 best beaches in Puerto Vallarta, Mexico.
Puerto Vallarta beaches are as varied as they are beautiful. You can find a beach right next in the downtown area with amazing restaurants to dine at, party-oriented beaches packed with tourists and locals alike, or secluded ones where it will be just you and the sea.
I'll be honest, the beaches actually in Puerto Vallarta aren't that spectacular. The most beautiful beaches are near Puerto Vallarta north or south of the city, but they are all pretty easy to access via public buses, hiking trails, or boats!
And even if you don't want to go far, there are still beaches to hang out right in downtown Puerto Vallarta. And the spectacular sunsets make up for what the beach lacks!
Top 10 Beaches in Puerto Vallarta
Best Beaches in Puerto Vallarta
Los Muertos Beach
If you're searching for some action, Los Muertos beach is the place to go. Many great beach clubs are here, such as Blue Chairs and Mantamar.
Puerto Vallarta is one of the most LGBTQ-friendly destinations in the world, so you'll be sure to meet some fun people here from all over the world, all while enjoying a great cocktail over a spectacular sunset. 
Los Muertos is right by the Romantic Zone, so it's ideal for having a long party that starts in the sun and ends in one of the many bars in the area.
The beach itself is not the most beautiful in Puerto Vallarta, but it's one of the easiest to visit as it's right off the Malecon. There you'll also find Los Muertos Pier, where you can grab a boat to a more secluded beach.
Playa Las Glorias
This beach starts in Las Glorias and runs along the North hotel zone of Puerto Vallarta, so if you're staying at one of the stunning hotels on the beach in this area, you'll most likely have direct excess to it.
Even if you're not staying at a beach hotel, there is still public access by the Secrets Resort. It's a pretty busy beach with all the resort guests but offers nice sunset views, as well as few shaded areas to hang out.
Conchas Chinas Beach
This is a fantastic beach that's inside the city limits. Conchas Chinas is a truly spectacular part of Puerto Vallarta, full of beautiful houses, luxury hotels, and amazing rock formations that merge with the ocean.
If you're downtown or in the Romantic Zone, you can get to Conchas Chinas by walking. But as the temperatures can be quite hot here, the easiest way is to grab an uber, which will get you there in less than five minutes. There are a few restaurants here as well as several beach hotels.
Best Beaches Near Puerto Vallarta
You'll have to go a little further to reach the rest of these beaches from Puerto Vallarta, but it's absolutely worth it! The beaches only get better the further out you go from the city limits.
Playa La Garza Blanca
Playa La Garza Blanca is a popular spot for families and couples, not so much for day parties. You can either bring your own snacks or try some of the treats that local vendors sell on the beach. It's too far to walk, but you can easily grab an Uber or taxi here from town.
The sea is perfect for swimming since there are no big waves and the color of the ocean is amazing! In addition, its crystal-clear water makes it a perfect place for snorkeling to see some beautiful fish and coral.
Colomitos Puerto Vallarta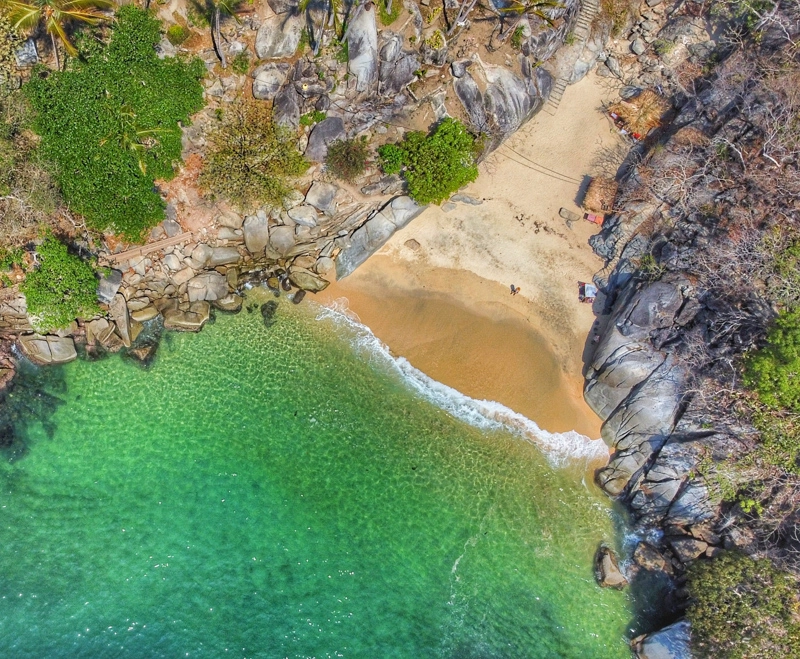 If you thought that a city as touristy as Puerto Vallarta couldn't have its own private piece of heaven, you were wrong. Colomitos beach is known for being one of Mexico's tiniest beaches and also one of the prettiest!
You can get here either hiking through the jungle or by panga, which are little local boats that transport locals and tourists around. Both the trailhead and boats are found in Boca de Tomatlán, the town that serves as a base for all the beaches south of Puerto Vallarta.
The best way to get here is to be adventurous and hike from Boca. It's not that hard, and the views along the coastline are stunning. After about an hour, you'll encounter Colomitos – you won't believe how beautiful it is once you see the emerald green water here! Colomitos is easily one of the best beaches near Puerto Vallarta.
The water is calm and serene – it's the perfect place to pack a picnic and chill out for the day. There aren't any amenities here other than one small stand selling snacks to be prepared when you come and enjoy this little wonder of nature.
Las Animas Beach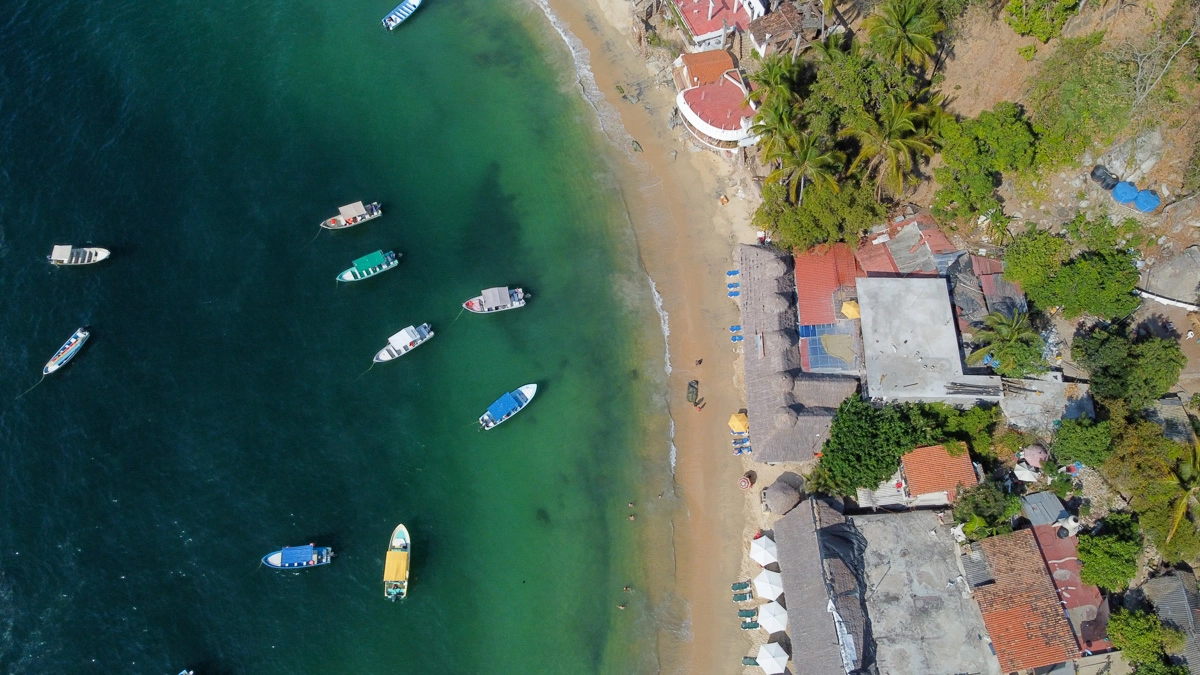 Las Animas is another beautiful beach south of Puerto Vallarta that you can reach either by panga or hiking from Boca.. It's on the same route as Colomitos, just about an hour further. You'll see signs along the hiking trails. But unlike Colomitos, it's packed with amenities making this a popular party beach. At Las Animas, you'll find restaurants and beach clubs dotted along the coast.
Quimixto Beach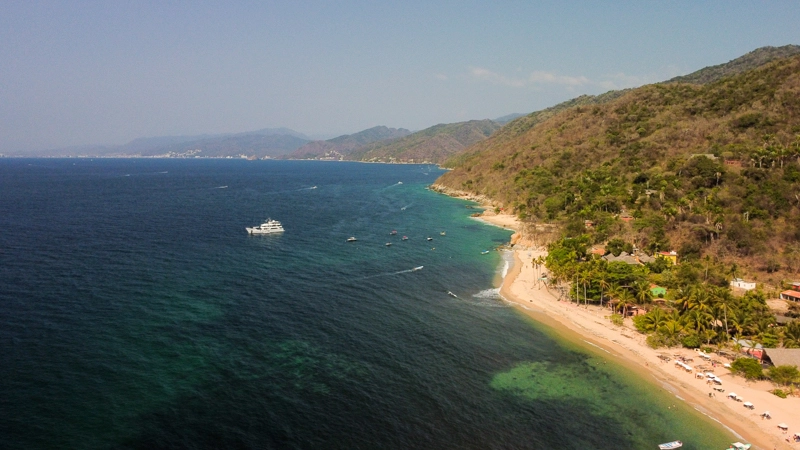 Quimixto is another great beach south of Puerto Vallarta. You'll need to get to Boca de Tomatlán and then take one of the little panga boats that will take you here for 100 pesos (5 USD).
Once you're in Quimixto, you won't have much to do but be amazed at the beauty that will surround you. There is a small town where you can get something to eat or drink if you haven't brought supplies. There's also a nice waterfall you can hike to from town in about half an hour.
Quimixto is one of my favorite beaches in Puerto Vallarta. On one side, there are beach clubs and restaurants, but on the other, there are secluded places to relax. There's also the option to camp here right in front of the ocean!
Everything you need to know about planning a day trip to Quimixto.
Yelapa Beach
Continue south and you'll reach Yelapa, which is one of the most popular day trips and weekend getaways from Puerto Vallarta. While technically it's accessible by hiking trails, this is quite the trek. Instead, you can grab a boat from Boca and be here in about an hour.
Yelapa has some of the prettiest waterfalls near Puerto Vallarta and a gorgeous beach to hang out for the day with restaurants, beach clubs, and incredible sunsets. Just make sure to get the last panga back before sunset, or you might have to spend the night! Not necessarily a bad thing; there are many cool accommodation options here, from huts in the jungle to nice hotels.
San Pancho Beach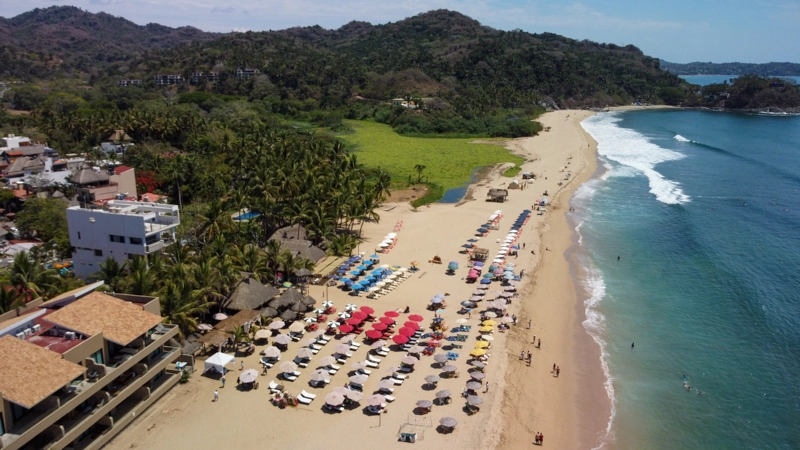 This beach is actually not in Jalisco but Nayarit, the neighboring state to the north. But it's still only about an hour driving and will be absolutely worth it. San Pancho is a tiny but magical beach town that makes for one of the best day trips from Puerto Vallarta.
To get here you can either rent a car in Puerto Vallarta for the day or grab a bus for $2.50 from Las Glorias.
The atmosphere is very chilled out in San Pancho. The beach is great for surfing or swimming when the waves are low. There are also cute shops and amazing restaurants with fresh seafood you don't want to miss out on!
Sayulita Beach
Sayulita is just five minutes from San Pancho but has much more of a party atmosphere. It's becoming one of the most popular destinations in Mexico for surfers and nomads, although I've heard the WiFi is actually not great. Still, if you want a nice place to party the night away and meet people from all over the world, Sayulita is the place to go. 
Hidden Beach Puerto Vallarta
I couldn't write a post about Puerto Vallarta without mentioned of Puerto Vallarta's most famous beaches. Hidden beach, sometimes referred to as secret beach, is actually on the Marietas Islands. To get there, you'll need to join a day tour and make the two-hour boat trip to the islands.
Space on the hidden beach is limited to 116 people per day, so be sure to secure your permit with the tour operator in advance. Here's the guide on everything you need to know about visiting this beach!
Please be a responsible traveler when visiting the beach! Bring a reusable water bottle, pick up after yourself, and wear only eco-friendly sunscreen that won't damage the corals. All of these measures are the key to preserve these natural wonders for many years to come.
Planning a trip to Puerto Vallarta? Check out these posts!