This post may contain affiliate links. By clicking and making a purchase through the links, I earn a small commission at no extra cost to you. See my disclaimer for more information. This allows me to keep the site up to date and expand on resources.
Looking for the best beaches in Puerto Vallarta? Let me help! I live in Puerto Vallarta and love spending time by the beach, so I've been hard at work researching to bring you this ultimate list of Puerto Vallarta beaches.
When it comes to beaches in Puerto Vallarta, there's no shortage of amazing ones to choose from. It's one of the main reasons millions of visitors flock here each year!
Puerto Vallarta beaches are as varied as they are beautiful. You can find a beach right in the downtown area with incredible oceanfront restaurants, party-oriented beaches where you can dance the night away, or secluded ones where it will be just you and nature.
Best Beaches in Puerto Vallarta
These beaches are listed from north to south, not in quality. In fact, the beaches get better the further south you go.
1. Boca de Tomates
Boca de Tomates is a unique gem in Puerto Vallarta that offers more than just sun and sand. Situated at the northernmost edge of the city, this beach is a weekend favorite among local families, complete with palapa-style eateries that serve up fresh seafood.
What makes this beach special is the Boca de Tomates Turtle Release Camp. I had a magical experience participating in a baby sea turtle release here, one of my favorite wildlife experiences in Puerto Vallarta.
Watching the baby turtles instinctively head towards the ocean during the sunset with the backdrop of the inspiring mountain views was truly a magical experience!
However, it's essential to note that the beach is not suitable for bathing or other water activities. Due to its proximity to the Ameca River and the Boca Negra Estuary, the presence of crocodiles is a constant, although there are places for safe viewing. While participating in the sea turtle release, our guide pointed them out to us.
This beach is very close to the international airport, which makes it very loud although seeing the planes take off over the mountains is pretty cool!
2. Playa de Oro
Nestled in the famous Hotel Zone of Puerto Vallarta, Playa de Oro is a beach that lives up to its name, which translates to "Gold Beach."
This popular stretch of golden sand is certified with the prestigious Blue Flag, ensuring clean waters and a well-maintained environment.
It's a hub for water sports, offering everything from kayaking and windsurfing to whale watching and parasailing. The beach is easily accessible, with three public entry points, and is just 15 minutes from central Puerto Vallarta.
However, it's not just about the water activities; the beach is lined with resorts and restaurants, making it a perfect destination for those who love to mix relaxation with a bit of adventure. You'll find many of the top beach hotels in Puerto Vallarta around here.
3. Playa del Holi
Just a 15-minute walk from Playa de Oro, you'll find Playa del Holi, a beach that's become a weekend hotspot for digital nomads and expats. Every Saturday, the volleyball in Puerto Vallarta group (VB in PV), heads there to play.
Even if you're not into volleyball, it's a great place to socialize and meet other expats living in Puerto Vallarta. I usually just hang out on the side with the dogs!
While the beach does have restaurants, they can be a bit on the pricey side. Instead, pack a cooler with your favorite snacks and beers to enjoy a budget-friendly day under the sun.
Though it can get crowded during holidays, Playa del Holi is generally a great spot to swim, relax, and marvel at the stunning mountain views that serve as the perfect backdrop.
4. Playa El Salado (Marina Beach)
If you're staying in the Marina Vallarta area and craving some beach time, Playa el Salado is your best bet.
While the Marina doesn't offer much in terms of beach access, Playa el Salado provides a convenient escape. You can reach this golden-sand beach via a public access point located at the end of Paseo Bocanegra Street.
While it may not be the most glamorous beach in Puerto Vallarta, it serves its purpose well for those staying nearby. The beach offers a variety of water activities like parasailing, windsurfing, and jet skiing, making it a decent spot to spend a day in the sun.
5. Playa Las Glorias
Playa Las Glorias will always have a special place in my heart. My first apartment was just a stone's throw away, so you bet I was there all the time! If you're lucky enough to be staying in one of those jaw-dropping beachfront hotels in the North Hotel Zone, you've got VIP access to this sandy paradise.
Not staying beachside? No worries! There's a public entry point right by Secrets Resort. Sure, it gets a bit packed with resort-goers, but who can blame them? The sunsets here are Instagram gold, and there are even some shady spots to chill out.
Don't expect a ton of beachside restaurants on this beach. But hey, it's the perfect excuse to pack a picnic or get your morning yoga on. And if you're living in the Versalles area, this is the closest beach to you.
6. Playa Camarones
Ah, Playa Camarones! This beach, known as "the beach of the shrimps," is a weekend magnet, especially for digital nomads living in the 5 de Diciembre area. We often find ourselves at Mangos Beach Club, sipping cocktails and soaking up the sun.
One of the most fun things to do here is rent jet skis. We once took one all the way to Los Arcos, and it was epic. They go so fast!
If jet skis aren't your thing, no worries. This beach is perfect for an easy beach day. Grab your friends, a cooler from OXXO filled with beers, and your go-to playlist.
Don't have beach gear? No worries, as there are many restaurants here with chairs and umbrellas you can use. From El Solar to Mangos Beach Club, this area has some of the best beach clubs in Puerto Vallarta.
7. Playa de Los Muertos
If you're in the mood for a lively beach scene, Playa Los Muertos is your go-to. Located right next to Zona Romantica, this beach is a hub of activity. From renowned beach clubs like Mantamar to an array of water sports like banana boat rides, there's never a dull moment.
Now, let's talk logistics. The beach is super accessible, just a short walk from the Malecon. And if you're looking to escape the crowds, the Los Muertos Pier is your gateway to more secluded beaches via water taxi.
Speaking of crowds, be prepared for a bustling atmosphere. Vendors will frequently approach you with various goods for sale. The beach has a mix of dining options—some hit-or-miss spots and some fantastic restaurants that I've highlighted in this guide.
While it may not be the most picturesque beach for a swim, it's certainly possible. And given its location in the LGBTQ+-friendly Romantic Zone, you're guaranteed to meet some amazing people from around the globe, all while sipping a fabulous cocktail against the backdrop of the city.
8. Conchas Chinas Beach
If you're after a beach experience that feels like a luxurious escape but is still within city limits, Playa Conchas Chinas is your spot. Nestled in a stunning area filled with lavish homes and upscale hotels, this beach is a natural wonder with its striking rock formations that seamlessly blend with the ocean.
Getting here is a breeze. You can either take a scenic walk along the coast from Old Town, or opt for a quick 5-minute Uber ride. I love coming here for its clear waters, making it my go-to beach for swimming near the city.
During a yoga retreat in Amapas, I frequented Conchas Chinas to immerse myself in nature.
While the beach is a bit removed from the hustle and bustle of Puerto Vallarta, it's absolutely worth the journey. Plus, there are a few dining options available, perfect for a sunset meal. Trust me, the further you venture from the city, the more rewarding the beaches become.
9. Playa Palmares
Just a 15-minute scenic drive from downtown Puerto Vallarta, Playa Palmares is a slice of paradise you won't want to miss.
This Blue Flag-certified beach is not just stunning but also eco-friendly, meeting high standards for water quality and environmental management.
You can get there easily by Uber or city bus, and the ride offers breathtaking views of the ocean and mountains. I only discovered Playa Palmares in my third year living in Puerto Vallarta. And let me tell you, I was absolutely blown away by its beauty.
The beach was teeming with birds and butterflies, adding to its natural allure. I spent hours swimming in the turquoise waters with friends, wishing I had discovered this piece of paradise sooner!
10. Garza Blanca Beach
If you're looking for a beach that's more laid-back but still offers a slice of paradise, Playa Garza Blanca is where you'll want to be. This beach is a hit among families and couples, but it's not your typical party scene. Still, I spent a day here with friends, and we had an absolute blast.
Getting there is a cinch. While it's too far to walk from town, a quick Uber or taxi ride will get you there in no time. Once you're there, you've got options. Pack your own snacks or indulge in some local treats from vendors who stroll the beach.
But let's talk about the water—oh, the water! It's calm, making it perfect for swimming, and the color is just unreal. If you're into snorkeling, you're in for a treat. The crystal-clear waters are teeming with vibrant fish and coral.
11. Playa Las Gemelas
Nestled just a few minutes south of Garza Blanca, Playa Las Gemelas is a hidden gem. The beach is actually a pair of small, adjacent beaches separated by a rock wall, giving it its name, which translates to "Twin Beaches."
The waters here are calm and crystal-clear, making it an ideal spot for swimming and kayaking. One of the beaches is easily accessible, while the other requires a bit of hiking, rewarding you with a more private and exclusive experience.
Since it's far removed from the crowded areas, you won't find any vendors or restaurants here, so be sure to pack your own food, drinks, and essentials like sunblock and towels.
I spent a perfect afternoon here with friends, sharing laughs and drinks as we watched a breathtaking sunset.
12. Mismaloya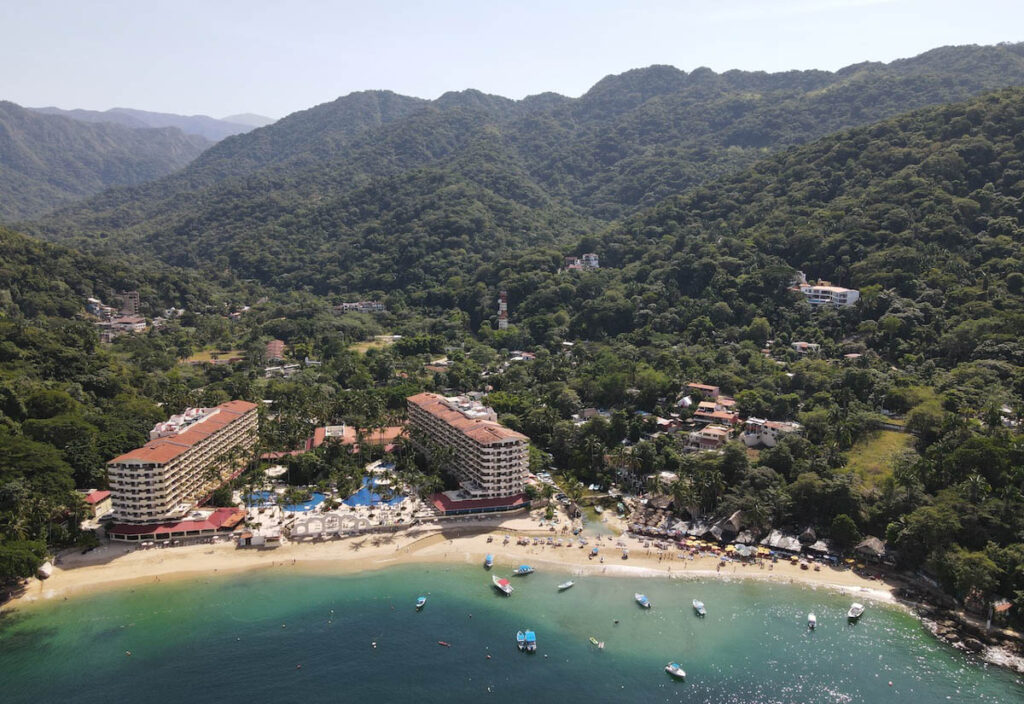 If you're looking to combine natural beauty with a lively atmosphere, Mismaloya Beach is the ideal place to be. Located just a short bus ride from Puerto Vallarta, this beach is a popular spot for both locals and tourists.
What sets Playa Mismaloya apart is its proximity to the Los Arcos Nature Reserve, a must-see for anyone interested in snorkeling or scuba diving. You can easily catch a boat right from the beach to take you to this stunning marine park full of marine life such as sea turtles.
Mismaloya is often buzzing with activity and live music, so this isn't the place to go if you want quiet. The beach is lined with food vendors and restaurants serving up everything from fresh seafood to classic Mexican fare.
Best beaches near Puerto Vallarta in the south
13. Colomitos Puerto Vallarta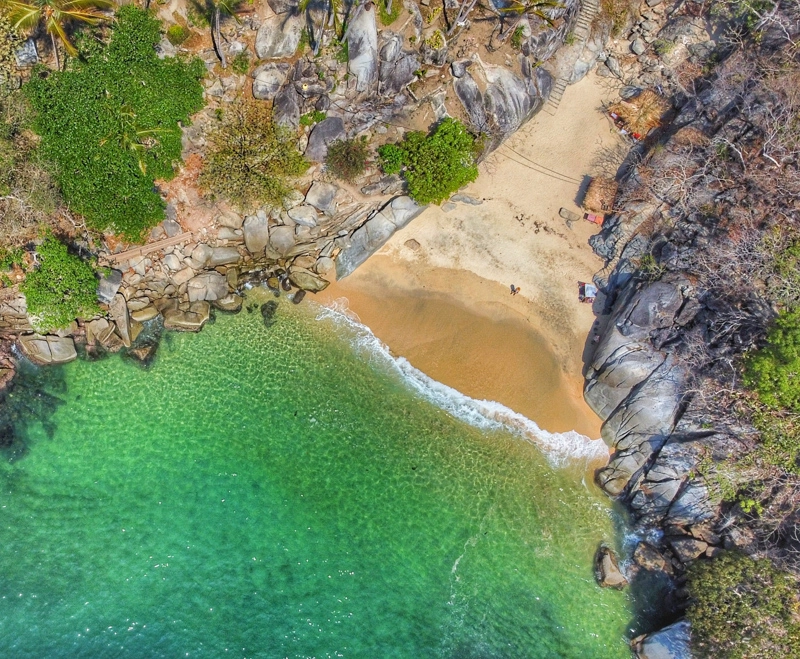 If you thought that a city as touristy as Puerto Vallarta couldn't have its own private piece of heaven, you were wrong. Playa Colomitos is known for being one of Mexico's tiniest beaches and also one of the prettiest!
You can get here either hiking along the coast towards Las Animas or by panga, which are little local boats that transport locals and tourists around.
Both the trailhead and boats are found in Boca de Tomatlan, the town that serves as a base for all the beaches south of Puerto Vallarta along Banderas Bay.
The best way to get here is to be adventurous and hike from Boca. It's not that hard, and the views along the coastline are stunning. After about an hour, you'll encounter Colomitos which is tucked in a small cove – you won't believe how beautiful it is once you see the emerald green water here!
The water is calm and serene – it's the perfect place to pack a picnic and chill out for the day. There aren't any amenities here, so be prepared when you come and enjoy this little wonder of nature.
14. Las Animas Beach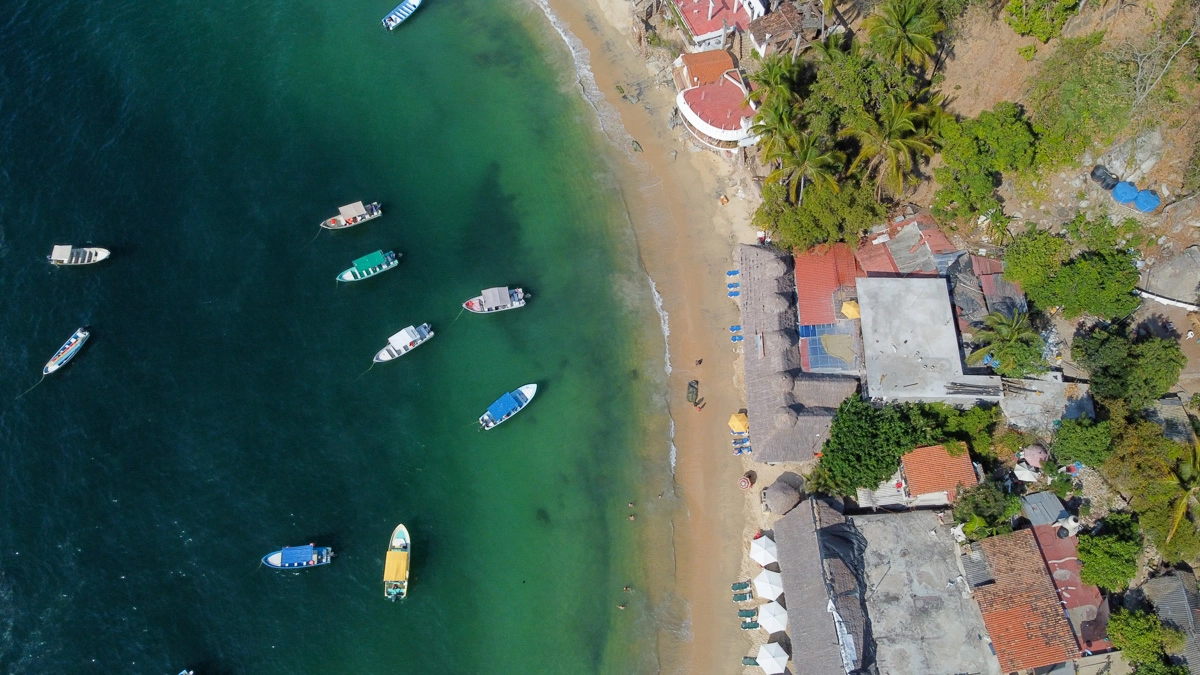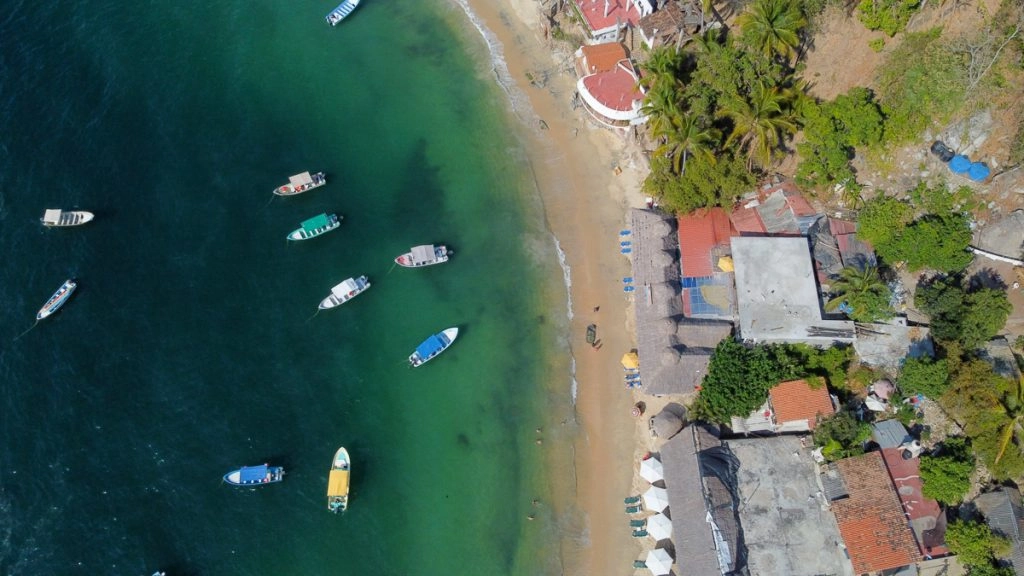 Playa Las Animas is another beautiful beach south of Puerto Vallarta that you can reach by panga or hiking from Boca.
It's on the same route as Colomitos, just about an hour further. You'll see signs along the hiking trails. But unlike Colomitos, it's packed with amenities making this a popular party beach. At Las Animas, you'll find restaurants and beach clubs dotted along the coast.
15. Quimixto Beach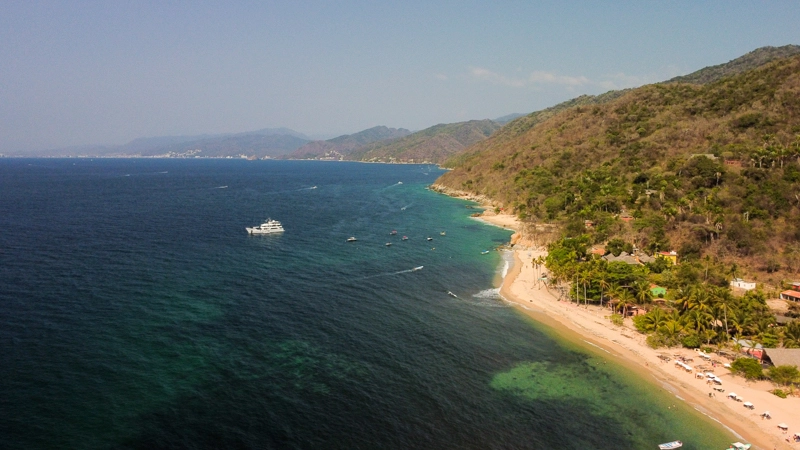 Quimixto is another great beach south of Puerto Vallarta. You'll need to get to Boca de Tomatlán and then take one of the pangas (water taxis) from the pier, which takes about half an hour.
Once you're in Quimixto, you won't have much to do but be amazed at the beauty that will surround you. There is a small town where you can get something to eat or drink if you haven't brought supplies. There's also a nice waterfall you can hike to from town in about half an hour.
Quimixto is one of my favorite beaches in Puerto Vallarta. On one side, there are beach clubs and restaurants, but on the other, there are secluded places to relax under swaying palm trees. There's also the option to camp here in front of the ocean!
16. Majahuitas Beach
If you're looking for a place to party on the weekends, Playa Majahuitas is the place to go. It's home to Majahuitas Beach Club, which is my favorite beach club in Puerto Vallarta.
The entrance fee is a bit pricy, usually around 75 USD depending on the event, but they have amazing DJs that play from day to night, and you get most of it back as credit. The food and cocktails are superb!
Majahuitas is by far one of the best beaches in Puerto Vallarta when it comes to photos. They've got so many spaces set up in the beach club for photo ops, as well as a small waterfall.
17. Yelapa Beach
Continue south, and you'll reach Yelapa, one of the most popular day trips and weekend getaways from Puerto Vallarta. While technically, it's accessible by hiking trails, this is quite the trek. Instead, you can grab a boat from Boca and be here in about an hour.
Yelapa has some of the prettiest waterfalls near Puerto Vallarta and a gorgeous beach with restaurants, beach clubs, and incredible sunsets.
Just make sure to get the last panga back before sunset, or you might have to spend the night! Not necessarily a bad thing; there are many cool accommodation options here, from huts in the jungle to nice hotels.
Here's everything you need to know about visiting Yelapa from Puerto Vallarta.
Best beaches near Puerto Vallarta in the north
18. Punta Mita
Punta Mita is a luxurious peninsula located about an hour's drive from Puerto Vallarta, widely known as one of the best beaches near Puerto Vallarta for surfing.
It's also known for its high-end resorts and private beaches, and one of the challenges of Punta Mita is finding public beach access, as many of the beaches are tucked behind private resorts.
However, Litibu Sunsets Restaurant offers a fantastic solution. Not only can you enjoy a meal with a view, but it's also a gateway to the beach. I've also been to parties there with DJs, where we camped on the beach afterward. So much fun!
19. San Pancho Beach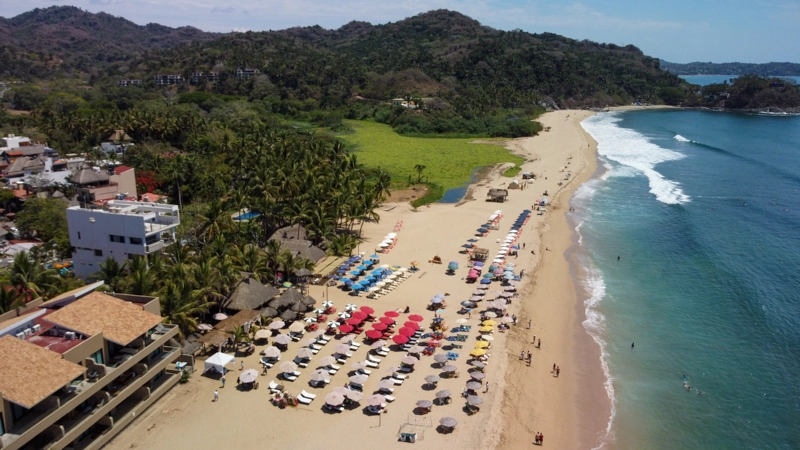 This beach is not in Jalisco but in Nayarit, the neighboring state to the north. But it's still only about an hour of driving and will be worth it. San Pancho is a tiny but magical beach town that makes for one of the best day trips from Puerto Vallarta.
To get here, you can rent a car in Puerto Vallarta for the day or grab a bus for $2.50 from Las Glorias.
The atmosphere is very chilled out in San Pancho. The beach is excellent for surfing or swimming when the waves are low. There are also cute shops and excellent restaurants with fresh seafood you don't want to miss out on!
20. Sayulita Beach
Sayulita is just five minutes from San Pancho but has much more of a party atmosphere. It's becoming one of the most popular destinations in Mexico for surfers and digital nomads, although I've heard the WiFi is not great.
Still, if you want a nice place to surf, party the night away, and meet people from all over the world, Sayulita is the place to go.
I couldn't write a post about Puerto Vallarta without mentioning Puerto Vallarta's most famous beaches. Hidden Beach, sometimes called secret beach, is actually on the Marietas Islands. To get there, you'll need to join a day tour and make the two-hour boat trip to the islands.
Space on the hidden beach is limited to 116 people per day, so secure your permit with the tour operator in advance. Here's the guide on everything you need to know about visiting Hidden Beach!
Please be a responsible traveler when visiting the beach! Bring a reusable water bottle, pick up after yourself, and wear only eco-friendly sunscreen that won't damage the corals. All of these measures are the key to preserving these natural wonders for many years to come.
FAQ: Best beaches in Puerto Vallarta
Does Puerto Vallarta have good beaches?
Absolutely, Puerto Vallarta is home to a variety of beautiful beaches that cater to different tastes, from bustling spots like Playa Los Muertos to more secluded options like Playa Las Gemelas.
Where are the nicest beaches in Puerto Vallarta?
The nicest beaches in Puerto Vallarta include Playa Conchas Chinas, Playa Palmares, and Playa Las Gemelas. These beaches offer clear waters, soft sand, and stunning natural beauty.
Does Puerto Vallarta have swimmable beaches?
Yes, Puerto Vallarta has several swimmable beaches with calm waters, such as Playa Palmares and Playa Garza Blanca, making them ideal for swimming and water activities.
What is a famous beach in Puerto Vallarta?
Playa Los Muertos is arguably the most famous beach in Puerto Vallarta, known for its lively atmosphere, beach clubs, and being LGBTQ+-friendly.
Are the beaches nicer in Cancun or Puerto Vallarta?
Can you walk along the beach in Puerto Vallarta?
Yes, you can walk along many beaches in Puerto Vallarta. Some beaches like Playa Los Muertos, even connect to others, offering a scenic stroll along the coast.
What is the clearest beach in Puerto Vallarta?
Hidden Beach and the Marietas Islands are known for its crystal-clear waters, ideal for swimming and snorkeling.
Which has better beaches, Cabo or Puerto Vallarta?
Are there white sand beaches in Puerto Vallarta?
While Puerto Vallarta's beaches primarily have golden sand, you'll find lighter, almost white sand at beaches like Playa Palmares.
What city in Mexico has the prettiest beaches?
The "prettiest" beaches can be subjective, but cities like Tulum, Cancun, and Puerto Vallarta are often cited for their stunning coastlines, each offering a unique beach experience.
Final thoughts: Puerto Vallarta's best beaches
Even if the beaches in the city aren't jaw-dropping, you really don't have to go far to find some that are pretty amazing. The best part? Most of them are super easy to get to, whether you're into hiking, boating, or just hopping on a bus.
Don't want to leave the city? No worries. Downtown Puerto Vallarta still has some cool spots to hang out. Sure, they might not be postcard-perfect, but what they lack in glamour, they make up for with killer sunsets and great vibes.
So whether you're into surfing, swimming, or just chilling with a drink in hand, Puerto Vallarta has a beach that'll suit your vibe. Come for the ocean, stay for the sunsets, and go home with a tan and some awesome memories.
🇲🇽 Puerto Vallarta Quick Guide 🇲🇽

✈️ Airport – The Licenciado Gustavo Díaz Ordaz International Airport (PVR) airport is a 20-minute ride to the city center. You can book an airport transfer here.

🏩 Hotels – The best websites for booking hotels and resorts are Booking.com and Expedia, which search all properties to find you the best deals. For inspiration on where to stay, head to my ultimate guide to Puerto Vallarta hotels.

🚗 Getting around – Puerto Vallarta is easy to get around by walking and Uber, but renting a car is the best way to explore the surrounding areas. Discover Cars is the best website for finding deals, which searches International and local Mexican companies.

🌊 Things to do – Puerto Vallarta is a paradise for outdoor adventure! Some of the top things to do are whale watching, yacht trips, and ATV tours.

✔️ Don't forget travel insurance! I use and love SafetyWing, which is insurance for remote workers. For shorter trips, I recommend HeyMondo – you can get 5% off by using that link.
Planning a trip to Puerto Vallarta? Check out these other attractions!