This post may contain affiliate links. By clicking and making a purchase through the links, I earn a small commission at no extra cost to you. See my disclaimer for more information. This allows me to keep the site up to date and expand on resources.
No trip to Puerto Vallarta would be complete without visiting Los Arcos Marine Park.
It's one of the most famous landmarks in the Bay of Banderas, offering some of the best water sport opportunities near the city.
Here's a detailed guide to visiting, snorkeling, and diving at Los Arcos National Marine Park in Puerto Vallarta, Mexico.
Los Arcos Marine Park
Heading south from the Romantic Zone, you'll find Los Arcos National Marine Park just before the town of Mismaloya.
Take one look at these granite islets, and you'll understand why they're called "the Arches."
These beautiful rock formations just out of Banderas Bay are natural arches that you can swim, kayak, or SUP through.
While you can see them from the road, the best way to visit is by boat, so you can get in the water.
However you decide to visit, checking out Los Arcos is a must on any Puerto Vallarta itinerary.
There are five islets here, with the three larger ones having interesting names.
The largest one is called Roca de Los Arcos (Rock of the Arches), while the other two are called Roca de la Tortuga (Turtle Rock) and Roca del Diablo (Rock of the Devil). Apparently, its shadow bears a resemblance to Bezelbub himself.
Once upon a time, these islets were actually part of the mainland. Mother Nature carved them over the years with the power of her waves into the arches we see today. Isn't erosion neat?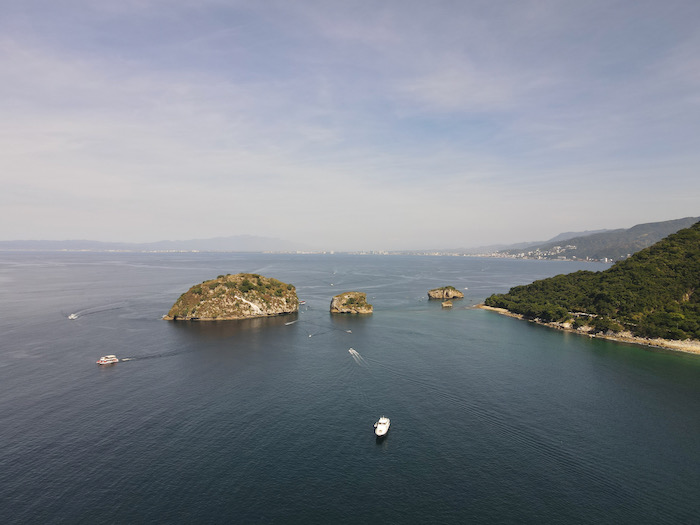 Biodiversity at Los Arcos
In addition to admiring this geologic wonder, Los Arcos is also a great place for wildlife spotting. It has been a National Marine Park since 1984 and is thus a protected area.
It's a good thing the Mexican government stepped in to protect Los Arcos because overfishing was a big problem in the past. It's now illegal to fish here, and the local bird population is protected as well.
Even the tour boats can't go that close to the rock formations, so plan to do a bit of swimming when visiting Los Arcos.
Tour boats are required to provide life jackets, so don't worry if the water is a little choppy.
These days, the area is teeming with wildlife, both above and below the surface. This includes several different seabirds like pelicans and cormorants.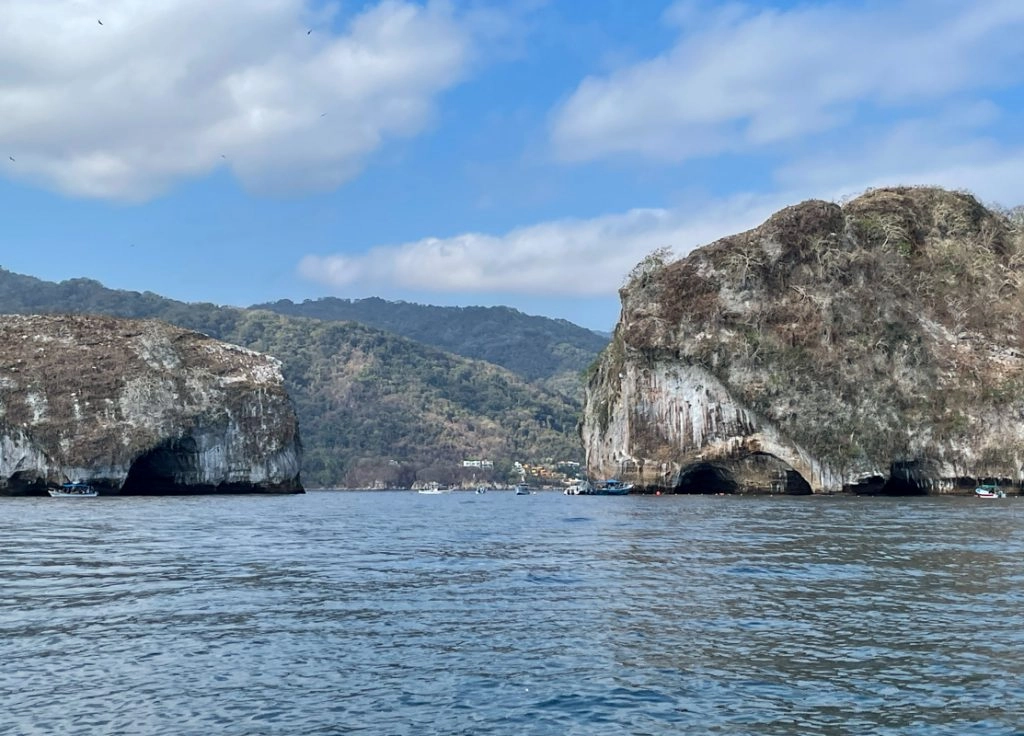 Supposedly, blue-footed boobies can be spotted here as well, although I've never seen them on my repeated visits. I did, however, spot a few of them on a trip to the nearby Marietas Islands, so I'm sure they make it to Los Arcos from time to time.
We all know it's better down where it's wetter, so what can we spot under the sea? Plenty of multicolored tropical fish, for starters. This includes angelfish, parrotfish, and trumpetfish. You might also catch a glimpse of eels or rays and even the rare sea turtle.
If you're visiting between December and March, there's also a chance you may spot whales or dolphins on your way to or from Los Arcos. You can read more about whale-watching tours here if you're interested.
Since there's so much to see under the surface here, it's no wonder Los Arcos is one of the top places to go snorkeling in Puerto Vallarta. This brings us to our next point…
Los Arcos Snorkeling
It's hard to see all that marine life without proper equipment. That's why it's well worth it to go on a Los Arcos snorkeling tour on your visit.
I'm all about a DIY adventure, but that's a bit tough at Los Arcos. It's a pretty long swim from Mismaloya Beach that would be exhausting and potentially dangerous.
This is one instance where it's well worth it to take a tour. You've got several options for enjoying some snorkeling in Los Arcos, as it's included in many tours from Puerto Vallarta.
Los Arcos snorkeling tours
We recommend checking out this small group snorkeling tour as it's highly rated and reasonably priced. Plus, the guide is a certified lifeguard and a marine biologist.
Another solid choice is this full-day tour that also includes trips to Las Animas Beach and the waterfall at Quimixto.
If you feel like being a baller, check out this luxury yacht snorkeling tour. There's no better way to spend a day in Puerto Vallarta than Drinking and sunbathing on a luxury yacht, trust me.
My favorite way to visit Los Arcos for a bit of snorkeling is definitely on a SUP (Stand-Up Paddleboard).
The tour that we took a few years ago doesn't seem to be running anymore, but I found a similar one. Click here to check the prices on this SUP tour on Viator.
You can also just head on down to Mismaloya Beach and try to arrange your own tour. There are several local tour operators with boats and snorkeling gear.
For a sneak peek at what you can expect to see when snorkeling at Los Arcos Puerto Vallarta, check out this short video I put together:
Biolumincese snorkeling Los Arcos
For a truly unique experience in Puerto Vallarta, head to Los Arcos at night to see the bioluminescence plankton glow underwater.
We organized a tour by water taxi from Mismaloya. It included cliff diving at sunset and then went to Los Arcos at night. It's a bit spooky to jump in the water at night, but surreal to see the water glow as you move your hands around.
Los Arcos Diving
Now for those who are scuba certified, you have the chance to explore Los Arcos even further! The water here is some of the deepest in Banderas Bay. You can see manta rays, sea turtles, moray eels, octopus, puffer fish, and more!
You'll be able to spot more marine life than those at the surface, including the brightly colored nudibranchs. Divers can explore tunnels and caves as well.
Vallarta Adventures has a scuba diving tour and also offers a PADI Discover Scuba course. Click here to check out their options.
Can you swim in Los Arcos?
Yes! Los Arcos is one of the best places to go swimming in Puerto Vallarta as you can see a wide variety of marine life.
How to visit Los Arcos Puerto Vallarta?
You can get to Los Arcos by car or bus from downtown Puerto Vallarta by following Highway 200 (the same bus that goes to Boca de Tomatlan). However, the best way to visit Los Arcos is by boat, so that you can get in the water.
Can you snorkel in Puerto Vallarta?
Yes! Puerto Vallarta has a number of snorkeling spots to visit – Los Arcos is considered to be one of the best in terms of marine life.
—
With so much marine life here, it's important to take precautions such as wearing biodegradable sunscreen. Also, be extra careful with the packaging for whatever snacks or drinks you may enjoy on a tour here.
As travelers, let's do our part to help protect and maintain this incredible place and the wildlife that calls it home.
Conservation efforts have already done wonders, so let's make sure future generations can continue to experience the beauty of Los Arcos.
It's definitely one of my favorite places to visit in Puerto Vallarta, and I can't wait to get back there for some more SUPing and snorkeling adventures.
Planning a trip to Puerto Vallarta? Don't miss these posts!