This post may contain affiliate links. By clicking and making a purchase through the links, I earn a small commission at no extra cost to you. See my disclaimer for more information. This allows me to keep the site up to date and expand on resources.
Looking for beach clubs in Puerto Vallarta? Let me help! I live in Puerto Vallarta and love going to beach clubs. In this guide, I'm sharing the best Puerto Vallarta beach clubs that are actually open – because many of the lists online are outdated with clubs that are now closed.
As one of Mexico's most popular coastal destinations, beach clubs in Puerto Vallarta are some of the best in the country.
Puerto Vallarta is known for its golden shores and crystal clear waters, so it's only natural that it would also have some of the best beach clubs in all of Mexico.
Whether you're looking for a place to relax and sunbathe or want to party all night long, these Puerto Vallarta beach clubs will deliver.
The best beach clubs are further south of the city because that's where you'll find the nicest sand and water. As there are no roads to these secluded beaches, you'll have to take a boat or hike, but it's worth the journey.
I've numbered this guide of beach clubs from north to south, not by quality. Let's start with beach clubs within the city limits.
Best beach clubs in Puerto Vallarta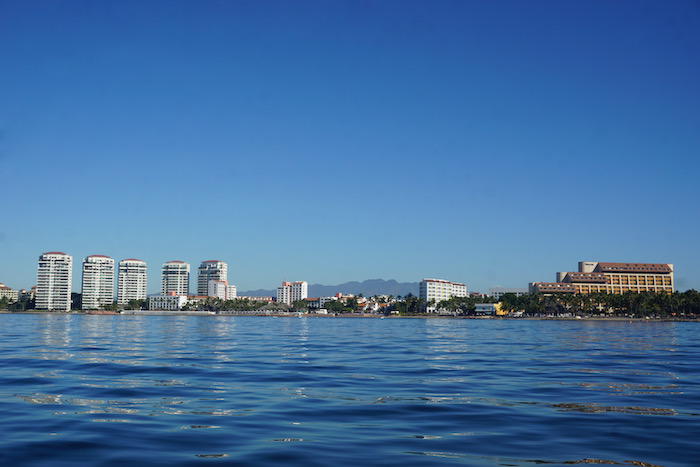 Av Paseo de la Marina 655, Marina Vallarta, 48354 Puerto Vallarta, Jal.
Marina Vallarta is one of the higher-end neighborhoods in Puerto Vallarta, and Tau Beach Club perfectly embodies that luxury atmosphere.
Amenities include a gorgeous pool by the ocean, sun loungers with umbrellas, Bali beach beds, showers, lockers, and a pool concierge.
You can get a day pass here for 1700 pesos (85 USD) which includes 800 MXN credit to use on cold drinks or from their fabulous lunch and dinner menu with elevated Mexican fare.
Avenida, Blvd. Francisco Medina Ascencio 2485, Zona Hotelera, Zona Hotelera Nte., 48333 Puerto Vallarta, Jal.
Located in the hotel zone, Chicabal Sunset Club is one of two unique clubs in Mexico, with its sister location in Cancun.
The club is famed for its yacht service, allowing guests to experience the high seas in style. Its urban gastronomy provides a fusion of flavors, perfectly complementing the luxurious cabanas available for relaxation.
Known for its irreverent party concepts, the club thrives on playing the newest music that promises to ignite your senses. Open from 1-7 PM, Friday to Sunday; it's the place to be for an exclusive beachside experience. You can book on their website to reserve your spot.
48333, Febronio Uribe LB, Las Glorias, Puerto Vallarta, Jal.
Nestled in Las Glorias in the hotel zone, Flamingos Beach Club offers a more intimate experience. It may be small in size, but it's big in charm, boasting a good selection of seafood and drinks.
The friendly service adds warmth to the inviting setting, while the lounge chairs and umbrellas ensure a comfortable day by the water.
Whether you're looking to catch some rays or enjoy the sea breeze with a refreshing cocktail in hand, Flamingos Beach Club is a great place to watch the sun set in Puerto Vallarta.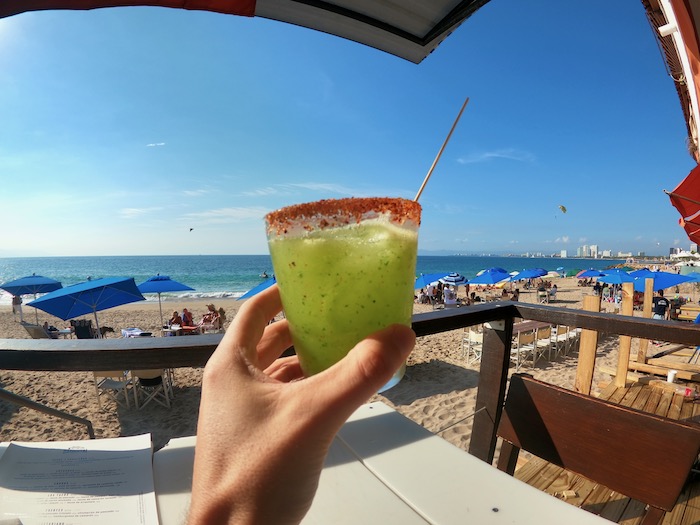 El Solar Beach Club is another great beach club on Playa Camarones.
They have some of the best mezcal cocktails in Puerto Vallarta – try the Jalapeño mezcal pictured above. They also have a great food menu with Mexican cuisine. Right next to it is El Barracuda, which has some of the best seafood in Puerto Vallarta.
It has a laid-back atmosphere, but they do have live music on the weekends which really adds to the atmosphere.
There's no charge to enter, so El Solar is a great place to chill on the beach with friends and watch the beautiful sunset over the Pacific Ocean.
If you're looking for a lively beach club in the city center, Mango's Beach Club is the ideal place to go.
Mango's is on Playa Camarones in the 5 de Diciembre neighborhood, so it's a popular place for digital nomads and expats to hang out after work. We often go here on the weekends!
It's a more casual beach club with breakfast, lunch, and dinner options and delicious drinks.
There is no charge to enter, and you can hang out all day as long as you buy food and beverages which are reasonably priced.
There's no pool, but it has direct beach access to jump into the ocean, and you can rent jet skis in front. We had a blast riding along the coast!
Afterward, chill out on the beach chairs or cabanas. This club plays music, but it's not a wild party, making this an excellent option to relax during the day.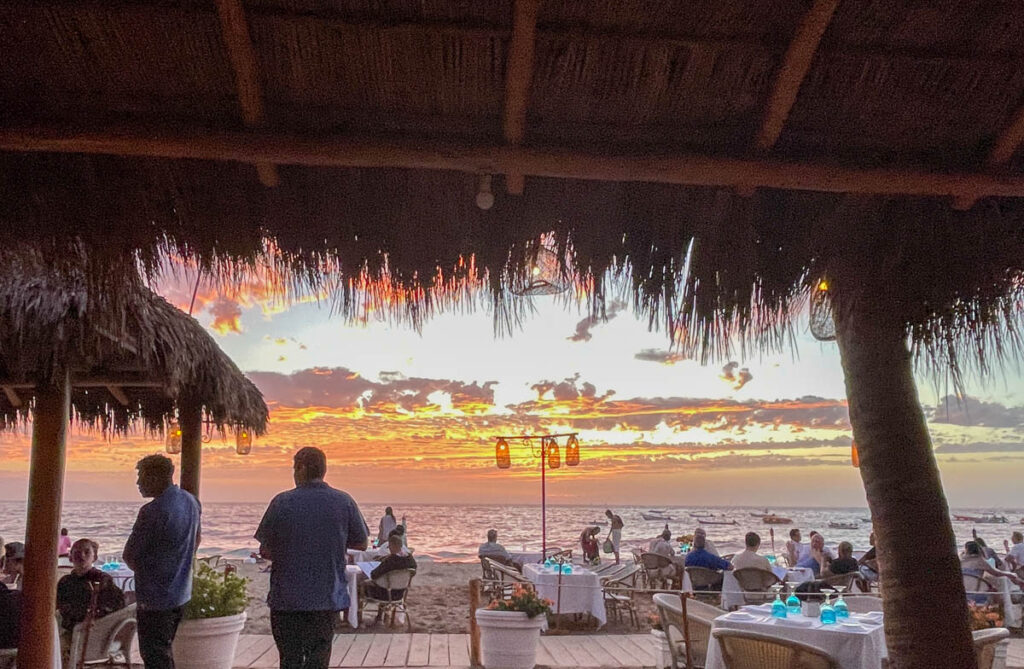 If you're looking for beach clubs in the Romantic Zone, head to El Dorado beach club. I'd say it's more of a restaurant, but it's still a great place to hang out.
It's located on Los Muertos Beach, one of the most popular beaches in town. This is a great place to grab a margarita, fresh ceviche, and people-watch – there's always something interesting to see here.
It's one of the best beach restaurants in Puerto Vallarta, offering an extensive menu of international and Mexican cuisine, including plenty of seafood dishes as well as vegetarian options. Get the guacamole as a starter – they prepare it in front of you on the beach.
The only issue with El Dorado is because it's in such a popular area, you'll have locals coming up to you to sell things or play mariachi – but still, it's a fun place to hang out from day to night.
Right next door to El Dorada is Swell Beach Bar. It's one of the best places to hang out on Playa Los Muertos, with excellent service, great cocktails, and delicious food.
After sunset, Swell switches from a beach club to an on-the-beach dining restaurant.
Sun loungers and umbrellas are available on the beach, and there's no charge to enter as long as you buy food or drinks. This is my favorite beach club to go to on Los Muertos beach with other expats in Puerto Vallarta as the prices are reasonable and the service is friendly.
Malecón 1, Zona Romántica, Amapas, 48399 Puerto Vallarta, Jal.
Sapphire Ocean Club is another fantastic beach club on Playa Los Muertos with finer amenities than Swell or El Dorado.
At Sapphire, you can take a dip in the swimming pool, soak up the sun on the comfortable lounge chairs, or enjoy dining on the fabulous breakfast and lunch menus from an internationally experienced chef. They specialize in Greek and Mediterranean cuisine.
Day passes are 300 MXN (15 USD) and include the use of the swimming pool, umbrellas, lounge area, and beach towel service.
Sapphire Ocean Club also has suites you can rent.
Mantamar Beach Club Bar & Sushi is part of the Almar luxury resort – one of Puerto Vallarta's top gay hotels. It's on the south side of Los Muertos Beach and is one of PV's most exclusive beach clubs.
It's the best beach club in Puerto Vallarta for LGBTQ+ travelers, offering a vibrant atmosphere full of music, luxury, and gourmet dining experiences.
The club has large outdoor areas and offers outdoor activities, including yoga classes, stand-up paddle boarding, and boogie boarding.
Mantamar is famous for its wild pool parties – especially during pride week. With an infinity pool, beach loungers, and cabanas, this is the place for a luxury beach club experience.
They host special events all the time, so check the website and see if anything's happening during your holiday. Prices for regular day passes depend if you're renting a chair, cabana, etc.
Carretera Costera a Barra de Navidad, km 9.5 A-3, Zona Hotelera Sur, 48390 Puerto Vallarta, Jal.
I just discovered Xalli Beach Club this year and it's one of my new favorites to go.
Though about 20 minutes from downtown Puerto Vallarta, the journey is worth the reward. While non-guests will need to pay for entry, the stunning sunset views from the hot tub, snorkeling in crystal clear waters, and the tantalizing cocktails are well worth it.
The sweeping views resemble scenes from a movie, and the dinner at the beachside restaurant adds the perfect finishing touch. Listening to the waves crash and enjoying a 5+ star meal at sunset is an experience you won't soon forget. Plus, the sun are so kind here!
11. Casitas Maraika beach club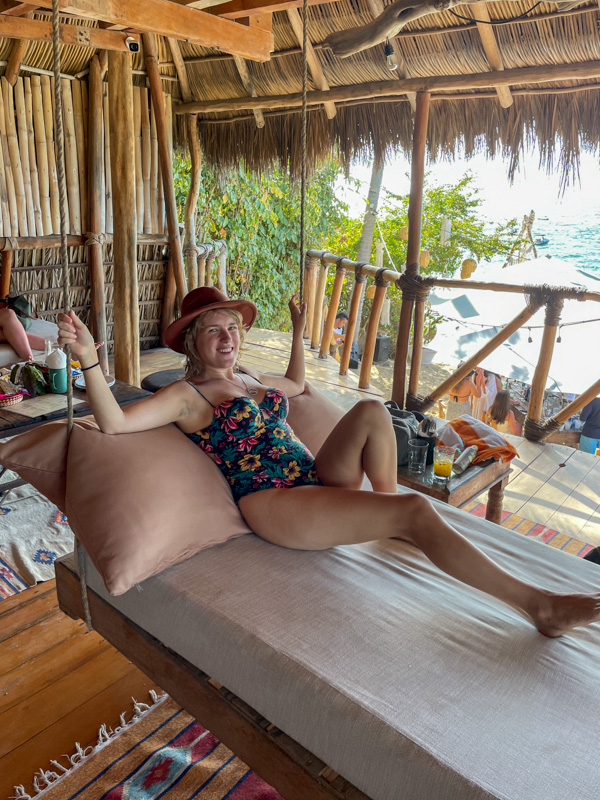 Playa Del Caballo Las Animas 1, 48380 Puerto Vallarta, Jal.
Another secluded beach club near Puerto Vallarta to add to your list is Casitas Maraika, located on Caballo Beach.
I stumbled across Casitas Maraika while hiking from Boca de Tomatlan to Las Animas and was drawn in by the house music playing.
I stopped in for 'one drink' and ended up staying for the rest of the afternoon.
The design here is gorgeous – it's boho-chic style on one of the most beautiful beaches in the area, offering a serene setting to chill in a jungle setting while sipping on fantastic signature cocktails.
As an added plus, there's no charge to enter, and the staff are so friendly. Last time, they made my dog a special meal!
Getting there: You can either hike from Boca de Tomaltan (about an hour) or get a water taxi to Las Animas and walk from there (about 20 minutes). Just keep in mind that the water taxis stop around 6 pm, so after that, you'll have to hire a private one or walk back.
12. Anima Beach Club Puerto Vallarta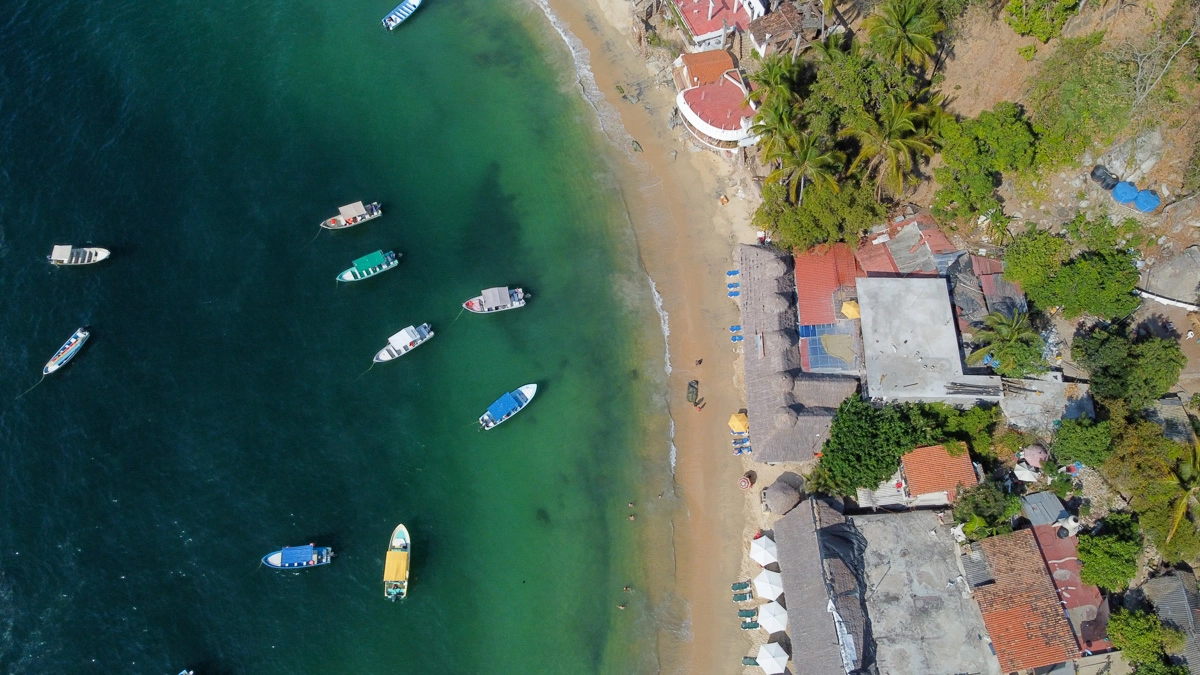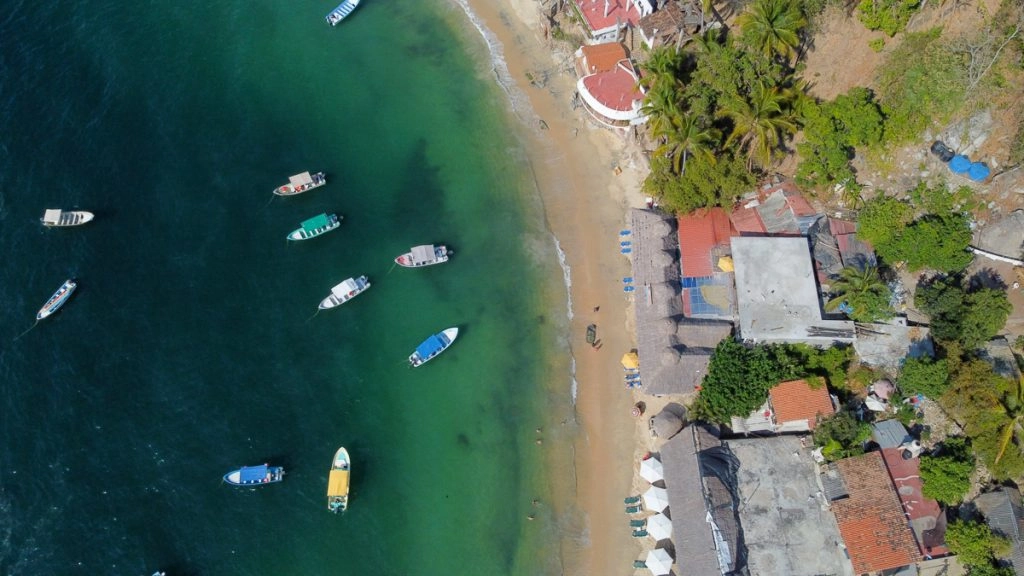 Playa Caballo, 48424 Puerto Vallarta, Jal.
For party enthusiasts, Anima Beach Club is the destination. Located just past Casa Marikas on Las Animas Beach, the club is accessible via boat or hike from Boca.
The music's electronic beats resonate through the great sound system, creating a lively atmosphere. The club is visually stunning, with knit patio umbrellas and decadent cabana setups.
While the prices are on the higher end, the attention from the staff, the food quality, and the delicious cocktails ensure a good price-quality ratio. Vegetarian options are available, adding to the inclusive appeal of this vibrant spot.
Playa Akali, 48424 Jal.
Set on Akali Beach just south of Quimixto, Akali Beach Club is designed as a haven for relaxation, where the Bohemian lifestyle meets the modern vision of coastal vacationing.
The culinary offerings are diverse, ranging from Mexican delicacies reflecting the nation's rich heritage to fresh local seafood and international dishes.
The club even caters to special events, offering private tours and wedding services, making it an ideal venue for memorable occasions.
While getting to Majajuitas is not the easiest, it's by far my favorite beach club in Puerto Vallarta.
On the weekends, Majahuitas Beach Club is one of the best places to party.
The vibes here are amazing – they have fantastic DJs playing electronic music in a magical jungle setting. There are lights in the trees and Instagram photo ops everywhere.
I love the ambiance here as the sun sets while everyone dances on the beach; it's always a good time. The food is also world-class.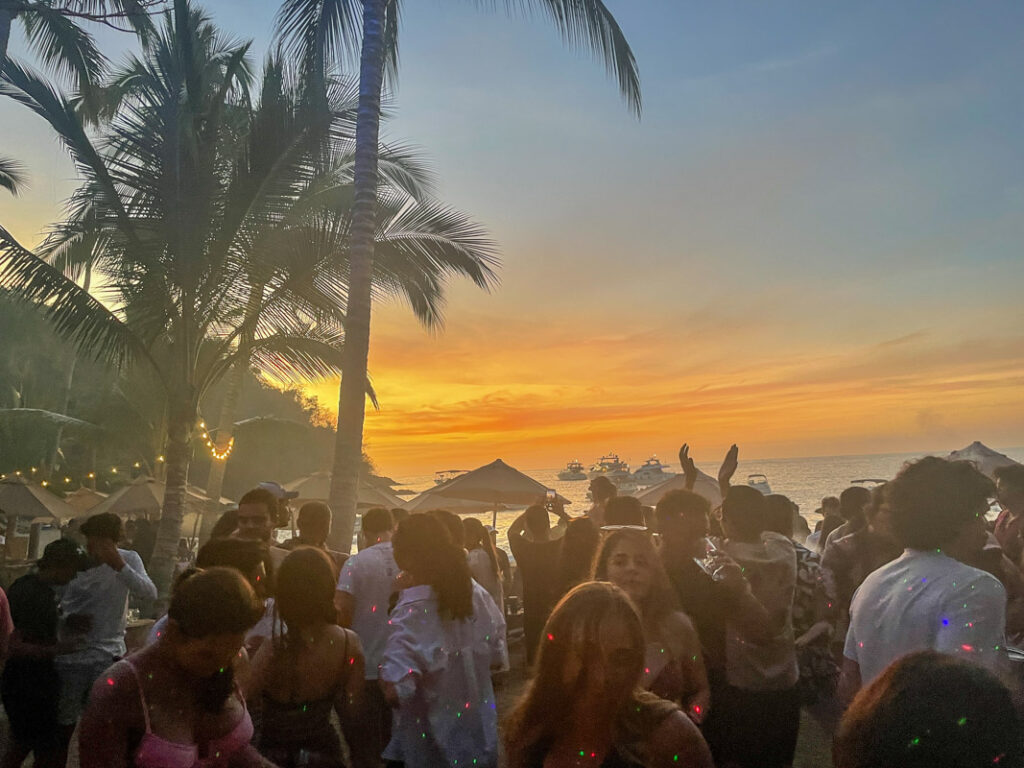 The downside of Majahuitas is that it's a bit expensive for Puerto Vallarta. Depending on the event, it's around 75 USD to enter, but you get most of that back as a tab for eating and drinking.
The other downside is it can be a challenge getting back from there. This secluded beach is only accessible by boat from Boca de Tomatlan.
Getting there is straightforward, but coming back can be chaotic as everyone is trying to get on a boat at the same time.
My advice – leave before the party ends to get on a boat.
Still, even with the downsides, this trendy beach club is absolutely worth visiting at least once.
During the week, you can also visit Majahuitas on a guided tour with Vallarta Adventures.
The beach club won't have live music, but you can still enjoy the fantastic food, water sports, pristine white sand, and crystal clear waters. That tour also visits Yelapa, one of my favorite day trips from PV.
FAQ: Beach Clubs Puerto Vallarta
Does Puerto Vallarta have beach clubs?
Yes, Puerto Vallarta is home to a variety of beach clubs, each offering unique experiences, from luxury and exclusivity to vibrant parties.
Is Puerto Vallarta good for clubbing?
Absolutely, Puerto Vallarta is renowned for its lively clubbing scene, with numerous nightclubs and beach clubs catering to different musical tastes and vibes.
What part of Puerto Vallarta has the best nightlife?
The Malecón and the Romantic Zone are among the areas in Puerto Vallarta known for their bustling nightlife, filled with bars, clubs, and entertainment venues.
Is Puerto Vallarta a party scene?
What alcohol is Puerto Vallarta known for?
Puerto Vallarta is known for its tequila and raicilla, traditional Mexican spirits that are a must-try for visitors.
Can you drink in public in Puerto Vallarta?
Drinking in public places like streets and parks is generally prohibited in Puerto Vallarta (although many people still do). Alcohol is widely available in licensed venues.
Are all beaches in Puerto Vallarta swimmable?
While many beaches in Puerto Vallarta are swimmable, some might have strong currents, so it's always best to check local advice or swim in designated areas.
Is Puerto Vallarta beach water clear?
any beaches in Puerto Vallarta boast clear and inviting waters, especially in areas further south away from the busy harbor.
Final thoughts: What is the best Puerto Vallarta beach club?
When looking for the best beach clubs in Puerto Vallarta, it depends on what you're seeking in your beachside experience.
For those who want a more casual and affordable option, head to El Solar, Mangos, or Swell Beach Bar. If you you just want a beautiful setting to relax by, Casa Marikas, Xalli and Akali are all fantastic choices.
For a lively party atmosphere, Majahuitas and Animas are the places to be, while Tau offers an unparalleled luxurious experience.
For me, Casa Maraikas is my go-to for relaxation and Majahuitas when I want to party.
Puerto Vallarta's beach clubs cater to a variety of tastes and desires, making it impossible to pinpoint a single "best" option. Each club has its unique charm, offerings, and ambiance, depending on what you're looking for.
If you have the time, check out a few of them! It's by far the best way to spend a day in Puerto Vallarta.
Planning a trip to Puerto Vallarta? Check out these other things to do!