This post may contain affiliate links. By clicking and making a purchase through the links, I earn a small commission at no extra cost to you. See my disclaimer for more information. This allows me to keep the site up to date and expand on resources.
Wondering what the best Puerto Vallarta neighborhoods are? Let us help! We've been living in Puerto Vallarta collectively for over eight years, in many of the different neighborhoods, and are here to share the pros and cons of each to help you decide where to stay.
From the original Old Town to up-and-coming areas like Versalles, get ready for a whirlwind tour as we take you from north to south to check out the top areas of Puerto Vallarta.
These are the best neighborhoods in Puerto Vallarta for visitors, digital nomads, and expats alike.
Each has its pros and cons depending on what you're into, so we'll break that down to help you choose the best one for you.
Best Puerto Vallarta Neighborhoods
1. Marina Vallarta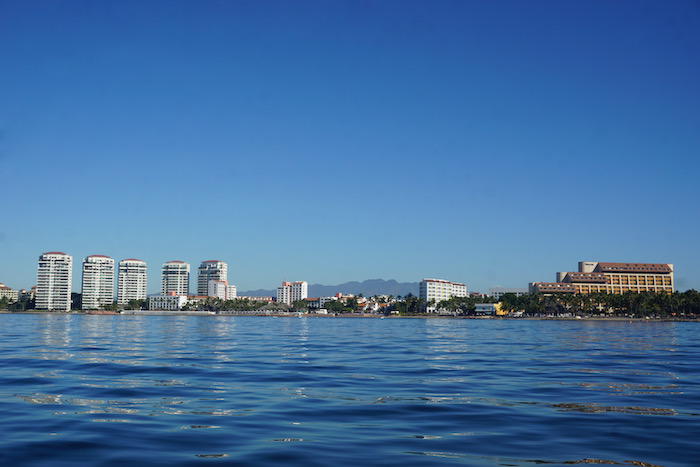 Let's start in the fancy part of town. Marina Vallarta is located just south of the airport and is one of the top neighborhoods in Puerto Vallarta for families.
In addition to being a safe, peaceful place to live, this area is home to the American School of Puerto Vallarta. There's not much of a party scene here, either. It's pretty quiet, or at least as quiet as Mexico gets.
There's also one of Puerto Vallarta's best golf courses and plenty of space to park a boat. You can probably imagine the type of crowd that attracts.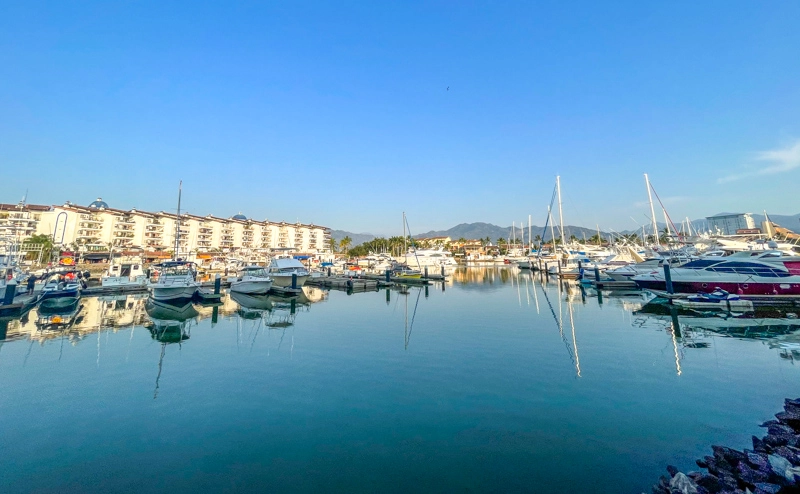 One issue with the Marina is its lack of a public beach. It's only accessible to those staying in the luxury condos and resorts here.
Needless to say, the Marina isn't the top choice for digital nomads in Puerto Vallarta who like taco trucks and dive bars. We'll have to head further south to find that stuff!
Pros:

Close to the airport.
Golf courses and yachting opportunities.
Family-friendly and safe.

Cons:

Less authentic Mexican vibe.
Limited nightlife.
Difficult to access the beach unless you're staying in a resort
2. The Hotel Zone
Next up is an area that's a popular choice for vacationers for obvious reasons. The Hotel Zone starts at the cruise ship terminal and goes south to the stadium.
As you might guess, this area is full of all-inclusive hotels and resorts. If you're looking for that all-inclusive treatment, this is the best area to stay in Puerto Vallarta.
It's not all hotels here, though. There are several nice condos and even some old-school apartments here as well. We actually lived in the Hotel Zone for six months during the pandemic and really enjoyed it.
The Hotel Zone has a nice stretch of public beach, but it's mostly a DIY affair. There are only a couple of beachfront establishments, and they aren't very good, to be honest.
Our only gripe was the lack of options for restaurants and bars that aren't exclusively for hotel guests. This is improving, though, so that's good news for prospective residents.
If you're staying in Las Glorias (the south part of the hotel zone), it's just a five-minute walk across the highway to Versalles, where you can find many of the best restaurants in the city. More on that below!
Pros:

Wide range of accommodation options, from budget to luxury.
Close to shopping malls and restaurants.
Easy access to both the airport and downtown.

Cons:

Less cultural feel.
Can be crowded during peak seasons.
Beaches don't have a lot of amenities
3. Versalles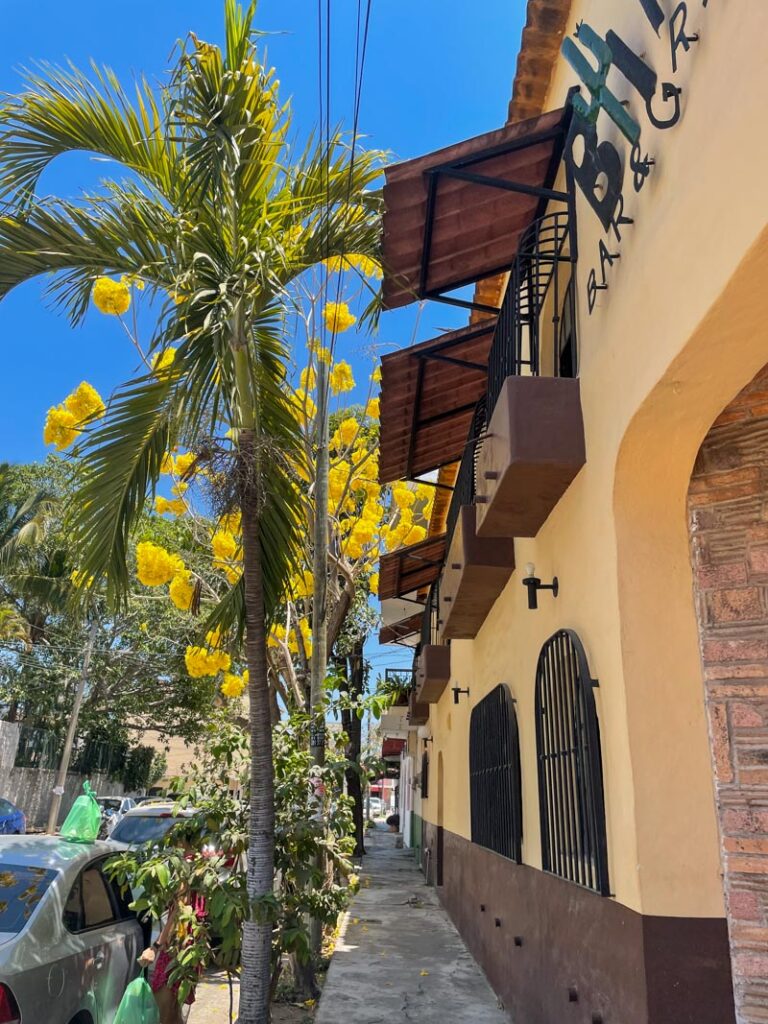 Located on the other side of the highway at the southern end of the Hotel Zone, Versalles is one of the most up-and-coming Puerto Vallarta neighborhoods. Time Out even named it one of the coolest neighborhoods in the world!
Many digital nomads will tell you that Versalles is hands down the best neighborhood in Puerto Vallarta to live in, and Lora just bought an apartment there!
Once a quiet, mostly residential 'hood, Versalles has blown up in recent years. It has become somewhat of a foodie mecca in Puerto Vallarta with some of the city's top-rated restaurants.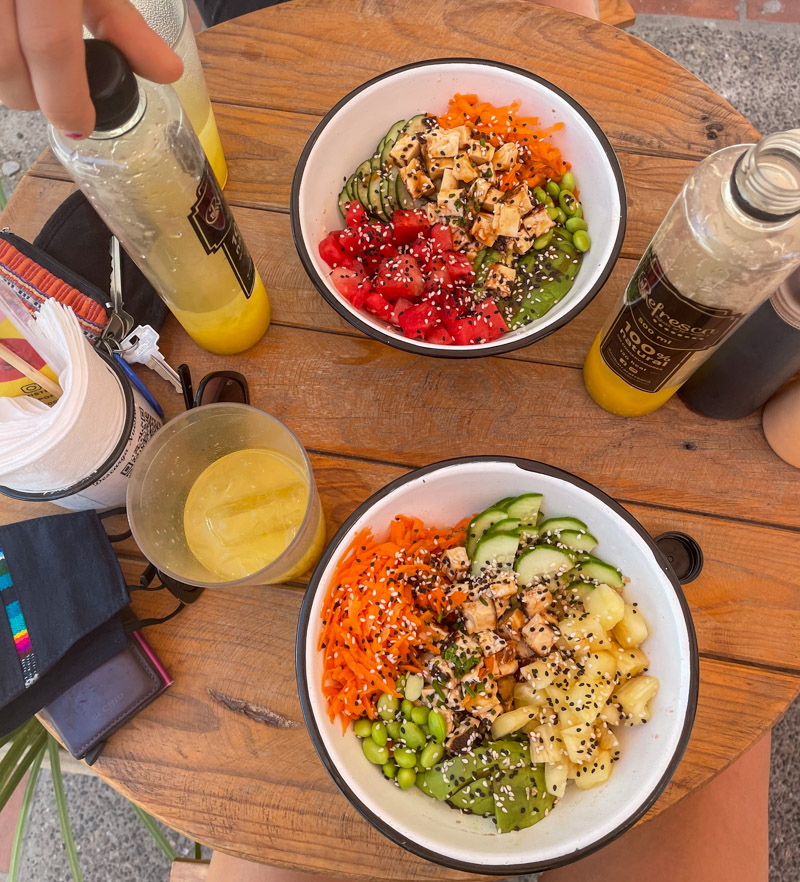 All that delicious food must smell great because a bunch of people have moved in recently. New condo developments are going up all over, too. As such, this is not the area for you if construction noise drives you mad.
I have lots of friends who call this area home, and I've stayed there for a few weeks at a time. It's definitely on our short list of the best places to live in PV.
Being on the other side of the highway, it isn't technically home to a beach. However, Playa Las Glorias is a short walk away and is a great place to catch the sunset.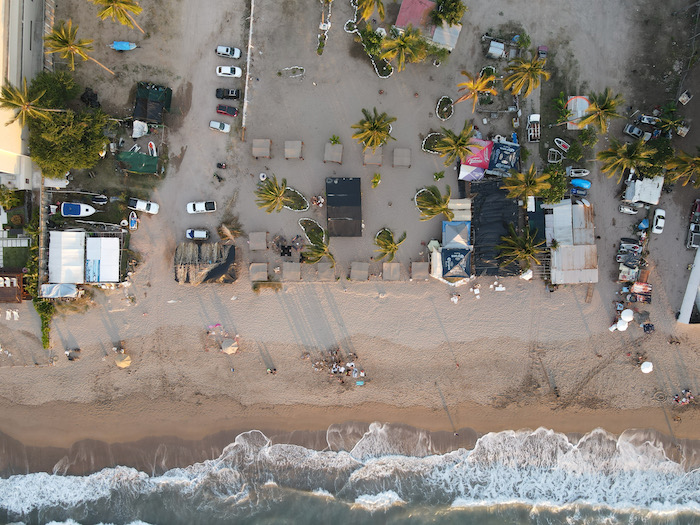 Pros:

Emerging as a trendy hotspot.
Mix of traditional and modern vibes with many supermarkets nearby
Great dining scene with an array of local and international cuisines.

Cons:

Still developing, so there is a lot of construction noise.
Fewer tourist attractions.
Not as close to the beach.
4. Fluvial
Nestled behind Versalles in a tranquil residential area, Fluvial Vallarta is becoming a favorite among locals and expats.
Known for its well-planned streets, parks, and modern infrastructure, Fluvial is a delightful blend of urban convenience and suburban calm. Its strategic location provides easy access to shopping centers, restaurants, and other key attractions while maintaining a peaceful atmosphere.
They have some of the nicest parks in Vallarta, and housing prices are much more affordable here.
If you want to get even more local, behind Fluvial is Pitillal, a very affordable traditional Mexican neighborhood that's becoming more popular with expats.
Pros:
Modern infrastructure with well-maintained streets and parks.
More affordable accommodations.
Cons:
Lacks the beachfront appeal of other neighborhoods.
Fewer traditional cultural experiences.
Not be as lively as other tourist-centric areas.
5. 5 de Diciembre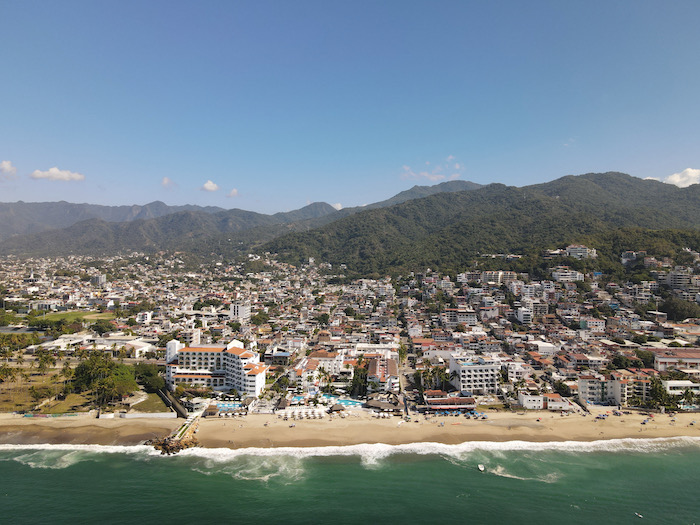 We've arrived at my favorite of the many Puerto Vallarta areas – 5 de Diciembre.
If you were wondering, December 5th is an important day in the city's history. It's basically the day PV traces its roots back to in 1929.
Also known as 5D, this is one of the best areas to live in Puerto Vallarta for expats and digital nomads. It's between the Hotel Zone and Centro, so it's a convenient base for quickly getting around the city.
This classic Puerto Vallarta neighborhood is sandwiched between the ocean and the mountains, meaning you may have a steep hill to climb to get home. Thankfully cabs and Ubers are readily available and cheap here!
People love hanging out on the Beach of Shrimps (Playa Camarones) here, and there are plenty of them to eat. In fact, this neighborhood has a great seafood market and some of the best seafood restaurants and taco trucks in the city.
We lived in 5D for six months, three years in a row, so this area will always have a special place in my heart. Whether you're here for a week or a year, it's a fantastic neighborhood to stay in Puerto Vallarta.
Pros:
Authentic local experience with traditional markets and eateries.
Proximity to the beach and downtown.
Cons:
Streets can be busy and noisy during peak hours.
Not as tourist-focused as other neighborhoods.
6. El Centro
Heading south from 5D, you'll hit El Centro. As you probably guessed, this is downtown Puerto Vallarta with many of the top attractions. Here you'll find the famous Malecon with its many sculptures.
This neighborhood is also home to the main square and the Church of Our Lady of Guadalupe – the symbol of Puerto Vallarta. It's a cultural and commerce hub with many shops, art galleries, cafes, restaurants, and bars.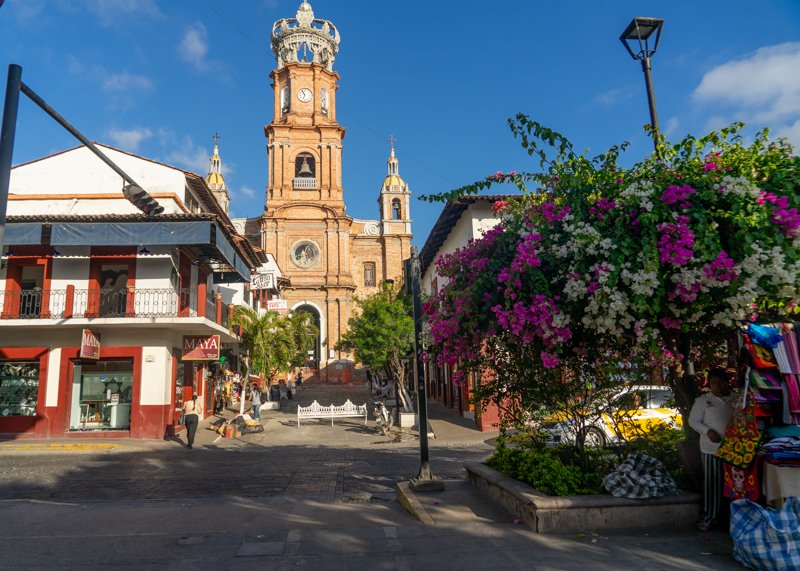 With buses rumbling up the streets and people living in closed quarters, this definitely isn't the place to stay if peace and quiet are what you're looking for.
I've never stayed in Centro, but I have friends who live there and love it. You have everything at your doorstep, and you can easily walk everywhere.
It's also home to one of the most famous areas in Puerto Vallarta – Gringo Gulch, where Elizabeth Taylor and Richard Burton fell in love.
Pros:

Vibrant nightlife.
Shopping and entertainment.
Central location and easily walkable

Cons:

Can be noisy.
Limited parking.
7. Zona Romantica Puerto Vallarta
Next up is the jewel of tourism for Puerto Vallarta. The Romantic Zone (Zona Romanica), also known as Old Town, is where the action is.
This area over the Rio Cuale from El Centro is packed with hotels, bars, shops, and nightclubs. It's the place to see and be seen in Puerto Vallarta.
Zona Romantica is also considered to be Puerto Vallarta's "gaybourhood." It's home to the city's annual pride festivities, which take place every May.
There are also plenty of LGBTQ-friendly hotels and bars here and Los Muertos Beach, one of the most popular beaches in Puerto Vallarta.
In recent years, the skyline here has changed quite a bit. Much to the chagrin of some long-time residents and visitors, many high-rise buildings have gone up and continue to be built.
Zona Romantica is a great place to stay if you want to hit the beach, wine and dine and dance the night away. And if not, well, you might want to just come down once in a while and stay somewhere else. Given its convenient location, it's also one of the most expensive places to live.
If you want to stay there without the noise, head up a few blocks from the beach to the Emiliano Zapato area. This is where Lora currently lives, and it's quiet yet within walking distance of the bars. And the market there is fantastic!
Pros:

Rich in culture and local art.
Abundant dining options.
LGBTQ+ friendly.

Cons:

Can be crowded.
Accommodations may be pricier.
Loud at night.
8. Amapas
Located just south of the famous Zona Romántica, Amapas is a beautiful neighborhood with a blend of luxury and natural beauty.
Perched on the hillsides, it boasts panoramic views of Banderas Bay and is known for its upscale condos and villas. Amapas provides a more secluded feel while still being close to the lively areas of Puerto Vallarta – you can drive to Zona Romantica in just 5 minutes!
It's an ideal spot for those who want tranquility and accessibility to the city's attractions.
Pros:
Stunning ocean views and lush surroundings.
Upscale accommodations, with a mix of modern condos and traditional villas.
Proximity to Zona Romántica and the beach.
Cons:
Hillside location might be challenging for those with mobility issues.
Limited local dining and shopping options.
May require a short drive or taxi to reach central areas.
9. Conchas Chinas Puerto Vallarta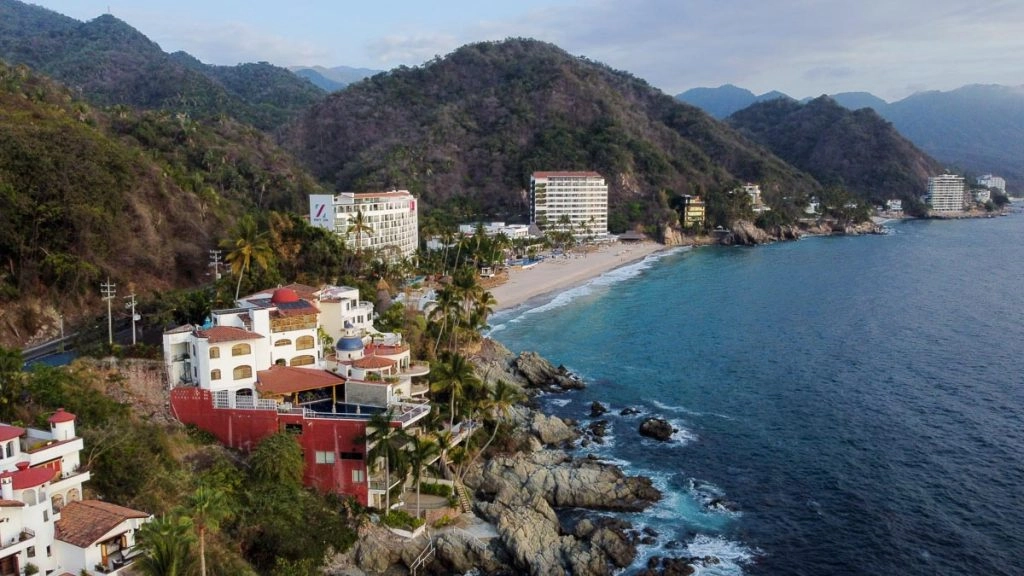 Last but not least in our tour of Puerto Vallarta districts is Conchas Chinas. This exclusive area is just south of the Romantic Zone and has some seriously swanky residences.
Known as Puerto Vallarta's "Beverly Hills," Conchas Chinas is synonymous with luxury and elegance.
Honestly, there isn't much happening here – just a lovely beach and fantastic views. It's an excellent choice for those who prefer a bit of solitude.
Many of the condos here are up on the hill. There also aren't many options for going out to eat or drink, so you'll need to catch the orange bus from Old Town or pay for lots of cabs to come and go. Either that, or you'll develop some epic calves living here!
One of the best things about living in Conchas Chinas is that you're just a quick ride away from many of the coolest activities in Puerto Vallarta. This includes visiting Los Arcos, Mismaloya, and Boca de Tomatlan.
Pros:
Luxurious accommodations and exclusive properties.
Beautiful private beaches and coves.
Quiet and tranquil atmosphere, perfect for a relaxing escape.
Cons:
More expensive compared to other Puerto Vallarta neighborhoods.
Limited dining and shopping options within walking distance.
May require transportation to reach central attractions.
FAQ: Best neighborhoods in Puerto Vallarta
What are the nicest areas of Puerto Vallarta?
The nicest areas in Puerto Vallarta include Conchas Chinas and Amapas for luxury and views, Zona Romántica for culture, and Marina Vallarta for family-friendly activities.
What are the safest neighborhoods in Puerto Vallarta?
Most neighborhoods in Puerto Vallarta are safe for tourists, with Marina Vallarta, Nuevo Vallarta, and Conchas Chinas known for their security and tranquility.
What is the wealthy area of Puerto Vallarta?
Conchas Chinas is considered the wealthy area of Puerto Vallarta, often referred to as the "Beverly Hills" of the city.
Where do most expats live in Puerto Vallarta?
Many expats live in neighborhoods like Versalles, 5 de Diciembre, and Zona Romantica, where there's a blend of local charm and modern amenities.
Where do the rich live in Puerto Vallarta?
The rich often reside in Conchas Chinas, known for its exclusive villas and luxurious properties.
Where not to stay in Puerto Vallarta?
Where not to stay can depend on your preferences; some may want to avoid busier areas like El Centro, while others might steer clear of less developed areas.
Where is the up and coming neighborhood in Puerto Vallarta?
Versalles is an up-and-coming neighborhood in Puerto Vallarta, gaining popularity for its trendy vibe and growing dining scene.
Final thoughts: Best Puerto Vallarta Neighborhoods
That about does it for our tour of the best areas in Puerto Vallarta. As you can see, each one offers something unique. I've stayed or lived in most of them, and there are things I love about them all.
If you're considering living in Puerto Vallarta for the first time, it's not a bad idea to bounce around and try a few different neighborhoods.
You can easily find a place on Airbnb or Facebook groups for a few weeks or months. Wait until you've found the spot for you before taking the plunge into finding a long-term rental.
Still can't decide? Take this quiz to help you find out where to stay!