This post may contain affiliate links. By clicking and making a purchase through the links, I earn a small commission at no extra cost to you. See my disclaimer for more information. This allows me to keep the site up to date and expand on resources.
One activity that must be on your Puerto Vallarta bucket list is going snorkeling!
While you can go snorkeling off the beach, the best locations are only reachable on these snorkeling tours in Puerto Vallarta as they are protected marine reserves.
In addition to seeing amazing marine life that no one else can, you can also visit some wonderful secret beaches, hidden restaurants, and more on these tours.
With that in mind, we're breaking down the top 5 Puerto Vallarta snorkeling tours.
The Best Puerto Vallarta Snorkeling Tours
⭐️ Rating: 5/5 | 🕛 Length: 3-4 hours | ✔️ Check availability here
The secluded Playa Paredon can only be reached by boat. And if you're going to be traveling by boat, you might as well go in style with a private, fully-loaded yacht.
While a bit more expensive than your average day on the beach, this tour is definitely worth the money. Especially if you're traveling with a group of friends or family and can split the cost! Trust me, there's no funner way to spend a day in Puerto Vallarta than on a yacht.
What to expect on this tour?
First, you hop on a private luxury yacht at the marina and head to Los Arcos Marine Park. This stop is included in most beach tours, and for good reason. These rocky islands, only a short boat ride away, are perhaps the best place in Banderas Bay for snorkeling and marine life viewing.
After you get your fill, your captain will take your group to Playa Paredon, a private beach where you can kick back and get some sun. Or, grab one of the provided boogie boards and head out into the warm, moderate waves for some light cruising.
When it comes to snorkeling tours in Puerto Vallarta, this is one you're guaranteed not to forget.
The length of this tour depends on what you arrange with your guide. You can pull it off in as little as 3 or 4 hours, but why not make a day of it?
Use of Snorkeling equipment
Use of Paddle Boards
Use of Dinghy
Bottled water, Soda/Pop, & Snacks
Private yacht and captain
Five star service for the whole trip. We motored from Los Muertos to Los Arcos and went snorkeling. Afterwards we sailed the bay until sunset. With no motor noise the dolphins were swimming so close to the boat. It was incredible. Truly amazing experience.

– TripAdvisor review (read more reviews here)
⭐️ Rating: 4.5/5 (490+ reviews) | 🕛 Length: 7 hours | ✔️ Check availability here
Yelapa isn't an island, but it certainly feels like one. A quick 45-minute boat ride from Puerto Vallarta, this indigenous community is one of the most unique destinations in the entire country, and it just so happens to have a wonderful beachfront for snorkeling.
What to expect on this tour?
This Yelapa tour picks you up from the marina, cruises you across the bay, and deposits you in Yelapa by mid-morning. Breakfast is served on the boat, so that's one less thing that you have to think about.
After arriving, you have a few choices before you. Throw on a pair of shoes and wander into the jungle along a system of gorgeous, moderate hiking trails on your way to a natural waterfall. Or, wander into town to try one of the local restaurants, cafes, or bars. And, of course, there is great snorkeling to be had all day.
Notice anything interesting? There are no roads in Yelapa, which means no cars! This is only a part of the village's unique charm.
This tour also includes a stop at Majahuitas Beach Club, where great food and alcoholic beverages await – it's my favorite beach club in Puerto Vallarta!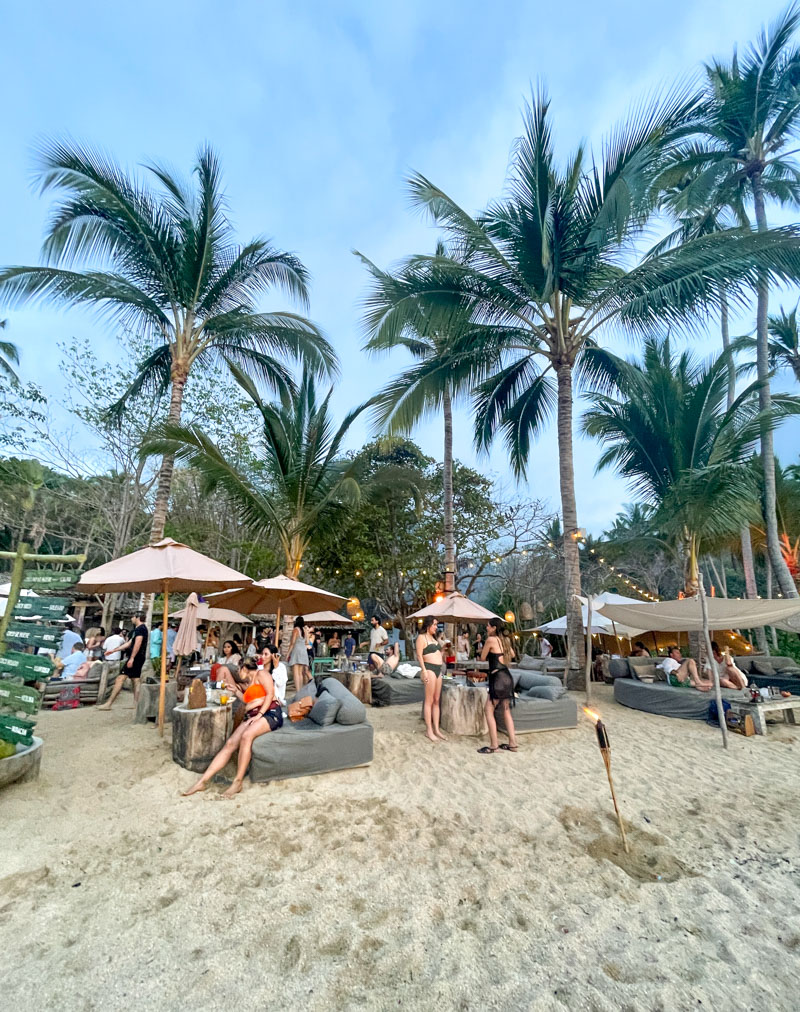 Beach activities & visiting Yelapa were memorable. Good food & beverages and helpful and fun crew. Saw whales, dolphins, and lots of sea life.

– Joe (read more reviews here).
⭐️ Rating: 4.5/5 (400+ reviews) | 🕛 Length: 5 hours | ✔️ Check availability here
If you're looking to cruise in style to two of the best snorkeling spots in Puerto Vallarta, look no further than this luxury yacht and snorkeling tour.
What to expect on this tour?
You'll enjoy a scenic cruise around the Bay of Banderas, passing by the Malecon and the famous pier at Los Muertos Beach while sunbathing on top of a well-equipped catamaran.
There's a stop to do some snorkeling or water sports, where you'll see plenty of tropical fish and maybe some marine life like turtles or dolphins. Snacks are included, as well as an open bar.
A highlight of this tour is a visit to the stunning Majahuitas Beach. Be sure to bring a waterproof camera or a dry bag so you can snap some Instagram worth pics on this beautiful beach.
What's included on this tour?
Unlimited Premium Open Bar
Day Cruise on a Luxury Yacht
Snacks
Use of Snorkeling equipment and Stand Up Paddleboards
Danny and his crew were the best! They were attentive and helpful the entire trip! Highly recommend this experience as you also get to stop at a private beach for some water activities! Highly recommend!

– Alexis (read more reviews here).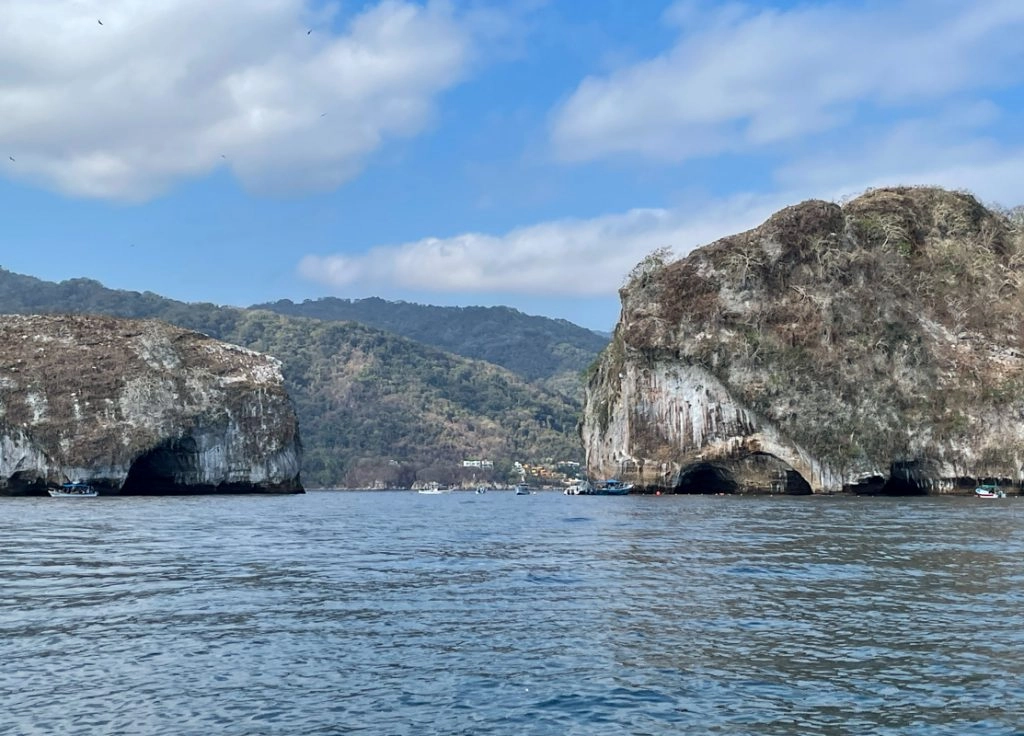 ⭐️ Rating: 5/5 (40+ reviews) | 🕛 Length: 4 hours | ✔️ Check availability here
Like many snorkeling tours in Puerto Vallarta, this one begins with a stop at the magical Los Arcos Marine Reserve. This is the #1 destination for snorkeling in the area, and it's a great experience no matter what time of year you're visiting.
After that, your boat takes you to Playa Las Animas. This is a beautiful beach a few miles south of the city. While it is possible to reach Playa Las Animas by hiking, it's always a lot more fun to take a boat.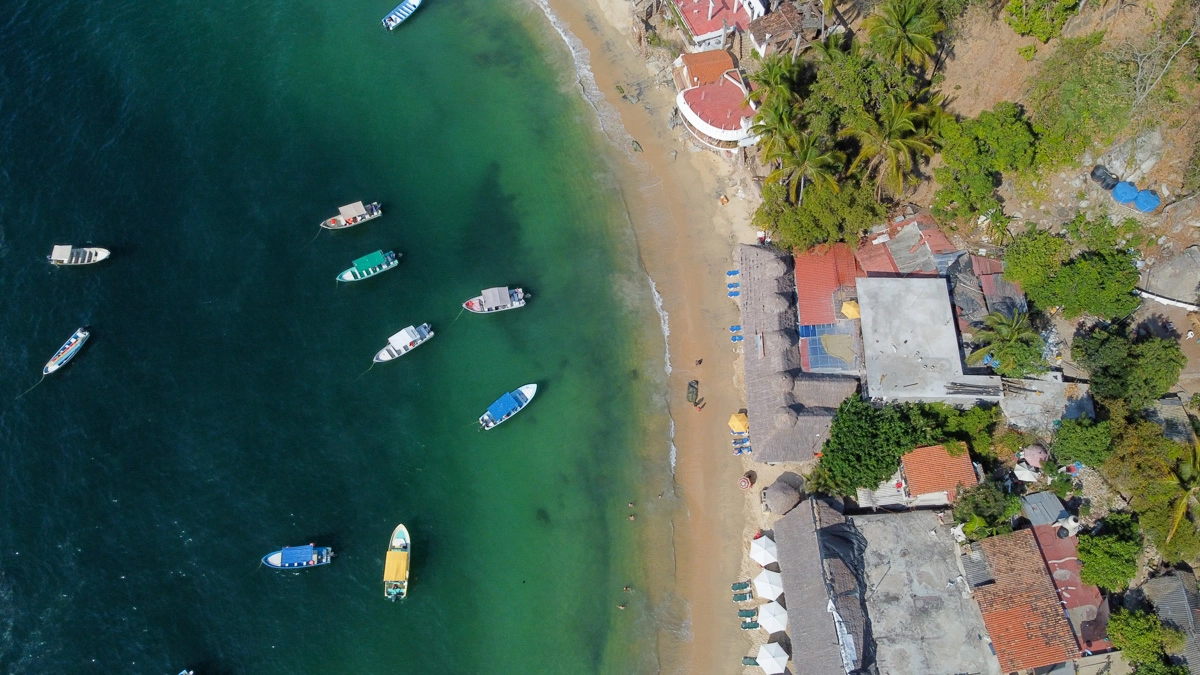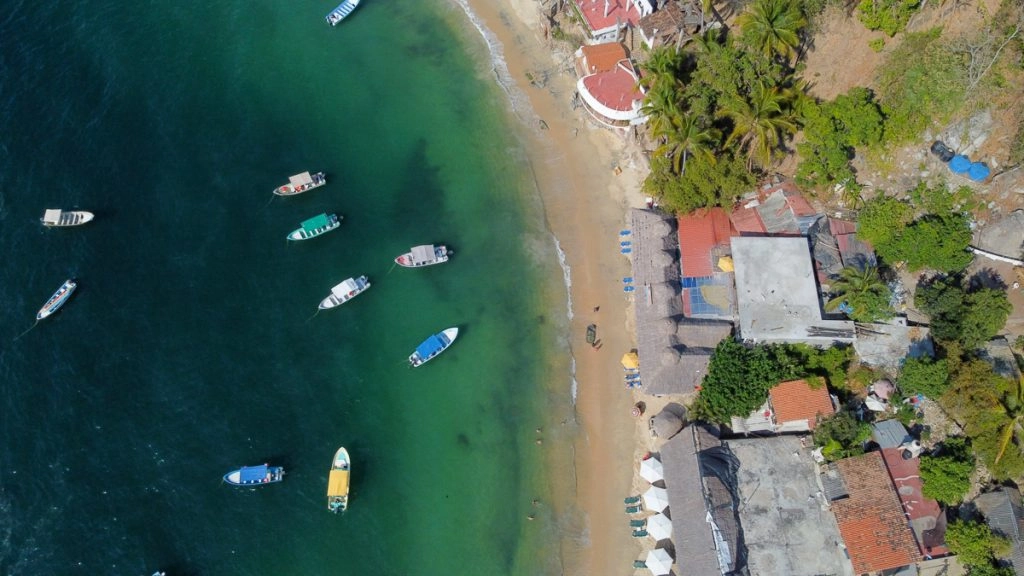 Las Animas is home to a number of wonderful seafood joints where you can enjoy world-class ceviche and a cold beverage with your toes in the sand. This is a perfect place to fuel up after snorkeling at Los Arcos!
Why this tour? Because it's private! You can have the boat all to yourself and bring up to ten people. And it stops at two of the most scenic places around Puerto Vallarta!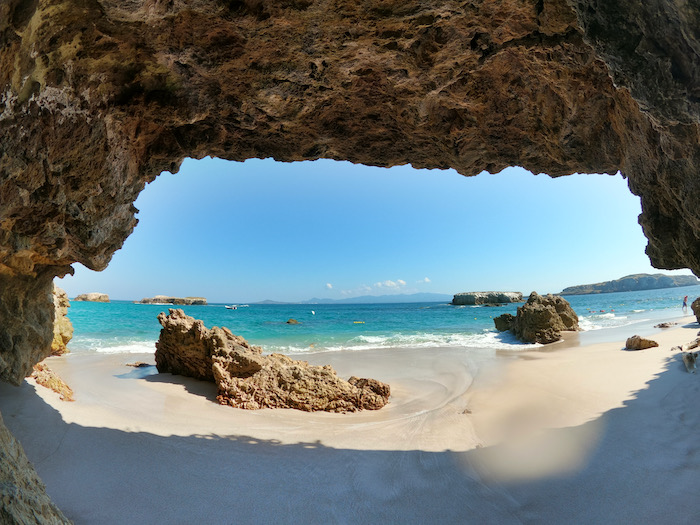 ⭐️ Rating: 5/5 (50+ reviews) | 🕛 Length: 3 hours | ✔️ Check availability here
More so than the destinations listed above, this snorkeling tour takes you to a truly hidden beach. Not all tour guides travel to this one, for a couple of reasons. First, it can only be reached in good weather. Second, you actually need to do a few meters of swimming to get there from the boat, as you need to pass beneath a natural stone arch to get there.
Playa Del Amor (more commonly referred to by tour guides as "the hidden beach") is not only one of the most beautiful beaches in Mexico, but also one of the best snorkeling destinations.
It's true that the hidden beach can only be reached with a bit of swimming (~10 meters) and in good weather. Captains will make the call on whether this specific beach can be reached depending on conditions. They're also great about explaining the physical requirements if you're having any reservations.
If the hidden beach is included in your tour and you can't make it because of high tide or bad weather, it's easy to get a partial or even full refund.
Great experience. If you're in reasonably good swimming shape this shouldn't be missed. Secluded beaches, tropical reef snorkeling, rare birds… What's not to like?!

– Jeffrey (read more reviews here)
Snorkeling without a tour in Puerto Vallarta
Prefer to spend your vacation money on restaurants and shopping? It's possible to snorkel for free in Puerto Vallarta, but you have to know where to go. For example, you're not going to see much marine life by jumping into the water at Los Muertos.
We recommend the Boca to Las Animas hiking trail, which leads you straight to Playa Colomitos. This is actually a series of small, pristine beaches about a 30 minutes' hike south of Puerto Vallarta proper.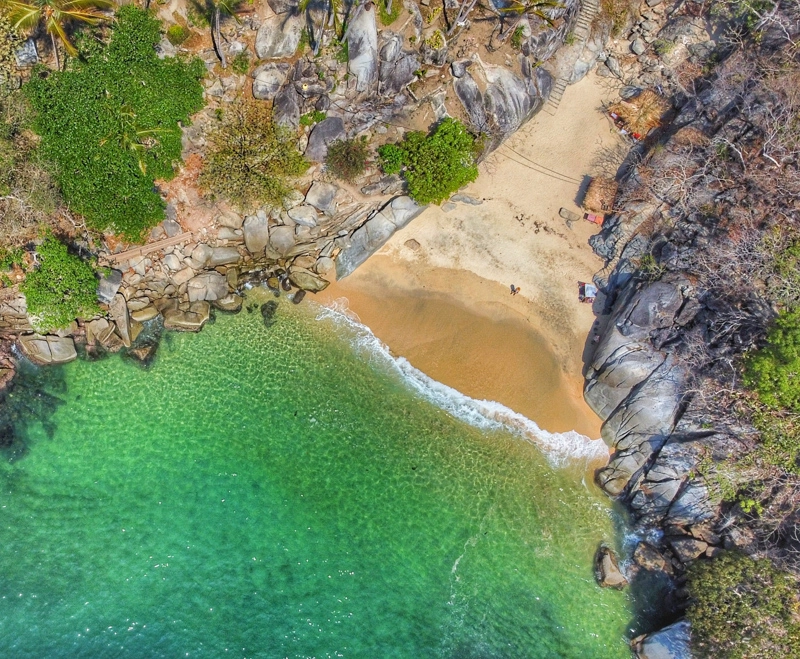 The trail begins in Boca, on the south end of the city. Take a bus or cab to boca, then follow the trail that leads south out of town, over the river. There are small signs along the way to guide you there.
A few more things to keep in mind about snorkeling at Playa Colomitos:
You'll need to bring your own snorkel gear, as there is nowhere to rent it at Playa Colomitos.
Playa Colomitos can be popular … If one beach is too crowded, keep walking along the trail, and you'll probably find one that is more secluded
If you're not feeling the hike back, the village of Las Animas has a public boat back to Boca, usually around 120 pesos per person. Simply keep following the trail to get to Las Animas, another hour or so.
This post has more information about the best places to go snorkeling in Puerto Vallarta.
What should I bring on a snorkeling tour?
A: Whether your tour is a half-day or a whole day, it's essential to check your packing list beforehand to make sure you're not forgetting anything. Here's what you should have in your pack:
Swim suit
Sun hat
Sunglasses
Beach towel
Pesos for tipping, restaurants, or gift shops (depending on your tour)
Underwater camera
Snacks and water bottles (some tours include these, so check beforehand!)
A light jacket (some tours return after nightfall, and it can be chilly on the water)
Puerto Vallarta Snorkeling Tours FAQ
What's the best snorkeling tour in Puerto Vallarta?
Isla Marietas and Los Arcos Marine Park are the most impressive, memorable snorkeling tour available. That's why it's the prime destination no matter who you book with. Part of a world-renowned nature reserve, Los Arcos unique rock formations provide the best opportunity to get up close and personal with all sorts of sea creatures.
Is it safe to snorkel in Puerto Vallarta?
Yes, snorkeling in Puerto Vallarta is totally safe, especially when you're traveling with an experienced guide. Private tours can not only take you to the best, hard-to-reach locations, but they can also help assess the water and weather conditions for you.
Are there jellyfish in Puerto vallarta?
While there can be some jellyfish in the waters around Puerto Vallarta, these are seasonal visitors. Jellyfish tend to only be around in the summer months between June and August. What's more, the jellyfish in the Bay of Banderas area aren't very big or dangerous, even if you're stung.
Find more things to do in Puerto Vallarta here
Planning a trip to Puerto Vallarta? Don't miss these posts!