This post may contain affiliate links. By clicking and making a purchase through the links, I earn a small commission at no extra cost to you. See my disclaimer for more information. This allows me to keep the site up to date and expand on resources.
Semana Santa in Puerto Vallarta is one of the craziest times to be here – the city gets flooded with both Mexican and international visitors coming to celebrate in one of Mexico's hottest party towns.
What is Semana Santa in Mexico?
Semana Santa, the Spanish term for 'holy week', is the week before Easter that celebrates the last few days of Jesus christ life and resurrection.
It is one of the most widely celebrated holidays in Mexico, with an estimated 20 million nationals traveling during this time – that's 1 out of 5 Mexicans!
And Puerto Vallarta happens to be one of the most popular destinations in the country to celebrate easter.
It's no surprise, given that the city boasts some of the country's most beautiful beaches, resorts, and of course – incredible nightlife.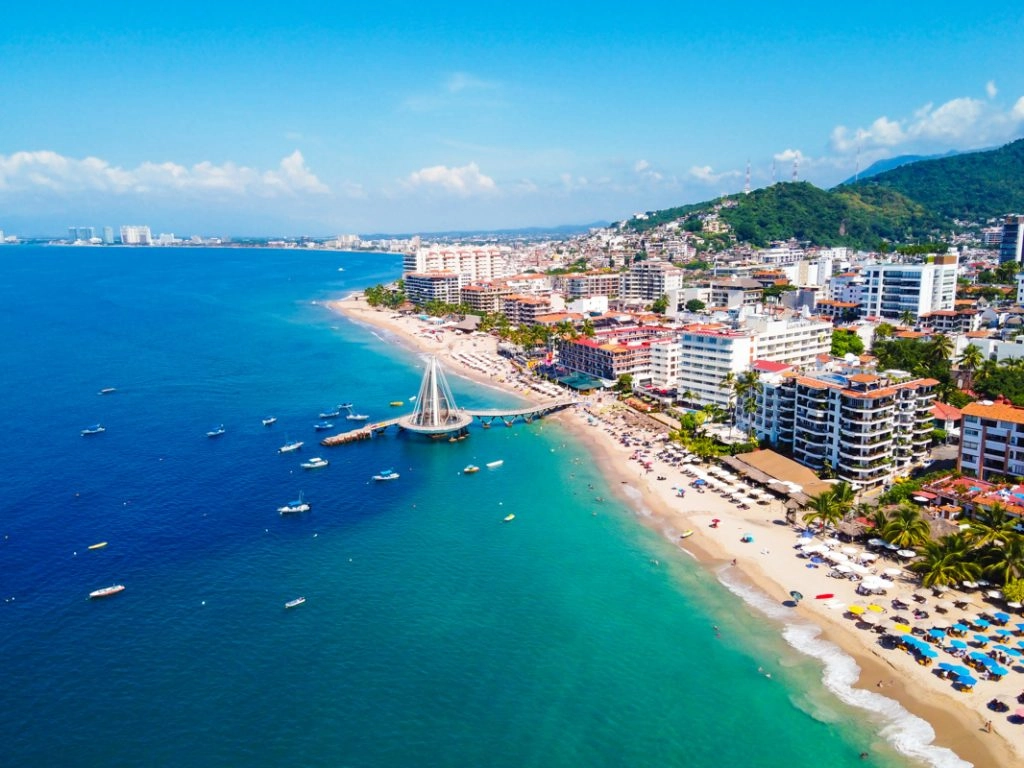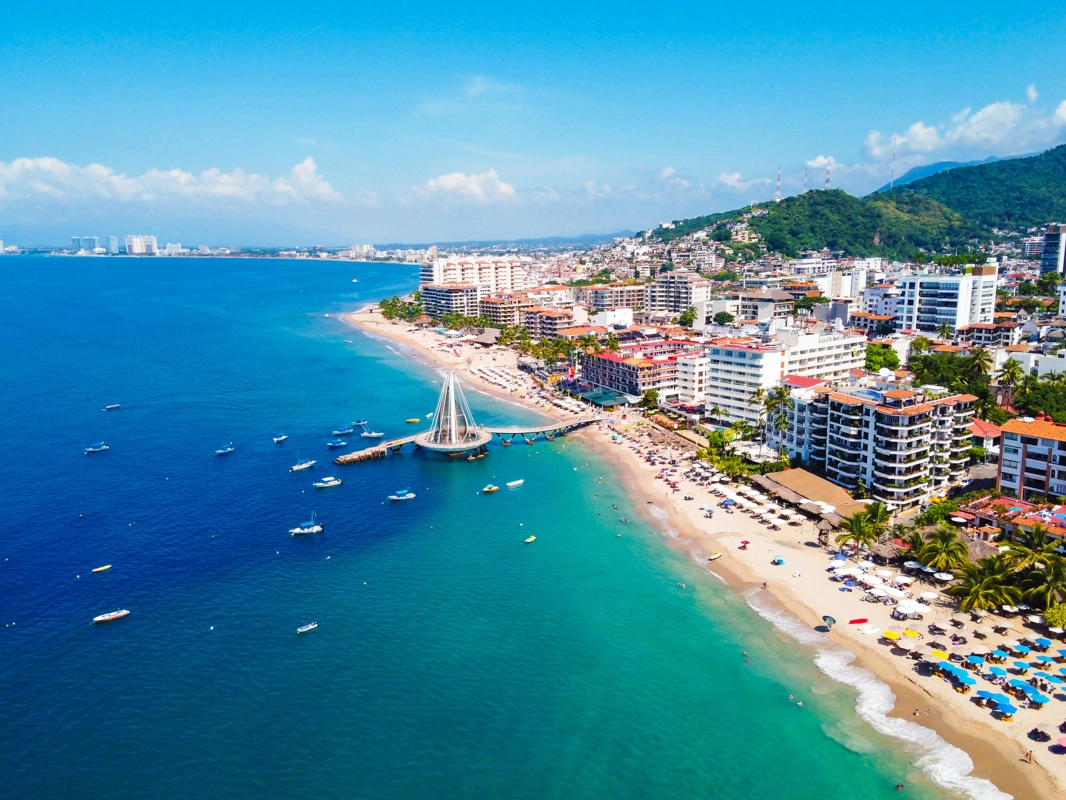 Why celebrate Semana Santa in Puerto Vallarta?
While Semana Santa is a religious celebration, I wouldn't say that's the main focus of activities in Puerto Vallarta for many tourists.
There are other parts of Mexico where you can find much more impressive religious ceremonies.
If you are looking for that in PV, the community of Pitial does a reenactment of good Friday and is one of the most popular areas with locals.
Our Lady of Guadalupe Parish, one of the most landmarks in Puerto Vallarta, also holds ceremonies during the easter weekend. It fills up quickly, so come early if you want to see this.
Many tourists come to Puerto Vallarta during easter week because of the Fiesta! There are special events, fireworks, and thousands of people from all over the world here to celebrate.
If you're the type of traveler who likes big crowds and celebrations, you'll love Puerto Vallarta during Semana Santa. If you don't… come afterward.
Easter weekend essentially marks the end of high season in Puerto Vallarta… and the city goes out with a bang. Literally, fireworks will be going off everywhere.
The Malecon, the mile-long stretch of boardwalk along the coast, is the center of the action during easter weekend.
It becomes so packed that you'll have trouble navigating through it, so my best advice is to grab a cerveza and join the party. People will be pouring out onto the streets from the clubs and restaurants, with live entertainment everywhere.
As a traveler, I love being in Puerto Vallarta during easter. You get to meet people from all over Mexico and the world, celebrating into the early hours of the morning. It's so much fun.
Semana Santa is one of Puerto Vallarta's best annual events, so it's worth timing your trip to be here during it.
Where to stay during easter in Puerto Vallarta
If there's any advice I can offer you, book your accommodation for Semana Santa in Puerto Vallarta early because the city will be at max occupancy, and it's near impossible to find a decently priced place to stay if you're booking last minute.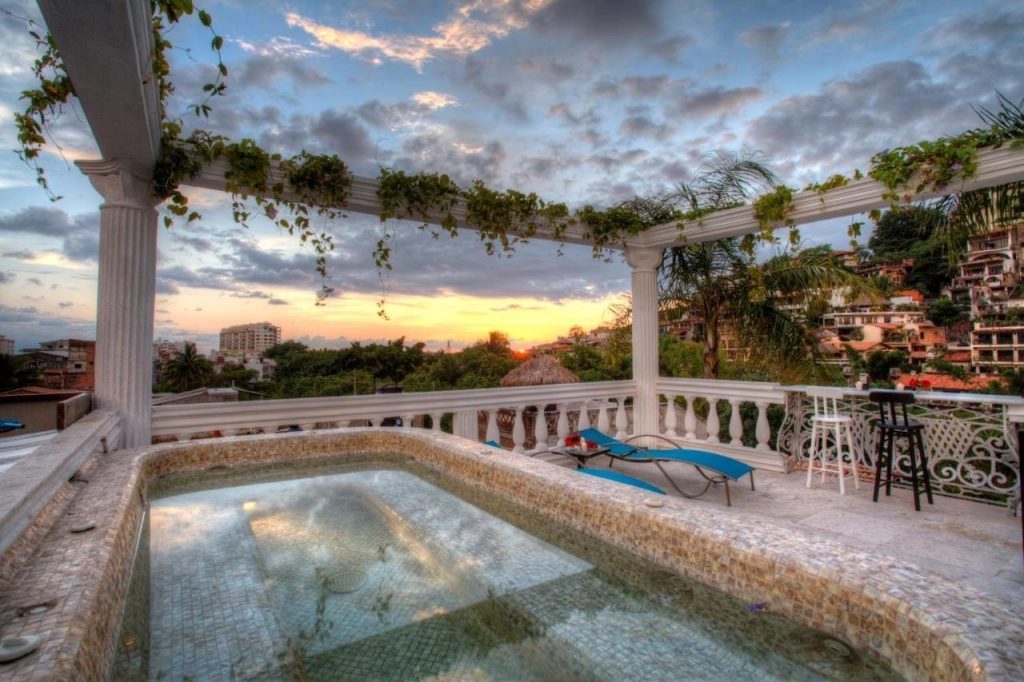 ⭐️ Rating: 9.2/10 |📍 Location: Zona Romantica | 🏩 View on Expedia
If you're looking to be in the heart of the party, there's no better place to stay than Zona Romantica. And this unique boutique hotel is the perfect place to stay for an unforgettable vacation.
This hotel was previously the home of local art legend "Silver" Maria Cortez, so each of the eight rooms is unique in its eclectic design. But be sure to book early, as this place fills up quickly!
Previously used as a backdrop for several Vogue and Elle photoshoots, you're sure to get some Insta-worthy photos here to remember your vacation.
You'll love lounging in the rooftop jacuzzi, watching Puerto Vallarta's magnificent sunsets over the horizon, or sipping on a fruity cocktail from the pool bar. And when you're ready to hit the down, the city's top restaurants, nightlife, and things to do are right outside your doorstep.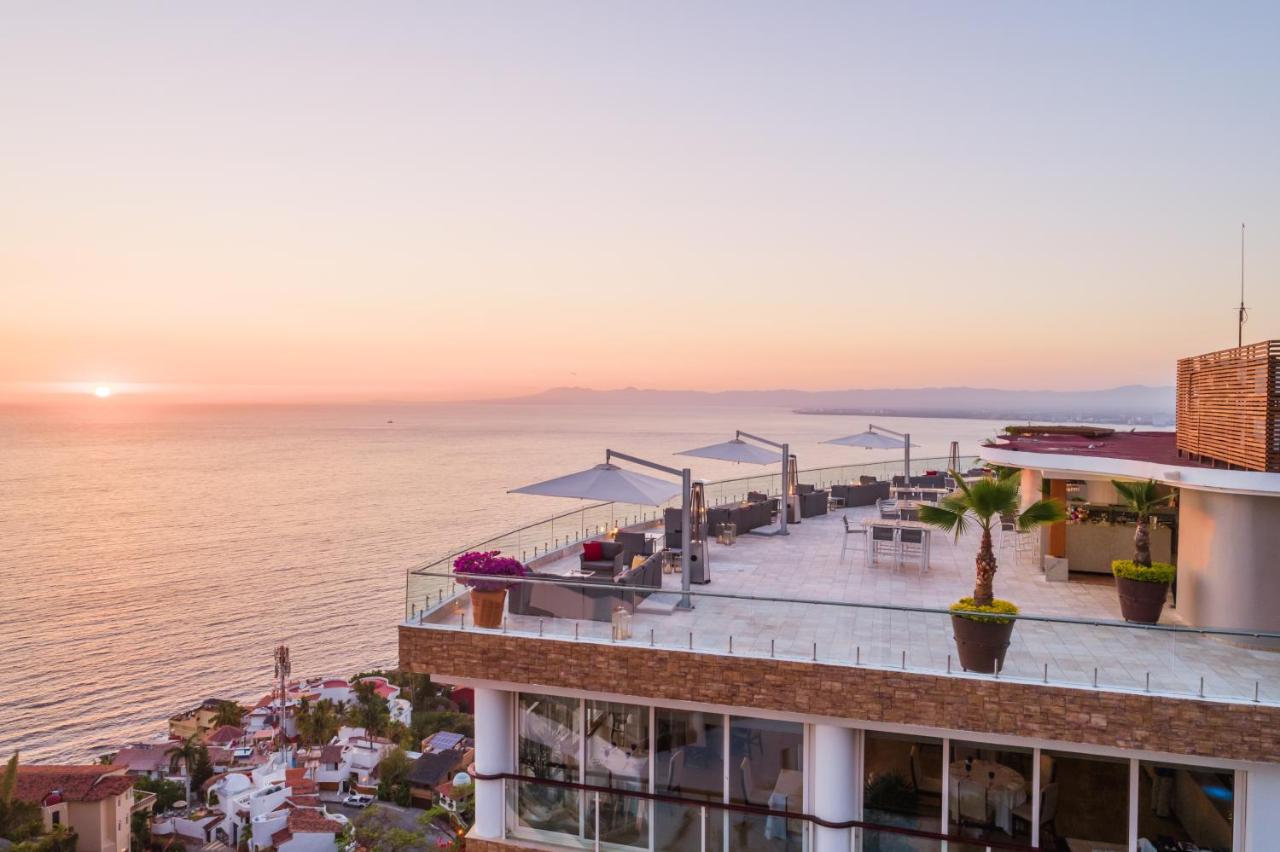 ⭐️ Rating: 9.4/10 |📍 Location: Conchas Chinas | 🏩 View on Expedia
If you're looking for a place where you can truly come back and relax after all the Easter celebrations, then look no further than The Grand Miramar.
I recently had the chance to come here for a few nights on a staycation and fell in love with the property. Nestled in one of the most beautiful neighborhoods in Puerto Vallarta, Conchas Chinas, this hotel has incredible views of the Bay of Banderas.
Yet although it's so secluded in nature, you're still only a 10-minute drive away from all the action in Zona Romantica.
Amenities to love at this hotel include:
All suites include a terrace with a spectacular ocean view and contemporary décor
Luxurious spa and gym
World-class hospitality
Rooftop infinity pool
Gorgeous rooftop restaurant with an extensive vegan menu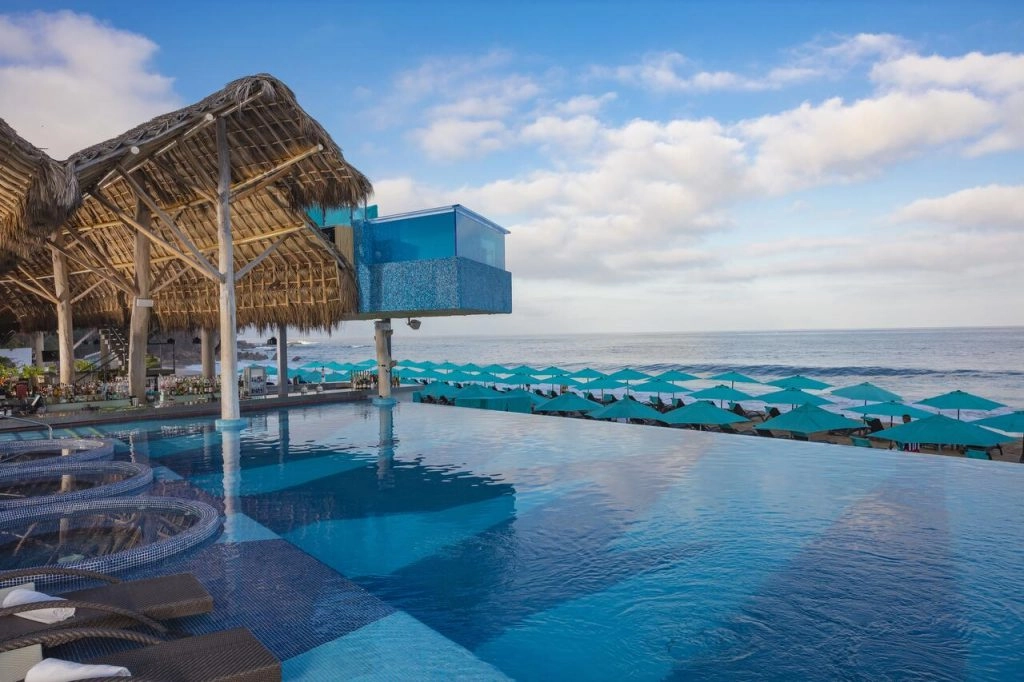 ⭐️ Rating: 8.3/10 |📍 Location: Zona Romantica | 🏩 View on Expedia
When it comes to all-inclusive gay resorts in Puerto Vallarta, there are none more impressive than the Almar Resort.
Not only is this one of the most beautiful luxury resorts in PV, but it's famous for being one of the best party venues in the city, with many special events put on during Semana Santa.
It's located right on Playa Los Muertos, where many easter festivities take place. If you're looking for pool parties and events at your doorstep, choose a room at the Mantamar Tower. If you prefer to get a solid sleep after a night out, the exclusive and slightly quieter Almart tower is the way to go.
Some amenities you'll enjoy at Almar include:
89 luxurious and contemporary suites, each with its own private balcony
State-of-the-art gym
Luxurious spa
Jacuzzi and freshwater infinity pool
Oceanfront cabanas and lounge beds
Exclusive top-sky bar with live DJs and cocktails
Home to Mantamar beach club bar and sushi, one of the top restaurants in the city
Themed parties and nightly performances
If these hotels aren't your vibe, check out these articles for more recommendations on where to stay in Puerto Vallarta:
Things to do during easter in Puerto Vallarta
Aside from partying and enjoying the special events, you should also check out some of the wonderful attractions and activities that Puerto Vallarta offers during this time of year.
Easter celebrates new life and the arrival of spring, so the best things to do are outdoors, where you can enjoy the breathtaking nature and landscapes.
My FAVORITE thing to do in Puerto Vallarta is go on yachts. There's no better way to spend a day than lounging around a luxury yacht while soaking in the views of the city and surrounding beaches and snorkeling in the ocean. This guide has everything you need to know about the best catamaran tours in PV.
Get into the mountains! While the ocean is a perfect playground for water sports, the Sierra Madre mountains are home to even more adventure. Hiking and horseback riding are both popular here, but one of my favorite ways to experience the jungle scenery is on one of these canopy tours where you'll go ziplining through the jungle.
Like the hotels, you'll want to book your tours in advance as occupancy fills up quickly.
CHECK AVAILABILITY OF TOURS HERE
Find more things to do in Puerto Vallarta here