This post may contain affiliate links. By clicking and making a purchase through the links, I earn a small commission at no extra cost to you. See my disclaimer for more information. This allows me to keep the site up to date and expand on resources.
No trip to the Bay of Banderas would be complete without being on a boat! These Puerto Vallarta catamaran tours are one of the most fun ways to spend a day here.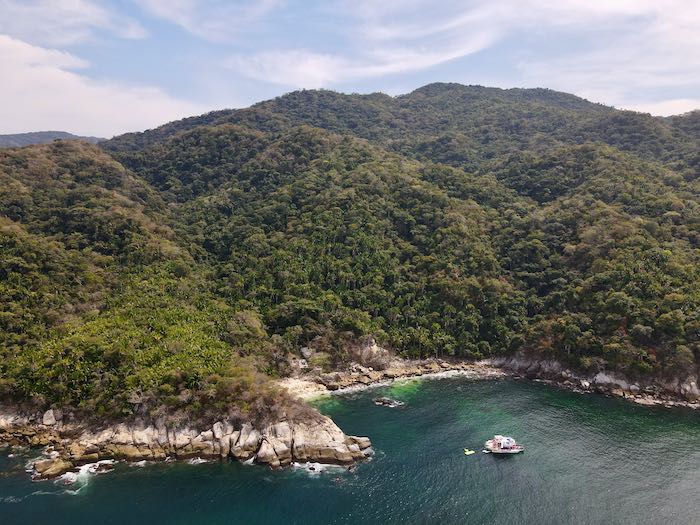 BEST CATAMARAN TOUR PUERTO VALLARTA
Don't have time to read ahead? This tour to Yelapa is the best Catamaran tour to book for a fun day at sea.
Chica Locca Catamaran Tours Puerto Vallarta
My top recommendation goes to Chica Locca. Yes, that means "crazy girl," and you might get a little crazy on their super fun catamaran tours in Puerto Vallarta.
They have several different options to choose from, from jumping on a tour to renting an entire catamaran with a big group. That's what we did for a joint birthday boat bash, and it was one of the most fun days ever.
Here are some of the best tours that Chica Locca offers:
Their newest offering is an all-inclusive boat tour to Yelapa on the Limousine of the Sea. This massive catamaran measures 100 x 40 feet, ensuring smooth sailing all the way down to Yelapa.
It's a full-day tour that includes a continental breakfast, snacks like guacamole & chips, and a big taco lunch.
You'll never be thirsty on this boat, as it also includes all the soft drinks, coffee, beer, wine, or margaritas you want. Salud!
On the way down to Yelapa, you'll make a stop for some excellent snorkeling. They also have kayaks, paddle boards, tubes, splash nets, and more that you can use. There's never a dull moment on this awesome Puerto Vallarta catamaran tour.
Once in the fishing village of Yelapa, you have the option to take a short hike to a waterfall or just chill out on the beach. Then it's back on the catamaran for the return trip to PV.
Check out this guide for more information about things to do in Yelapa.
My husband and I of 30 years had a fabulous time!! The crew was top notch!! This is by far our most memorable experience!! Thank you to the owner & crew for creating the best time ever!! I have never been on a trip where the crew was constantly asking if we needed anything. The food was wonderful! You could use all kinds of water equipment, get a massage, and the drinks kept on coming!! Sexy David even gave me a lap dance, which was hilarious!! Everyone was so personable! Best trip ever!

– The Mason's (read more reviews here).
Another popular option from Chica Locca is their all-inclusive tour to the Marietas Islands. This is the boat that we rented for the aforementioned birthday party and it has everything you need, including a water slide!
On the way out to the Marietas Islands, you'll get to enjoy breakfast as you take in the views. Depending on the season, you can do some whale watching on the way out there.
It being a Chica Locca tour, there's an open bar as well. When you get to the islands, you might see Blue Footed Boobies. This is one of the very few places other than the Galapagos Islands where they can be found.
It should be noted that this tour does not include access to Hidden Beach, as permits are very limited. If you really want to check it out, you can let them know, and they'll try to get you there for an extra fee.
Lunch is included on this tour as well, and the food is pretty damn good for the small kitchen they have on board. The staff at Chica Locca really knock it out of the park and do their best to make sure you have the best day ever.
While we didn't take the boat to the Marietas Islands, we did have an amazing time on it. Check out this short video to see what it's like on board this awesome tour.
The trip to Marietas Island was fantastic! The staff is fun and attentive, the food was delicious and they were so kind to our kids as well. We had the special experience of seeing several humpback whales and it was really the experience of a lifetime. We would all highly recommend Chica Loco tours!

– TripAdvisor (read more reviews here)
Book this catamaran tour below
Check out this guide for more information about visiting the Marietas Islands.
🇲🇽 Puerto Vallarta Quick Guide 🇲🇽

✈️ Airport – The Licenciado Gustavo Díaz Ordaz International Airport (PVR) airport is a 20-minute ride to the city center. You can book an airport transfer here.

🏩 Hotels – The best websites for booking hotels and resorts are Booking.com and Expedia, which search all properties to find you the best deals. For inspiration on where to stay, head to my ultimate guide to Puerto Vallarta hotels.

🚗 Getting around – Puerto Vallarta is easy to get around by walking and Uber, but renting a car is the best way to explore the surrounding areas. Discover Cars is the best website for finding deals, which searches International and local Mexican companies.

🌊 Things to do – Puerto Vallarta is a paradise for outdoor adventure! Some of the top things to do are whale watching, yacht trips, and ATV tours.

✔️ Don't forget travel insurance! I use and love SafetyWing, which is insurance for remote workers. For shorter trips, I recommend HeyMondo – you can get 5% off by using that link.
Vallarta Adventures
When it comes to Puerto Vallarta catamaran tours, the folks at Vallarta Adventures sure know what they're doing. They also have a couple of different options to choose from.
This is another one of the top Puerto Vallarta boat tours. On this luxury yacht and snorkeling tour, you'll enjoy a scenic cruise around the Bay of Banderas. Observe the Malecon and the famous pier at Los Muertos Beach from the comfort of this well-equipped catamaran.
There's a stop to do some snorkeling or water sports, where you'll see plenty of tropical fish and maybe some marine life like turtles or dolphins. Snacks are included, as well as an open bar.
A highlight of this tour is a visit to the stunning Majahuitas Beach. Be sure to bring a waterproof camera or a dry bag so you can snap some pics of this epic place surrounded by tropical rainforest.
This Is By Far In The Top 3, Best Experience I Had In My Life. Truly Truly Amazing. The Crew Was There To Take Care Of Our Every Needs. The Beach We Had To Swim Too Was Gorgeous. Will Recommend & Will Book Again. You Guys Keep Them Polaroïd Safe 📸😁

– Jean (read more reviews here)
Book this tour below
The coolest thing about the Vallarta Adventures tours is that they have their own private beach. That's where you'll head on this epic day tour to Las Caletas.
As with the other tours mentioned so far, this one takes you through the bay, passing by town. There's also a gourmet lunch and – you guessed it – an open bar on board. What can we say – PV knows how to party!
Once in Las Caletas, you get to choose your own adventure. You can simply kick back and relax in a hammock on the beach if you like. If you're feeling more active, you can do some water activities kayaking or snorkeling.
They have some other fun options as well, such as a nature walk with a guide where you'll meet the residents of the area like macaws. For those feeling adventurous, there are waterslides and ziplines in the jungle.
You can also add on a cooking class, mezcal tasting, or a clay modeling session. The sky really is the limit on this jam-packed tour.

Recommend 100000%!! Def worth every dime! The atmosphere, the views, everything. My family loved it!

– Crissma (read more reviews here)
Book this tour below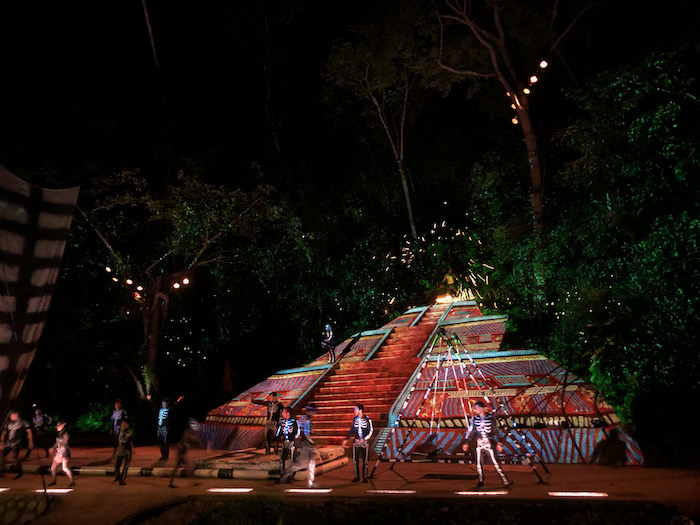 After the day tour leaves Las Caletas, it's time to get ready for Rhythms of the Night. This is one of the top Puerto Vallarta catamaran tours, with a delicious buffet dinner and an incredible performance.
This tour starts with a lovely sunset cruise down to Las Caletas, complete with cervezas and margaritas of course. Once you arrive at the beach, a torch-lit path takes you to your table for a wonderful dinner.
When you've had your fill, it's time to take your seat in the lovely natural amphitheater for the show. Alma is a mix of acrobatics, special effects, and original music. It definitely has a Cirque du Soleil vibe to it.
This is one of the most popular catamaran tours in Puerto Vallarta, and for good reason. We've already gone twice and would happily go a third time. It's just that good!
My family and I had an incredible experience!! The boat ride to the island turned into a whale siting trip. The dinner on the island was good and the show was fantastic!!!!! The boat ride back kept the festive mood alive. Everyone was kind and helpful!! Truly worth every penny of the cost!!!

– Carol (read more reviews here)
Book this tour below
—
Whichever Puerto Vallarata catamaran tour you choose, you're guaranteed to have an amazing day at sea.
While there are plenty of fun things to do in Puerto Vallarta on land, no visit would be complete without some fun out at sea so make sure to include one of these tours while planning your itinerary.
Planning a trip to Puerto Vallarta? Check out these posts!