This post may contain affiliate links. By clicking and making a purchase through the links, I earn a small commission at no extra cost to you. See my disclaimer for more information. This allows me to keep the site up to date and expand on resources.
Looking for the best Yelapa tours? I live in Puerto Vallarta and visit Yelapa on a regular basis – it's one of my favorite towns nearby.
If you're looking to escape the hustle and bustle of Puerto Vallarta for a day and experience the beauty and tranquility of Yelapa, there are plenty of options.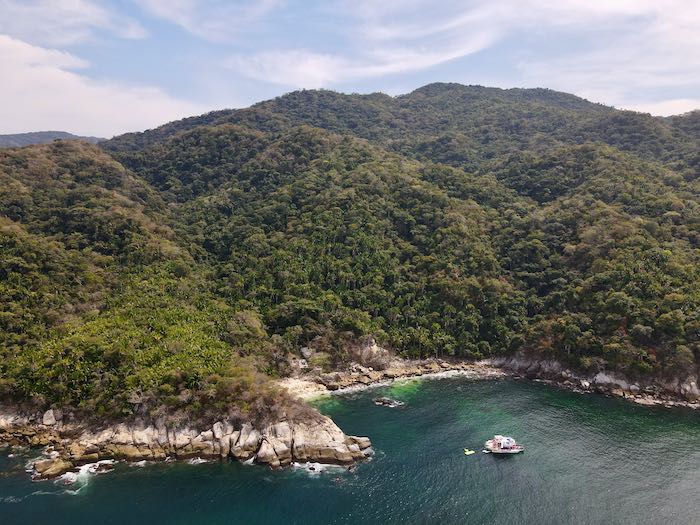 Yelapa is a small fishing village located just south of Puerto Vallarta that can only be accessed by boat. While you can get to Yelapa from Puerto Vallarta on your own, going on an organized tour is the most hassle-free option. Who wants to spend their vacation figuring out logistics?
With its pristine beaches, lush jungle surroundings, and laid-back vibe, Yelapa has become a popular destination for tourists looking to experience the region's natural beauty.
In this post, we'l look at some of the best Yelapa tours from Puerto Vallarta that will allow you to experience everything this beautiful village has to offer.
Best private Yelapa tours
If you're traveling with a group or family, booking a private Yelapa tour may be the best way to go! When split with a group, the cost can be very manageable, and it means you don't have to deal with annoying tourists.
⭐️ 5/5 | 🕛 7 hours | Check availability here
Chica Loca is one of the best boat operators in Puerto Vallarta. They own one of the most beautiful mega yachts – that you can have all to yourself. This is the best option if you're looking for a private boat to Yelapa.
This beautiful 100′ yacht comes equipped with two large decks with plenty of places for lounging in the sun, as well as shaded options.
When you're ready to get in the ocean, this yacht is fully equipped with all water toys for fun, including paddle boards and water mattresses.
While cruising along the bay, enjoy the premium open bar with water, soda, juice, beer, wine, and tequila! Plus, all-day snacks include guacamole, chips, potato chips, and ceviche.
Because this is a private tour, you can customize it to exactly what you want to do. Stay as long as you wish at the beautiful beaches of Yelapa, or add additional stops to Las Animas, Majahuitas, Colomitos, and more.
The best time ever! I was vacationing in Puerto Vallarta, from Kentucky in the U.S.A, and the day we spent on the Limousine of the Sea was the best day of the whole trip. The food and drinks were off the charts delicious (and all that you can eat/drink, so that was nice). The crew was amazing and made it so much fun.

– TripAdvisor Review (read more here).
⭐️ 5/5 | 🕛 4-5 hours | Check availability here
If the mega yacht is out of your budget, Chica Loca offers a private tour on their 30ft super panga. A panga is just the name of a small boat used for water taxis in Puerto Vallarta, and with a private group, they can still make a great day!
Like the tour above, you'll cruise along Banderas Bay with stops customized to your group, including Yelapa. You tell them what you want, and the fantastic crew at Chica Locca will take care of the rest.
A variety of activities are available, including fishing, paddle boarding, surfing, snorkeling, and dolphin and whale watching (the whale-watching season is from December to March).
This tour is all-inclusive, including an open bar with water, soda, juice, beer, wine, and tequila. Snacks are also included in the tour, including fresh ceviche and guacamole. It's one of the best Yelapa boat tours!
We had an amazing time on our tour. The captain and crew were incredible hosts. The setting was spectacular, the drinks were flowing, and we had all the toys. Excellent experience from start to finish.

TripAdvisor Review (read more reviews here).
⭐️ 5/5 | 🕛 4-5 hours | Check availability here
If you want to spend more time exploring Yelapa than cruising on a boat, then this private Yelapa tour ecotour is for you.
Guided by a naturalist, you'll get the opportunity to make the most of your time in the water of Yelapa, learning about the marine flora and fauna as you kayak and snorkel through the ocean.
Yelapa is one of the best places to go snorkeling near PV! All gear is included, so you don't need to worry about bringing anything!
In addition to exploring the underwater world, this tour includes a guided hike to a waterfall in Yelapa. It's one of the best places to go hiking to waterfalls near Puerto Vallarta, with several gorgeous falls hidden in the jungle.
Since it's a lot of physical activity, this tour is best for those with a decent fitness level.
The day could not have been better. On our way to snorkeling we saw a whale, jumping so close to us. While snorkeling we observed a sea turtle, a sting ray, and eel and 100's of species of fish. The water was so clear!

TripAdvisor review (read more reviews here)
⭐️ 5/5 | 🕛 1 hours | Check availability here
There are many ways to explore Yelapa – but this private scenic airplane tour is one of the most unique!
Taking off from the Puerto Vallarta international airport, you'll set off for an incredibly scenic flight at 1500 feet with aerial views of the entire bay as you fly along the coastline toward the village of Yelapa.
Each flight is private with space for three passengers and the pilot, so one of you will get to sit in the co-pilot seat and take control of the plane!

It was great seeing Puerto Vallarta and Yelapa from the sky, this was my second time flying with them and I had a flawless experience.

TripAdvisor review (read more reviews here).
There's no more unique experience in Puerto Vallarta than this scenic flight, which will leave you with some of your favorite vacation photos.
Group Yelapa tours
If you're a solo traveler or a group of friends looking to meet other travelers in Puerto Vallarta, joining one of these group tours to Yelapa can be a really fun way!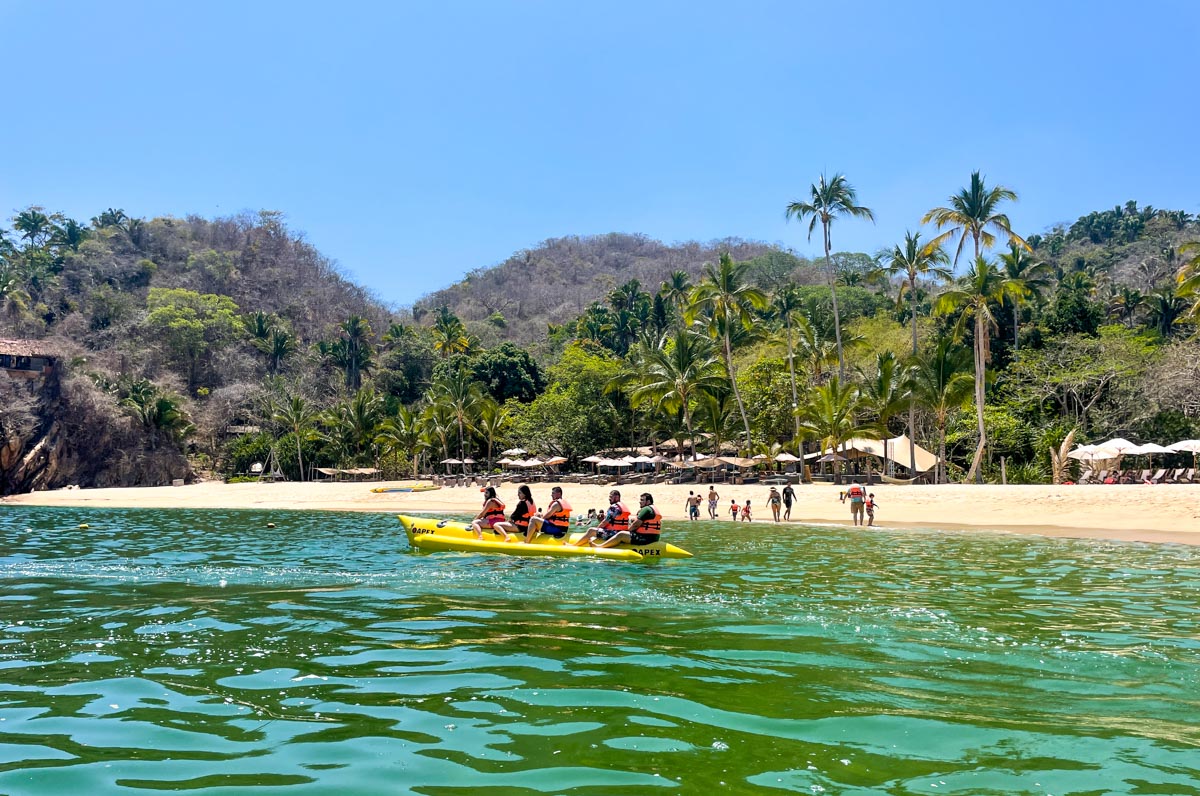 ⭐️ 5/5 | 🕛 6 hours | Check availability here
Chica Loca also runs group tours to Yelapa, and their newest offering as an all-inclusive boat tour to Yelapa on the Limousine of the Sea. This massive catamaran measures 100 x 40 feet, ensuring smooth sailing as you cruise along Banderas Bay.
This full-day tour includes a continental breakfast, snacks like guacamole & chips, and a big taco lunch. It's also unlimited drinks, including soft drinks, coffee, beer, wine, or margaritas you want.
As you make your way to Yelapa, you'll stop for some excellent snorkeling. You can do all the water sports you want here, as they have onboard kayaks, paddle boards, tubes, splash nets, and more.
Once in the Yelapa, you also have the option to hike to a waterfall nearby, or you can just chill out and relax on the beautiful beaches. With over 50 5-star reviews, you're sure to have an awesome time on this tour!
There's just so many great things I have to say about this excursion. Benji and the whole crew made my birthday a very special day. The drinks and food kept flowing nonstop. I've never seen a crew work so hard!

– Susan (read more here).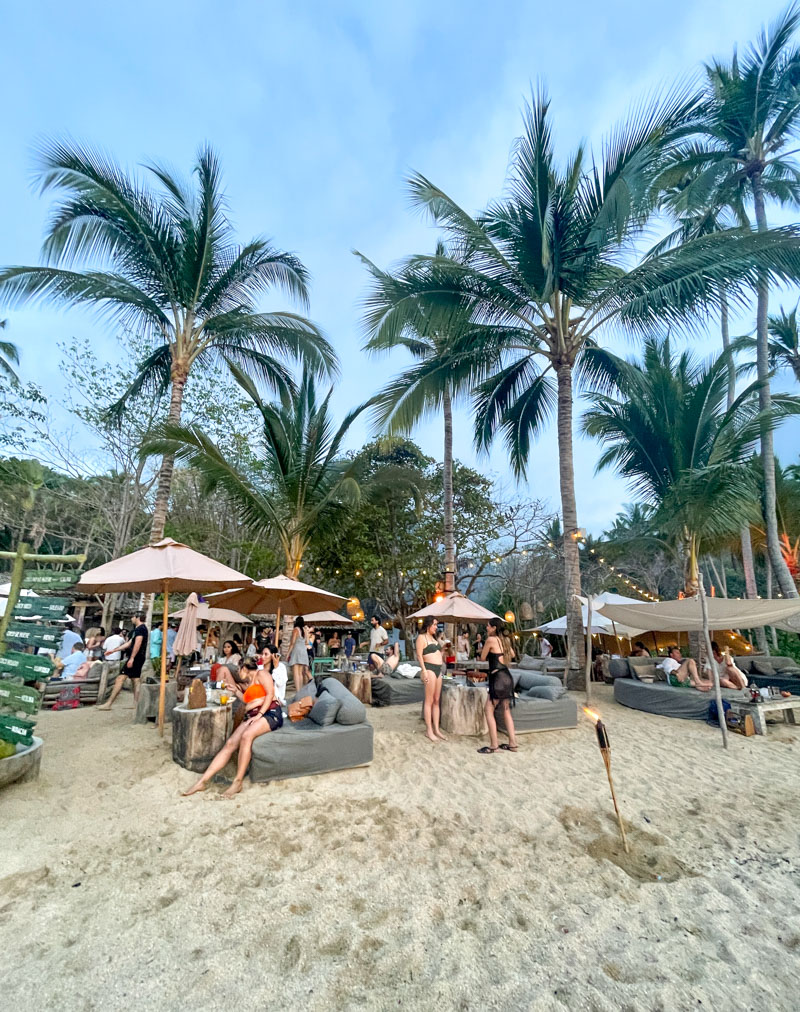 ⭐️ 4.5/5 | 🕛 7 hours | Check availability here
This tour doesn't just visit Yelapa but also Majahuitas, another secluded beach nearby home to one of the best beach clubs in Puerto Vallarta.
Starting with a scenic boat ride on the bay towards Yelapa, you'll get to stop and go snorkeling in the water. Once you arrive, you'll have the opportunity to go on a small hike to the waterfall in town.
After some free time to relax on the beach or play in the water, you'll hop back on the boat where a buffer lunch awaits you.
From there, you'll head to Majahuitas beach, where you can spend more time relaxing on the beach or enjoy more water activities before returning to the pier at Marina Vallarta.
What an amazing experience from beginning to end! The crew on Boat 5 was great…very funny, friendly and professional. They made sure everyone was enjoying the experience.

– Suzette (read more reviews here).
FAQ: Yelapa Tours
Is Yelapa worth visiting?
Absolutely! Yelapa is one of the most beautiful towns near Puerto Vallarta. It's the perfect place to get in touch with nature. You can go snorkeling in the sea and hiking to waterfalls in the jungle.
How long is the boat ride from Puerto Vallarta to Yelapa?
It depends if you come from the Marina, Los Muertos, or Boca de Tomatlan. From Boca, it takes just under an hour to reach Yelapa. The Marina is further so it will take a bit longer.
How to get to Yelapa from Puerto Vallarta?
You can get to Yelapa from Puerto Vallarta on a water taxi from Los Muertos Pier or Boca de Tomatlan, but the easiest way is on one of these Yelapa tours.
How do you get around in Yelapa?
There are no roads in Yelapa, so the best way to get around is by walking! It's a small town, and most of the main attractions can be explored on foot. However if you want to go further, there are also ATV taxis available as well as horseback riding tours.
—
There you have it, the six most highly-rated private and group Yelapa tours! However you decide to visit Yelapa, you're sure to fall in love with its laid-back vibe and breathtaking natural scenery.
Planning a trip to Puerto Vallarta? Don't miss these posts!