This post may contain affiliate links. By clicking and making a purchase through the links, I earn a small commission at no extra cost to you. See my disclaimer for more information. This allows me to keep the site up to date and expand on resources.
Looking to practice yoga in Puerto Vallarta? I live here and do yoga every week, so I'm sharing my favorite yoga studios and retreats in this guide.
Situated on the Bay of Banderas with the Sierra Madre mountains as the backdrop, Puerto Vallarta is the perfect place to connect with nature and yourself in these yoga classes immersed in nature.
Whether you're living in PV and looking for a studio to practice regularly or coming here for a yoga retreat, these are the best places for Puerto Vallarta yoga.
Yoga classes in Puerto Vallarta
Terra Noble Art & Healing Center
There's no doubt that Terra Noble has one of the most beautiful views in Puerto Vallarta. Although it's a little more challenging to reach than other yoga studios in town, it is worth it. I recommend taking an Uber, as the walk up the hill would leave you with little energy!
Terra Noble hosts several events, including sunset yin yoga on Mondays (check the schedule here for the latest times).
I recommend practicing yoga at Terra Noble at least once during your time here, as the views from the top are just breathtaking, and the atmosphere is incredibly healing. They also do temazcal ceremonies here, an incredible and unique experience in Puerto Vallarta.
Yoga Vallarta
If you want to do yoga on the beach in Puerto Vallarta, Yoga Vallarta is one of the best options.
They offer beach yoga and meditation on the weekends and Monday, Wednesday, and Friday, as well as sunset beach yoga Mondays through Thursdays.
The classes take place next to Los Muertos Pier in the Romantic Zone. They provide beach mats, so you don't need to worry about bringing your own, although a towel is recommended.
I've taken both morning and sunset classes, which are wonderful. They are led by English-speaking yoga instructors, and the class sizes are typically just 3-4 people, although it can be up to ten.
Once you join, you will be added to a WhatsApp group where photos are shared from the class.
For more information or to reserve a class, you can visit their website.
Flying Heart Yoga Puerto Vallarta
Flying Heart Yoga is a studio in Zona Romantica "committed to the integrity and heart of yoga/mindfulness practices." I haven't had a chance to practice here yet, but several friends have recommended it.
The studio is light, bright, and spacious, with all the yoga props you need, as well as AC and fans (because it can get very hot in PV during the summer). They offer classes 2-4 times a day, as well as special events, retreats, and yoga training. You can check the schedule here for the latest info.
—
Other yoga classes and popups often happen, which you can find out through the ex-pat and digital nomad Facebook and WhatsApp groups.
Joint Coworking, one of the best coworking spaces in Puerto Vallarta, has recently started running yoga classes on Mondays and Wednesdays. The classes are run by Collin Wynter, who also teaches for Yoga Vallarta – I've taken his classes many times, and they are fantastic!
Yoga retreats in Puerto Vallarta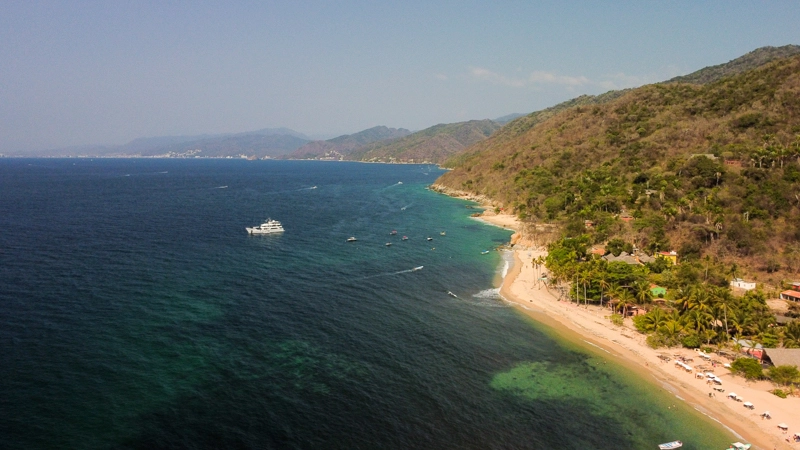 Xinalani Retreat is one of the top yoga centers in Mexico, featuring six unique yoga studios immersed in nature.
The center is on a secluded beach near Quimixto, which is one of the most beautiful beaches in Puerto Vallarta.
Xinalani means seeds in Nahuatl, and this unique eco-resort is designed for personal transformation.
It's a haven for conscious travelers, with open-air studios that allow you to connect with the natural beauty of the surrounding jungle and ocean.
In addition to yoga, you can partake in other wellness activities during a Xienalani retreat, including meditation, massages, and temazcal, plus adventure and eco tours like interacting with wildlife, surfing, and ziplining through the jungle.
Beyond Yoga Retreat
Set in the exclusive Amapas neighborhood, Beyond Yoga Retreat is another top choice for yoga retreats in Puerto Vallarta.
They offer year-round all-inclusive yoga holidays where you'll be staying in eco-luxury villas, participating in daily fresco yoga classes with ocean and jungle views, as well as enjoying delicious and nutritious gourmet meals and eco-tours to enjoy the stunning nature Puerto Vallarta has to offer.
Check their website for upcoming retreats, which are eight days long.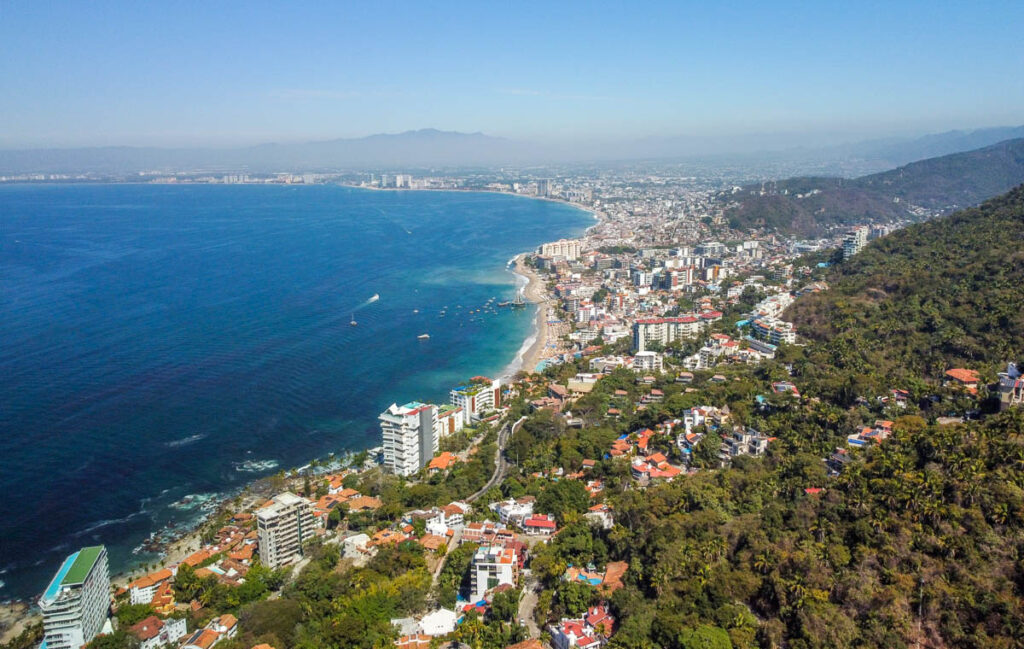 What are the benefits of doing yoga in Puerto Vallarta?
Doing yoga offers a wide range of benefits for the body and the mind, especially when combined with the natural beauty of Mexico.
Connect with nature
Puerto Vallarta is a stunning town on the Pacific Coast surrounded by lush vegetation, mountains, and the ocean. Practicing yoga in this natural setting can help you feel more connected to the environment, promoting a sense of peace and harmony.
Boost physical health
Yoga is an excellent form of exercise that can improve flexibility, strength, and balance. Practicing yoga regularly in Puerto Vallarta can help you build a stronger, healthier body while enjoying the beauty of your surroundings.
Relieve stress
Yoga is known for its ability to reduce stress and anxiety. By practicing yoga here, you can benefit from the calming effects of the natural setting, such as the sound of the ocean, the breeze, and the warmth of the sun.
Improve mental health
Yoga has been shown to have numerous mental health benefits, including reducing symptoms of depression and anxiety. Practicing yoga in a serene environment like Puerto Vallarta can help you feel more relaxed and grounded, promoting mental well-being.
Learn from experienced teachers
Puerto Vallarta has a thriving yoga community, with many experienced teachers offering a wide range of classes and workshops. Practicing yoga with knowledgeable and skilled instructors can help you deepen your practice and learn new techniques.
Connect with like-minded people
Yoga is a social activity that can bring people together from different backgrounds and cultures. Joining classes can give you the opportunity to meet new friends who share your interest in yoga and holistic health.
—
These are just a few of my favorite yoga studios and retreats in Puerto Vallarta. New classes and events are happening all the time – so subscribe to my e-mail list below to stay updated with the latest in Puerto Vallarta.
Practicing yoga in Puerto Vallarta offers a unique opportunity to combine the benefits of yoga with the beauty of a stunning natural setting, so be sure to check out some of these studios while you're here.
Planning a trip to Puerto Vallarta? Don't miss these posts!