This post may contain affiliate links. By clicking and making a purchase through the links, I earn a small commission at no extra cost to you. This allows me to keep the site up to date and expand on resources. Thanks for reading!
Safety is always a concern for visitors traveling to Mexico, but Puerto Vallarta is actually one of Mexico's safest destinations. Millions of tourists come to visit every year, including families and solo female travelers. 
Tourism is an important part of the economy here and the locals know that, so the community works hard so that you don't have to question, "Is Puerto Vallarta safe?"
While the common perception is that Mexico is a dangerous place to visit, it's also a massive country with vastly different regions. Puerto Vallarta does not suffer from the same problems that some places in Mexico do, and much of that information is over-sensationalized in the media.
Like any city in the world, Puerto Vallarta does suffer from some level of crime. However, most of this is petty theft and can be easily avoided using common sense.
I created this guide to answer all your questions about just how safe Puerto Vallarta is. Use the tips to ensure you have a safe and amazing time while visiting!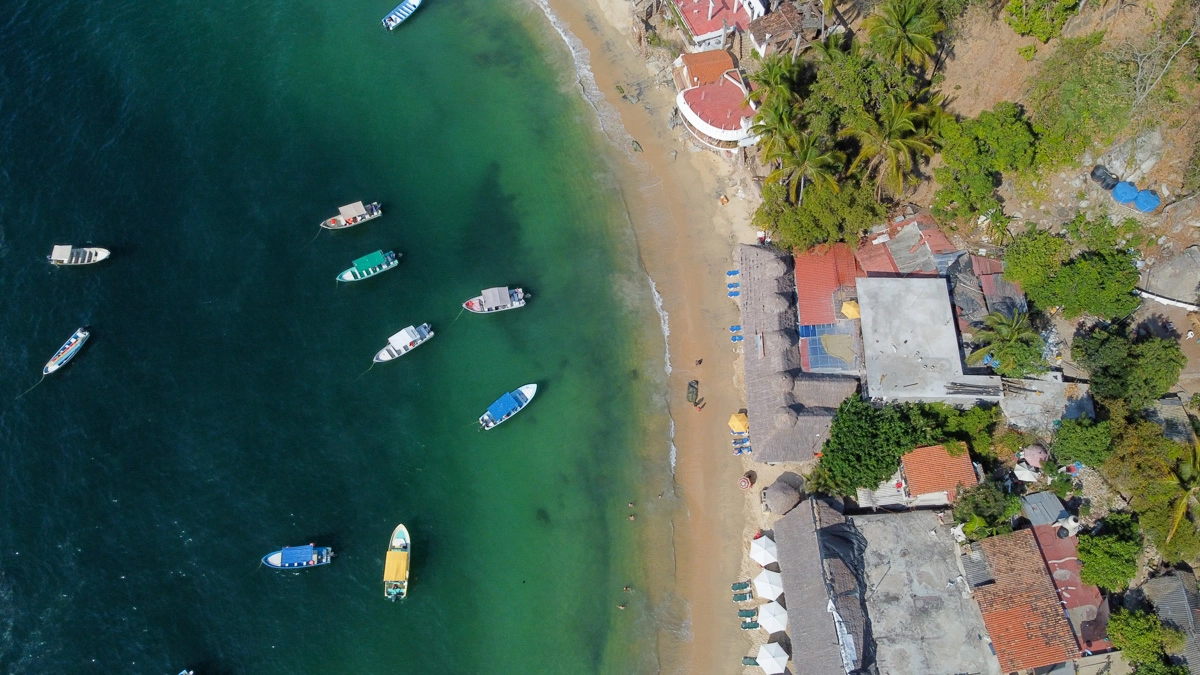 Is Puerto Vallarta Safe?
Puerto Vallarta is overall a fun, friendly, and safe place to visit. It welcomes millions of visitors every year who have a fantastic time. Since it's one of the main tourism destinations in the country, crime rates are much lower than in other cities in Mexico.
In fact, crime rates in Puerto Vallarta crime rates are even lower than in popular US cities like Miami and Las Vegas, according to data from Numbeo.
Sadly, in recent years, there have been many misleading headlines and media information regarding safety in Mexico. These sensational headlines often don't provide the full context of the situation, deterring people from coming to a safer place than some US cities.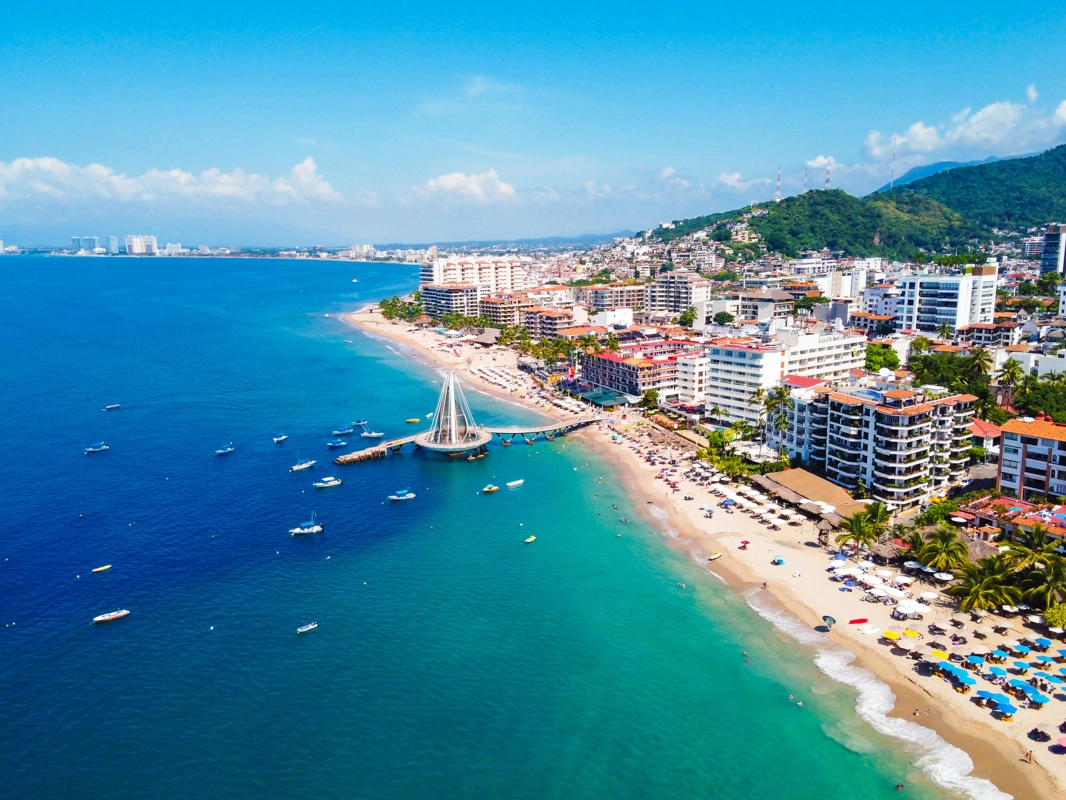 Safety Tips For Puerto Vallarta
Petty Theft and How To Avoid It in Puerto Vallarta
Petty theft is the most common form of crime for tourists in Puerto Vallarta, like bag snatching and pickpocketing. However, I've lived here for three months going out almost every night, and this has never happened to me.
Lock your valuables away when you head out and take a minimal amount of cards and money with you – just what you need for the day or night. Bring an extra debit and or credit card on your trip, so if you lose one, you still have a way to get money.
You should be vigilant when walking with valuable belongings, especially at night. Keep your phone or attractive electronics away when you're wandering down the quieter cobblestone streets.
If you're worried about snatching, you could wear a money belt or scarf with a pocket as these will be impossible to pickpocket or snatch.
Safety for Solo Female Travelers in Puerto Vallarta
Solo travel is awesome, and Puerto Vallarta is no exception. If you're worried about exploring alone, It's easy to meet other digital nomads and travelers here through Facebook groups and regular events.
Unfortunately, catcalling is common here, and I have had many comments made to me walking around in Puerto Vallarta. That said, I never felt in danger or that someone was going to follow me.
To avoid unwanted adventure, wear modest clothing and establish boundaries. A long skirt, pants, and a sleeved top can go a long way to prevent these comments. 
As a solo female traveler, I try to avoid walking at night no matter where I am. Instead, I use Uber at night, which are very affordable here. It only costs a couple of dollars to go a 15-minute ride. 
Puerto Vallarta is a particularly safe destination for LGBTQ+ travelers, as it's one of the most friendly destinations in Mexico with an active LGBTQ+ community and regular events. Zona Romantica is the gay neighborhood – and also one of the best places to stay!
Health Safety in Puerto Vallarta 
During Covid-19, Puerto Vallarta received the Safe Travels Stamp from the World Travel & Tourism Council, which recognizes the ongoing implementation of strict safety measures in destinations worldwide.
That said, Covid-19 does exist in the city as only a small percentage of the population has been vaccinated at this point. So if you are coming from the United States or Canada, get vaccinated before your trip to Puerto Vallarta to help reduce the risk and spread. 
Puerto Vallarta has regular safety protocols in place, including masks and hand sanitizer. Restrictions can change based on how many cases there are in the region.
Here are the other vaccines the CDC recommends if you're traveling to Mexico. Dengue is an ongoing risk in many parts of Central and South America, including in Mexico. The best way to protect yourself is to avoid mosquito bites.
Beach safety in Puerto Vallarta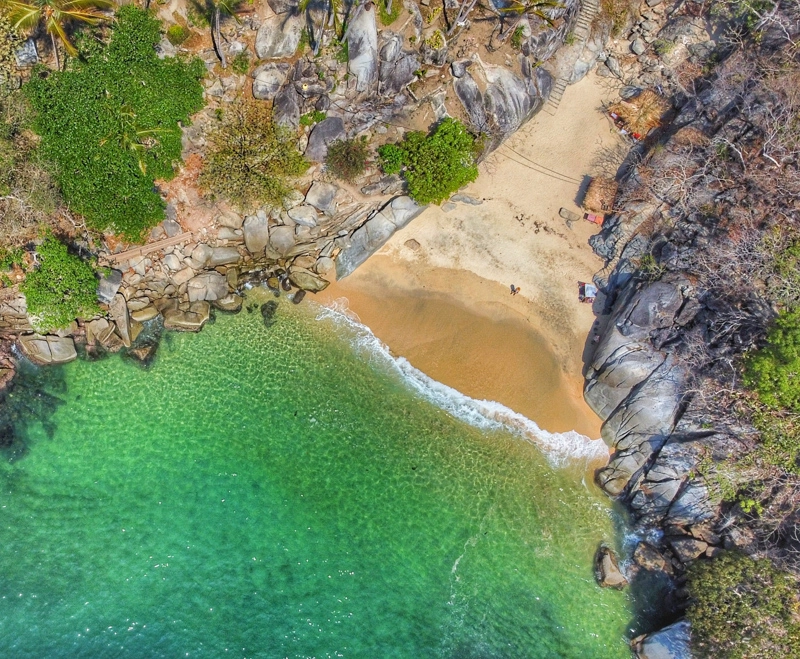 I'm sure one of the reasons you've come to Puerto Vallarta is to enjoy the gorgeous beaches, so use these tips to stay safe while enjoying the warm waters and sandy shores.
Do not leave your belongings unattended at the beach to go swimming in the water. It's just an easy target! If you don't have friends or family around to watch your stuff, you can ask a restaurant or even someone else on the beach. Just use your judgment.
Protect yourself from the sun! Your risk of getting a bad sunburn in Mexico is much higher than having something stolen. So cover up to protect yourself with reef-safe sunscreen, a hat, and sunglasses.
Look out for jellyfish! When the summer season starts, jellyfish come to the Bay of Banderas which can be annoying. They are harmless, it's just annoying.
Be aware if you're visiting during hurricane season, which runs from June to November. While the area has not suffered from an extreme storm in years, it could potentially impact your plans.
Do not go into the ocean when the sea is rough, and avoid swimming if you are intoxicated.
Food and water safety
Mexico has some of the best cuisine in the world – you'll definitely want to take advantage and try the local food while here. While Mexico doesn't always have the best reputation for food hygiene, most restaurants in Puerto Vallarta are fine to eat at.
Apparently you can even drink the water here, but I didn't. You can buy giant gallons of water for cheap, and most hotels and apartments offer them when you arrive. If you want to cut down on your plastic consumption, get a reusable filtration water bottle.
I ate street food all the time in Puerto Vallarta and never got sick. Take it easy on the spice if you aren't used to it, wash your hands before eating, and ask around for recommendations. Don't just stick to resort food – there are so many amazing restaurants to try here!
Safety Tips for Going out at night in Puerto Vallarta
When walking around town at night, try to stay in well-lit areas. The Malecon is safe to walk along, but avoid going off to smaller side streets by yourself. Instead, get a taxi or Uber.
Both are safe options for getting around in Puerto Vallarta, but I prefer Uber as it tracks you, and you can share your location with other people. Plus, they are cheaper.
There have been reports of drink spiking incidents, more so in nearby beach towns like Sayulita. So do not leave your drink unattended.
While the safest thing to do would be to avoid getting drunk, I realize most people come to Mexico for just this reason. Just use your common sense. I wouldn't go out as a female alone and get trashed. Make friends at your accommodation or through a meetup group on Facebook. Don't walk home alone at night by yourself.
If you're heading out at night, avoid taking valuable items out with you.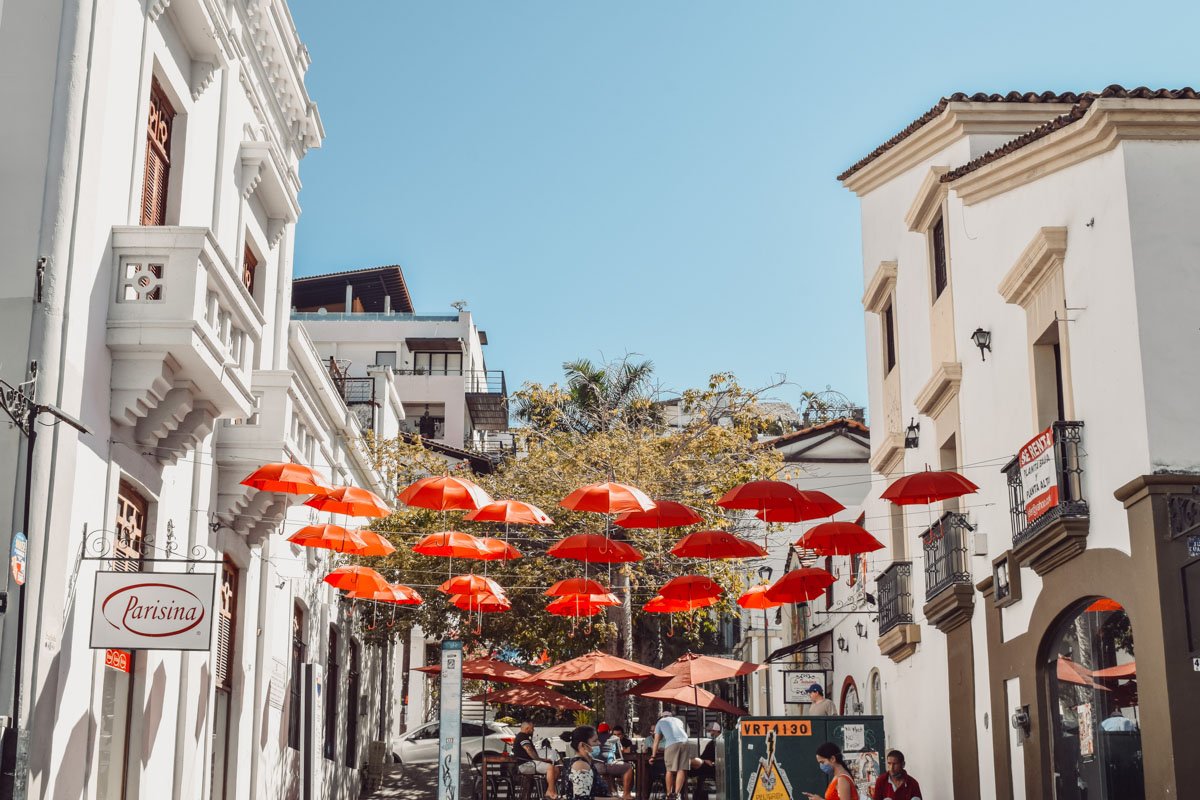 General Safety Tips for Mexico
Learn a few basic Spanish phrases. The locals will appreciate it and should you need to ask for help, this will help you communicate.
Ignore taxis at the airport. They are expensive anyways – get an Uber or take the bus.
Try to avoid having expensive items easily visible while walking around to not make yourself a target. 
Keep your bag close to you – snatching does happen here.
Limit the amount of money and cards that you carry with you.
Be conscious when you're getting money out of the ATM and whose around. Use a reputable ATM that has a bank attached to it so if something happens you can actually talk to someone. Also, don't forget to get your ATM card out of the machine when you're done or it might eat your card – this happened to be at an HSBC bank!
Research and stay in a good neighborhood in a place with good reviews.
Get a local SIM card so you can get directions and or call for help if needed. Have emergency numbers already on your cell phone and your WhatsApp.
If you're traveling solo, let someone know where you're going when you head out.
Don't leave your drink unattended.
Leave your travel itinerary and contact information with friends and family.
Register your travels with the U.S. Department of State here or Canadian government.
Keep your valuables in a safe when you head out.
Make copies of important travel documents.
Get Travel Insurance for Puerto Vallarta
Medical insurance will protect you should anything happen. Puerto Vallarta has a decent medical system, but it will not be free as a non-resident. And yes, drugs are relatively cheap in Mexico, but a helicopter flight out won't be. Just get the insurance.
Theft can happen anywhere. I got robbed in Iceland, which has been ranked the safest country in the world for over a decade. If you travel with valuables, the only way you can truly protect yourself is with travel insurance that covers stolen belongings.
I recommend World Nomad's, as they offer insurance that covers both medical and personal belongings.
Get a travel insurance quote now for Puerto Vallarta!
—
Don't be afraid to visit Puerto Vallarta for safety reasons – It would be a shame to miss out on such an amazing destination! If you use common sense, Puerto Vallarta should be no more dangerous than your home country, so use these safety tips and enjoy a wonderful vacation.
Planning a Trip to Puerto Vallarta? Check out these posts!