This post may contain affiliate links. By clicking and making a purchase through the links, I earn a small commission at no extra cost to you. This allows me to keep the site up to date and expand on resources. Thanks for reading!
As far as beaches go, it doesn't get much better than Majahuitas Puerto Vallarta.
This dreamy beach is full of golden sand, turquoise blue waters, and one of Puerto Vallartas' hottest beach clubs.
Here's everything you need to know about visiting Majahuitas from Puerto Vallarta and what to do there.
Where is Majahuitas?
Majahuitas is a gorgeous secluded beach 18 miles south of Puerto Vallarta, between Quimixto and Yelapa.
As there's no road to these beaches, the only way to get there is by sea.
How to get to Majahuitas Beach from Puerto Vallarta
The only way to get to Majahuitas is by boat, either from the pier at Los Muertos Beach in Zona Romantica or Boca de Tomatlan.
Boca is the central hub for taking water taxis (pangas) to the beaches along the coast. You can get there by public bus, taxi/uber, or driving about 20 minutes from downtown Puerto Vallarta.
If you take a public water taxi from Boca, it will pass Colomitos, Las Animas, Quimixto and Las Caletas before arriving at Majahuitas.
The shared water taxis usually cost 200-300 pesos (5-15 USD) round-trip. You can check the taxi schedule here.
One important thing to know is that the pangas only run until 6 pm, so if you're planning to stay longer at Majahuitas beach cub (which I highly recommend), you'll have to arrange a private water taxi or try to get on one at the end of the night (more on this below).
Going to Majahuitas and staying past 6 pm is best done with a group of friends as it can be pricey. The price really depends on your negotiation skills.
I recently went with a friend, and we arranged a private boat with round-trip transportation for 1500 pesos (75 USD) from a guy at the pier in Boca. As I said, it's not cheap!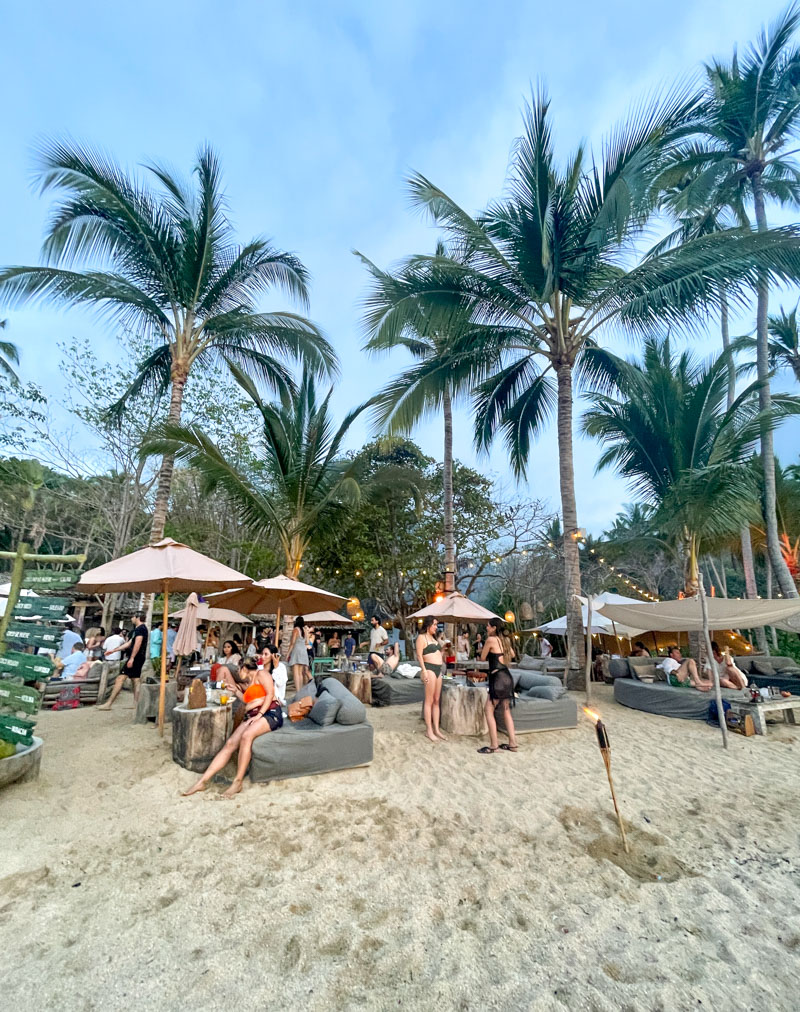 Getting back from Majahuitas
This is very important! If you plan to stay at Majahuitas beach club until close (10 pm), getting back can be a bit of a shit show.
On my first experience there, we arranged a transfer with a boat driver in Boca who agreed to pick us up.
We actually saw him at the event earlier in the evening, but when we left to go after the DJ ended, he was nowhere to be found. My guess is that someone offered him more money to take them back.
Everyone is trying to get on a water taxi at the end of the night, so it's really chaotic. We ended up getting on a boat with some new friends who told us that they were going to PV, but we actually ended up at Nuevo Vallarta. At least from there, we were on land and could get a taxi back to the city.
In my second experience going to Majahutitas beach club, we took a private yacht there for my friend's birthday and then planned to go back via water taxi. However, we were one of the last to leave, and once again, it was complete chaos.
We eventually got on a water taxi, which tried to charge 1000 pesos per person (50 USD). Again, this is why you need to negotiate. We eventually got them down to 4000 pesos for nine people to Los Muertos pier and even got to stop and swim with bioluminescence on the way back!
My best advice would be to go where the water taxis are around 9-9:30 (the dance floor starts to clear out around then). If you leave it until after the DJ ends, it's just so chaotic.
Things to do in Majahuitas Puerto Vallarta
What to do in Majahuitas depends on if you're going during the weekday or weekend (when the beach club is open). They both offer completely different but amazing experiences!
With the club not open, Majahuitas is the perfect place to relax and soak in the fantastic tropical vibes of Puerto Vallarta. Simply relax on the beach and enjoy the breathtaking scenery of turquoise water and lush palm trees above you.
Since the beach is somewhat difficult to reach, it means there aren't many other people around, so it's perfect for relaxing.
If you feel like something more active, you can also go kayaking, paddle boarding, or snorkeling in the water. It's one of the best places for snorkeling in Puerto Vallarta, where you can see a variety of fish, including parrotfish, pufferfish, trumpet fish, moray eels, angelfish, and more!
If you're lucky, you may also spot turtles, manta rays, dolphins, and whales during the whale-watching season from November to mid-March.
There are also some hidden waterfalls that you can hike too.
Majahuitas Beach Club
On the weekends (and special events), Majahuitas beach club is open, which is a reason to visit Majahitas alone.
This incredible beach club is the first thing you'll see when you get off the boat at Majahuitas. It's basically an Instagram thirst trap, with swings, lights, and mirrors everywhere. But I love it.
The beach club is open from 2:30 to 10:30 on Saturdays and Sundays, with a line-up of 3 amazing DJs. They change every weekend – you can see the schedule on their website.
It's not the cheapest place to go. There's a minimum spend of 1500-2000 pesos (depending on the event), but you get that back as credit for drinks and food. The cocktails are fantastic, as is the food.
I loved my experience at the beach club. It was so much fun dancing the night away with the gorgeous backdrop of the swaying palm trees as you watch the tropical sunset turn into a beautiful starry night sky. They also light up the trees at night and have fire displays which creates this incredible atmosphere.
I also love how this beach club has a commitment to sustainability and protection of this natural area with reforestation projects, beach clean-ups, and marine mammal rescue projects.
If you want to visit Majahuitas, you need to make a reservation in advance, which you can do via WhatsApp.
There is nowhere to stay overnight on Majahuitas, so you'll have to make this a day trip. Don't forget to arrange transportation back if you're staying past 6 pm!
Majahuitas Tours
If you don't want to go to Majahuitas on your own, the other option is to join a guided tour with Vallarta Adventures.
This full-day tour takes you on an adventure to both Majahuitas and Yelapa. It departs from either Nuevo Vallarta or Puerto Magico in Marina Vallarta.
The tour starts with a ride to Yelapa, where you'll cruise through the Bay of Banderas, soaking up the gorgeous scenery along the way.
Upon arrival at Yelapa, you'll have the chance to hike to a natural waterfall or just lay back on the beach for one hour.
From there, you'll get on the boat and head to Majahuitas beach, with options for snorkeling, kayaking, or paddleboarding.
A light breakfast and buffet lunch is served on the boat. This tour is 89 USD, which is not bad considering it includes round-trip transportation from Puerto Vallarta, two stops, all water sports, and two meals.
—
Majauhitas is one of the best day trips from Puerto Vallarta. If you're looking for a vibe to party, this is the spot.
Planning a trip to Puerto Vallarta? Don't miss these posts!