This post may contain affiliate links. By clicking and making a purchase through the links, I earn a small commission at no extra cost to you. See my disclaimer for more information. This allows me to keep the site up to date and expand on resources.
Planning a trip to Tequila from Puerto Vallarta? Let me help! I live in Puerto Vallarta and have visited Tequila three times. In this guide, I'm sharing the best ways to get from Puerto Vallarta to Tequila!
One of the best parts about visiting Puerto Vallarta is that it's an ideal location for taking day and weekend trips to other beautiful destinations in Mexico.
There's no shortage of great beach towns nearby, but Tequila is a great option if you're looking for something a little different than the beach.
Mexico is world-famous for Tequila, and this small town is the best place to learn more about it.
During the colonial era, Tequila was the administrative capital of the area and the center of the tequila industry by the XVII century.
Today, Tequila is still one of the leading production areas for Tequila with its massive fields of blue agave fields that only grow in a few places in Mexico.
The town has been designated a UNESCO World Heritage site and Pueblo Magico, a designation by the Mexico Tourism Board for towns with cultural heritage. So, needless to say, this town is pretty unique!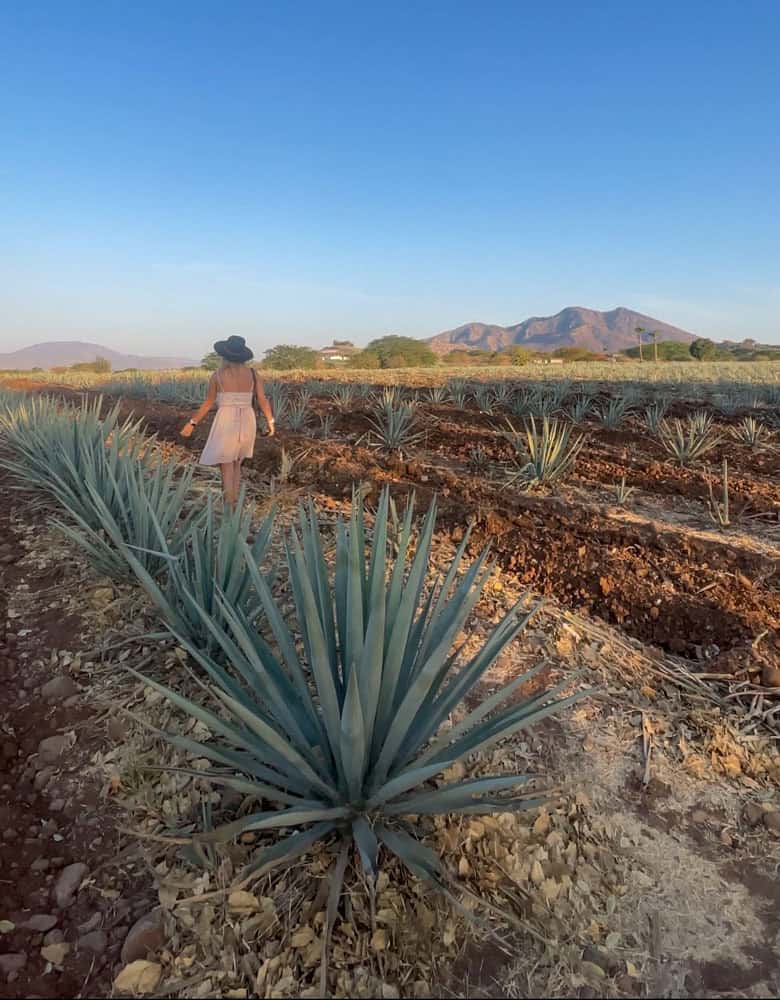 Table of Contents
Best ways to get from Puerto Vallarta to Tequila Jalisco
Tequila tours from Puerto Vallarta
For the easiest experience, take a guided tour to Tequila from Puerto Vallarta.
This full-day highly rated tour includes hotel pick-up and drop-off, breakfast, entrance fees, and a knowledgeable guide. You'll explore ancient Aztec ruins, traditional tequila, and historic architecture in the famous town of Tequila!
"We had the best day with Miguel. He made sure to take such good care of us, give us options to personalize our day, and help with Spanish to English translations as needed. Miguel was the perfect guide, and this experience was once in a lifetime" – Jerry (read more reviews here).
By Car
The easiest way to get to Tequila from Puerto Vallarta is by renting a car. The trip takes about four hours via Highway 200. As most people end up drinking in Tequila, I would turn this into an overnight trip and spend the night – or turn it into an extended road trip around Jalisco!
It's easy to rent a car in Puerto Vallarta.
Another option is to share a bla bla car. My friend and I did this from Puerto Vallarta to Guadalajara and paid only 350 pesos each.
Puerto Vallarta to Tequila by Bus
As Tequila is just an hour from Guadalajara, a beautiful city in Mexico, many people combine the two destinations in one trip.
There aren't any direct buses to Tequila, so you'll have to take a bus to Guadalajara and then transfer to Tequila from there. You can book both buses online here.
If you're already in Guadalajara, head to the Tequila Express bus station. The bus takes about 1.5 hours and leaves every hour or so in each direction.
There are also many day tours to Tequila that leave from Guadalajara.
By Flight via Guadalajara
If you are short on time, you can fly to Guadalajara From Puerto Vallarta, which takes less than an hour.
I went for a weekend trip to Guadalajara, and we visited Tequila as a day trip from there. I got a round-trip flight for less than 100 USD and took the bus to Tequila from Guadalajara.
Tequila Train from Guadalajara
For one of Mexico's most unique and bucket-list-worthy experiences, you can get to tequila by riding on the Jose Cuervo Express, an all-you-can-drink Tequila train.
The train ride takes about an hour and a half, offering scenic views that set the stage for a full day of adventure in Tequila.
Once you arrive, you're in for a treat with a factory tour showing the tequila-making process, followed by more Tequila tasting (don't forget to drink water)!
In the afternoon, you'll visit the fields of agave, which offer a surreal backdrop for photos and a deeper understanding of the tequila production process.
I finally had the chance to tick this off my Mexico bucket list in spring 2023, and it was just as dreamy as it looked! Check out what the Tequila train looks like in the video below.
Best things to do in Tequila Mexico
Take a Tequila tour
This is, of course, the number one thing you should do while visiting Tequila! You can arrange a tour in advance or try to get one once you're there.
I recommend booking your tour in advance as they do fill up. We didn't book in advance, ended up showing up late in the afternoon, and could only get a Spanish tour. I still enjoyed the tour, but understanding everything the guide said would have been nice.
BOOK A TOUR OF TEQUILA BELOW
On my Tequila tour experience, we left the town on a giant-pepper-shaped bus and headed towards a local distillery, where we were given samples of Tequila on arrival.
After a few samples and an obligatory photo op, we went inside for a walking tour of the distillery to see how the Tequila is made from Agave plants to the finished product, all smells included. They also showed us where the Tequila is stored underneath in the cellar.
My favorite part of the tour was getting to visit the never-ending fields of agave fields. They are so beautiful against the backdrop of the mountains!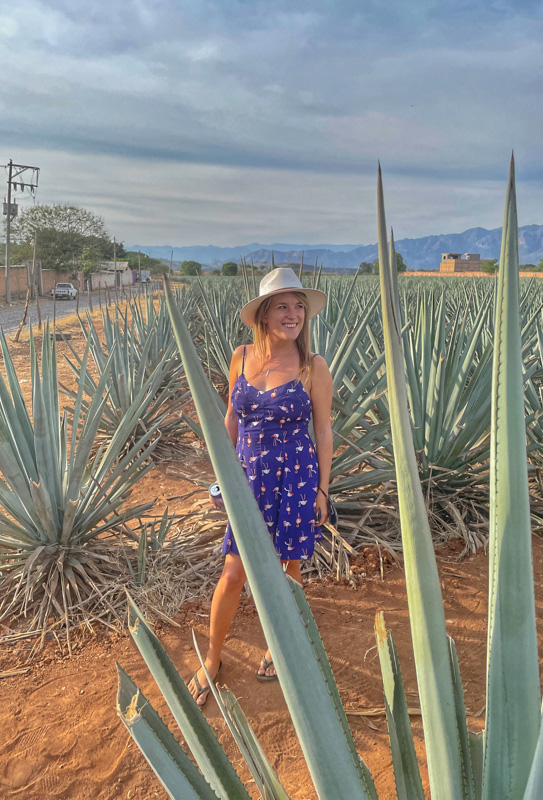 Once we got back to town, we were given more Tequila shots at their local shops and sent on our way to explore Tequila.
Walk around the town (shopping + eating)
While in Tequila, spend a couple of hours strolling around the town, wandering the charming cobblestone streets and well-preserved colonial buildings that will make you feel transported back in time.
Be sure to check out the main square, Plaza Principal, and the town's main church, Parroquia Santiago Apóstol, built in the 18th century. Nearby the main square, there is a street full of delicious food stalls. Don't be afraid to try it!
Tequila is also a great place to go shopping and pick up some local Mexican souvenirs. I found the prices here much better than in Puerto Vallarta – it's where I found my favorite hat!
The National Tequila Fair (early December)
If you're a real die-hard Tequila fan, visit during the National Tequila Fair, and you'll be able to see an exhibit of the leading tequila manufacturers in Mexico. This is a great way to sample all of the Tequila, and the prices are typically better.
Where to Stay in Tequila
If you want to spend the night in Tequila, which I recommend if you're coming from Puerto Vallarta, then here are a few great options to choose from:
Matices Hotel de Barricas has barrel-shaped rooms, making it one of Tequila's most unique places to stay! Plus, it's located next to a Tequila Brewery that offers tequila-tasting sessions and guided tours of the facility.
Each barrel features a spacious, air-conditioned room layout with a private terrace that offers excellent views of the surrounding landscapes. You can sample regional food and tequila-based cocktails at the on-site restaurant and walk to central Tequila in around 10 minutes.
If you're looking for a bit of luxury, look no further than Hotel Solar de las Animas. This five-star hotel features a restaurant, outdoor swimming pool, fitness center, garden, sauna, and terrace.
Tequila is a small place, and you can pretty much walk from anywhere in town to the central plaza, so getting a hotel around here is your best bet if you don't have your own car.
FAQ: Puerto Vallarta to Tequila
How long should you spend in Tequila?
Tequila is about four hours from Puerto Vallarta, so while you can visit as a day trip, I recommend staying overnight or combining it with Guadalajara for a weekend trip. Otherwise, it's going to be a really long day!
How do you get from Puerto Vallarta to Tequila?
The most convenient way to get from Puerto Vallarta to Tequila is by car, either by renting one or hiring a private driver. Another option is to take a guided tour that includes transportation or take a bus via Guadalajara.
How far is Tequila from Vallarta?
Tequila is approximately 272 kilometers (170m miles) away from Puerto Vallarta.
Is there a bus from Puerto Vallarta to Tequila?
How long does it take to drive from Tequila to Puerto Vallarta?
The drive from Tequila to Puerto Vallarta typically takes 4-5 hours, depending on traffic and road conditions.
Is Tequila Mexico worth visiting?
Absolutely. Tequila offers a rich cultural experience, including tequila distillery tours and beautiful landscapes.
What part of Mexico has the best Tequila?
The Jalisco region, specifically the area around the town of Tequila, is renowned for producing the best quality tequila.
What is Mexico's #1 tequila?
Patrón is often cited as Mexico's top tequila brand, known for its high quality and smooth taste.
Can I bring tequila back from Mexico?
Yes, you can bring up to 1 liter of tequila back to the U.S. without paying duty, as long as you're 21 or older.
Final thoughts: Tequila from Puerto Vallarta
I loved visiting Tequila; it's such a cute town.
There are various ways to journey from Puerto Vallarta to the tequila capital of the world. Whether you opt for a car, bus, or the unforgettable José Cuervo Express train, the trip is more than worth it.
However, I highly recommend spending at least one night in Guadalajara to make the most of your tequila adventure. This allows you to fully immerse yourself in the local culture and perhaps even discover some hidden gems in the city.
Planning a trip to Puerto Vallarta? Check out these other day trips!