This post may contain affiliate links. By clicking and making a purchase through the links, I earn a small commission at no extra cost to you. See my disclaimer for more information. This allows me to keep the site up to date and expand on resources.
Wondering how to get from Puerto Vallarta to Guadalajara? Let me help! I live in Puerto Vallarta and have visited Guadalajara over five times – taking both planes, buses, and cars. In this guide, I'm sharing the best ways to get between the two cities and how to stay safe.
Guadalajara is the capital of Jalisco and one of my favorite cities in Mexico! Famed for its mariachi music, tequila, and spectacular colonial architecture, I always discover something new to do each time I visit.
But how do you make the journey from Puerto Vallarta's coastal charm to the lively streets of Guadalajara? That's exactly what this post delved into.
Guadalajara is 209 miles (336 km) from Puerto Vallarta, and takes about 4-5 hours to get there by car, or under an hour by plane.
Each mode of transportation has its pros and cons, which I'll go through in this post.
Overview: Getting from Puerto Vallarta to Guadalajara
How to get from Puerto Vallarta to Guadalajara
1. Puerto Vallarta to Guadalajara Flights
The fastest and most convenient way to get from Puerto Vallarta to Guadalajara is by taking a flight. The journey is approximately one hour.
These airlines below offer non-stop cheap flights between the two cities:
Aeromexico also flys there, but you will have to go via Mexico City.
Prices vary significantly based on the season and how far in advance you book, so it's recommended to check online and compare prices. In the past, I've paid around 50 USD one-way.
Searching for flights? I love SkyScanner because it compares multiple airlines to find you the best price!
It's a scenic flight passing over the Bay of Banderas, the Sierra Madre mountains, and into Guadalajara.
While the flight time is under an hour, you also have to factor in the time it takes to get to and from airports.
You'll have to arrive at Puerto Vallarta (PVR) airport at least an hour in advance, plus the time to disembark the plane, collect your bags, and get into the city from the Guadalajara airport (GDL).
While Puerto Vallarta's airport is just a 15-minute drive to downtown and even closer to some hotels on the south beach zone, Guadalajara's city center is much further.
It's about 20km/12 miles from the airport to the city center, but traffic here is notoriously awful. It once took me over an hour to to my hotel!
All and all, flying may end up taking three hours or longer.
Driving takes about five hours, so it's not a huge difference.
Driving from Puerto Vallarta to Guadalajara
A road trip is one of the most enjoyable ways to get from Puerto Vallarta to Guadalajara. It gives you the flexibility to stop along the way and explore smaller towns or points of interest.
2. Renting a car
Renting a car from Puerto Vallarta is relatively cheap and can be a safe and enjoyable way to see more of the country.
Need a car rental? I use and love Discover Cars because it has the best rates!
There are two routes to drive from Puerto Vallarta to Guadalajara.
The first is the toll freeway (highway 200/15) which heads up the coast through the state of Nayarit before heading back into Jalisco.
The freeway is the faster route and a good option if you want to visit some beach towns along the coast, such as Sayulita and San Pancho. On the downside, you'll pay about 650 pesos in tolls (30 USD).
The other route is the old highway (544/70) through the historic town of San Sebastian del Oeste and Mascota. The road is slow and curvy but has spectacular mountain scenery.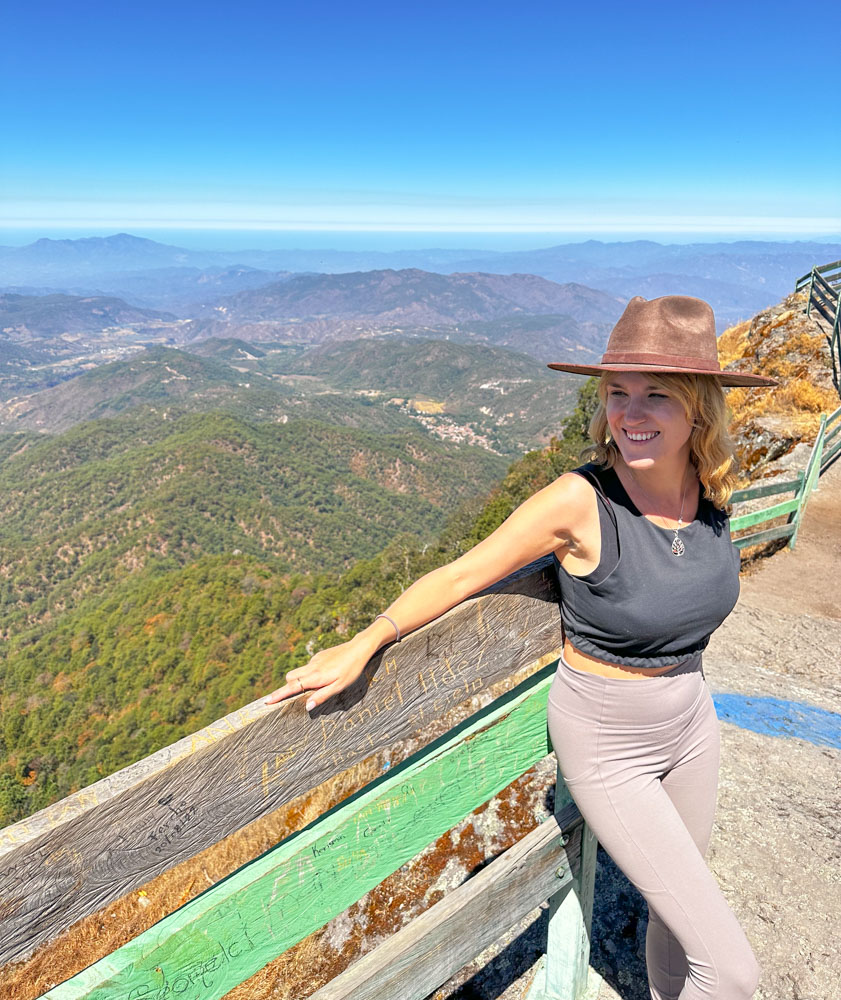 There are three pueblos magicos to see along route 70, so this is a good route if you want to turn it into a fun road trip!
If you're driving, don't miss the town of Tequila (the birthplace of the famous Mexican drink).
There, you can wander around this historic down, take tours of Tequila factories, see how agave is cut from the fields, and drink Tequila.
Is it safe to drive from Puerto Vallarta to Guadalajara?
Yes! I drove from Puerto Vallarta to Guadalajara with some friends in 2021 through route 70, and we had no issues.
It was a fantastic road trip and gave us the flexibility to stop and see more places, including many of the Pueblos Magicos in Jalisco.
However, it's always wise to follow some essential guidelines for a safe and enjoyable road trip:
Drive During Daylight Hours: It's recommended to plan your journey so that you're driving during the day. Road conditions, signage, and visibility are generally better in daylight.
Follow Local Traffic Laws: Familiarize yourself with Mexico's traffic regulations and speed limits to ensure a smooth ride.
Keep Your Vehicle in Good Condition: Ensure your rental car is in optimal condition before you embark on the journey. Check tires, brakes, and other essential components.
Use GPS or Updated Maps: Having a reliable GPS or updated maps helps you navigate the route without getting lost, and you can keep track of gas stations and other essential services along the way. I always download my maps offline on Google Maps in case there's no service.
Avoid Unnecessary Stops in Remote Areas: Plan your breaks in well-populated areas or established rest stops.
Keep Valuables Out of Sight: As with driving in any unfamiliar area, it's wise to keep your belongings secured and out of sight – especially while stopped.
Have a Communication Plan: Having a local SIM card or a roaming plan ensures you have access to help if needed.
The drive between Puerto Vallarta and Guadalajara is one taken by many travelers and locals alike, so with proper planning and precautions, it can be an enjoyable part of your time in Mexico.
3. BlaBla Car
Another cheap option for getting between the two cities is joining a BlaBla car. It's a ride-sharing service that connects you with people already driving from Guadalajara to Puerto Vallarta with a spare seat in their vehicle.
It's not guaranteed that you'll find a ride when you need it, but it can be a good option if you have some flexibility in your travel plans.
Me and a girlfriend got a BlaBla car when we went to Guadalajara in summer 2023 and had no issues. It's one of the most economical ways to get there – we only paid 350 pesos (20 USD)
4. Puerto Vallarta to Guadalajara Bus
One of the most affordable ways to get to Guadalajara from Puerto Vallarta the bus.
You don't usually have to book in advance unless it's a public holiday. I've gotten a ticket the same day at the bus terminal in PV, as the buses leave almost every hour.
There are several bus stations in Guadalajara, but the best place to catch a bus to Puerto Vallarta are the two terminals in Zapopon, on Avenida Vallarta and Avenida Aviación. There, you can find buses departing regularly for PV.
There are several options for luxury buses from Puerto Vallarta to Guadalajara, such as Primera Plus and ETN. The easiest way to book a bus and compare times/prices is searching here.
Buses in Mexico are typically well-maintained and provide amenities like air conditioning, reclining seats, and sometimes even individual screens for entertainment.
5. Private Transfers
One of the most relaxing ways to get between Puerto Vallarta and Guadalajara is by organizing a private transfer.
This way, you don't have to worry about driving but don't have to deal with the bus.
Instead, you can sit back and enjoy the scenery in the comfort of a private ride!
Another way to visit Guadalajara from Puerto Vallarta is to join this two-day tour which combines culture and sightseeing through Guadalajara, Tequila, and Tlaquepaque from Puerto Vallarta. A great option if you're short on time!
Things to do in Guadalajara
Once you've made your way from the coastal beauty of Puerto Vallarta to the bustling city of Guadalajara, you'll find plenty of new experiences. . As the capital of Jalisco and the second-largest city in Mexico, there's a lot going on here.
Here's a snapshot of what you can do in this fantastic city:
1. Explore the Historic Center: The best way to start your trip in Guadalajara is by walking through the Historical Centre, where you can marvel at stunning colonial architecture. Here you'll find beautiful cathedrals, tree-lined plazas, and bustling markets.
2. Enjoy Local Cuisine:Guadalajara has one of the best food scenes in Mexico. It was named by Eater as one of the top food cities for 2022! It's famed for taquerias, fondas, and street food. Be sure to try local dishes like birria (spicy meat stew) and tortas ahogadas (drowned sandwiches)!
3. Take a Tequila Tour: Being in the land of tequila, a visit to the nearby town of Tequila is a must. Several tours take you to traditional distilleries where you can learn about the making of this iconic drink and, of course, enjoy some tastings.
4. Party all night. Speaking of Tequila, Guadalajara is also known for its lively nightlife and party scene. Be sure to spend one night exploring Avenida Chapultepec, a trendy street full of restaurants, bars, and clubs. Galgo is my favorite! See it in the video below.
5. Wander Through Tlaquepaque and Tonala: These neighboring towns are known for their art and crafts. Stroll through the markets to find handmade ceramics, glassware, and textiles, perfect for souvenirs.
From art and history to cuisine and outdoor experiences, Guadalajara provides a rich blend of traditional Mexican culture with a modern urban environment.
Where to stay in Guadalajara
I recommend spending a few nights in Guadalajara to make the most of your time there.
There are many hotels and vacation rentals to choose from, and prices are typically lower than what you pay in Puerto Vallarta.
Selina is a great option if you're a digital nomad in Mexico or looking for a place to connect with other travelers.
Hilton 1970 is a charming boutique hotel with a central location for exploring Guadalajara. Each of the rooms features tiled floors and dark wood furniture.
FAQ: Puerto Vallarta from Guadalajara
How much is a taxi from Guadalajara to Puerto Vallarta?
A taxi from Guadalajara to Puerto Vallarta can cost anywhere from 3,500 to 5,000 MXN, depending on the service and time of travel.
How much is the bus from Guadalajara to Puerto Vallarta?
Bus fares from Guadalajara to Puerto Vallarta range from 600 to 1000 MXN, depending on the bus company and class of service.
How long is the flight from GDL to Puerto Vallarta?
The flight from Guadalajara International Airport (GDL) to Puerto Vallarta (PVR) typically takes about 1 hour.
How far is Guadalajara from Puerto Vallarta?
The distance between Puerto Vallarta's Gustavo Díaz Ordaz International Airport (PVR) and Guadalajara is approximately 330 kilometers (205 miles).
Can you call an Uber from Puerto Vallarta airport?
Yes, you can call an Uber from Puerto Vallarta airport, but you will have to walk accross the pedestrian bridge to meet them.
Is there a new highway between Guadalajara and Puerto Vallarta?
They are building a new highway, but it is not complete yet.
Is Guadalajara close to Puerto Vallarta?
Guadalajara is relatively close to Puerto Vallarta, with a distance of approximately 322 kilometers (200 miles) separating the two cities. While not right next door, they are connected through several modes of transportation.
How many hours from Guadalajara to Puerto Vallarta?
By car, the journey typically takes around 4.5 to 5 hours, depending on traffic and road conditions. By bus, it can take anywhere from 5 to 7 hours, and by flight, the journey is around 1 hour.
Final thoughts: Puerto Vallarta to Guadalajara
Guadalajara is one of the best weekend trips from Puerto Vallarta, so make sure to add it to your Jaliso itinerary.
Whether you take a quick flight, a comfortable bus, or embark on a scenic road trip, the journey from paradise to the culturally rich city of Guadalajara is sure to be a memorable part of your time in Mexico.
No matter how you choose to travel, Guadalajara's blend of traditional culture and modern flair is waiting to enchant you.