This post may contain affiliate links. By clicking and making a purchase through the links, I earn a small commission at no extra cost to you. See my disclaimer for more information. This allows me to keep the site up to date and expand on resources.
There's no shortage of amazing places in Mexico for a bachelorette party you won't forget. From the party hubs of Puerto Vallarta and Cancun to the chilled-out beaches on Isla Mujeres and Cozumel, this list will inspire you with ideas for the perfect bachelorette weekend.
Getting married is very exciting, but planning a wedding can also be a long and stressful process. So once you've organized all the details for your big day, it's time to reward yourself by planning the perfect bachelorette party with your best friends and bridal party.
Of course, your Maid of Honor might want to take the lead on organizing your bachelorette bash. But, as the bride-to-be, you'll want to ensure that your bachelorette destination is the perfect location for your pre-wedding celebration.
Why Mexico is a great destination for a bachelorette party
The colorful culture, great food, and vibrant nightlife in Mexico make it an ideal bachelorette party destination. It has great weather and is close to the USA, making it easy to get to, even if you only go for a short break.
There are luxury hotels, all-inclusive resorts, and villas with private pools as well as more affordable accommodation options, so Mexico is great for all budgets. And with incredible cities, beach towns, and islands to explore, each with its own unique vibe, you're sure to have a great time in Mexico.
So here are some of the best destinations for bachelorette parties in Mexico – and bachelor parties too!
Best Places in Mexico For a Bachelorette Party
Puerto Vallarta
What's your idea of a great bachelorette party? Soaking up the sun at beach clubs, spending the day on a yacht, or dancing the night away in a nightclub? You'll find all this and more in Puerto Vallarta, one of the best party cities in Mexico.
Puerto Vallarta, also simply known as Vallarta, is a popular bachelorette party destination that maintains a hint of its small-town past. It's a fantastic destination, with charming cobblestone streets, traditional Mexican architecture, and plenty of opportunities to sample delicious Mexican food and drink.
A catamaran tour on a yacht with all-inclusive drinks is a great way to spend your bachelorette, which you can plenty of in Puerto Vallarta. If you prefer more adventure – go whale-watching off the coast or ride ATVs up the mountains!
For shopping, dining, or just a relaxing walk in the evening sunshine, head over to the Malecón boardwalk which runs parallel to the beach. Or, if you want a livelier bachelorette party, there are many great bars and clubs to choose from.
The most popular beach in Vallarta is the Playa Los Muertos in the vibrant Zona Romantica area, the perfect spot to enjoy water sports or relax with a refreshing cocktail. Still, there are also plenty of secluded sandy beaches where you can escape the crowds and relax in peace.
And for sheer 'get away from it all' relaxation, you should definitely visit the glamorous resort at Punta Mita. It has over 6 miles of pristine beaches where you can forget all the wedding planning for a while.
Last but not least, Puerto is home to many of the best all inclusive resorts in Mexico for bachelorette party. For inspire on where to stay, check out this post about the best hotels in Puerto Vallarta.
Whatever sort of celebration you're planning, Puerto Vallarta is one of the best bachelorette party destinations in Mexico!
Cancun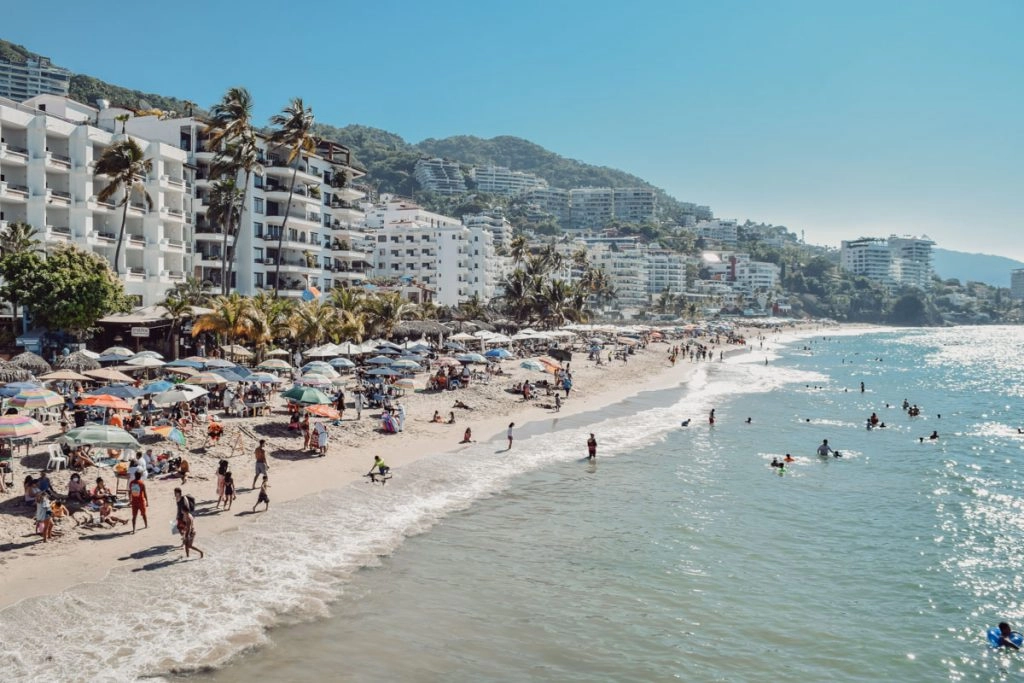 Cancún is known as one of the best party destinations in Mexico, and with good reason. It's famous for great fun, affordable vacations, and Spring Break. So if you're looking for a fun bachelorette party experience in Mexico, you should probably head to Cancún.
Besides its spectacular beaches and turquoise Caribbean waters, Cancún is legendary for its party scene.
This is a fun city where you can go bar hopping, enjoy fine dining, or head to nightclubs and beach parties for a bachelorette celebration that you and your bridal party will talk about for years to come.
But there is more to Cancún than just its nightlife. Take a boat trip to the tropical paradise of Isla Mujeres, visit one of the new Seven Wonders of the World at Chichen Itza, or enjoy a fun day at Xcaret water park. There are 15 local golf courses for keen golfers to choose from, or shoppers can head to La Isla Shopping Village or Kukulcan Plaza.
Cancun is more affordable than some other Mexico destinations like Tulum, and you'll find a great choice of accommodation at all price points. The main Hotel Zone is closest to the bars and nightlife in Cancun, but it tends to get very crowded during the summer months.
Plus, the Cancun international airport makes it a convenient base to fly in and out of if you just have a long weekend.
Can't decide between Puerto Vallarta or Cancun? This comparison guide can help you!
Isla Mujeres
Isla Mujeres, or the Island of Women, lies an hour away from Cancun by boat. But unlike Cancun, this island has a chilled-out atmosphere, and it's a great place for a more relaxing bachelorette party in Mexico.
A visit to Isla Mujeres is a great way to forget any pre-wedding nerves by relaxing on the island's incredible beaches. There are plenty of beach clubs, amazing restaurants, and bars with live music, but the vibe here is more relaxed than the busy nightclubs of Cancun'smain strip.
But a visit to Isla Mujeres isn't just about relaxation and sunbathing. There are lots of fun things to do, from diving among coral formations at the Underwater Museum of Art to exploring the island and its Mayan temple on a rented golf cart.
Sailing from Cancun to Isla Mujeres only takes an hour, so you could combine both destinations in a two-center bachelorette party. Or, if you plan to stay in Cancun, you could easily find a catamaran to take you and your group of friends on a day trip over to the island.
Playa del Carmen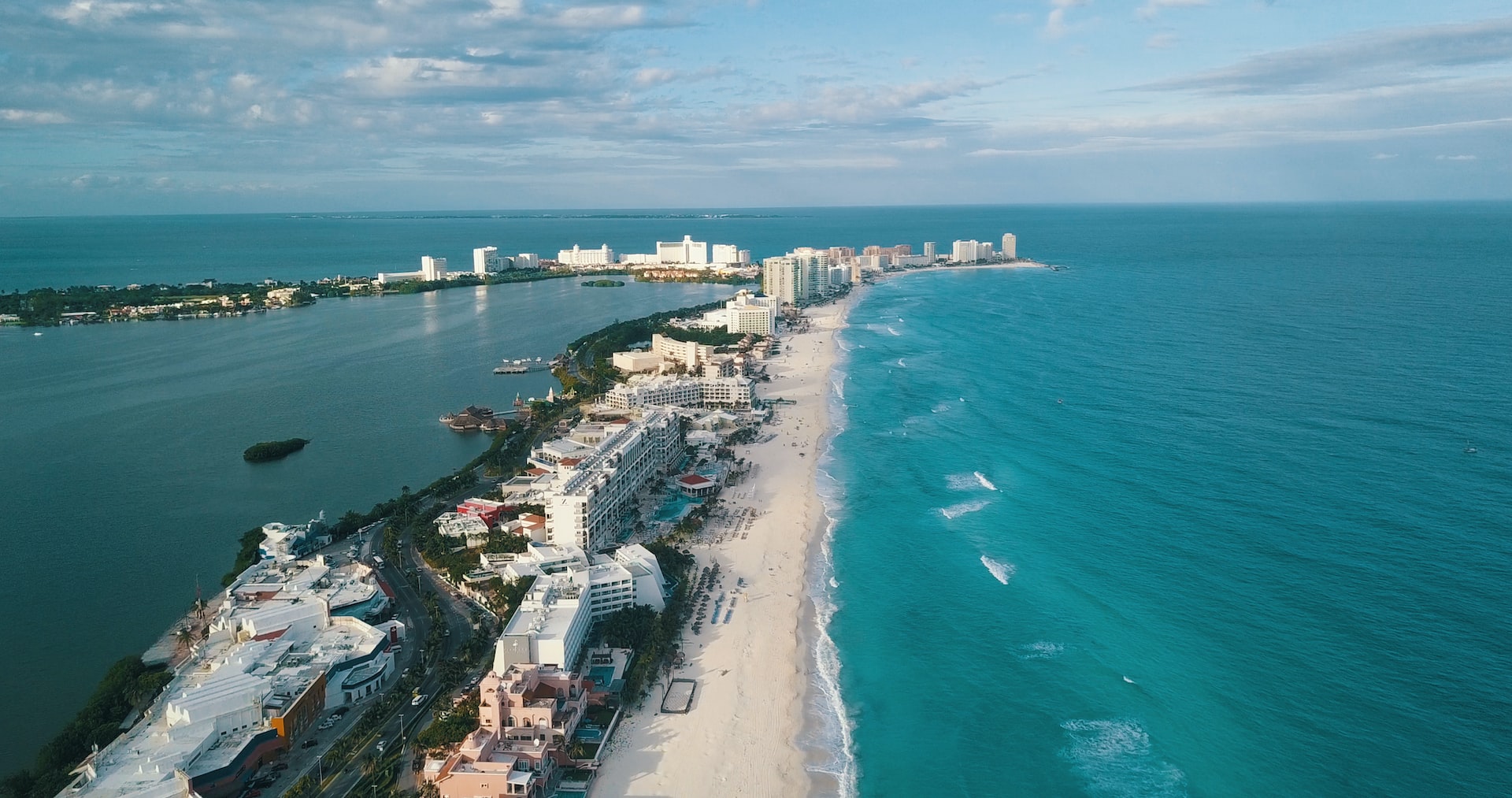 The Riviera Maya on Mexico's Caribbean coast is home to some of the most popular tourist destinations in Mexico, including Cancun, Tulum, and Playa del Carmen. If you're looking for a fun-filled bachelorette celebration, Playa del Carmen could be your perfect destination.
You could burn off those pre-wedding nerves by swimming in a cenote, diving in an underground river, or soaring down a zipline at one of the local water parks like Xcaret.
Playa del Carmen is also renowned for its party scene, and you can make your nights out as tame or wild as you like, from a fun-packed bar crawl to VIP luxury at the town's nightclubs.
If you're in the mood for some quieter activities after all of that, you can relax with spa treatments, chill out in private cabanas, or head to the shops and art galleries of Fifth Avenue. And you can easily take a ferry over to Cozumel island for a day trip during your bachelorette party.
Cozumel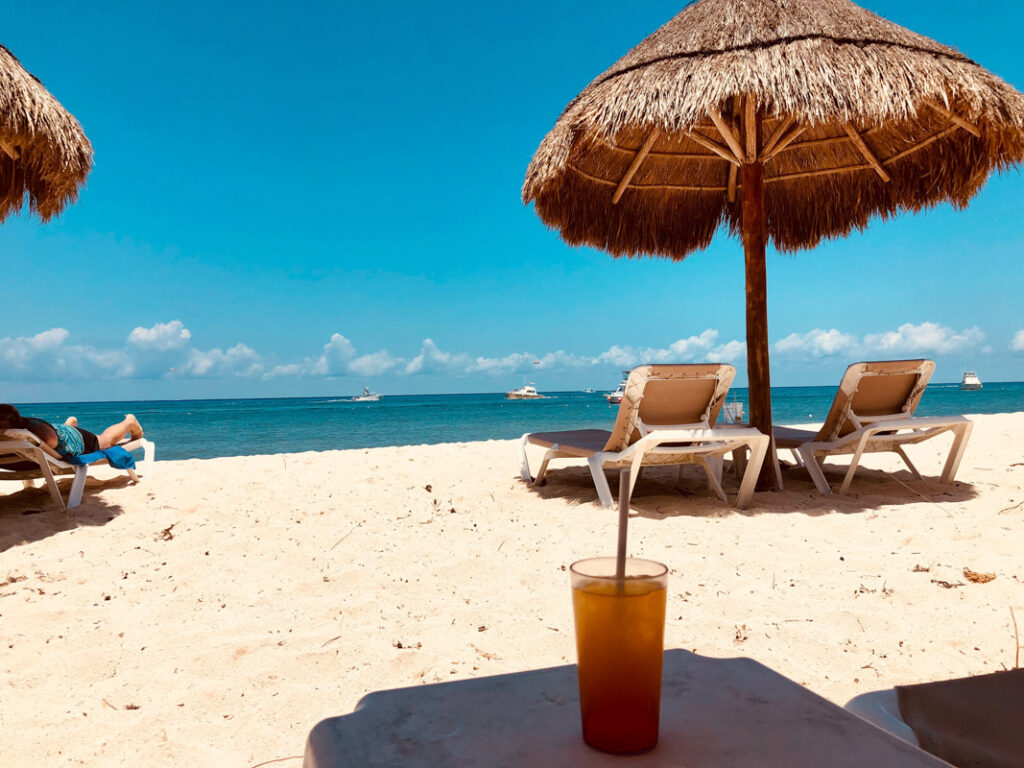 The island of Cozumel sits in the Caribbean sea and is known for its pristine natural surroundings, stunning beaches, and historical sites like the Mayan ruins at San Gervasio. Cozumel is still mostly undeveloped, which could make it the best location for a laid-back bachelorette celebration.
This is a great place to visit if you're looking for an upscale vacation with fine dining and yoga classes on the sand rather than tequila shots and parties.
Cozumel is also the perfect location for water sports fans. It has a reputation as one of the world's best diving destinations, with amazing reefs and snorkeling sites like El Cielo (Heaven), which is full of rays, starfish, and parrotfish.
You can also visit Chankanaab, inside the National Reef Park at Cozumel, where you can chill out on the beach, be pampered with spa treatments, or swim with dolphins and sea lions.
Tulum
Beautiful beaches, ancient Mayan ruins, delicious food, and a laid-back vibe make Tulum one of the best places in Mexico for a bachelorette party. This bohemian beach town is known for its white sand and the turquoise waters of the Caribbean coast.
There are plenty of fun outdoor activities in Tulum, from relaxing on those pristine white sands to swimming in cenotes, or exploring the Mayan ruins that overlook the sea at Tulum National Park.
Tulum is busier now than when it was one of the hidden secrets of the Yucatan peninsula, and prices have risen with its popularity.
You may have to pay more to visit one of Tulum's luxurious hotels or top restaurants, but you could opt to rent a private home or villa if you're traveling as a larger group for your bachelorette party in Tulum.
Puerto Morelos
Puerto Morelos could be one of the best-kept secrets on the east coast of Mexico. Still, its popularity is growing, so it's a good idea to visit now if you want to enjoy its small-town charm. Visitors to this town on the Caribbean coast love its relaxed vibe and traditional charm that recall its sleeping fishing village past.
The town has a pristine sandy beach, perfect for a day of pure relaxation. You can watch the local sea life at the offsite dive sites in Puerto Morelos Reef National Park or head inland to visit the cenotes at Las Mojarras and Verde Lucero.
Time seems to slow down when you visit this tranquil Mexican town. But if you want to add some excitement to your bachelorette party, Puerto Morelos is also close to the Riviera Maya resorts of Playa del Carmen and Cancún. This makes it a great location for a two-center bachelorette party in Mexico.
Cabo San Lucas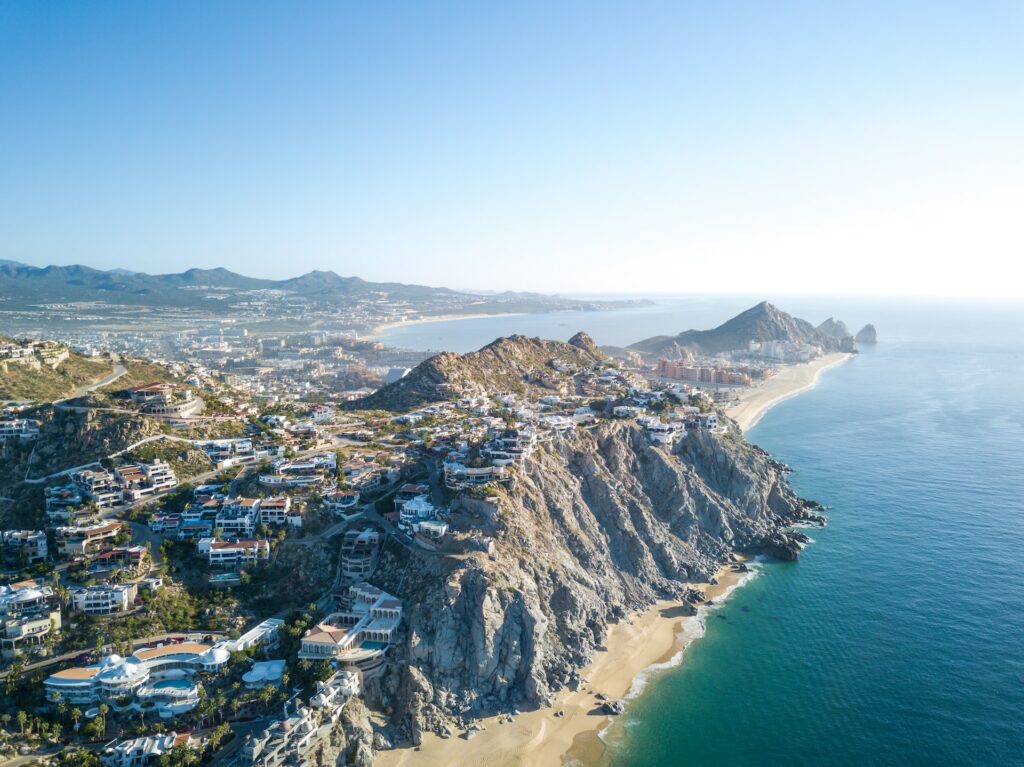 Lying on the sunny Baja Peninsula, Cabo San Lucas is one of the best destinations for a bachelorette party in Mexico. Its location makes it perfect for a quick bachelorette weekend for brides-to-be from the West Coast.
Whether you're looking for a relaxing spa break or an adventure-filled vacation, you're sure to have the best time at your Cabo San Lucas bachelorette party.
It's an upscale town with luxurious resorts, trendy clubs, and fine-dining restaurants that cater to American tastes. The nightlife here is much livelier than in nearby San Jose del Cabo, which makes it ideally suited to a bachelorette party.
The beaches in Cabo San Lucas aren't great for swimming, as the waves can be pretty rough and the shoreline is rocky. Still, it's an ideal location if you want to go snorkeling, scuba diving, or jet skiing.
Don't miss out on a boat tour to El Arco, the famous arch at Los Cabos that's known as Land's End, thanks to its position at the far south of the Baja California Peninsula.
Acapulco
Acapulco tends to be a more popular destination for international visitors rather than US visitors, but it's an excellent choice for your Mexico bachelorette party. It takes all the best bits of other Mexican destinations and combines them into one perfect vacation spot.
The city's stunning beaches have soft golden sand that's perfect for relaxation, as well as fun water sports activities like parasailing and jet skiing. There's also a vibrant party scene and plenty of local and international options for delicious dining.
You could also take a boat trip over to the jungle-covered paradise of Isla la Roqueta. There, you can go on a snorkeling adventure to the underwater Capilla Submarina monument to the Virgin of Guadeloupe, or enjoy a meal in one of the island's small restaurants.
Compared to destinations like Cancun, Acapulco has more of a traditional Mexican feel. So you'll find that there are plenty of opportunities to explore the country's history and culture during your visit.
Ixtapa
Ixtapa is the perfect venue for a more laid-back bachelorette party. It has a lower profile than some other Mexican destinations, and you're sure to find the perfect place for some much-needed R&R before your big day.
It's also a good idea if you're looking for a budget-friendly destination for a joint bachelorette and bachelor party, where all your bridesmaids and groomsmen can join in the celebration.
Check out the local neighborhoods to indulge in delicious Mexican food or soak up the rays on the golden sands of Ixtapa beach, with beachside service from the Krystal Ixtapa hotel.
And if you get bored of all the R&R, as unlikely as that sounds, Magic World Aquapark makes a fun addition to your Ixtapa bachelorette celebrations, and there are also two Golf Courses nearby.
—
Mexico really does have something to suit every taste. So whether you're looking for vibrant nightlife, amazing beaches, or swimming and diving adventures, you will find the best destinations for a bachelorette party in Mexico!