This post may contain affiliate links. By clicking and making a purchase through the links, I earn a small commission at no extra cost to you. See my disclaimer for more information. This allows me to keep the site up to date and expand on resources.
Looking for the best hotels in Puerto Vallarta? This guide has you covered. From luxury all-inclusive resorts to Mexican-inspired boutiques, this comprehensive hotel guide covers it all.
Rooftop jacuzzi, private beach dinners, infinity pools, you name it – Puerto Vallarta hotels have it! Plus, with the cities ideal location between the Pacific Ocean and Sierra Madre mountains, you can connect with nature while still being in luxury.
That's not all; many hotels' interiors feature artistic splashes of Mexican architecture & culture— with balconies and rooftops allowing you to witness the best of Puerto Vallarta's breathtaking landscapes.
With so many hotels to choose from, we wanted to make your choice a little easier. Here are the top hotels in Puerto Vallarta by category so you can find the best one to complement your vacation.
Where to stay in Puerto Vallarta?
There are many beautiful neighborhoods in Puerto Vallarta to choose from, and since the city is relatively small, you can easily hop from one to the next either by foot or by a quick drive.
If you want to be in the center of the action, Zona Romantica, El Centro, or 5 di Diciembre are all great choices.
Zona Romantica is the official "gaybourhood," where you'll find many nightclubs and top restaurants. Next to it is El Centro, where you'll be steps away from the Malecon. These areas tend to have more boutique hotels.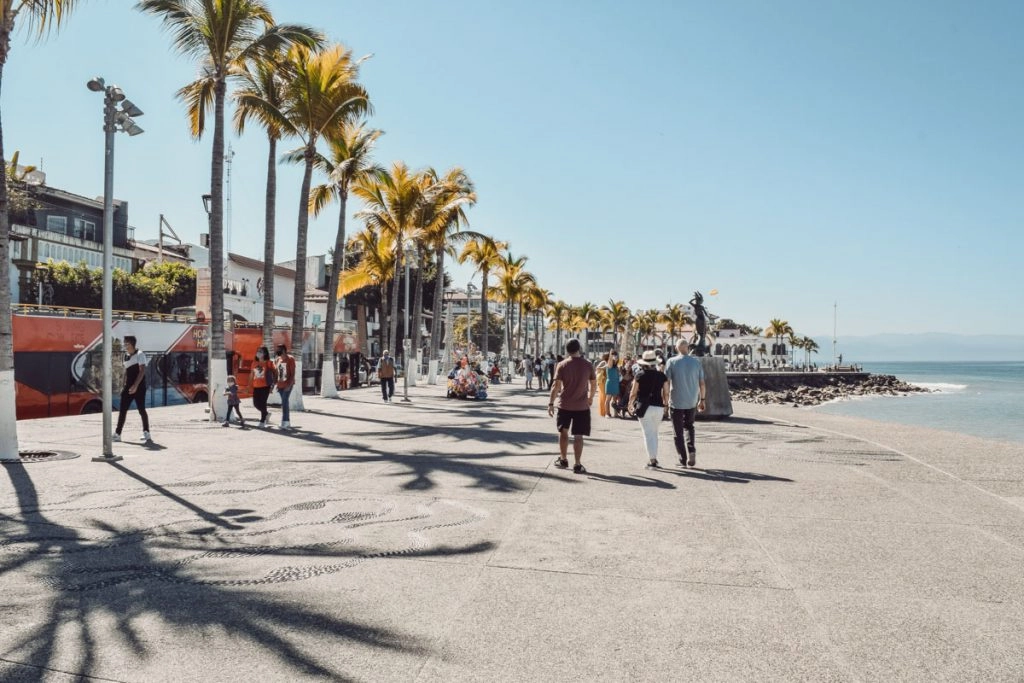 Puerto Vallarta's Old Town is a picturesque neighborhood with a great mix of Mexican and international tourists. If you exclusively want a beachfront hotel that encompasses luxury, then the south hotel zone and Marina Vallarta are good options.
Puerto Vallarta's city can never offer you the best beaches of the destination; it's the southern coastline that will introduce you to the wide range of secluded tropical beaches with golden sand and acres of untouched beauty.
For the best beaches outside your door, look for a hotel in Conchas Chinas or Amapas in the north hotel zone. While it's a bit further out from the city's center, you'll be rewarded with spectacular scenery and quicker access to some of the best hiking trails in Puerto Vallarta.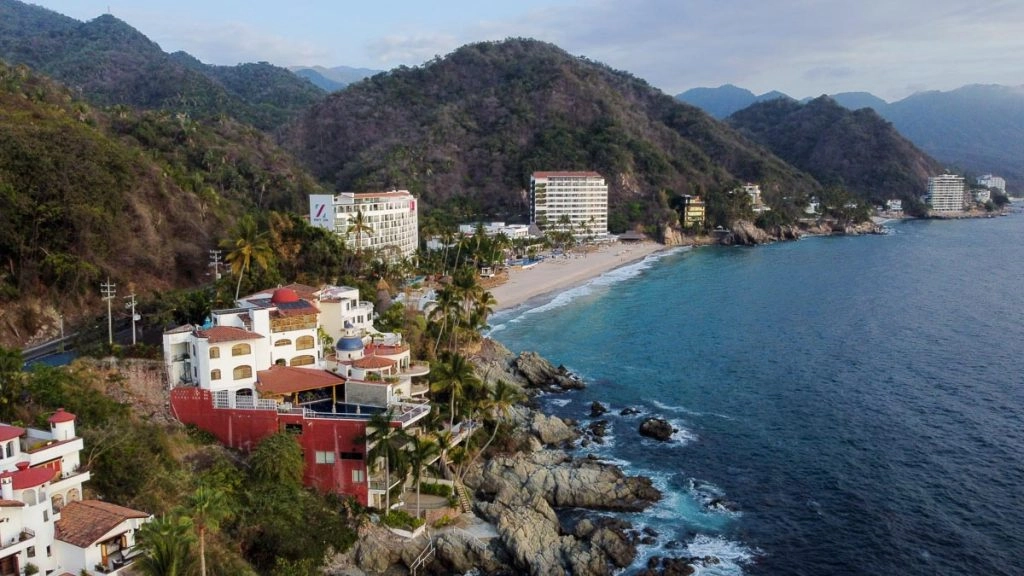 Check out this guide on where to stay in Puerto Vallarta for more information about each area.
Best beachfront hotels in Puerto Vallarta
Fiesta Americana Puerto Vallarta All Inclusive & Spa
If you're looking for a hotel on the southern side of Puerto Vallarta, head to Fiesta Americana. Situated right on the ocean with the mountains as the backdrop, this all-inclusive hotel has everything you could need and more. It's consistently ranked as one of the best hotels in Puerto Vallarta!
You'll love indulging in the Nakawa Spa, which offers relaxing massages, facials, and a sauna and steam room. After getting pampered, head out to the outdoor pool, join a game of beach volleyball or relax in the shade of the hotel's palapa.
If you go for the all-inclusive package, you can enjoy the hotel's onsite restaurants and bars to your heart's desire. But if you feel like something different, it's an ideal location as you'll be located near Versalles, one of the fastest-growing neighborhoods in the city for foodies.
Playa Los Arcos Hotel Beach Resort & Spa Puerto Vallarta
Olas Altas 380, Zona Romántica, Emiliano Zapata, 48280 Puerto Vallarta, Jal., Mexico
Located on the golden coastline of the famous Playa Los Muertos, this resort and spa house is your one-stop destination for a fantastic vacation in Puerto Vallarta.
With two in-house beach restaurants, a massive range of pools, and outstandingly luxurious common areas— Playa Los Arcos stands with the term "relaxation" in every definition.
If you ever get bored on the sunken water lounge chairs and the vast array of golden sand, Playa Los Arcos resort clutches Zona Romantica's most beautiful neighborhood. An infinite range of restaurants, bars, the Mexican downtown, the famous boardwalk (Malecon), and the peer— only to name a few! All this and much more are only a few steps away from you.
This hotel is a comfortable paradise, and it's located on the oceanfront! Relax on your lounge patio while enjoying the magnificent Puerto Vallarta sunsets – if it's whale-watching season, you may even be lucky enough to see some humpbacks swim by.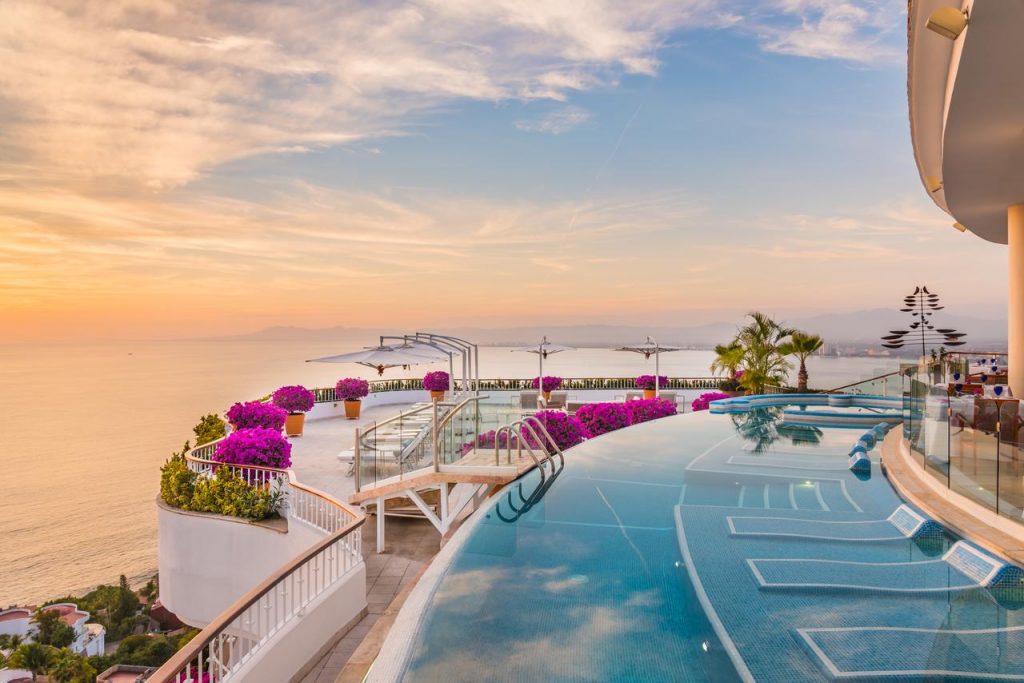 P.º de Los Corales 139, Conchas Chinas, 48390 Puerto Vallarta, Jal., Mexico
In conchas Chinas, Grand Miramar All Luxury Suites & Residences has a gorgeous exterior with lined flora covering the lengths of the patios/balconies.
The floral contrast is mystical— pink, maroon, pastel white, yellow flowers, and green herbs create a divergence with the plastered building and oceanic blue Banderas bay.
As if that's not enough, the magnificent Sierra Madre backdrop enhances Grand Miramar's overall beauty. The scenic panorama from grand Miramar's sky lounge and the infinity pool is a dream!
Inside the suites, a warm and modern stay awaits you with open patios and luxury amenities. The rooms are decorated with contemporary styling, including marble and wood detailing. Outside the balcony, you can enjoy phenomenal sunrises and sunsets.
Three pools, a jacuzzi, an adults-only terrace, a spa, and two specialty restaurants serving world-class cuisine are some of the many services the Grand Miramar has to offer.
Find more beachfront hotels in Puerto Vallarta in this guide
Top luxury hotels in Puerto Vallarta
Vallarta shores
Malecón 400, Zona Romántica, Amapas, 48399 Puerto Vallarta, Jal., Mexico
High on the seventh floor, experience supreme grandeur in Vallarta Shores's magnificent Penthouse with a space of 418 square meters. Just below, the luxury suites follow down toward the beach.
Choose among their 15 Mexican-style rentals; neither shall disappoint you. The hotel's color contrast is vibrant; you'll see hues of yellows, emeralds, purple, violet, wood, and stones, as well as gorgeous brick-facade stone walls and Mexican decor/furniture.
Those whose heart resides within the ocean will love staying in Vallarta Shores Suite 1 & suite eight on the ground floor— each complimented with huge glass-window balconies and private lounge patios opening right in the heart of Los Muertos beach.
Other suites will bring you private pools, a jacuzzi, bars, a kitchenette, a living room, and Mexican decor. As for the Penthouse, now that's what I call grand luxury at its best. We are talking about a private Chef kind of luxury!
Hotel Mousai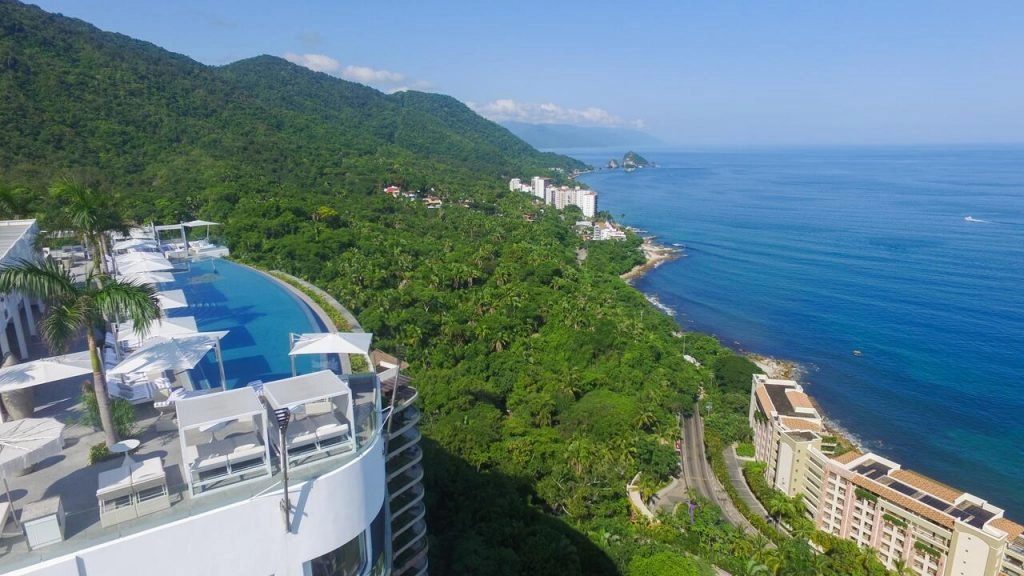 Carr. a Barra de Navidad Km. 7.5-Torre 6, Sur, 48390 Puerto Vallarta, Jal., Mexico
Away from the city chatter, Hotel Mousai is nestled on the top-most bend of the colossal Sierra Madre mountain.
You can call Mousai a modern-contemporary hotel in the folds of the untamed wilderness. This adults-only resort is the first and only AAA Five Diamond-rated hotel, offering the utmost luxury and decadence.
A 360° expansive vista awaits you on their 18th floor, where you can sit and relax in one of Puerto Vallarta's largest infinity pools. The overlooking Banderas bay, adjoined by the Sierra Madre, looks majestic from the top! One is sure to get lost in the limitless beauty.
The architecture of this hotel is stunning; they have blended art, nature, and a trendy interior to offer the place a mix of romance, wilderness, elegance, and yet comfort. Take it from their name, Mousai, meaning "Muses" in Greek.
Tucked in the wilderness, the Tierra luna village invites you on an untamed adventure where you discover waterfalls, nature ponds, untouched trails/hikes, and a wide range of flora and fauna.
Back from the adventure, relax in the gorgeous sites and penthouses offering stunning contemporary designs. You'll love the luxury amenities, including flat-screen TVs, walk-in rain showers, and moon mirrors in an onyx frame lit with LEDs. Then, head to the patio and relax on the hammock overlooking the stunning view. Some even come with a private hot tub!
Don't forget to check out the rooftop infinity pool for an unforgettable evening of dancing 112 meters high with live music and DJ sets.
Garza Blanca Preserve Resort & Spa
Carretera a Barra de Navidad Km. 7.5 Puerto, 48390 Puerto Vallarta, Jal., Mexico
At Garza Blanca, Vallarta's southern coastline will greet you with white-sandy shorelines, crystal clear ocean blues, palm trees, stone borders, pebbled beaches, and acres of Sierra Madre's wilderness. It's on one of the most beautiful beaches around Puerto Vallarta!
Get outside and enjoy various water sports activities the hotel holds, most free of cost. Whether snorkeling through colorful coral reefs or learning to paddleboard, Garza Blanca offers free equipment and training sessions every day/as stated.
That's not all; the resort also organizes hiking mountain trails, kayaking, water tours, gourmet food, yoga classes, etc. You can also access Sierra Madre's Tierra luna village, which is a trip in itself.
After a day of adventure, head back to relax in one of the infinity pools or treat yourself at Spa Imagine, where a team of beauty specialists is ready to help you with all your needs.
Each of the 73 luxury rooms are designed with unique details and furnishings that promise an unforgettable stay, including patios, hammocks, ocean views, and high-tech amenities. For something extraordinary, book one of the ultra suites and penthouses on the highest floors with private jacuzzis and full kitchens.
Find more luxurious Puerto Vallarta hotels in this guide
Best Boutique hotels in Puerto Vallarta
Garlands Del Rio Boutique Hotel
Aquiles Serdán 367, Zona Romántica, Emiliano Zapata, 48380 Puerto Vallarta, Jal., Mexico
Imagine the calm Rio Cuale river, and then imagine yourself sitting beside the deck, having the breakfast of your life in the lush greenery. That's how lovely your stay at Garland Del Rio shall be.
A serene jungle surrounds your boutique hotel, where the only sound you hear is that of the gushing river and the melodious birds.
Snuggled amidst the serene jungle, Garland del Rio is a cozy boutique hotel offering you warmth and serenity. If you love to relax in the wilderness— this hotel is for you.
On the patio, soak in the glittering pool while mesmerizing the sky. Inside, get introduced to a whole array of colonial architecture that is unique in every sense.
Every room in the boutique hotel exhibits a unique Victorian era. The room Julieta shelters Greta Garbo's glamor, Pandora proffers a lilac paradise, Marrakech displays the Indian murderous red, and Esquire's balcony contrasts mango yellow with the never-ending green at the destination.
Casa Maria Hotel Boutique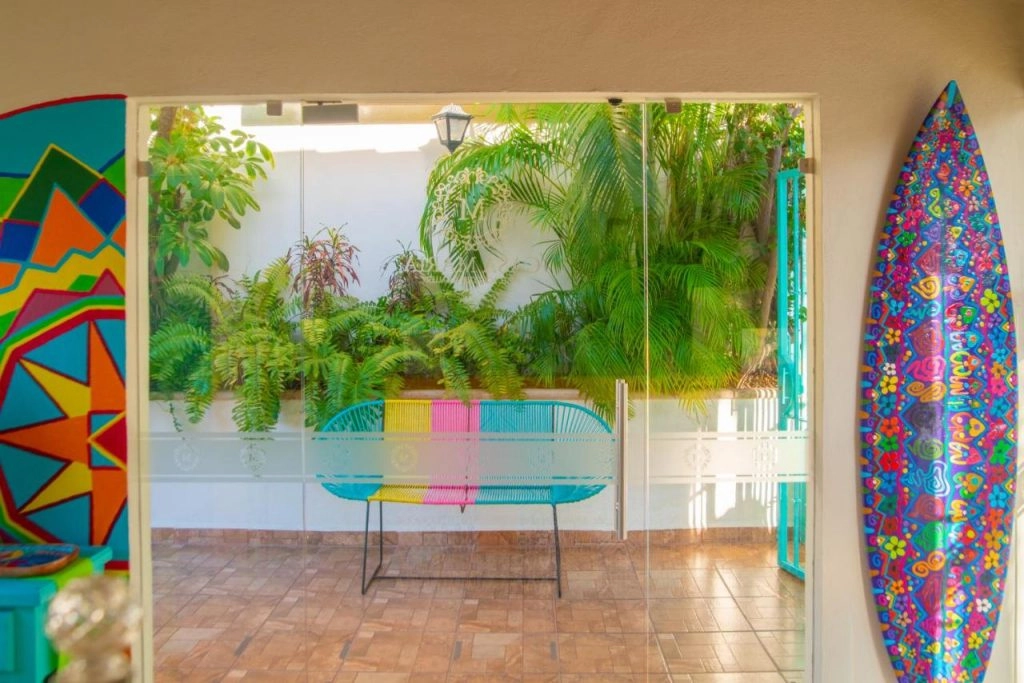 Francisca Rodríguez 169, Zona Romántica, Emiliano Zapata, 48380 Puerto Vallarta, Jal., Mexico
Featuring artistic color splashes inside and out, Casa Maria is the art galore for the creative souls in the heart of Puerto Vallarta.
Every room is an entanglement of vivid colors, decor, and furniture. Fierce paintings adorn the lengths of every wall you'll come across; even the staircase has colorful aquatic elements.
Each room has a unique interior accompanied by clean and modern bathrooms, lounge balconies, and all the essentials one might need. Plus, their adult-only policy is a charm to all the couples visiting Puerto Vallarta looking for a romantic hotel.
Casa Velas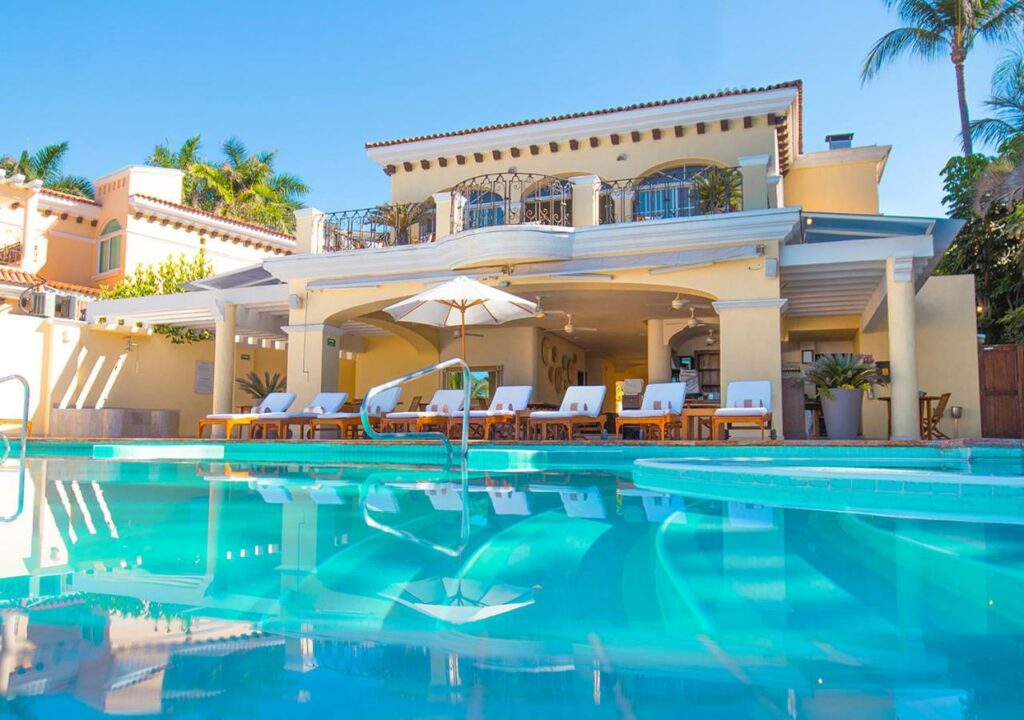 C. Pelícanos 311, Marina Vallarta, 48354 Puerto Vallarta, Jal., México
Although Marina Vallarta is very family-oriented, you shouldn't miss Casa Velas's enchanting boutique beauty for the world. It's adult-only and adorned with several lush gardens, artificial ponds, beautiful nearby fauna, and colonial architecture.
This adults-only hotel features luxurious accommodations along with first-class amenities and services. Spend your day relaxing in the large swimming pool or sipping a tropical drink at the swim-up bar.
If you want to stay active while on vacation, you'll have no problem with the state-of-the-art fitness center—afterward, soothe your muscles at the onsite wellness center with a massage.
While this hotel doesn't have direct beach access, it provides a free shuttle service to and from Casa Velas Beach.
Discover more Puerto Vallarta boutique hotels here
Best family resorts in Puerto Vallarta
Puerto Vallarta is a top choice among families for vacations in Mexico, with several all-inclusive family hotels.
Sheraton
With 40 years of experience in the area, it's no wonder the Sheraton Buganvilias is one of the best family resorts in Puerto Vallarta.
It's located on the beach, with several pools for the kids to play in. You'll love the famous Sunday brunch, with a live Mariachi band and cuisine from every region worldwide.
The Sheraton is also home to one of the top spas in Puerto Vallarta – spa Maiavé. They use local plants, agave extracts, essential oils, floral elixirs, and mud to revitalize your body and mind.
Other amenities you'll enjoy here include five specialty restaurants, a kids club, a tennis club, and a high-end fitness center.
The location is ideal, just a 10-minute walk to downtown and the Malecon, where you can experience some of the best activities Puerto Vallarta offers.
See a full review of the Sheraton here
Melia Puerto Vallarta
The Melia Puerto Vallarta All-Inclusive hotel is a perfect choice for families, with the Kids&Co service. Your kids will love the amenities, including a welcome kit and beach kit.
Whether you're playing on the beach, in the pool, enjoying a game of tennis, or relaxing in the spa – the amenities at Melia are endless. You'll love family meals at the onsite restaurants.
Melia is in Marina Vallarta, just 5 minutes from the airport and 15 minutes from downtown. Enjoy the Marina Vallarta golf course while you're here!
Sunset Plaza Beach Resort
As a four-diamond-rated resort, the whole family is guaranteed to be happy after a stay at the Sunset Plaza Beach Resort.
You'll fall into a trance of relaxation as you enter right away, with a complimentary massage and an airy lobby full of swaying palms.
Each suite features pillow and aroma menus, with a private terrace with a 100% guaranteed panoramic view of the ocean where you can watch the gorgeous Puerto Vallarta sunsets over Banderas Bay.
Some of the stand-out features at this resort include an infinity-heated family swimming pool and adults-only pool, a kids club, a solarium deck with jacuzzi, 24-hour butler service, personalized reception, a full-service spa, tennis courts, Technogym fitness center, several restaurants, onsite performances, and lawn games.
Best gay hotels in Puerto Vallarta
PV is the gay capital of Latin America, after all! If you're coming to celebrate pride or just looking for an LGBTQ+ friendly hotel for your gaycation to Puerto Vallarta, check out these hotels.
Almar Resort
Amapas 380, Zona Romántica, Emiliano Zapata, 48380 Puerto Vallarta, Jal., Mexico
When it comes to gay hotels in Puerto Vallarta, Almar Resort is often listed as the top choice. It's the only LGBTQ+ resort on the beach and is famous for its wild parties.
With 89 luxurious and contemporary suites across two properties, you have plenty of room choices ot suit your needs if you're looking to party, head to the Mantamar Tower, where the pool parties and events will be right at your doorstep.
The amenities are endless at this resort. Relax in the spa, soak in the jacuzzi or freshwater infinity pool, relax in the oceanfront cabanas, or head to the exclusive Top Sky Bar for an unforgettable panoramic sunset view.
No need to go out to eat here with one of the best restaurants in the city onsite – the Mantamar Beach Club Bar and Sushi. While you may come for the food, you'll stay all night for the delicious cocktails and nightly entertainment performances.
This fabulous hotel is located in Zona Romantica on Playa Los Muertos, so you'll be in the heart of the action with no end of things to do around the area.
Casa Cupula
Callejon de la Igualdad #129, Amapas, 48399 Puerto Vallarta, Jal., Mexico
Casa Cupula has long played an essential role in the LGBTQ community of Puerto Vallarta, being one of the first gay hotels in the area.
It's a much smaller resort than Almar, with only 19 rooms that give you a much more intimate atmosphere. You'll undoubtedly get to know all the guests here and the friendly owners that everyone raves about in the review.
While there may not be as many rooms, each is decorated thoughtfully with a sophisticated style, including original artwork and lavish amenities.
They don't skip on the amenities either! You'll love hanging out in the swim-suit optional pool club, infinity pool rooftop, and delicious in-house Taste restaurant. Also, be sure to participate in some gay events with erotic dancers and DJs and the infamous Sunday brunch.
The location offers stunning vistas over the city, yet just a 10-minute walk to Zona Romantica when you're ready to hit the town.
Villa David
Galeana 348, Centro, 48300 Puerto Vallarta, Jal., Mexico
If you prefer a B&B over a hotel, look no further than Villa David. It's the longest-operating gay Bed and Breakfast, pleasing guests since 1988.
The B&B is in a traditional hacienda-style mansion with several rooms, each tastefully decorated with Mexican decor. The best part? They have a masseuse who will come to your room for a relaxing massage!
There are many places to meet other guests at Villa David, whether you're swimming in the heated outdoor clothing-optional pool, having a drink in the open-concept living room and dining room, or taking in the views on the rooftop deck complete with a hot tub.
This B&B is in the historic center of Puerto Vallarta, about 10 minutes away from Zona Romantica.
—
There you have it, the best Puerto Vallarta hotels! Have you stayed at any of these hotels? Let us know how it was in the comments below!
Planning a trip to Puerto Vallarta? Don't miss these posts!