This post may contain affiliate links. By clicking and making a purchase through the links, I earn a small commission at no extra cost to you. See my disclaimer for more information. This allows me to keep the site up to date and expand on resources.
Looking for the best gay hotels in Puerto Vallarta? Let me help! I live in Puerto Vallarta and have rounded up the top LGBTQ+-friendly places to stay in this guide.
As the gay capital of Latin America, there's no shortage of incredible hotels in Puerto Vallarta catered to the LGBTQ+ community.
From luxury gay resorts to small boutiques in the city center, here are the best gay hotels in Puerto Vallarta.
Top 3 Picks: Best Gay Hotels in Puerto Vallarta
✅ Located on Los Muertos Beach
✅ Hosts pool parties and pride events
✅ On-site restaurant is one of the best in PV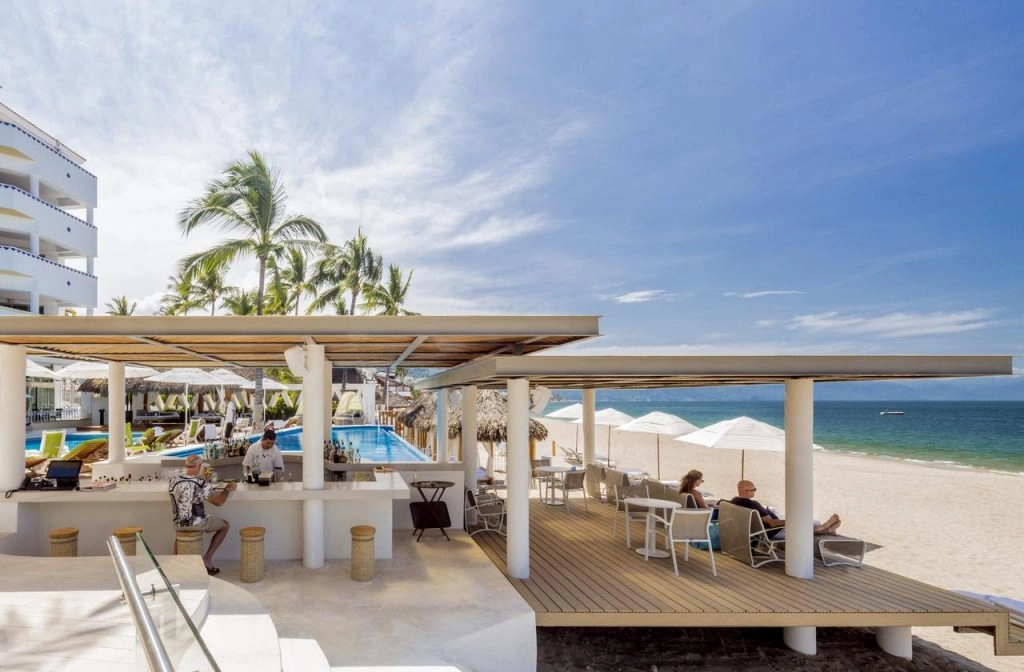 ✅ Luxurious amenities, including welcoming massage
✅ Beachfront rooms
✅ Concierege Service
Best Gay Hotels in Puerto Vallarta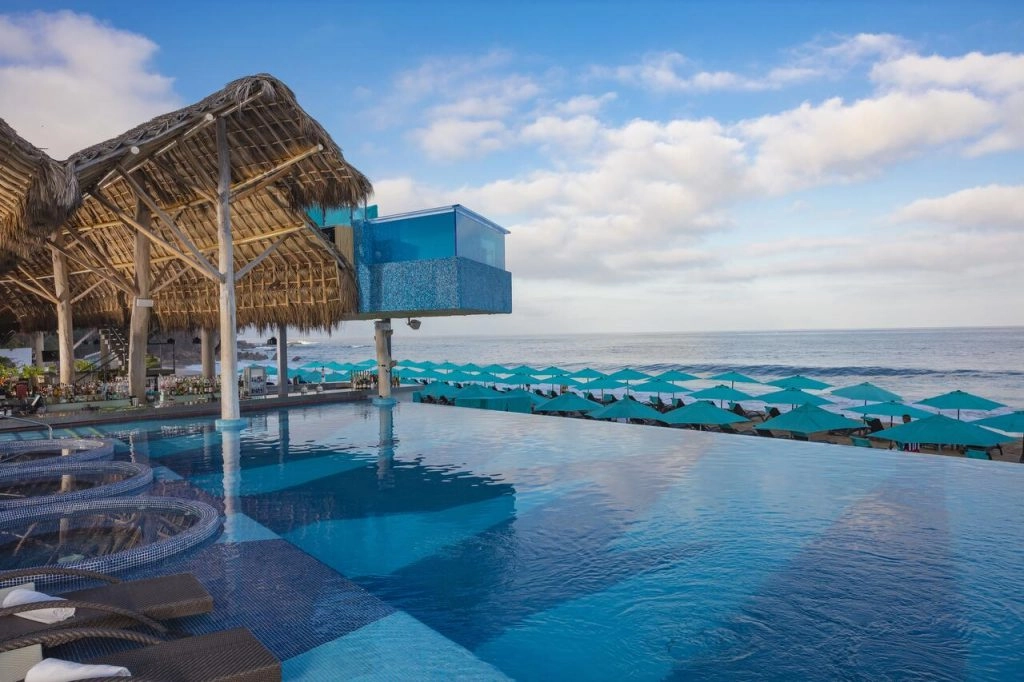 ⭐️ Rating: 8.3/10 |📍 Location: Zona Romantica | 🏩 View on Expedia
Almar Resort is THE best Puerto Vallarta gay resort. It's the only Puerto Vallarta LGBT resort on the beach and is famous for being one of the best party venues in Puerto Vallarta – if not the world.
This luxurious all-inclusive hotel is located in Zona Romantica on Playa Los Muertos, so you'll be in the heart of the action. However, you may not leave the resort with so much going on here! Almar is famous for its wild parties, especially during pride week.
The property has two buildings that house 89 luxurious and contemporary suites, each with its own private balcony with sweeping views of the beach.
"if you are gay, just do it. you will not be disappointed." – Jay (read more reviews)
Choose from the exclusive and slightly quieter Almar Tower or The bouncing Mantamar Tower, where the pool parties and special events are at your door.
Amenities to indulge in at Almar include a spa, sun terraces, jacuzzi, freshwater infinity pool, oceanfront cabanas, lounge beds, and the exclusive Top Sky Bar with stunning panoramic sunset views of the city.
This is the perfect place to start your night with a cocktail while you listen to extraordinary DJs and meet other guests from around the world.
If you get hungry, head to the Mantamar Beach Club Bar and Sushi, which is one of the top restaurants in Puerto Vallarta. You may come for the food, but you'll stay for the themed parties, delicious cocktails, and nightly performances.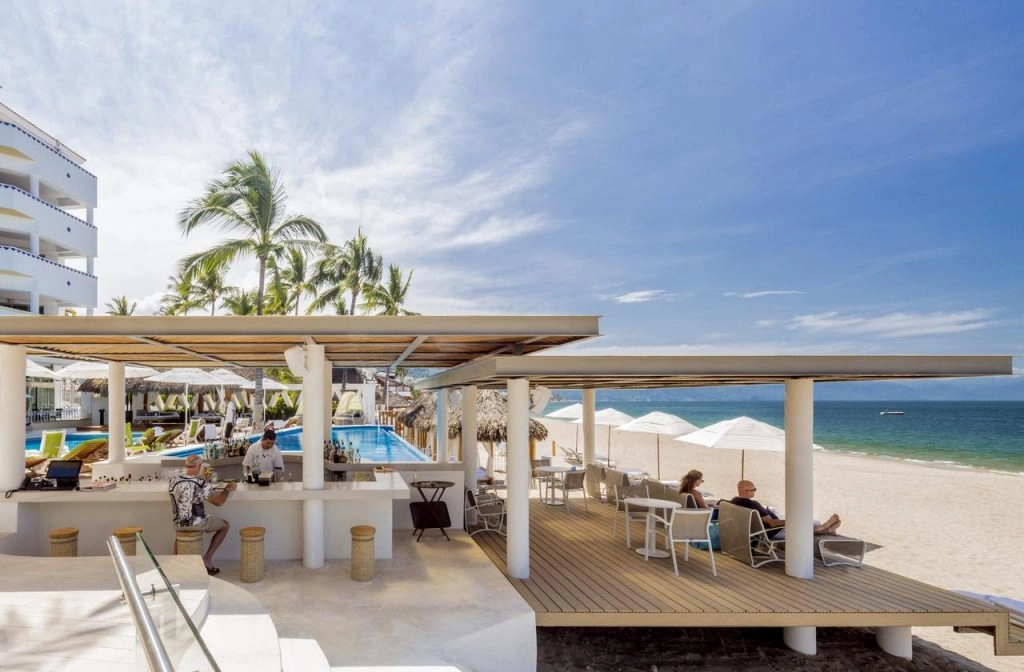 ⭐️ Rating: 8.5/10 |📍 Location: Zona Romantica | 🏩 View on Expedia
You'll be treated like a queen as soon as you enter Villa Premiere, starting with a five-minute anti-stress welcoming massage.
And that's just the start of your amazing experience. Each room is customizable, starting with a pillow and scent menu based on aromatherapy.
This place was beyond nice! Clean, modern and the location was excellent for what we were needing. The staff was excellent by being overly helpful, polite and attentive!

– Ashley (read more guest reviews).
For a truly unforgettable romantic getaway, request the romance treatment, which includes a three-course meal and jacuzzi with candles and rose petals.
Perks of staying at Villa Premiere are concierge assistance, a large fitness center, two pools, lush gardens, three excellent on-site restaurants, in-room dining, and access to butler service.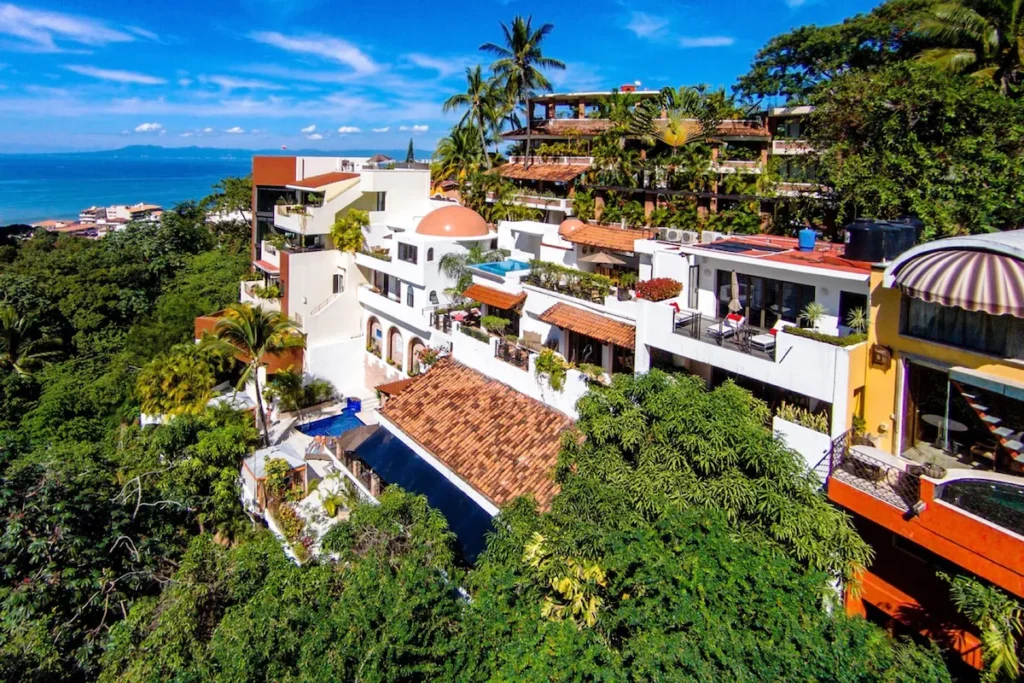 ⭐️ Rating: 9.0/10 |📍 Location: Amapas | 🏩 View on Expedia
Casa Cupula was the first LGBT hotel in Puerto Vallarta and has long played an important role in the gay community.
It's on the hills overlooking Banderas Bay with absolutely stunning views. Zona Romantica is within a 10-minute walk away, so you can easily head out for a night on the town.
After many visits to PV over the years, this was my first at Casa Cupula and it certainly won't be the last. The staff was incredible and called me by name. And the pool parties were fun, inclusive and diverse. loved it.

– Scott (read more reviews).
Amenities at Capa Capula include a swim-suit optional pool club, an infinity pool rooftop, an in-house restaurant, hip-gay events with erotic dancers and DJs, and the excellent Taste Restaurant.
Be sure to time your trip to stay on a Sunday so you can participate in the famous Sunday drag brunch – it's so much fun, and it's dog-friendly! Puglo had a great time there.
Each room is designed in a sophisticated style, with original artwork and lavish amenities.
With only 19 rooms, the atmosphere here is much more intimate than some of the larger all-inclusive gay resorts in Puerto Vallarta. You'll undoubtedly get to know everyone there, including the friendly owners.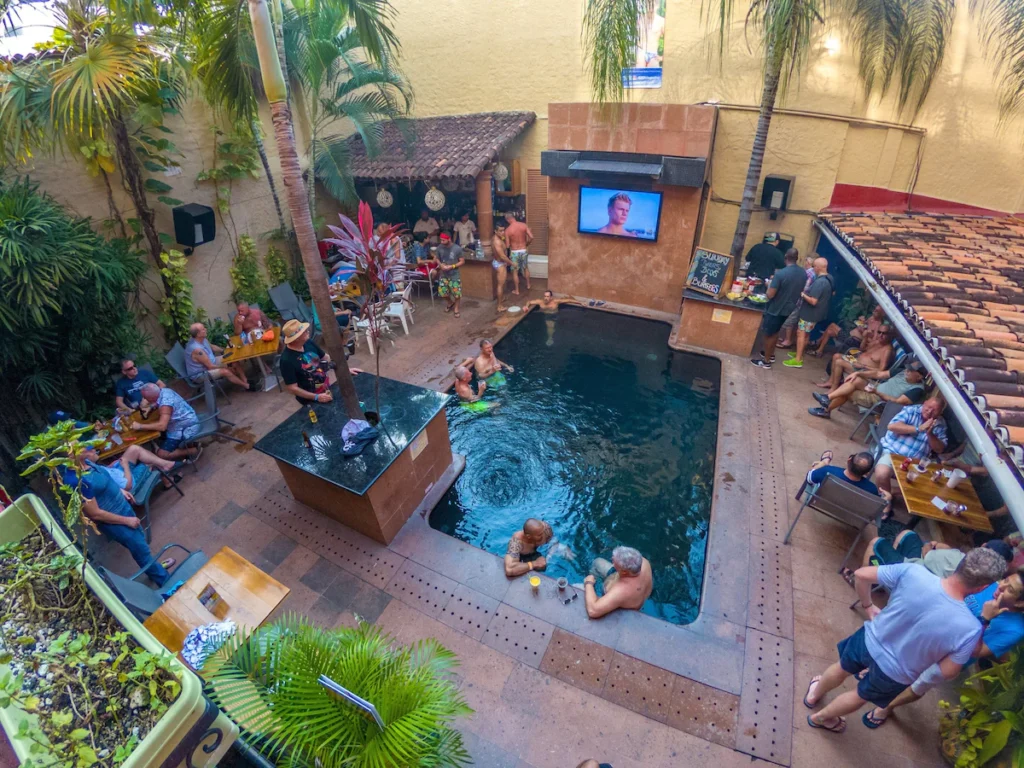 ⭐️ Rating: 8.6/10 |📍 Location: Zona Romantica | 🏩 View on Expedia
If you'd rather a bed and breakfast over an all-inclusive, look no further than Hotel Mercurio for your gay Puerto Vallarta hotel.
While it's not an LGBTQ+ exclusive hostel, they attract many queer guests by employing queer staff members and hosting regular LGBTQ+ events.
To make the most of your stay here, time your trip on a Sunday so you can participate in the Beers, Boys, and Burgers party on Sunday evenings.
For a fixed price, you'll get unlimited burgers and beers, a live DJ, and handsome gay dancers.
"These people have fun all day, every day, and still get their jobs done. They always provided a welcoming atmosphere for everyone, guests and visitors alike."

– Travis (read more reviews)
They have 28 rooms, each with AC, ceiling fans, a small refrigerator, a safe, TV with cable, free WiFi, and a complimentary breakfast with the option to have it in bed!
Other perks include a heated swimming pool with a poolside bar, an intimate patio for relaxing, a 24/7 number for reception, and complimentary laundry.
Hotel Mercurio is centrally located in Zona Romantica, steps away from the best gay nightlife in the city.
The best Puerto Vallarta gay hostel is Jet's gay youth hostel.
The owners combined the gay hostel concept from Berlin and the capsule bed concept from Japan, creating a fun gay hostel in the heart of Puerto Vallarta.
Must stay hostel in Puerto Vallarta, as a solo traveler it was amazing to come to the city and already feel like I had a group of guys to hang out with. The design of the hostel makes sure you will meet everyone in your room and have fun escapades…

– Tyler (read more reviews)
Each dorm room offers a comfortable and safe experience with WiFi, rain showerheads, memory foam beds, privacy curtains, outlets, lamps, and lockers by every bed.
This hotel is open for travelers aged 18-35, so it's bound to be fun. They also run a "naked boat tour" that guests can join.
11. Pinata Hotel Puerto Vallarta
⭐️ Rating: 8.5/10 |📍 Location: Zona Romantica
Pinata PV Gay Hotel is in the heart of Zona Romantica, just 500m away from Los Muertos Beach, which is one of the top gay beaches in the world.
There you can find countless activities and boat trips departing to smaller beach towns along the Bay of Banderas, like Quimixto and Yelapa.
The interior of Pinata features modern rooms with exposed brick, designer artwork, and lush plants. Each room has all the amenities you need for a relaxing stay, including AC, flat-screen TV, and fast WiFi.
Amenities include a rooftop gym, steam room, and a clothing-optional pool and hot tub open 24 hours—the perfect place to come home after checking out the gay Puerto Vallarta nightlife.
This hotel is known for its party atmosphere at night, so be prepared!
This hotel has excellent reviews online, with many guests commenting that the owners went out of their way to cater to guests in a way that made them feel like close friends.
The best area for LGBTQ travelers in Puerto Vallarta
Zona Romantica is the official gaybourhood of Puerto Vallarta.
You'll find plenty of gay bars, gay nightclubs, trendy cocktails bars, never-ending fiestas, and Spartacus – a strictly men's sauna. It's also where Playa Los Muertos is, considered one of the top gay beaches in the world.
If you want to be in the heart of the LGBTQ+ community, the Romantic Zone is the place to stay.
However, most hotels in Zona Romantica are smaller boutique hotels, and you'll have to go a little further out if you want to stay in one of the fabulous all-inclusive gay resorts (with the exception of Almar)
Uber is available in Puerto Vallarta, so even if you're staying a little further out of town, you can still quickly come into town to party to your heart's desire.
Is Puerto Vallarta safe for gay travelers?
Puerto Vallarta is one of the safest cities in the world for LGBTQ+ travelers, with a mecca of gay bars, buzzing nightclubs, and gay-friendly hotels. It's even been nicknamed the "Mexican San Francisco. You'll be warmly welcomed by the community here!
Gay events in Puerto Vallarta
Pride week
The best time to visit Puerto Vallarta is during pride week at the end of May.
The city becomes a massive party as the LGBTQ+ community is celebrated, with parades, street parties, pool parties, and more. It's one of the best Puerto events to take part in!
Find more information about the 2024 events on the Puerto Vallarta pride website.
BeefDip Bear Week
BeefDip Bear Week is an annual event that takes place in Puerto Vallarta, usually in late January. This week-long celebration is a magnet for the bear community and their admirers.
The event is packed with activities ranging from pool parties and beach outings to bar hops and club nights. 2024 will be the 20th anniversary, so it's sure to be an amazing time!
FAQ: Puerto Vallarta gay hotels
What is the gay area in Puerto Vallarta?
The primary gay area in Puerto Vallarta is the Zona Romántica, also known as the Romantic Zone. This area is filled with LGBTQ+ friendly bars, clubs, and hotels.
Is there a gay beach in Puerto Vallarta?
Yes, Los Muertos Beach in the Zona Romántica is the most popular gay beach in Puerto Vallarta, known for its vibrant atmosphere and beach clubs.
Which part of Puerto Vallarta is the best?
The best part of Puerto Vallarta depends on what you're looking for. Zona Romántica is great for LGBTQ+ travelers, while Marina Vallarta is ideal for luxury and boating enthusiasts.
How safe is Zona Romántica in Puerto Vallarta?
Zona Romántica is generally considered safe, especially for LGBTQ+ travelers. However, like any tourist destination, it's always good to stay alert.
When to visit Puerto Vallarta gay?
The best time to visit for LGBTQ+ events is during Vallarta Pride in May or the BeefDip Bear Week in January.
Which is nicer Cabo or Puerto Vallarta?
Both have their merits. Cabo is known for its luxury resorts and desert landscapes, while Puerto Vallarta offers lush jungles and a more authentic Mexican experience.
What is the best time of year to travel in Puerto Vallarta Mexico?
What are the top gay places in Mexico?
Besides Puerto Vallarta, other top gay-friendly destinations in Mexico include Mexico City, Guadalajara, and Playa del Carmen.
Where do gay expats live in Puerto Vallarta?
Many gay expats choose to live in the Zona Romántica due to its LGBTQ+ friendly atmosphere and amenities.
Can you drink on the street in Puerto Vallarta?
Public drinking is technically illegal in Puerto Vallarta, but it's generally tolerated on the beach if you're discreet.
Final thoughts: Best gay friendly hotels in Puerto Vallarta
Puerto Vallarta offers a diverse range of gay-friendly hotels that cater to different tastes and budgets. If you're looking for an all-inclusive experience with a vibrant LGBTQ+ scene, Almar Luxury Resort stands out as a top choice.
For travelers seeking a more intimate, boutique experience, Casa Cupula is an excellent option.
Each of these hotels not only provides top-notch amenities but also contributes to the welcoming and safe atmosphere that makes Puerto Vallarta one of the best destinations for LGBTQ+ travelers.
Planning a trip to Puerto Vallarta? Check out these other places to stay!