This post may contain affiliate links. By clicking and making a purchase through the links, I earn a small commission at no extra cost to you. See my disclaimer for more information. This allows me to keep the site up to date and expand on resources.
Want to visit Mismaloya Beach? Just a short drive away from Puerto Vallarta, this small beach town is one of the best places to visit nearby.
While there's tons to do in town, one of the best things about Puerto Vallarta is going on day trips. You've got lots of options, from surfing in Sayulita to hiking from Boca to Las Animas.
In this post, we'll take a closer look at the town of Mismaloya.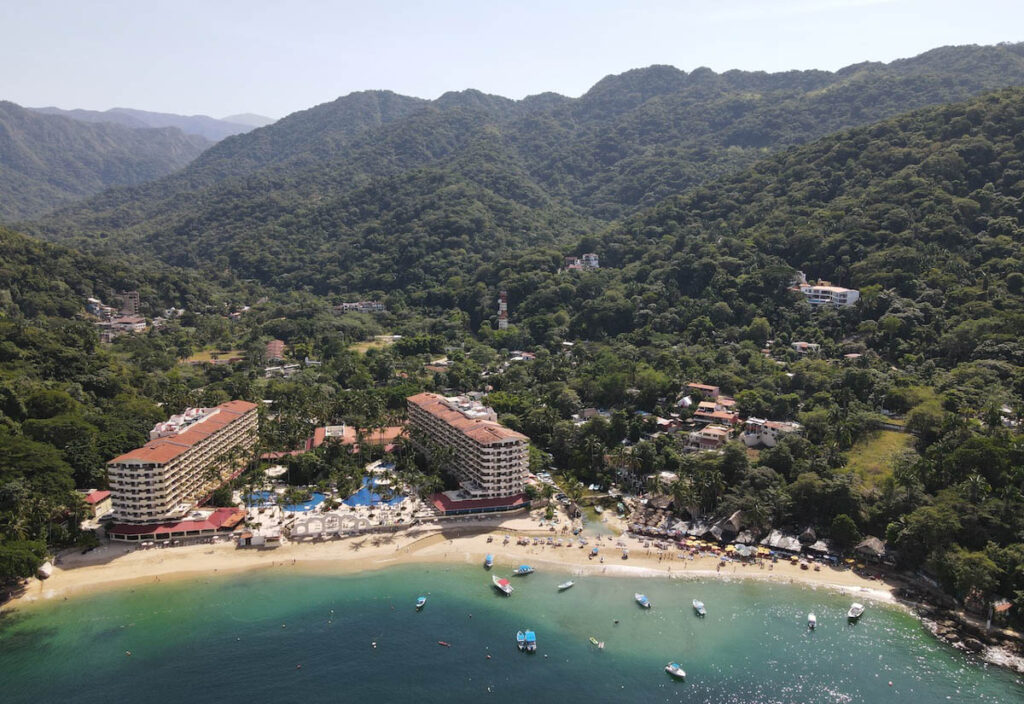 History of Mismaloya Beach
Back in the early 1960s, a film crew traveled to Puerto Vallarta, which was a sleepy fishing village at the time. Director John Huston chose the even more remote Mismaloya as the location to film The Night of the Iguana, starring Richard Burton and Ava Gardner.
The production of this particular film received a lot of media attention at the time. That's because Burton brought along his new flame and soon-to-be-wife, Elizabeth Taylor. As the two were both still married, their affair was a hot topic for the paparazzi.
The two fell in love with PV and eventually bought a home there. Burton actually purchased the casita across the street from his for Taylor, which he gave to her on her 32nd birthday. He also had a bridge built to connect the two, so they could meet while avoiding the prying eyes of the media.
Their scandalous love story and the success of the film helped to put Puerto Vallarta on the map. Curious Americans wanted to visit this beautiful town on the Pacific Coast to see why their favorite stars were so enamored with it, and the rest is history.
The famous couple and the film have left such a mark on Mismaloya that there are actually two roads in the little town named after them, as well as a hotel called Casa Iguana. This isn't the only movie that has been filmed in Mismaloya, though…
Much of Arnold Schwarzenegger's famous action movie Predator was also filmed right here in Mismaloya. You can actually visit the area where the filming happened, but we'll get to that in the next section.
Decades later, Mismaloya remains a fishing village at its core. After all, the name is Nahuatl for "place where they grab fish with their hands," although fishermen prefer modern technology these days.
Mismaloya Beach
The beach in Mismaloya isn't the best in the world, but it's nice for a day trip away from the hustle and bustle of PV and Los Muertos Beach. There are a couple of restaurants here with beach chairs so you can lounge the day away.
For an even more relaxing experience, there are a couple of spas on the beach where you can get a massage while listening to the sounds of waves crashing. This is especially fun after one of those SUP tours, some fish tacos, and a margarita.
Things to do in Mismaloya
Aside from the beach, most people come to Mismaloya to visit nearby Los Arcos National Marine Park or take whale-watching tours.
You have plenty of options for visiting Los Arcos, but my personal favorite is getting on a SUP at Mismaloya Beach and heading out there with snorkel gear. The kind folks at Paddle Zone have you covered with kayak and SUP rentals, as well as several options for tours.
They have SUP yoga, a full moon tour, and much more. Their coolest tour has got to be the bioluminescence one, which departs before sunrise or sunset.
You can also just rent the SUPs and kayaks by the hour and do your own thing. If you're a total newb, never fear – they also offer lessons.
If you're not up for that, you can always just take a boat tour.
This group tour is an affordable option that also visits Las Animas and Quimixto. A fancier option is this luxury yacht and snorkel cruise.
Now back to the movie Predator… They filmed a lot of the movie at a place called El Eden that's up the road in the jungle away from the beach. It's a fun place to visit for an afternoon, as there's a natural pool and waterslide made by the river.
In addition, there's also one of the best ziplines in Puerto Vallarta here. They have 13 canopy lines for adults and five for kids, so it's fun for the whole family. As it's a bit tough to get there, you'll want to book a spot on this tour.
Lastly, there's a wonderful horseback riding tour you can take from Mismaloya beach, where you'll ride through Mismaloya, crossing through the river valley with a stop at an indigenous theme park.
MISMALOYA TOURS
How to Get to Mismaloya
Mismaloya is quite close to PV, as it's only around 11 km south of Zona Romantica. If you're traveling south on Highway 200, you'll hit Mismaloya before arriving in Boca de Tomatlan, which is another 4.5 km down the road. Taxis and Ubers are easy to get from downtown.
Traveling to and from Mismaloya is also easy thanks to the orange buses. They depart from the OXXO on this corner every 10 minutes or so, and a ride only costs 10 pesos.
Just a fair warning – the bus drivers on this route can be a bit loco, for lack of a better word. While they have to slow down for the many topes (speed bumps) and stops, they floor it around the curvy road any chance they get.
For a more relaxing experience, you can always hop in a cab or order an Uber/InDriver…
Where to Stay in Mismaloya
If you want to spend a little more time in Mismaloya, you have a few options:
Hotel Casa Iguana: This jungle hotel features a large outdoor pool and balconies with comfy chairs. They also have apartment-style rooms with kitchens.
Villas Plaza Mismaloya: Families or groups will enjoy this 2-bedroom apartment. It's tastefully furnished with a fully equipped kitchen.
Barcelo: This all-inclusive resort is right on Mismaloya Beach. We actually went on a staycation there one year and made a little video that you can check out:
—
As you can see, Mismaloya beach is definitely worth a visit from Puerto Vallarta. It's one of my favorite places to go on a day trip, and we head there every time we're in town. Be sure to add it to your PV itinerary along with other nearby towns like Boca de Tomatlan.
🇲🇽 Puerto Vallarta Quick Guide 🇲🇽

✈️ Airport – The Licenciado Gustavo Díaz Ordaz International Airport (PVR) airport is a 20-minute ride to the city center. You can book an airport transfer here.

🏩 Hotels – The best websites for booking hotels and resorts are Booking.com and Expedia, which search all properties to find you the best deals. For inspiration on where to stay, head to my ultimate guide to Puerto Vallarta hotels.

🚗 Getting around – Puerto Vallarta is easy to get around by walking and Uber, but renting a car is the best way to explore the surrounding areas. Discover Cars is the best website for finding deals, which searches International and local Mexican companies.

🌊 Things to do – Puerto Vallarta is a paradise for outdoor adventure! Some of the top things to do are whale watching, yacht trips, and ATV tours.

✔️ Don't forget travel insurance! I use and love SafetyWing, which is insurance for remote workers. For shorter trips, I recommend HeyMondo – you can get 5% off by using that link.
Find more things to do in Puerto Vallarta here