This post may contain affiliate links. By clicking and making a purchase through the links, I earn a small commission at no extra cost to you. See my disclaimer for more information. This allows me to keep the site up to date and expand on resources.
Looking to go from Puerto Vallarta to Bucerias? Let us help! We've been living in Puerto Vallarta collectively for over eight years and visit Bucerias often. Here's how to visit this beautiful beach town!
While Puerto Vallarta is an amazing destination in and of itself, it's fun to get out of town now and then to explore the other nearby towns.
Nestled along the Bay of Banderas coast, just a short drive from Puerto Vallarta, lies the charming town of Bucerias on the Riviera Nayarit.
Known for its tranquil beaches, vibrant arts scene, and authentic Mexican flair, Bucerias is a delightful escape from the bustling vibes of Puerto Vallarta. Vamos, amigos!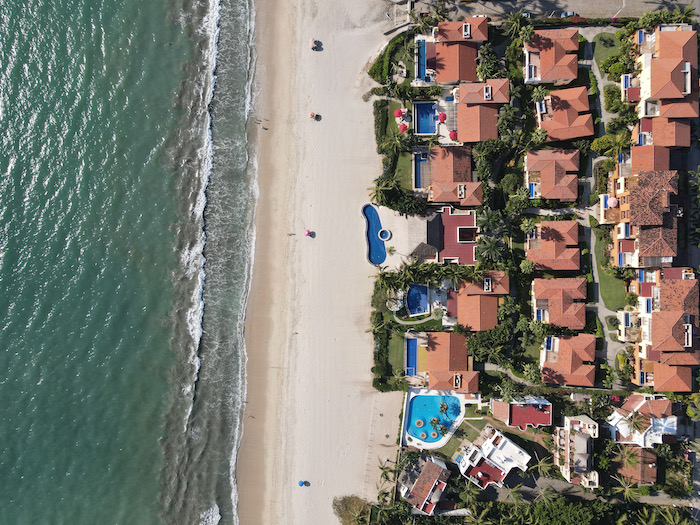 Where is Bucerias?
This chilled-out beach town is actually in the neighboring state of Nayarit and not in Jalisco. It's still a part of the Banderas Bay area, which includes Puerto Vallarta and a few other nearby towns.
Bucerias is just 20km or a 30-minute drive from Puerto Vallarta.
The name Bucerias can be translated as "the place of divers," and there's even a statue of one right near the beach. It's called "El Buzo" (The Diver), and it's right next to the colorful Bucerias sign.
Once upon a time, the area was famous for its pearls. Divers would head deep into the water in search of them without any scuba equipment. They simply held their breath and used a crowbar.
Bucerias is a small town that's very typical of the area. There are cobblestone streets and a central plaza with a church. Life moves slowly here, and that's a big part of the appeal!
There's a lovely stretch of beach in Bucerias, where many hotels and restaurants are. You'll also find some cool markets, galleries, and bars. in town
How to Get to from Puerto Vallarta to Bucerias
Rental Car
If you prefer the flexibility of exploring at your own pace, consider renting a car. Numerous rental agencies operate in Puerto Vallarta, and the drive to Bucerias is quite straightforward along Highway 200.
Taxi or Uber
For a more comfortable and direct route, taxis or ride-sharing apps like Uber are readily available in Puerto Vallarta.
The ride may take around 30 to 40 minutes, and the cost ranges between $15 to $30, depending on where you're departing from and the demand. Taxis almost always cost more than Ubers unless the demand is very high.
Uber works in Puerto Vallarta and Bucerias, but there aren't as many drivers these days. Many have switched to InDriver as it charges them a lower fee.
This is a great app to use when you're in the area. You offer a fare, and then drivers can accept or give a counteroffer. Just be aware that you need cash for this, and some consider it less secure.
Coach bus
Another option for getting to Bucerias from Puerto Vallarta is booking a bus online here. The ride takes just half an hour, and the timetables are frequent. You can also book private shuttles on that website.
Public bus
The cheapest way to get from Puerto Vallarta to Bucerias is by taking the local bus.
Just head to this bus station in front of Sam's Club and Walmart by the cruise ship pier.
Several buses go there, so look at the windshield to see where the bus is heading before you get on. If you look like a confused gringo, chances are someone will point you to the bus headed for Bucerias and Sayulita.
The fare is just 20 pesos ($1), and it takes around 45 minutes, depending on the number of stops. It'll drop you off on the highway near the main square.
Just head back to that Bucerias bus station at the end of the day and catch the bus going the other way.
Day Tour
Several tour operators offer day trips to Bucerias.
This private tour includes transportation with AC, a guide, and a full-day itinerary to Bucerias, Sayulita, and San Pancho. It's a hassle-free way to explore the area, especially if you prefer a structured itinerary.
Things to do in Bucerias
First things first, though – head to the plaza to snap a pic with the aforementioned statue and Bucerias sign. If you don't post a pic with the sign to the 'gram, did your trip really even happen?
Hit the beach
What is there to do on a Bucerias day trip? Not a whole lot, really, but that's kind of the point! This is a place to relax on la playa, preferably with a margarita and some fish tacos.
Unless you bring your own chair and umbrella, you'll want to hit up one of the beachfront places. You can rent them for the day or just head to one of the restaurants. As long as you order something, you can use theirs.
Water activities
From paddleboarding to kite surfing, Bucerias offers a variety of water activities for adventure enthusiasts.
For a little more action, you can rent a SUP (stand-up paddleboard). Bucerias Surf rents them out for $15 an hour, and they also do outdoor adventure excursions.
Take a bike tour
One of the most fun things to do in Bucerias is bike riding. Bici Bucerias has bikes for rent and a few tours, including a popular 3-hour food tour.
Cultural immersion tour
One of the most unique things to do in Bucerías is this 4-hour cultural immersion tour.
Accompanied by a local guide, you'll meet local artisans, from indigenous textile weavers to bakers and hammock-makers, learning about their heritage and livelihoods.
Art walk
Should you happen to visit on a Thursday between November and April, you can stick around for the Bucerias Art Walk. Just head to the meeting point at six and enjoy a stroll to several local galleries. It's similar to the Art Walk in Puerto Vallarta every Wednesday.
Browse the flea market
If you want to take home a souvenir from your Bucerias day trip, head to the flea market.
Shop for unique souvenirs, traditional crafts, and fresh produce at the bustling local flea market.
Catch a Live Music Performance:
In the evenings, many local bars and restaurants host live music. It's a great way to enjoy the night with good vibes and local talents.
Jax Bar & Grill is rocking with local bands every night of the week.
Bucerias restaurants and beach clubs
The most important decision you'll make on a Bucerias day trip is where to eat and drink! For such a small town, there are lots of great options that rival the restaurants of Puerto Vallarta.
Panquekis House
If you start your day early, be sure to grab breakfast at Panquekis house.
Located near the bus stop, this cozy restaurant serves excellent breakfast food. I love the waffles!
Sukha Beach house
If you want to be on the beach, it's hard to beat Sukha Beach House. They recently moved up the coast a bit, so it's a little far from town, but it's worth it for the ceviche and Micheladas on a quiet stretch of beach.
Masiscos El Gordo
One of the most popular choices in town is Mariscos El Gordo. They have a full menu here with lots of delicious seafood and cocktails.
Taco trucks
For a super local experience, hit up some of the taco trucks around the plaza. Fill up on delicious street food for just a few bucks, and grab a cerveza from a local shop to wash it all down.
Cerveceria Bahia de Banderas
If you're a craft beer lover, you'll definitely want to check out Cerveceria Bahia de Banderas. They're pouring some locally made craft beers here and also have some tasty pub food.
Other fun places to grab a drink include Barchelata, the Snack Bar, and the Rhythm & Blues Lounge.
Just keep in mind that if you stick around too late, you'll miss the last bus back to Puerto Vallarta. Thankfully, taxis and Ubers are always ready to drive you back if you indulge a bit too much in the nightlife.
FAQ: Bucerias Mexico
How to get to Bucerías from Puerto Vallarta?
You can get to Bucerías from Puerto Vallarta by bus, taxi, Uber, rental car, or a guided tour.
How much is a cab from Puerto Vallarta airport to Bucerías?
A cab from Puerto Vallarta airport to Bucerías typically costs between $30 to $45, depending on the service.
Is it worth going to Bucerías?
Absolutely! Bucerías offers beautiful beaches, delicious cuisine, local arts, and a laid-back atmosphere worth exploring.
Is Bucerías cheaper than Puerto Vallarta?
Generally, Bucerías can be a bit more affordable than Puerto Vallarta, particularly in terms of dining and local shopping.
Can you swim in the ocean in Bucerías Mexico?
Yes, the ocean in Bucerías is suitable for swimming, with gentle waves and clear water.
Do you need a car in Bucerías, Mexico?
A car isn't necessary in Bucerías as most attractions are walkable, and local transportation options are available.
Is Bucerias safe in 2023?
Bucerías is considered safe for travelers, but it's always wise to follow general safety precautions.
How to get from the airport to Bucerias?
You can get from the airport to Bucerías by taxi, Uber, rental car, or pre-arranged shuttle services.
Can you call an Uber from Puerto Vallarta airport?
Yes, you can call an Uber from Puerto Vallarta airport using the app, but you will have to walk across the pedestrian bridge to meet it as they do not pick up in front of the airport.
What is Bucerias known for?
Bucerías is known for its beautiful beaches, vibrant art scene, local markets, and relaxed ambiance.
How far is Bucerias from Puerto Vallarta airport?
Bucerias is just 18km from the Puerto Vallarta International Airport (PVR). Without traffic, it takes about 20 minutes to drive there.
Final thoughts: Puerto Vallarta to Bucerias
Whether you choose to relax on the sandy beaches, indulge in seafood, or explore the local arts and markets, Bucerias welcomes you with its authentic charm and warm hospitality.
So pack your sunhat, hop on that bus or taxi, and get ready to discover a slice of Mexican paradise that'll leave you yearning to discover more of Nayarit. It's definitely a fun town that's worth checking out while you're in the area.
Looking for more day trips from Puerto Vallarta? Check out these posts!