This post may contain affiliate links. By clicking and making a purchase through the links, I earn a small commission at no extra cost to you. This allows me to keep the site up to date and expand on resources. Thanks for reading!
Puerto Vallarta is a vibrant city with tons of activities to do for the laid-back or the adventurer. If you're interested in getting out of the city and exploring some other parts of Mexico, here are the best day trips from Puerto Vallarta to inspire your travel plans.
The city has quick access to both the beach and the mountains, making the Puerto Vallarta day trips all about nature.
Some of these activities require a few hour's drive, and some are just outside the city's limits.
This post will show you what the whole of Banderas Bay, the state of Jalisco, and the neighboring state of Nayarit have to offer.
Most tour operators in Puerto Vallarta are still running during Covid-19 with enhanced precautions for your safety. These include smaller groups to support social distancing, hand sanitizer and or handwashing stations where available, and the mandatory use of face masks.
Best Puerto Vallarta Day Trips
1. San Sebastián del Oeste
For a change of scenery from the beach, head inland to San Sebastián del Oeste. It's a charming centuries-old mining town 4855ft (1480m) above sea level in the mountains and one of nine Pueblos Magicos in Jalisco.
It's unbelievable that a place so different in the landscape can be so close to Puerto Vallarta! The weather is much cooler, and the trees change from palms to pines.
It only takes 90 minutes of driving to get to this gorgeous village of 5,000 people that's frozen in time.
The town was first conquered by the Spaniards in 1524 and quickly became one of the most important mining centers of the Spanish colonial Viceroyalty of New Spain.
I can only think it looked the same almost 500 years ago as it does now because it's amazingly well preserved. Spend the night there, and you'll see the most incredible star show in the sky since it's away from all the light pollution.
Here's a great day tour to Puerto Vallarta. It includes transportation from Puerto Vallarta, a stroll through the historic town, a visit to a traditional coffee hacienda, and a tequila tasting made from the region's blue agave plants!
The day ends with a delicious Mexican meal at a family-owned restaurant before a scenic ride back to Vallarta through the mountains.
2. Los Acros National Marine Park
If a day on the water sounds like your vibe, then don't miss the chance to explore the majestic arches of Los Arcos National Park and Las Animas beach on this half-day boat trip.
Pickup starts conveniently at Los Muertos Pier in Zona Romantica, where you'll hop on a private bot towards Los Arcos Marine Park.
There you'll be given complimentary snorkeling gear and have the chance to explore the gorgeous caves, tunnels, and coral reefs.
This area is full of marine life, including sea turtles, manta rays, colorful fish, and dolphins. You may be lucky enough to watch humpback whales if you're visiting during the winter season.
Afterward, you'll be taken to Las Animas beach, one of the most beautiful beaches in Puerto Vallarta. It's only accessible by hiking via Boca or by boat, so this is an excellent opportunity to see it!
3. Sierra Madre ATV Adventure and Zipline
This ATV adventure tour is perfect for all the adventurers who love adrenaline and nature. It'll take you deep into the beloved mountains of the Sierra Madre after a fun ride along the Malecón and the downtown streets of Puerto Vallarta.
Once you cross the city limit, you'll discover phenomenal scenery through the rivers and the jungle while feeling the wind on your neck and the warm sun on your skin. You'll head towards Rancho Capomo, a unique Ecological place full of trees and rivers.
You'll have the chance to go down 13 zip lines at the park, which is a great way to take in the gorgeous jungle scenery.
Don't worry much about your outfit because the bandana, the helmet, and the goggles are included – you'll be asked just for a driver's license and the best attitude to go wild!
4. Nuevo Vallarta
Although Puerto Vallarta and Nuevo Vallarta are right next to each other, they each have their own personality. Puerto Vallarta is a vibrant, historic city with lots of Mexican charm, while Nuevo Vallarta is a laid-back, relaxed city with more of an American feel.
Nuevo Vallarta is easy to reach from Puerto Vallarta; you can grab an Uber or bus from Centro and be there in just half an hour!
Better yet, spend the weekend enjoying the 5-star resorts, renowned restaurants, and beautiful streets filled with giant palm trees. The beach clubs here are exceptional, as are the beaches.
If you want to arrive in Nuevo Vallarta in style, check out this luxury sunset sailing tour.
You'll get the chance to sail on a luxury catamaran while enjoying the stunning views of the coast with a drink in hand as you move across the Bay of Banderas.
5. La Cruz Huanacaxtle Sunday Market
If you're got a free day on a Sunday in Puerto Vallarta, take the time to visit the La Cruz Sunday Market in Huanacaxtle – close by in the neighboring state of Nayarit, not far from Nuevo Vallarta.
It's easily one of the best markets in the region, full of local vendors selling high-quality crafts and locally made food and drinks.
The market has a fantastic atmosphere, set right along the pier with water on all sides. There's live music you can sit down and enjoy, which adds to the atmosphere as you walk around.
At the end of the market, there's a selection of food vendors selling everything from Mexican to greek! It's the perfect way to spend a Sunday morning.
6. Zip-lining in the jungle
If you're looking for a bit of adrenaline on your vacation to Puerto Vallarta, then be sure to check out this Extreme Zip Line Adventure Tour.
This action-packed trip takes you into the wildness of the Sierra Madre Occidental mountains, where you'll embark on a fun-filled day flying through the jungle canopy on a series of ziplines.
Eight lines are nestled in the treetops in one of the most beautiful areas in Puerto Vallarta, ready for you to tame them and soar through the sky and the jungle. The zip line course includes Mexico's longest and fastest "Superman" zip line!
Your last zip line ends at a restaurant, where you can purchase lunch or take a dip in a local stream.
7. Sayulita day trip from Puerto Vallarta
Just an hour away from Puerto Vallarta, you'll first find the town of Sayulita. It's a paradise for surfers, foodies, and art lovers that's becoming one of the hottest beach destinations in all of Mexico.
Sayulita is becoming more popular by the day, meaning the main beach is very crowded. It's a popular destination for surfers, but I wouldn't recommend going as a beginner as the waves are pretty packed.
That said, it's an enjoyable place to be around if you're looking for a lively atmosphere. The town is pretty tiny but full of colorful streets, tasty restaurants, and vibrant nightlife. It's a great place to party for the day and into the night!
You can take the bus from Puerto Vallarta for 50 pesos or get an Uber there for around 400, depending on how busy they are. A taxi will cost you 850 pesos. There's also this tour that takes you to both Sayulita and San Pancho.
The guide will show you around the two towns, sharing the history and folklore as you walk around the main attractions. You'll visit traditional fruit markets, enjoy a tequila demonstration with a tasting, hang at the beach and even take an optional surf class!
8. San Pancho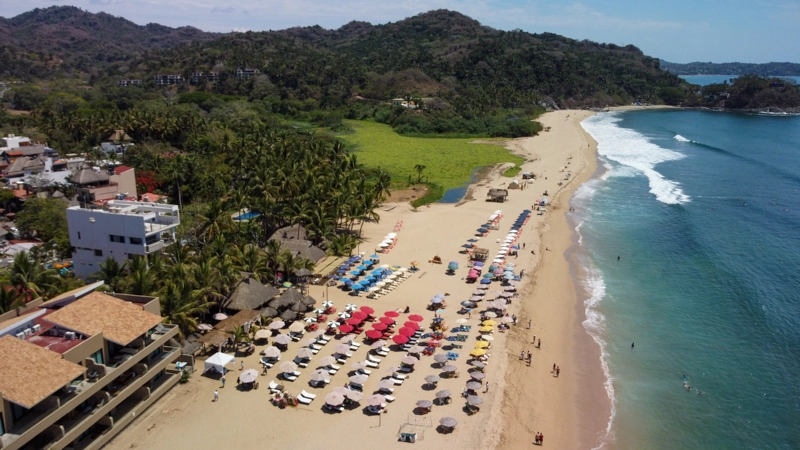 Five minutes farther from Sayulita, you'll get to San Pancho, another gorgeous beach and surf town with a much more laid-back vibe.
Don't try to choose between them and spend a little time in both. You'll enjoy fantastic food and drinks, discover the coolest shops, and admire the finest art and crafts.
If you prefer to have a quieter day trip from Puerto Vallarta, skip Sayulita and go directly to San Pancho since the beach and the ocean is much less crowded.
9. Islas Marietas
Designated as a national marine park and Unesco biosphere reserve, Islas Marietas is home to some of the best wildlife-watching experiences near Puerto Vallarta.
It's also home to Playa del Amor, aka Puerto Vallarta's secret beach. It's become so popular only 116 people are allowed on the beach per day – so make sure to secure your permit in advance.
But even if you can't get on the beach, Isla Marietas is still worth a day trip from Puerto Vallarta. There are other beaches you can visit there which are just as pristine.
You can also do an eco-tour of the island, where a boat will take you to see the various rock formations and 90+ bird species. It made me feel although I'd been transported back to the Galapagos Islands!
Then there's snorkeling! The water is crystal-clear, so jump in and look for giant mantas and sea turtles. During the boat ride, you'll likely see dolphins and whales too. If you're a marine lover, do not miss the chance to join a day trip to Isla Marietas.
10. Yelapa day trip from Puerto Vallarta
If you're looking for a relaxing day trip to a beautiful beach destination, then be sure to visit the small coastal village of Yelapa.
It's nestled in a natural cove away and free of any roads, making this the perfect destination for a relaxing day trip or weekend getaway.
There you can do several activities, including snorkeling, swimming, hiking, and horseback riding. Or you can simply relax on the beach and soak in the surrounding beauty!
This tour takes you to both Majahuitas and Yelapa! The first stop is at Majahuitas Cove, where you can enjoy snorkeling in the pristine water with provided equipment.
From there, you'll head over to Yelapa to relax on the beach or explore the surrounding waterfalls. There's a waterfall just minutes from the shore! As you cruise back to Puerto Vallarta, an open bar and onboard fiesta awaits you. The perfect way to end the day!
11. Best day trips Puerto Vallarta: Quimixto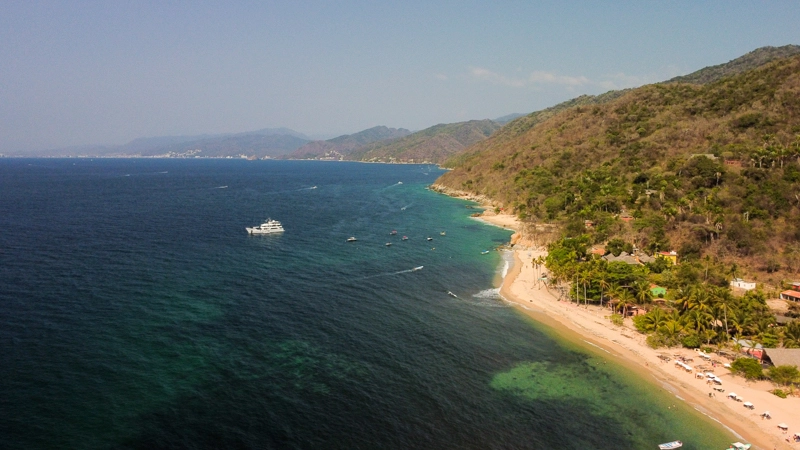 If you're looking for a quiet escape where you can hike, swim in waterfalls, and relax on pristine beaches, then look no further than Quimixto.
Boats leave from the pier at Boca Del Tomatlan and take about twenty minutes to get there. If you're visiting Quimixto for a day, plan to leave by 9 am to make the most of your time.
Spend the morning hiking to the Quimixto waterfall, about half an hour's hike inland from where the bot drops you off.
The waterfall flows down into a large pool that is refreshing to swim in! There's also a restaurant there that serves food and overlooks the waterfall.
Afterward, head back to the beach and enjoy lunch at one of the restaurants that offer affordable, authentic Mexican cuisine. Spend the rest of the afternoon relaxing on the beach, and be sure to grab the last boat back to PV by 6 pm.
There you have it, the best day trips from Puerto Vallarta! Did I miss any fantastic places you can visit near Puerto Vallarta? Let me know!
Looking for more Puerto Vallarta inspiration?