This post may contain affiliate links. By clicking and making a purchase through the links, I earn a small commission at no extra cost to you. See my disclaimer for more information. This allows me to keep the site up to date and expand on resources.
Looking for the best day trips from Puerto Vallarta? Let me help! I live in Puerto Vallarta and love exploring, so I've gone on just about every day trip there is! In this guide, I'm sharing the best Puerto Vallarta day trips to explore Mexico.
Puerto Vallarta is a vibrant city with many activities for the laid-back traveler or adventurer.
The city has quick access to the beach and the mountains, making these Puerto Vallarta getaways all about nature. Some of these activities require a few hour's drive, and some are just outside the city's limits.
This post will show you what the whole of Banderas Bay, the state of Jalisco, and the neighboring state of Nayarit have to offer.
Top 3 picks: Best Puerto Vallarta day trips
✅ See whales and dolphins
✅ Snorkel in crystal-clear water
✅ Visit Hidden Beach
Best Puerto Vallarta Day Trips
1. Yelapa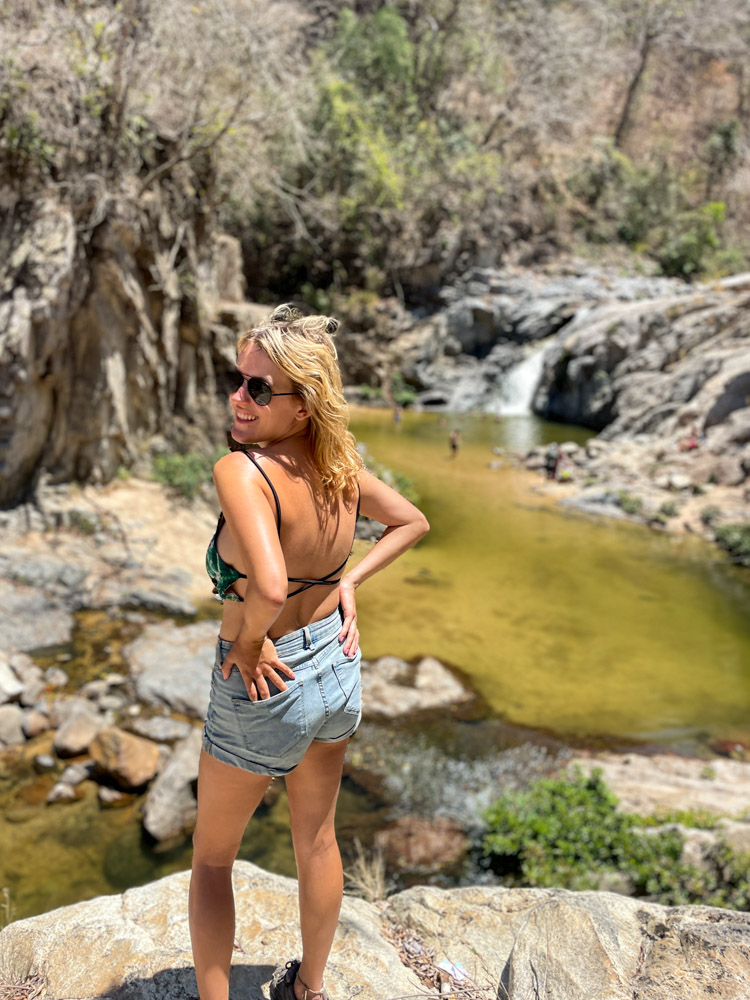 If you're in the mood for a serene beach escape that's a bit off the grid, Yelapa is your go-to destination. Nestled in a natural cove and devoid of any roads, this small coastal village is one of the best day trips from Puerto Vallarta by boat.
What to Do
Water Activities: Yelapa's clear waters are ideal for snorkeling and swimming.
Hiking and Horseback Riding: For those who prefer land-based activities, there are hiking trails leading to nearby waterfalls (Yelapa has several waterfalls to visit). Horseback riding is also an option.
Beach Time: Of course, you can always opt to simply relax on the beach and soak in the stunning surroundings.
How to Get There
The most straightforward way to reach Yelapa is by water taxi from Puerto Vallarta's Los Muertos Pier. The ride takes about 45 minutes and offers scenic views of the coastline.
Alternatively, take this all-day tour on a luxury yacht that includes breakfast and lunch onboard the boat, plus a well-stocked open bar. It doesn't get better than this!
2. Islas Marietas National Park
Designated as a national marine park and a UNESCO biosphere reserve, Islas Marietas offers some of the most exceptional wildlife-watching experiences near Puerto Vallarta. It was one of the first day trips I took when I moved here in 2021 and part of the reason I first fell in love with PV.
What to Do
Hidden Beach: Also known as Playa del Amor, this secret beach has become so popular that only 116 people are allowed per day. Make sure to secure your permit in advance by booking one of these tours.
Eco-Tour: A highlight of my time was the eco-tour, where a boat takes you around the islands to see various rock formations and over 90 bird species, including blue-footed boobies. It felt like a mini Galapagos Islands!
Snorkeling: The crystal-clear waters are perfect for snorkeling. Keep an eye out for mantas and sea turtles. During our boat ride to the islands, you may even see humpback whales from December to March. We spotted dolphins!
How to Get There
Day Tour: The only way to visit Islas Marietas is by booking a day tour. These often include transportation, guided eco-tours, and sometimes snorkeling equipment. Some specialized Hidden Beach tours like this one also help you secure the necessary permits for Playa del Amor.
3. Los Acros National Marine Park
Los Arcos Marine Park, with its stunning rock formations, is a place I've visited countless times and still find mesmerizing. Just a 5-minute boat ride from Mismaloya Beach, this marine park offers an incredible day out on the water. It's one of the most popular day trips from Puerto Vallarta!
What to Do
Snorkeling and Diving: Given that it's a marine park, one of the best things to do here is to put on a snorkel and jump in the water. There are also dive shops that offer guided Puerto Vallarta day tours to explore the beautiful caves, tunnels, and coral reefs teeming with marine life. You can often see manta rays here!
Bioluminescence Night Swimming: For a magical experience, go for a night swim to witness the natural phenomenon of bioluminescence. This is one of the most unique things to in Puerto Vallarta at night!
Paddleboarding: Paddle around the unique rock formations for a different perspective of Los Arcos.
How to Get There
4. Quimixto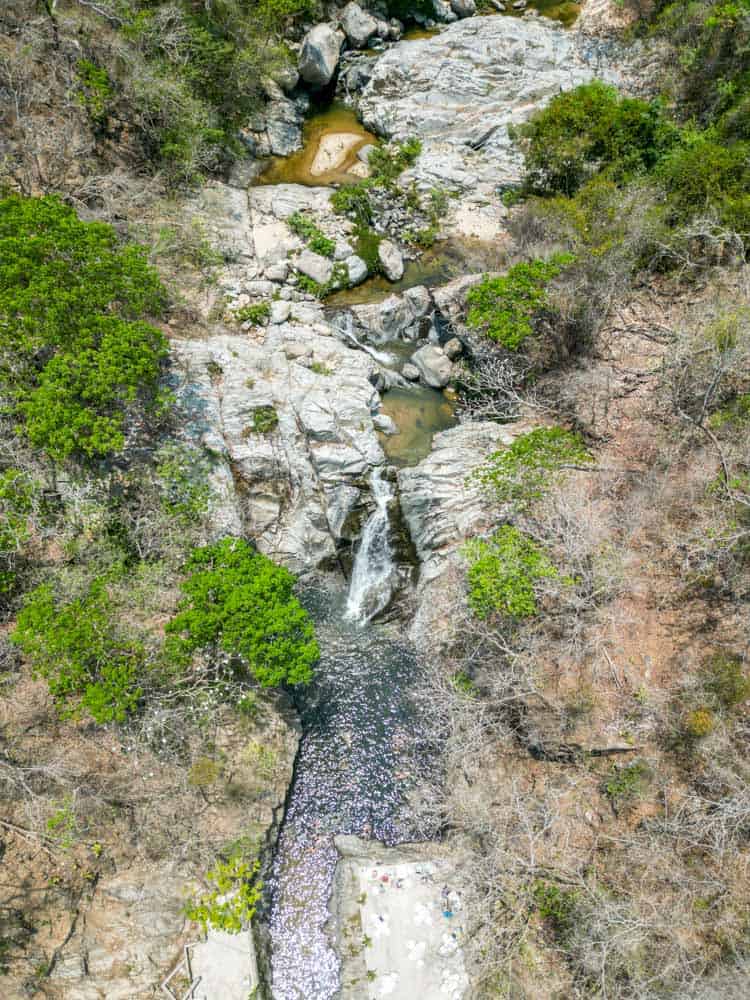 For those who crave a peaceful retreat complete with hiking, waterfalls, and pristine beaches, Quimixto is a top pick. Accessible by a 20-minute boat ride from the pier at Boca Del Tomatlan, this tranquil spot offers a perfect day trip away from the crowds.
What to Do
Hiking to the Waterfall: One of my personal favorite waterfalls in the Puerto Vallarta area, the Quimixto waterfall is about a 30-minute hike inland from where the boat drops you off. The waterfall flows into a large pool that's refreshing for a swim, even during the dry season.
Dining by the Waterfall: There's a restaurant overlooking the waterfall, offering a unique dining experience.
Beach Time: After hiking, head back to the beach for some relaxation. Enjoy lunch at one of the local restaurants serving affordable, authentic Mexican cuisine.
How to Get There
Boats to Quimixto leave from the pier at Boca Del Tomatlan. The journey takes about 20 minutes. If you're planning a day trip, aim to leave by 9 a.m. to make the most of your time. The last boat back to Puerto Vallarta usually departs by 6 p.m.
This day trip to Quimixto includes transportation, a guided hikes, and photos. This is a convenient option if you prefer a more structured itinerary.
5. San Sebastian del Oeste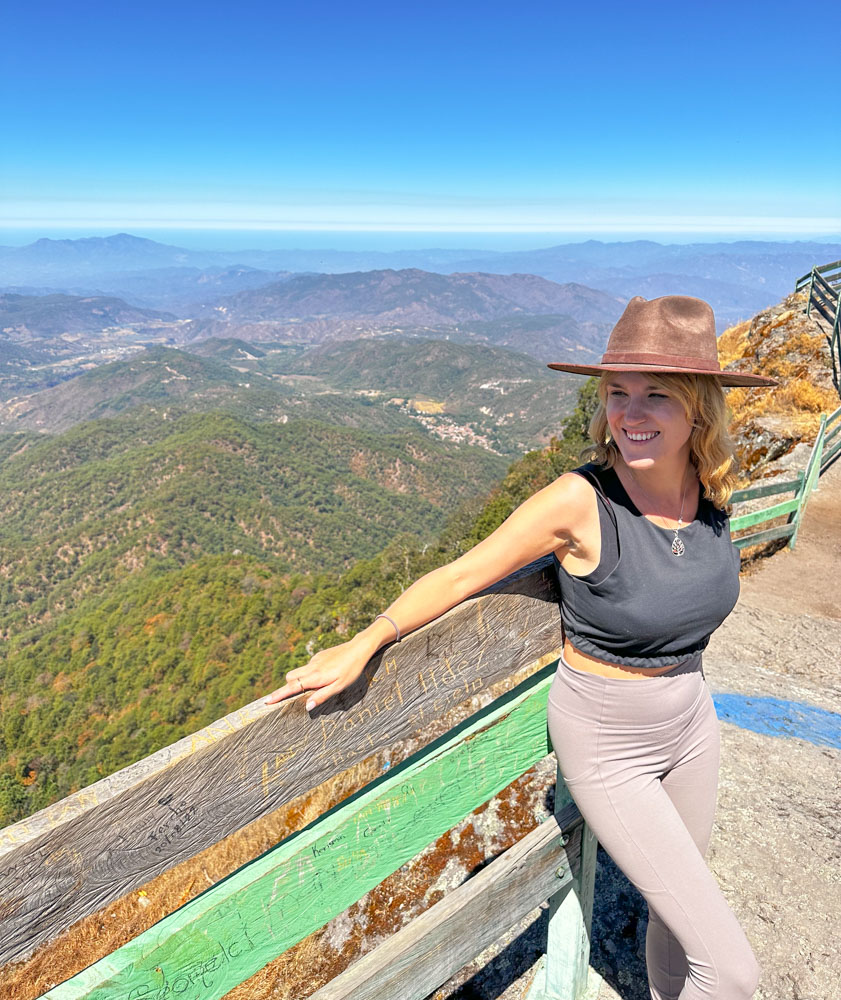 With its rich history, stunning viewpoints, and unique activities, San Sebastián del Oeste is a day trip that offers a completely different experience from the typical beachside getaway.
Located just 90 minutes from Puerto Vallarta, this centuries-old former mining town sits at an elevation of 4,855 feet and is one of Jalisco's nine Pueblos Mágicos. The landscape dramatically shifts from palms to pines, and the cooler weather offers a refreshing change.
What to Do
Historical Exploration: The town was first conquered by the Spaniards in 1524 and became a significant mining center. Wander through the cobblestone streets and soak in the history.
ATV Adventure: My personal favorite activity here is renting ATVs and driving up the mountain La Bufa, a panoramic viewpoint that offers panoramic views of the bay on a clear day.
Coffee and Racilla Tasting: Visit a traditional coffee hacienda or enjoy a Racilla tasting, a unique liquor made from the region's blue agave plants.
How to Get There
Day tour: The easiest way to get to San Sabastian from Puerto Vallarta is by joining a day tour from Puerto Vallarta.
This highly-rated tour is run by Vallarta Adventures, one of the top tour companies in Puerto Vallarta. Walk around the quiet streets to see the colonial architecture and 18th-century church, learn about the village's history, and see how locals cultivate coffee and agave. You'll hit all the highlights of San Sebastian on this tour!
By Car: San Sebastian is one of the best day trips from Puerto Vallarta by car, so renting a car and heading out into the mountains is the best way to visit this historic town at your own pace.
6. Sayulita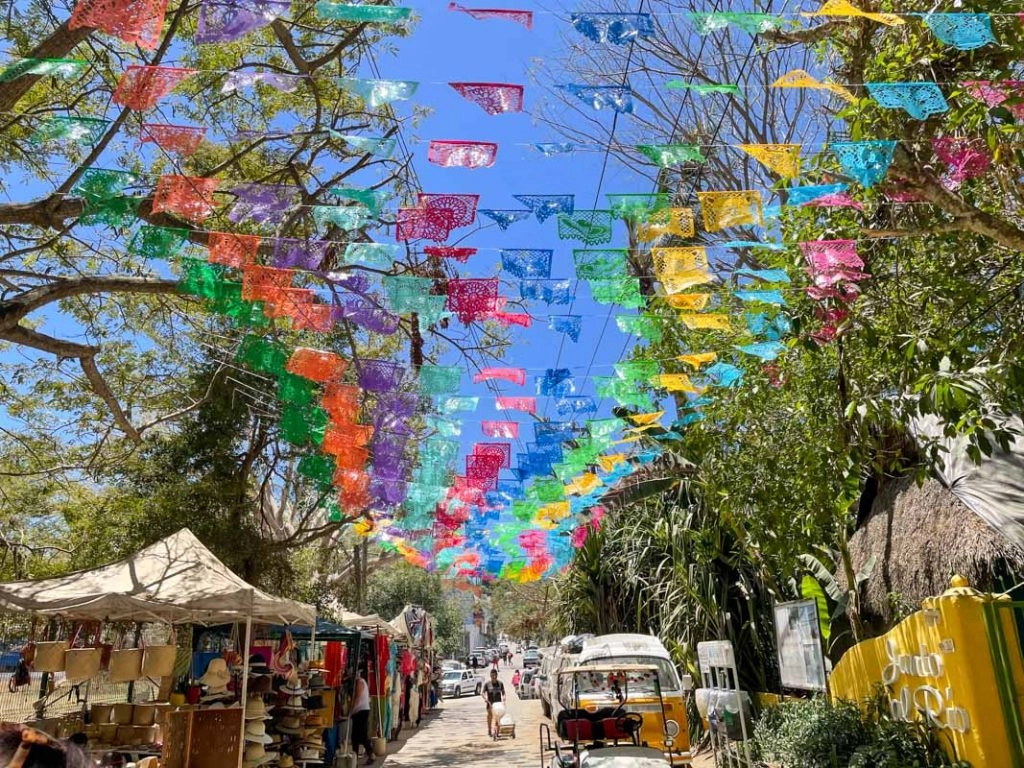 Just an hour's drive from Puerto Vallarta, Sayulita is a haven for surfers, foodies, and art enthusiasts on Mexico's Pacific Coast.
My friends and I often go on a day trip from Puerto Vallarta to Sayulita on weekends, and it's always a good time. However, be warned: it's growing in popularity, and the main beach can get crowded.
What to Do
Surfing: Sayulita is a surfer's paradise, but it's not ideal for beginners due to the crowded waves. I once tried surfing here and ended up getting hit in the head with a board!
Explore the Town: The town may be small, but it's bursting with colorful streets, delectable restaurants, and a lively nightlife. It's the perfect place to enjoy the day and party into the night.
Cultural Experience: Consider taking a guided tour that covers both Sayulita and San Pancho. You'll learn about the history, visit traditional fruit markets, and even enjoy a tequila tasting.
How to Get There
Public Transport: You can take a bus from Puerto Vallarta for around 50 pesos.
Ride-Sharing and Taxis: An Uber will cost you around 400 pesos, depending on availability, while a taxi usually be double.
Day Tour: There are tours available that take you to both Sayulita and San Pancho, often including guided walks, tequila tastings, and optional surf classes.
7. San Pancho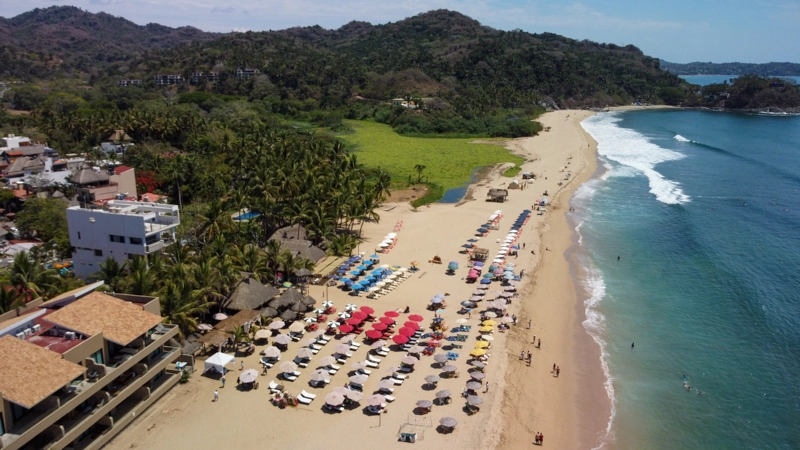 Just five minutes further from Sayulita, San Pancho (officially called San Francisco) offers a more relaxed beach and surf experience.
What to Do
Surfing: If you're into surfing but want to avoid the crowds of Sayulita, San Pancho is a great alternative. The waves here are suitable for both beginners and experienced surfers.
Beach Time: Unlike the crowded beaches of Sayulita, San Pancho offers a more tranquil setting for sunbathing and swimming.
Explore the Town: Take a leisurely stroll through the town to discover unique shops, arts and crafts, and indulge in fantastic food and drinks.
How to Get There
From Sayulita: It's just a quick 5-minute drive from Sayulita, making it easy to visit both towns in one trip.
Direct from Puerto Vallarta: If you're looking for a quieter experience, you can skip Sayulita and head directly to San Pancho.
8. Sierra Madre ATV Adventure and Zipline
The Sierra Madre mountains serve as a stunning backdrop to Puerto Vallarta, and there's no better way to experience them than by embarking on an ATV and zipline adventure tour. These day tours from Puerto Vallarta offer a thrilling way to explore the natural beauty that surrounds the city.
Things to Do
ATV Adventure: This tour is perfect for adrenaline junkies who also appreciate nature. Starting with a ride along Puerto Vallarta's Malecón and downtown streets, the adventure takes you deep into the Sierra Madre mountains. You'll pass through rivers and jungles, eventually reaching Rancho Capomo, an ecological haven.
Ziplining: Once at the park, you'll have the opportunity to soar through the trees on 13 different ziplines, offering a unique perspective of the lush jungle landscape.
A bandana, helmet, and goggles are provided, so you don't have to worry about gear. Just bring your driver's license and a great attitude for adventure.
How to Get There
9. La Cruz Huanacaxtle Sunday Market
If you find yourself with a free Sunday in Puerto Vallarta during high season, don't miss the chance to visit the La Cruz Sunday Market in Huanacaxtle. Located in the neighboring state of Nayarit, it's a short distance from Nuevo Vallarta and offers one of the best market experiences in the region.
What to Do
Shop Local: The market is packed with local vendors offering high-quality crafts, food, and drinks. It's a great place to pick up unique souvenirs or treats.
Enjoy the Atmosphere: Set along a pier with water on all sides, the market has a fantastic vibe. Live music often plays, adding to the ambiance as you explore.
Food Galore: Toward the end of the market, you'll find a diverse range of food vendors offering everything from Mexican cuisine to Greek dishes.
How to Get There
From Puerto Vallarta: The market is about a 45-minute drive from Puerto Vallarta and is located close to Nuevo Vallarta in the state of Nayarit. I drove there with a friend, and renting a car would be the easiest option if you're visiting. There are also public buses to La Cruz.
10. Nogalito Ecopark
For an eco-friendly adrenaline rush, head to Nogalito Ecopark. Nestled in the Sierra Madre mountains near Puerto Vallarta, this sustainable park offers a variety of ziplines that let you soar through the tropical jungle.
What to Do
Ziplining: The park features multiple ziplines that take you across the lush canopy of the Sierra Madre mountains.
Hiking: Explore the natural beauty of the Sierra Madre through various hiking trails within the park. It's a great way to immerse yourself in the tropical jungle.
Waterfalls: The park is home to some of the best waterfalls in Puerto Vallarta where you can take a refreshing dip or simply enjoy the view.
How to Get There
11. Nuevo Vallarta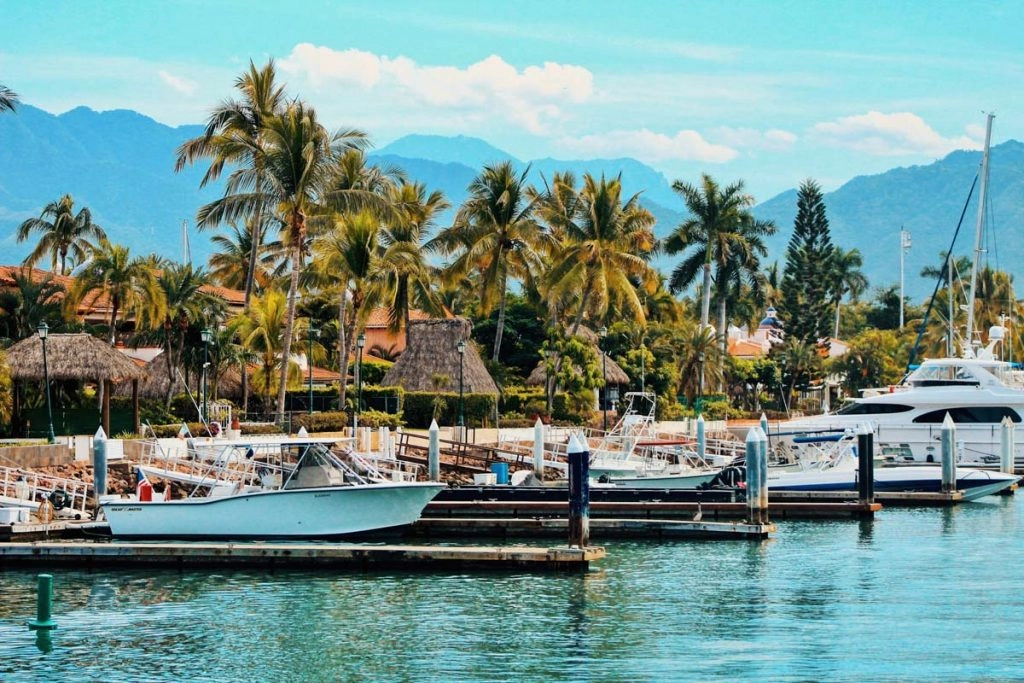 Nuevo Vallarta offers a different vibe from its bustling neighbor. With its luxurious resorts, exceptional beach clubs, and top-tier dining options, it's a must-visit for anyone looking to experience a more relaxed, upscale side of the Bay of Banderas.
What to Do
5-Star Resorts: Treat yourself to a weekend of luxury at one of the many 5-star resorts in the area.
Beach Clubs: The beach clubs in Nuevo Vallarta are top-notch, offering exceptional service and amenities.
Dining: Indulge in some of the area's renowned restaurants, serving everything from local to international cuisine.
How to Get There
Uber or Bus: Nuevo Vallarta is easily accessible from Puerto Vallarta's Centro via Uber or bus, making it convenient for a quick trip.
13. Las Caletas
Las Caletas is a hidden gem, often referred to as Mexico's answer to the Garden of Eden. This secluded nature reserve in Banderas Bay is only accessible by tour, making it an exclusive and enchanting destination for a full-day excursion from Puerto Vallarta.
What to Do
Water Activities: Snorkeling, scuba diving, and kayaking to explore the crystal-clear waters.
Nature Walk: Take a stroll through the lush jungle, keeping an eye out for diverse wildlife.
Relax on the Beach: With golden sands and an open bar, relaxation is just a sip away.
How to Get There
15. Bucerias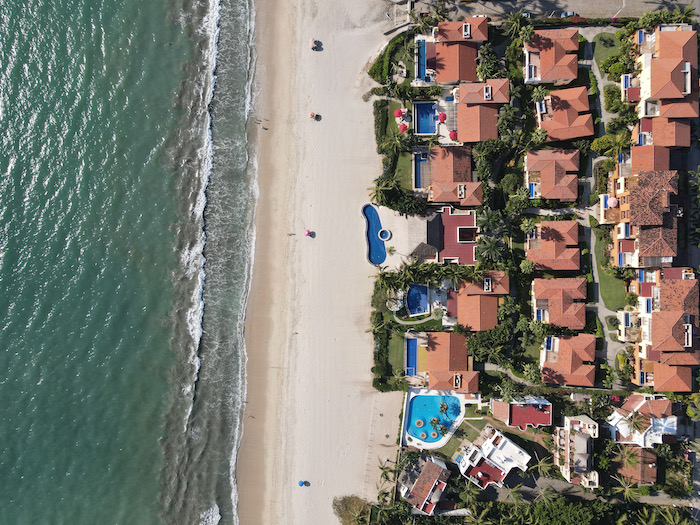 Just a 30-minute drive north from Puerto Vallarta, Bucerías is a beautiful beach town that offers a unique blend of local culture and beachside relaxation.
With its long, sandy beaches and vibrant art scene, a day trip to Bucerias from Puerto Vallarta is ideal for those looking to experience a different side of the Bay of Banderas. It's known as mini-Canada due to the amount of Canadian expats living there!
What to Do
Beach Time: Bucerías is home to some of the most tranquil beaches in the area. Whether you're into sunbathing, swimming, or paddleboarding, you can do it in Bucerias.
Art Walk: The town is renowned for its thriving art scene. Don't miss the Bucerías Art Walk, a weekly event where local artists display their work.
Food Tour: Indulge in the local cuisine. From beachside seafood shacks to craft breweries, Bucerías offers a range of dining options.
How to Get There
Getting to Bucerías from Puerto Vallarta is a breeze. You can take a local bus from Puerto Vallarta for about 20 pesos, or opt for an Uber, which will cost around 200-300 pesos. If you're driving, just head north on Highway 200.
17. Canopy River Park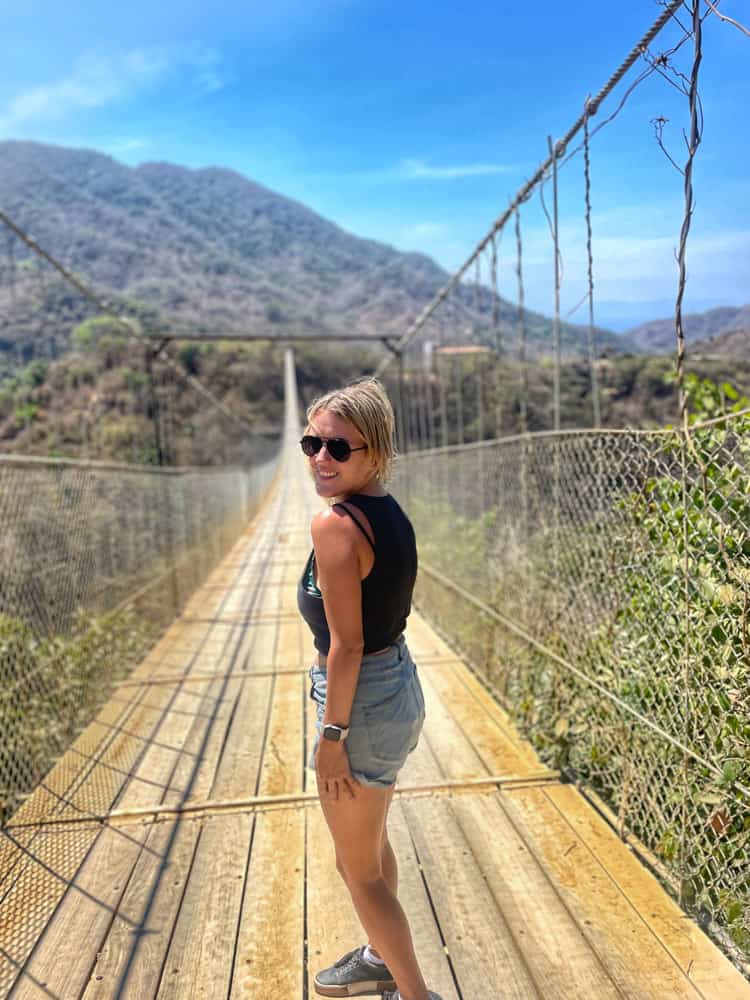 Just 20 minutes away from Zona Romantica, Canopy River Park offers an adrenaline-packed experience close to Puerto Vallarta. It's an ideal spot for those looking to add a bit of adventure to their trip without straying too far from the city.
What to Do
Ziplining: The park features multiple ziplines that take you soaring over the lush jungle canopy.
ATV Tours: Get your adrenaline pumping with an ATV tour through the rugged terrain.
Jorullo Bridge: Take a walk across the Jorullo Bridge, one of the longest suspension bridges in the world, for stunning views.
Swimming: After your adventures, cool off in the pool located by the restaurant.
How to Get There
Shuttle Service: The park offers a shuttle service if you book a package, providing a hassle-free way to get there.
Uber Caution: I once tried to get an Uber, and they wouldn't go up the road as it was bumpy. I had to hitchhike, so it's better to use the park's shuttle service or drive yourself.
19. Hike to Playa Colomitos
Playa Colomitos is a secluded beach that's a hiker's dream. Accessible only by foot or boat, this hidden gem is one of the most beautiful beaches near Puerto Vallarta.
What to Do
Hiking: The trail to Playa Colomitos starts at Boca de Tomatlán and takes about 40 minutes. It's a moderate hike with some steep sections, but the reward is a stunning, secluded beach.
Swimming: Once you arrive, take a dip in the crystal-clear waters to cool off.
Picnic: Pack some snacks and enjoy a peaceful picnic on the beach.
How to Get There
By Foot: The hike starts at Boca de Tomatlan, which is accessible by bus or taxi from Puerto Vallarta.
By Boat: If hiking isn't your thing, you can also reach the beach by water taxi from Boca de Tomatlán.
Guided Tour: For a hassle-free experience, join this guided tour that includes a guide to take you on a bus and water taxi to the starting point of the hike plus snorkeling equipment.
20. Spend the day at Casitas Marikas Beach Club
Casitas Maraika is a secluded beach club located on a secluded beach just before Las Animas, and it's my personal favorite for spending the day. The club offers a boho-chic atmosphere on one of the area's most beautiful beaches, making it a perfect spot to relax and enjoy the amazing fresh seafood.
What to Do
Chill Out: The serene jungle setting is ideal for relaxation. Grab a signature cocktail and let the day drift away, switching between ocean swims and relaxing on the sun loungers.
Listen to Music: On weekends, my DJ friend sometimes plays, adding to the club's vibrant atmosphere.
Dining: The food here is amazing. Last time I visited, the staff even made a special meal for my dog!
How to Get There
By Hike: You can hike from Boca de Tomatlán, which takes about an hour.
By Water Taxi: Take a water taxi directly there from Boca, which takes about 5 minutes.
Note: Water taxis stop around 5 pm, so plan accordingly. After that, you'll need to hire a private one or walk back.
21. Punta Mita
Punta de Mita is a luxurious peninsula about an hour's drive from Puerto Vallarta. It's widely celebrated as one of the best beaches near Puerto Vallarta for surfing. While the area is known for its high-end resorts and private beaches, there are ways to enjoy its public spaces too.
What to Do
Surfing: One of the top activities here, the waves are perfect for both beginners and pros.
Beach Lounging: While many beaches are private, spots like Litibu Sunsets Restaurant offer public access. I've been to parties at Litibu Sunsets Restaurant, where DJs spin, and we've camped on the beach afterward. It's a blast!
How to Get There
By Car: Renting a car is the most convenient option, especially for the return trip.
By Uber: An Uber ride costs around 500 pesos, but be warned, getting an Uber for the return trip can be challenging.
FAQ: Puerto Vallarta day trips
What are good day trips from Puerto Vallarta?
Some excellent day trips from Puerto Vallarta include Sayulita, San Pancho, Yelapa, and the Marietas Islands.
Are there any Mayan ruins near Puerto Vallarta?
No, there are no Mayan ruins near Puerto Vallarta. The closest significant ruins are in central and southern Mexico.
What is the little town outside of Puerto Vallarta?
One little town outside of Puerto Vallarta is Bucerías, known for its charming streets and beautiful beaches.
What is the hippie beach town near Puerto Vallarta?
The hippie beach town near Puerto Vallarta is Sayulita, famous for its surfing, art scene, and laid-back vibe.
Are there any pyramids near Puerto Vallarta?
No, there are no pyramids near Puerto Vallarta. Most pyramids in Mexico are located in the central and southern regions.
What is the magic city near Puerto Vallarta?
One "magic city" or "Pueblo Mágico" near Puerto Vallarta is San Sebastián del Oeste, a historic mining town in the mountains.
Where is Hidden Beach in Puerto Vallarta?
Hidden Beach is located on the Marietas Islands, accessible only by boat and with a special permit.
What beach do locals go to in Puerto Vallarta?
Locals often go to Playa Camarones or Playa Los Muertos.
What are the less touristy beaches near Puerto Vallarta?
Less touristy beaches near Puerto Vallarta include Playa Colomitos and Playa Palmares.
How many days is enough in Puerto Vallarta?
A week is generally enough to explore Puerto Vallarta and take a couple of day trips.
What month is best for Puerto Vallarta?
The best months to visit Puerto Vallarta are from November to April, during the dry season.
Final thoughts: Fun day trips from Puerto Vallarta
While there are plenty of things to do in Puerto Vallarta, to truly unlock the magic of this region, stepping out for some day trips is essential to enrich your experience.
By combining beach escapes with mountain adventures and visits to "Pueblos Mágicos," you'll get a well-rounded taste of everything this stunning area has to offer on these day trips in Puerto Vallarta.
Whether you're into surfing, hiking, or simply soaking up the local culture, there's a day trip that's perfect for you!
Looking for more day trips around Puerto Vallarta? Check out these posts!