This post may contain affiliate links. By clicking and making a purchase through the links, I earn a small commission at no extra cost to you. See my disclaimer for more information. This allows me to keep the site up to date and expand on resources.
Looking for the best Puerto Vallarta Instagram spots? Let me help! I live in Puerto Vallarta and am a travel content creator, so I know all the best photo spots in Puerto Vallarta.
Puerto Vallarta is more than just a stunning beach destination; it's a photographer's dream. With its diverse landscapes that range from golden beaches and lush jungles to charming cobblestone streets and vibrant art murals, this Mexican paradise offers endless opportunities for that perfect Instagram shot.
Whether you're a professional photographer, a content creator, or someone who just loves capturing moments, this guide to Puerto Vallarta Instagram spots is for you.
Best Puerto Vallarta Instagram Spots
Let's start this guide with the best photo spots in Zona Romantica, the Old Town of Puerto Vallarta, where you'll find the iconic Malecon, cobblestone streets, and beautiful murals painted by local artists.
1. Malecon
The Malecon isn't just a boardwalk; it's one of the best art galleries in the city. Walking along takes you through an open-air museum with sculptures from renowned Mexican and foreign artists. With the Pacific Ocean as a natural backdrop, it makes for some perfect photo ops!
Whether you pose next to the iconic Caballito (Seahore) Sculpture, the Puerto Vallarta Sign, or the intricate Los Arcos del Malecon, each spot offers a unique setting for a memorable photo.
The Malecon stretches from the Romantic Zone to 5 de Diciembre, so this is a great place to stroll along for an afternoon taking photos and exploring the neighborhood afterward.
The only issue with the Maleon is that it's very busy, making it difficult to get a good photo without the crowds of people. This is why influencers get up early!
2. El Parque de Los Azulejos
If you're looking to add a splash of color to your social media feed, El Parque de Los Azulejos in Zona Romantica is your go-to spot.
Formally known as Lazaro Cardenas Park, this public art installation by a Mexican artist is a kaleidoscope of vibrant colors and patterns. Each tile tells its own story, and there are several benches to sit on for photos.
They're not just places to sit; they're works of art that glimmer in the sunshine, adding a magical touch to your photos.
3. Los Muertos Pier
Los Muertos Pier is one of the most iconic symbols of Puerto Vallarta. This modern architectural marvel juts out into the ocean, resembling the shape of sailboats that pass through the Bay. It's located on Playa Los Muertos, which has plenty of other photo spots.
It's wonderful for photos as the sun sets, casting golden hues on the water. However, my favorite way to photograph it is with my drone from above!
4. Downtown Art Murals
Puerto Vallarta is a city rich in local culture and art, and nowhere is this more evident than in the downtown murals you can mainly find in Calle Abasolo in El Centro and Zona Romantica. Painted by local artists, use this street art map finder to locate them.
Nothing's more Instagrammable than a vibrant art piece, so make an afternoon photo shoot and go on a walking tour to these artistic pieces.
5. Bar IK Bamboo Swing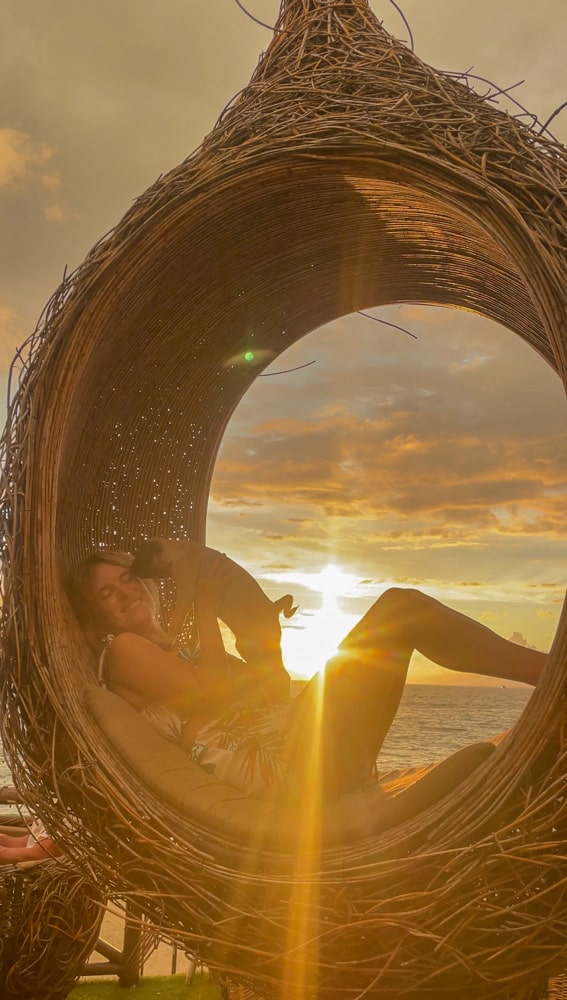 Bar IK offers is more than just a restaurant; it's a photo op you won't want to miss. The restaurant is full of bohemian-style furniture, but the best photo spot is the bamboo swing.
From the middle of the swing, you can see the sun setting perfectly centered over the ocean in your view. It's perfect for those golden hour shots.
Plus, the restaurant's rooftop offers the best views of Los Muertos Beach and the pier, giving you a variety of stunning backdrops for your photos. And it doesn't hurt that the food is fantastic!
6. Pinnacle Resorts Rooftop Bar
If you're chasing the perfect sunset shot, the rooftop bar at Pinnacle Resorts is where you want to be. This rooftop area is usually just for guests, but they are open 5:30-8 to the public for happy hour specials.
The elevated view offers a panoramic perspective of Puerto Vallarta, making a great photo as the sun sets over the city.
7. Isla Cuale
This island in the middle of the city offers a peaceful escape with its lush greenery and river views. It's a unique spot for photos that capture a different side of Puerto Vallarta.
In recent years, local artists have added art murals to the island, adding to its beauty. There's also the only good Indian restaurant in PV here (if you want a break from Mexican), and right next to it is a park full of cats.
Photo spots in El Centro
Just across the bridge after crossing the Cuale River, you'll be in El Centro, home to several other downtown Puerto Vallarta photo spots worth exploring. Make an afternoon of it to explore both neighborhoods!
8. La Capella Restaurant
If you're looking for a dining experience that's as visually stunning as it is delicious, La Capella is your spot.
While it can be pretty busy during the evening, I went here for breakfast on a Tuesday, and we had the whole restaurant to ourselves. We scored a table overlooking the iconic Guadalupe Church, which is one of the most iconic views in Puerto Vallarta.
Whether you're capturing your gourmet breakfast or the church bathed in the morning light, this place offers a variety of photo ops that are as diverse as they are stunning. It's easily one of the best restaurants with a view in Puerto Vallarta!
9. Casitas Caraika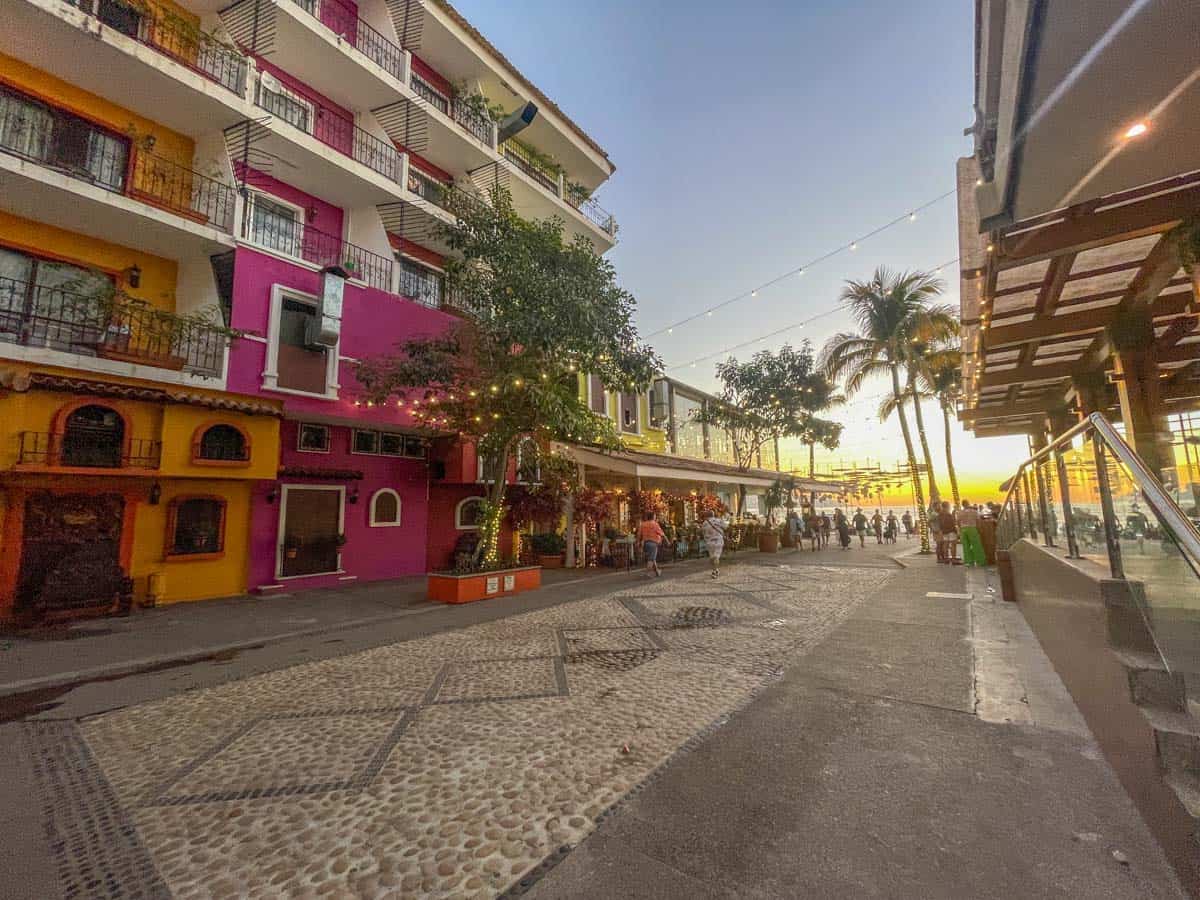 This vibrant street around the corner from Hotel Playa Los Arcos is one of the most Instagrammable places in Puerto Vallarta. It's just a couple minutes away from Los Muertos Pier, so you can easily combine the two into one epic photoshoot.
While the street is often bustling with people, I found that going early in the morning is the key to getting those unobstructed shots. But during the evening, they've added lights to the street above, giving it a magical glow that's perfect for those dusk or nighttime shots.
10. Umbrella Street in El Centro
Located in the heart of the art gallery district, this street is adorned with a canopy of vibrant umbrellas hanging above, which always makes for a great photo.
The best time to visit? Combine it with the Art Walk that happens every Wednesday night during high season to explore Puerto Vallarta's many beautiful art galleries along with the murals.
11. Cerro de la Cruz Lookout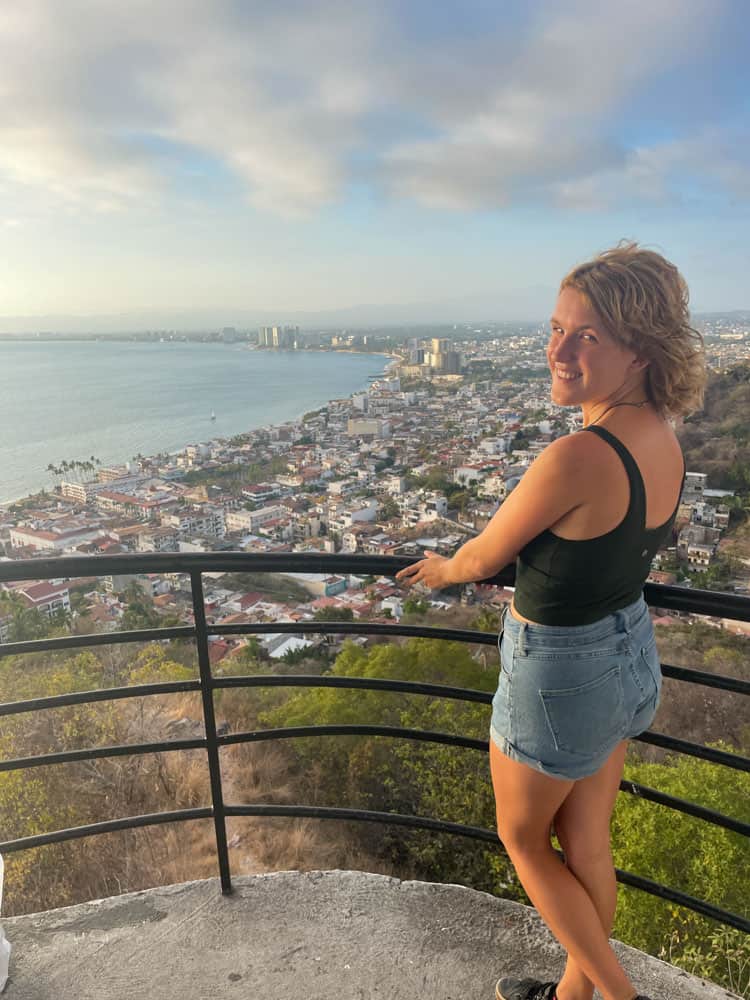 If you're willing to break a sweat, the Cerro de la Cruz Lookout offers an unparalleled view of the city and the Bay. It's a bit of a hike, so it's best to go early in the morning to avoid the heat. I don't think I've ever gotten up here, not drenched in sweat.
The panoramic views from the top are the reward for your effort, providing a dramatic setting for landscape shots of the red and white houses stretching towards the Bay of Banderas.
12. Church of Our Lady of Guadalupe
The iconic Our Lady of Guadalupe Church is a symbol of Puerto Vallarta. It makes a stunning backdrop to any photo, and the square around it is bustling with local life, from vendors to musicians.
It's a popular gathering place for locals and is a great spot to capture the city's vibrant community spirit in photography.
13. Puente Del Amor (Bridge of Love)
The Puente Del Amor isn't just another pretty spot; it's a piece of Puerto Vallarta history. This is where Hollywood legends Richard Burton and Elizabeth Taylor fell in love while filming "Night of the Iguana," a movie that put PV on the map.
Nowadays, you can either stay in their former love nest, Casa Kimberly, or head there to snap an iconic photo on the bridge that symbolizes their love story.
Other Puerto Vallarta photo spots
14. Conchas Chinas Beach
Let's be honest, while Puerto Vallarta has a lot to offer, the beaches in the central part of town aren't exactly postcard material. That's why heading a bit south to Conchas Chinas is a game-changer.
Not only is the water clearer, but the unique rocky formations along the shore create these natural pools perfect for swimming and snapping some killer photos. The rocks add a dramatic texture to your shots, making every click Instagram-worthy.
You can either take a leisurely walk from Los Muertos Beach or hop in a 5-minute Uber to get there. Trust me, the extra effort is worth it for the swim and the shots.
15. Playa Palmares
Just a 10-minute drive from Zona Romantica is one of my favorite Puerto Vallarta beaches, Playa Palmares.
The beach here is far superior to anything you'll find in town, thanks to its beautiful turquoise water. It's also a hotspot for seabirds, adding a touch of nature to your shots.
The long stretch of white golden sand provides the perfect canvas for your photos, and there's plenty of space to find your ideal shot.
16. Playa Gemelas
Playa Gemelas is another beach south of the city that offers a quieter beach experience.
The beautiful beaches are surrounded by lush greenery, crystal-clear waters, and fine sand, which make it an idyllic spot for those picture-perfect beach shots.
17. Marina Boardwalk
If you want to add a touch of luxury to your photos, the Marina Boardwalk is the place to be.
With yachts in the marina, you can capture the essence of Puerto Vallarta's upscale side against the sea.
The boats offer a glamorous backdrop, with some great restaurants to check out afterward. This is also where many of the yacht tours depart from!
18. La Leche Restaurant
La Leche offers a dining experience like no other. The all-white decor creates a monochromatic wonderland that's both elegant and Instagram-worthy. Wearing white isn't just encouraged; it's part of the experience.
This unique setting offers a sophisticated backdrop for your photos, making every shot look straight out of a magazine.
19. Jorullo Bridge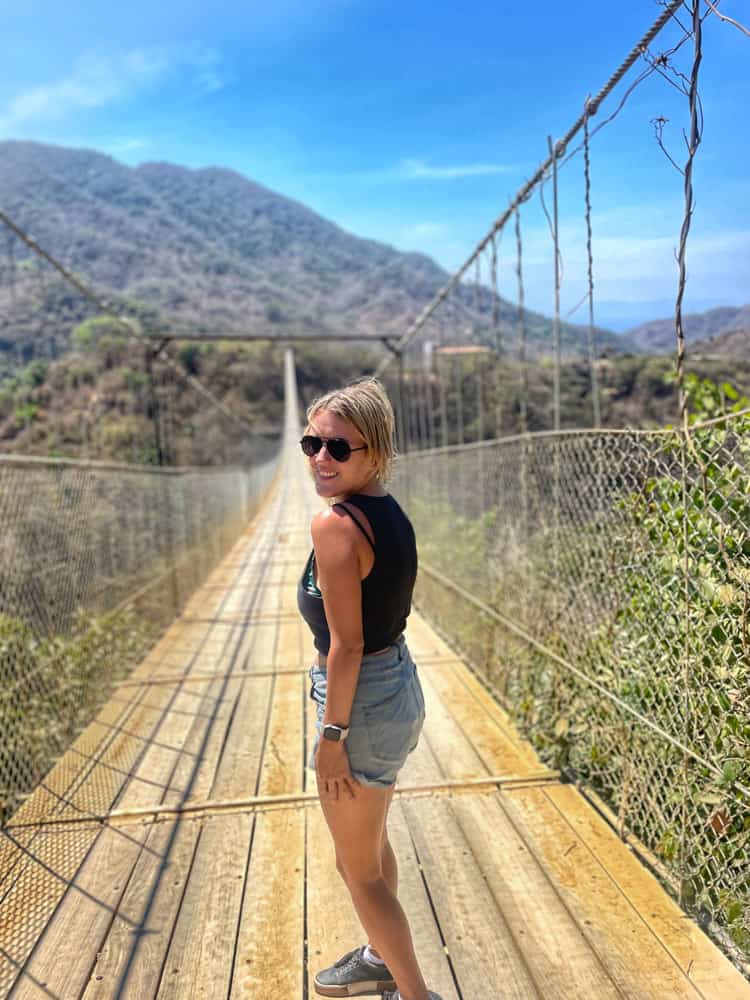 If you're an adventure enthusiast like me, you can't miss Jorullo Bridge in Canopy River Park. Not only is it the longest vehicle suspension bridge in the world, but it's also a great place to take photographs.
The walk across takes about 5 minutes, but you'll want to take your time. There are plenty of photo ops along the way, with the bridge suspended over a lush jungle.
The best photo op is actually from the bar on the other side of the bridge. From there, you can capture the bridge in its full glory, set against the backdrop of the Siera Madre mountains.
While the Canopy River Park restaurants is free to enter, walking across the bridge will cost you a few hundred pesos. After your walk, take a dip in the pool that overlooks the mountains for another great photo.
Puerto Vallarta photo spots south of the city
20. Los Arcos
Visiting Los Arcos Marine Park is a must on your Puerto Vallarta itinerary, and there are two ways to experience it. You can capture the majestic rock formations from the lookout off the highway, which provides a panoramic view.
Alternatively, for the more adventurous, snorkeling and diving provide an opportunity to see the marine life up close and get some underwater shots, while paddleboarding offers a unique perspective to get closer to the arches.
I rented jet skis with a friend from 5 de Diciembre and drove them to Los Arcos, which was so much fun. You can easily catch boats there from Mismaloya Beach.
21. The most beautiful OXXO
Going to an OXXO for a photo may seem like a weird thing to do, but this OXXO is not your average one.
From the back, there's a beautiful panoramic window view of the ocean. It's a great place to stop if you're heading south to these other spectacular spots. Grab a cerveza and enjoy!
22. Botanical Gardens
The Botanical Gardens are one of my favorite places to connect with nature and take some stunning photos. The gardens offer miles of hikes and walks through a vibrant array of colorful flowers.
But it doesn't stop there. You'll also find a photogenic church adorned with an art mural and a restaurant that overlooks the lush gardens, offering a variety of settings for your photo ops.
23. Le Kliff Restaurant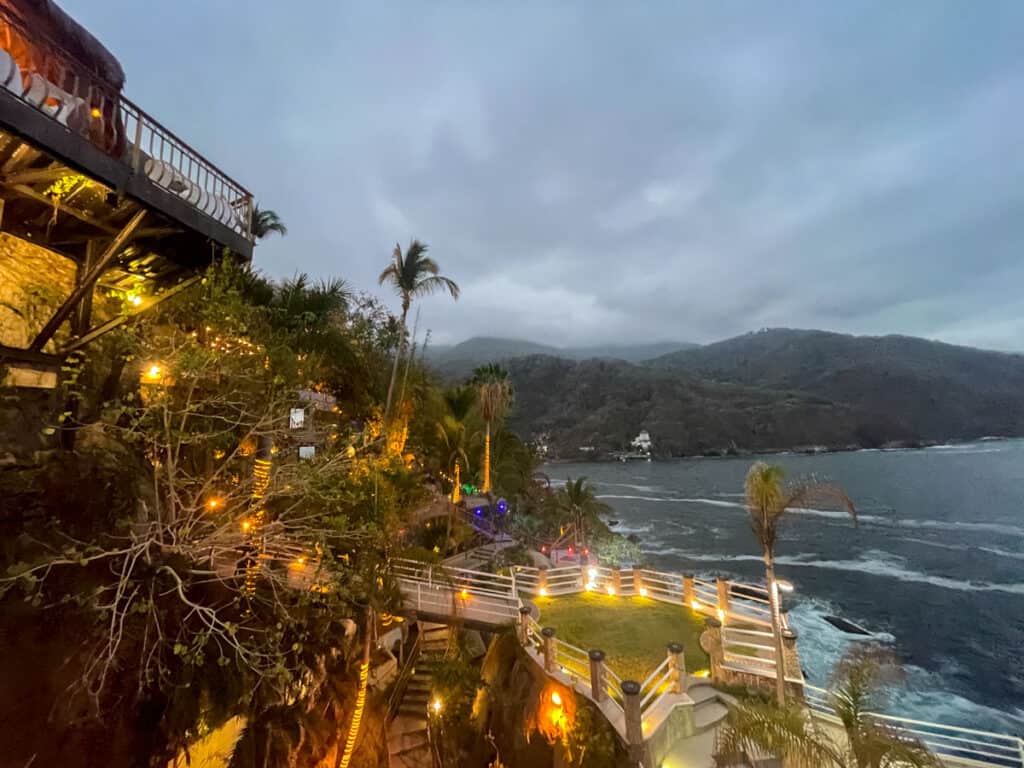 This cliffside restaurant offers some of the most dramatic views in Puerto Vallarta. It's literally a restaurant perched on a cliff, making a breathtaking backdrop for a photo, especially during sunset.
In addition, they have swings, mirrors, and viewing platforms set up throughout the restaurant, making this an Instagrammers dream.
24. Colomitos Beach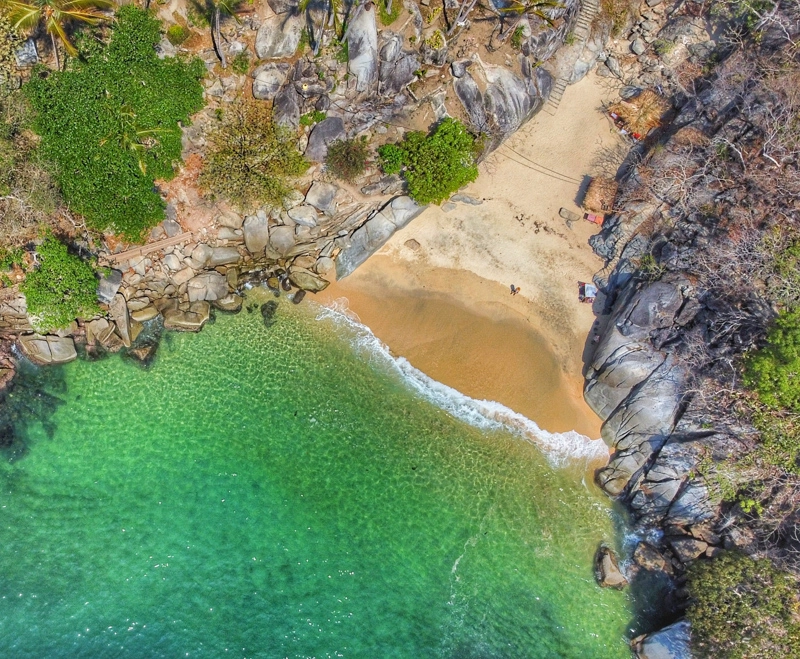 Playa Colomitos is a gem with turquoise-green waters you won't find anywhere else in Puerto Vallarta. The first time I went here, I felt like I had found a secluded paradise!
While that used to be the case, it's gained popularity and is usually crowded. But don't let that deter you; the beach's unique beauty makes it well worth the visit, especially when combined with a continued hike to Las Animas.
25. Playa Caballo
On the hike from Colomitos and Las Animas, you'll find Playa Caballo, a much more secluded beach.
The beach is a stunning blend of white sand, large rocks, and swaying palm trees, offering a perfect tropical photo stop. The hike is scenic, but the secluded beach is the real reward. It's a break from the more crowded spots and perfect for capturing those intimate, natural shots.
26. Casitas Maraika Beach Club
Casitas Maraika is my go-to beach club for a chill day by the ocean. What sets it apart? For starters, there's no entry fee, and the staff are super friendly. It's also dog-friendly, so I always bring Puglo here.
With its boho-chic decor and stunning ocean views, you'll find plenty of Instagrammable spots to capture your day in paradise. Even the food is a photo op!
27. Quimixto Waterfall
If you're a fan of natural beauty, the waterfall at Quimixto is a must. You can catch a boat to Quimixto from Boca de Tomatlan.
The hike to the falls through the jungle adds an adventurous element to your photo collection, and the waterfalls provide a serene photography setting.
28. Yelapa town and waterfall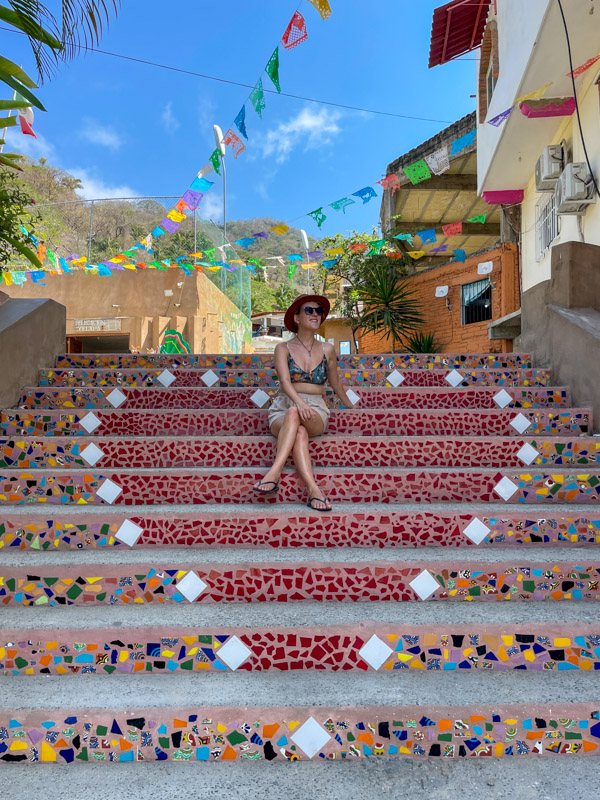 Yelapa is another favorite day trip from Puerto Vallarta. Walking through the town, there are many opportunities for Instagram photos by the colorful street art, and at the end, you can visit a small waterfall to cool off in.
29. On a Yacht
One of my favorite things to do in Puerto Vallarta with friends is to take catamaran tours or spend a day on a yacht. It makes for a great day out, and the photo ops are endless.
The open sea provides a stunning backdrop, and the yacht offers a range of settings, from the deck to the interior, for various photo ops that never disappoint.
Instagram spots north of Puerto Vallarta
30. Islas Marietas Hidden Beach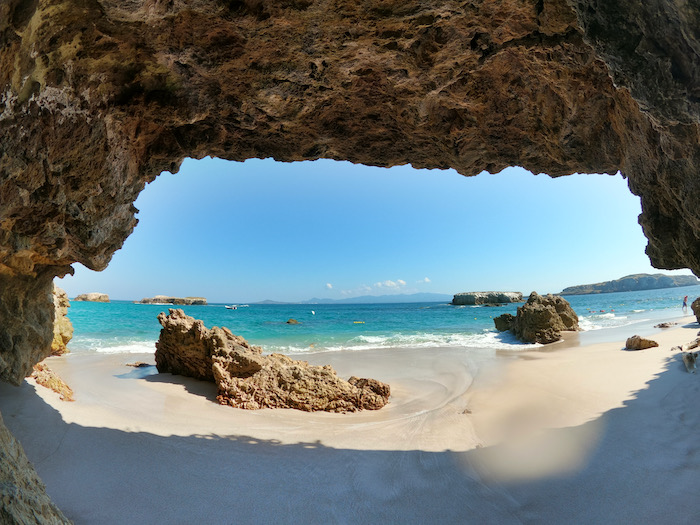 Located in the Marietas islands, this is not your average beach destination. It's a hidden beach you can only access by swimming through a tunnel.
An Instagram post actually was what made this beach go viral, causing mass tourism and the government to step in and limit the number of permits to 116 a day. If you want to visit, make sure to book one of these hidden beach tours in advance!
31. Colorful Streets of Sayulita
Sayulita is a small surf town about an hour away from Puerto Vallarta and is one of Mexico's most photogenic pueblos magicos, with its streets lined with vibrant buildings, quirky shops, and street art.
It's a place that captures the bohemian spirit of the Mexican Pacific coast, and there are a number of ways to get from Sayulita to Puerto Vallarta.
32. Punta Mita
Punta Mita is a surfer's paradise, and a photographer's dream rolled into one. Located about an hour's drive from Puerto Vallarta, this upscale resort area offers some of the best waves in the region.
But even if you're not into surfing, the beaches here are stunning. Think crystal-clear waters and golden sands, making it an ideal spot for beach and surf photography.
33. San Sebastián del Oeste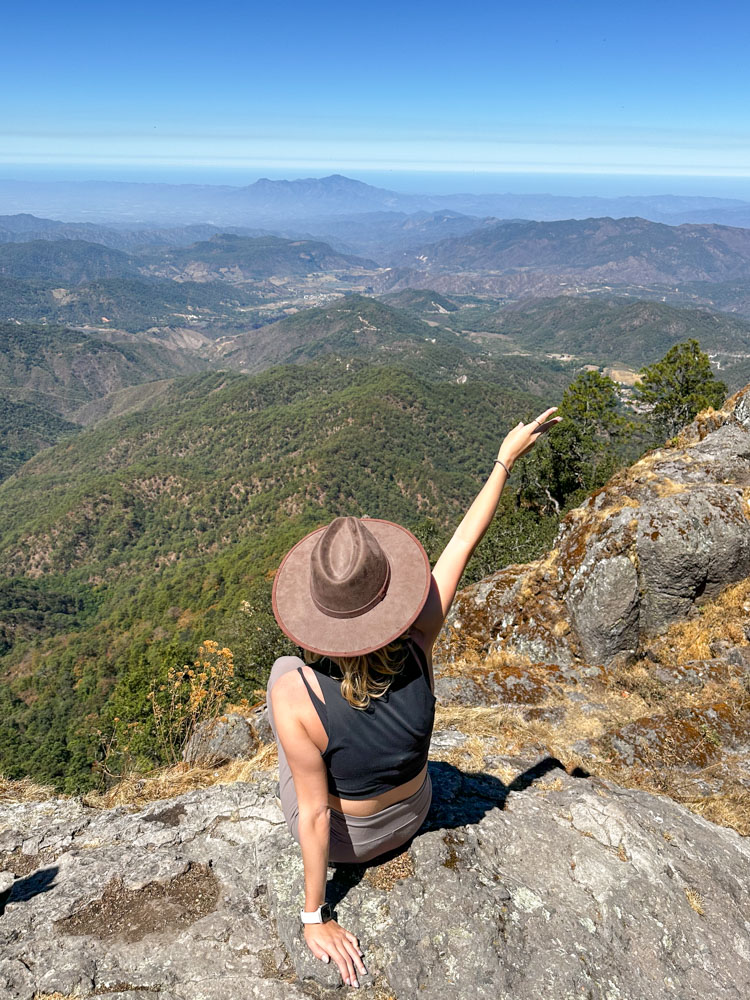 This small mountain town is a couple of hours from Puerto Vallarta but offers a step back in time with its colonial architecture and cobblestone streets. The town itself and the journey to get there offer numerous photo ops.
If you're up for an adventure, La Bufa is a must-visit. Located in the mountains near San Sebastián del Oeste, this lookout offers an unparalleled view of the entire Banderas Bay. The catch? You'll need to hop on an ATV to reach this remote spot.
Puerto Vallarta Instagram Captions
Captions can make or break your Instagram posts. A great photo deserves a caption that complements it, adding context or a dash of humor. Here are some Instagram caption ideas, including famous quotes, to make your photos of Puerto Vallarta stand out.
"Life is either a daring adventure or nothing at all." – Helen Keller
"Sunsets are proof that no matter what happens, every day can end beautifully." – Kristen Butler
"Take only pictures, leave only footprints."
"The ocean stirs the heart, inspires the imagination, and brings eternal joy to the soul." – Robert Wyland
"Eat. Beach. Sleep. Repeat."
"Find me under the palms."
"Salty air, sun-kissed hair."
"Wander often, wonder always." – John Travers
"Travel far, travel wide, and travel without regret."
"The world is a book, and those who do not travel read only one page." – St. Augustine
"Let the waves hit your feet, and the sand be your seat."
"Wherever you go, go with all your heart." – Confucius
"Adventure is worthwhile." – Aesop
"I followed my heart, and it led me to the beach."
"To travel is to live." – Hans Christian Andersen
FAQ: Photo spots in Puerto Vallarta
Where can I take pictures in Puerto Vallarta?
You can take pictures at various spots like Malecon, Marina Boardwalk, and Cerro de la Cruz Lookout, among others listed in this guide.
Where are the colorful buildings in Puerto Vallarta?
Colorful buildings can be found throughout the city, but are mainly located in Zona Romantica and El Centro.
What is unique about Puerto Vallarta?
Puerto Vallarta offers a blend of natural beauty, cultural richness, and vibrant art scenes, making it a photographer's paradise.
Is street photography legal in Mexico?
Yes, street photography is generally legal in Mexico, but always respect people's privacy.
Where is Hidden Beach in Puerto Vallarta?
Hidden Beach is located at Islas Marietas, a two-hour boat ride away from Puerto Vallarta.
What is the hippie beach town near Puerto Vallarta?
Sayulita is the popular hippie beach town near Puerto Vallarta.
What made Puerto Vallarta famous?
The film u0022Night of the Iguanau0022 and the love story of Richard Burton and Elizabeth Taylor put Puerto Vallarta on the map.
What is the coolest area of Puerto Vallarta?
Zona Romantica is often considered the coolest area, known for its vibrant nightlife and artsy vibe.
What is the nicest place in Puerto Vallarta?
Conchas Chinas Beach is often cited as one of the nicest places for its scenic beauty.
What is the famous street in Puerto Vallarta?
The Malecon is the famous street, known for its sculptures, shops, and ocean views
Should I bring a camera to Mexico?
Absolutely, especially if you're visiting Puerto Vallarta. The photo ops are endless.
Final thoughts: Puerto Vallarta Instagram Spots
And there you have it—my comprehensive guide to the most Instagram-worthy spots in Puerto Vallarta. From the iconic beaches and lush jungles to the hidden gems that only locals know about, this city offers a diverse backdrop for every type of photographer.
Whether you're here for a destination wedding, a family vacation, or just to explore, you're bound to find the perfect setting for your photos. And if you're not sure how to frame that perfect shot, hire a local photographer to help.
I've spent years discovering these spots, and each one offers its own unique charm and beauty. So next time you find yourself in Puerto Vallarta, don't just see the sights—capture them. Your Instagram feed will thank you.
Looking for more things to see in Puerto Vallarta? Check out these posts!