This post may contain affiliate links. By clicking and making a purchase through the links, I earn a small commission at no extra cost to you. See my disclaimer for more information. This allows me to keep the site up to date and expand on resources.
Want to visit the Puerto Vallarta botanical gardens? Let me help! I live in Puerto Vallarta and love nature, so I regularly visit the gardens. It's one of my favorite places in the city to go and relax!
Home to 20 acres of lush tropical gardens and 3,000 different plant species, the Puerto Vallarta Botanical Gardens stand as a testament to Mexico's natural breathtaking beauty.
This tropical oasis offers not only a break from the city but also a unique opportunity to explore a wide variety of native plants, exotic flowers and even spot some wildlife.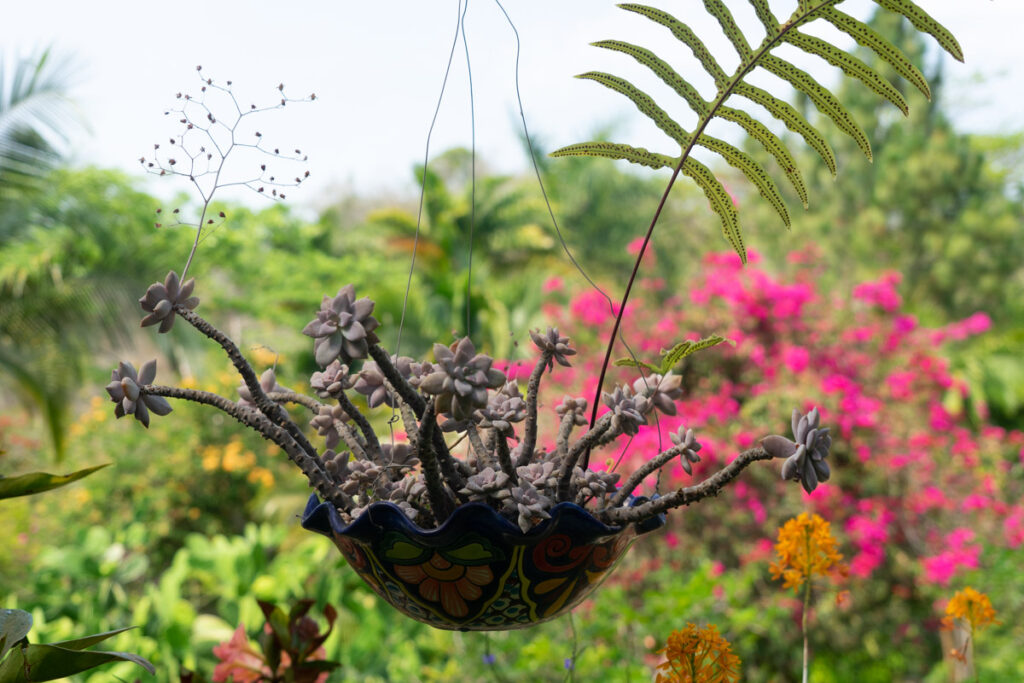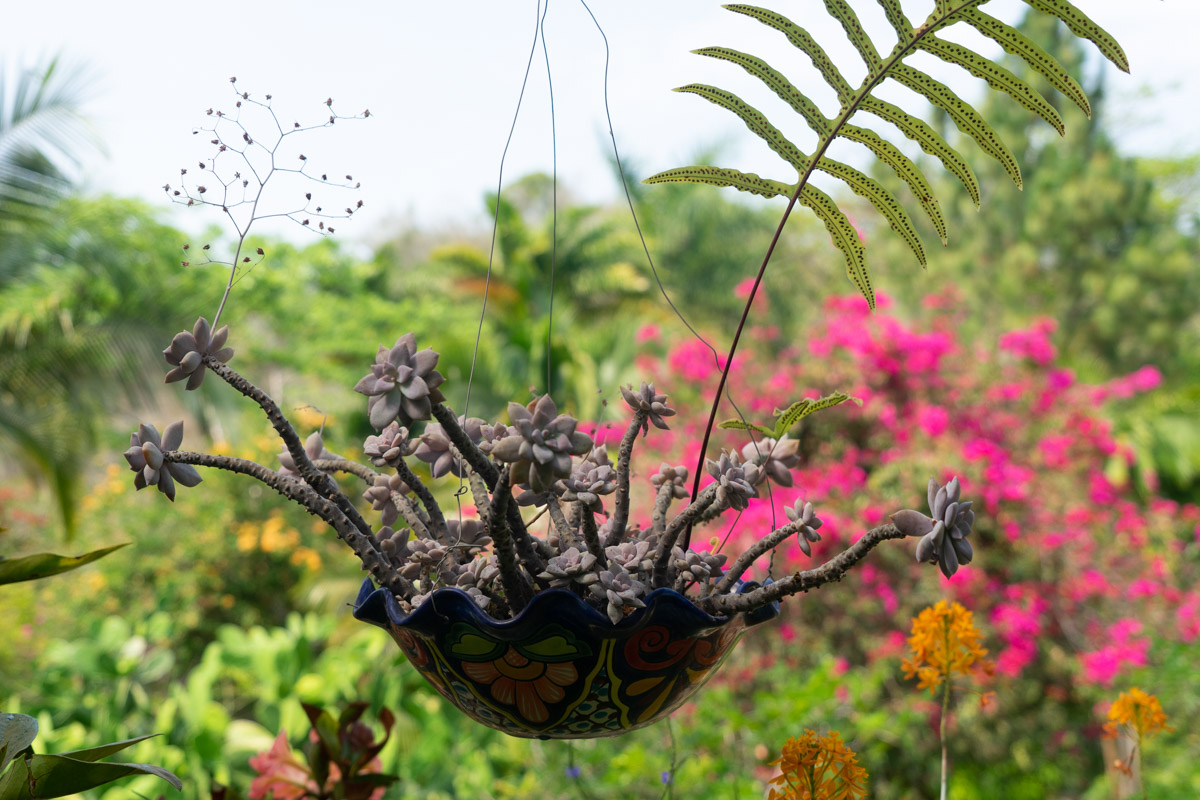 GET SKIP-THE-LINE TICKETS HERE
If you're visiting the Puerto Vallarta botanical gardens, grab your tickets here so you can skip the line.
In this post, I'll guide you through everything you need to know to make your visit to the Puerto Vallarta Botanical Gardens. We'll explore how to get there, the best times to visit, and the unique sections of the gardens.
How to get to the Puerto Vallarta botanical gardens
Puerto Vallarta Botanical Gardens tours
The easiest way to get to the Puerto Vallarta botanical gardens is on a tour, as they will pick you up and drop you off at your hotel.
This 6-hour tour combines a visit to Vallarta Botanical Garden with tequila tasting at Rancho Los Veranos. Pickup and drop off are included, along with a qualified guide to tell you about the plants.
For something more active, check out this fun hiking tour which includes a guided hike and a swim in the natural pools of the Horcones River nearby.
Driving
The Puerto Vallarta botanical gardens are a 40-minute drive from Zona Romantica. Take Highway 200 south of the city, and the gardens are located just off the highway.
Make a day of it by renting a car and exploring some of the other nearby attractions. Before the gardens is Chico's paradise, a nice restaurant where you can stop and swim in the waterfalls.
Further south is El Tuito, one of the charming Pueblo Magicos in Jalisco.
By Uber/Taxi
If you don't want to drive, the next easiest option is to get a taxi or Uber. I prefer using Uber in Puerto Vallarta over taxis as they are cheaper.
By Bus
There's a public bus that goes to the botanical gardens from Zona Romantica. It's on the corner of Venustiano Carranza and Aguacate (get directions here).
It's the "El Tuito" bus, but it should have the Vallarta gardens marked as a stop on the windshield. The bus fare is 50 pesos (about 2.50 USD), and they come every 30 minutes. It drops you off in front of the Botanical Gardens, and there is a shaded bus stop across the street when you want to go back.
Things to do at the Puerto Vallarta botanical gardens
Admire the collections of flowers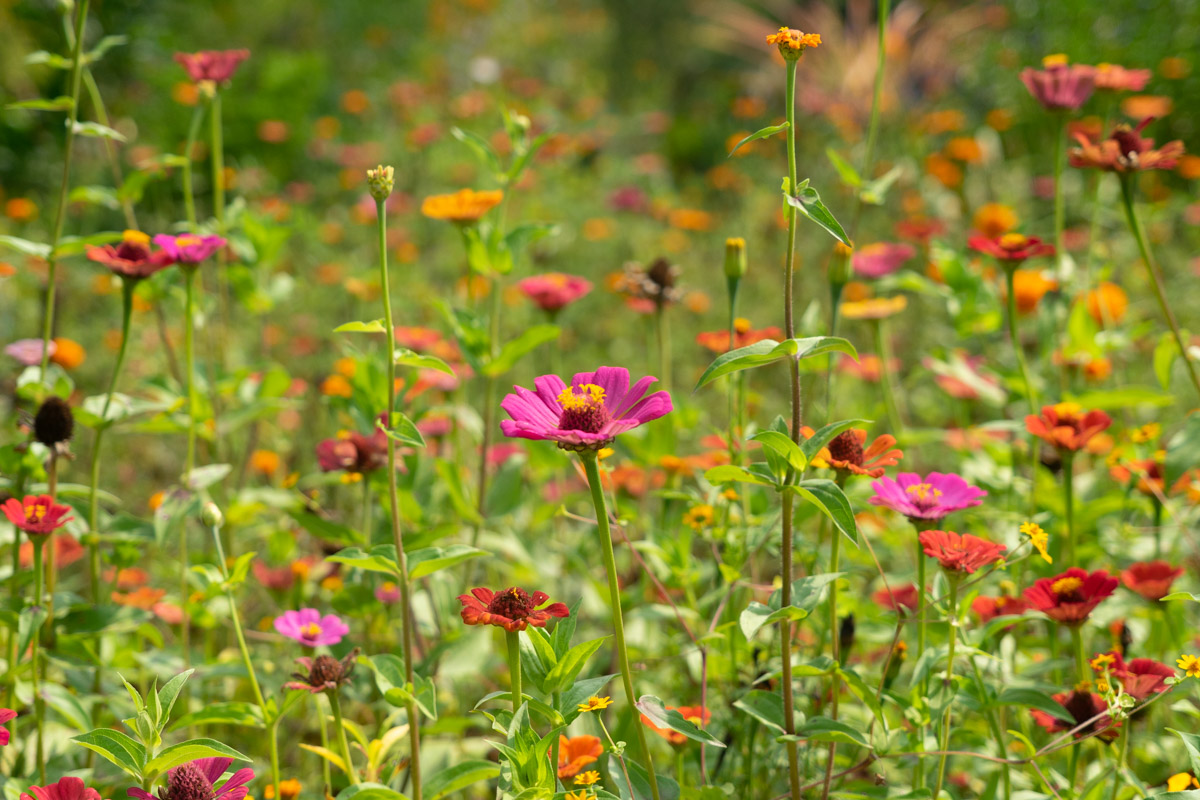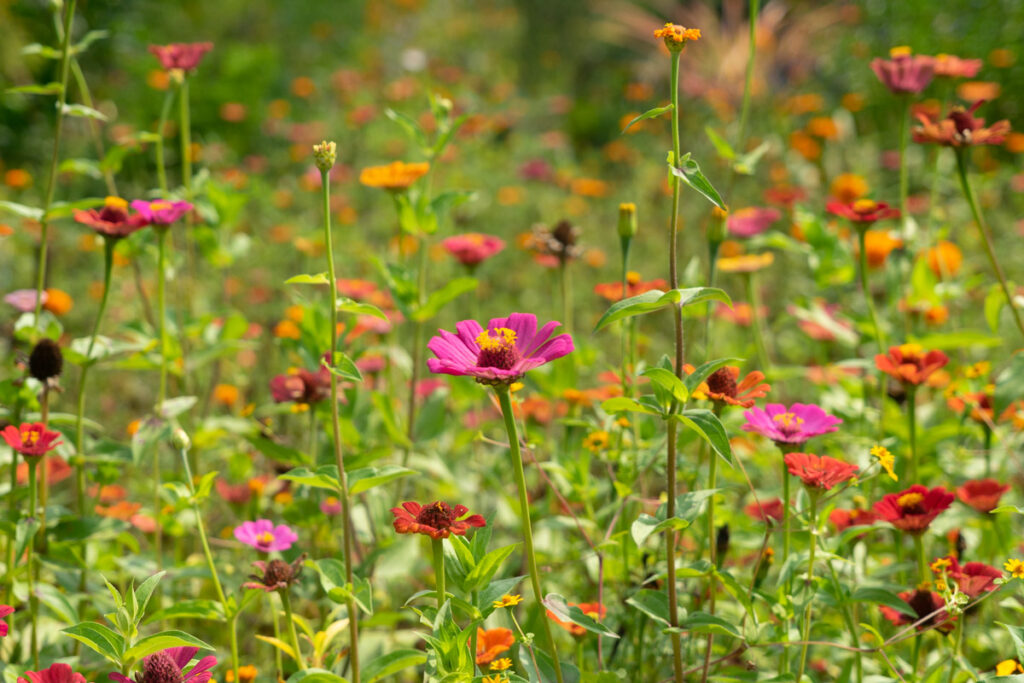 Being home to over 3,000 plant species, the best thing to do at the gardens is to walk around and admire the lush collection of Mexico's native flora, including rare and endangered species.
The Tropical Orchid House is home to a breathtaking variety of orchids, showcasing the exotic beauty of these captivating flowers. It's one of the most-visited public collections of orchids in Mexico!
Keep an eye out for native birds as you stroll through the gardens. The variety of habitats makes this a delightful spot for bird enthusiasts.
Take a hike
For adventure seekers, the garden's jungle trails offer an opportunity to explore the natural habitat of the area.
The botanical gardens are one of the best places to go hiking near Puerto Vallarta. Once you arrive at the gardens, you'll be given a map of the area as you enter.
The walking trails range in difficulty and terrain. There are easy ones around the gardens and steeper trails that go into the jungle. There are also hanging bridges which make some great photo ops.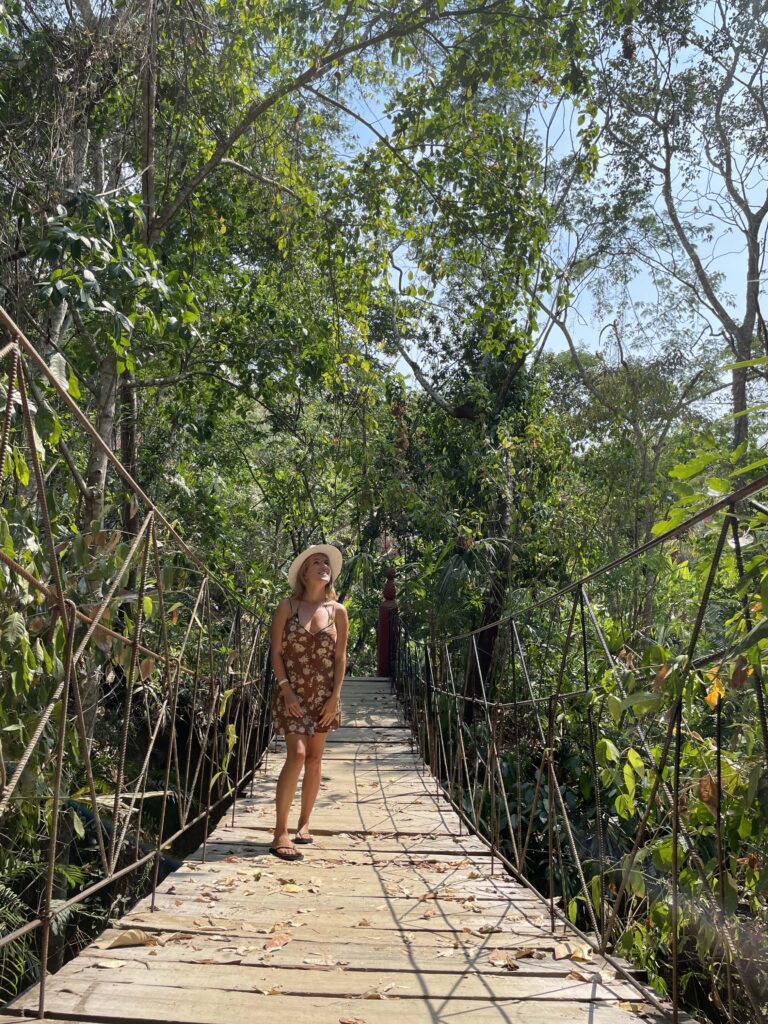 I wore flip-flops during my first visit, which was regrettable, as the terrain became quite steep going down.
Bring sunscreen, closed-toe shoes, and insect repellant with you if you want to go on the hiking trails.
Pets are welcome too! Just make sure you clean up after them.
Lookout for wildlife
In addition to the plants, the Vallarta Botanical Garden plays an important role in conserving the wildlife around Puerto Vallarta. They have a decade-long conservation project for the military macaw, which can be seen daily in the gardens.
There are over 200 native bird species in the gardens, so this is a great place to go bird-watching. The best time for this is when the birds are most active in the morning.
From December to March, they have an "early bird" opening at 8 AM on Thursdays.
Relax in the Garden's Chapel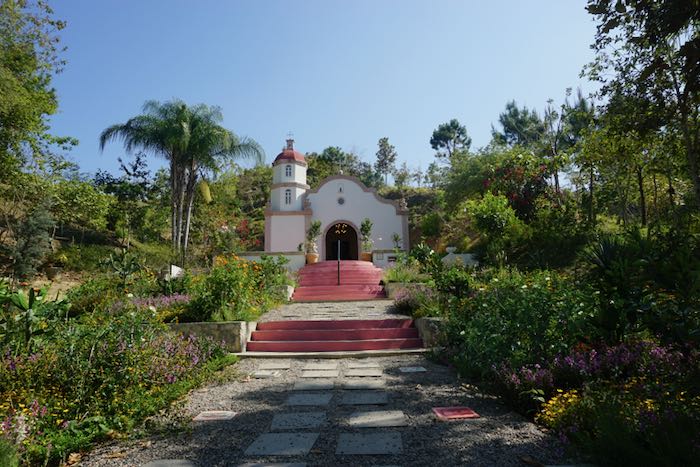 This is a peaceful spot for contemplation and enjoying the serene surroundings. There are beautiful artistic murals painted on the inside.
Attend Seasonal Events and Workshops
The gardens often host workshops, tours, and seasonal events. Check their calendar for an opportunity to enrich your visit with educational experiences.
Puerto Vallarta botanical gardens swimming
There's a river you can swim in, which is a short downhill hike from the restaurant.
Full disclosure: I got attacked by a leech while I was swimming in this river, but I had an open wound on my foot, which attracted it to me. The whole experience was terrifying as my friend had to pull it off me, but the staff were very helpful afterward and told us that it is not common.
So if you have any open cuts, I wouldn't get in the water!
Dine at Hacienda de Oro Restaurant
There's a restaurant called Hacienda del Oro, with the most beautiful view overlooking the jungle and garden grounds. Keep your eye out for hummingbirds here!
The restaurant's specialty is wood-fired pizzas, but they also serve authentic Mexican cuisine like fajitas and fresh-baked tortillas.
Below the restaurant is the garden gift shop, where you can bring a piece of the garden home with you! From botanical-themed gifts to locally-made products, there's something for every nature lover.
Need to know: The gardens are opened 9 am to 6 pm daily from December to March. From April to December, they are closed on Mondays. Check the official website for the latest information.
FAQ: Puerto Vallarta botanical gardens
How much is the entrance to the Botanical Gardens in Puerto Vallarta?
The entrance fee to the Botanical Gardens in Puerto Vallarta is 300 pesos in 2023.
How do you get to the Botanical Gardens in Puerto Vallarta?
There are several options to reach the Botanical Gardens. You can take a local bus that runs regularly from the Old Town, hire a taxi, or drive yourself.
What are the opening hours?
The gardens are open 7 days a week from December to March. From April to November, the gardens are closed on Mondays. The operating hours are from 9 am to 6 pm.
Can I take a guided tour?
Guided tours are often available, providing a richer understanding of the plants and the garden's mission.
Is the garden suitable for children?
Absolutely! The garden offers a fun and educational experience for children, with plenty of spaces to explore.
Are pets allowed in the garden?
Yes, pets are welcome in the garden when kept on a leash and under their owner's control. Pet owners are required to pick up their pet's waste immediately with a plastic bag. An extra fee of 100 pesos per pet applies.
How long should you spend at the Vallarta botanical gardens?
You could make a day out of it by hiking the trails, swimming in the river, and enjoying a meal at the restaurant afterward. I recommend spending at least 2-3 hours here.
Final thoughts: Should you visit the botanical gardens in Puerto Vallarta?
A visit to the Puerto Vallarta Botanical Gardens provides a great opportunity to explore the rich fauna of Mexico in a breathtaking setting.
Renting a car for the day can transform your visit into a perfect adventure, allowing you to combine the gardens with other nearby attractions like mesmerizing waterfalls or the beautiful southern beaches.
This exploration offers a window into Mexico's vibrant natural world, all within a short drive from Puerto Vallarta.
Whether you're an avid nature lover or simply looking for a tranquil escape, the Botanical Gardens and surrounding wonders make for a perfect day out.
🇲🇽 Puerto Vallarta Quick Guide 🇲🇽

✈️ Airport – The Licenciado Gustavo Díaz Ordaz International Airport (PVR) airport is a 20-minute ride to the city center. You can book an airport transfer here.

🏩 Hotels – The best websites for booking hotels and resorts are Booking.com and Expedia, which search all properties to find you the best deals. For inspiration on where to stay, head to my ultimate guide to Puerto Vallarta hotels.

🚗 Getting around – Puerto Vallarta is easy to get around by walking and Uber, but renting a car is the best way to explore the surrounding areas. Discover Cars is the best website for finding deals, which searches International and local Mexican companies.

🌊 Things to do – Puerto Vallarta is a paradise for outdoor adventure! Some of the top things to do are whale watching, yacht trips, and ATV tours.

✔️ Don't forget travel insurance! I use and love SafetyWing, which is insurance for remote workers. For shorter trips, I recommend HeyMondo – you can get 5% off by using that link.
Planning a trip to Puerto Vallarta? Check out these other things to do!