This post may contain affiliate links. By clicking and making a purchase through the links, I earn a small commission at no extra cost to you. See my disclaimer for more information. This allows me to keep the site up to date and expand on resources.
Using Uber in Puerto Vallarta is a great way to get around the city, but there are some things you should know about this popular ride-sharing app in Mexico before your first ride.
This post will cover everything you need to know about Uber in Mexico, including getting from the airport in Puerto Vallarta on Uber.
🇲🇽 Puerto Vallarta Quick Guide 🇲🇽

✈️ Airport – The Licenciado Gustavo Díaz Ordaz International Airport (PVR) airport is a 20-minute ride to the city center. You can book an airport transfer here.

🏩 Hotels – The best websites for booking hotels and resorts are Booking.com and Expedia, which search all properties to find you the best deals. For inspiration on where to stay, head to my ultimate guide to Puerto Vallarta hotels.

🚗 Getting around – Puerto Vallarta is easy to get around by walking and Uber, but renting a car is the best way to explore the surrounding areas. Discover Cars is the best website for finding deals, which searches International and local Mexican companies.

🌊 Things to do – Puerto Vallarta is a paradise for outdoor adventure! Some of the top things to do are whale watching, yacht trips, and ATV tours.

✔️ Don't forget travel insurance! I use and love SafetyWing, which is insurance for remote workers. For shorter trips, I recommend HeyMondo – you can get 5% off by using that link.
Is there Uber in Puerto Vallarta?
Yes, Uber works in Puerto Vallarta!
It is one of the best ways to get around the city and Mexico.
In fact, Mexico is Uber's fourth-biggest country by the number of rides, operating in 21 of the country's 32 states.
Whether you're taking an Uber from the airport, to explore nearby beach towns, or to get home from a night on the way – Uber is a safe and affordable way to get around Puerto Vallarta.
Is Uber safe in Puerto Vallarta?
Yes, it is safe to use Uber in Puerto Vallarta.
I've taken hundreds of Ubers in my three years living here and never had any issues.
What's great about Uber is that there is a record of where you are going, and you can use the safety features to share your ride information with friends and families. You can even audio record your journey and send it to Uber if needed.
When you get into an Uber, you have way more information about the driver and car than a taxi provides. You can also contact them afterward if you leave something in the Uber.
Puerto Vallarta Taxi Vs. Uber
I prefer using Uber over taxis in Mexico not only because it is cheaper and more convenient but I feel safer.
Most taxi and Uber drivers in Puerto Vallarta don't speak English well, so one big perk of using Uber is that you don't have to communicate where you are going, which can be a challenge for some taxi drivers.
Ubers are almost always cheaper than taxis in Mexico.
The handful of times I've gotten a taxi in Puerto Vallarta, they've charged me double what an Uber would have cost, as they assume you don't know what the price should be. You also have to spend time haggling about the price, which I dislike.
If you do get a taxi, make sure to agree on the price beforehand, so there are no surprises.
Lastly, Ubers are safer than taxis because of all the safety features within the app and the data you have about the driver. All drivers have to be verified before being hired by the Uber app.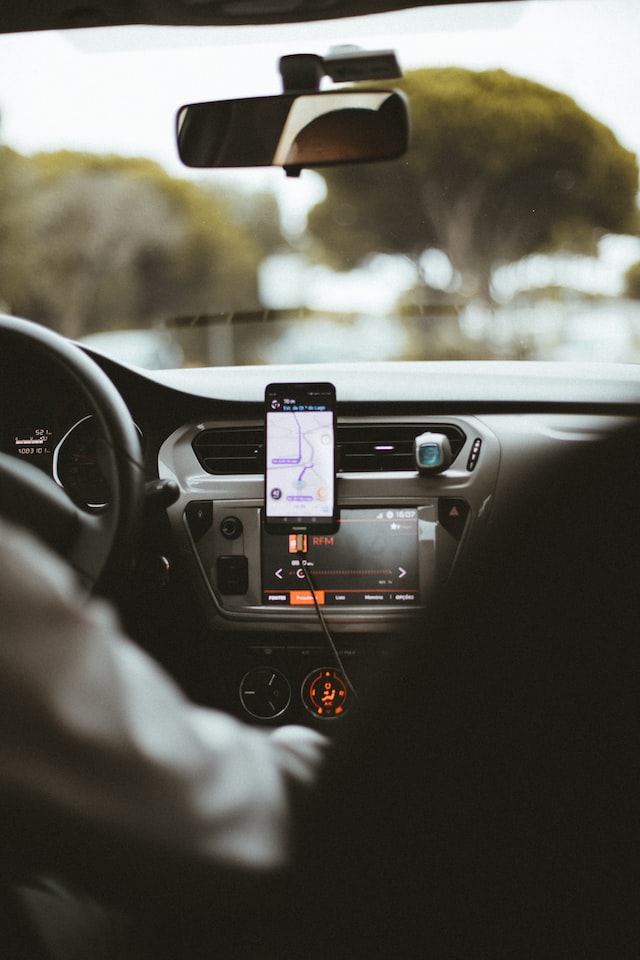 While Puerto Vallarta is a safe place to visit, I always recommend using Uber over a taxi as an extra safety precaution.
If you are nervous about using Uber in Puerto Vallarta, do a quick safety check of the driver's profile to ensure they have at least a 4.5-star rating with a few thousand reviews. You can cancel the trip free of charge if you aren't sure about the driver, and Uber will connect you with a new one.
Always ensure the license plate on the car matches the one on the app before getting in the car.
How much does Uber cost in Puerto Vallarta?
Fare can change depending on demand at the time you order your Uber, but here are some average prices I have paid for Ubers between places in Puerto Vallarta:
💲Airport to Zona Romantica: MX$160 (8.50 USD)
💲Cinepolis to Zona Romantica: MX$100
💲Versalles to El Centro: MX$50
I get Ubers almost daily while living in Puerto Vallarta, yet my total monthly budget is never more than 100 USD which is a great deal when considering the convenience.
Puerto Vallarta airport Uber
This next section will cover how to use Uber once arriving at the Puerto Vallarta airport.
Before coming to Puerto Vallarta, you'll want to download the Uber app on your phone and create an account. If you haven't used it before, it's very user-friendly.
If you forgot to download Uber, there's WiFi at the PVR airport. However, you only get it for 30 minutes, so wait until you're outside of immigration if you rely on WiFi to request an Uber.
Tip: use a VPN while using WiFi networks abroad, as this keeps your data secure from hackers. I use and love NordVPN, which has an easy-to-use app for your phone where you can connect in seconds.
🚨Uber drivers aren't allowed to pick you up in front of the airport, so you will need to walk a few minutes outside the airport to meet the driver. I'll explain how to do this, but it's much easier if you have data on your phone so you can stay in touch with the driver.
To have data, you can either use a roaming plan from home, use an eSIM, or get a local SIM card once you're there. They sell SIM cards in the 7/11 just outside the airport for MX$30.
Tip: To have data when you arrive, buy an eSIM on Airalo. This app allows you to purchase eSIMS from 190+ countries which you download directly to your phone. On arrival, you will have data once you turn on your phone! You can buy data packages in Mexico for as low as 8 USD.
Once you've ordered the Uber, walk outside the airport to meet the driver. They usually accept right away and arrive within a few minutes of ordering.
After you pick up your luggage, you'll enter an area nicknamed the Shark Tank in the airport. There are many people here offering taxis and shuttles, which are more expensive than Ubers – ignore them and keep walking.
There is some anti-sentiment about Uber at the airport, so if anyone asks, it's better to say you are meeting a friend.
Here's how to find your Uber driver after you leave the airport.
When you walk outside the airport, turn left and walk down the sidewalk to the end of the building (you'll see a 7/11 on the right, where you can pick up a SIM card).
Turn left again, and you'll see a pedestrian bridge above the road next to a bus stop. You'll take the stairs up, walk across the bridge, and meet the driver on the other side of the highway next to some restaurants.
There is a ramp to pull your luggage up but no escalator.
It takes about five minutes to walk there, and you can see the drivers location on the Uber app. Always confirm that the car's license plate matches the one on the app.
It takes about 15 minutes to drive from the airport to downtown Puerto Vallarta and should cost around 10 USD.
Alternatives to using Uber at the airport
There are airport taxis outside the airport, but they typically cost a bit more than Uber.
You can also take the local bus from the airport for 10 pesos (.50 USD). There is a bus stop next to the airport, with buses every few minutes.
The windshield of the bus is labeled with where they are going, and many stop in Versalles, El Centro, and Zona Romantica. If you aren't sure, ask the driver. If you don't speak Spanish, this can be challenging.
To avoid all this hassle, the easiest option is to arrange an airport transportation in advance from the airport to your hotel using the links below.
Using an airport transfer will save you the hassle of finding your Uber, which can be worth it if you're coming off a long flight and just want to get to your hotel.
PUERTO VALLARTA AIRPORT TRANSFERS
Can Uber drop off in the airport?
Yes, Uber drivers can drop you near the airport, so you don't need to walk across the bridge again.
Other ride-sharing apps in Puerto Vallarta
There is another ride-sharing app called InDriver, which is very popular in Mexico. Unfortunately, it is only available for Androids, so I've never been able to use it.
On InDriver, you put the price you want to pay, and drivers bid on it. You can typically get better rates than Uber, and there are often more drivers around. However, InDriver does not have as many safety features as Uber.
Puerto Vallarta also has the DiDi app, though I haven't personally used it.
Overall, Uber dominates the ride-sharing market in Mexico and is by far the most popular app to use.
Other ways to get around Puerto Vallarta
Walking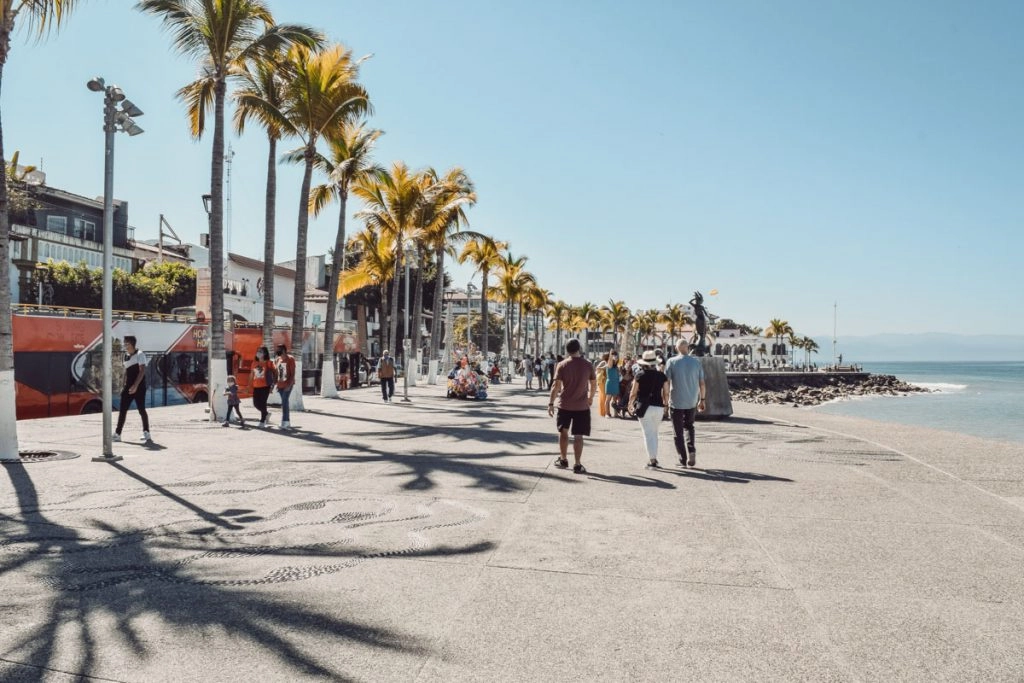 Once you're downtown Puerto Vallarta, it's easy to get around by walking. The Malecon is a mile-long stretch of boardwalk that goes along the coast. It's one of the top things to do, with art sculptures, performances, restaurants, and shops to explore.
I've walked from Versalles to Zona Romantica many times, which takes about 40 minutes. Biking is another great option, with paved bike paths along the Malecon.
Many smaller streets are cobblestone, which can be a bit more complicated on bike.
Taking the bus in Puerto Vallarta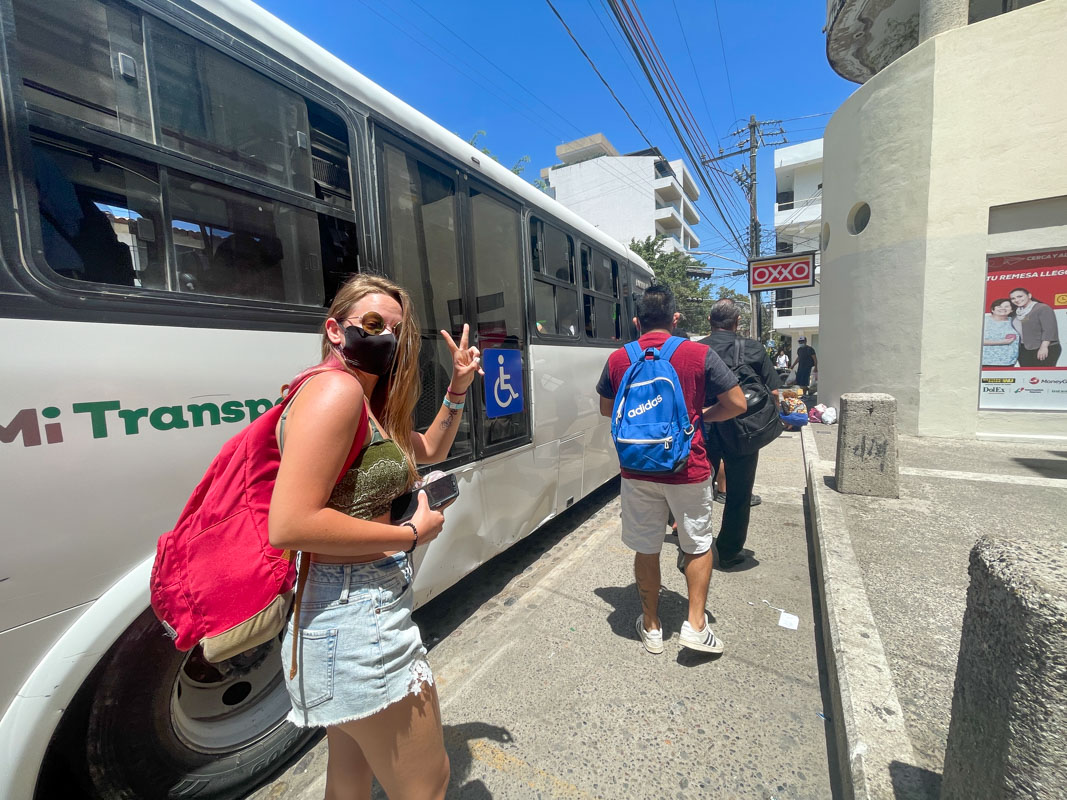 Puerto Vallarta has a well-connected bus system to take you between neighborhoods, as well as some of the top attractions nearby. This is one of the best ways to get around if you're visiting Puerto Vallarta on a budget.
From Zona Romantica, you can get a bus that takes you along the coast toward Boca De Tomatlan and the Puerto Vallarta botanical gardens. At Boca, you can take water taxis to Quimixto, Majahuitas, and Yelepa, which all make fantastic day trips.
You can also get busses that go North to San Pancho and Sayulita.
Renting a car
Another option is to rent a car in Puerto Vallarta. This will give you the ultimate freedom to explore Puerto Vallarta and the surrounding area as you please!
Lastly, you can rent a motorbike which is an adventurous way to get around. It also makes parking a lot easier.
—
There you have it, everything to know about using Puerto Vallarta Uber.
It really is one of the best ways to get around the city, so make sure to download the app before your vacation!
Planning a trip to Puerto Vallarta? Don't miss these posts!