This post may contain affiliate links. By clicking and making a purchase through the links, I earn a small commission at no extra cost to you. See my disclaimer for more information. This allows me to keep the site up to date and expand on resources.
Looking for the best hostels in Puerto Vallarta, Mexico? You're in the right place! I live in Puerto Vallarta and spent years backpacking, so I know how to pick a good hostel.
Even if you're on a budget, choosing the right hostel is crucial. Amenities like clean, modern rooms, prime locations, and vibrant community spaces can elevate your stay from basic to brilliant.
Make the wrong choice, and you could end up in a cramped, out-of-the-way spot that puts a damper on your whole trip.
Don't have time to read this? The best hostel in Puerto Vallarta is Oasis Hostel, which offers a fantastic view, a social environment, and many complimentary amenities.
So, what should you look for in a hostel? Think central locations, exceptional amenities, and the kind of atmosphere that turns strangers into travel buddies.
This article will guide you through the best hostels in Puerto Vallarta, ensuring you find a budget-friendly place while not compromising on quality.
Best hostels in Puerto Vallarta: Top 3 picks
Overview of top Puerto Vallarta hostels
8 Best Hostels In Puerto Vallarta Mexico
If you're ready to stay in a Puerto Vallarta hostel, the next step is choosing the right one.
With so many options, it can be overwhelming. But don't worry, I've narrowed down the list to hostels that offer the best mix of location, amenities, and community vibe.
Oasis Hostel was the first hostel in Puerto Vallarta to open in 2005 and has pleased thousands of guests since. They have a solid 8.8 overall rating on Hostelworld with over 600 reviews!
The hostel offers a variety of room options, including female-only dorms, catering to different comfort levels. If you're concerned about safety, rest easy knowing the hostel provides 24-hour security, along with free padlocks and the use of security lockers.
The staff at Oasis are all about creating a social atmosphere. The rooftop terrace is a communal hub where you can enjoy morning yoga with panoramic city views and strike up conversations with fellow travelers after a day of exploration.
From excellent Internet in all the rooms and including the terrace, huge Mexican-style breakfast, and perfect location, this is certainly the premier and five-star of hostel accommodations for a vacation or stay in Puerto Vallarta.

– Guest Review (read more reviews here).
When it comes to amenities, Oasis doesn't skimp. Enjoy a complimentary breakfast complete with pancakes, cereal, fresh fruit, coffee, and juice every day from 8-10 AM. Free filtered water and filtered ice are also available, helping you stay hydrated without extra costs.
Location-wise, Oasis Hostel is situated behind Zona Romantica. The upside? Stunning views. The downside is a hill, but it's a small trade-off for the scenery and the authentic Mexican neighborhood vibe.
You're within walking distance of bars, and if you don't feel like making the journey back, Ubers are just a few dollars. I used to live nearby and can vouch for the area's safety.

⭐️ Rating: 8.8/10 |📍 Location: El Centro | 🎒 View on HostelWorld
Chanclas Hostel is a backpacker's dream located just two blocks from the famous Malecon and the beach.
With its prime location in the heart of downtown Puerto Vallarta, you're within easy walking distance of bars, restaurants, nightclubs, and shops. Plus, you're in a prime spot to catch some of the world's best sunsets.
Best hostel I've stayed in while travelling México just for the vibes. Everyone is super friendly when you start up a conversation.

– Guest Review (read more reviews here).
When it comes to amenities, Chanclas has you covered. Free WiFi, security lockers, and luggage storage are standard. The hostel also features a full kitchen, a washer and dryer, and a TV room.
But what really sets Chanclas apart is their rooftop bar, offering stunning views of the Bay along with cold beer, cocktails, and live streaming of music and sports.
Their friendly staff, hailing from around the globe, can recommend and even book activities for you, from whale watching to sunset boat cruises.
⭐️ Rating: 8.7/10 |📍 Location: Zona Romantica | 🎒 View on HostelWorld
Los Muertos Hostal is ideally situated next to the iconic Los Muertos Beach and pier, making it a top choice for beach lovers and those looking to take day trips. The pier is a convenient launch point for various adventures, all within easy reach.
In terms of amenities, Los Muertos offers everything you need for a comfortable stay. Each room comes with A/C, a ceiling fan, free WiFi, cozy bunk beds with safety drawers, private showers, toilets, and blackout curtains.
You can't beat Los Muertos Hostel, it far above the best in Puerto Vallarta! Location, Location, Location!!! Having spent almost 2 weeks at this wonderful hostel in the Zona Romantica, it was the wonderful staff that made it feel like a home away from home!

– Guest Review (read more reviews here).
The hostel also fosters a strong sense of community. Common areas provide spaces for travelers to share experiences and future plans. Plus, daily activities like beach volleyball and city tours are organized, making it simple to connect with fellow travelers.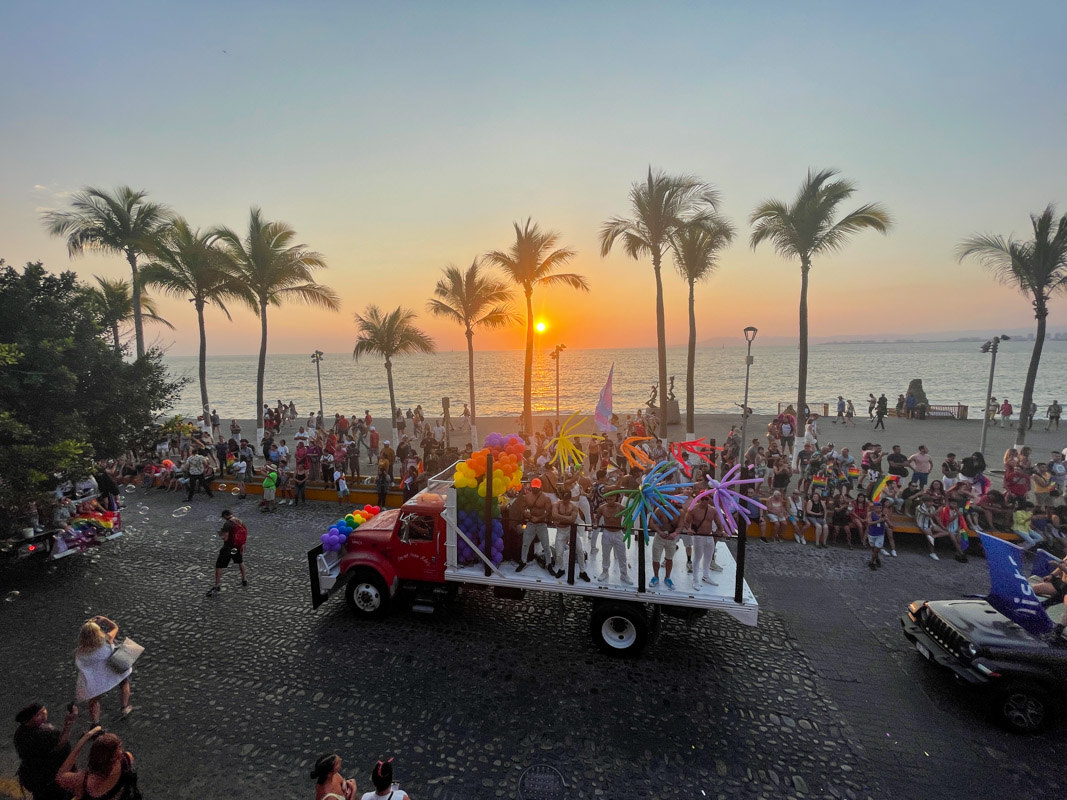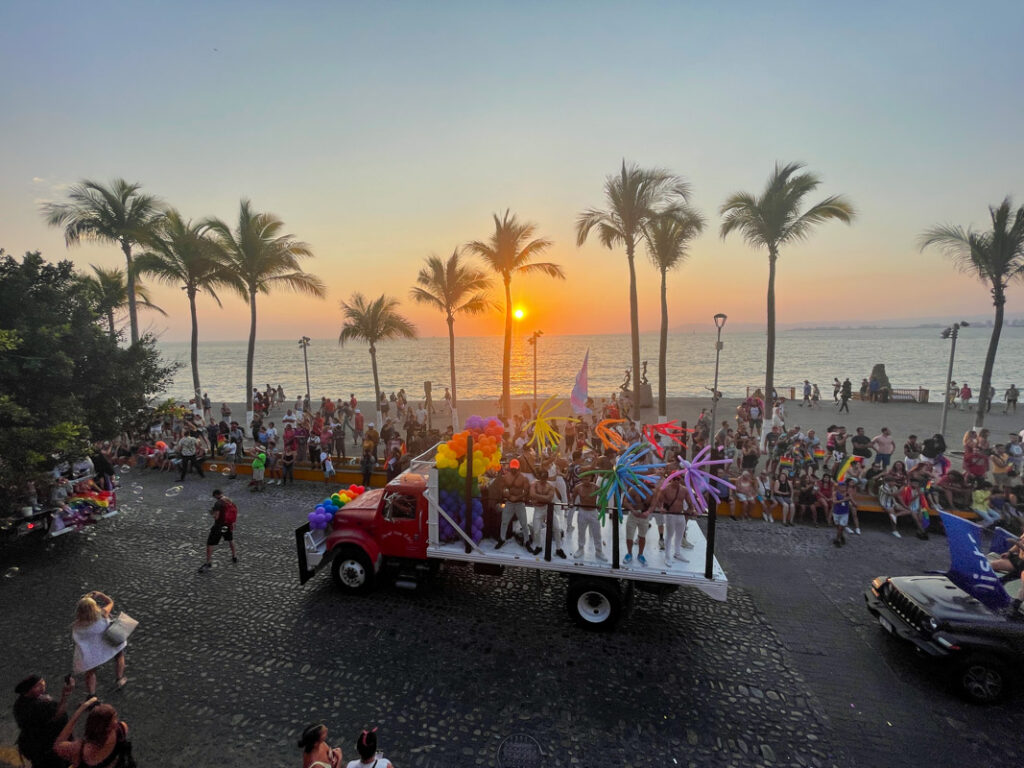 ⭐️ Rating: 8.5/10 |📍 Location: Zona Romantica | 🎒 View on Booking.com
Designed for young gay travelers aged 18-35, Jay's Gay Youth Hostel combines the gay hostel concept from Berlin with the capsule bed concept from Japan. This is the first hostel of its kind in Puerto Vallarta, and it's located in the heart of Zona Romantica, near all the gay nightlife and activities.
Safety and respect are at the core of Jet's Gay Youth Hostel. They have a stringent policy covering matters like sexual consent, privacy, substance use, and noise levels. Violating these standards means you'll be asked to leave, ensuring a secure and respectful environment for all guests.
Must stay hostel in Puerto Vallarta, as a solo traveler it was amazing to come to the city and already feel like I had a group of guys to hang out with. The design of the hostel makes sure you will meet everyone in your room and have fun escapades around town.

– Guest Review (read more reviews here).
The amenities are top-notch, including WiFi, lockers, rain shower heads, memory foam beds, and individual outlets and lamps by every bed. Plus, staying here gives you access to the JETS PASS, offering a 50% discount on their famous nude beach tours and other cool discounts around Vallarta.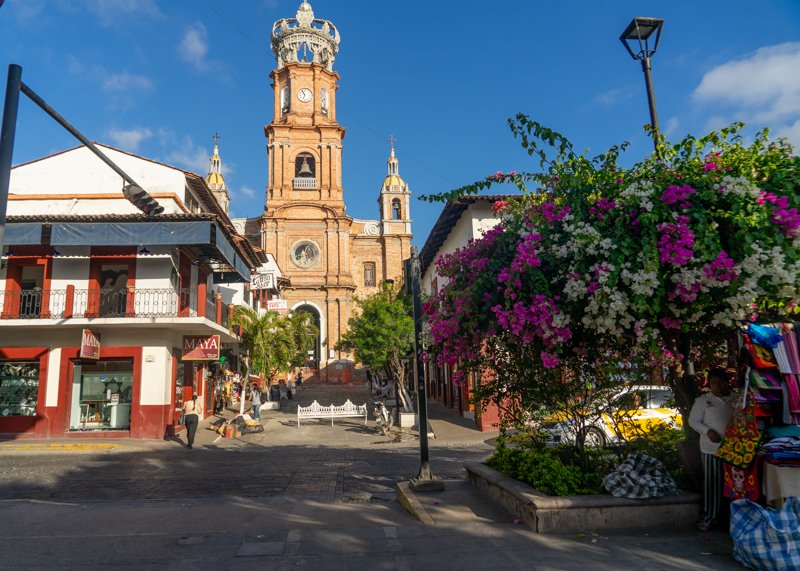 ⭐️ Rating: 8.3/10 |📍 Location: El Centro | 🎒 View on HostelWorld
Casa Kraken isn't just another hostel; it's a downtown hub that puts you right next to key landmarks like the church of Our Lady of Guadalupe, the main square, and the Malecon. You're within walking distance of beaches, bars, shopping, markets, and bus stops, making it a convenient base.
When it comes to room options, Casa Kraken offers flexibility. During the summer months, you can choose between dorms with A/C and one without at a reduced rate. Safety is a priority here, with 24-hour security ensuring a worry-free stay.
What a great hostal! The staff is wonderful, almost as much incredible as their beautiful rooftop sunset views. Lots of areas to relax and socialize or be alone and get some work done.

– Guest Review (read more reviews here).
But what truly sets Casa Kraken apart are its daily activities and rooftop bar. The staff organizes trips to stunning beaches and waterfalls, hikes, town tours, and even nights out to party.
The rooftop bar is a hotspot for sunset happy hours, setting the stage for a memorable night. And if you're a foodie, the staff and volunteers are your go-to for the best local food recommendations.
⭐️ Rating: 8.3/10 |📍 Location: El Centro | 🎒 View on HostelWorld
Ten to Ten Hostel is a highly-rated hostel in the bustling El Centro neighborhood.
If you're traveling solo and looking to meet people, this place has a community vibe that's hard to beat. The staff here go above and beyond, aiming to connect guests with local people, foods, and experiences.
It's perfect for remote workers in Puerto Vallarta, with a dedicated co-work space with free WiFi.
Want your own space? No worries—Ten to Ten offers private rooms, allowing you to enjoy solitude while still benefiting from the communal atmosphere.
I originally booked it for 2 nights but I ended up staying more because it is one of the cleanest and most comfortable hostels I've ever stayed in. Great location and the staff is very friendly, would definitely recommend staying here!

– Guest Review (read more reviews).
For those looking to cut costs, the hostel features a stocked kitchen where you can whip up your own meals. Plus, it's next to a market, making it easy to pick up fresh produce. And if you're not in the mood to cook, there's a delicious vegan ramen restaurant right downstairs.
Location-wise, this hostel is a winner. You're just steps away from the beach, Malecon boardwalk, local markets, bars, and restaurants. This central spot minimizes transportation costs and maximizes your time for exploration.
⭐️ Rating: 8.3/10 |📍 Location: Versalles | 🎒 View on HostelWorld
Last but not least is El Sunset Hostel. Unlike most of the other hostels which are in El Centro, this one is in Versalles, the neighborhood where I live.
Known for its safety and expat-friendly vibe, Versalles is a foodie's paradise with amazing restaurants and cafes. And let's not forget, you're still close to the beach!
Opened in 2015, the hostel offers spacious rooms, a 24/7 kitchen, and essentials like free WiFi, lockers, and 24-hour security.
This hostel is a breath of fresh air. Super affordable, welcoming, and well-kept! Marco happily set me up and it was so easy to check in and have a nice place to land. The other guests were friendly and social and the place has a very warm feel.

– Guest Review (read more reviews).
I've met the owner, Marco, who's extremely friendly and has a wealth of knowledge about the city. Whether you're looking to explore the sea walk, hit the beach, or enjoy the nightlife, Marco and his team will point you in the right direction.
Sunset Hostel is the place to be if you're after an affordable, comfortable stay in one of the best neighborhoods in PV.
⭐️ Rating: 8.1/10 |📍 Location: El Centro | 🎒 View on HostelWorld
Hostel Vallarta sits in the cultural center of Puerto Vallarta, just two blocks away from the famous boardwalk filled with street food, performances, and lively nightlife. Opened in November 2017, the hostel is a colorful oasis that invites you to experience the city like a local.
When it comes to comfort, Hostel Vallarta goes the extra mile. Every room has new comfy mattresses and fast WiFi that reaches every corner.
This place is a family. I love it here and had the most perfect week vacation. The atmosphere is exactly what you want in a hostel. It connects you to people.

– Guest Review (read more reviews here).
For downtime, there's a patio with a huge TV and Netflix, as well as common spaces featuring ping pong and table soccer. The hostel also regularly hosts BBQs and events on the rooftop, making it easy to meet new friends.
But what truly sets this hostel apart is its dedication to Mexican culture and community. From painted murals and rooms dedicated to famous Mexican personalities to Mexican-style food and events, you'll feel the local vibe throughout.
The staff, a mix of locals and international volunteers, are experts at guiding you to hidden gems in the city, from beaches to local markets.
Map of hostels in Puerto Vallarta
What are the benefits of staying in a hostel in Puerto Vallarta?
When it comes to travel, especially in a place as captivating as Puerto Vallarta, the right accommodation can make all the difference. Hostels offer a unique blend of affordability and community that you won't find in most hotels.
Affordability Without Compromise
Hostels in Puerto Vallarta are budget-friendly, but that doesn't mean you'll be sacrificing quality. Many offer modern, clean rooms and even private options for a low price if you're not into sharing.
If you're a budget traveler looking to make the most of your time in PV, hostels are a fantastic option.
Prime Locations
Location is everything, and hostels are often in the heart of the action. You'll be steps away from beaches, local markets, and the best nightlife, making it easier to dive into your Puerto Vallarta adventure.
Meet Like-Minded Travelers
One of the best parts of staying in a hostel is the community. You'll meet travelers from around the globe, and who knows, you might even find your next travel buddy to explore nearby destinations like Sayulita or San Pancho.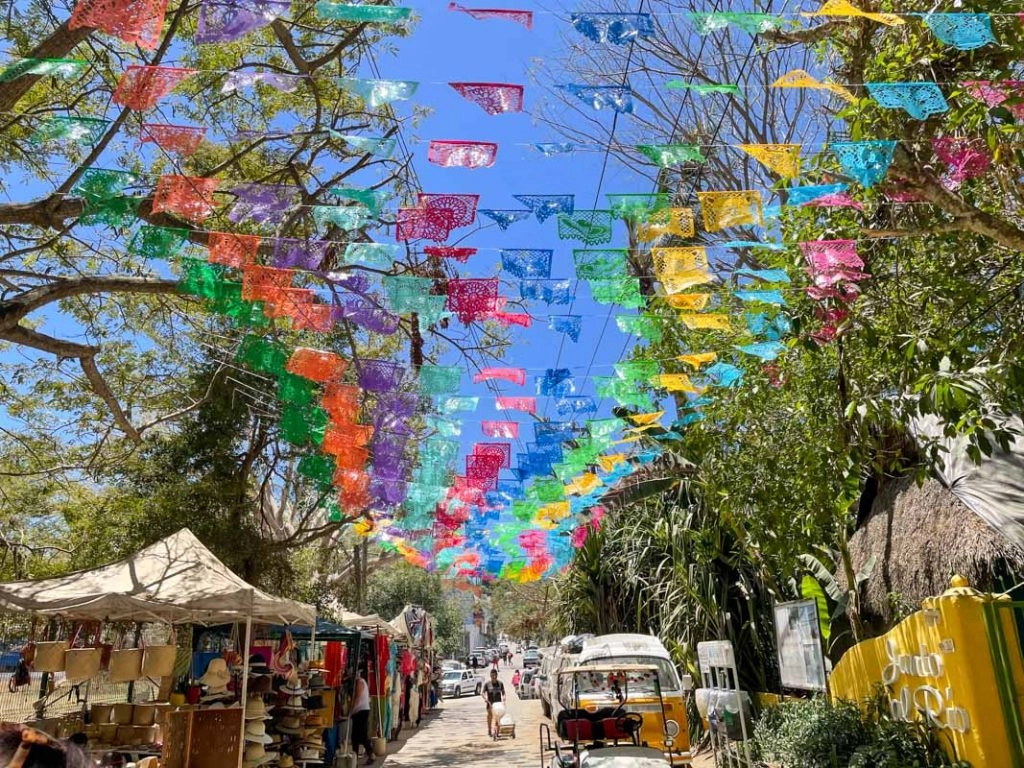 What to Look for in a Hostel
Cleanliness: A clean space is a happy space. Look for hostels with good reviews about their cleanliness.
Location: Being centrally located can save you both time and money.
Amenities: Free WiFi, breakfast, and lockers are some amenities that can make your stay more comfortable.
Community: A hostel with a good vibe can make your trip memorable. Look for places that offer communal activities or spaces where you can meet other travelers and digital nomads in Puerto Vallarta.
Safety Tips for Staying in a Hostel
Staying in a hostel can be a fun and budget-friendly way to experience Puerto Vallarta, but it's important to prioritize your safety. Here are some quick tips to ensure a secure stay:
Lock Up Valuables: Most hostels offer lockers. Use them to store your passport, electronics, and other valuables.
Be Aware of Your Surroundings: Always know the hostel's emergency exits and have a basic understanding of the layout.
Keep an Eye on Your Belongings: Don't leave your stuff unattended in common areas. It's better to be safe than sorry.
Be Cautious with Alcohol: It's easy to let loose when you're having fun, but excessive drinking can impair your judgment and make you vulnerable.
Check Reviews: Before booking, read reviews to see what other travelers have said about the hostel's safety features.
Know the Area: Research the neighborhood around the hostel. Make sure it's safe, especially if you plan to walk around at night.
Trust Your Instincts: If something doesn't feel right, it probably isn't. Don't hesitate to change hostels or rooms if you feel uncomfortable.
By taking these precautions, you can focus on enjoying your time in Puerto Vallarta without unnecessary worry.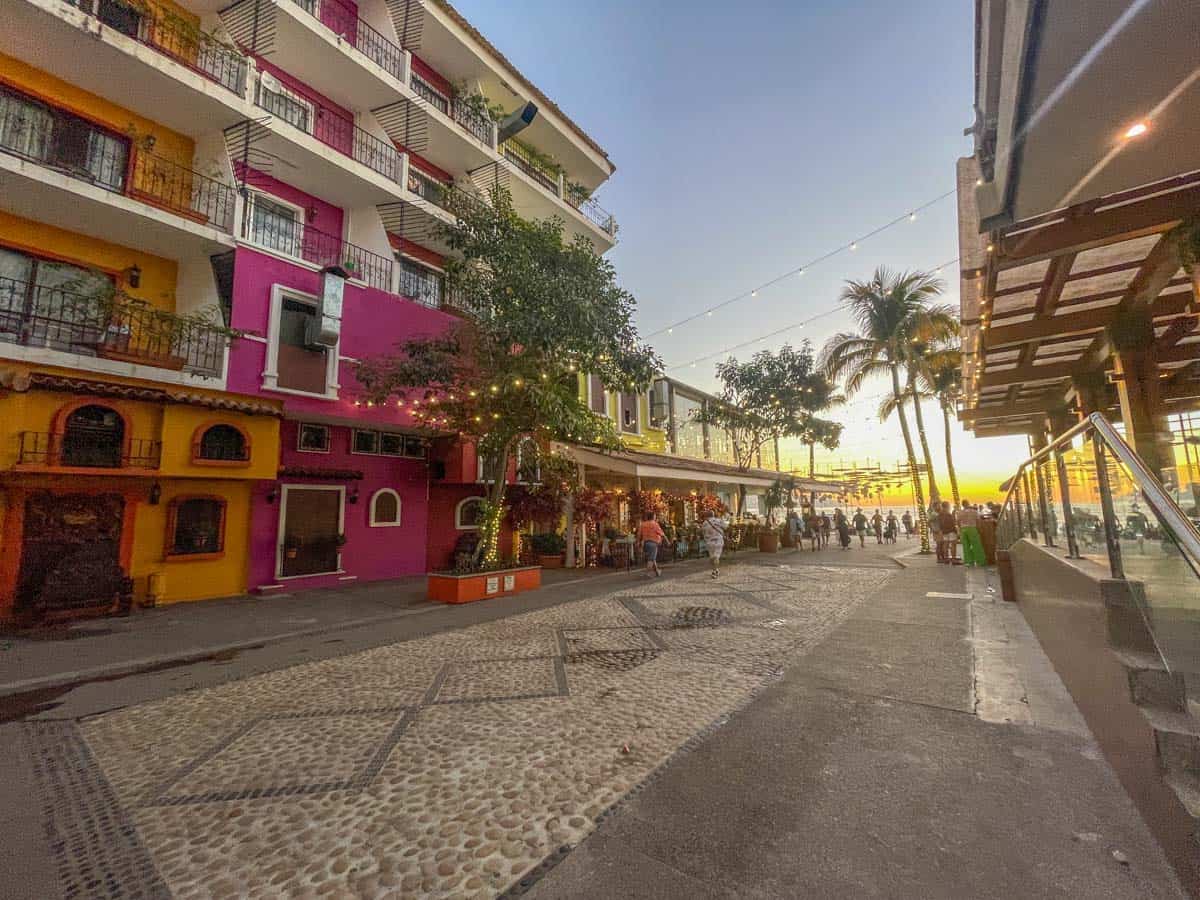 FAQ: Puerto Vallarta Hostels
What part of Puerto Vallarta is best to stay in?
What is the best month to go to Puerto Vallarta?
How many days do you need in Puerto Vallarta?
Where should I stay in Puerto Vallarta for the first time?
For first-time visitors, staying in Zona Romantica or El Centro is highly recommended due to their central locations.
What time of year is the cheapest to fly to Puerto Vallarta?
The cheapest time of year to fly to Puerto Vallarta is usually from late spring to early fall.
What are the cheapest months in Puerto Vallarta?
The cheapest months to visit Puerto Vallarta are generally from May to November.
Is Puerto Vallarta safe to walk around at night?
Yes, Puerto Vallarta is generally safe to walk around at night, especially in well-lit and populated areas.
Do people swim in the ocean in Puerto Vallarta?
Yes, people do swim in the ocean in Puerto Vallarta, as the beaches are quite popular for swimming.
Can you drink tap water in Puerto Vallarta?
It's best to stick to bottled or filtered water when you're in Puerto Vallarta. However, many locals do drink the tap water (including me).
Where to stay in Puerto Vallarta for nightlife?
For the best nightlife experience, staying in Zona Romantica or El Centro is ideal, as these areas are close to many bars, clubs, and late-night eateries.
Final thoughts: Which is the best hostel in Puerto Vallarta?
Hostels offer an unbeatable blend of affordability, community, and convenience, making them an ideal choice for budget and solo travelers in Puerto Vallarta.
From the social scenes to the range of amenities that often rival those of more expensive accommodations, hostels provide a unique travel experience that allows you to immerse yourself in the local culture without breaking the bank.
If you're planning your first trip to Puerto Vallarta or are a seasoned traveler looking to make the most of your budget, I highly recommend checking out Oasis Hostel.
Located just behind Zona Romantica, it offers an amazing view, a social environment, and is in a very authentic Mexican neighborhood. Plus, it's where I used to live, so I can vouch for its safety and convenience.
Planning a trip to Puerto Vallarta? Don't miss these posts!
Enjoyed this post? Pin it for later!