This post may contain affiliate links. By clicking and making a purchase through the links, I earn a small commission at no extra cost to you. See my disclaimer for more information. This allows me to keep the site up to date and expand on resources.
Wondering what the best time to visit Puerto Vallarta is? Let me help! I've been living in Puerto Vallarta for three years and have experienced every season here.
Planning a trip to Puerto Vallarta can feel like navigating a maze of choices, especially when it comes to picking the perfect time to visit.
Imagine landing in this tropical paradise only to find yourself caught in unexpected weather or missing out on the vibrant local events that make Puerto Vallarta truly special. That's the last thing you want on your much-anticipated getaway, right?
As someone who's not just traveled extensively but also calls Puerto Vallarta home, I've experienced firsthand every season this beautiful city has to offer. From the bustling peak season to the tranquil charm of the rainy months, I've been through the good and the bad.
Understanding the unique rhythm of Puerto Vallarta's seasons is key to unlocking the best vacation experience. Whether you're a first-time visitor or a returning traveler, this guide is tailored to help you navigate the seasonal nuances of this beach paradise to determine the best time to go to Puerto Vallarta.
Overview of Puerto Vallarta Weather
Puerto Vallarta's weather is a year-round invitation to beach lovers and sun seekers. As someone who's lived here and experienced the full spectrum of its climate, I can attest to its warm, inviting nature.
The city never really dips below 72 degrees °F, which is perfect for those of us trying to escape colder climates.
November to April are the driest months, where the weather is at its most pleasant — dry and just perfect for outdoor adventures. This period aligns with popular activities like whale watching. The sight of these majestic creatures in the bay is something you don't want to miss!
As we move into late spring, the higher temperatures come, bringing a more tropical, humid feel. July and August, the hottest months, average around 81 degrees Fahrenheit. But, the humidity can make it feel more intense. Still, I love this season for swimming in the ocean as it's so refreshing.
The Puerto Vallarta rainy season, running from June to October, is an experience. Contrary to what you might think, it's still a good time to be here. There are fewer crowds and the thundershowers, often short and spectacular, are incredible to watch.
I've spent many days marveling at the dramatic thunderstorms from the comfort of a cozy café or my balcony.
Plus, they usually only come in the late afternoons and evenings. This means you can still enjoy sun-filled mornings on the beach. Also, The sunsets during the rainy season are WAY prettier.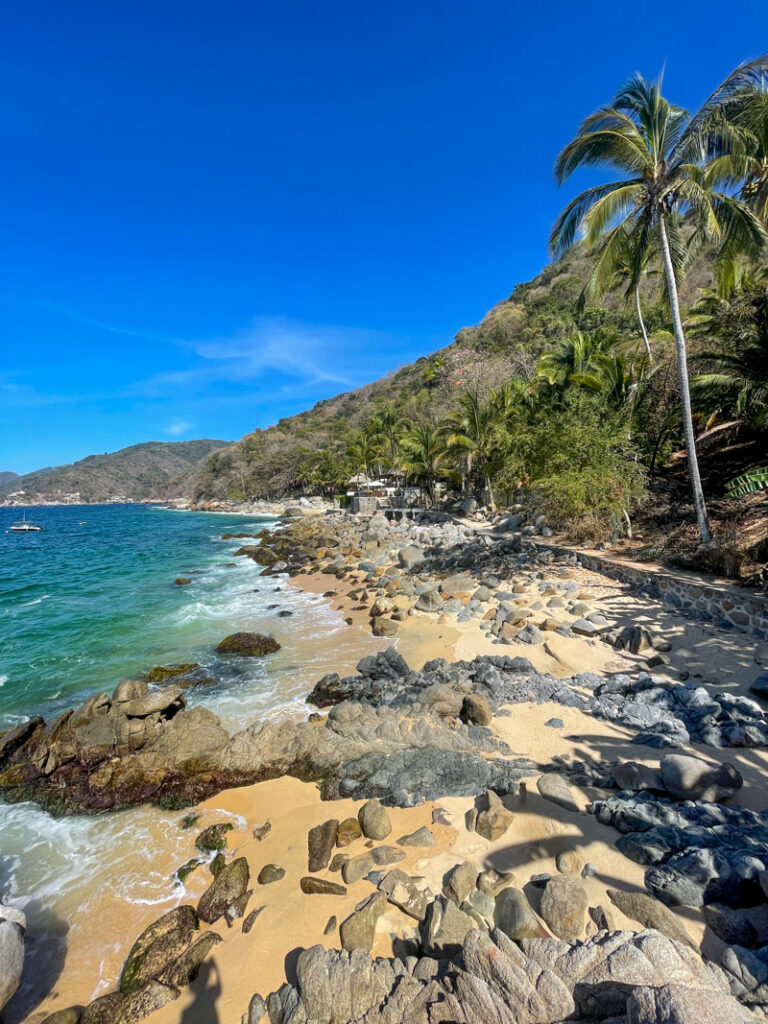 September and October is hurricane season, but Puerto Vallarta's unique geographical location, nestled in a bay and shielded by mountains, offers some natural protection against hurricanes. However, as witnessed in recent years, nature can still make its presence felt strongly. These are the wettest months.
In terms of temperatures, January and February are the coolest, but even then, it's pleasantly warm, ranging between 61.3-83.8 °F. From there, each month gets progressively warmer, peaking in August with highs between 73.4-92.7 °F.
Puerto Vallarta High Season
The high season in Puerto Vallarta, from November to April, is the most popular time to visit.
The cooler climate of the northern hemisphere draws a vibrant mix of tourists, especially from Canada and the U.S.. The atmosphere is electric, with parties and gatherings at every corner.
The bay area becomes a lively hub, brimming with energy and stories from every corner of the world. The bars are lively, the beaches are bustling, and the spirit of adventure is palpable. It's a time when making new friends feels as easy as enjoying the perfect beach day.
The weather is comfortably warm, not too hot or humid, ideal for enjoying the beach and achieving that perfect tan. It's also the best time for outdoor activities. The lush greenery, courtesy of the preceding rainy months, makes hiking an absolute joy, and the waterfalls are at their most majestic.
This season also brings the best conditions for surfing. Although you can ride the waves year-round in Puerto Vallarta, the north swells from December to April are particularly spectacular, especially in spots like Sayulita and San Pancho.
However, it's worth noting that with the high season's allure comes higher prices, especially for accommodations.
Whale watching season in Puerto Vallarta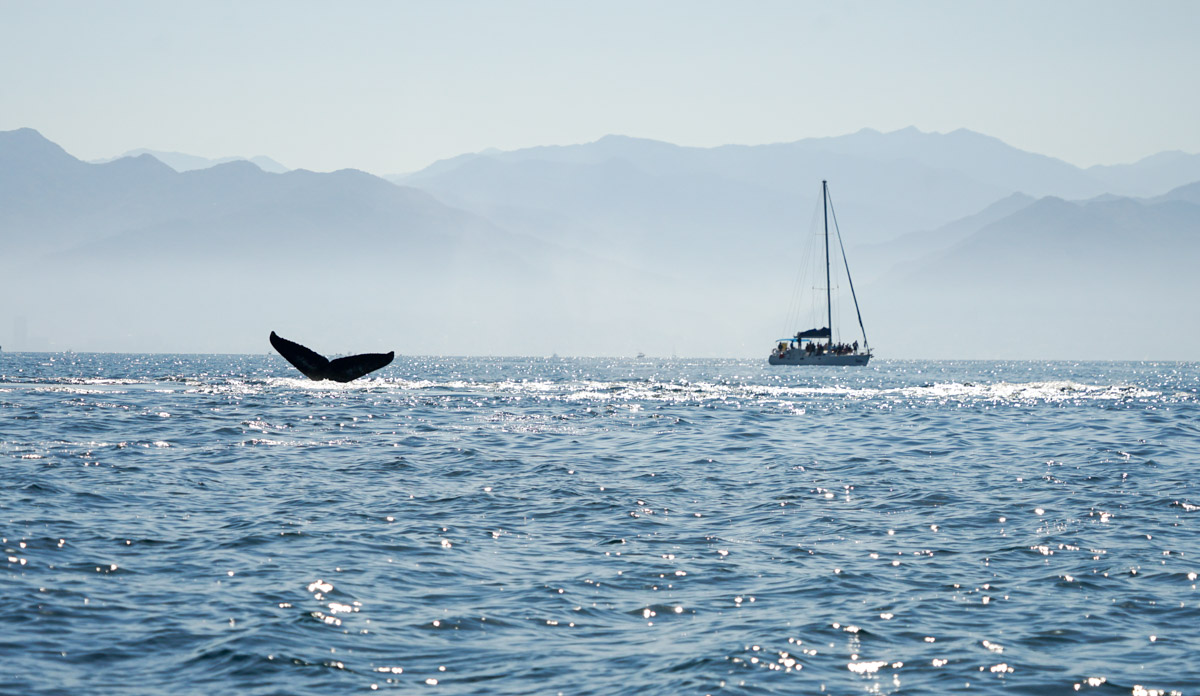 The whale watching season in Puerto Vallarta, aligning with the high season from December to March, is a period I hold close to my heart.
It's a time when the majestic humpback whales grace Banderas Bay, offering a spectacle that's both awe-inspiring and humbling. Having spent countless hours on the water during this season, it's an experience that never loses its magic.
Early in the season, you can spot adult whales, but as the season progresses, the bay becomes a nursery to adorable baby humpbacks swimming alongside their mothers. On boat trips, you're almost guaranteed a close encounter.
And sometimes, if you're lucky, you can even catch a glimpse of these magnificent creatures from the shore.
During my time here, I've also had the fortune to witness whale sharks while snorkeling or diving between December and February. These gentle giants of the sea add an extra layer of wonder to Puerto Vallarta's already rich marine life.
This is the whale and dolphin watching tour we recommend as it's led by a biologist!
Low season in Puerto Vallarta
The low season in Puerto Vallarta, spanning from May to October, is often overlooked, but it holds a special place in my heart. This is when the city reveals a more serene side, a stark contrast to the bustling high season.
The streets are quieter, the beaches less crowded, and there's a sense of calm that pervades the air. It's a time when Puerto Vallarta feels like it's all yours to explore.
During these months, the weather is warmer and more humid, with heavy rain showers most days. But don't let that deter you. The rain, usually in the late afternoon or evening, brings a refreshing respite from the heat and adds a lush, vibrant green to the landscapes. Mornings are typically sunny and perfect for beach outings or exploring the town.
One of the biggest perks of visiting during the low season is the affordability. Hotel rates drop significantly, making luxury stays more accessible. It's also a great time for deals on tours and activities.
As a local, I've enjoyed some of my best dining experiences during this season, with more opportunities to interact with chefs and locals, adding a rich layer to the culinary adventure.
The low season also coincides with some unique natural events like the sea turtle hatching season, a magical process that I've been fortunate to witness.
Seasons in Puerto Vallarta
Here are the pros and cons of each season in Puerto Vallarta to help you decide when is the best season to visit Puerto Vallarta.
Winter (December, January & February)
This is the peak of the high season. The weather is idyllic, with clear skies and moderate temperatures, perfect for beach lounging and outdoor activities. There's also tons of events put on by the expat community, making it easy to meet people if you're new to town.
It's also the prime time for whale watching, a must-do in Puerto Vallarta. However, be prepared for larger crowds and higher prices during this period.
If you're averse to party crowds, avoid visiting Puerto Vallarta in February when spring breakers come and during Easter Weekend in April.
Spring (March, April, and May)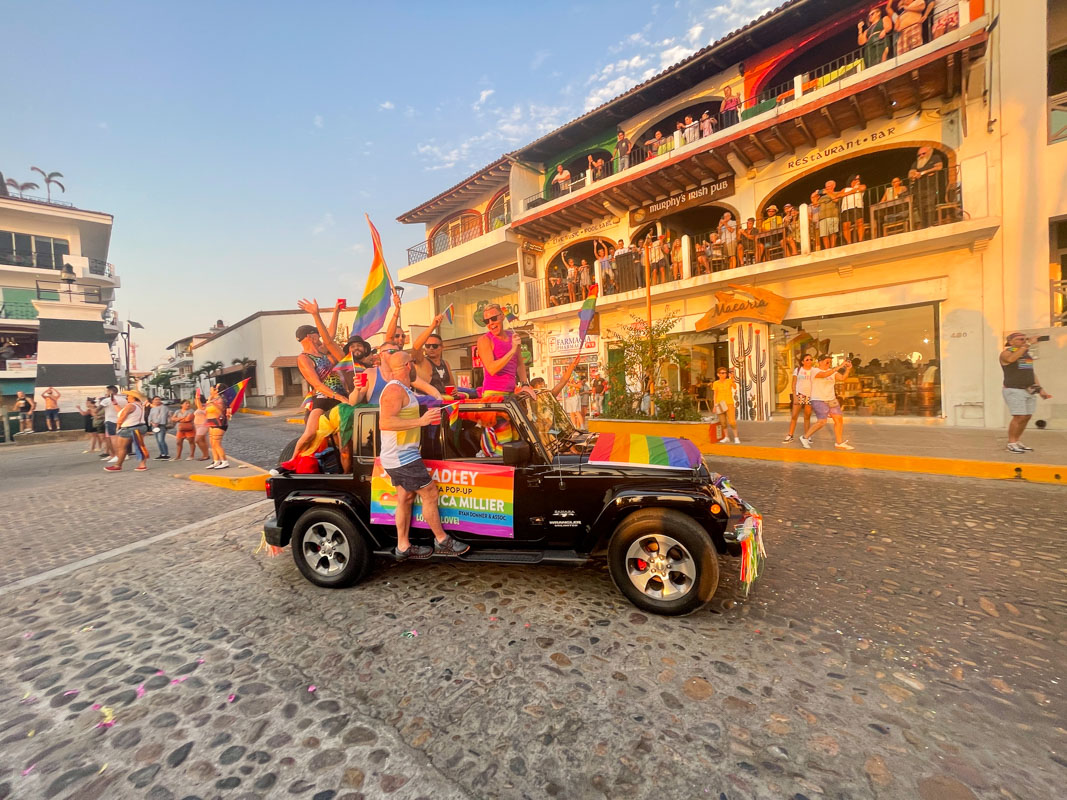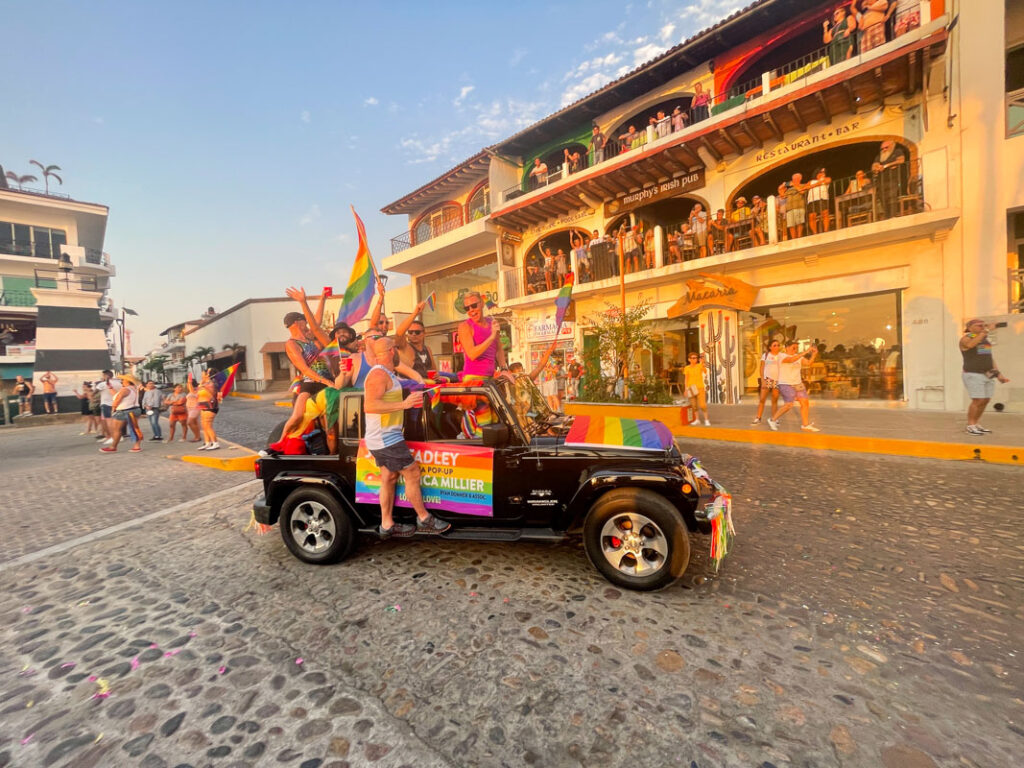 As the high season winds down into the spring months, the weather remains warm and pleasant, but with fewer tourists. This is a great time to explore local attractions without the rush. The city's vibrant energy is still palpable, but with more breathing room and often better deals on accommodations.
In my experience living in Puerto Vallarta, I've never seen rain until June. And it's usually late June!
One thing to note is that Puerto Vallarta is one of the most popular destinations for Mexican travelers to visit during Easter (Holy Week(. The city becomes a giant party with locals and international visitors. It's a lot of fun, but if you don't like crowds, avoid coming until after the holiday weeekend.
For all the LGBTQ+ community travelers looking to experience gay tourism in Puerto Vallarta, May is the best month to come, as this is when pride happens.
Summer in Puerto Vallarta (June, July & August)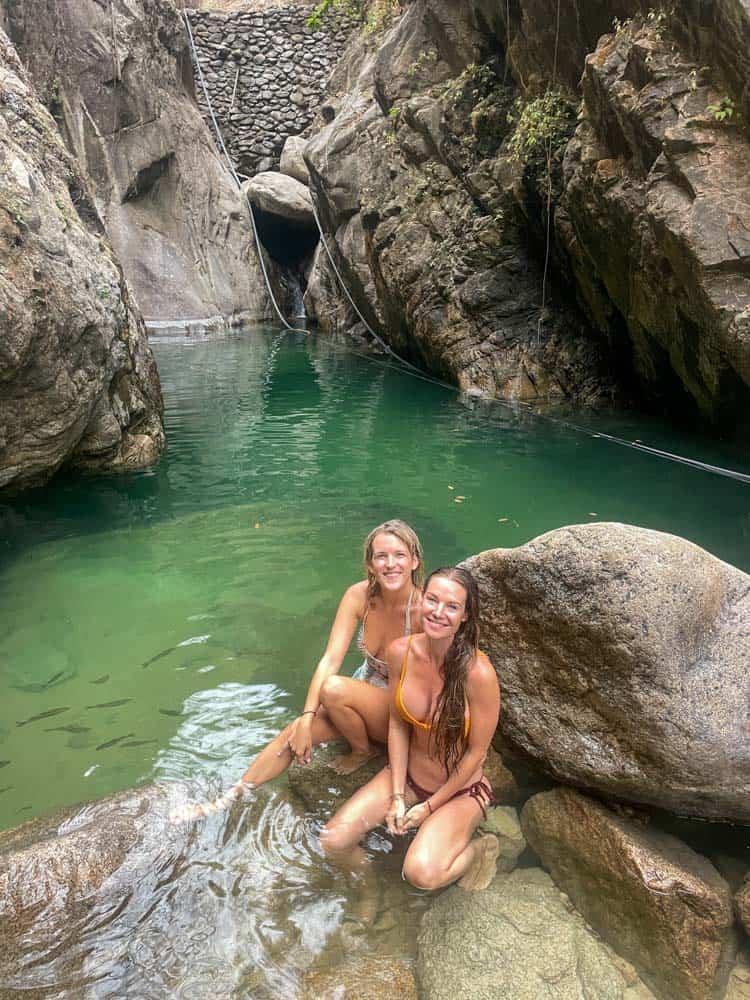 This is low season, characterized by warmer temperatures and more humidity. This is when Puerto Vallarta shows its more tranquil side.
The rain, mostly in the evenings, brings a refreshing change and turns the surrounding jungle lush and green. Plus, all the waterfalls are full again!
It's the perfect season for budget travelers and those seeking a more authentic local experience. Some events to check out:
Restaurant Week: Try out the hottest restaurants in the city as they offer innovative three-course menus at a reduced price. It is a great time to support local businesses after the low season and try delicious Mexican cuisine.
Independence Day is on September 16th. Mexicans love to celebrate, so expect parades, fireworks, and lots of parties all around the bay!
Fall (September, October, and November)
As the temperatures start to cool, the city begins to welcome an increase in tourist activity, especially towards November. This period offers a delightful balance of pleasant weather and moderate tourist presence, making it ideal for those seeking a mix of relaxation and cultural immersion.
However, it's important to note that this shoulder season also coincides with the hurricane season. In recent years, Puerto Vallarta has experienced at least one major hurricane annually during this period.
While the city's location in the Bay of Banderas offers some natural protection, and hurricanes are not a frequent occurrence, it's a factor worth considering when planning your trip.
During my time here, I've seen how the community comes together to prepare and support each other during these rare events. It's a testament to the resilience and warmth of the local people
Despite this, fall remains a beautiful time to visit. The Day of the Dead celebrations in early November are a cultural highlight, showcasing rich traditions and colorful festivities.
FAQ: Best time to visit Puerto Vallarta
What month has the best weather in Puerto Vallarta?
The best weather in Puerto Vallarta is typically found from November to April, with March and April offering the most ideal conditions.
What is the rainy season in Puerto Vallarta?
The rainy season in Puerto Vallarta runs from June to mid-October, with the heaviest rains usually in August and September.
What month is hurricane season in Puerto Vallarta?
Hurricane season highest risk in in September and October.
What is the coldest month in Puerto Vallarta?
The coldest month in Puerto Vallarta is usually January, with slightly cooler and more comfortable temperatures.
What is the busiest month in Puerto Vallarta?
Puerto vallarta in December is typically the busiest month, coinciding with the holiday season and winter vacations.
What is the cheapest time to fly to Puerto Vallarta?
The cheapest time to fly to Puerto Vallarta is usually during the low season, from early June to October.
What are the hottest months in Puerto Vallarta?
The hottest months in Puerto Vallarta are July and August, characterized by high temperatures and humidity.
Can you swim year round in Puerto Vallarta?
Yes, you can swim year-round in Puerto Vallarta, as the ocean temperatures remain warm throughout the year.
Is the ocean warm in Puerto Vallarta?
Yes, the ocean in Puerto Vallarta is generally warm, especially from June to October when the water temperatures are at their highest.
What is the slow season in Puerto Vallarta?
The slow season in Puerto Vallarta is during the summer months, from June to October, coinciding with the rainy season.
Final thoughts: When is the best time to visit Puerto Vallarta?
The best time to visit Puerto Vallarta hinges on what you're seeking from your vacation. For those who prefer perfect beach weather and a vibrant social scene, the winter months from November to April are ideal.
This period offers the quintessential sunny holiday experience, with a bustling atmosphere and numerous cultural events.
However, if you're looking to avoid crowds and enjoy lower prices, consider the summer months from June to October. Despite being the rainy season, these months reveal a quieter, more authentic side of Puerto Vallarta, with lush landscapes and warm ocean waters.
Ultimately, every season in Puerto Vallarta has its unique charm and advantages. Whether it's the lively high season, the tranquil low season, or the culturally rich fall, this beautiful city caters to a wide array of preferences and promises an amazing experience any time of the year.
Planning a trip to Puerto Vallarta? Check out these tips!