This post may contain affiliate links. By clicking and making a purchase through the links, I earn a small commission at no extra cost to you. See my disclaimer for more information. This allows me to keep the site up to date and expand on resources.
Are you thinking of spending Christmas in Puerto Vallarta? Let us help! We've been living in Puerto Vallarta for over 8 years collectively and have spent many Christmas seasons in PV.
Christmas is a magical time of year when our stunning coastal city comes alive with twinkling lights, vibrant festivities, and a unique blend of tradition and tropical charm.
If you've ever wondered what it's like to swap snow for sand and explore the holiday season under a warm Mexican sun, Puerto Vallarta is an excellent choice.
The holiday season is a very festive time in Puerto Vallarta, but it's also quite busy as it is the peak travel season. Read on for a detailed guide to celebrating Christmas in Banderas Bay.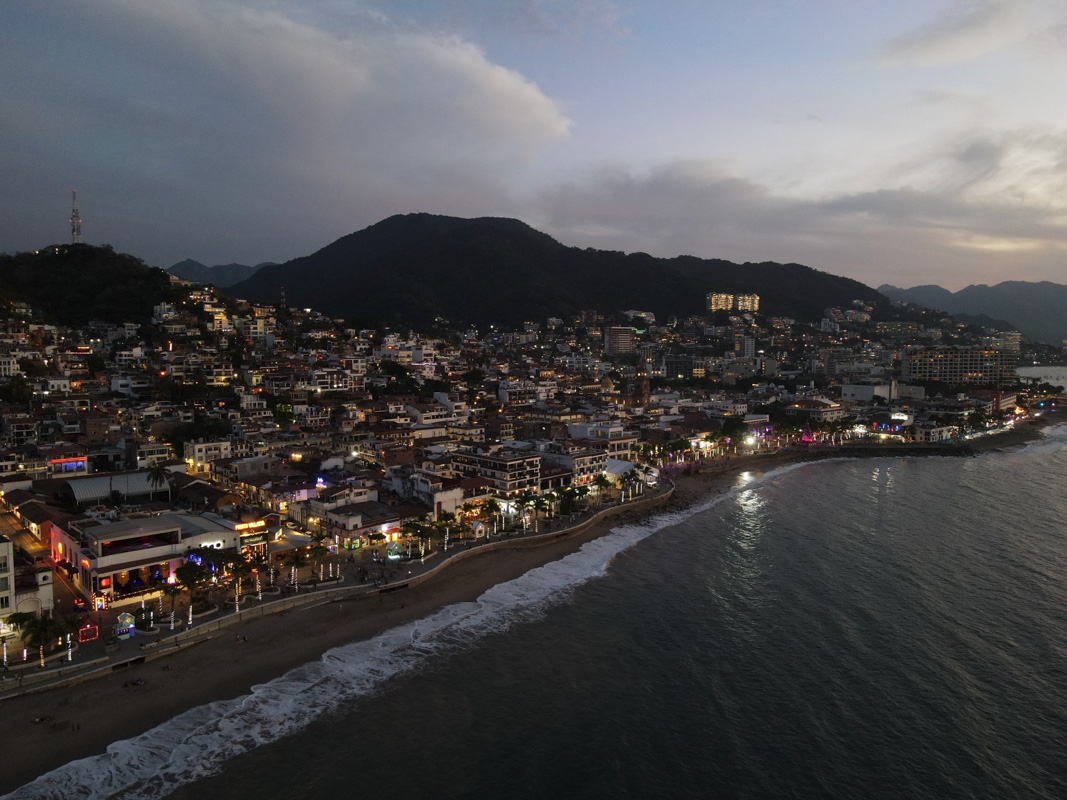 Why Puerto Vallarta for Christmas?
There's a reason that taking a Puerto Vallarta Christmas vacation is so popular. Who wouldn't want to spend the holidays with their toes in the sand instead of digging the car out of the snow?
The weather is near perfect – sunny yet pleasantly mild, ideal for exploring the beaches by day and enjoying the lively plazas at night. Imagine the streets filled with colorful parades, delightful live music, and mouthwatering local cuisine.
Visiting Puerto Vallarta in December means you can enjoy outdoor activities during the day without drowning in a sea of your own sweat. Whether you're into hiking or just chilling on the beach, it's a great time of year to be in Puerto Vallarta
Visiting Puerto Vallarta for Christmas is also appealing because of the vast selection of accommodation, dining, and nightlife the city offers.
Staying in a beachfront resort, enjoying rooftop cocktails at sunset, and feasting on fresh seafood sounds nice in late December, doesn't it?
It certainly takes some of the stress out of the Christmas season. If you're a large group or family, consider renting a villa.
Puerto Vallarta Christmas Events
The Christmas spirit is alive and well throughout the month of December. Here are some celebrations you can take part in while visiting.
Celebration of Our Lady of Guadalupe
It starts with the celebration of Our Lady of Guadalupe between the 1st and the 12th, which is one of the best annual events to take part in.
Many people make a pilgrimage here to visit the church that's named after the patroness of the Americas. During this time, there are colorful and vibrant processions to the church every night.
It all culminates with the Feast of Our Lady of Guadalupe on December 12th. There are parades, dance performances, and fireworks on this special day. The main square in front of the church is full of street vendors, and it's a very festive atmosphere.
Los Posadas
A few days later, on the 16th, the tradition of posadas begins and lasts until Christmas Eve (December 24th). A posada is basically a recreation of the journey taken by Mary and Joseph on the evening when Jesus was born.
Each evening, costumed processions pass through the streets in search of shelter just as the couple did. They are turned away again and again until finally, one house lets them in where the fiesta begins.
As with any special occasion in Mexico, there are plenty of delicious snacks and drinks. Tamales and ponche (a Christmas punch) are the most popular. In addition, children get to smash open colorful piñatas full of fruit and candy.
Malecon Decorations
A relatively new tradition for Christmas in Puerto Vallarta is local businesses decorating little shelters along the Malecon. It's fun to stroll the famous oceanfront promenade to take them all in.
You can get a little taste of what to expect on the Malecon in this short video. It includes some awesome drone shots to show you how the whole town lights up in the Christmas spirit.
Best things to do during December in Puerto Vallarta
Aside from participating in the Christmas celebrations, here are some other things to do in Puerto Vallarta in December.
Whale watching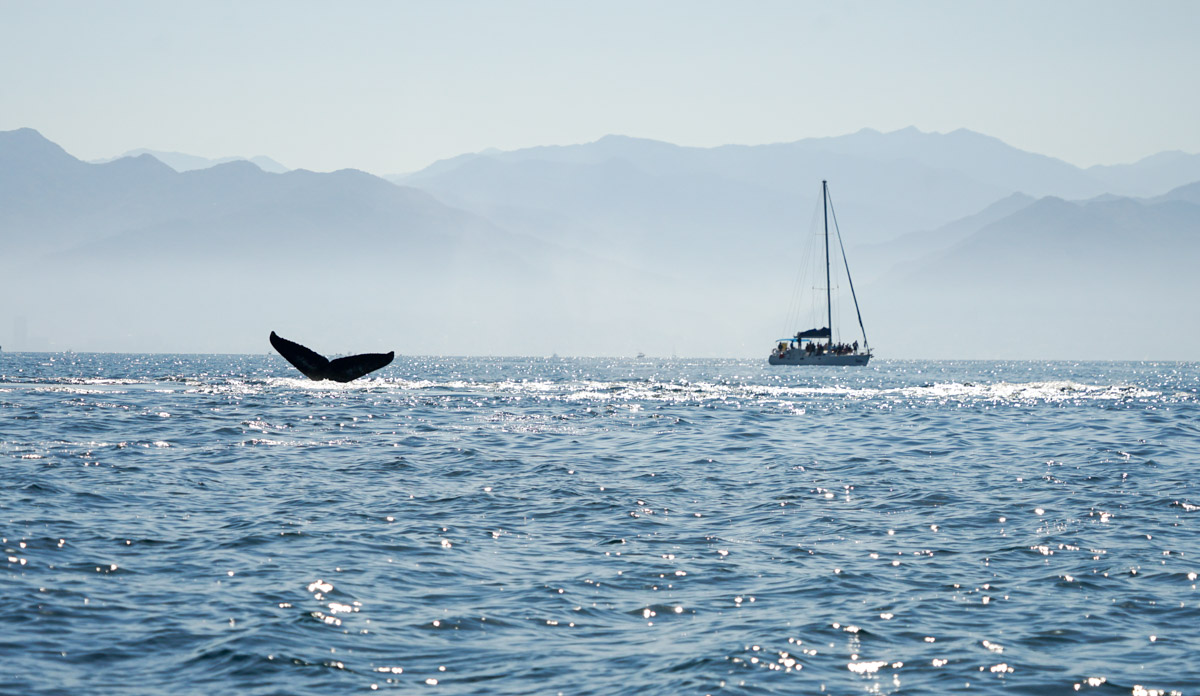 One of the biggest perks of visiting Puerto Vallarta during December is seeing the majestic humpback whales up close. They migrate to the warm waters of Banderas Bay every December to mate and give birth.
While seeing the whales from the shore is possible, it's much better to go on a proper whale watching tour. Seeing these gentle giants breach is one of the most amazing things you can do in Puerto Vallarta.
After a few years of being in town after the whale season ends, we finally got to experience whale watching in 2021. On our boat tour, we saw several whales and dozens of dolphins.
While we didn't see any of them breach, it was still an incredible experience. Be sure you add it to your list of things to do when visiting Puerto Vallarta at Christmas!
Explore the Artisan Markets
Puerto Vallarta's Artisan Markets are a holiday shopper's paradise. During December, these markets swell with unique handcrafted gifts and festive décor.
I've spent hours wandering the stalls, discovering one-of-a-kind pieces, and chatting with local artisans. It's the perfect place to find something special for loved ones back home.
Embark on a Hiking Adventure
December is an ideal time to explore Puerto Vallarta's breathtaking trails, thanks to the cooler weather.
Hiking here opens up a world of natural beauty, from coastal cliffs to lush jungle paths. One of the most popular trails is the Boca to Las Animas hike, which passes through six secluded beaches.
Where to eat Christmas Dinner in Puerto Vallarta
In Puerto Vallarta, it's common for families to get together and have a big Christmas Eve dinner. This is a tourist town, so hotels and restaurants throughout the city are still open.
Many places go all out with a special Christmas Eve menu. We had a wonderful dinner at La Palapa on Los Muertos Beach when we were in town for the holiday, and I highly recommend it.
With it being such a busy time of year, it's a good idea to make a reservation in advance. Places usually start advertising their Christmas menu a few weeks in advance, so you'll want to start looking for those to choose the best one for your group.
Most restaurants offer a multi-course meal with a variety of options. You can find a turkey with all the fixings if that's what you're into, or you can dig into some fresh food options like mahi mahi or jumbo shrimp.
If you're a remote worker in Puerto Vallarta, ask around the Facebook community to see what nomad Christmas events are going on.
People will likely be getting together for Christmas parties throughout December! If you need to make something, pick up local ingredients at the Olas Atlas Farmers Market in Zona Romantica.
Tips for Visiting Puerto Vallarta for Christmas
Book your flights early
Since this is such a popular time to visit Puerto Vallarta, you'll want to book your flights and accommodation well in advance. The week between Christmas Eve and New Year's is the peak of the peak season here, so plan accordingly.
And your apartment
Christmas is a popular time in Puerto Vallarta, so booking accommodations early is a must.
I'm in a bunch of Facebook groups for finding apartments in PV, and people seriously look for places over a year in advance for Christmas. Check out our guides below for inspiration on where to stay.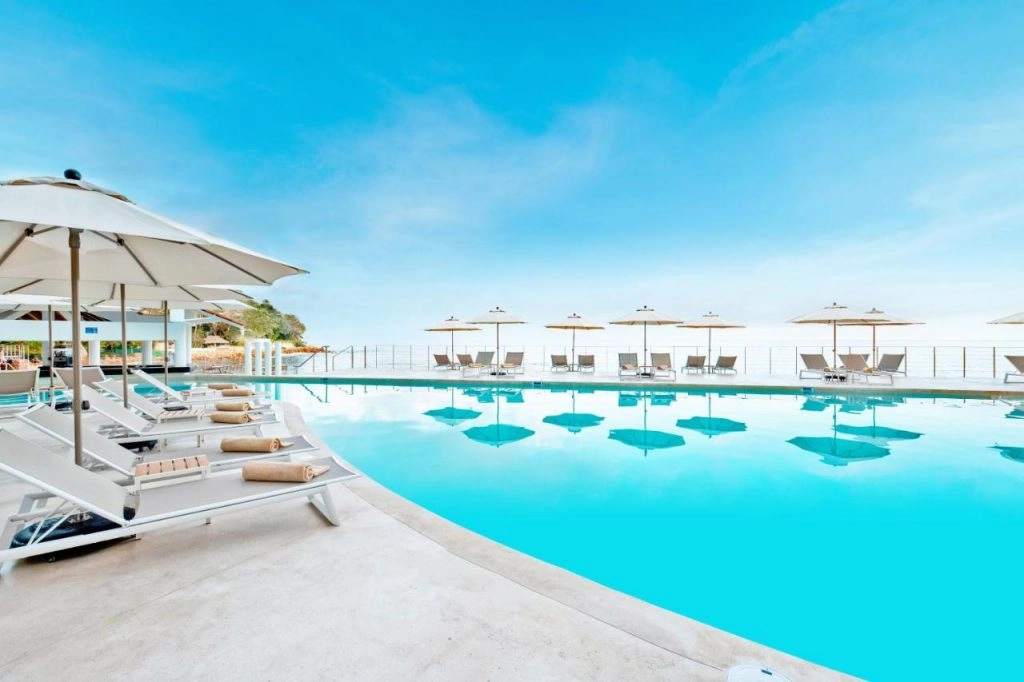 Embrace the Local Traditions
Puerto Vallarta offers a blend of traditional Mexican Christmas customs and modern celebrations. Don't hesitate to join the festivities, such as Las Posadas processions. It's an incredible way to immerse yourself in the local culture.
Dress Appropriately
Though December is cooler, the weather is still pleasantly warm. Pack light layers for daytime exploring and a light jacket for cooler evenings. And don't forget your hiking shoes if you plan to take advantage of the excellent trails! This packing guide for Puerto Vallarta has you covered.
Explore Beyond the Tourist Zones
Puerto Vallarta's charm lies in its local neighborhoods and hidden gems. Wander off the beaten path, and you may discover delightful local eateries, artisan shops, and friendly communities that warmly embrace visitors.
Make Reservations for Special Dinners
Many local restaurants celebrate Christmas and New Year's Eve with sumptuous feasts. If you have a special place in mind, making a reservation in advance is wise, as these meals tend to book up quickly.
Stay Informed About Local Events
Keep an eye on local event listings, as Puerto Vallarta offers a range of seasonal activities and festivities. From concerts to parades, planning ahead ensures you won't miss out on something extraordinary.
FAQ: Puerto Vallarta Christmas
What is the weather like in Puerto Vallarta at Christmas?
Christmas in Puerto Vallarta brings pleasantly warm weather with daytime temperatures ranging from 70°F to 80°F, cooler evenings, and minimal rain.
What is there to do in Puerto Vallarta for Christmas?
From joining traditional Las Posadas and exploring artisan markets to epic whale watching and hiking scenic trails, there's an abundance of activities to enjoy in Puerto Vallarta during Christmas.
Is Puerto Vallarta good for Christmas?
Absolutely! Puerto Vallarta's unique blend of traditional celebrations, warm weather, and festive activities make it one of the top destinations for Christmas.
Is December a good time to go to Puerto Vallarta?
December is an excellent time to visit Puerto Vallarta, offering cooler weather, rich cultural experiences, and vibrant festivities.
Can you swim in Puerto Vallarta in December?
December is an excellent time to visit Puerto Vallarta, offering cooler weather, rich cultural experiences, and vibrant festivities.
Can you swim in Puerto Vallarta in December?
Yes, the sea temperatures in December are comfortable for swimming, usually around 75°F to 80°F, allowing for enjoyable beach activities.
What should I pack for Puerto Vallarta in December?
Pack light layers for daytime, a light jacket for evenings, swimwear, sun protection, and comfortable shoes for exploring or hiking.
Where to eat on Christmas Day in Puerto Vallarta?
Many local restaurants offer special Christmas menus; it's advisable to check with your hotel what's open and make reservations in advance.
Should you go to Mexico during Christmas?
Yes, visiting Mexico during Christmas provides a wonderful opportunity to experience traditional celebrations, delicious cuisine, and vibrant local culture.
Do I need a jacket in Puerto Vallarta in December?
A light jacket is recommended for cooler evenings in Puerto Vallarta in December, especially if you plan to be out after sunset.
Where should I spend Christmas in Mexico?
Puerto Vallarta is an exceptional choice for Christmas, blending traditional festivities, beautiful beaches, and warm hospitality. Other popular destinations may include Mexico City, Cancún, and San Miguel de Allende.
Final thoughts: Christmas in Puerto Vallarta
From the vibrant local traditions and outdoor adventures to the soothing coastal vistas and warm Mexican hospitality, there's a sense of magic in the air here that makes it easy to create amazing memories and cure your winter blues.
Whether you're a seasoned traveler or planning your very first Christmas away from home, Puerto Vallarta in December is an invitation to embrace joy, warmth, and the festive spirit.
Prices are definitely higher this time of year, but spending Christmas in paradise is worth it! If you can stick around until the 31st, Puerto Vallarta sure is a fun place to ring in the New Year as well. Feliz Navidad!
Looking for more Puerto Vallarta travel tips? Check out these posts!