This post may contain affiliate links. By clicking and making a purchase through the links, I earn a small commission at no extra cost to you. See my disclaimer for more information. This allows me to keep the site up to date and expand on resources.
Puerto Vallarta is one of the premier fishing destinations in Mexico. The area is known for its abundance of fish, including marlin, sailfish, tuna, mahi mahi, and snapper.
Fishing trips in Puerto Vallarta, Mexico allow anglers to catch a wide variety of fish in some of the most beautiful waters in the world.
In addition to incredible fishing, Puerto Vallarta also offers visitors stunning beaches, a vibrant nightlife scene, and various other activities to enjoy.
What kind of fish can you catch in Puerto Vallarta?
The most common fish to catch in Puerto Vallarta include marlin, mahi-mahi, tuna, sailfish, Dorado, and wahoo. There are also a variety of smaller fish, such as snapper, grouper, and mackerel.
When is the fishing season in Puerto Vallarta?
Fishing season in Puerto Vallarta runs from November to April.
During this time, the waters are teeming with marlin, sailfish, dorado, and other types of fish. So if you're looking to get your fill of fresh seafood, these are the best months to visit.
This is also when you'll find the most pleasant water temperatures to enjoy the ample water spots Puerto Vallarta has to offer. It coincides with the high season, where the city enjoys consistently dry days.
If you're specifically after Mahi Mahi and Marlin, the best time to come is from September to February.
Puerto Vallarta International Marlin and Sailfish Fishing Tournament
If you're big into fishing, one of the best Puerto Vallarta events to time with your trip is the International Marlin and Sailfish Fishing Tournament, which takes place in November.
During this week, hundreds gather in Puerto Vallarta to fish for sailfish, marlin, wahoo, and dorado in the Bay of Banderas. It's a great time to come and meet other fishing enthusiasts from all over the world!
Puerto Vallarta fishing charters
There are a variety of charter companies that offer everything from half-day trips to week-long excursions.
Consider one of these reputable private charters to take you on your fishing trip in Puerto Vallarta.
Lucina III Fishing Charters & Tours
Lucina III fishing charters offers luxurious and relaxing fishing experiences for all abilities. It's run by Capt. Alfredo, who has been fishing since the age of 12.
He now uses those years of knowledge to run one of the best deep-sea fishing charters in Puerto Vallarta, whether you're a family, couple, or group of friends.
You tell him what you want, and the crew will work hard to make the trip perfect. You can even combine your angling with some snorkeling stops or whale-watching if you're visiting during the humpback whale season in the winter months.
The trip takes place on a Mexican-made 38′ sport fishing vessel that can hold up to seven people. When you're not reeling in fish, enjoy spending time sunbathing on the bow area, where you can soak in the view of Banderas Bay. The captain will even prepare fish ceviche from what you catch!
With such high customer satisfaction reviews, a trip with Lucina is sure to be an awesome day.
If you're a big group, look no further than the Liliana 40. This luxury fishing boat is a custom offshore vessel that can accommodate up to 12 passengers, although 6-8 are recommended for maximum comfort.
Enjoy cruising in style, as this boat is fitted with a flybridge, spacious sundeck, private toilet, fully-equipped kitchen, TV, and AC. So whether you want to lounge in the sun or relax inside, there's plenty of space for everyone.
The friendly crew is there to make the most of your experience, with two bilingual guides. Head offshore to look for sailfish, marlin, giant yellowfish tuna, and mahi mahi in the deep water and bottom fish for snapper and grouper while closer to shore. Tuna tubes, fish boxes, fighting chairs, and livewell are all provided to help you get your trophy fish!
Besides the catch, each trip with Liliana comes with bottle water, coffee, snacks, and beers on the 8-12 hour trips.
High Tides Fishing is a father-and-son company that shows off the absolute best fishing spots in Puerto Vallarta. They specialize in fishing with light and heavy tackle, as well as trolling, popping, and jigging.
On this trip, you'll have a choice to catch sailfish, Spanish mackerel, jack crevalle, tuna, seabass, mahi mahi, or blue and striped marlin.
High Tides private fishing tours take place on a 30' Super Panga center console which can hold up to 4 anglers, so it's best for small groups.
The ship is outfitted with navigational and fish-finding electronics and other professional accessories. Your fishing charter comes with rods, reels, tackle, bait, lures, drinks, and a fish cleaning service, so all you need to bring is a smile!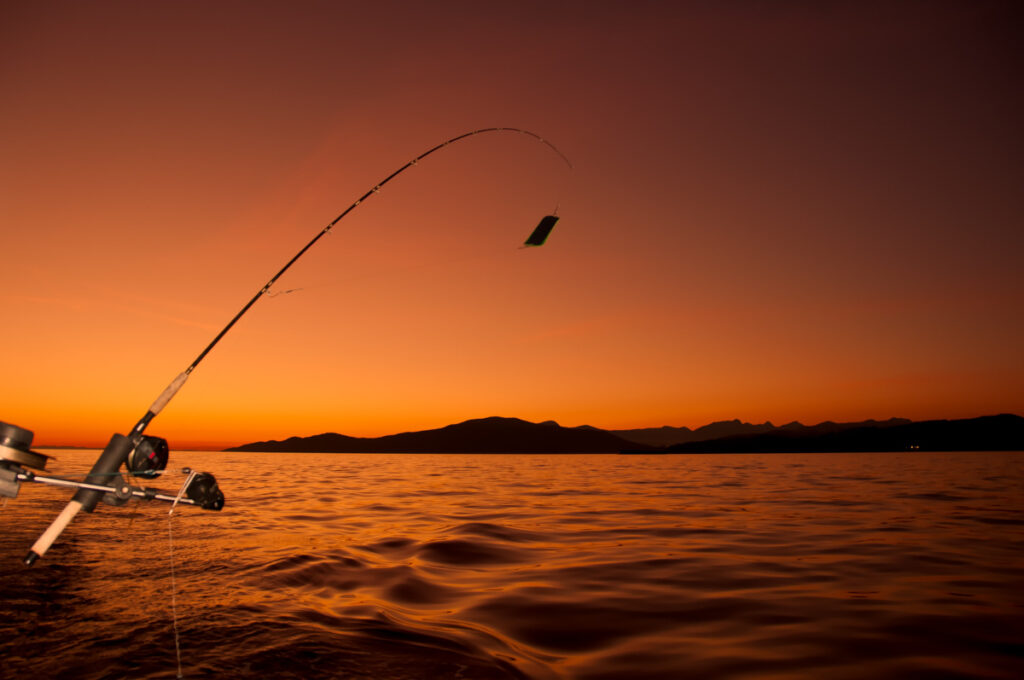 How do you choose the right Puerto Vallarta fishing trip for you?
Choosing the right fishing trip can be difficult, but there are a few things you can keep in mind to make the process easier.
First, think about what kind of fish you want to catch. Different trips focus on different types of fish, so you'll want to make sure you choose a trip that matches your interests.
Second, consider the length of the trip. Some trips are only a few hours long, some are a full day, while others can last for days. Make sure you choose a trip that fits your schedule.
Finally, think about the cost of the trip. Deep sea fishing trips can range in price depending on the type of boat and equipment used, so be sure to look around Fishing Booker to find the best charter that meets your needs.

Best locations for deep sea fishing in Puerto Vallarta
El Morro is one of the best spots for deep sea fishing in Puerto Vallarta because of its location and deep water.
It is a group of rock pinnacles that attract tuna, sailfish, dorado, yellowfish tuna, and more. It's close to the Marietas Islands, so many fishing charters visit both in one day.
Aside from fishing, The Marietas Islands are a must-visit while in PV. They are home to some of the most beautiful beaches in Mexico, including hidden beach.
El Banco (the banks) is a premier fishing site in Puerto Vallarta where you can find marlin weighing up to 1,000 pounds!
However, the site is about 50 miles away from shore or about two hours each way. Most fishing charters recommend choosing a site closer as the water can be quite rough heading out.
El Faro is a fishing site on the far south end of Bahía de Banderas. This site is commonly alternated with Corbetena as the fish tend to be biting at one or the other. You can find mahi mahi, sailfish, tuna, roosterfish, and more at El Faro.
Is there any age restriction on who can take a fishing trip in Puerto Vallarta?
No, there is no age restriction on who can take a fishing trip in Puerto Vallarta. Anyone of any age can enjoy a day out on the water, trying to catch big game fish.
Do I need any special equipment or clothing before my fishing trip
Depending on the time of year and the type of fish you're hoping to catch, you'll need different gear. In general, you'll need a fishing rod and reel, bait, lures, and line, which any fishing charter should provide. It's also a good idea to wear comfortable clothes that can get wet, as well as sunscreen and a hat.
Is Puerto Vallarta good for fishing?
Puerto Vallarta is an excellent place for fishing, with a wide variety of charter companies offering trips for all levels of experience. The region is known for its deep sea fishing, with many charter companies offering half-day, full-day trips and overnight charters. Most of these trips include bait, tackle, and lunch, and some even include drinks. Many people come to Puerto Vallarta specifically for the fishing, so you can be sure you're in for a good time.
Do you need a fishing license to fish in Puerto Vallarta?
If you want to go fishing in Puerto Vallarta, you'll need a fishing license unless you go with a fishing charter.
—
Fishing trips in Puerto Vallarta are a popular activity for tourists and locals alike. Various charter companies offer everything from half-day trips to week-long excursions where you can catch multiple species of fish, including marlin, tuna, sailfish, and Dorado.
Whether you're an experienced angler or just getting started, there's a fishing trip in Puerto Vallarta that's perfect for you.
Planning a trip to Puerto Vallarta? Don't miss these posts!