This post may contain affiliate links. By clicking and making a purchase through the links, I earn a small commission at no extra cost to you. See my disclaimer for more information. This allows me to keep the site up to date and expand on resources.
Looking for the best Puerto Vallarta restaurants with a view? Let us help you! We live in Puerto Vallarta and love eating at restaurants with amazing views and equally good food.
From coastal restaurants to enchanting gardens, this list of best restaurants will leave you with plenty of choices for memorable dining experiences.
There's no denying the stunning natural beauty of Puerto Vallarta. With the Sierra Madre mountains to one side and Banderas Bay to the other, you get the best of both worlds here.
The city also has some seriously mouth-watering cuisine, from authentic street tacos to fine dining. As such, it should come as no surprise that there are plenty of amazing restaurants with a view in Puerto Vallarta.
From restaurants on the beach to the top of mountains, we'll check out some of the best places in this Puerto Vallarta restaurant guide.
Best Restaurants with a View in Zona Romantica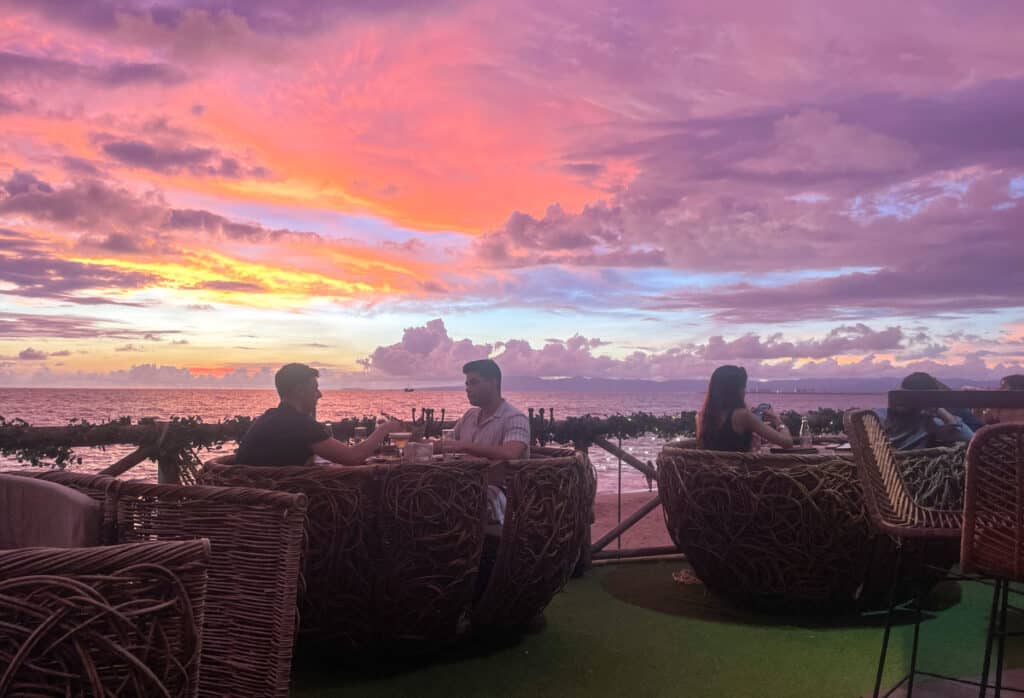 Let's start our culinary journey in PV's bustling Zona Romantica. With the iconic sail-shaped pier on Los Muertos Beach, you have many choices for a meal with a view down here.
Here are some of the top Puerto Vallarta restaurants with a view in the Romantic Zone.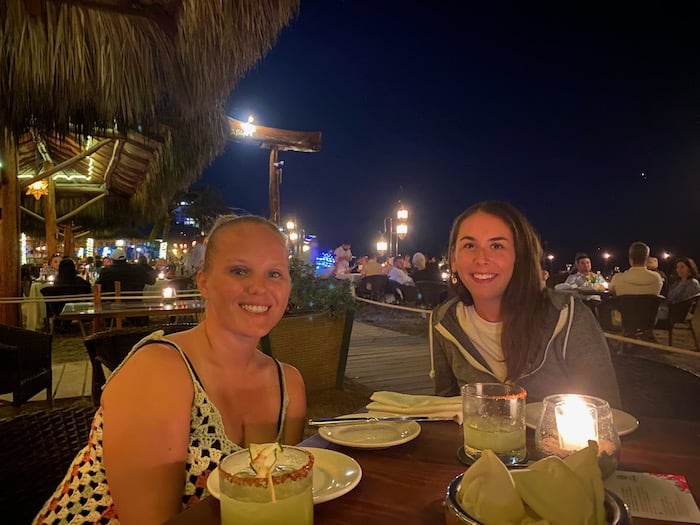 Púlpito 105-3, Zona Romántica, Emiliano Zapata, 48380 Puerto Vallarta, Jal. – get directions here
If you're looking for incredible Puerto Vallarta restaurants on the beach, this is the ideal place to go. Feet in the sand, margarita in your hand, and some fresh seafood on the way as the sun sets in the bay. It doesn't get much better than this, amigos.
Whenever we have guests visit us in PV, and they want to do something nice for dinner, this is always our go-to. It never disappoints, and although it's on the pricier end, it's always worth every peso.
You can start off with some lobster and shrimp taquitos, or perhaps some fresh tuna tataki. The zarandeado style fish filet is the star of the show in my opinion, but you can't go wrong with the red snapper, or the boneless short rib for you carnivores.
While I tend to think of it as a dinner spot, La Palapa is open all day and also churns out some pretty unbelievable breakfast plates. If you went hard in the bars the night before, it's hard to top some chilaquiles and cafe de olla on the beach to cure that crudo.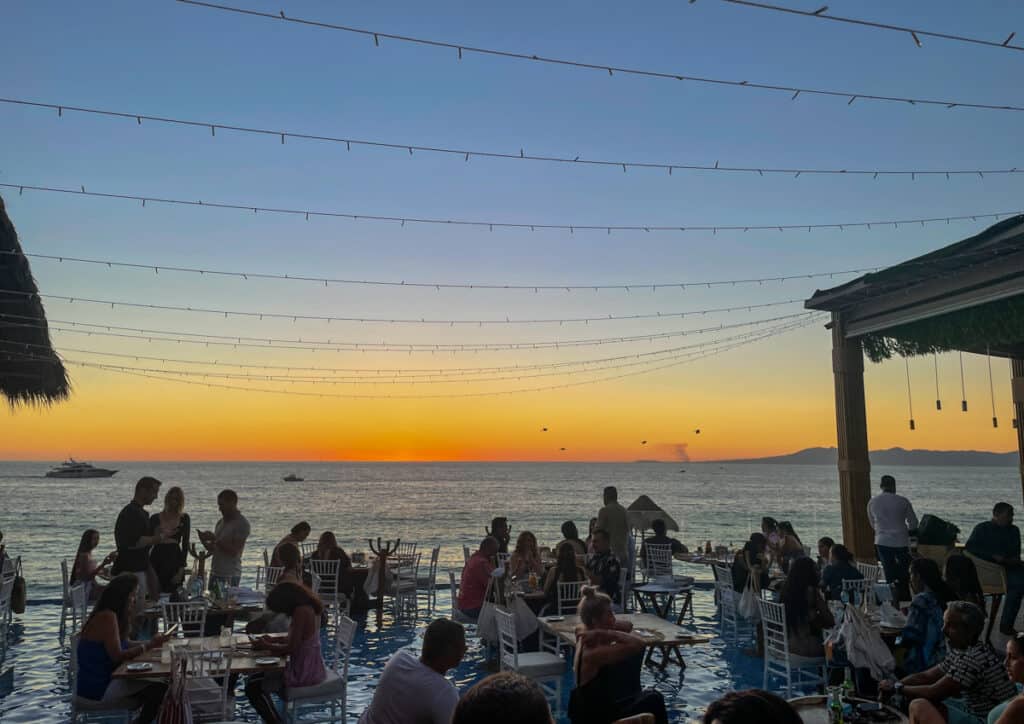 Manuel M. Dieguez 106, Zona Romántica, Emiliano Zapata, 48380 Puerto Vallarta, Jal.– get directions here
Sometimes you don't feel like getting all sandy, but you still want to hear the sounds of the waves crashing. That's where a place like Mar Y Vino comes in clutch.
This new darling of the PV restaurant scene features a postcard-worthy view of the pier and Los Muertos Beach. Several of the tables are set in a shallow pool so you can enjoy a little foot bath while you dine, minus all that pesky sand.
They have lunch from 11 AM to 4:30 PM and dinner from 5-10. Should you go the early route, I recommend some ceviche and perhaps soft-shell crab tacos. There's also an impressive cocktail selection if you want to get the party started early.
The dinner menu is far more extensive, and tables are in high demand during high season, so be sure to make a reservation to avoid disappointment. Options include artichoke Norwegian salmon, lobster tail, and filet mignon.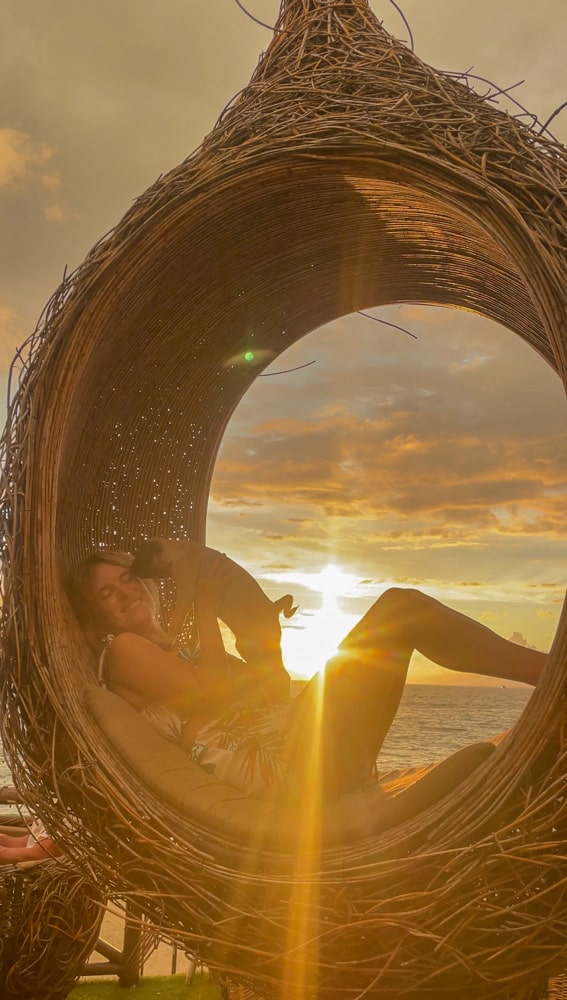 Olas Altas 380, Zona Romántica, Emiliano Zapata, 48380 Puerto Vallarta, Jal. – get directions here
Right next to Mar y Vino is Ik Mixology Bar and Cuisine, a gorgeous restaurant with excellent service and a picturesque view overlooking the Los Muertos Pier.
As you step into Ik, you'll be immediately drawn to the bamboo swing that offers a perfect view of the sunset. When it comes to Instagrammable places in Puerto Vallarta, this is a spot not to miss.
The menu at Ik is a delightful fusion of international flavors that pay homage to the bountiful culinary traditions of Puerto Vallarta.
Their carefully designed craft cocktails and selection of seafood dishes are sure to impress, and the prices are reasonable for the quality. I had the seared tuna, which was prepared perfectly.
As the sun sets and casts its golden glow over the ocean, you'll find yourself immersed in a magical dining experience that captures the essence of Puerto Vallarta.
Isla Rio Cuale 4, Zona Romántica, Centro, 48300 Puerto Vallarta, Jal. – get directions here
It's great being down on the beach, but let's not forget about the river and the island! The unassuming River Cafe is under the bridge that passes over the Isla Cuale.
Personally, I love the view of the peaceful little island full of palm trees with the river flowing past. It's far away enough from the hustle and bustle of Zona but just a quick walk from all the action.
They're open all day, so you can pop in for any meal, including an impressive Sunday brunch. We went here for our anniversary dinner one year and had a wonderful experience. Try the seared tuna caprese, or the veal osso buco served on risotto. Both are simply divine.
Of all the Puerto Vallarta restaurants with a view, River Cafe has the most extensive menu offering vegetarian and vegan options. Choose from dishes like adobo mushrooms and coconut quinoa or some of their classic dishes prepared gluten-free.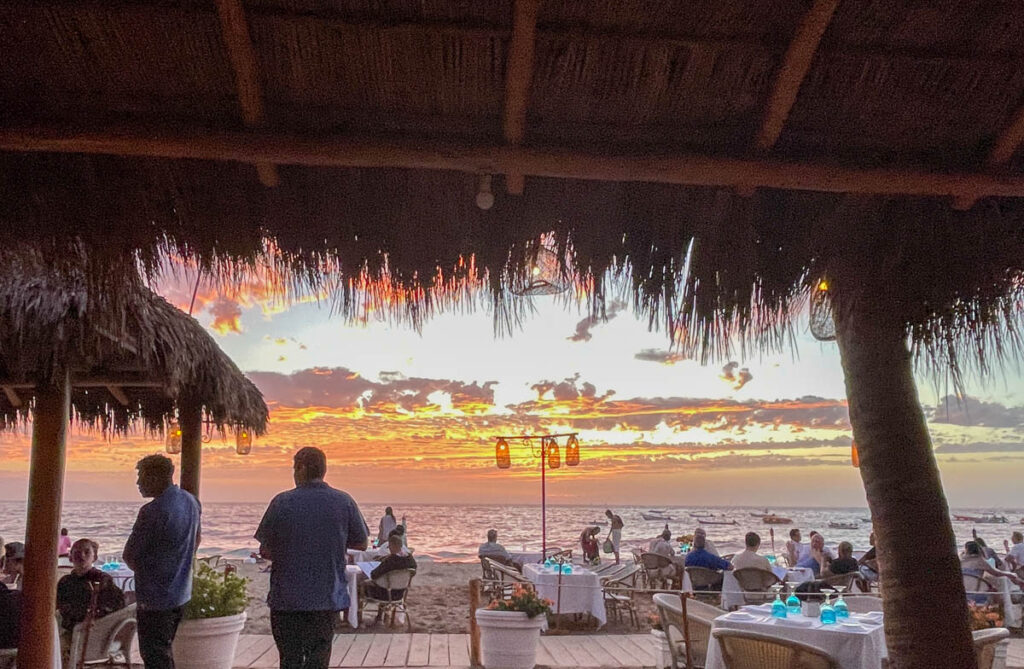 Púlpito 102, Zona Romántica, Emiliano Zapata, 48380 Puerto Vallarta, Jal. – get directions here
Located right on the picturesque Los Muertos beach, El Dorado offers diners a front-row seat to see Puerto Vallarta's spectacular sunsets.
As the vibrant hues paint the sky pink and orange, enjoy the relaxing ambiance of the crashing waves and gentle ocean breeze that flows through the large open-air palapa. You can also get a table right on the beach, but reservations are required.
As the sun sets, El Dorado gets illuminated by the warm, inviting glow of amber lights. To enhance the ambiance, live music fills the air, creating a romantic atmosphere that makes El Dorado one of the best restaurants on the beach in Puerto Vallarta.
And then, of course, there's the great food. From savory tacos and enchiladas to tantalizing ceviche and fresh seafood delicacies, every dish is thoughtfully crafted using fresh, local ingredients.
Amapas 380, Zona Romántica, Emiliano Zapata, 48380 Puerto Vallarta, Jal. – get directions here
I haven't had a chance to make it to Top Sky Bar yet, but I'm including it in this list because it's known as being one of the top ultimate LGBT entertainment and dining experiences in Puerto Vallarta.
Top Sky Bar is Located in the Almar Luxury Resort, which is the top-rated gay hotel in Puerto Vallarta. It's a 5-minute drive from downtown Puerto Vallarta in the Amapas neighborhood, with a privileged location on Los Muertos Beach, the most famous gay beach in PV.
In just a short period since they opened, The Top Sky Bar & Restaurant has established itself as the go-to meeting point for the gay community in PV. One of the standout features is the remarkable panoramic views of Banderas Bay from the restaurant, which fits perfectly with their savory gourmet dishes and entertaining nightly shows.
Other Puerto Vallarta Best Restaurants With a View
Crossing that bridge over the island, there are still several great choices for dining with an amazing view. The Centro and 5 de Diciembre neighborhoods are quite hilly, making for some amazing panoramic views at restaurants.
Here are some of the top choices for Puerto Vallarta restaurants in Puerto Valin in these local areas.
C. Miramar 363 B, Centro, 48300 Puerto Vallarta, Jal. – get directions here
With a name meaning "the chapel," this popular Centro restaurant is best known for its stunning view of the main cathedral in town. You won't find a more Instagrammable spot in Puerto Vallarta than here at sunset!
La Cappella is open from 9 AM to 2 PM and then again from 5-11, with the golden hour being the most in-demand time. You'll definitely want to book a table in advance if you hope to catch the sunset here.
Should you manage to secure a table, you can look forward to dining on dishes ranging from a rack of lamb in white wine and rosemary to grilled octopus with fine herbs and a chili marinade. If you're drooling on your keyboard or phone now, don't worry – it's acceptable behavior.
Whatever you order, they have a wine to pair it with. Fine wine with world-class Italian cuisine and one of the best views in town. This is the life, folks! I almost forgot to mention the violinists. This place really is that classy.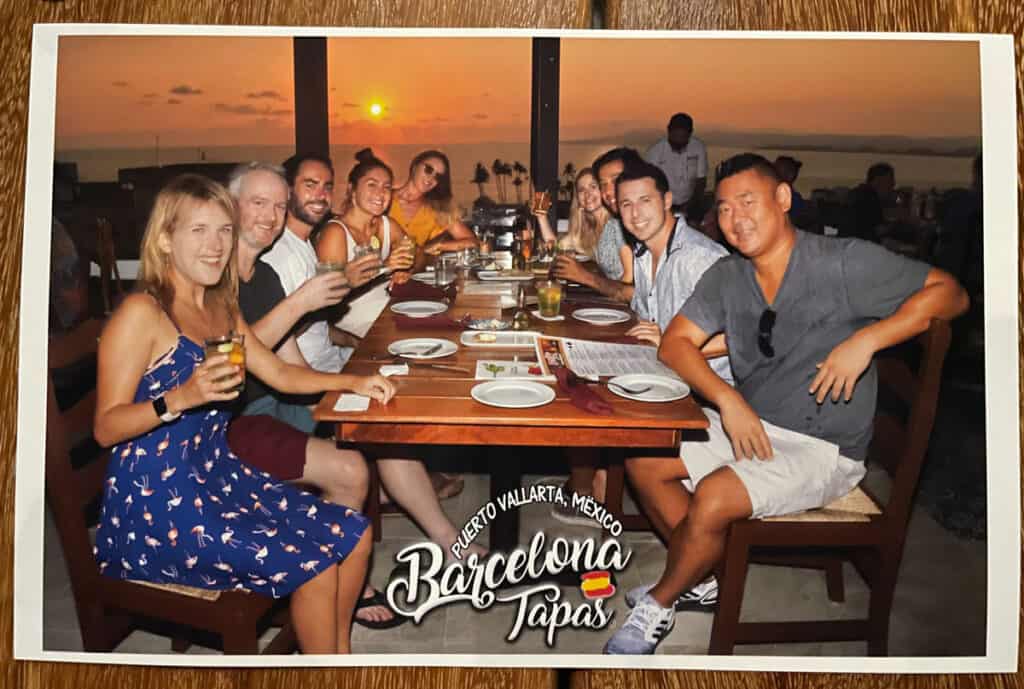 C. Matamoros 906, Centro, 48300 Puerto Vallarta, Jal. – get directions here
You don't have to travel to Spain for some delectable tapas with a view. All you have to do is head up the hill a few blocks from the beach in 5 de diciembre to reach Barcelona Tapas.
Anytime we're looking for something fancy (but nothing too fancy…), we usually end up here. It's a great place to go as a large group if you're into doing a family-style meal with a wide variety of Spanish-style dishes and an extensive wine list.
This is one of the restaurants with best views in Puerto Vallarta to see the nightly fireworks show from the pirate ship. I try to time it so that we get there right around sunset and see the show as we're enjoying the dessert and a nightcap.
Paraguay 1290, 5 de Diciembre, 48350 Puerto Vallarta, Jal. – get directions here
El Barracuda is one of the best Puerto Vallarta beach restaurants on this side of town. They make a great one-two punch along with El Solar next door, where you can enjoy dinner, drinks, and dancing on the beach.
My advice is to order one of their signature mezcalitas (like a margarita, only with mezcal) and enjoy their free chips & salsa while perusing the menu. I'm a big fan of their shrimp pastor tacos and Peruvian ceviche.
If you feel like going big with one of the entrees, like a whole red snapper, just keep in mind that this place is cash only.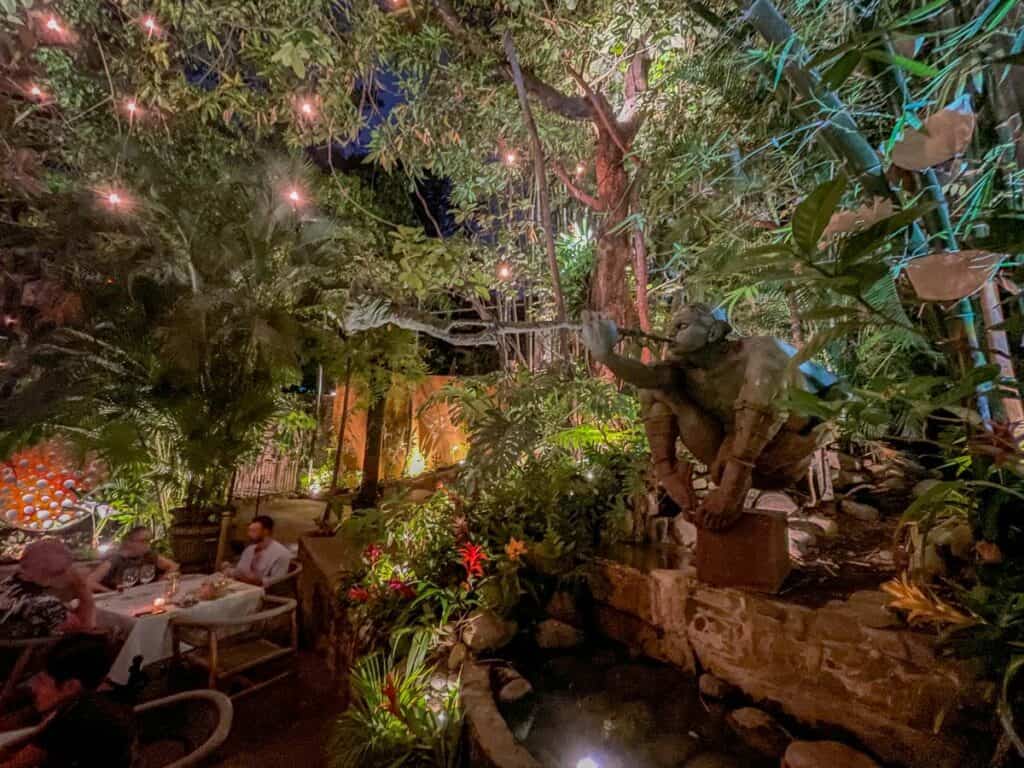 C. Guadalupe Sánchez 740, Centro, 48300 Puerto Vallarta, Jal. – get directions here
Located in the heart of Puerto Vallarta next to the city's best art galleries, Café des Artistes is one of the top restaurants in Puerto Vallarta, renowned for its elegant atmosphere and refined Mexican cuisine with a menu by chef Joel Ornelas.
As soon as you enter Cafe Des Artistes, it feels like you are in a fairytale. You'll be welcomed into a lounge where you can enjoy a delicious cocktail with live music before being seated upstairs.
They have an elegant indoor dining area with AC, as well as a charming courtyard adorned with beautiful art pieces and lush vegetation. However, the outdoor area is not open during the summer months because of the rain.
The food here does not disappoint. During restaurant week, I had a fantastic three-course meal of fresh sea bass and mouth-watering cheesecake.
If you come on a Wednesday evening, you can combine it with the Puerto Vallarta art walk for a perfect evening itinerary.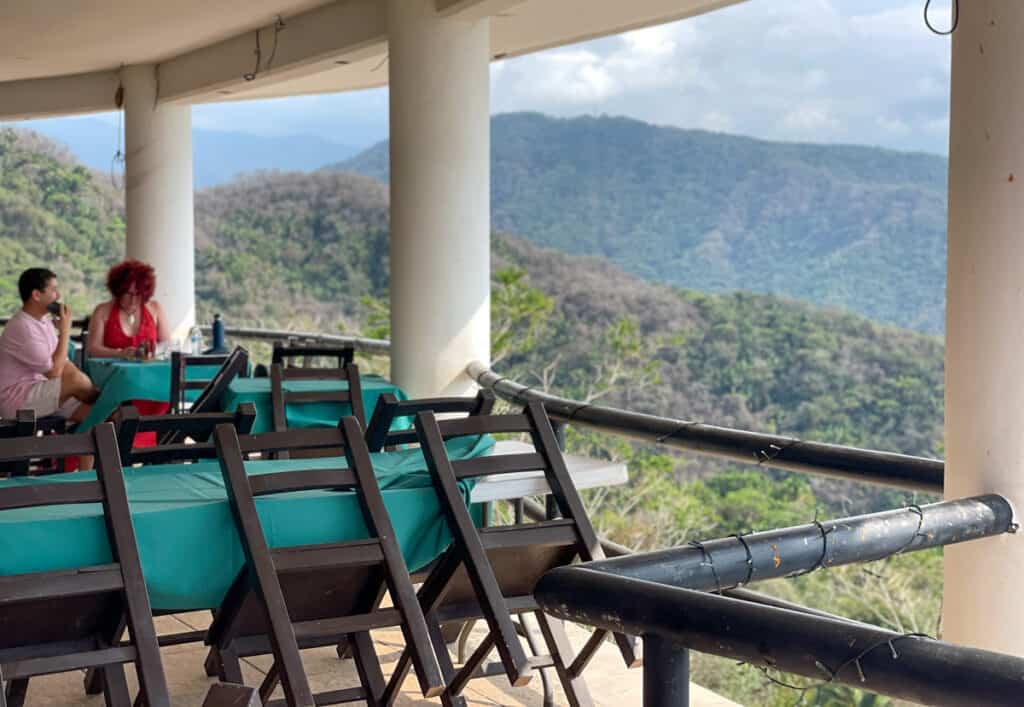 restaurante bar, Camino a La Aguacatera Km. 1.2 Las Carmelitas, Centro, 48343 Puerto Vallarta, Jal. – get directions here
If you're looking for a view of the entire Bay of Banderas, head up to Las Carmelitas. It's only about a 15-minute drive from downtown but will make you feel your worlds away, as this is literally a restaurant on a mountain in Puerto Vallarta.
The views from here are incredible. You can see the entire bay as far as Punta Mita!
The food isn't incredible for the price, but it makes up for it in views. I had the giant coconut shrimp, which were some of the biggest shrimp I've ever seen. The staff are friendly, it's dog friendly, and definitely is the best restaurant with a view of Puerto Vallarta and beyond.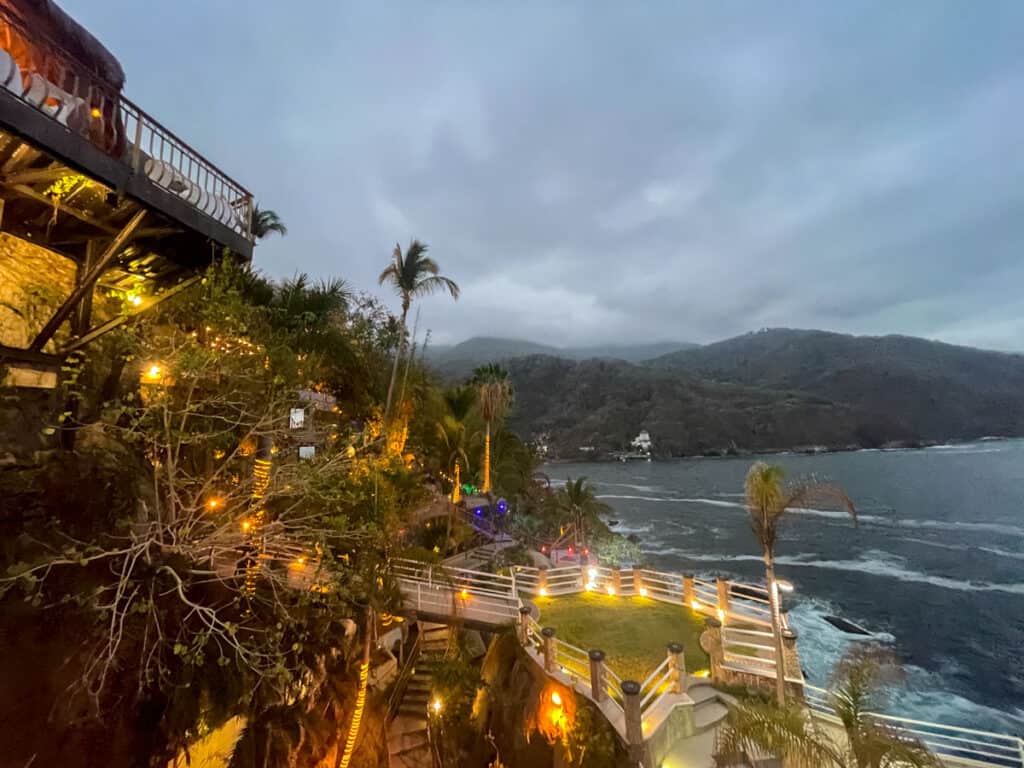 Road to Barra de Navidad KM 17.5, Between Mismaloya, Boca de Tomatlán – get directions here
When it comes to Puerto Vallarta restaurants with a view, it doesn't get more spectacular than Le Kliff.
Tucked away on the south coast near Mismaloya, Le Kliff is a picturesque Puerto Vallarta cliff restaurant offering unparalleled views of the Pacific Ocean. Accessible by a 30-minute scenic drive from Old Town, this romantic restaurant is perfect for a special occasion.
It's a huge restaurant surrounded by ocean views. Be sure to walk around and check out all the Instagrammable photo spots they have set up – there are mirrors everywhere!
Indulge in fresh seafood paired with delicious cocktails, and witness spectacular views of the ocean that will leave you in awe.
The hours are from 1 pm to 9 pm, so no late dinners, but you'll be there for the most magical time of the day, and it's the perfect place to watch the sun go down.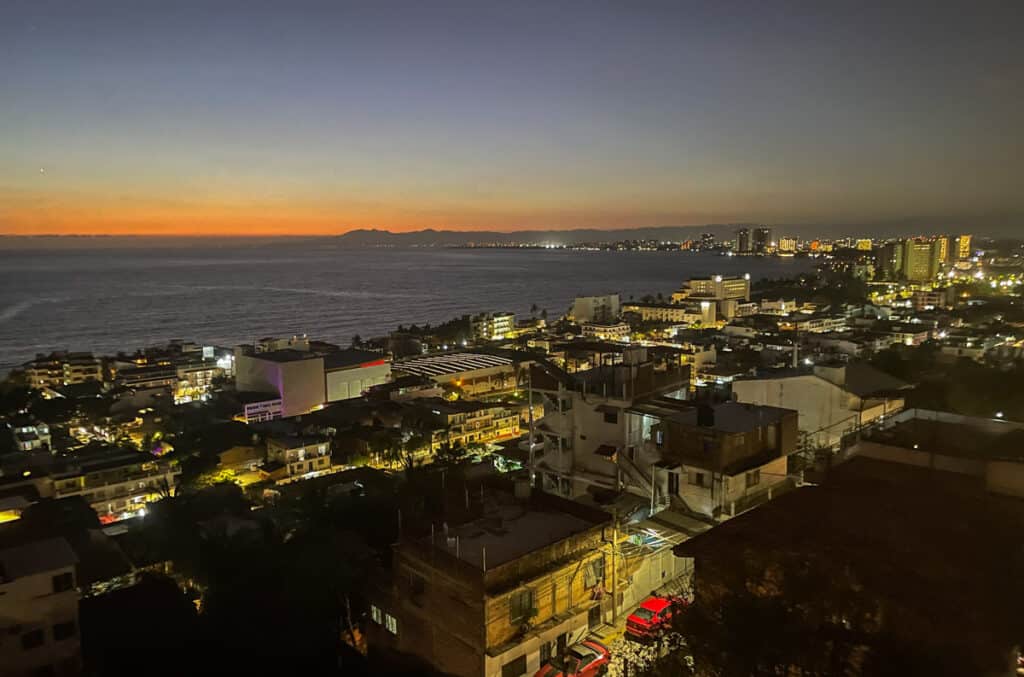 C. Ecuador 1071, 5 de Diciembre, 48350 Puerto Vallarta, Jal. – get directions here
Restaurant Bar Ah Caramba! is a hidden gem restaurant nestled on a hill in the vibrant neighborhood of 5 de Diciembre. This rooftop restaurant in Puerto Vallarta offers a delightful fusion of mouthwatering seafood delights and an incredible view.
The climb up the hill is steep (or you can take an Uber), but once you reach the top, you'll be rewarded with a panoramic view that captures the energy of the city.
From this elevated point, soak in the city's light and the picturesque ocean stretching to the horizon. The open-air setting allows for a gentle breeze and a relaxed atmosphere.
The menu is a celebration of the sea, highlighting the freshest catch from the waters of Banderas Bay. Savor a delectable array of seafood skillfully prepared into traditional Mexican dishes. The portions here are huge, so I recommend sharing.
C. Zaragoza 445, Centro, 48300 Puerto Vallarta, Jal. – get directions here
Located in Casa Kimberly (the former famous home of Richard Burton and Elizabeth Taylor), the Iguana Restaurant offers a unique blend of traditional Mexican cuisine and contemporary flavors.
Situated in a charming courtyard adorned with bougainvillea, this restaurant provides a beautiful view of the historic center of Puerto Vallarta. Enjoy delicious food at this Mexican restaurant with modern culinary influences while immersed in the colonial ambiance of this enchanting spot.
It is also a great place to try the region's best tequilas, with several dozen top-flight and rare labels.
Casa Kimberly is one of the most charming boutique hotels in the city, so if you're looking for a perfect place to stay that captures the essence of PV, this is a great option.
P.º de Los Corales 139, Conchas Chinas, 48399 Puerto Vallarta, Jal. – get directions here
Eugenia, located inside the Grand Miramar Resort, is one of the best ocean-view restaurants in Puerto Vallarta.
The Grand Miramar is situated up the hill in the Conchas Chinas area, with breathtaking views over the Bay. It's just a 10-minute drive from downtown but will leave you feeling although you've climbed a mountain.
Eugenia is situated next to the gorgeous infinity pool, offering a delectable array of international cuisine with a focus on fresh seafood. They also have an impressive vegan menu!
Even if you're not a guest at the hotel, Eugenia welcomes the public in the evenings, making it a must-visit restaurant during your stay in Puerto Vallarta.
With its unrivaled combination of delectable flavors, stunning vistas, and warm ambiance, Eugenia truly stands out as one of the best restaurants with a view in Puerto Vallarta.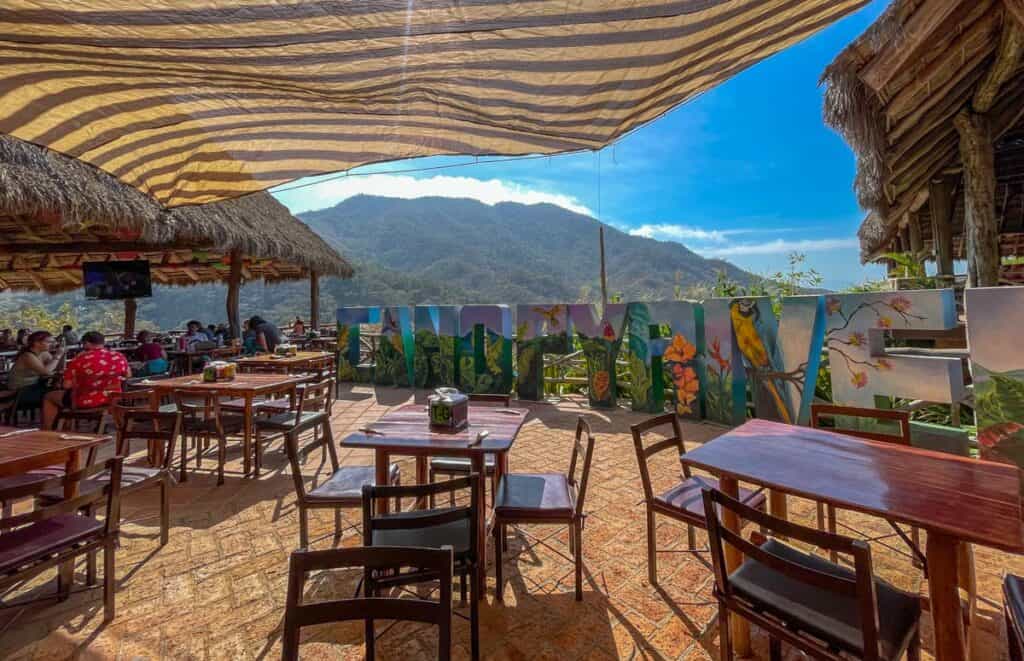 Camino Los Llanito km. 4.5 Los Almacenes, 48373 Puerto Vallarta, Jal. – get directions here
There's a restaurant at Canopy River Park, which is open to the public to come. Surrounded by lush mountains and the serene sounds of flowing rivers, this place has an incredible view from the restaurant terrace. There's also an infinity pool next to it which you can pay to use.
This is a great place to go for a day of adventure in Puerto Vallarta as they offer some of the best ziplines and ATV tours, or you can walk across the world-famous Jorullo bridge. Afterward, grab a bite at the restaurant for some great food. I loved the fish tacos!
FAQ: Best Puerto Vallarta Restaurants With a View
What neighborhood in Puerto Vallarta has the best food?
Zona Romantica is renowned for its diverse culinary scene and has historically been considered the neighborhood with the best food in Puerto Vallarta. However, in recent years, the neighborhood of Versalles has made its mark as being one of the best areas for foodies in PV.
What food is popular in Puerto Vallarta?
Puerto Vallarta is known for its mouthwatering seafood dishes, including ceviche, grilled fish, and shrimp tacos. Traditional Mexican cuisine such as mole, tacos al pastor, and chiles rellenos are also popular choices.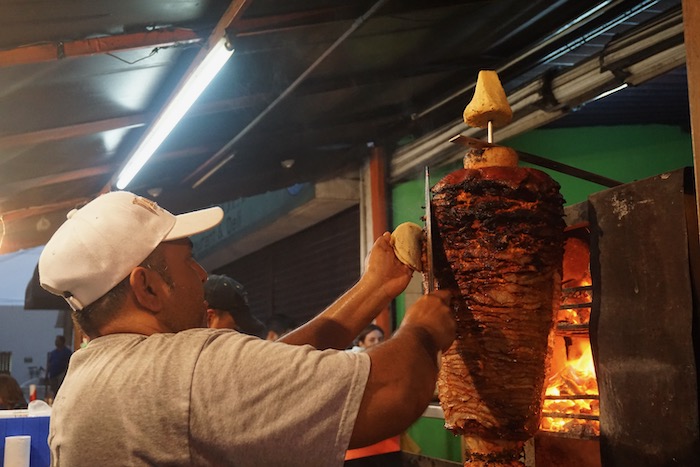 Is Puerto Vallarta known for food?
While other cities in Mexico, such as Oaxaca and Mexico City, are more well-known for their culinary scene, Puerto Vallarta has gained a well-deserved reputation as a food lover's paradise. It offers a wide range of cuisines, from traditional Mexican fare to international flavors, with new restaurants opening all the time as the city continues to expand.
What are the best restaurants in Puerto Vallarta?
Some of the best restaurants in Puerto Vallarta include Café des Artistes, La Leche, Tintoque, and Le Kliff. These establishments offer exceptional dining experiences and are known for their exquisite cuisine and stunning settings.
Are there vegetarian and vegan-friendly restaurants in Puerto Vallarta?
Yes, Puerto Vallarta offers a variety of vegetarian and vegan-friendly restaurants. Some popular options include Vegan Ramen, The Green Place, and Salud Super Food.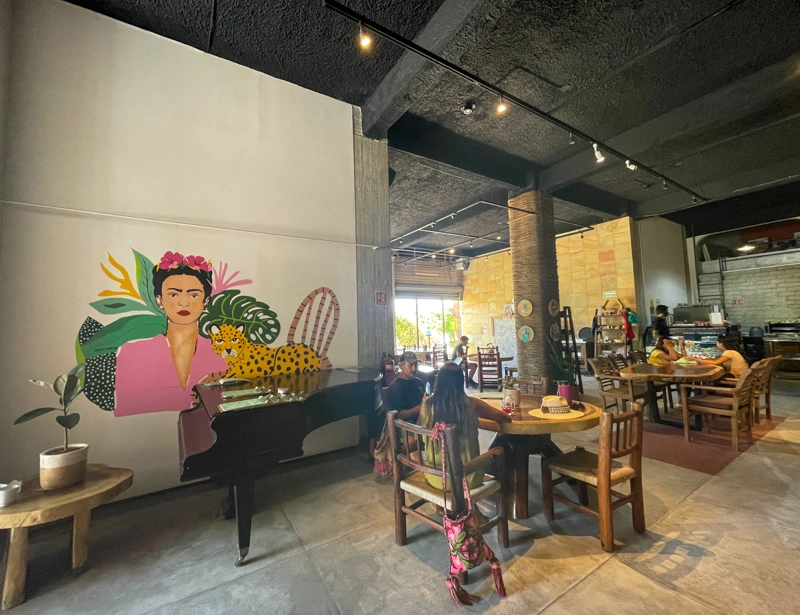 Can I find international cuisine in Puerto Vallarta?
Absolutely! Puerto Vallarta is known for its diverse culinary scene, which includes a wide range of international cuisines. You can find restaurants specializing in Italian, Asian, Mediterranean, and American cuisine, among others.
Is it necessary to make reservations at restaurants in Puerto Vallarta?
While it's not always necessary, it is recommended to make reservations, especially during high season at popular or upscale restaurants. Making a reservation can help you avoid long waits and disappointments, especially if you're only visiting for a few days.
Are there budget-friendly dining options in Puerto Vallarta?
Yes, Puerto Vallarta offers a range of budget-friendly dining options. Street food stalls, local taquerias, and small family-run eateries provide delicious meals for just a few dollars. Exploring the local markets is also a great way to sample affordable and authentic Mexican dishes.
Can I find traditional Mexican food in Puerto Vallarta?
Absolutely! Puerto Vallarta is an excellent destination to experience traditional Mexican cuisine. From street tacos to regional specialties like pozole and birria, you can savor the authentic flavors of Mexico in the city's numerous traditional restaurants and food stands.
Looking for more food experiences in Puerto Vallarta? Check out these guides!
Final thoughts: Best restaurants in Puerto Vallarta with a view
These are just a few of the many Puerto Vallarta restaurants with a view. From beachfront gems to cliffside retreats, these establishments showcase the natural beauty of Puerto Vallarta while indulging your senses in delicious cuisine.
Whichever restaurant you choose from this list, you're guaranteed a memorable dining experience with a view that will stay with you long after your visit.