This post may contain affiliate links. By clicking and making a purchase through the links, I earn a small commission at no extra cost to you. See my disclaimer for more information. This allows me to keep the site up to date and expand on resources.
Wondering what the best Puerto Vallarta airport transportation options are? I live in Puerto Vallarta and travel in and out of the airport every month.
From public buses to private transfers, these are the best options for transportation from Puerto Vallarta airport.
BOOK AN AIRPORT SHUTTLE
In a rush? The easiest way to get from the airport into Puerto Vallarta is to book a private airport shuttle. No waiting or haggling with taxi drivers!
Nestled along the picturesque Bay of Banderas, Puerto Vallarta is a vibrant city that attracts millions of visitors annually.
With its stunning beaches, diverse cultural offerings, and world-class dining and entertainment, it's easy to see why so many people choose to vacation in this Mexican paradise.
If you're planning a trip to Puerto Vallarta, you'll likely need to figure out how to get from the airport to your destination.
Fortunately, numerous airport transfer options are available that will take you into the city and to the towns scattered throughout the coast.
Puerto Vallarta Airport Transportation
The Puerto Vallarta International Airport (PVR) serves as the main gateway for visitors arriving by air.
Many airlines operate daily flights to and from major cities across North America and beyond, so the airport can be busy, especially during peak travel seasons.
As soon as you leave the departure gate, you are bombarded with endless options for airport transfers, which makes navigating the airport and finding transportation options somewhat challenging for first-time visitors.
There are plenty of options available, and with some prior planning, you can find the right choice for you.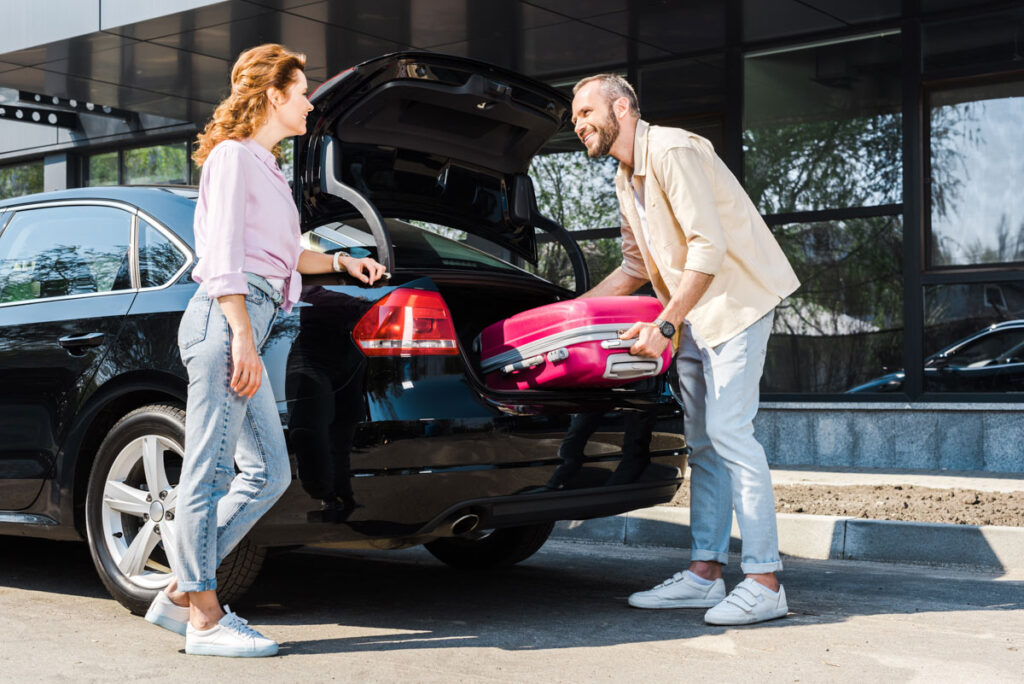 Puerto Vallarta airport car rentals
Renting a car from Puerto Vallarta airport is a great option if you want to explore the surrounding areas and have more freedom and flexibility during your trip.
There are several car rental companies located at the airport, including Avis, Budget, Enterprise, Hertz, and National, offering a variety of vehicles to suit your needs and budget.
You can reserve a car in advance online at Discover Cars – the process is straightforward and is less stressful, and more affordable than booking one from the desks in the airport terminal. You can also buy full insurance directly through Discover Cars.
Before leaving, it is important you do a thorough inspection of the car to ensure you don't get the blame for any pre-existing damage.
Walk around the car and look for visible damage, such as scratches, dents, or chips. Take photos of any damage you find and inform the rental company representative before you leave the lot. This can help avoid disputes or charges for damage you didn't cause.
It is also important to Inspect the condition of the tires, including the tread and air pressure, verify that the spare tire is present and in good condition and check your car's electronics are functioning.
Testing the headlights, taillights, turn signals, and windshield wipers is crucial to ensure they are in good working condition and will keep you safe on the road.
Driving in Puerto Vallarta and the surrounding areas can be an adventure, as the roads can be narrow, winding, and steep in some places, and there is often congestion on the highways leading along the coast due to slow-moving construction vehicles.
It's also worth noting that some rural roads in Mexico may be unpaved, poorly maintained, or lack proper signage, so drivers should exercise caution and be prepared for unexpected hazards. If you plan to go into the mountains, it's best to get a 4×4 or AWD vehicle.
Mexican road law requires drivers to carry a valid driver's license, vehicle registration, and proof of insurance at all times (which you can purchase through Discover Cars). Failure to produce these documents when requested by authorities can result in fines or other penalties.
With a little bit of awareness and common sense, renting a car is a great way to see the sights and discover hidden gems that are off the beaten path.
Puerto Vallarta Airport Transfers
The first thing you will notice when walking through the arrival gate of Puerto Vallarta airport is a crowd of taxi companies competing for your attention.
There are several companies who provide Puerto Vallarta transportation from airport – but at a price. This will probably be the most expensive time and place to procure a taxi, despite their reassurance you are getting the best price.
Pre-booking a private transfer ahead of time is a fantastic way to save money and remove the stress of finding a reliable driver, bartering a fair price, and explaining exactly where you are going.
For travel within Puerto Vallarta, you can book a shared airport shuttle transfer or organize your own private transport in Puerto Vallarta.
PUERTO VALLARTA AIRPORT SHUTTLE
The easiest and fastest way to get into paradise is to book a private airport shuttle. No waiting or haggling with taxi drivers!
For towns further down the coast, such as Sayulita or San Pancho, Booking.com Airport Taxis have reliable drivers at competitive prices.
Having all this information pre-arranged is the perfect way to start your vacation as you mean to go on – relaxed!
Puerto Vallarta airport taxis
For the cost-conscious traveler, the cheapest place to find a taxi is actually by leaving the airport itself.
If you leave the terminal and take the footbridge over the highway, you will find a hive of buses and taxis that operate on a different tariff to those in the airport.
These taxis will take you to the city or any of the towns along the coast for a more reasonable fare. Expect to be able to haggle a trip to Sayulita for 400-500 pesos (around $25).
Puerto Vallarta airport Uber
Another option is taking an Uber. The app, although not as efficient as in the US, is still generally considered reliable in Puerto Vallarta.
However, Ubers are not allowed to pick up directly at the airport, so you have to meet the driver on the other side of the highway from the airport by crossing the footbridge shown above.
It's a good idea to check the estimated wait time in the Uber app before requesting a ride to ensure you won't be left waiting for an extended period.
Drivers are also much less likely to accept fares that take them out of Puerto Vallarta, so for further destinations, you may want to consider other options.
Puerto Vallarta airport bus
Public transport is an affordable way to get around Mexico and experience its culture. Puerto Vallarta's local bus system, known as "El Centro," operates on fixed routes throughout the city, including routes that connect the airport to various neighborhoods and tourist areas.
To take the bus from the airport, you'll need to exit the airport terminal and turn left. There is a bus stop in front of the pedestrian footpath. There are signs in English and Spanish that indicate the bus routes and schedules, and usually, many locals that can point you in the right direction if you're confused.
Once on board, you'll need to pay your fare in cash and find a seat, which may be an issue during rush hour. The buses also often don't have AC, so this can be somewhat of an unpleasant experience if you're carrying a lot of luggage, and that is why I recommend booking a private transfer instead.
The fare is 10 pesos for rides within the city. It's a good idea to keep your belongings close to you and to be aware of your surroundings, especially if you're traveling with luggage or valuables. You'll also need to keep track of your stop, as the bus won't necessarily announce each stop.
When you reach your destination, you can verbally signal to the driver, and the bus will stop at the next available stop. There, you can walk or take a short taxi ride to your accommodation.
While taking the bus may require a bit more navigation and patience than other options, it's the cheapest way to get to the city from the airport.
For those traveling outside of Puerto Vallarta, the stop over the footbridge is a convenient hub for the buses heading to nearby towns.
Compostela is a reputable bus company that operates a direct route from the airport to various destinations, including Sayulita, Punta de Mita, and Bucerias.
The quality of the buses can vary, but many of the newer models are modern, air-conditioned, and equipped with comfortable seating, making for a pleasant journey.
This option has many stops, so it will take much longer than a taxi, but the large windows provide panoramic views of the lush jungle, rolling hills, and sparkling ocean along the way, giving you a taste of the natural beauty of the area while you ride.
Taking the Compostela bus is an authentic experience that allows you to connect with the local community for the most affordable price. A trip from Puerto Vallarta to Sayulita is just 50 pesos (around $3).
FAQ: Puerto Vallarta airport transfers
How to get from the airport to your hotel in Puerto Vallarta?
When arriving at the airport in Puerto Vallarta, you have several options to get to your hotel. Taxis are readily available at the airport, but they are not the most affordable options. Many hotels offer airport shuttle services, and you can also book transfers online beforehand. Popular ride-hailing services like Uber and DiDi operate in Puerto Vallarta, and public buses are also available. Additionally, you can rent a car from car rental agencies at the airport.
Is there Uber or Lyft in Puerto Vallarta airport?
Uber does operate in Puerto Vallarta but they are not authorized to pick up directly at the airport. instead, you must walk across the pedestrian bridge next to the airport to meet your Uber driver. Lyft does not operate in Puerto Vallarta.
Is an Uber or taxi cheaper in Puerto Vallarta?
In most cases, Uber is cheaper than a traditional taxi in Puerto Vallarta, especially for shorter distances or during periods of low demand when Uber's dynamic pricing may be lower. Uber fares are calculated using the app, providing transparency on the cost of your ride. If you take a taxi, be sure to negotiate the price beforehand so there are no surprises.
—
Final thoughts: airport transportation Puerto Vallarta
Getting to your hotel from the PVR airport can be a hassle-free and enjoyable experience with several Puerto Vallarta airport transportation options.
Whether you take an Uber, public bus, private transfer, or rent a car, each airport transportation option has its advantages and drawbacks, depending on your budget, schedule, and preferences.
Taking a private Puerto Vallarta airport transfer is by far the easiest option, while taking the local bus is the cheapest but most time consuming.
Regardless of which transportation method you choose, be sure to take in the breathtaking scenery, soak up the local culture, and make the most of your time in this beautiful and vibrant part of Mexico.
Planning a trip to Puerto Vallarta? Don't miss these posts!