This post may contain affiliate links. By clicking and making a purchase through the links, I earn a small commission at no extra cost to you. See my disclaimer for more information. This allows me to keep the site up to date and expand on resources.
Is Mexico safe for solo travel? Many people think of Mexico as too dangerous a place to travel, let alone as a solo traveler, and that's just not the truth. Mexico is a phenomenal place for solo travel, and yes that includes women traveling alone!
Mexico is home to some of the best cuisine, culture, music, art, and nature worldwide, so don't miss out because you're traveling solo.
Many U.S. travelers may be hesitant to travel to their southern neighbor. Solo female travelers, in particular, are cautious.
You may ask: "Will I be physically safe? How much do I have to worry about street harassment, theft, or worse?" These concerns are understandable. No country is safe, and that includes the U.S.
If you're looking for safe Mexican destinations, here are the best places in Mexico to travel alone and tips for staying safe.
Mexico Solo Travel: Best Places in Mexico to Travel Alone
Puerto Vallarta, Jalisco
Laidback beaches, water-based activities, and a thriving nightlife. If your idea of a Mexican vacation includes white-sand beaches and margaritas, Puerto Vallarta is perfect for you.
Stroll down the Malecón boardwalk and enjoy live music with your sunset dinner on the beach. You can also book guided snorkel tours, kayak excursions, or whale watching tours.
For a bit of culture, walk into Parroquia de Nuestra Señora de Guadalupe, the most beautiful cathedral you may ever see.
And if you're seeking your next favorite Instagram photo, take your camera with you into the old city, named "Zona Romántica," where candy-colored buildings await.
Puerto Vallarta is also a great base to explore some of the surrounding beach towns like San Pancho and Sayulita, or Pueblos Magicos in the state of Jalisco like San Sebastian and Tequila.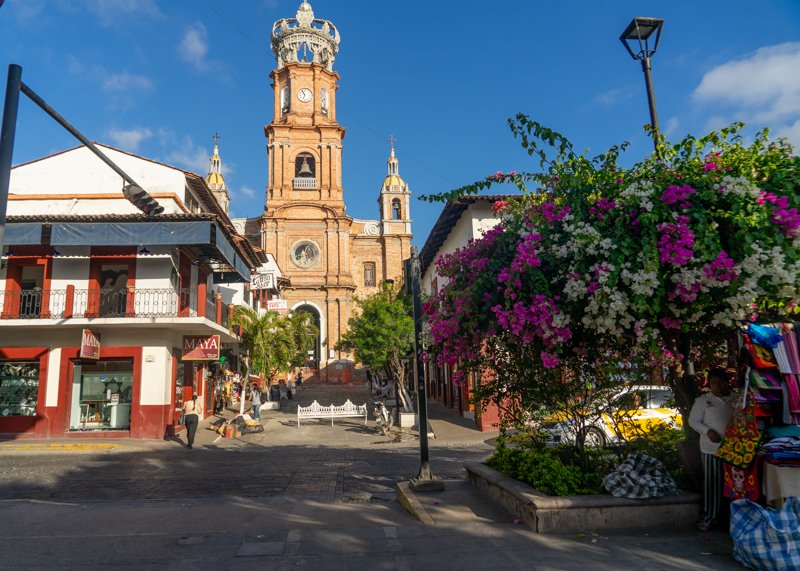 Get to Puerto Vallarta (PVR): You can fly directly to Puerto Vallarta from 20 large cities across the U.S. on Aeromexico, Southwest, Delta, United, American, Alaska, and more. Flights are popular but cost as little as $200 one-way.
Where to Stay in Puerto Vallarta: Budget travelers can book many highly-rated hostels such as Hostel Vallarta or Oasis Hostel, starting at $10 per night. Rooftop meetups, free WIFI, and complimentary breakfasts are the norm in Puerto Vallarta, so enjoy!
If you're looking for something more luxurious, Puerto Vallarta has no shortage of high-end resorts, boutique hotels, and accommodation right on the beach.
Safety Notes: Compared to New York, most visitors rate Puerto Vallarta as safer, except there is a "high" risk of having things stolen in Puerto Vallarta.​​ So, take these safety precautions such as wearing money belts underneath your clothing.
The U.S. has a consular agency in Puerto Vallarta, should you need to replace a lost passport or other emergencies.
Mérida, Yucatán
Flamingos, pink lakes, and chocolate – the state of Yucatán is a treasure for travelers.
Are you a history nerd? If so, you'll love going on a tour of the Maya ruins like nearby Chichén-Itzá. Are you into museums? Then visit El Gran Museo del Mundo Maya, with architecture resembling a tree unifying the sky, tree, and underworld.
Do you enjoy being outdoors? Kayak through mangroves, take a boat tour to spot flamingos, photograph the famous "pink seas," and swim in a cenote (underground lake). Are you a foodie? Take a tour of a Maya chocolate factory!
Get to Mérida (MID): The Caribbean city is remote, but you can still fly directly to Mérida from Houston or Miami with United Airlines or American Airlines. Flights are only two hours long and cost as little as $100 one-way.
Where to Stay in Mérida: If you want to make other friends, stay at highly-rated hostels like Hostal Zocalo and Nomadas Hostel. Both will cost you $20-$40 per night. Or, consider a homestay with a local family for $20 to $30 per night.
There are also multiple study abroad and volunteer programs in Mérida if you want to stay longer.
Safety Notes: Yucatán is considered a "Level 1" state in Mexico, the same level as Canada or England. There is a central U.S. consulate. In a recent survey, Mexicans rated Mérida one of the safest cities in the country.
Monterrey, Nuevo León
Mountain summits, underground caves, ziplines, and luxury nightlife. As the third-largest city in Mexico, Monterrey is ideal for the outdoorsy urbanite.
If you're active, spend the day canyoneering or climbing in Cumbres de Monterrey National Park (don't miss the Garcia caves, perfect for summer days). You can also book a guided sunset hike in Parque Ecológico Chipinque.
If you're into art, a must-see is the Museo de Arte Contemporáneo. If you prefer blending in with tourists, spend the day in Parque Fundidora and try the ziplines and boat tours. And don't forget to listen to live music at bars like Maverick or McMullen's.
Get to Monterrey (MTY): You can fly directly to Monterrey from Los Angeles, Las Vegas, Dallas, San Antonio, Houston, Atlanta, Miami, or Chicago on United, American, or VivaAerobus. Better yet, board a one-hour flight from Houston or San Antonio. Flights are as affordable as $60 one-way.
Where to Stay in Monterrey: If you're on a budget and interested in meeting other travelers, stay at a highly-rated hostel in central Monterrey like La Casa del Barrio, starting at $10 per night.
However, if you prefer a luxurious stay, stay at a five-star hotel like Grand Fiesta Americana Monterrey Valle or Fiesta Americana Monterrey Pabellón. Luxury hotels at less than $200 per night? That's rare. That's Monterrey!
Safety Notes: In a federal survey, Mexicans rated the Monterrey metropolitan region as one of the safest in the country. The U.S. government ranks the state of Nuevo León as "Level 2" ("exercise increased caution"), which is a safer rating than other parts of Mexico.
If you're an extra-cautious traveler, take the same precautions that you would in New York – avoid walking alone at night – and remember that Monterrey has a U.S. consulate with 24-hour emergency support.
Mexico Solo Travel Safety Tips
Traveling solo in Mexico is an intimidating idea for most first-time solo travelers. Here are a few safety tips to use on your trip to help put your mind at ease.
Know your itinerary. Before traveling anywhere, know where you'll be staying. As a solo female traveler in Mexico, I find it critical to book my accommodation for at least the first night and transportation from the airport. That way, I have a few hours at my destination to orient myself.
Don't tell others too much. Remember that "valuables" aren't just things; sometimes, people seek information about you. Be cautious of revealing too much, particularly when traveling alone (you can always tell people that you're traveling with a friend or significant other). Even at hostels where you may meet other travelers, be mindful that you don't overshare.
Dress humbly and modestly. Many Mexicans see U.S. travelers as wealthy. To reduce being approached or stolen from in Mexico, I leave my jewelry at home and wear clothing covering most of my body.
In a hot destination, this means long, linen clothing. This may be overly cautious, but I find that I receive less unwanted attention.
Speak Spanish: While you'll meet many English speakers in tourist destinations like Puerto Vallarta, studying Spanish is excellent for safety. That way, you'll have an easier way of navigating through the metro or to your hotel. Also, it's respectful to the culture.
If you don't already speak Spanish, download three smartphone apps: Duolingo to practice, SpanishDict for an offline dictionary, and Google Translate to translate in-country. If you visit Mérida, prepare to learn some Maya too.
Know where to get U.S. government help. As a solo female traveler in Mexico, you need to know where to get help if you need a replacement passport, a mediator with local authorities, contact information for a doctor, or even emergency cash.
That help is there: the U.S. government has full-time bilingual staff and 24-hour emergency numbers listed for all its citizens traveling in Mexico.
Before your trip, write down the address and contact information for the closest U.S. embassy, consulate, or consular agency. Before traveling, register with Smart Traveler Enrollment Program (STEP).
Facebook Groups For Solo Travelers
If you're traveling solo and want to connect with other travelers and digital nomads in Mexico, here are some Facebook groups you can use.
The city-based ones host regular meetups, and the Mexico digital nomads group is great for getting general advice about traveling in Mexico.
I hope this post could help you feel more confident about booking a solo trip to Mexico! I've loved my time here as a solo female traveler and have never felt in danger.
It's easy to make friends, the locals are friendly, and you'll never run out of amazing places to discover. You won't regret booking a solo trip to Mexico!
Planning a trip to Mexico? Don't miss these posts!