This post may contain affiliate links. By clicking and making a purchase through the links, I earn a small commission at no extra cost to you. See my disclaimer for more information. This allows me to keep the site up to date and expand on resources.
Looking for the best hidden beach tours from Puerto Vallarta? I live in PV and have visited this incredible beach before – here's what you need to know.
Located 20 miles off the shore of Puerto Vallarta, Mexico, lies a secluded and mystical beach destination, unlike any other place in the world.
Known as Hidden Beach, or Playa Del Amor, this stunning beach is tucked away inside a natural cavern.
Due to the popularity of Hidden Beach, the Mexican government has implemented strict regulations for visiting Hidden Beach.
Access to the beach is limited and requires a permit, which you get through a licensed tour operator.
Thankfully, Hidden Beach tours in Puerto Vallarta are easy to book online, so plan ahead to ensure you don't miss out.
In this guide, we'll compare some of the more popular booking options for a trip to Hidden Beach and offer some pro tips on getting the most out of your excursion.
The Best Hidden Beach Tours Puerto Vallarta
Hidden Beach is part of the Marietas Islands, a beautiful marine nature preserve about two hours away by boat from Puerto Vallarta. The only way to get there is by boat.
Most tours to Hidden Beach are part of Marietas Islands tours, but depending on the group size, there may not be enough permits for everyone to visit Hidden beach.
The first two tour options below guarantee access to Hidden beach, while the other two don't guarantee it.
⭐️ 5/5 Star Rating (50+ reviews) | 🕕 3 Hours📍Departs from: Punta Mita
This 3-hour tour is a little shorter than the others listed here, but it is the only tour that includes guaranteed access to Hidden Beach. The only exception is if bad weather comes up, but if that happens, Shark's Tours will refund you the fee.
Since this tour leaves from Punta Mita, you'll also spend less time on the boat than departing from Puerto Vallarta.
The other advantage of going with Shark's Tours is that the boats tend to be smaller. While some tours pack 20 to 30 people on the same boat, you can get one here for a group as small as 5. That means a more private and personalized experience.
You'll notice that the total cost is a bit higher going with this tour, but user reviews thus far have agreed that the guaranteed access and smaller group size make it well worth the price.
What's included on this tour?
Boat with a trained Captain and guide
Life Insurance on board the boat
Bracelets to enter the Marietas Islands
Cooler with water and soft drinks
Visit the two islands that make up the Islas Marietas National Park
Visit hidden beach for 30 minutes
Snorkel and equipment
Bird watching
Our guide and captain did an amazing job and were very knowledgeable. Loved the small size of the tour. We saw huge boats and can't imagine the experience would be as favorable as the smaller intimate group size

– Amanda (read more reviews)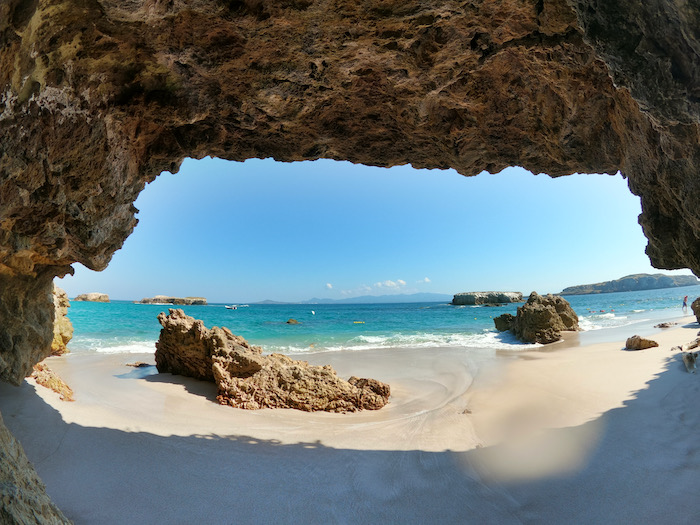 ⭐️ 4.5/5 Star Rating | 🕕 5 Hours📍Departs from: Puerto Vallarta
This tour is run by Vallarta Extreme is another primary tour operator in the Marietas Islands that guarantees access to hidden beach.
Like Shark's Tours, Vallarta Extreme sends out boats of about 5 or 6 people, not including the captain. This makes it an excellent option for families or small groups who don't want to deal with a bunch of strangers.
Like the other tours, this one comes with bottled water, a simple ham and cheese sandwich, and other small snacks. Most boats will let you bring your own cooler on board as long as it isn't too big. But be sure to grab breakfast beforehand, and you'll need the energy for snorkeling!
What's included on this tour?
Use of snorkeling equipment
Access to Playa del Amor and Nopalera beach
Bird sanctuary sighting
Visit to the stone bridge
Tour around the 2 Marietas Islands and information on the history
Snacks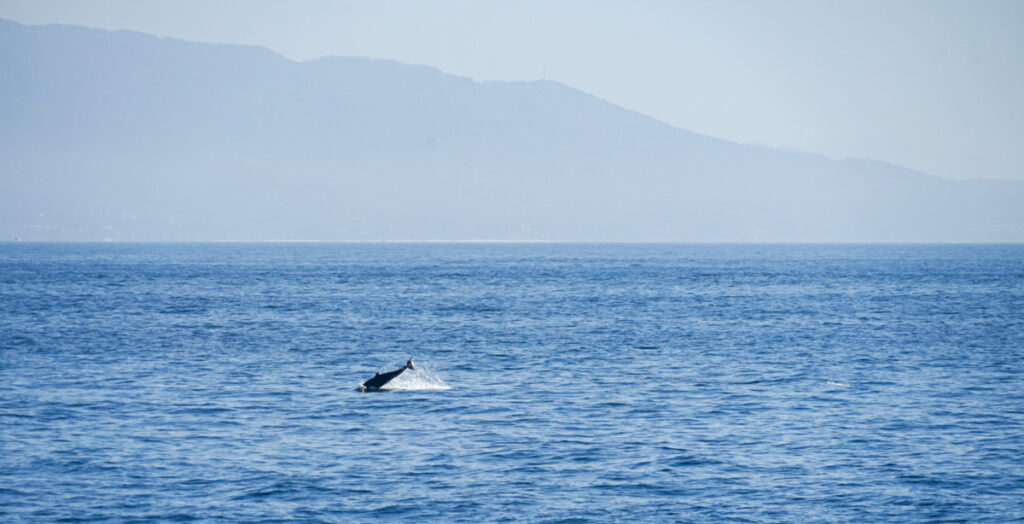 ⭐️ 4.5/5 Star Rating (400+ reviews) | 🕕 4-6 Hours📍Departs from: Marina, Puerto Vallarta
Going with Eco Explorer gives you access to Rodrigo & Javi, two of the most highly reviewed Marietas tour guides. Although this tour doesn't guarantee Hidden beach, Eco Explorer also holds more boat permits than the other tour operators, so your chances are high.
If you want to visit Hidden Beach, you pay an extra $25 fee on the tour. However, this is entirely worth it if it's important to you that you set foot on Hidden Beach (while others are turned away due to capacity).
The tour departs around 9 am from Marina Vallarta, as you cruise along the ameca river and look for dolphins. During the winter, you may see other wildlife on the way out, like dolphins, turtles, manta rays, and whales.
Once you arrive at the islands, the guides will provide the snorkel gear and will teach you how to use the gear and life jackets to ensure you have a fun and safe time snorkeling. If permits allow, you will have the chance to visit Hidden beach.
What's included on this tour?
The boat ride from Puerto Vallarta with life vests
Drinking water
Use of Snorkeling equipment
Conservancy donation fee to Bahia Unida CONANP (Federal gov)
Permits for national park
Snacks (Light ham and panela cheese sandwich)
A must do experience! Alexis was a great guide and expert, while Javier did a fantastic job of trolling us around the islands and even getting us some up close whale watching in! Worth it!

– Jana (read more reviews here)
⭐️ 4.5/5 Star Rating (100+ reviews) | 🕕 4-5 Hours📍Departs from: The Marina, Puerto Vallarta
This tour is around the pristine Marietas Islands, a nationally protected marine wildlife park with some of the best snorkeling access in the country. All snorkel gear is included, and you may get a tour of Hidden Beach if there are enough permits on that day.
The trip is focused on snorkeling and enjoying the beauty of the islands. Even if you don't visit Hidden beach, you'll get to discover other great beaches on the islands, as well as beautiful scenery and birds like the blue-footed boobies.
A great reason to choose Ecotours is that you usually have a marine biologist on board. This is a really cool way to make the snorkeling experience more memorable. You'll also learn a lot about the park's natural features and have a better chance of spotting some truly incredible wildlife.
What's included with Ecotours?
Tour led by biologist/ naturalist
Use of Snorkeling equipment
Boat trip from Puerto Vallarta
Small group size
Box Lunch: Sandwich, granola bar, snack, fruit.
Bottled water
We enjoyed this excursion very much! The tour operator and boat captain were fantastic. We saw some dolphins and sea turtles on our way to the island so that was a bonus. Swimming to the island from the boat was challenging but well worth it to see the hidden beach!

– Aileen (read more reviews)
Why You Need to Book a Hidden Beach Tour
Basically, Hidden Beach blew up on Instagram a few years ago, and thousands of tourists started to visit. This was degrading the environment, so the Mexican government implemented strict regulations to protect the fragile ecosystem of the Marietas Islands.
Now, In order to preserve the natural beauty of Hidden Beach and the surrounding marine environment, access to the beach is limited and requires a permit.
The permits are issued by the National Commission of Natural Protected Areas (CONANP), which is responsible for managing and protecting the Marietas Islands. The number of daily permits is limited to a specific number to control the number of visitors to the island, prevent overcrowding, and minimize the impact on the local wildlife and natural resources.
Visitors must obtain a permit in advance through a licensed tour operator, as it is not possible to visit Hidden Beach independently.
The tour operator will arrange for transportation to the island, provide necessary equipment such as kayaks and snorkeling gear, and ensure that visitors adhere to the regulations set forth by CONANP.
Plus, part of the magic of Hidden Beach is that it is, well, hidden. And that means that it is not so easy to get to. Despite what some foolhardy travelers think, the only way to safely experience Hidden Beach is by securing your permit in advance and going with a captain and crew that knows what they're doing.
This doesn't just mean getting you to cave. It means knowing whether or not it's safe to go in, depending on water and weather conditions. Because your safety is at stake, this is one trip that you want to book properly.
What You Need to Know About Puerto Vallarta's Famous Hidden Beach
You've probably seen it on a postcard, but visiting the famous Hidden Beach in person is an absolute must for Puerto Vallarta travelers. But this tour isn't quite like the others … Here are a few things you should know about Hidden Beach before you go:
You can only get there by boat. See our comparison guide above for information on some popular tours that include Hidden beach.
You need good weather to get there. Unfortunately, depending on the water levels and sea conditions, Hidden Beach is not accessible 100% of the time. Fortunately, if you book a tour and are unable to make it to the beach, refunds or discounts are easy to get.
There is a daily limit to visitors to Hidden Beach. Park rangers manage visitation to the beach in order to protect its natural features. This is another reason why booking early is important.
You need to know how to swim. The natural cavern that houses Hidden Beach is too low and narrow for a tour boat to enter. For this reason, you have to swim from the side of the boat, between 100 and 200 meters, to reach the inner beach. At least a moderate level of physical fitness is recommended.
Some tours include an age limit. For safety reasons, some tour guides have an age cutoff of 65 years old for visiting Hidden Beach and a lower cutoff of 10. This is due to the added swimming that is required and the liability that comes with it.
You are allowed by law to be there at hidden beach for just 20 minutes.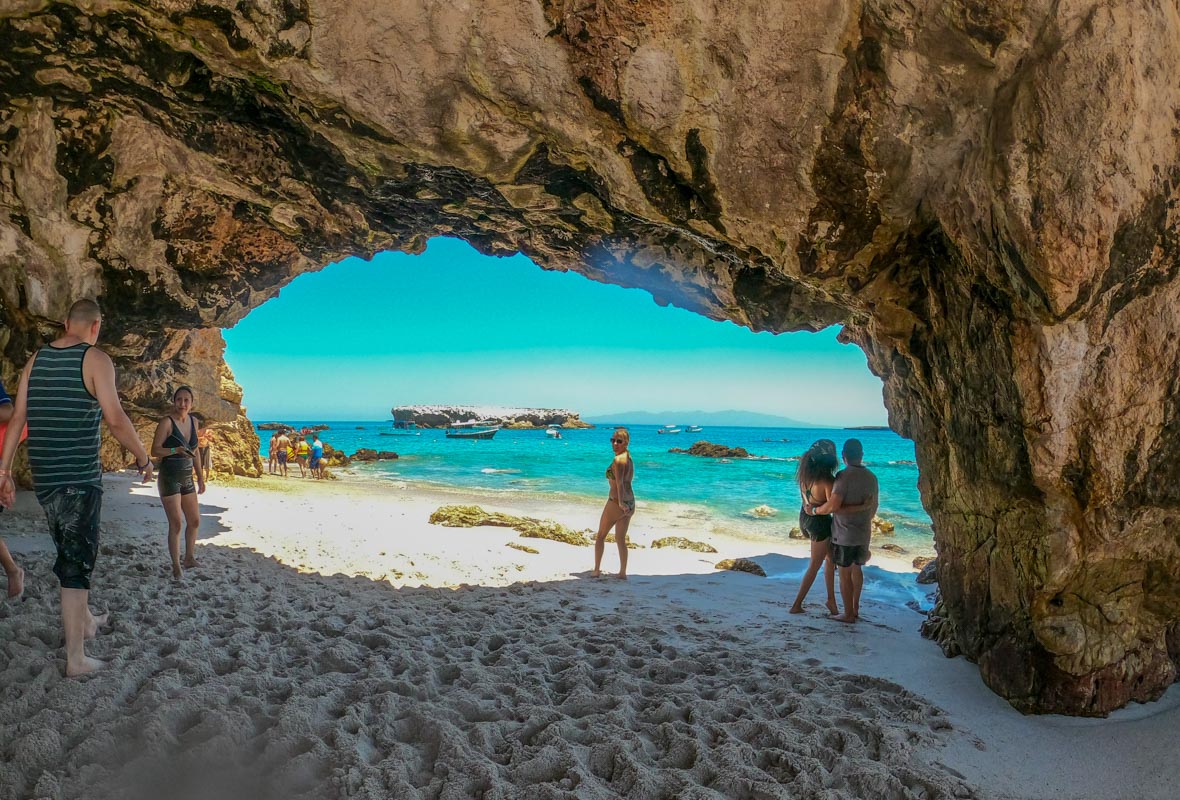 Puerto Vallarta Hidden Beach Tours FAQ
How do you get to Hidden Beach in Puerto Vallarta?
The only way to visit Hidden Beach is by booking a boat. Fortunately, there are plenty of amazing options for tours to choose from.
Do you need a permit to visit Hidden Beach in Puerto Vallarta?
Yes, you need a permit to visit Hidden Beach. To obtain a permit, visitors must book a tour with a licensed tour operator that has been authorized by CONANP to bring visitors to the island.
What is the prettiest beach in Puerto Vallarta?
Hidden beach is not only one of the prettiest beaches in Puerto Vallarta but in all of Mexico. The beach is hidden inside a natural rock formation, and is only accessible by swimming or kayaking through a narrow tunnel that opens up into a beautiful circular beach with crystal-clear turquoise water.
Are there white sand beaches in Puerto Vallarta?
While Puerto Vallarta is known for its stunning beaches, the sand color can vary from beach to beach. Most beaches in Puerto Vallarta have golden or tan sand, but there are a few white-sand beaches in the surrounding areas that are worth exploring. Hidden Beach is one of the most beautiful white-sand beaches in the area.
Where is Hidden Beach in Puerto Vallarta?
Hidden Beach, also known as Playa del Amor or Lover's Beach, is located on the Marietas Islands off the coast of Puerto Vallarta.
What is hidden beach known for?
Hidden Beach is known for its breathtaking beauty, seclusion, and unique natural surroundings, making it a popular destination for nature lovers and adventure seekers who want to experience one of Mexico's most stunning and exclusive beaches.
—
While the permit requirement may seem inconvenient, it is necessary to protect the natural beauty of Hidden Beach and the Marietas Islands. Limiting access allows visitors to experience the area's beauty without damaging the fragile ecosystem.
If seeing hidden beach is high on your bucket list, make sure to plan ahead and book one of these hidden beach tours early, so you don't miss out!